We know what you're thinking – 'a Benelli, really?!' But ABR Iain Palmer wouldn't be without his
I've always had a bit of a fetish for Italian bikes. They may seem a a risqué proposition for various historical reliability reasons but, being an eternal optimist, I can see past this. I also like to think of it as buying a bit of culture, too. An RS250 Aprilia first showed me the light and having owned three Alfas, four Aprilias, and a Ducati, I consider myself one of the Tifosi.
I first clapped eyes on the Benelli Tre-K a few years ago while returning home on Le Shuttle. I marvelled at the level of design detail. The owner was very complimentary and more than keen to tell me about how good it was. 'If it looks this good, then it must be good,' thought I. Benelli's are hardly ever seen at shows and virtually non-existent in the wild; a rare beast indeed.
Benelli branched out into the Adventure bike market in 2007 with the 130PS 1130 Tre-K – 'Tre' denoting its three-cylinder engine, with the 'K' thrown in to imply an adventurous side. Until then the company's line-up comprised mostly sports and naked bikes. Not the best starting point when designing an adventure bike, but the manufacturers have added just the right ingredients to make a very practical go-anywhere machine without compromising the Benelli character – and believe me, it's a real character. If Ewan and Charley are BMW GS boys, then Batman and Robin should have a pair of Tre-Ks in the Batcave.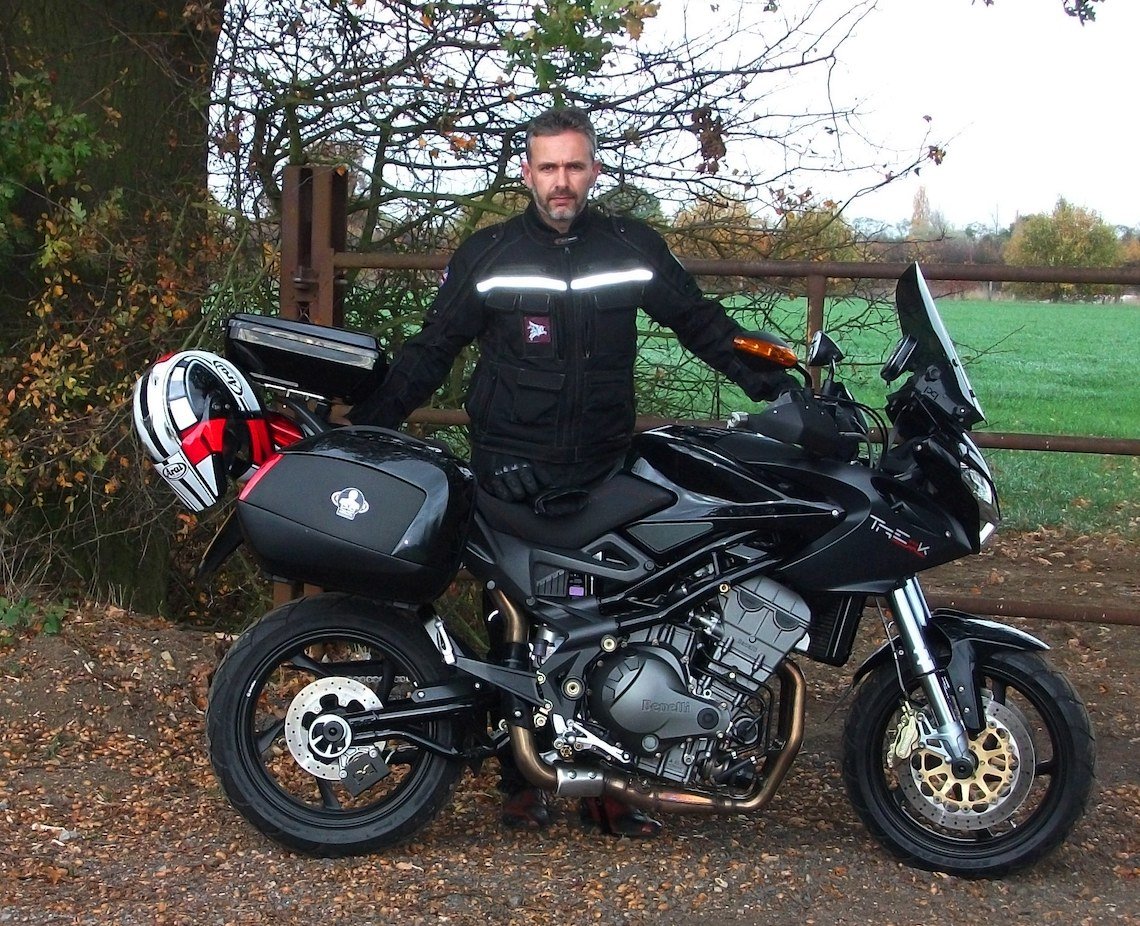 As you'd expect, the Tre-K is gorgeous to look at. A well-balanced blend of curves and angles garnishing a steel-trellised frame and swing arm, plus its crafted aluminium castings make the functional look artful. It has the best-sculptured fuel tank I've ever seen and even the foot-pegs have been finely crafted. Add to this a superb in-line triple engine, monstrous braking set-up, chunky USD forks, and a 'how- on-earth-did-they-get-away-with-that?' soundtrack as standard, plus a 22-litre fuel tank, perfect ergonomics, generous ground clearance and you end up with a machine that remains a baffling rarity even after four years of production.
Benelli celebrated its 100-year anniversary this year. The company produced its first engine in 1920, followed not long after by its first motorcycle in 1921 – 29 years before Ducati! Impressive credentials.
To celebrate its centenary, Benelli is offering a £2,000 discount on certain models, including the Tre-K. Now, with dealerships thinly spread, the full detail price of over £9k for the 1130 is not the sort of money you splash out without a test ride but at a discounted £6,299 for the 899, I'd take a chance – and did.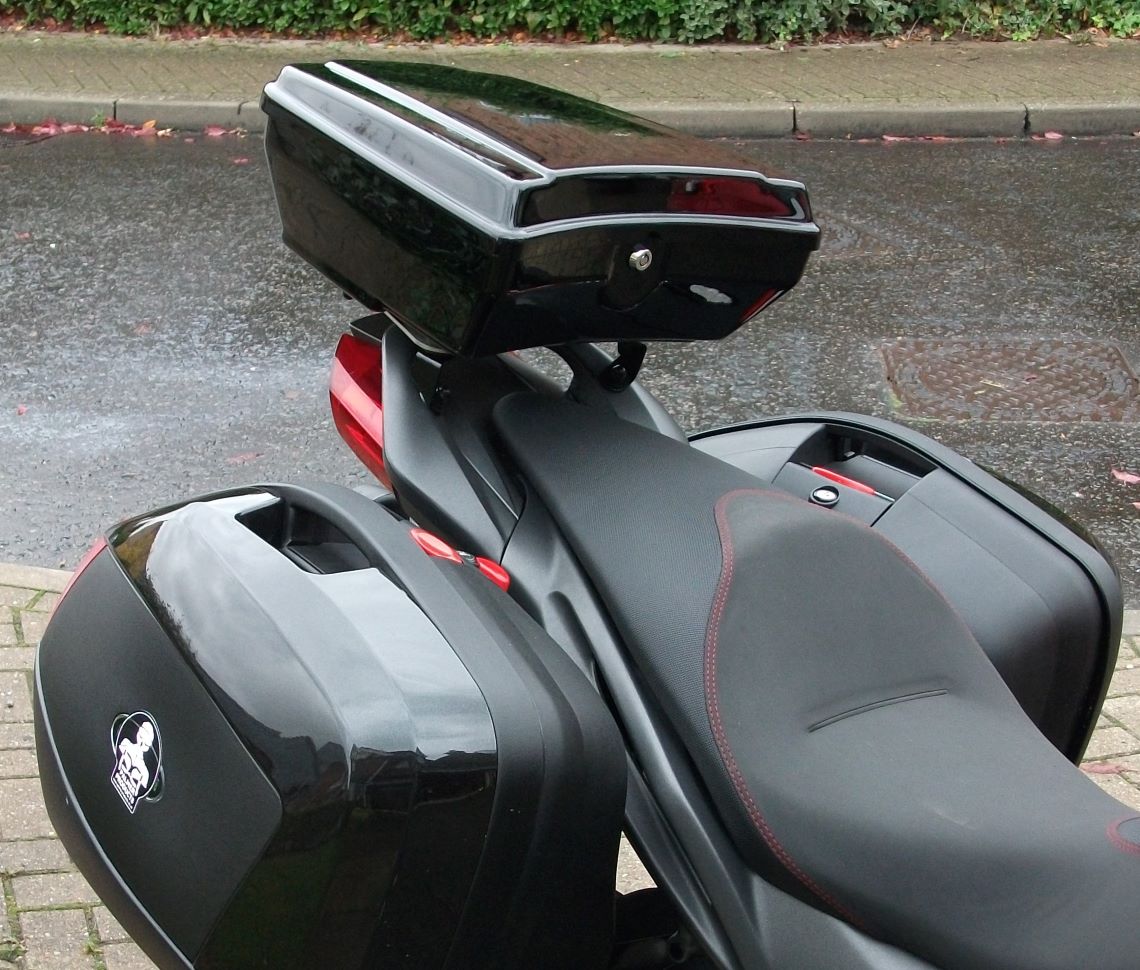 The Tre-K has a slightly portly claimed dry weight of 215kg but the bike feels much lighter and is well balanced with a low centre of gravity – shifting it around in the garage is an easy task. Thankfully, performance is fairly spirited and the triple motor is keen to give every last ounce of power, encouraging you to rev the motor to get the most from it. The motor really comes to life above 9k rpm and the underseat exhaust is continually shouting for more throttle. Pressing on from third gear, clutchless upshifts are smooth and precise. Around town, the clutch action is thankfully light and progressive, especially for a cable system.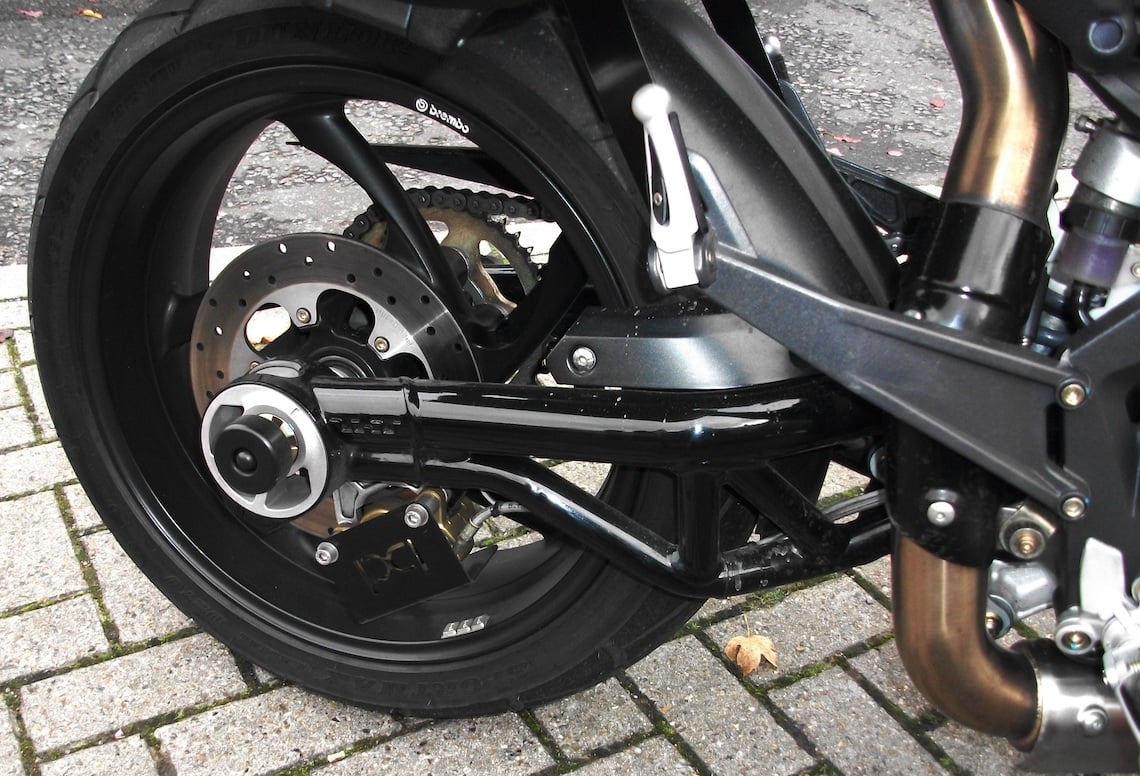 If you're used to bigger capacity machines, the 899 will lack a bit of mid-range grunt but makes up for it with top-end fizz, so the gearbox needs regular stirring to make the quickest progress – think Triumph Street Triple but with more drama. Despite this, the bike is happy to potter around town and will pull cleanly from low rpm – no calibration worries there. Early worrying economy of around 20mpg has now improved to 40mpg-plus with the accumulation of miles. That's good enough for nearly 200 miles per tank fill.
After six months and with just over 2,000 fault-free miles to its credit, it's so far so good. The bike has really started to show its true colours now that everything seems bedded in and my brain has dialled itself into the bike's behaviour. The engine and brakes are worth particular mention. The motor is a real gem, making all the right noises and is smooth all the way up to the 11k rpm region. The brakes are probably the best I've experienced, having huge amounts of retardation from two-fingered operation.
Being six feet tall, the bike feels like it was tailored especially for me. The seat cushion is well sculptured and although it looks like its priority was styling, it is surprisingly comfortable. The tank is contoured to allow your knees to sit closer together making you feel more part of the bike rather than limbs sticking out.
The upright riding position is slightly on the sportier side but remains relatively fatigue-free on longer runs and the positioning of the pegs complements the rest of the ergonomics perfectly. The gear shifter and rear brake lever pegs are quite small but have never caused any issues and definitely suit my sports-type boots rather than chunkier enduro ones.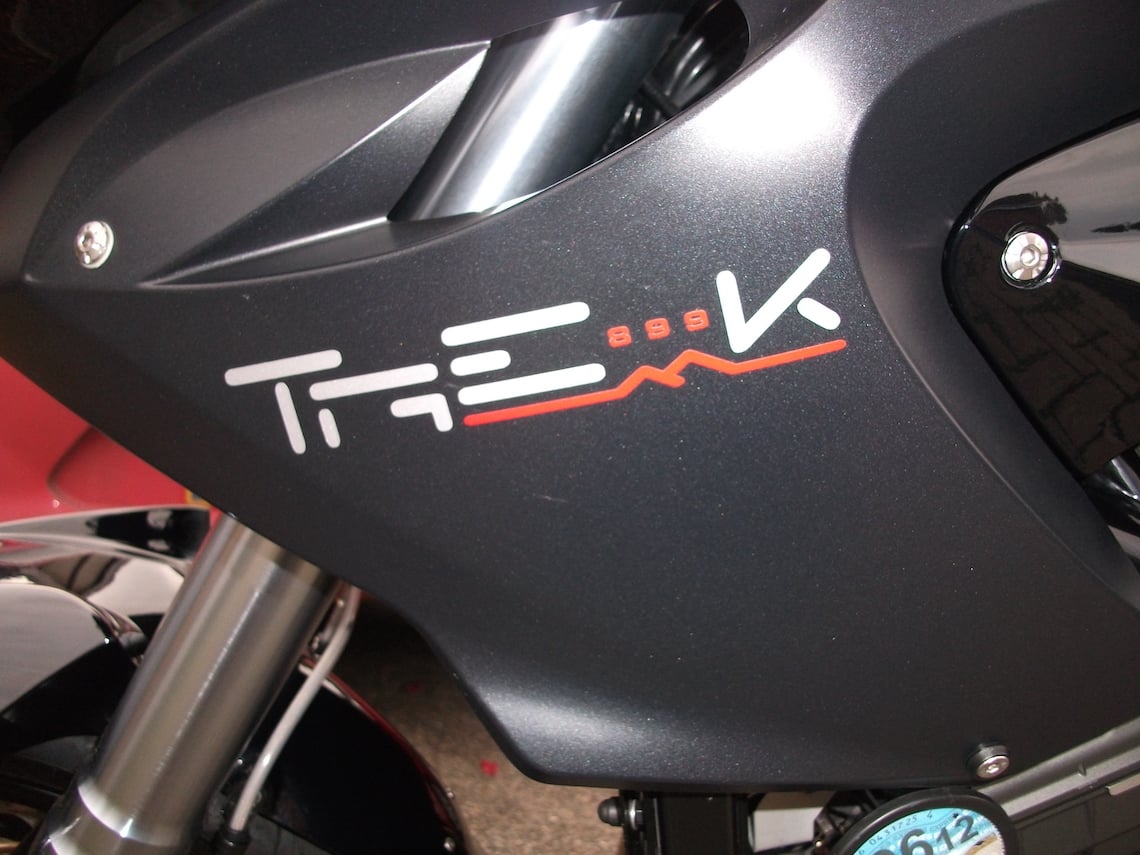 The only real area of criticism is, unsurprisingly, the windshield – a major gripe with a lot of similar offerings. It looks good and has three positions of adjustment but is quite flimsy and gives minimal protection. Insufficient for long distances, it provides little shelter from the elements, turbulence and wind noise. Lighting is only adequate as seems to be typical with most other modern machines.
It's not quite the perfect all-rounder. Pillion accommodation is very limited unless your companion is exceptionally petite and able to perch on the tiny cushion area – perfect for my wife's peach of a rump (I haven't managed 25 years of marriage without knowing how to grovel!).
Initial handling issues have been resolved by dropping the rear tyre pressures from the handbook-specified 2.9 bar to 2.5 which is actually what Benelli specifies for its TNT models – and both bikes are similar in weight. Odd that. At the higher pressure, the bike was very nervous over bumpy sections and didn't seem compatible with the rear suspension, even on the softest setting. Maybe the higher setting is taking account of a passenger but I'll adjust accordingly when the need arises. The 899 does away with the 1130's slipper-clutch, producing loud rear tyre squeals during enthusiastic down shifts, which only adds to the excitement.
I've not tested it off-road yet but expect it would manage quite well on moderate dry dirt tracks. The suspension travel offers adequate articulation and the Dunlop Sportmax tyres should be knobbly enough for decent grip.
Very little is available in the way of aftermarket accessories, but Benelli does offer its own Shad-branded panniers and/or top-box. Not the best-looking set-up (the racks have a touch of a scaffolding look about them) and at £600 for panniers alone, they're not cheap either. I already have a set of very nice Givi boxes so made my own carrier for much less money. A power socket would have been useful for running the obligatory Sat-Nav, too, but not the end of the world as this should be fairly straight forward to improvise.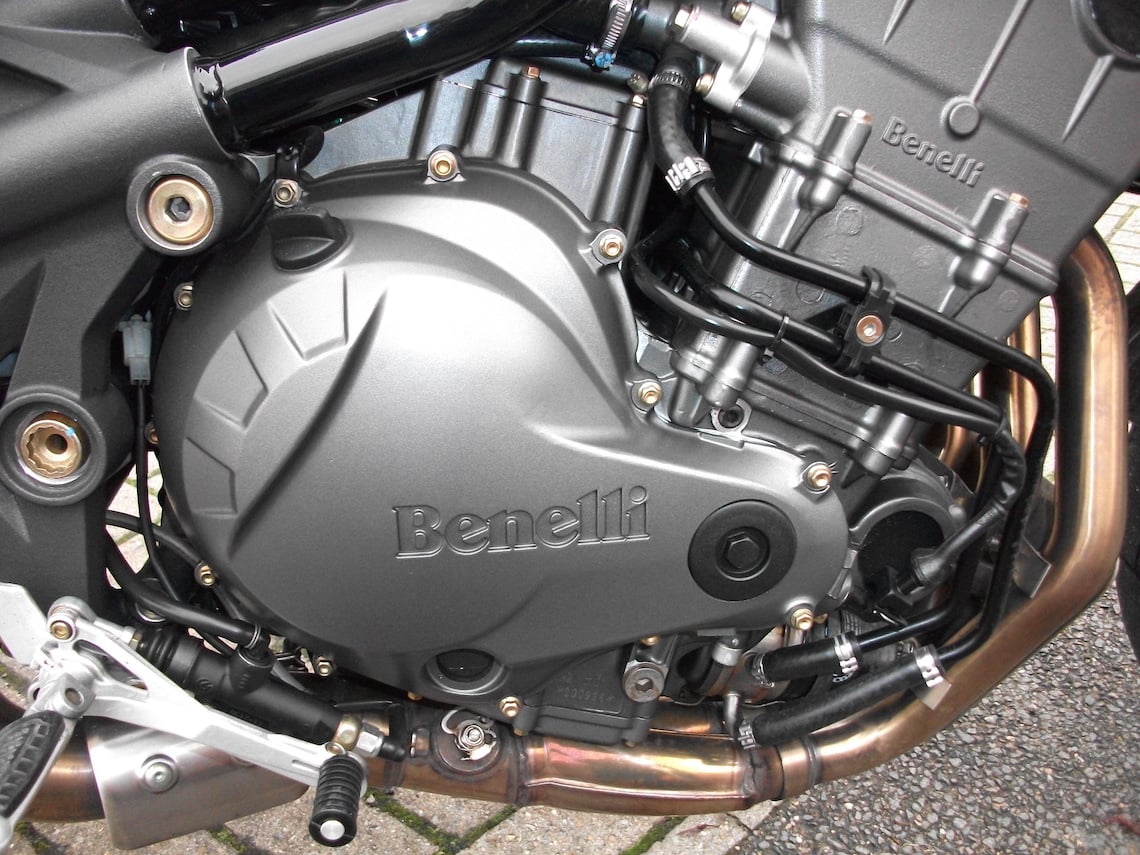 Benelli has done a superb job with the Tre-K, offering a totally unique well-executed all-rounder, overflowing with character and able to really stimulate and attack the senses. It stands out from the crowd and has enough attributes to make it a very viable proposition against some serious contenders. I don't think I'd ever get bored riding from bistro to pizzeria, parking up and just staring at her while enjoying the local culinary delights. Making an adventure bike this good-looking is also worthy of praise and if there was such an award, Benelli would win it hands down. Time for another blast, I think. Now, where did I put my cape?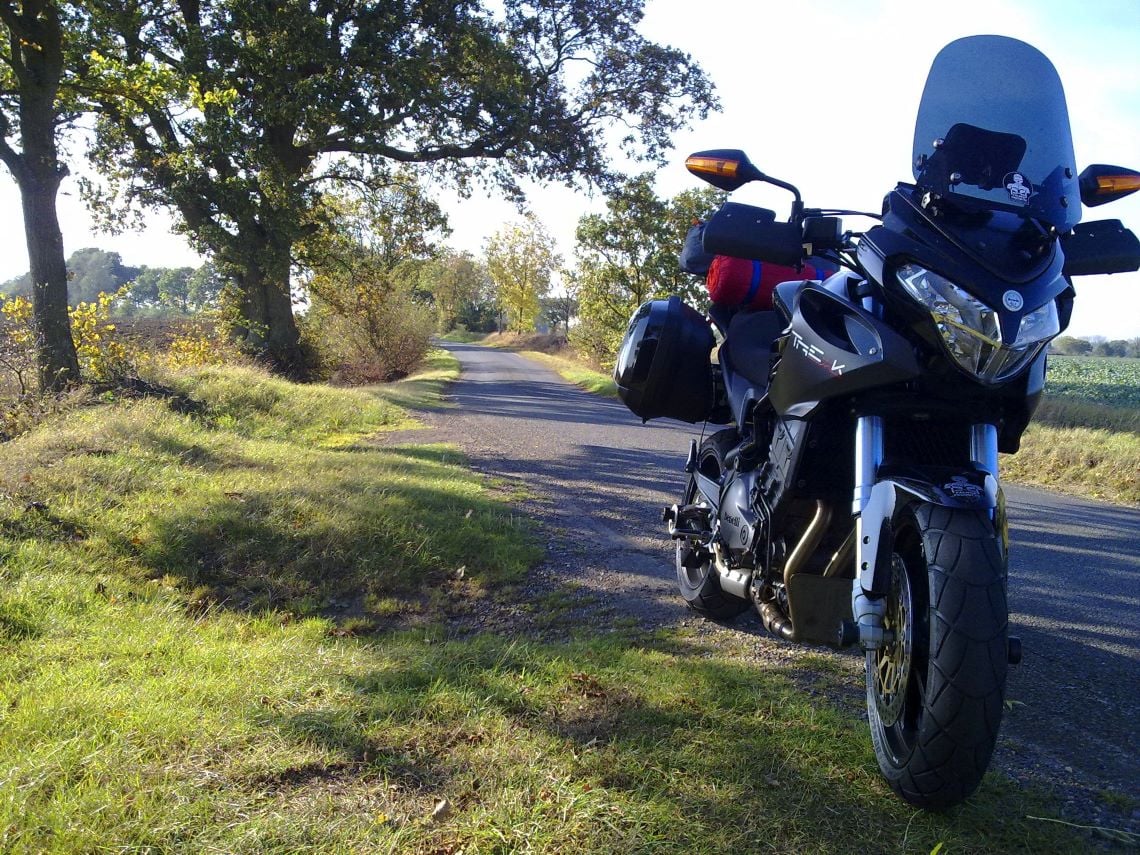 Ellie the Benelli says…
Attesa! Si prega di prendere con te. Cercherò di comportarsi questo momento. Te lo prometto! (Wait! Please take me with you. I'll try to behave this time. I promise!) The cheekt little minx.
Photos: Iain Palmer