Sue Fabré and her husband Dorian spend two weeks exploring the mountains and coastline of Morocco
We first visited Marrakech for a long weekend back in 2000. Before that visit, my husband Dorian had never mentioned anything about wanting a motorbike, but as we walked into the Jemaa El Fna, the huge square in the centre of the old town, two fully-loaded BMW adventure bikes rode past us. We saw them again later, parked at the side of the square, complete with tents, sleeping bags and water bottle holders on the panniers, and Dorian turned to me and said: "That's how I want to travel."
This encounter inspired Dorian to get his motorcycle licence and we've since ridden around the UK, Europe, USA, south-eastern Asia and even New Zealand, but only started talking about Morocco again in earnest this year, when our friend Jeff, a fellow BMW rider, said he wanted to go on a trip with us.
We decided on a late-September departure as the weather would be warm but not too hot, and most of the tourists from summer would have left, making the towns and roads less crowded. After months of planning on my part, including making flight and hotel bookings, buying ferry tickets and creating detailed routes and itineraries, Jeff dropped the bombshell that he couldn't make it. We decided we had put in too much effort to cancel everything, so we pushed ahead on our own. It was too exciting an adventure to miss out on.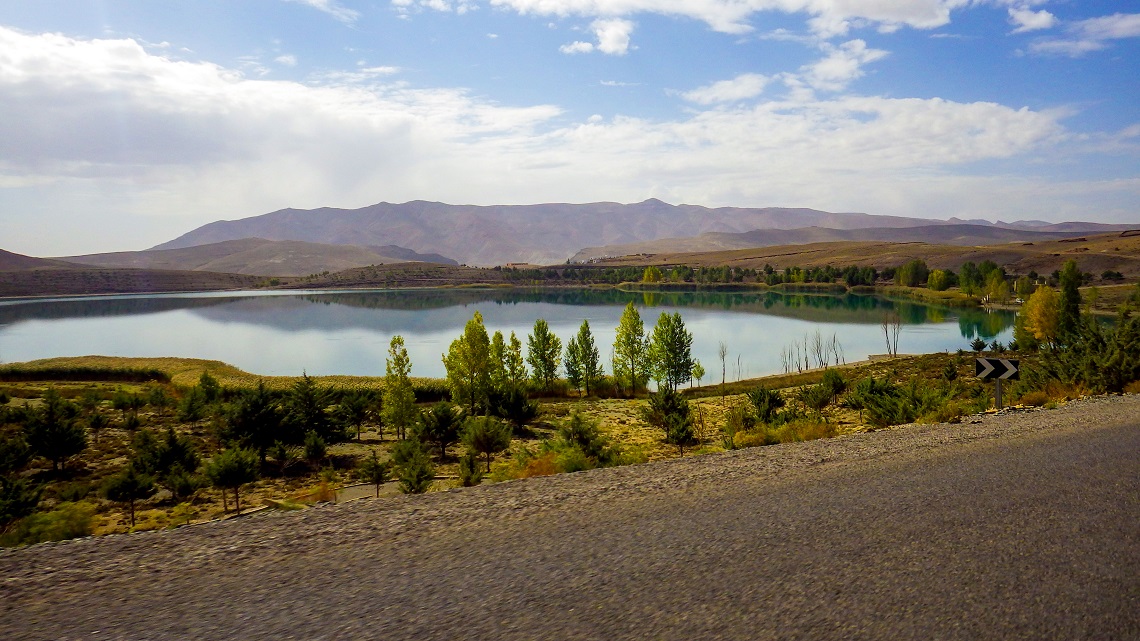 As we could only take two weeks off from our busy self-employed jobs, we decided to forego the long ride through Spain on either end of the trip. Instead, we arranged for the motorbike to be trucked to Malaga, located on the south coast of Spain, where we would pick it up after flying out ourselves a few weeks later. We found the extremely helpful company Fly and Ride, based near London's Gatwick Airport, who organised it all for us, even recommending a trusty taxi driver to pick us up when we arrived in southern Spain.
The trip started with us changing into our bike gear in a dusty warehouse near the airport, then navigating the terrible one-way system through Malaga to our hotel, before riding to Algeciras and onto the ferry to Tanger Med in Morocco a couple of days later. We had everything we needed for the trip packed into two panniers, a top box and a Bridgestone roll-bag that we'd picked up for free at the Adventure Bike Rider Festival in July. We were ready for the adventure to begin.
I had read a few horror stories about customs at the Tanger Med port, but we were only kept waiting for an hour once we rode off the ferry. A Dutch couple on the only other motorbike on the ferry told us that they had made this crossing a number of times and things had become much easier in recent months. Although some of the cars from the ferry had to unload everything they had crammed into their boots, we were only asked to open one of our panniers and the guard lost interest quickly when we assured him we weren't carrying any weapons.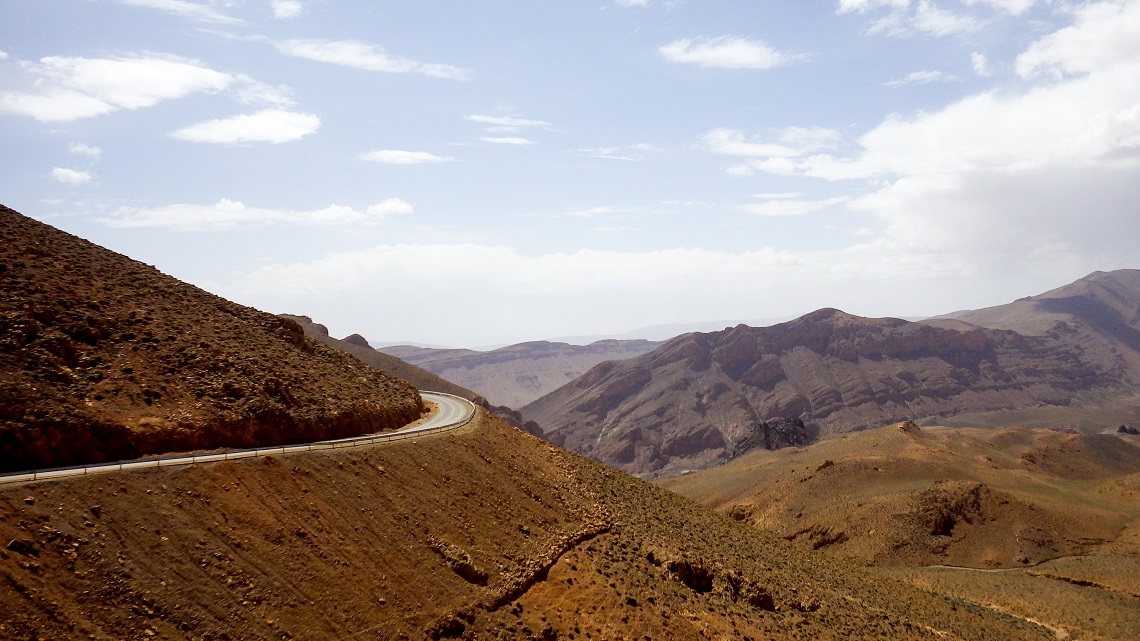 We were itching to get onto the Moroccan roads and they didn't disappoint, rising into sweeping bends over the hills as soon as we left the coast, with stunning mountain scenery stretching to the horizon. We had a short stop to pick up some local money in Tetouan where we found an ATM easily enough but had to leave town via the steepest road that we had ever ridden down, before rejoining the road to Chefchaouen for the rest of the 75-mile ride to our first stop.
The climb into the Rif mountains to Chefchaouen was as beautiful as we had been expecting, and it was made even better by the great quality of the roads. They were smooth and wide with very little traffic which made the twisting bends easy to navigate and allowed us to go at a slow and steady speed to take in the stunning surroundings. The weather was perfect too, with long hours of sunshine and temperatures averaging in the high twenties during the first part of the trip.
I had booked our hotel in Chefchaouen based on a number of reviews that specifically mentioned how motorbike-friendly it was. We found it easily as we entered the bustling town. Dorian was about to park on the road outside the hotel when the owner ran out and insisted that we ride up the cobbled steps inside the hotel gates to park the bike securely. We were welcomed with mint tea and a beautiful room then spent the rest of the day exploring Chefchaouen's picture-perfect medina.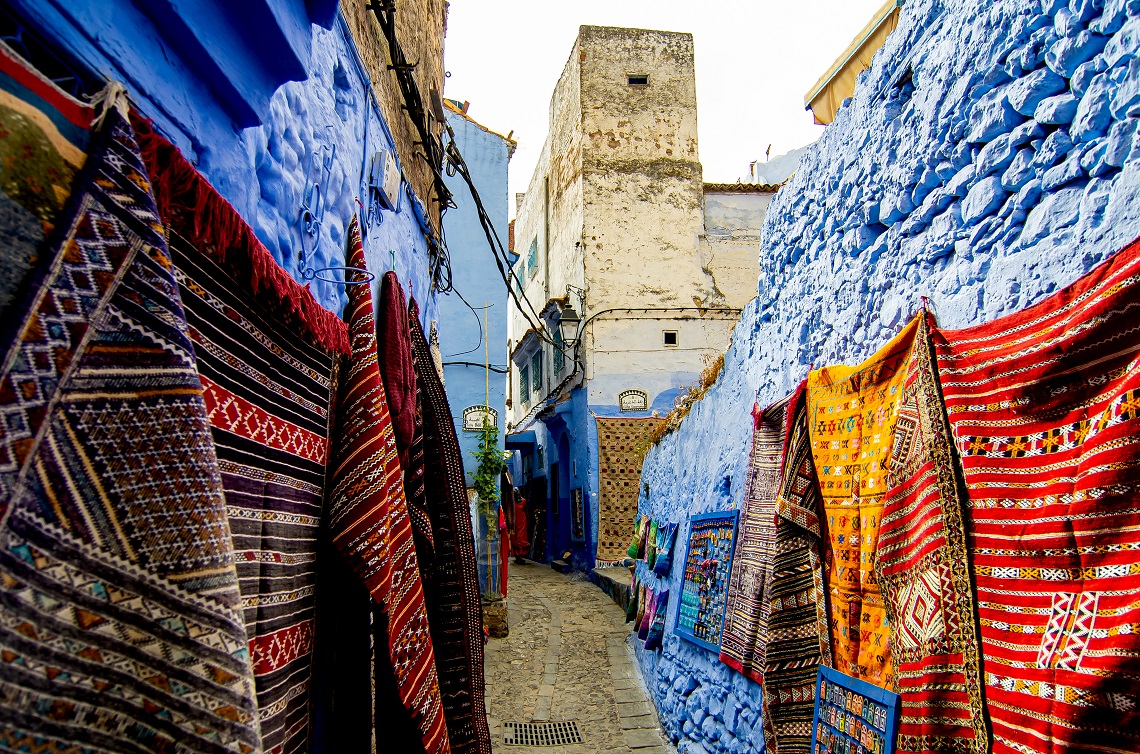 The blue-and-white buildings were spoilt only by the countless female tourists posing for photos in flowing dresses and floppy hats, looking seductively over their shoulders into the camera, then checking each picture carefully to make sure it was Instagram worthy. We found a welcome escape from this madness in a tiny, dark cafe with dusty bottles of wine lining the walls which had cold Casablanca beer on offer. As Moroccan towns have relatively few licenced bars, we ended up meeting the same band of Western tourists at every place we stopped that afternoon that served alcohol.
All riding nerves were gone by our second day and we couldn't wait to set off again to see more of this stunning country. The ride out of the Rif mountains was as spectacular as the ride in, and the beautiful landscape continued all the way to Fez. We finally saw other bikers on the road. There were at least 30 motorbikes spread across four or five groups, each with a support vehicle in tow. We seemed to be the only solo bikers around at the time but we loved that we could stop where we chose, we could take wrong turns and not rush back to our planned route, and we could pull in for photos at every amazing view without feeling like we had to keep up with a group.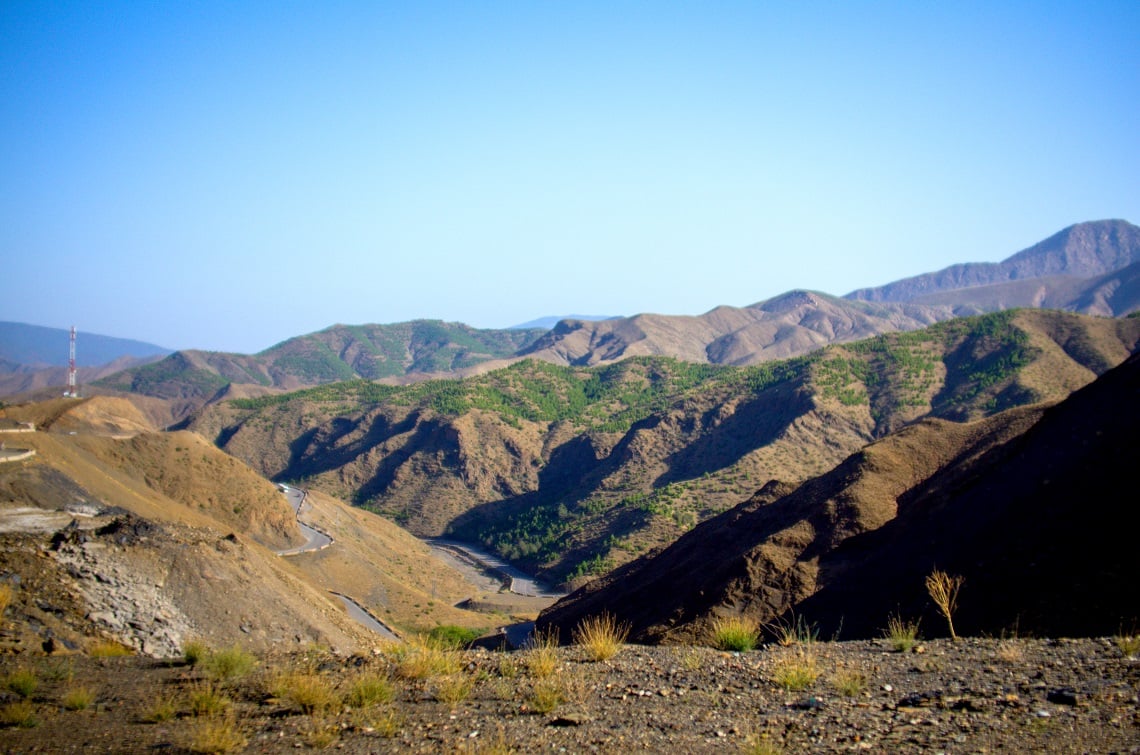 We took seven hours to ride the expected four-hour journey to Fez, but we arrived in the city feeling as though we could carry on for a few hours more. The car park we had programmed into the GPS didn't seem to exist, but a friendly policeman led us to some parking spaces outside a hotel on the edge of the medina. The car park attendant didn't mind us parking there and staying somewhere else, so we gave him a few dirhams and he promised to look after the bike for us. We later saw he'd moved his little plastic chair right next to the bike, so he obviously took his promise seriously.
We had a day off the bike in Fez where we did a cooking class in traditional Moroccan bread-making, set in a lovely ruined garden, which included a visit to the nearby communal oven. Later, after getting hopelessly lost in the sprawling medina and listening to terrible 80s Euro-pop in the bar at the old British Embassy, we were ready to ride again.
When I was planning our route back in England, I didn't just want to ride on the highways between the imperial cities that everyone visits on a typical tour of Morocco. I wanted to see the villages and countryside too. While researching routes, I came across some useful posts by a biker named Tim, who seemed to have excellent advice on everything from where to buy alcohol before the ferry crossing, to finding out about mountain pass closures in winter.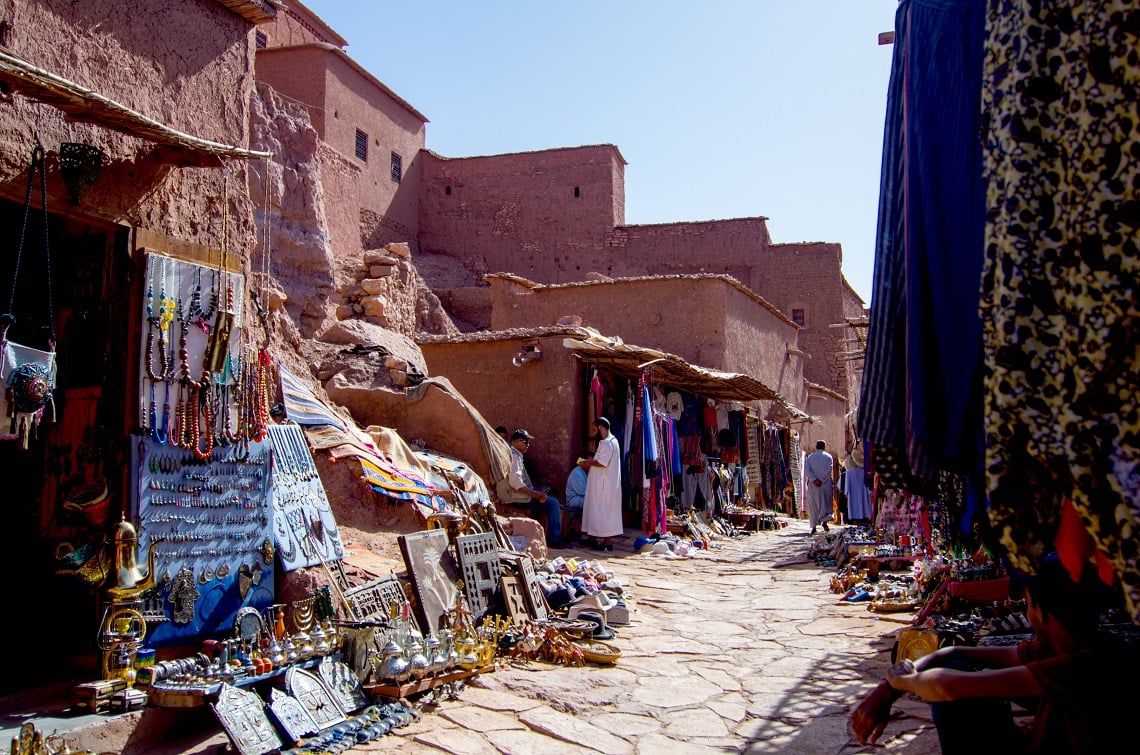 I posted a question in a forum about recommended routes between Fez and the Todra gorge, my next must-see destination, and was thrilled when Tim responded with a perfectly planned route for me, complete with Google Maps links. We began the first of his recommended routes when we left Fez, and we were soon riding through fruit orchards, ski resorts and cedar forests, even spotting some wild Barbary apes by the side of the road. The provincial roads that Tim recommended were small but perfectly rideable and we were often the only vehicle for miles.
We spent a night in Khenifra at a soulless hotel that insisted they hadn't received the booking I'd made five months previously. They tried to turn us away before eventually giving us a room that the barman had let his friend stay in. We woke up looking forward to another day of Tim's recommended roads. We spent the day riding on small, provincial and regional roads over dramatic mountain passes to Imilchil, then over the Tizi Tinherhouzine pass into the awe-inspiring Todra gorge.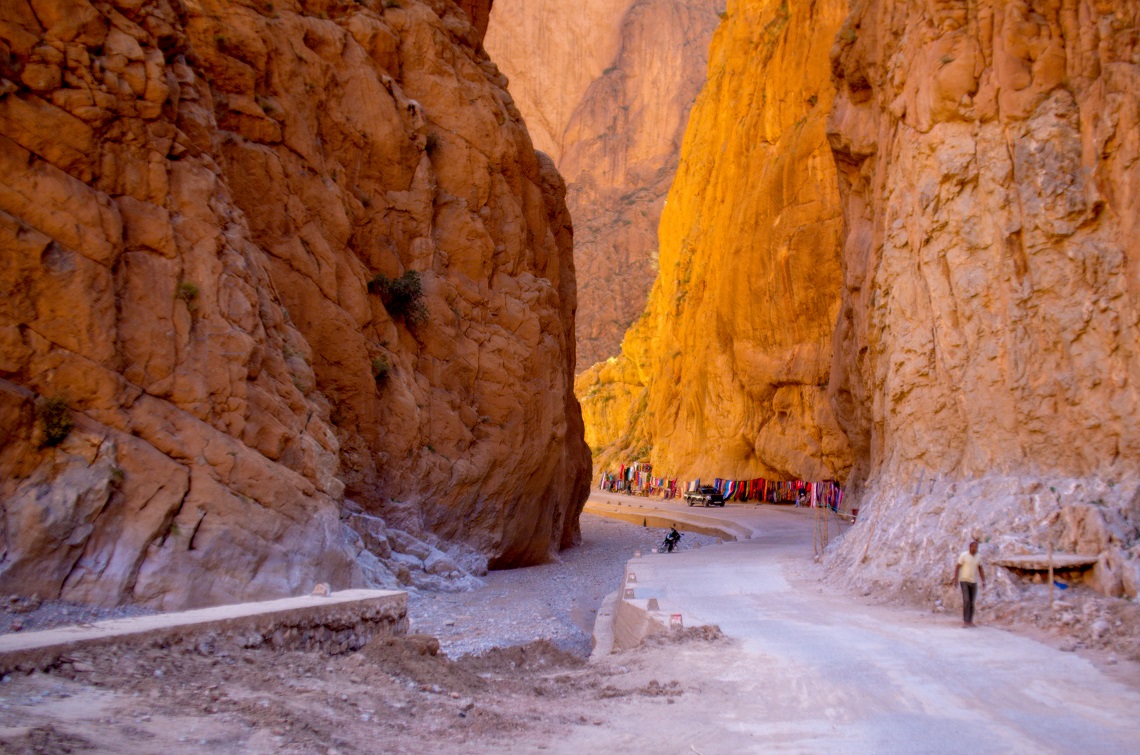 The gorge starts out quite wide but narrows to just 33 ft in places, with imposing limestone rocks rising on both sides. The road, while narrow, had been surfaced recently and was in good condition, other than in a few places where the tarmac had been washed away by seasonal rivers. With views this amazing, you wouldn't want to ride fast anyway. It was definitely a ride to savour.
The gorge reminded me of the Siq, the narrow rock-hewn entrance to Petra in Jordan, only a darker shade of red and with scrubby growth peppering the roadside. Against the dazzling blue sky, it was quite a sight. We spent the evening at a beautiful but isolated hotel, right in the gorge, with our cave-room carved out of the mountainside. Sitting under the stars, drinking Moroccan red wine and eating wonderful locally-grown food, we felt very fortunate indeed.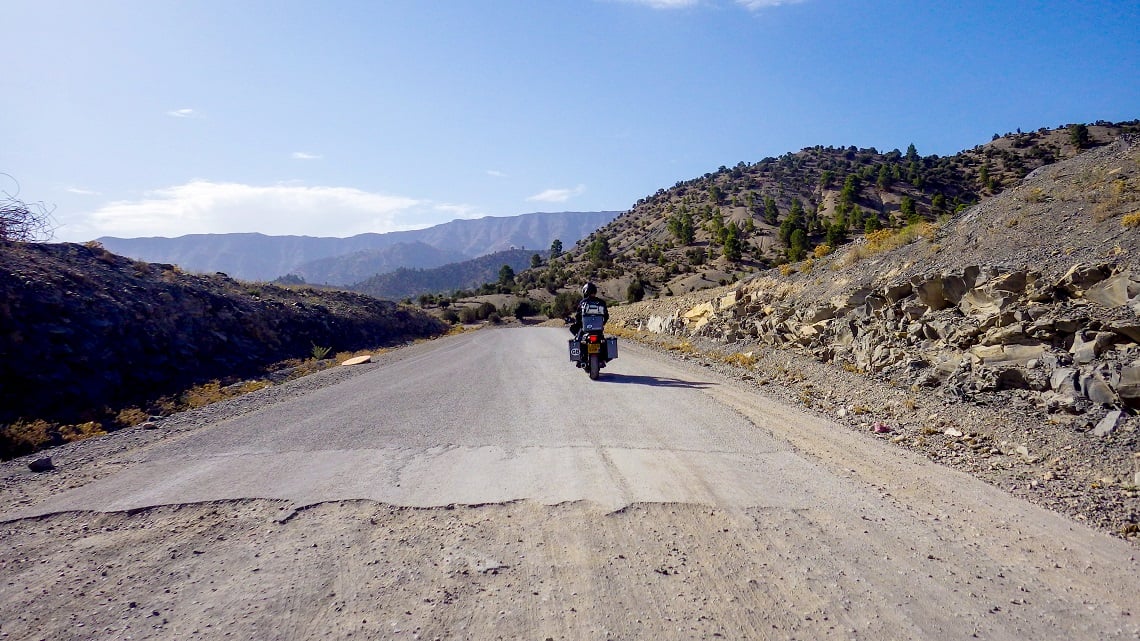 As we left the gorge behind the next day, we started heading west through landscapes that looked more like Mordor than Morocco. We rode through countless Berber villages with terracotta buildings crumbling into the road, full of excitable boys that made revving motions and gave us high-fives as we passed, the beautiful girls only smiling shyly. This turned out to be a hard day. An intermittent ABS fault on the bike and not-so-intermittent fault with Dorian's stomach meant we started late and needed to take more stops than planned.
A sign we passed at around 1 pm declared it was 43.7C even in this cooler season, and we certainly felt it. We soaked our jackets and gloves in cold water at every stop and switched off our intercoms so that we could ride with our visors fully open, but it was still draining. As we were nearing Ouarzazate with only an hour of riding left, we were stopped at a police roadblock. We had seen plenty of them so far and were usually waved through with a thumbs-up, but we were told at this one that we had been going over the speed limit of 60 kph (37 mph), thinking we were comfortably under the limit of 80 kph (50 mph) that our GPS had indicated.
Thankfully, the policemen were fellow bikers and let us off with a friendly warning after inspecting our passports and logbook. We made sure we didn't rely on the GPS speed limits after that. Then, just as we thought we were almost at our destination, the heavens opened and we were drenched with heavy rain. This was something we were completely unprepared for as we rode on the former caravan route between the Sahara and Marrakech. The road became so slippery that we had to slow down even more, but thankfully the rain only lasted 15 minutes and it was then back to unrelenting sunshine again.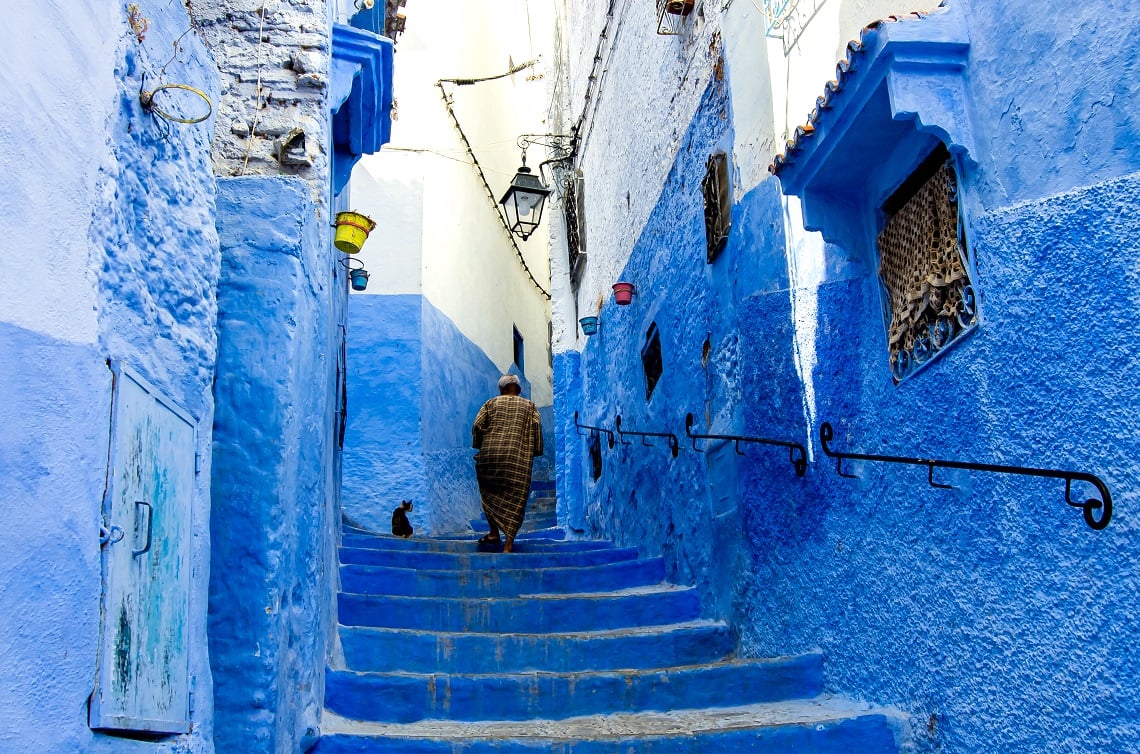 With three long days of riding on interesting and sometimes challenging roads behind us, we were looking forward to another day off the bike and the old Kasbah of Ait Benhaddou was the perfect place to unwind. Our riad was a beautiful family-run hotel appropriately named Paradise of Silence, set off the main road with stunning views of the desert. Our wonderful hosts plied us with mint tea and delicious home cooking.
We spent hours exploring the UNESCO heritage Kasbah which was the setting for many movies and television shows including Gladiator, The Mummy and Game of Thrones. There were also more of the Instagram-brigade we had endured in Chefchaouen. Unfortunately, we couldn't unwind with a cold beer as alcohol is scarce away from the larger towns, but it gave us the chance to rest and make sure the bike was ready for the next part of the adventure.
A day later, we got up just before the sun and set off as the day was breaking. On the advice of a couple we met at the riad who own a motorcycle touring company, we took the smaller provincial road towards Marrakech, rather than returning to the national road at Ouarzazate. We were immediately thrown into a swift succession of hairpin bends snaking up through sleeping villages before following a stunning green valley that wound its way towards the High Atlas mountains. We rejoined the national highway just before the Tizi n'Tichka the highest major mountain pass in North Africa. It was one of the easiest rides of our trip and we enjoyed it thoroughly. The road has been worked on extensively and is wide and mostly newly surfaced.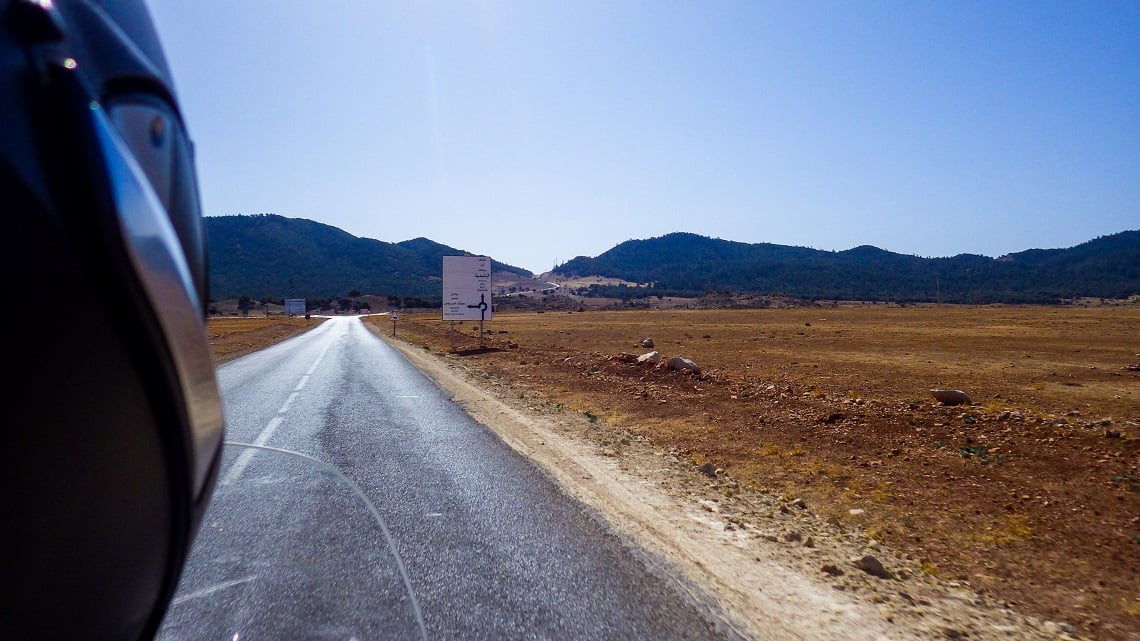 There are still small stretches of gravel but, judging by the number of road-laying machines in the area, these won't be around for long. After a short stop to enjoy some panoramic views of the High Atlas, and with our ABS fault rearing its ugly head again, we gradually swapped the green and lush mountains and foothills for arid and flat landscapes and a rather less interesting ride into Marrakech. The long, straight roads were interrupted by numerous roundabouts and slow-moving trucks that refused to give way to anyone.
We were a little unprepared for the tiny but incredibly busy cobbled roads that led to our car park in Marrakech, but it wasn't long before the bike was safely parked and Dorian could release his death grip on the handlebars. We enjoyed another day off the bike for my birthday and spent it drinking cold Casablanca beer in sweltering rooftop bars, eating traditional tagines and couscous, and exploring the maze of tiny lanes that make up the medina. The heat was aggressive, more than 10C above the seasonal average, but our peaceful riad was cool and provided a welcome break from the heat and constant sales-patter of the stall-holders in the surrounding souk.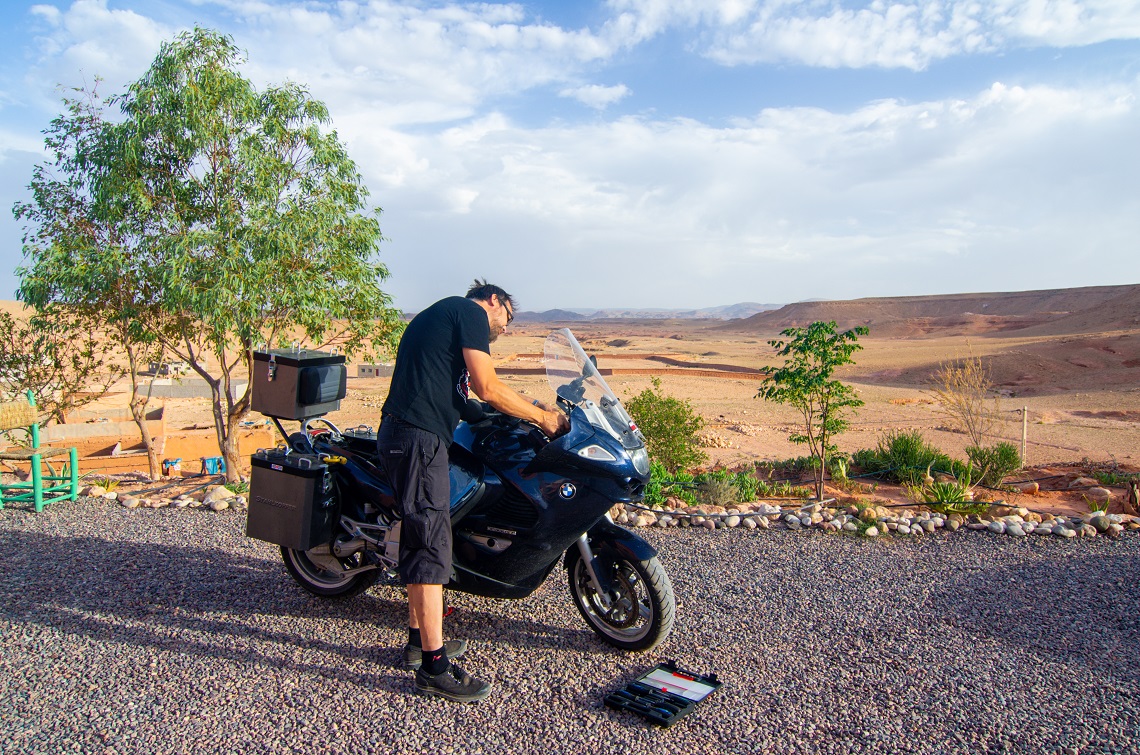 After the heat and hassle of Marrakech, we were looking forward to the cooler temperatures of the coast the next day, and as we neared the small seaside town of Essaouira, the temperatures dropped to the mid-twenties and brought with it a welcome sense of calm. With our ABS problem now under control, the ride from Marrakech only took two-and-a-half hours along straight roads, but the scenery was still glorious.
Dazzling white sand dunes and the occasional argan tree full of goats were surrounded by tourists with their huge buses parked nearby. We arrived in Essaouira to find our riad locked, but everyone on the tiny street got out their phones to contact the owner for us. It wasn't long before we were checked in, got out of our motorcycle gear and were having lunch in a charming organic and plastic-free café listening to Leonard Cohen, which matched the mood of the town perfectly.
Feeling refreshed after an evening in Essaouira's relaxed medina, we set off early the next morning for our longest day of riding at 288 miles. We wanted to get to Rabat without stopping in Casablanca as we had heard that the romantic-sounding city wasn't worth visiting, so we were prepared for a day on uninteresting toll roads to make good progress. The first part of the ride was completely unexpected, a perfectly-paved and tree-lined road with no other traffic, which wound its way over small hills connected by fast straights.
After starting the day riding directly into the rising sun, we joined the toll road only to be buffeted continually by strong crosswinds, but we raised the windscreen on the bike and had plenty of stops to clear our heads and fill up on coffee and freshly-squeezed orange juice. The toll road was quiet until we approached the Casablanca turn-off, where there was a rush of mad traffic and the only bad driving we'd encountered on the trip so far. Cars were passing on the wrong side of us with centimetres to spare, then slamming on their brakes to avoid rear-ending the car in front.
In contrast, all of the truck drivers at the toll gates let us push in front of them with huge smiles and friendly waves. We were happy to continue on to Rabat, where we found secure 24-hour parking just outside the city walls and walked five minutes to our riad in the medina. We were again welcomed with refreshing mint tea and a beautiful room for around £35 a night. I had booked all of our hotels online a few months previously, and it was great to be able to turn up in a new city without having to find accommodation on arrival.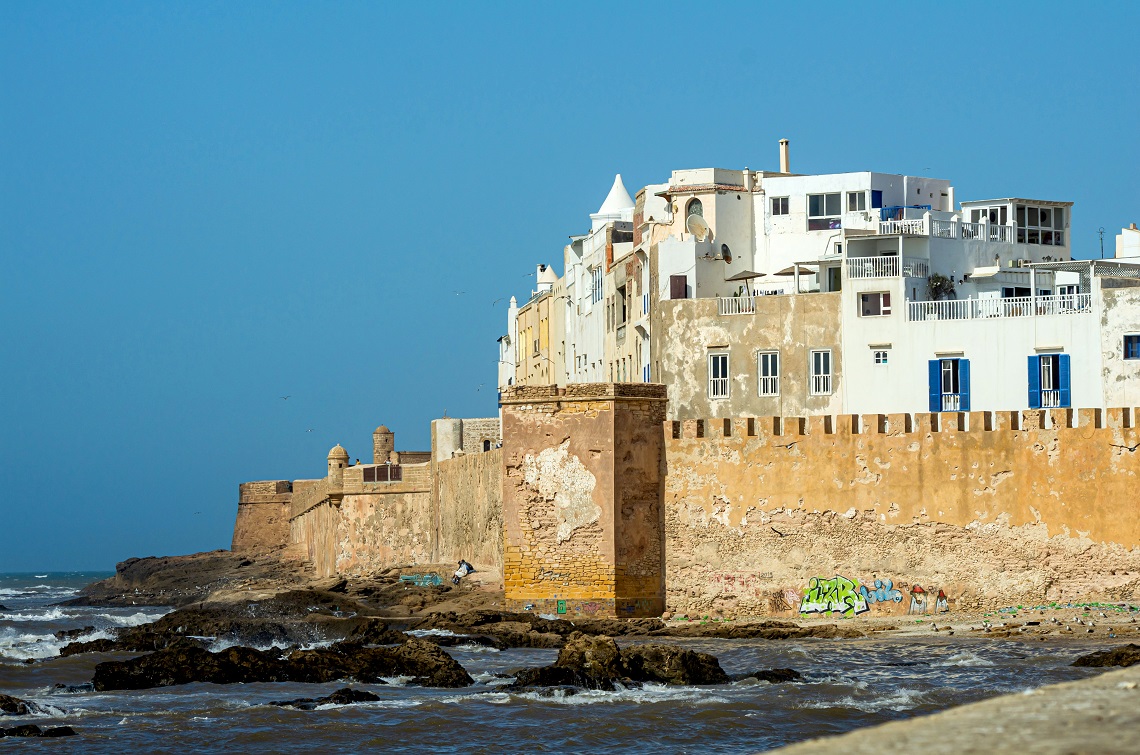 Following the previous day's long ride, we enjoyed a much-needed lie-in and spent the rest of the day exploring Rabat's historic medina and the Kasbah of the Udayas with its beautiful blue-and-white buildings, reminiscent of Chefchaouen which by now felt like months ago instead of just two weeks earlier. Although Rabat is the capital city of Morocco, it has a much more relaxed feel than Fez or Marrakech, with extremely friendly people and wonderful street food.
We spent quite a lot of time on a dhow that is now a lively bar with cold beer on tap and complimentary spiced olives. The temperature was a much more bearable 26C by day. Dorian and I agreed that this was our favourite city of the trip.
We left Rabat for Tangier amid the morning rush hour traffic. Thankfully, most of it was going in the opposite direction towards the new town and commercial district. The drivers were all aware of the motorbike though, letting us pass in front of them at the many roundabouts with a friendly wave or salute.
There was a heavy mist as we left Rabat, making it feel as though we were riding through Northern Europe instead of Africa, a notion ruined only by the occasional palm tree and village mosque. As the fog lifted, we rode past busy farms with the whole family out in the fields, along with their hard-working donkeys and scores of egrets supervising nearby.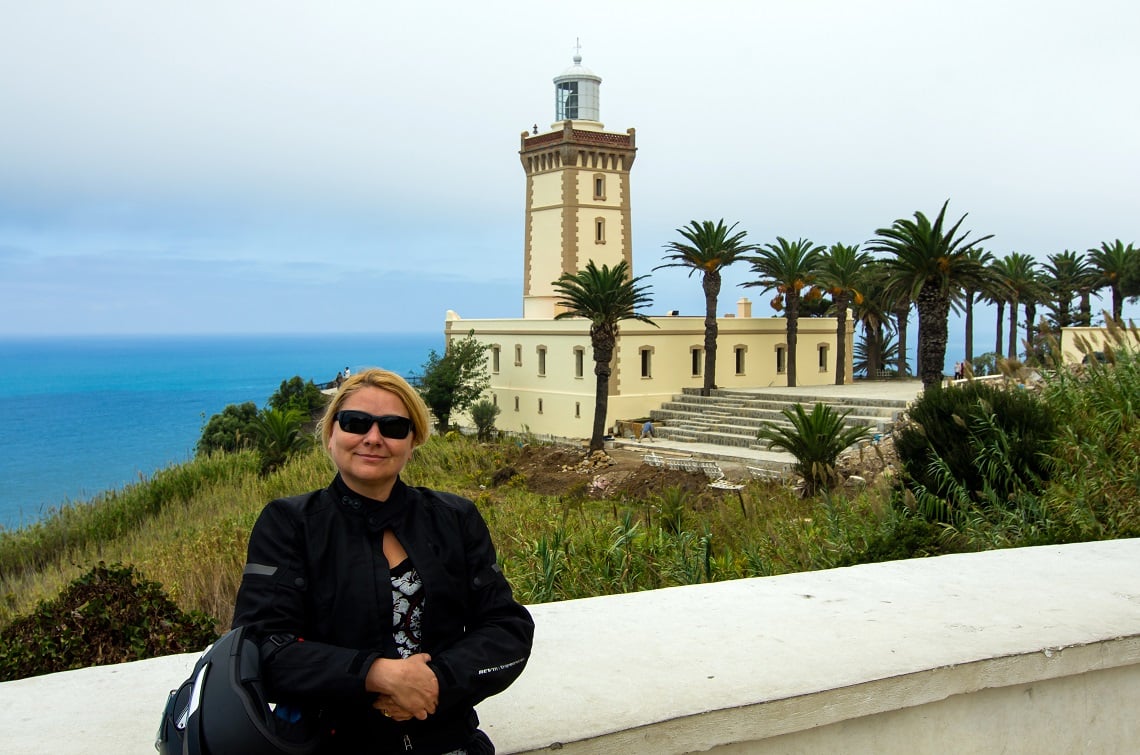 Rather than heading straight to our hotel when we arrived in Tangier, we took a detour to Cape Spartel, the point where the Atlantic Ocean meets the Mediterranean. Although the initial route suggested by our GPS was nondescript, we soon turned onto a breathtaking road that hugged the coastline. It provided stunning views of the wild Atlantic and secluded beaches, each with a small herd of camels at the entrance to entice passing tourists.
The ride from Cap Spartel into Tangier was equally scenic, with gentle bends as we crossed the small hills that surround the city. We were a little disappointed that our trip through Morocco was ending when we reached our city-centre hotel, but we celebrated with cold beers on a patio overlooking the sun-bleached medina. We both agreed it was hands-down the best motorcycle trip we've done.
About a week into the trip, as we were leaving the Todra gorge, we pulled in at a viewpoint and started chatting to a friendly Australian man who was travelling in a minibus with his partner, young children and hired driver. He was really impressed that we had ridden all the way from Spain and had a faraway look in his eyes as we described our trip so far. As we left, he told us that's how he wanted to travel the world once his children had grown up. Hopefully, we passed on the motorcycle bug, just as the two anonymous German riders did with us all those years ago in Marrakech.
---
About the bike
Old Hoss is a 2004 BMW K1200GT. Dorian has added a larger aftermarket screen, handlebar risers and a footpeg lowering kit, and has scooped out the seat padding to make it easier on the groin (a gel insert helps). I bought him a set of Stahlkoffer panniers and top box for a recent birthday. To get the panniers to fit, he had to cut off most of the original exhaust system which he replaced with an eBay-sourced muffler and some homemade pipework. Unexpectedly, the engine runs as well with the new exhaust as it did with the old.
---
Riding in Morocco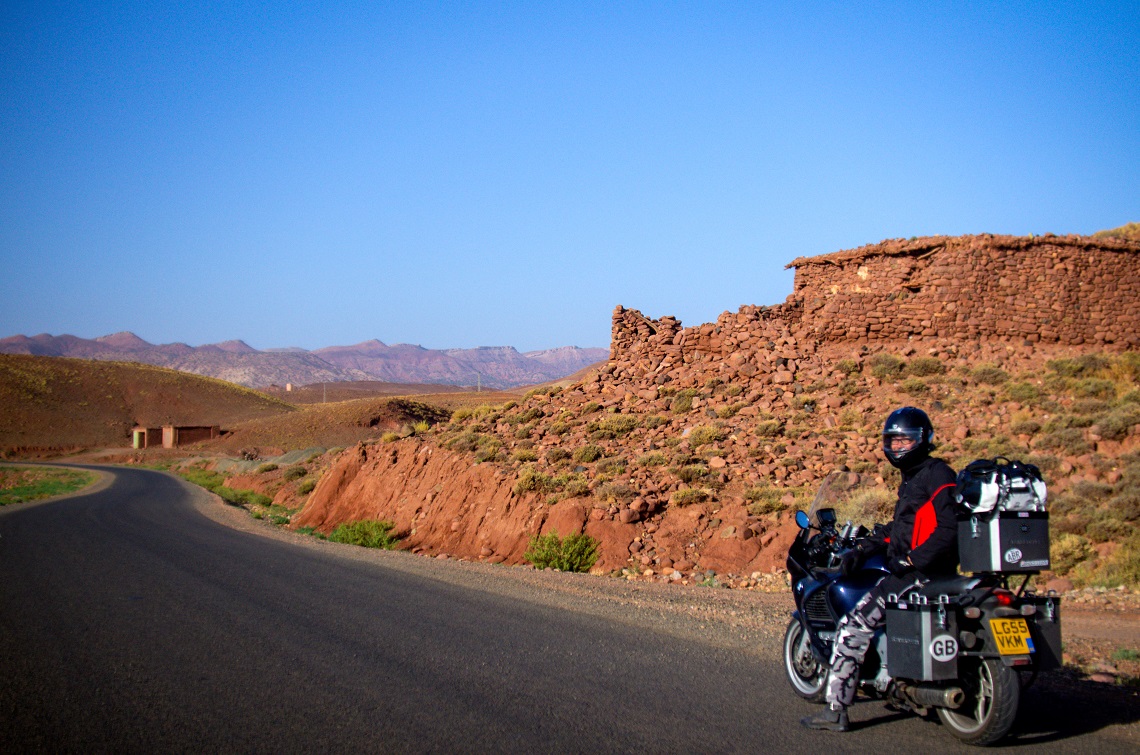 Although the bike we have limits us to smooth surfaces, by choosing the smaller provincial roads, we got to see a lot of Morocco that isn't visible from the main highways. This was a two-week adventure, some days were long, but starting as the sun came up meant we always had time to explore our destination on arrival and a few strategically placed days off the bike really helped.
If you're not used to riding in high temperatures, it can be draining and you can succumb to dehydration without realising it. There were plenty of places to stop for water, food and petrol along the routes we chose. Most petrol stations have a small independent cafe offering freshly cooked food and clean toilets.
If you're not confident with mountain riding, you could do the route in the opposite direction which would give you more time to get used to riding in Morocco before hitting the mountain roads and passes. When planning a route in Google Maps, add at least another 25% to the time suggested, as many of these roads have much slower speed limits than expected and there are a lot of speed traps.
---
The Route
We rode 1,350 miles in total across Morocco. From the port of Tangier Med, we headed south to Chefchaouen in the Rif mountains, then further south to Fez and on to Khénifra in the Middle Atlas mountains. From Todra gorge in the High Atlas, we headed west to Ait Benhaddou, then over the High Atlas again to Marrakech and on to Essaouira on the Atlantic coast. We followed the coast north to Rabat and on to Tangier before returning to Tangier Med.