Chris Cope explores his adopted homeland of Wales on a stunning ride along the TomTom Brecon Beacons Discovery Route.
I'm from the United States originally, where we give nicknames to good riding roads, like Tail of the Dragon, Twisted Sisters, and Going-to-the-Sun Road.
In fairness, I suppose the roads of Wales, where I live now, have nicknames, too, though they're less intimidating, like That Road By There, The Road To My Nan's House, The Road I'm On Right Now… However, just like in the States, there are plenty of superb motorcycling roads in Wales, especially in the Brecon Beacons National Park.
The youngest of Wales' three national parks, Brecon Beacons is 520 square miles of outstanding natural beauty that was awarded UK national park status in 1954. It's home to one of the world's 13 International Dark Sky Reserves and the sort of place you go to feel far away from everything.
No doubt this is why many off-road and adventure bike schools are based here – BMW Off Road Skills and the Triumph Adventure Experience among them.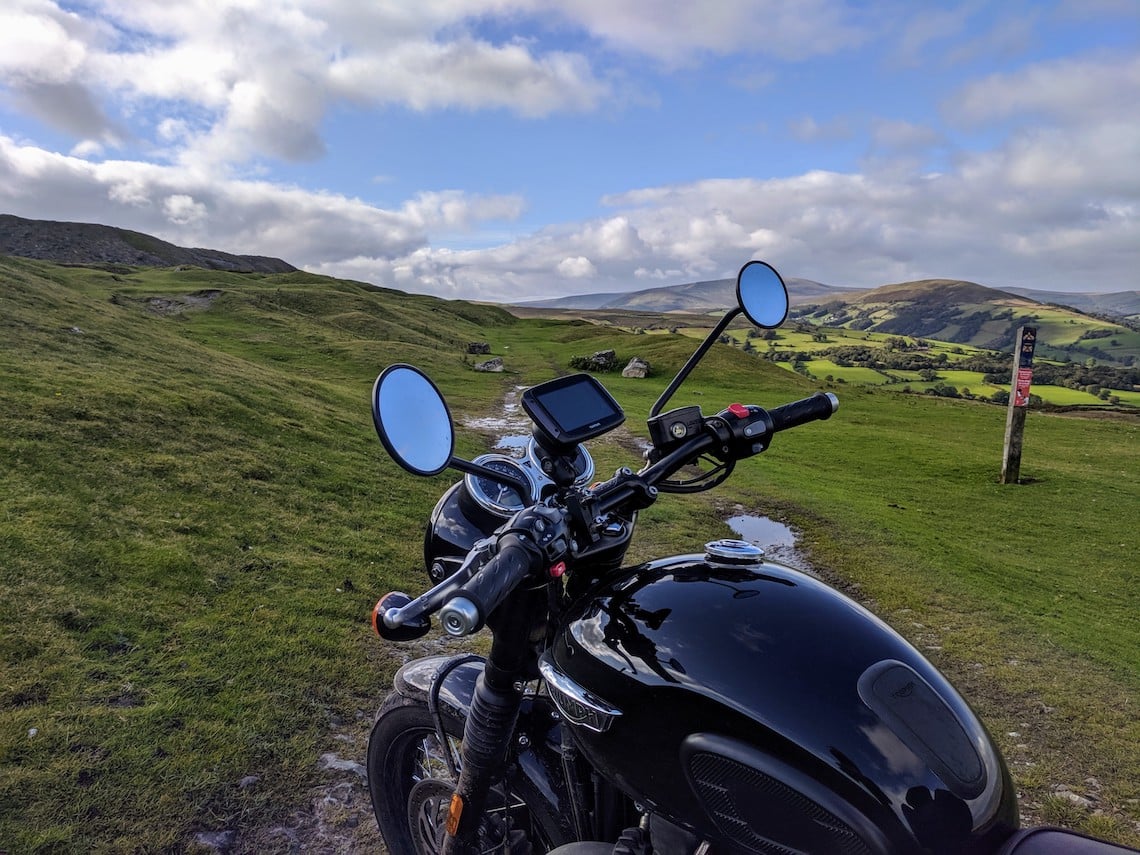 There's plenty of on-road fun to be had, too. Indeed, your biggest challenge when riding a motorcycle route through the Brecon Beacons is fitting everything in. I've put together a route that gives a broad overview, but don't feel you have to follow it religiously. Follow whatever road tickles your fancy – you won't regret it.
On that note, setting your TomTom Rider 550 to choose 'Twisty' routes through the Brecon Beacons will take you to some pretty exotic locations.
But, before we set off on our route, here are two quick tips for riding in the Brecon Beacons National Park: 1) You've heard that it rains in Wales, right? Make sure you have waterproof kit. 2) As a national park, the Brecon Beacons draws a lot of people who have no idea where they are and they drive as such; be careful on overtakes – especially as loose sheep and wild ponies are also likely.   
1.
Steel Horse Cafe, Llanvihangel Gobion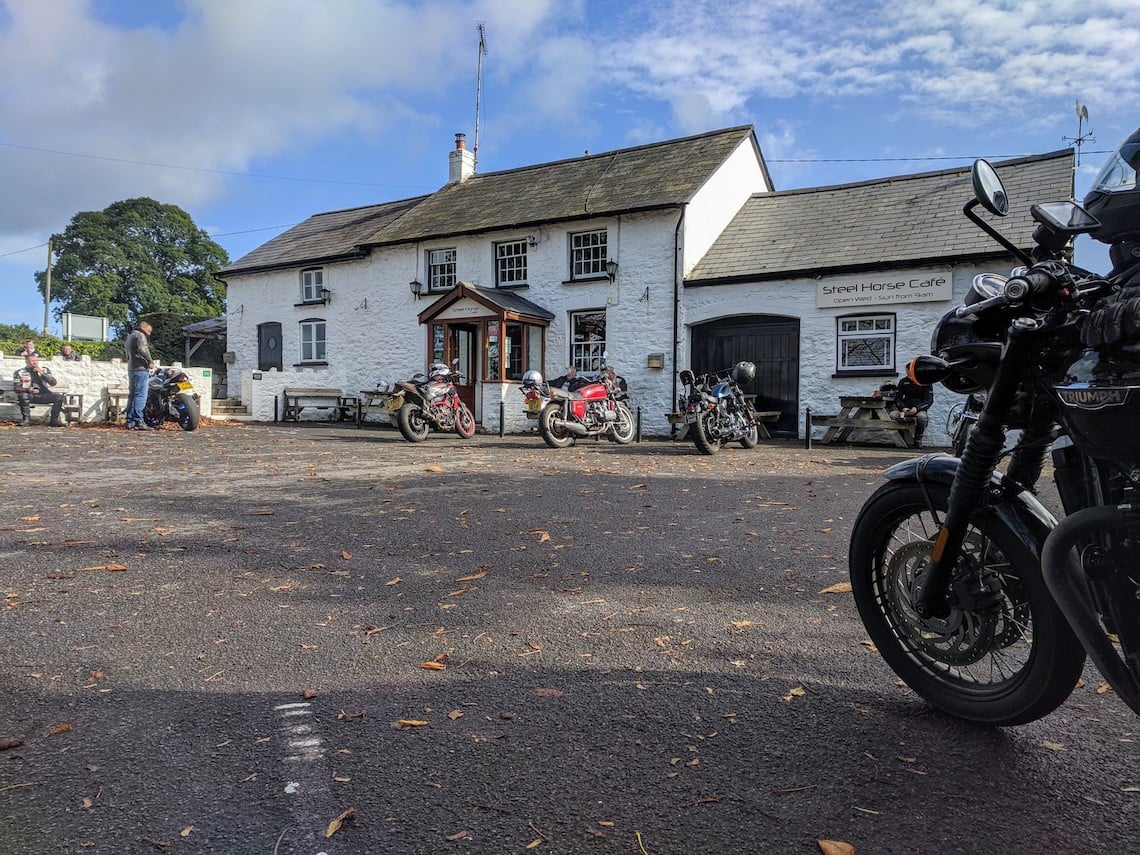 The motorcycle route through the Brecon Beacons I've put together is only 138 miles long, but with a number of narrow lanes involved, as well as several opportunities to get off the bike and enjoy the Brecon Beacons at its best, you'll want to start with a good breakfast.
Fill up at Steel Horse Cafe, on the outskirts of Abergavenny. You'll understand why this is one of the region's favourite biker stops just in getting to it. The roads here are lovely. Be on the lookout for mobile speed cameras though. From here, head straight north, under the A40, and make your way through a warren of country lanes to Llanthony.
Edit: Sadly, Steel Horse Cafe is now closed, although we've been told that bikers should instead head to Baffle Haus, which is close by, for their fix of caffeine and breakfast.
2.
Llanthony Priory, Llanthony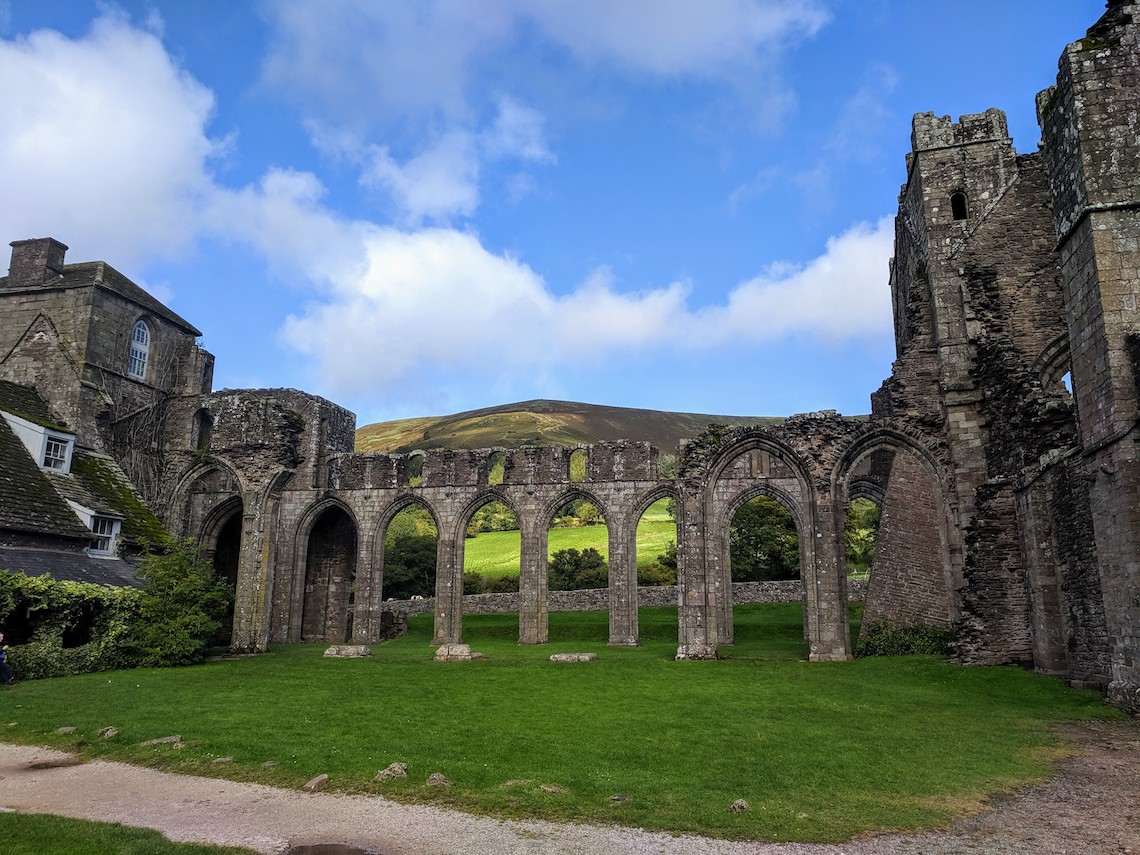 As the crow flies, Llanthony is less than a mile from the Wales-England border, but arriving here will leave you feeling not only that you have travelled to some forgotten corner of the planet, but also back in time. Broken, rutted and moss-covered roads had me up on the pegs to ensure traction on a wet day.
At one point, I encountered a family travelling by horse-drawn cart. They seemed mystified by the presence of a motorised vehicle. All of which contributes to the forgotten feel of Llanthony Priory, the ruins of a once impressive priory established in the early 12th century. Llanthony has a hotel, two campsites, two bunkhouses, and two pubs. As you can guess, it's a great base for tackling local walking trails.
3.
Gospel Pass to Hay-on-Wye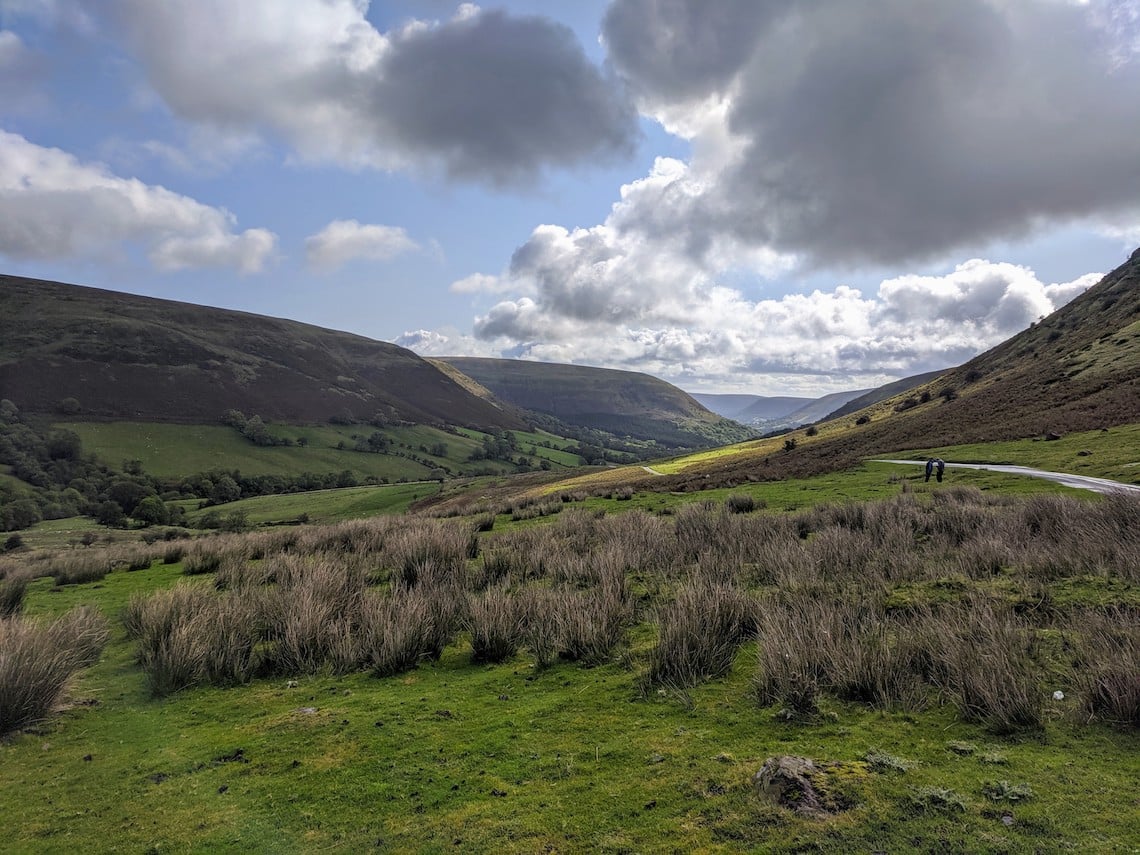 Heading north through Capel y Ffin the road stays narrow, muddy and winding. The payoff is the scenery. First through dark woods overlooking the River Honddu, then up into the windswept beauty of Gospel Pass, Wales' highest road. A few miles down the road, you may feel a sense of disconnect as dramatic scenery makes way for the quaintness of Hay-on-Wye.
Home to the annual Hay Literary Festival, each year it draws writers, musicians, thinkers and politicians from all over the globe. It should come as no surprise to learn that the town is also famous in part for its abundance of bookshops.
If the weather's good, head down Gipsy Castle Lane to a broken horse path and ride this to the Warren. Park at the gate and walk across an idyllic grassy field to a rocky beach, where you can enjoy the cool, fast-moving waters of the River Wye. 
4.
Honey Cafe, Bronllys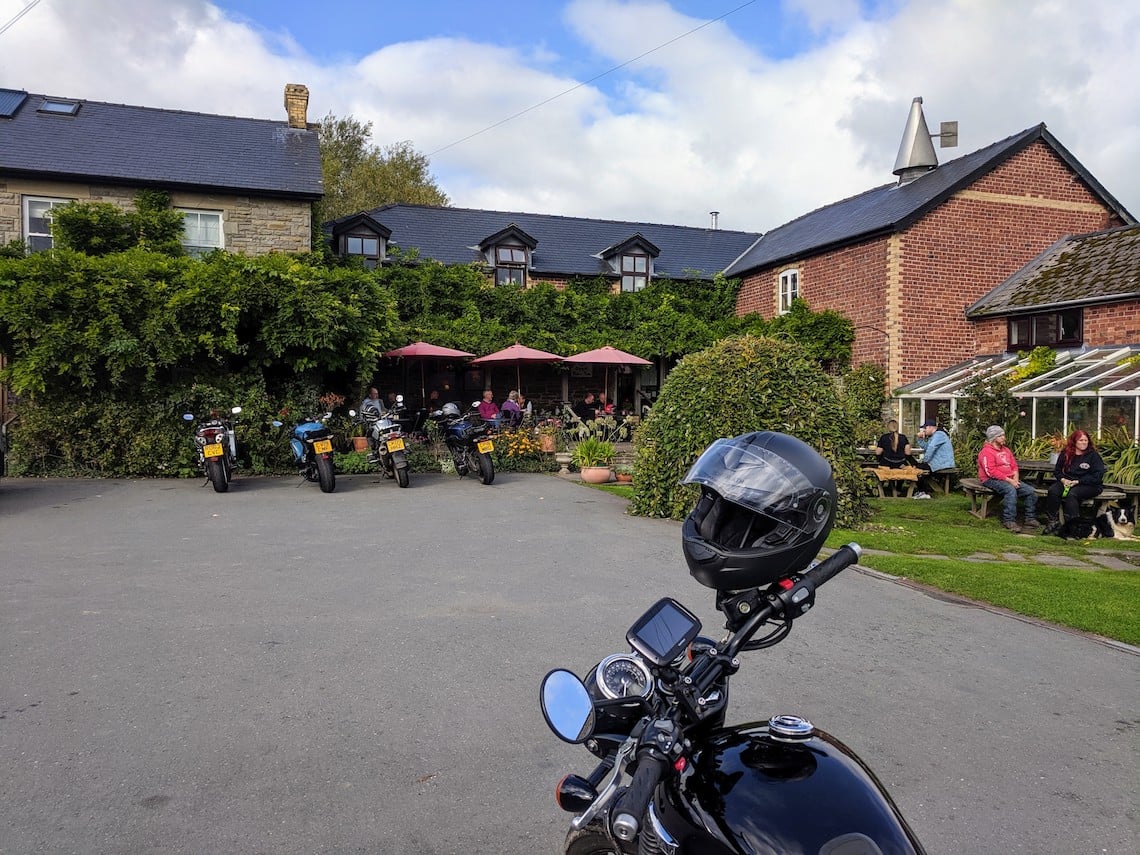 Having worked up an appetite splashing about in the Wye, speed southwest on the B4350 and A438, through the amusingly named Three Cocks, to the Honey Cafe, which lists TexMex food as one of its highlights. I'll be honest, the TexMex fare wouldn't win any ribbons back in Houston, but needs must when you're a Texan far from home.
Besides, the views from the cafe are fantastic. The cakes are pretty amazing, too. There is plenty of parking for bikes, and a good amount of outdoor seating facing toward Waun Fach, one of the taller peaks of the eastern Brecon Beacons. For dessert, treat yourself to the winding but swift route to Llangorse.
5.
Llangorse Lake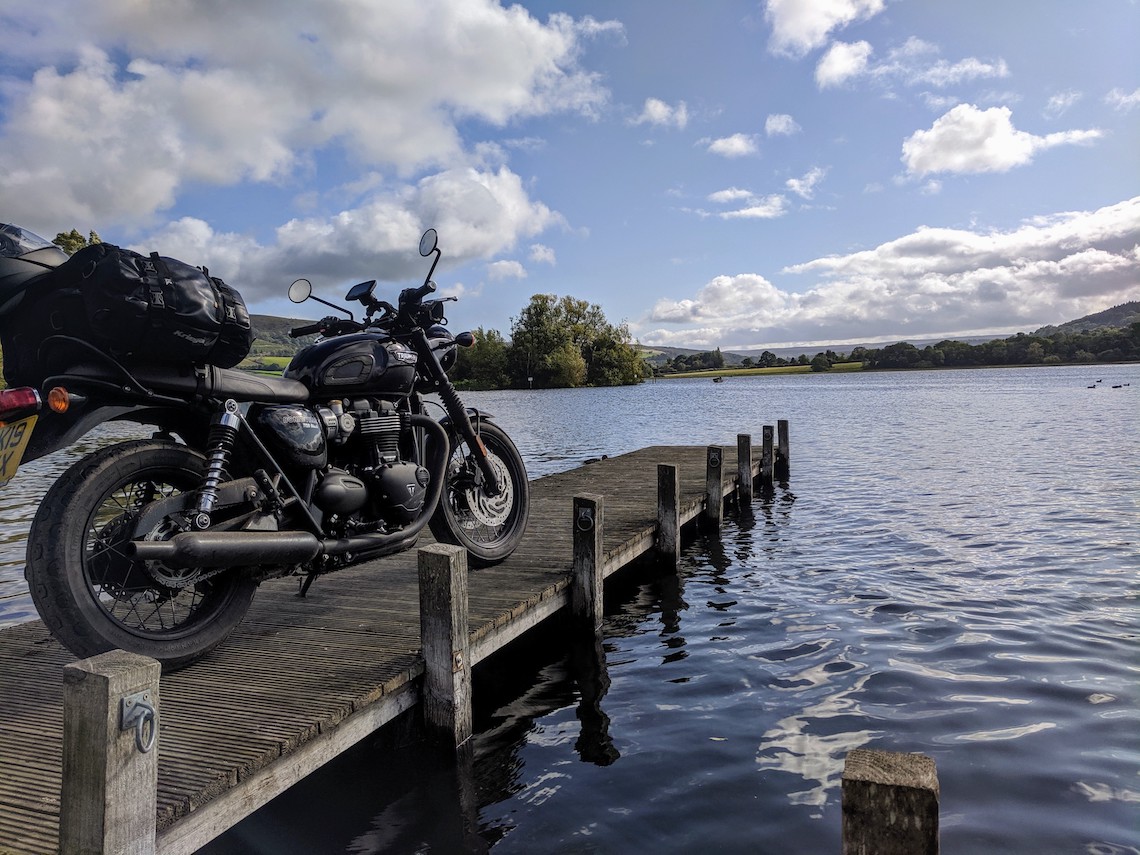 The B4560 is one of those routes that often shows up on lists of Britain's best driving roads. Thankfully, it remains relatively unspoilt by the attention. We'll be covering most of its 16.9 miles but in different sections, starting with this one to Llangorse Lake, a large natural body of water that's been drawing visitors for at least 1,100 years.
Reportedly it is home to an alligator-like monster known as the Afanc, but most people come for the fishing, water activities, camping and scenery. There's also plenty of other wildlife to take in, including otters and enough waterfowl to make Chris Packham rub a hole in his trousers.
6.
B4560 Part II

At the town of Bwlch, hop onto the A40 and fly south to Crickhowell, then cut back west, across the River Usk, through Llangattock, back to the B4560. We're only going to be covering a small section of the road, heading back towards Bwlch, but what a section it is.
Shortly after getting onto the B4560, you'll see a muddy car park to your left. Turn in here and take in the beauty of the Usk Valley below. I love this view. Every time I ride here I'm reminded of why I left the warmth of Texas for the soggy, cold of Cymru. Follow the road's Alpine-like hairpins down into the valley and on to Llangynidr. From there, head towards Brecon on the B4558, through Talybont-on-Usk and Pencelli.
7.
Brecon Beacons National Park Visitor Centre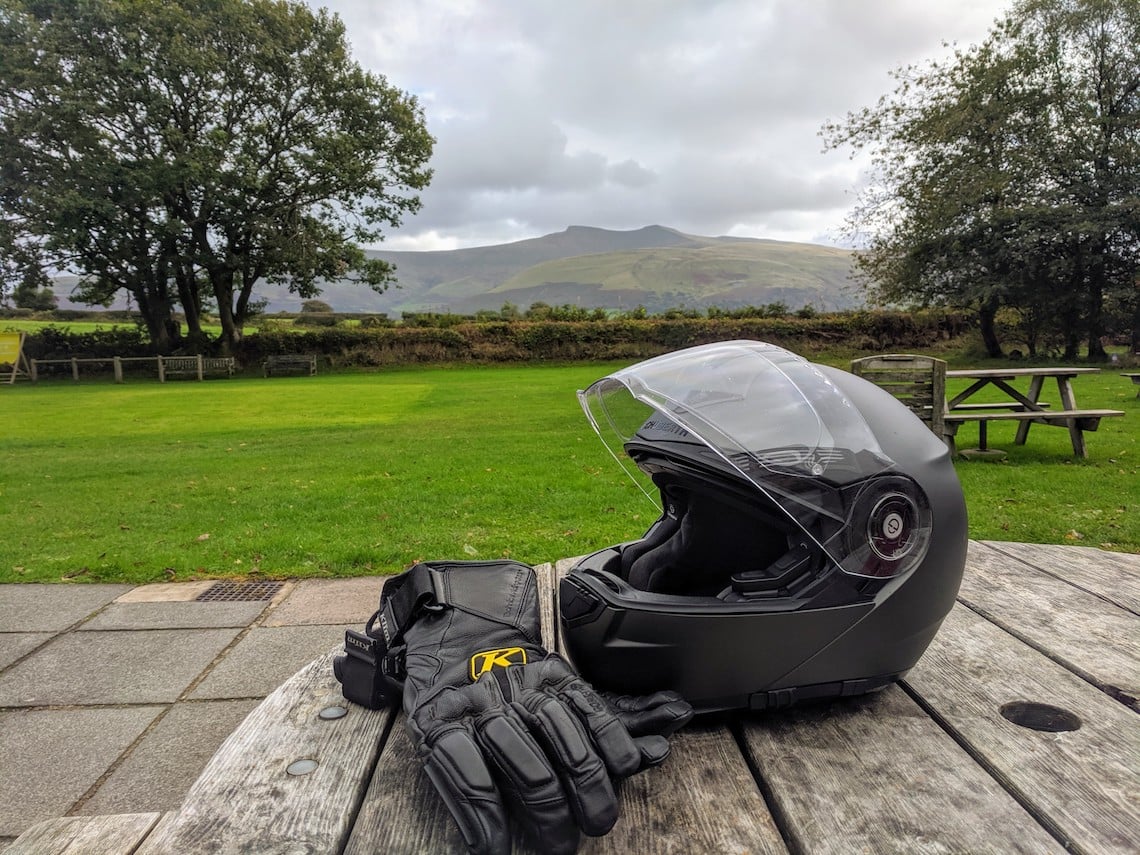 Depending on the variables of weather, other road users and individual riding style, it's possible that up to this point you've had few opportunities to get beyond fourth gear. Give your bike a chance to stretch its legs a bit by hopping onto the A40 to Brecon, then the A470 to Libanus and the National Park Visitor Centre.
If you didn't get enough tea and cake at the Honey Cafe, you'll find more here, with postcard views of Pen y Fan and Corn Du – the two tallest peaks of the Brecon Beacons. You can also spend some time learning about the park and take an easy walk (I've done it in riding boots) that gives you a real sense of how beautiful the area is.
8.
Sarn Helen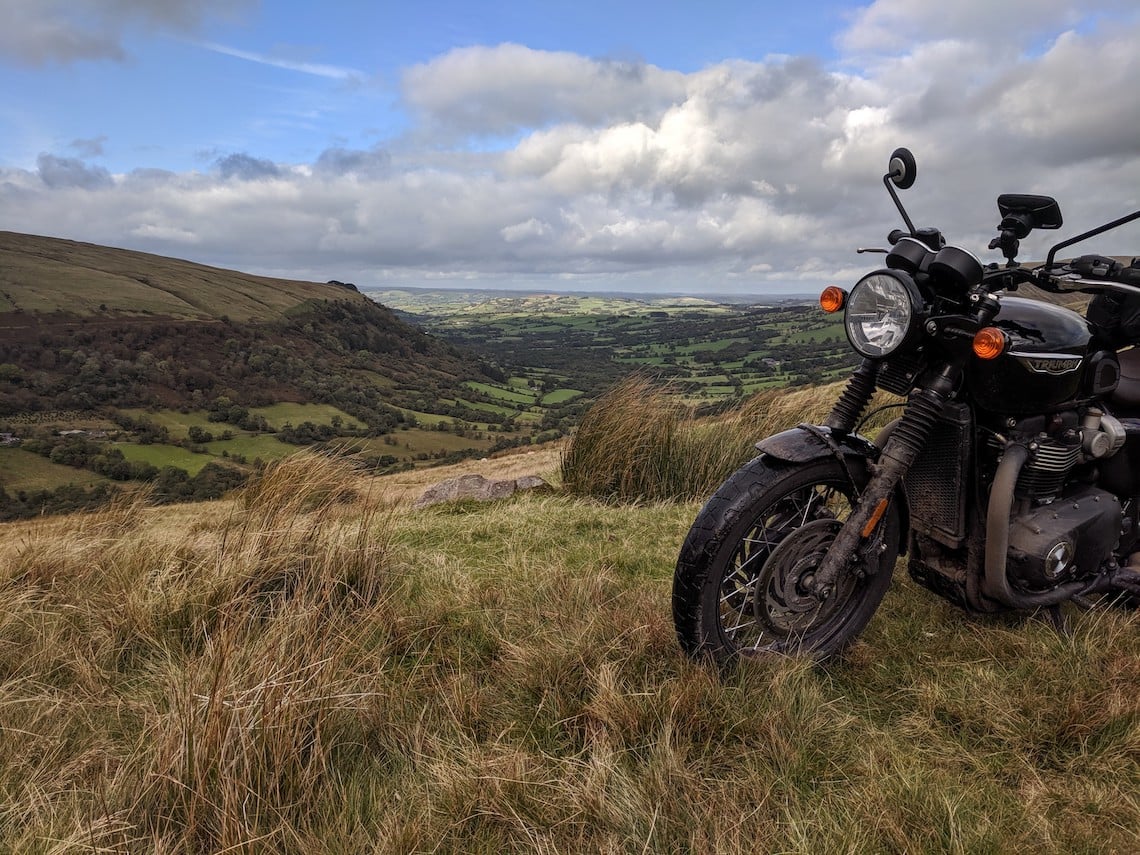 Hopping back onto the A470, take it south past the trailhead for the most popular route to Pen y Fan and Corn Du. And I do mean popular. On warm days, hikers have been known to queue to take their picture on the peaks' cairns. Past Beacons Reservoir, turn right onto the A4059, a fantastic road with great curves and sightlines, which are perfect for making swift progress.
If you stay on this road, you'll reach the Penderyn whisky distillery, but we're going to veer off before that, en route to Ystradfellte and a paved section of Sarn Helen, the 160-mile Roman road running from Aberconwy to Carmarthen. Up ahead are the sharp, steep turns of Devil's Elbow Pass which make for some particularly joyous riding.
9.
Glanusk Services, Sennybridge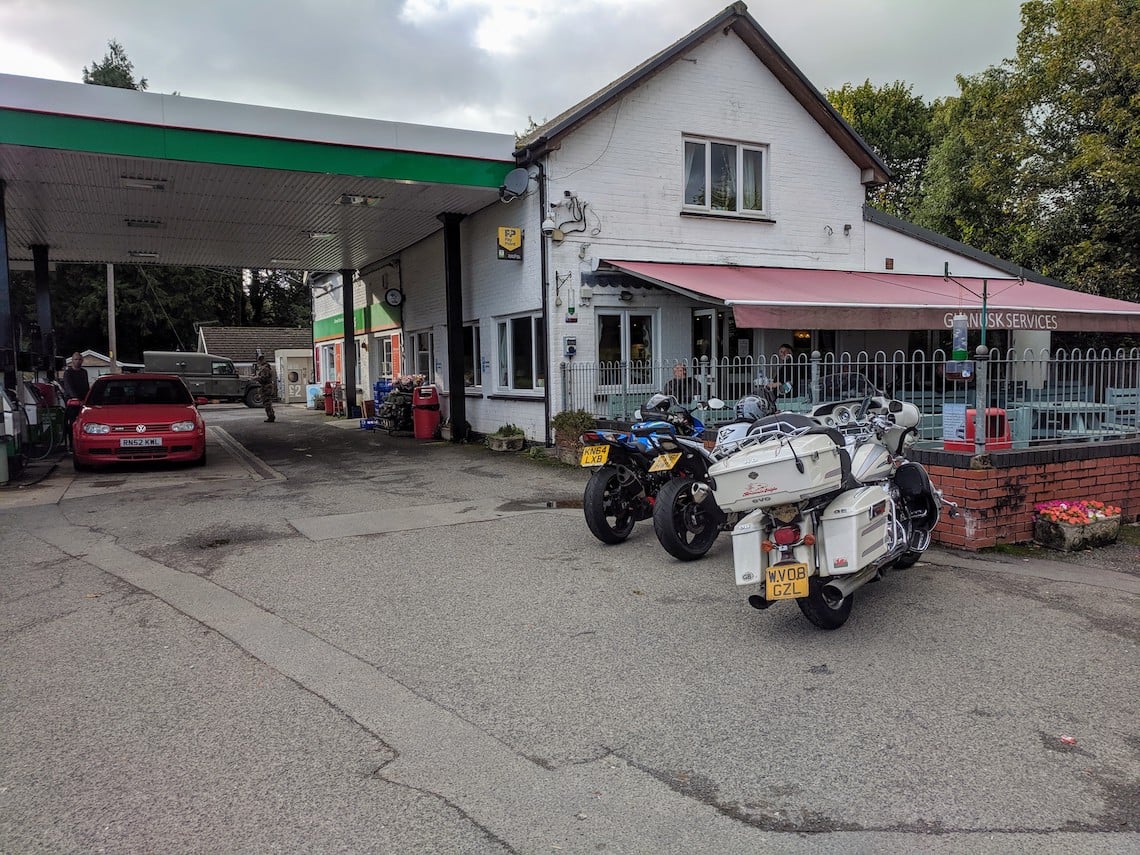 As you pass through the blink-and-you'll-miss-it village of Heol Senni, you'll spot signs to Ystradgynlais, whose name may be familiar. It is something of an adventure biking mecca, with the UK headquarters of Touratech, along with the aforementioned BMW Off Road Skills and Triumph Adventure Experience, all located in the same industrial estate.
The road to Ystradgynlais is lovely, passing the Dan-yr-Ogof National Showcaves Centre, but we're going to press on through Defynnog to Sennybridge and Glanusk Services. This cafe/petrol station/corner shop is a popular stop for bikers and offers excellent Welsh cakes. I also recommend the chocolate cake.
If your bike's tank is running low, this is probably the best place to fill up. Petrol prices aren't the cheapest but you're unlikely to find it less expensive anywhere else nearby.
10.
Carreg Cennen Castle, Trapp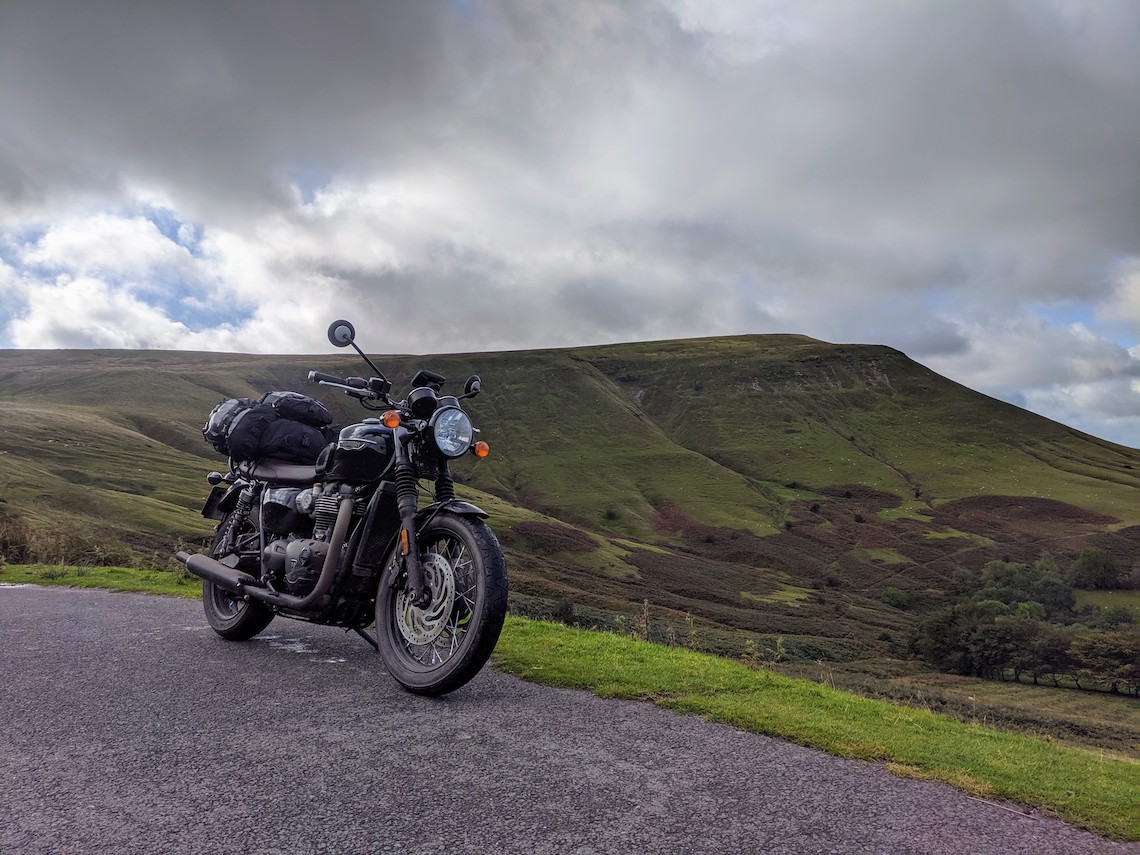 Push west on the A40 to the next town, Trecastle, then turn left towards Llanddeusant and onward to Pont-ar-Llechau and the A4069. This used to be a fabulous biking road but has been spoiled in recent years by low speed limits. We'll stay just long enough to get a sense of what once was, then turn right onto the single lane towards Gwynie and Trapp.
A number of off-road trails split off from the lane. Soon the lane drops into farmouses, trees and hedgerows. Carry on to Trapp and the 13th-century Castle Carreg Cennen. The highlight of the castle for me is the natural cave that runs beneath. Walk to its depths, kill the lights (you'll need a torch) and ponder the fact you are standing beneath so many tonnes of stone.
11.
Cwmdu Inn, Cwmdu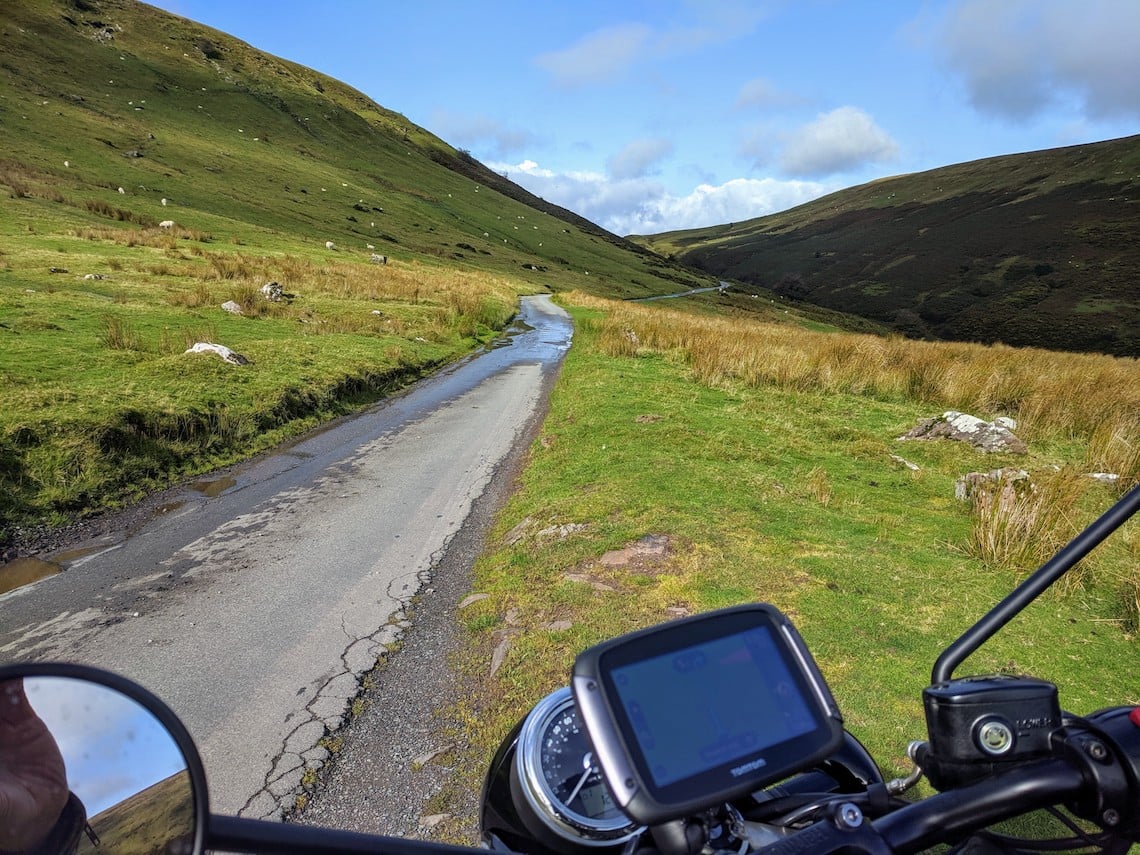 Just up the road you'll find the desirable town of Llandeilo, full of boutique shops and home to a multitude of festivals and events. Check out Heavenly, a shop on the main road that offers handmade chocolates, bespoke cakes and ice cream. Bring home chocolates and you'll likely be encouraged by your better half to go out riding more often.
From here you can follow the A476 down to the M4 and onward back home, but if you've put in a full day of riding, swimming and hiking you may want to stay the night. There's plenty of reasonable accommodation in Llandeilo but my advice is to head six miles up the B4302 to Wild Mountains glamping site. Spend the evening at the community run Cwmdu Inn, where you'll find a warm welcome, local beers, and, on certain Saturdays, a homemade feast.
The route
Plug these waypoints into your SatNav to follow, as near as dammit, the ABR and TomTom Brecon Beacons Discovery Route. This route is also available to download as a gpx. file so that you can stick it straight into your device without the hassle of thumbing in a new stop every so often.
Simply head to www.bit.ly/ABRrouteBrecon and enter the thread titled 'ABR and TomTom Brecon Beacons Discovery Route route files' and your download will be waiting for you.
Steel Horse Cafe, Llanvihangel Gobion, NP7 9AY
Pantygelli
Llanthony
Hay on Wye
Honey Cafe, Bronllys, LD3 0LH
Llangorse
Llangattock
Llangynidr
Brecon Beacons National Park Visitor Centre, Libanus, LD3 8ER
Ystradfellte
Llanddeusant
Carreg Cennen Castle, Trapp, SA19 6UA
Cwmdu Inn, Cwmdu, SA19 7DY
Total miles: 138 miles
Discover over 200 UK motorcycling routes with access to the ABR Online Library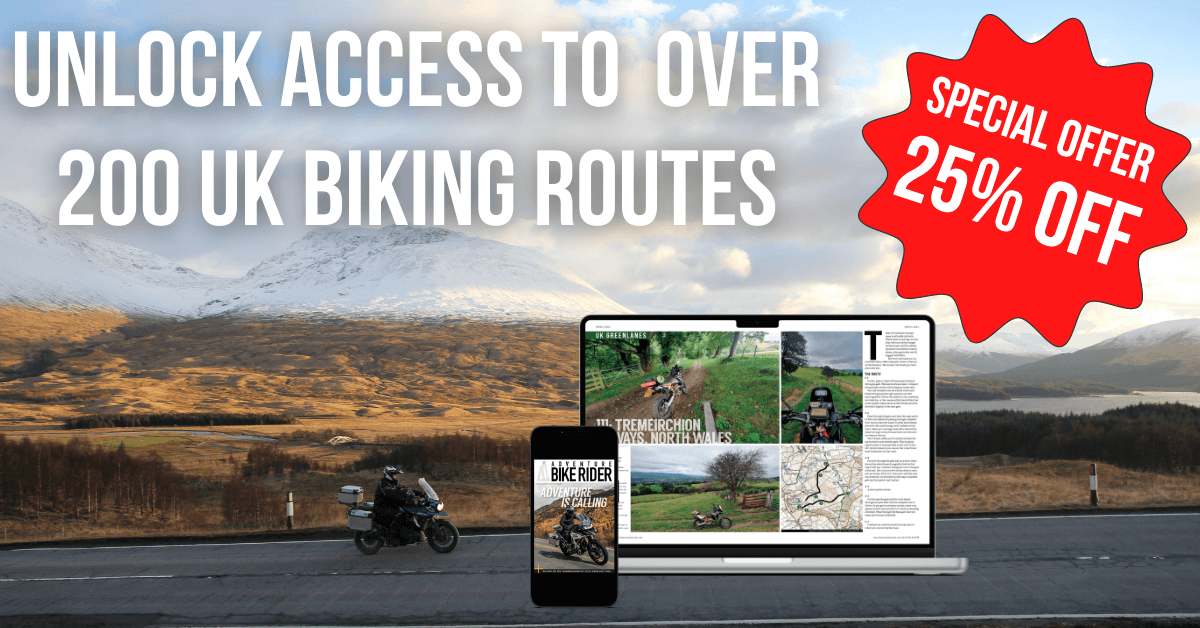 With an ABR Digital Library membership, you'll have access to an online library of over 200 UK route suggestions, complete with maps to follow and gpx. files to download for your SatNav. It's the key that will unlock a whole new world of weekend adventures!
Find out more about the ABR Digital Library and how you can save 25% on membership here.