Bryn Davies reports from the UK's biggest motorcycle show, motorcycle live.
While Intermot and EICMA stole the show over the last few months of 2016 with regards to new motorcycles being launched, it was the UK's biggest bike show, Motorcycle Live, that bowled us over. 
During the week of 19th-27th November, a total of 113,172 motorcycle enthusiasts descended upon the NEC in Birmingham in what was, for Adventure Bike Rider magazine, our most successful year to date. This visitor number represented a 2.4% increase on 2015's numbers, and this overwhelming support from you guys was felt throughout the three halls of Motorcycle Live by over 150 exhibitors. 
We had a stand at the show, sitting right in the heart of the adventure area, and it was incredible to get to meet so many Adventure Bike Rider readers and to hear about your trips. A big thank you must be extended to those who subscribed or renewed their subscriptions at the show, and we hope you continue to enjoy the magazine as much as we do putting it together.
Oh, and if you didn't get chance to subscribe there, feel free to give us a call on 01789 450 000 to sort out your bi-monthly fix of adventure inspiration! 
While a majority of our time was spent manning the ABR stand, we did manage to get a few hours to mooch around the halls to see what everyone else was getting up to, and here's what we found.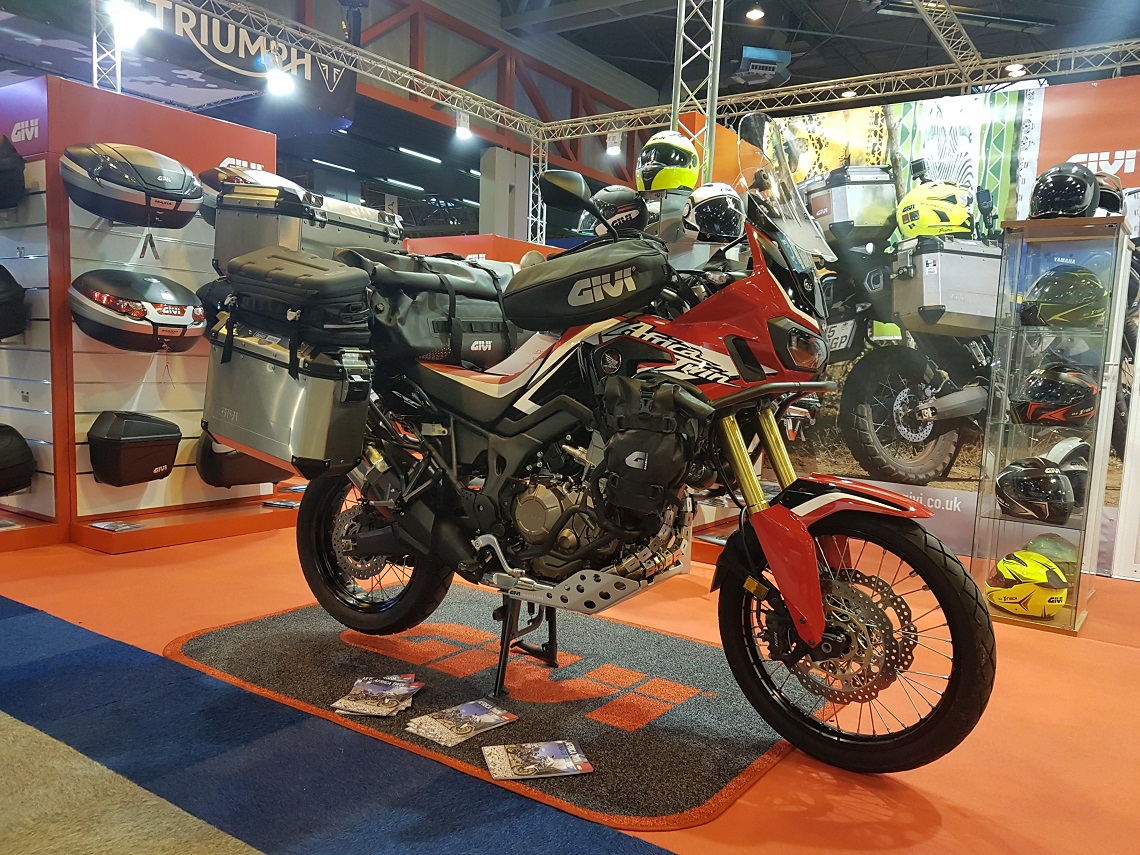 Our first stop was at the GIVI and HEVIK stand to check out the Italian manufacturer's new kit. Hevik has recently obtained a new supplier for its clothing, and the result is a dramatic increase in quality, which is great to see. One item that caught our eye was the beautiful Portland Jacket, a two-layer wax cotton jacket that looks perfect for casual motorcycle wear.
GIVI was showcasing its new range of accessories for the massively popular Honda CRF1000L Africa Twin, which includes crash bars, engine guards, Airflow screen, purpose-built bar muffs that were developed with the Honda Dakar team, a specific tank lock bag and crash bags. 
A quick trip to the Halvarssons stand revealed two beautifully designed new jackets that are sure to be a hit with motorcyclists. The Ziggy Shell Jacket, which retails at £149, is a lightweight abrasion-resistant shell that'll be ideal for green laning (and it also looks incredible), while the Scooby jacket takes design hints from one of our favourite motorcycle fleeces, the Raggy.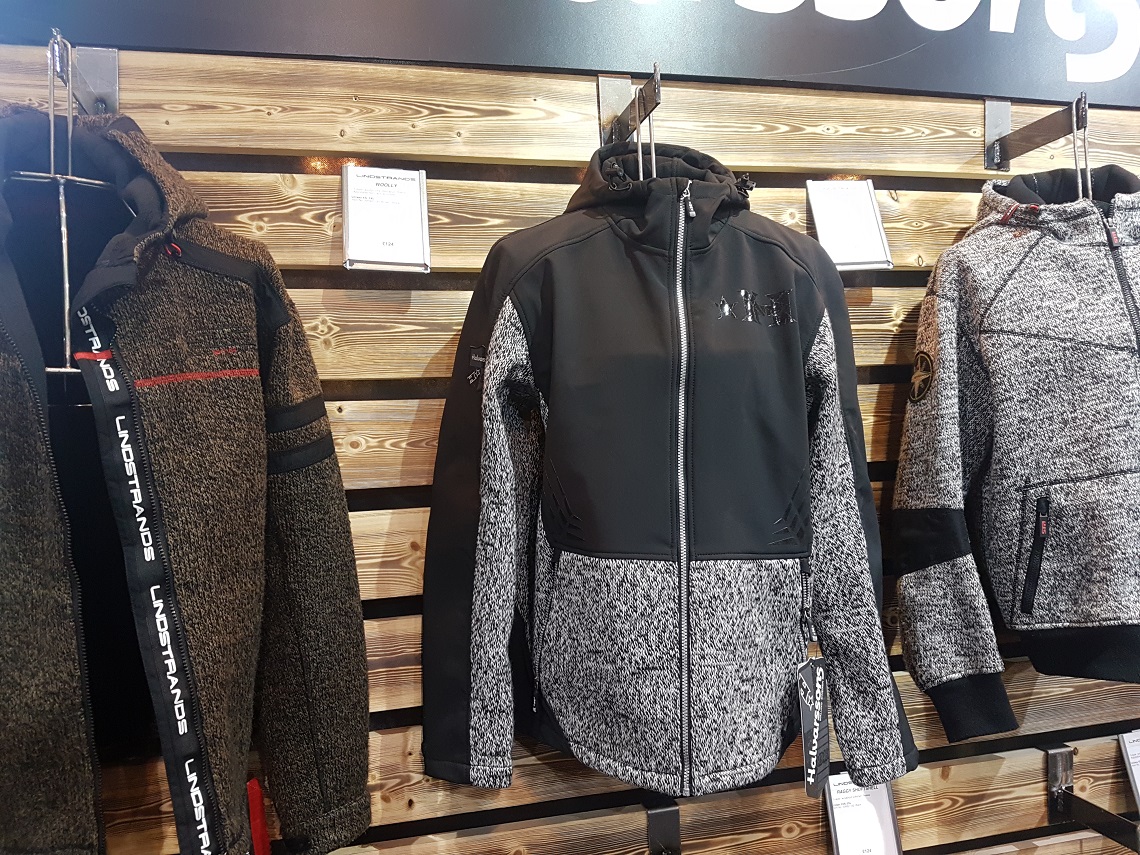 RST will be bringing out a host of new adventure kit for 2016 (jacket, trousers, boots, gloves etc.) and while we don't know too much about it yet, we'll be getting our hands on it as soon as it's available for a full review. There's big news from Klim as the company has launched a new adventure helmet, the Krios, and it's one heck of a piece of kit. It's claimed to be one of the lightest adventure helmets on the market and will retail at around £400.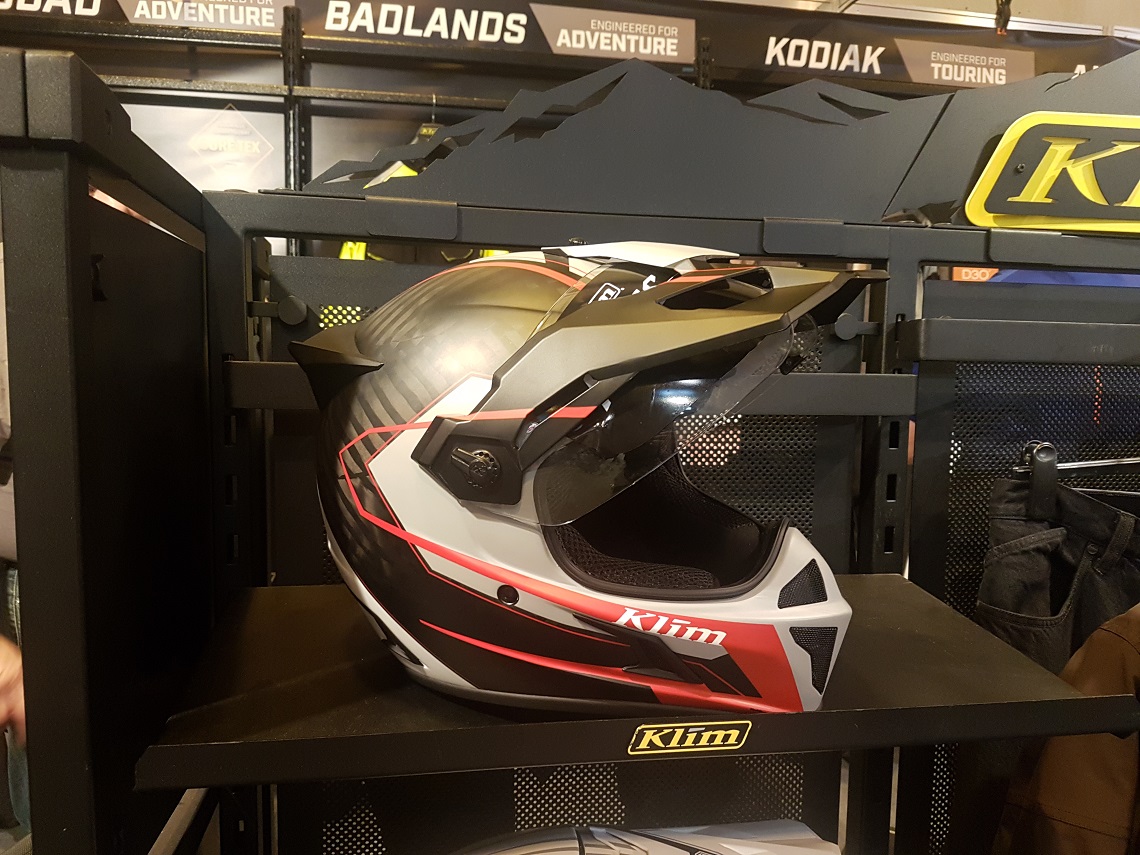 We've managed to get our hands on one of these already, and while we haven't had the chance to wear it too much yet, the initial signs are encouraging and we think Klim might be on to a winner. The company has also expanded its range with four new jackets.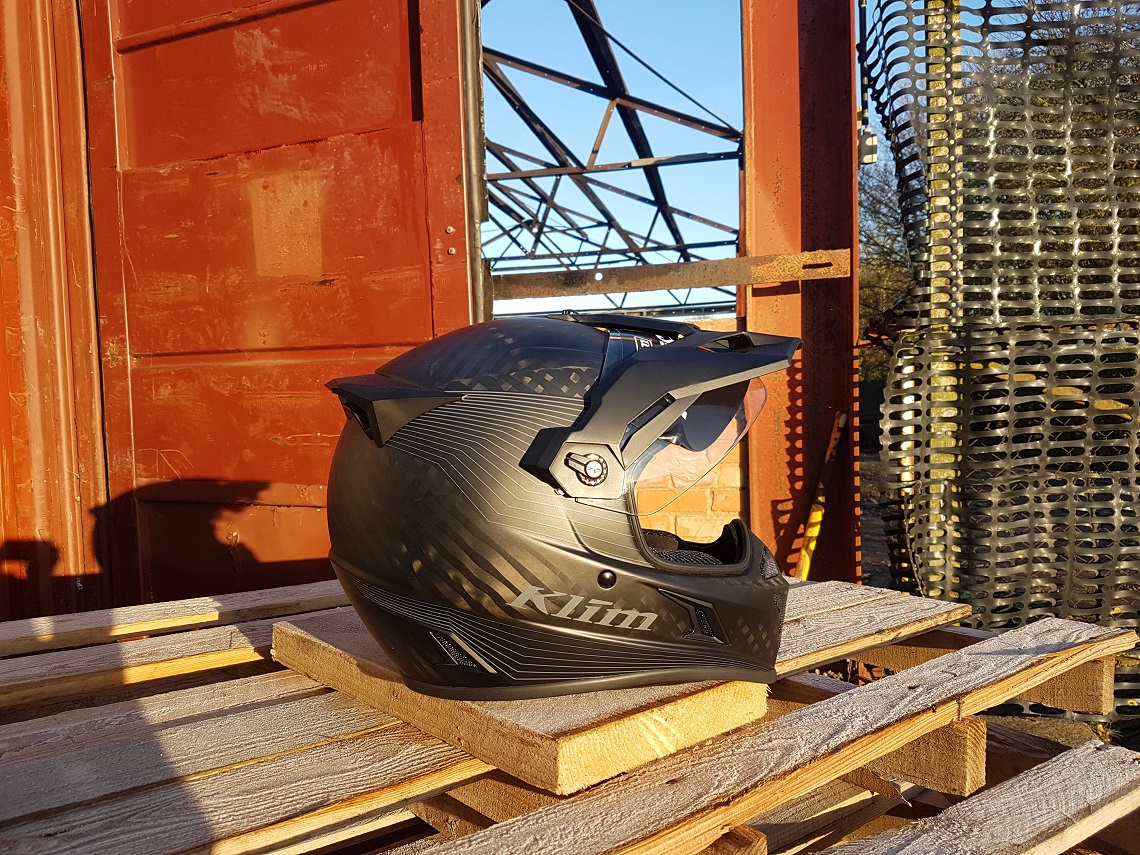 Our friends over at Roadskin have recently launched a new fabric called Titanite which is claimed to be one of the most abrasion-resistant materials on the market. It offers a wear through time of 15.05 seconds and it has now been put into a select few models of jeans, most interestingly the aptly named Jeanius, which is part lined with Titanite and reinforced mesh and is available in an adventurous cargo style. The Jeanius will retail at £139 including armour. 
Performance Parts were showcasing a raft of new Africa Twin accessories, including new DimSport modules which have been designed to help improve performance that's been affected by new Euro4 regulations.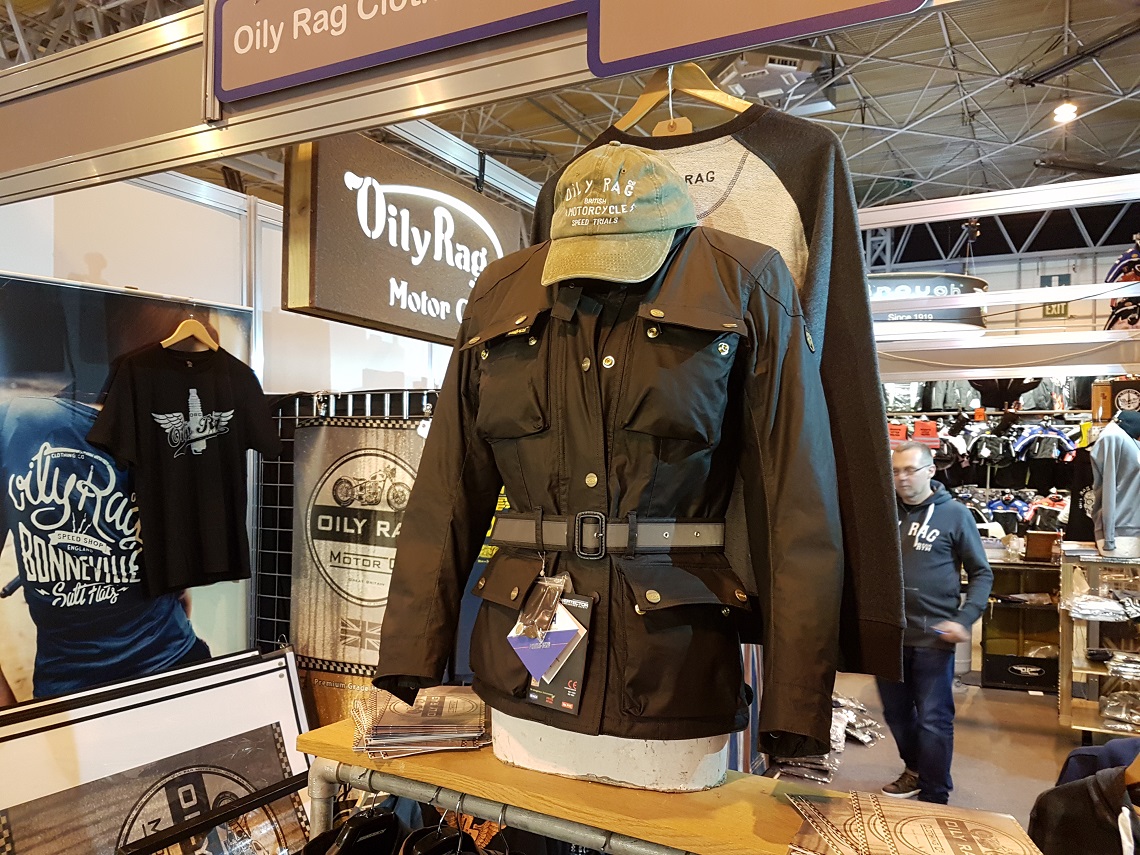 While making my way around Hall Three I came across an interesting brand called Oily Rag, and was instantly taken in by the neat looking Gari Baldi Heritage jacket which the company imports from Spain. At £260, the three-layer jacket offers a fantastic mix of fashion and function. 
Arguably my favourite looking jacket of the show was the new Spada Stelvio Jacket, which has been designed with adventure rider Rhys Lawrey. The jacket looks incredible and we're excited to get one in to test in 2017.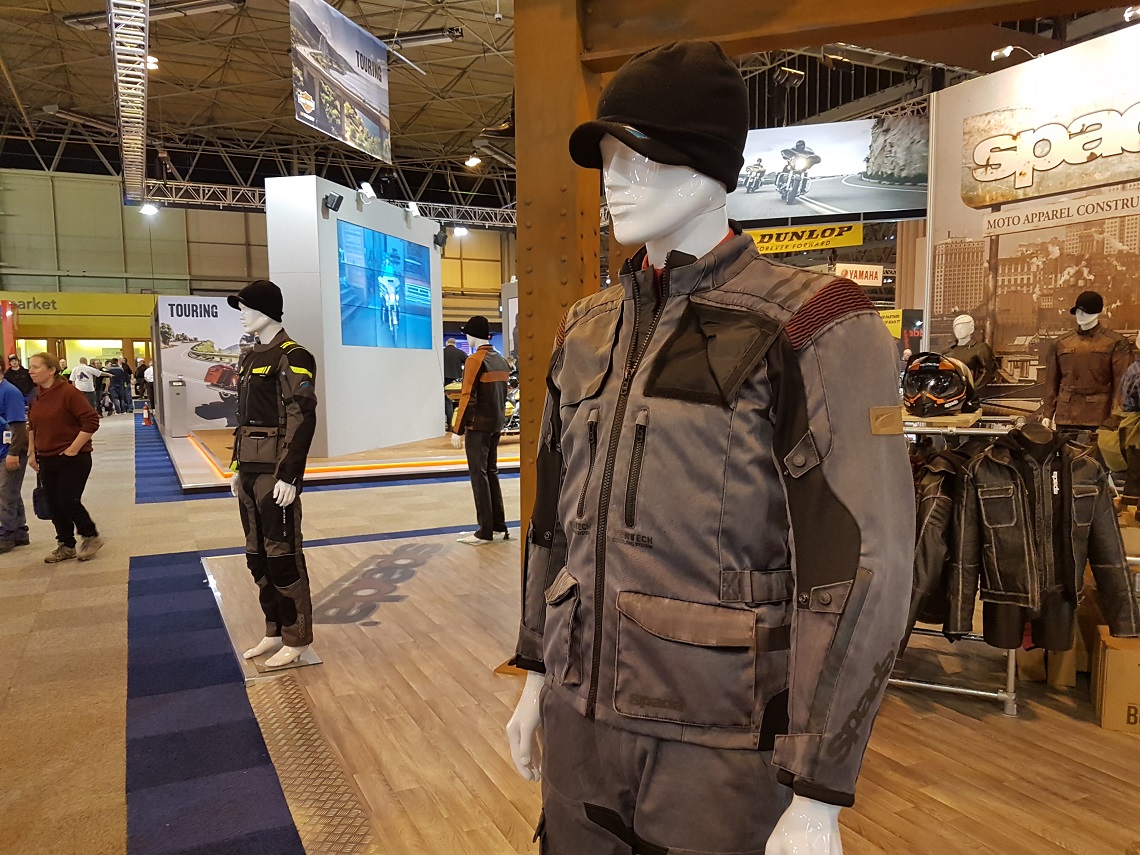 BikerTidy were exhibiting their useful range of storage options for the rider who likes to keep their kit tidy and organised, while Renapur was also showcasing the benefits of its leather care products which seemed to be getting a lot of interest. 
Motorcycle Live also provides the perfect conditions for new manufacturers to get into the motorcycling game, and one such brand looking to do so was Active and Connected, a company that makes various handlebar mounts. The brand originally started producing gear for the bicycling market, but have recently seen the value of the motorcycling industry.
Ewan MacGregor (no, really) from Active and Connected talked me through the range of products on offer, which can be bought from Halfords, and the selection of mounts on offer which had multiple fixing methods looked great. 
Dane has released a new three-layer jacket that provides huge amounts of ventilation for summer riding, the Limfjord 2. The jacket looks ideal for warm weather tours as two huge vents on the front can be unzipped. Just down the aisle, Hideout was showcasing its fantastic range of custom, made-to-measure textile riding kits. They're not cheap, but they're superbly well made.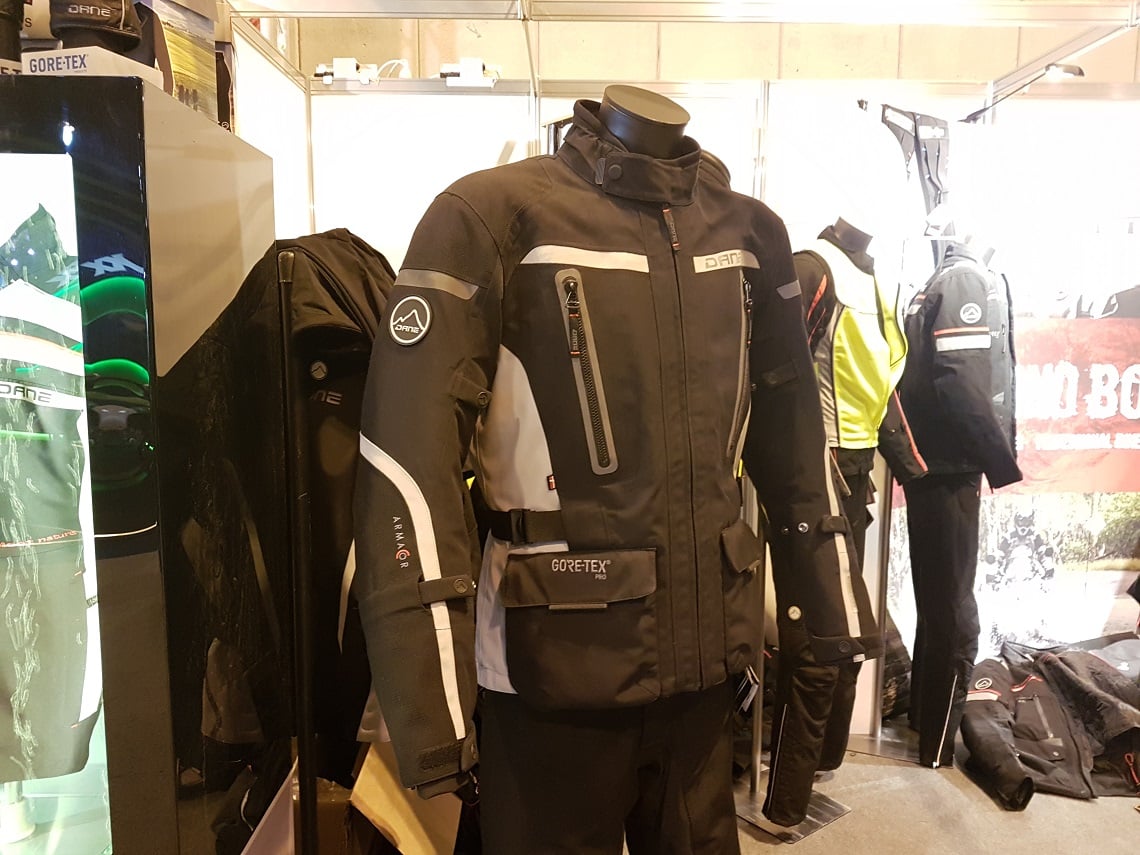 Honda is still branding up adventure gear for those who want the kit to match their machine, and the enigmatic Nick Sanders was on fine form promoting his books and new film The Story: The Extraordinary Life of an Ordinary Man. Check out our interview with Nick on page 60 of this issue.
Luggage brand Kriega stole the show with an incredible matte black Africa Twin which was kitted out with the brand's new luggage.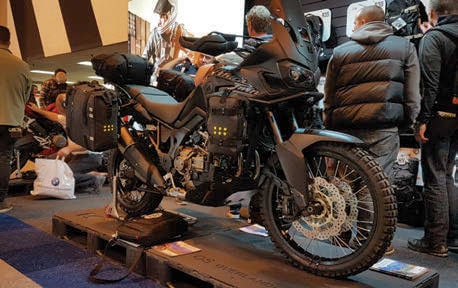 BG products were exhibiting for the first time at Motorcycle Live, showcasing their impressive Ethanol Fuel System Defender which has been formulated to protect your tank. It was great to pop over to the Motolombia stand to hear about a new and exciting tour that they're offering. The Evolution Tour sounds incredible, and it includes a ride across Colombia and Ecuador, finishing off with a cruise around the Galapagos Islands. 
LS2 has introduced four new colourways to the impressive and nicely priced Pioneer helmet, while Cumbrian based company, KNOX, was showcasing a newly developed armour, Micro-Lock. The armour is set to provide a super soft fit for more comfort, while at the same time being able to offer superb levels of protection and stability across a wide range of temperatures.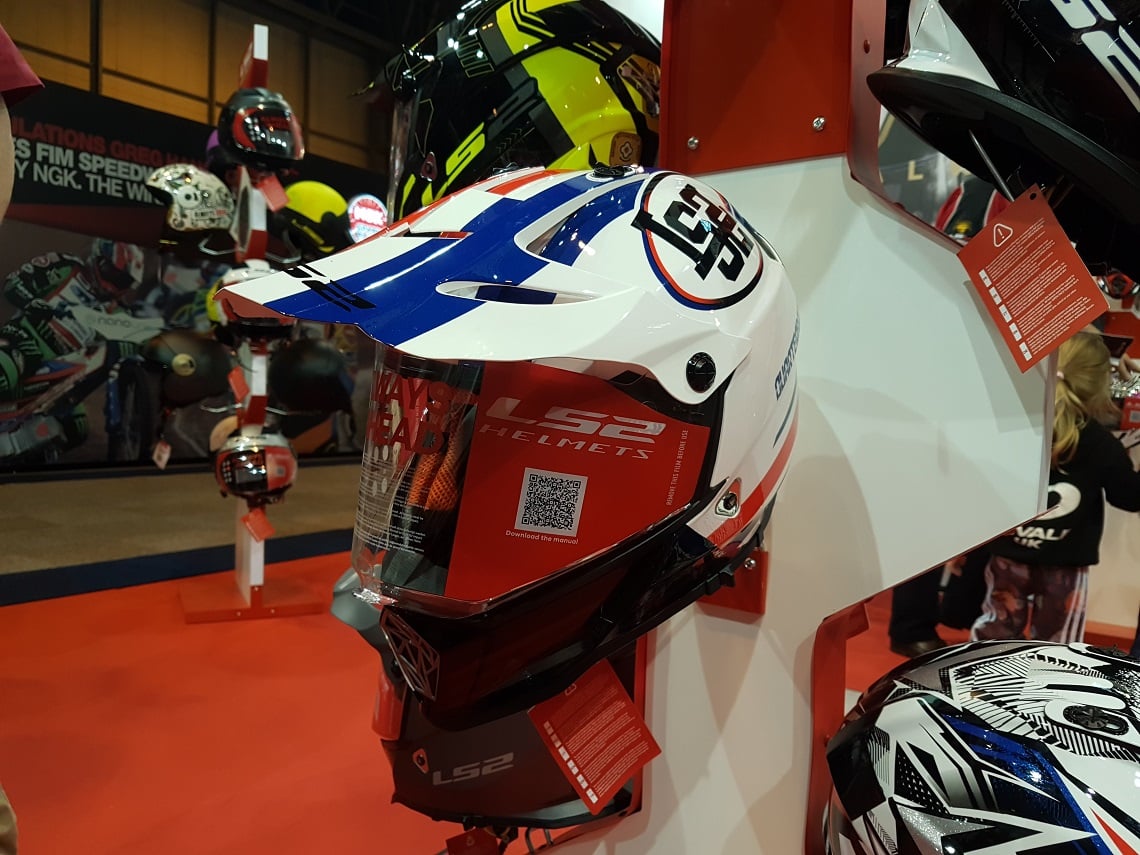 Every year I've been to the SHARP stand to enquire as to why the Government-funded helmet safety scheme doesn't rate adventure helmets. The answer I got this year was the same as last year: there are no plans to test adventure helmets because budgets are tight and they represent a small percentage of helmet sales. It's a shame because it would be great to make use of the fantastic service. 
Overall, Motorcycle Live 2016 was a fantastic show. The Experience Adventure feature was a brilliant addition, and it appeared to be fully booked on each and every day. We'll be getting our hands on the new adventure bikes that were on display at the show, so keep your eyes peeled in the magazine throughout the year, and come and see us at the MCN Show at the ExCel in London in February.