James Oxley shares a first look at the all-new Moto Guzzi V85 TT
For Moto Guzzi's first foray into the lucrative adventure bike market since it ended production of the Stelvio a few years ago, the Italian manufacturer decided to do something different.
A notable absence of an adventure bike in its line-up meant there was no current model to update, or bin parts to shoehorn into a new design. Instead, there was a blank page to work from.
Moto Guzzi no doubt looked at a crowded sector featuring brilliant off-road bikes like the KTM 1090 Adventure R; great adventure tourers like the Triumph Tiger 800 series; and mighty all-rounders like the BMW R 1200 GS. Aware it would be tough to emulate such well-established rivals, Moto Guzzi trod a different path. It spotted an unfilled niche in the adventure bike world – that of the 'classic travel enduro'.
In non-marketing speak, a bike with retro looks that is good over long distances and capable off-road. Step forward the V85 TT (TT meaning 'tutto terreno' or 'all terrain' in English), a retro-styled mid-sized adventure bike designed for posing, touring, cruising, off-roading, and anything else you'd like to get up to on it.
A true all-rounder that looks as good as it rides. You may be thinking Triumph got there first with the Scrambler 1200, which the British manufacturer describes as a 'modern classic adventure bike'.
I would argue the Triumph is a scrambler (as the name also suggests), not an adventure bike. Its 16-litre fuel tank, design and ergonomics limiting its long-distance adventuring credentials. Of course, you can do big miles on the Scrambler 1200, but there are plenty of bikes I'd choose ahead of it if I was embarking on a multi-day tour.
One of those would be the V85 TT. I rode it at the international press launch on the Italian island of Sardinia and I was hugely impressed at how versatile a machine it was. A true 'classic travel enduro'.
Let's take the 'classic' part of that phrase first, which for me is about two things – looks and feel. The current crop of new bikes in the Moto Guzzi line-up reveals a selection of classy-looking cruisers and modern classics with retro appeal. This is particularly apparent in the lines of those signature fuel tanks, laced with the design DNA of Guzzis past.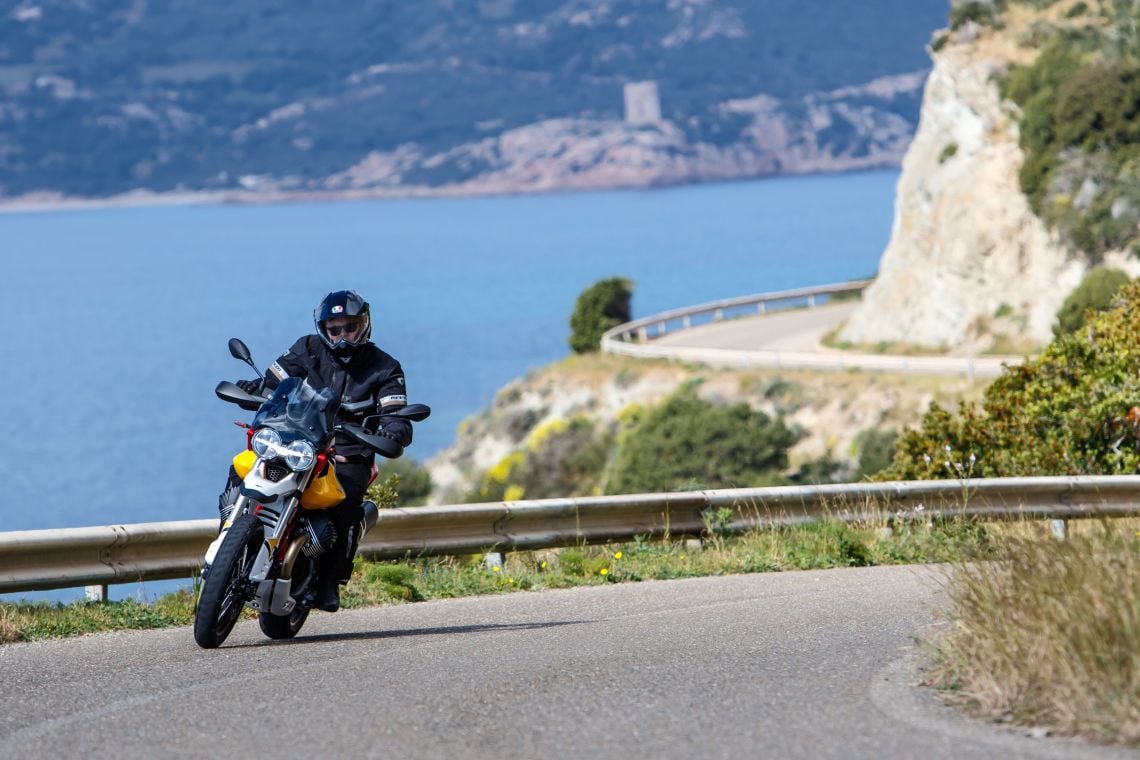 Riding one of these bikes is to experience that distinctive sideways rocking movement of a Moto Guzzi 90-degree V-twin engine, which has become synonymous with the brand since it was developed in the '60s. Moto Guzzi embraced this heritage in designing the V85 TT to create an adventure bike with retro good looks, but more importantly, that classic Guzzi feel.
Start the 853cc air-cooled engine and it growls to life, like a grizzly bear awakening from its slumber (or so I imagine). At idle, the bike throbs and shakes with that sideways rocking motion, oozing character and history with every vibration.
The experience is more like sitting on a big cruiser than a modern adventure bike. This differentiates it from the competition and boy, did it put a big grin on my face. As a tourer, the V85 TT has got a lot going for it.
The 23-litre fuel tank with a claimed 250-mile range bests many mid-size adventure bikes, its shaft drive removes the hassle of chain maintenance, and it was comfortable to sit on all day long. Open the throttle and that rocking engine vibration disappears, replaced by a raucous growl from the 80bhp air-cooled engine which roars under acceleration.
It may lack 15 to 30bhp compared to most mid-size rivals, but it delivers enough grunt for relaxed high-speed cruising and overtaking. If mountain passes are your thing, the V85 TT won't disappoint there either.
A nudge of counter-steering and the bike swoops into turns, its agile handling enabling me to flick it from side to side through tight corners and sweeping bends. The suspension is adjustable but I found the stock settings to be just about right and I didn't experience any wallowing in the corners.
There was a bit of fork dive under braking, which was a reminder that the V85 TT has also been designed to soak up lumps and bumps on the trails.
The 19-inch front wheel and 210mm ground clearance suggest a nod to the dirt rather than an embrace of it, but the V85 TT proved capable on the light off-road trail I rode at the press launch. At 6ft tall, the standing position, like the rest of the V85 TT's ergonomics, felt natural and comfortable.
The bike handled well on sandy and rocky trail, nimbly rolling its spoked wheels over the rockier areas. Its suspension soaked up bumps and dips with ease. It's easy to get excited riding a new bike for the first time, but the V85 TT really did offer up something tantalisingly different to other motorcycles I've ridden.
If you're looking for a capable adventure bike that features retro good looks and a boatload of character, the Moto Guzzi is certainly worth a test ride.
Read the full review in the next issue of Adventure Bike Rider.