MOROCCO: THE FIRST 24 HOURS
So near and yet so far, one of the biggest hurdles for ABRs riding in Morocco is sussing out the red tape and paperwork on the way in. Paul Jennison takes us through the dos and don'ts of entering The Kingdom
Morocco holds huge appeal for ABRs everywhere. The main attraction of this North African country is its varied terrain, which will see you tackling everything from sweeping tarmac twisities to gravel and sand dunes, but another major plus is its proximity to southern Spain. A 45-minute ferry ride from Algeciras and you're exploring the wonders of the Dark Continent, a magical place filled with mystique and wonder that's enchanted travellers for centuries.
Maiden voyage
My first journey to the 'cold country with the hot sun' was four years ago. Me and my two travelling companions were all in the same boat, both literally and figuratively, when it came to entering Morocco. None of us had any experience of this kind of thing and it was with extreme trepidation that we approached the border crossing from Ceuta, the Spanish enclave which inhabits a tiny corner of the continent.
Months of reading travel books and riders' blogs had, so we thought, prepared us for the trip, but when you're faced with the reality of entering a third-world country, all that research fades away and you're living on your wits. Throngs of people carrying massive bundles slowed our progress; chancers with photocopied pieces of paper pushed towards us, thrusting them into our hands, and we were asked for money at every opportunity for what we didn't know or understand. Bemused, we began to think we'd forgotten some crucial bit of documentation. But we refused the touts and pushed on, confident we had everything we needed to enter the Kingdom of Maroc.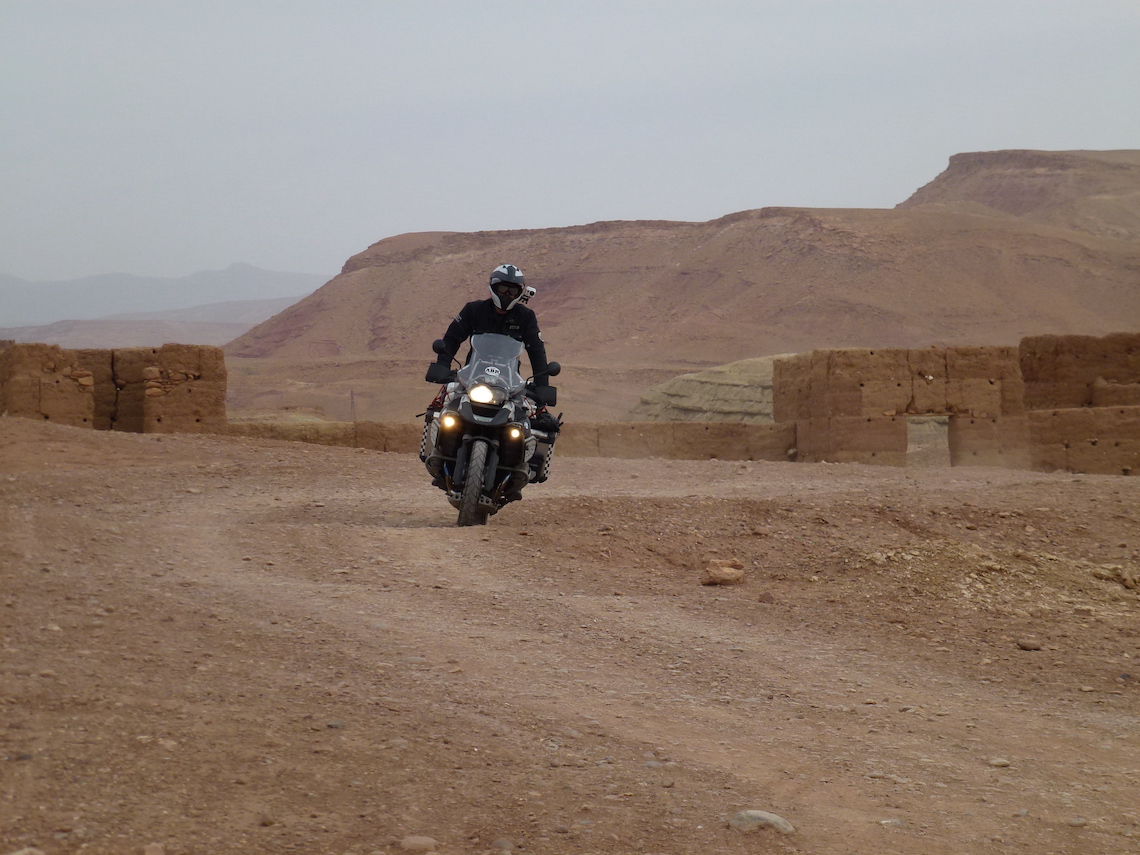 Not everyone we encountered was a hindrance. Our entrance was eased by the self-appointed 'tourist guides' who busied around, escorting us from one office to the next to get our papers checked and stamped, and once through the controls and with our pockets stuffed with Moroccan dirhams, our journey began.
Like all the best roller-coaster rides, once you've been there and done it once the majority of riders want to return and do it again, and I was no exception.
The second going
The chance to revisit the country came in May this year. This time, not only was I prepared but I'd also been elevated to the position of 'expert tour guide' by my new travel buddies and Morocco virgins Tony 'Browndog' Gill and Jim Lovell. No pressure, then.
The Portsmouth-Santander ferry was booked several months prior to our departure, but this was the only thing that was organised before we set off. Everything else, such as routes and accommodation, was to be sorted out as we travelled.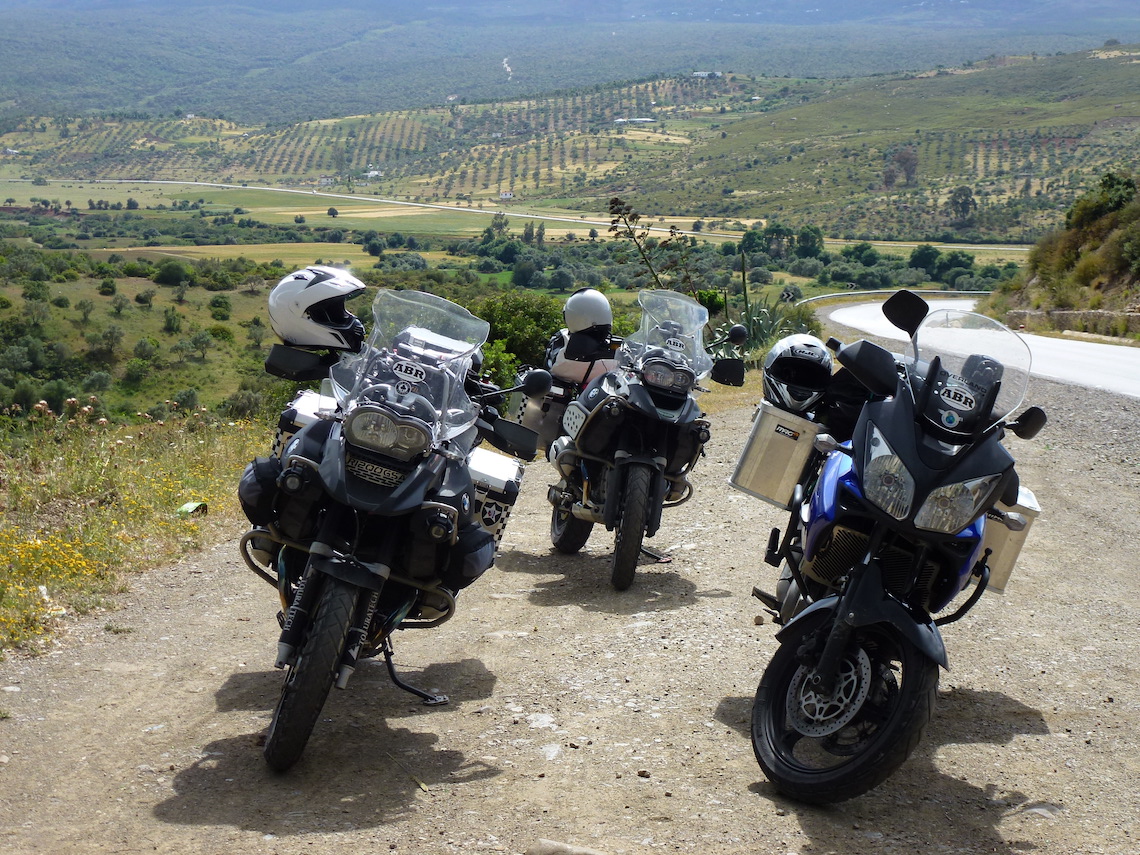 Ferry good trip
We landed at Santander early afternoon and two days later we approached our chosen crossing port at Algeciras. Unless you like haggling with the ticket touts, it's best to go straight to the main terminal building and choose which ferry operator to cross with there. Prices for the ferries can vary between operators, but on this particular day they were pretty much the same. So, €58 lighter but sporting our tickets and immigration cards, we boarded the fast ferry for Ceuta.
We completed our immigration cards on the boat in readiness for the border. Forty-five minutes later we docked in Ceuta, or Sebta on some maps and signs, which is the French pronunciation (French being the second language in Morocco). We then made our way through the crowds of touts to the Spanish exit control point where we were waved through with a smile once Tony had removed his helmet cam.
Border this
The entry procedure into Morocco is pretty simple, but the first bit of advice I'd give riders is that for all the stern looks and shouting, it's the officials' way or no way, so just relax and use the experience as part of your adventure. You will get through, as long as your papers are all in order.
On reaching the Moroccan border, the usual self-appointed 'tourist guides' were there waiting. It's illegal for these guys to charge for their 'guiding' services and the police are cracking down on their presence at the border, but there's no denying that they're very helpful in telling you where you need to go. Almost immediately a chap rushed up to us dressed in the traditional djellaba (hooded gown) and sporting an official-looking ID badge. He quickly escorted us through a crowd barrier past the queues of people to a quiet spot.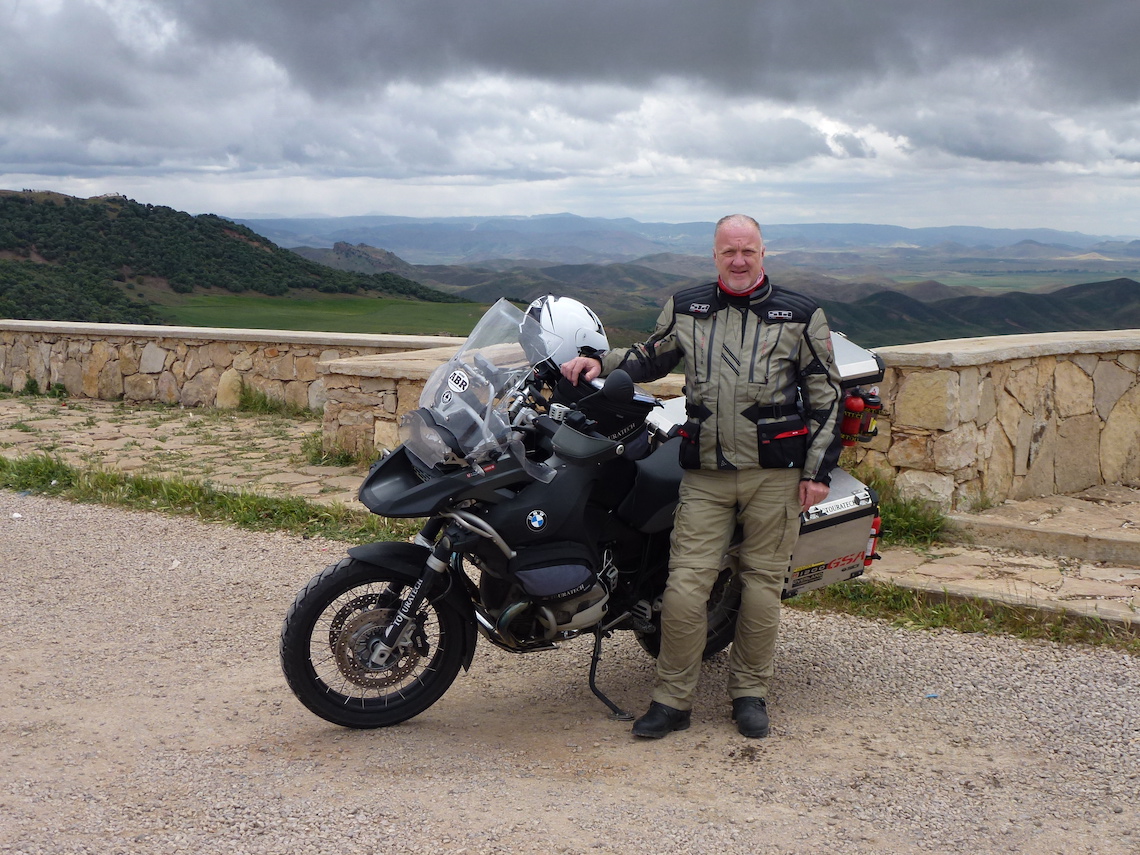 The offices at the border consist of several unmarked portakabins. There are no signs to say which cabin does what, but in essence, only two of them seem to deal with entries into the country. Our 'guide' pointed us in the direction of the first cabin, which is manned by the police. This is where you need to present your passport and completed immigration card. Your documents will be checked and, if in order, your passport gets endorsed with an entry stamp and a unique CIN (Carte Nationale) number.
The next office you have to visit is for import customs. This is where you'll get all your bike paperwork authorised. As well as being stamped onto your passport, your CIN is also written on to your D16 ter form (the temporary import paperwork for the bike, see box-out for more) by the officials in this customs office. You also have to produce your passport and vehicle V5C registration document. These are checked by the customs official (douane) and again, when in order, stamped and signed. The douane will keep one copy of the D16 ter and give you back two. Keep these safe with your other documents as you'll need them when you exit the country.
The final check is to give your passport and D16 ter to one of the police officers standing by the exit point. These are again checked and then you'll be allowed to get on your bike and exit the compound into Morocco.
This was also the point at which we had to settle up with our 'guide', negotiating a €5 fee for his services, well away from the watchful eyes of the border police.
Bank on it
Because of financial restrictions placed on the Moroccan dirham (MAD) it's classed as a closed currency, meaning it can only be traded inside Morocco. Technically, it's not possible to exchange euros for dirham until you're inside the country. It's also technically illegal to take dirhams outside of the country when you leave, so any cash must be exchanged within Morocco before departure.
For several years, the bank and insurance offices just outside the border crossing were closed and it was necessary to go to the nearest town of Fnideq, to get currency from a bank or ATM before riding to Tetouan if you needed to buy insurance. Now, however, the newly revamped offices are open again for business, which is much more convenient, unless you arrive on a Sunday when they're closed!
Tony needed to get Moroccan insurance as his UK provider wouldn't issue a green card before he left, which is typical of a lot of companies. So, after a brief visit to the border insurance office, Tony was 610 MAD (£45) lighter but had 10 days' cover. Now fully prepared, we headed south towards Tetouan.
The ride in
Four years ago, the road from the border to Tetouan was a dirty pot-holed single carriageway, full of old cars and trucks belching out black smoke, overtaking, cutting in and giving new arrivals a sharp lesson in the locals' driving habits. Now the road is a boulevard with two lanes in each direction and a central reservation. There are grassy roadside verges with shrubs and palm trees, and fancy streetlights lining the route. This seems to be the norm in nearly all the major towns in Morocco now. The road infrastructure is being upgraded at an incredible rate; this bodes well for the visitor.
Hotels and Fuel
Petrol stations are plentiful and fuel is a lot cheaper than here in the UK. Fuel stations often have a café/restaurant attached to them and are now starting to resemble European service areas, but they only accept cash as they don't have the facility to take credit cards – yet!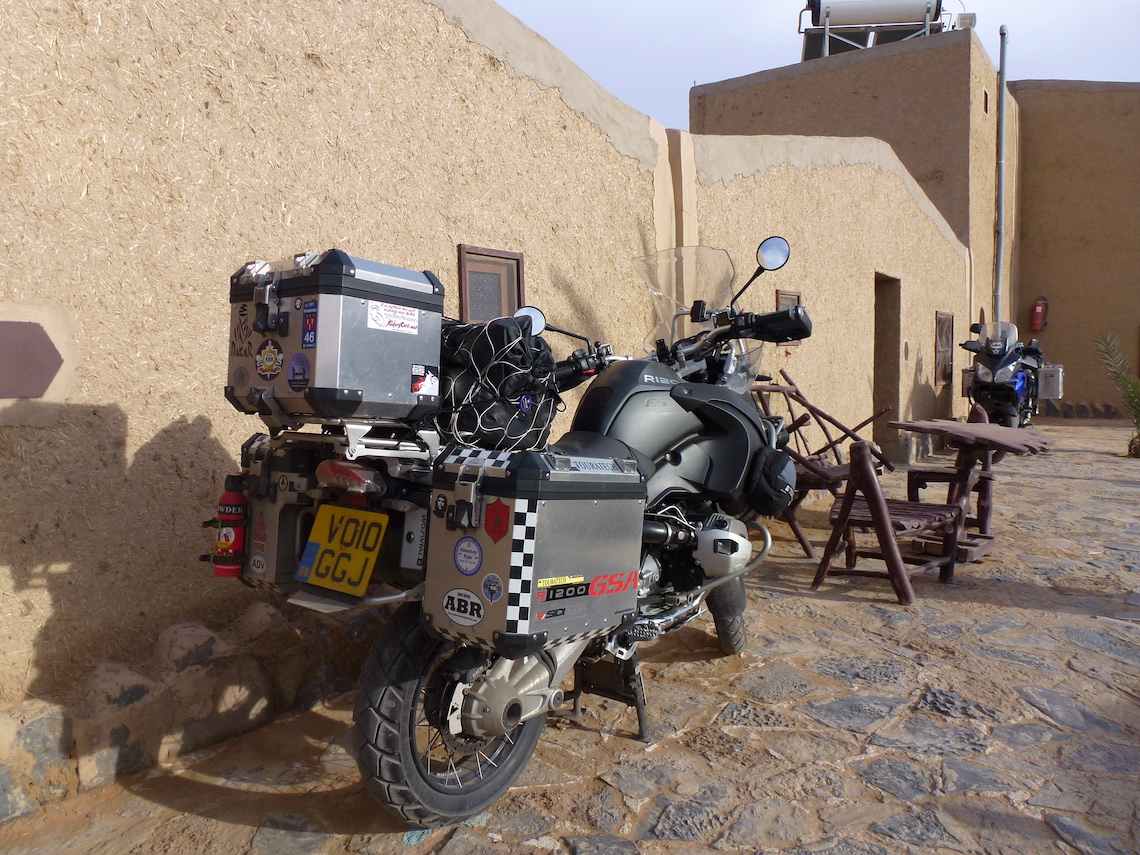 First night
Our first night's stopover was going to be just south of Ouezzane at the small but well-appointed Motel Rif, which is also mercifully well sign posted. Directions couldn't be easier from Tetouan as it's just a straight blast south towards Meknes and Fez on the N13. If you have time and fancy a small detour, the 'Blue City' of Chefchaouen high up in the hillside of the Rif Mountains is well worth a visit, and there are lots of places to stay there, too.
By the time we arrived at Motel Rif (www.motel-rif.ma) where an en-suite room with breakfast costs 300 MAD (£22) we were fully relaxed but ready to stop. When checking in to a hotel, you'll need to present your passport at the desk, so have it ready. The duty manager will take down all your details and then hand it back. They may ask you to fill in a form called a fiche d'état civil, which will ask for all your personal details, too. Some hotels accept credit cards, but not all, so be prepared to pay cash.
The Motel Rif has an excellent restaurant menu – I can highly recommend the chicken tagine. They serve beer, too, another huge change in four years. The last time I was in Morocco we had to drink illicitly sourced local wine in our hotel room out of sight. Now beer is readily available and the locals are getting a taste for it.
The next day we woke rested and well fed, ready to head south in search of the Atlas Mountains, deserts and plains. Any trepidation of entering into the unknown had by now all but disappeared and we were eager to explore the vast and beautiful country of Morocco.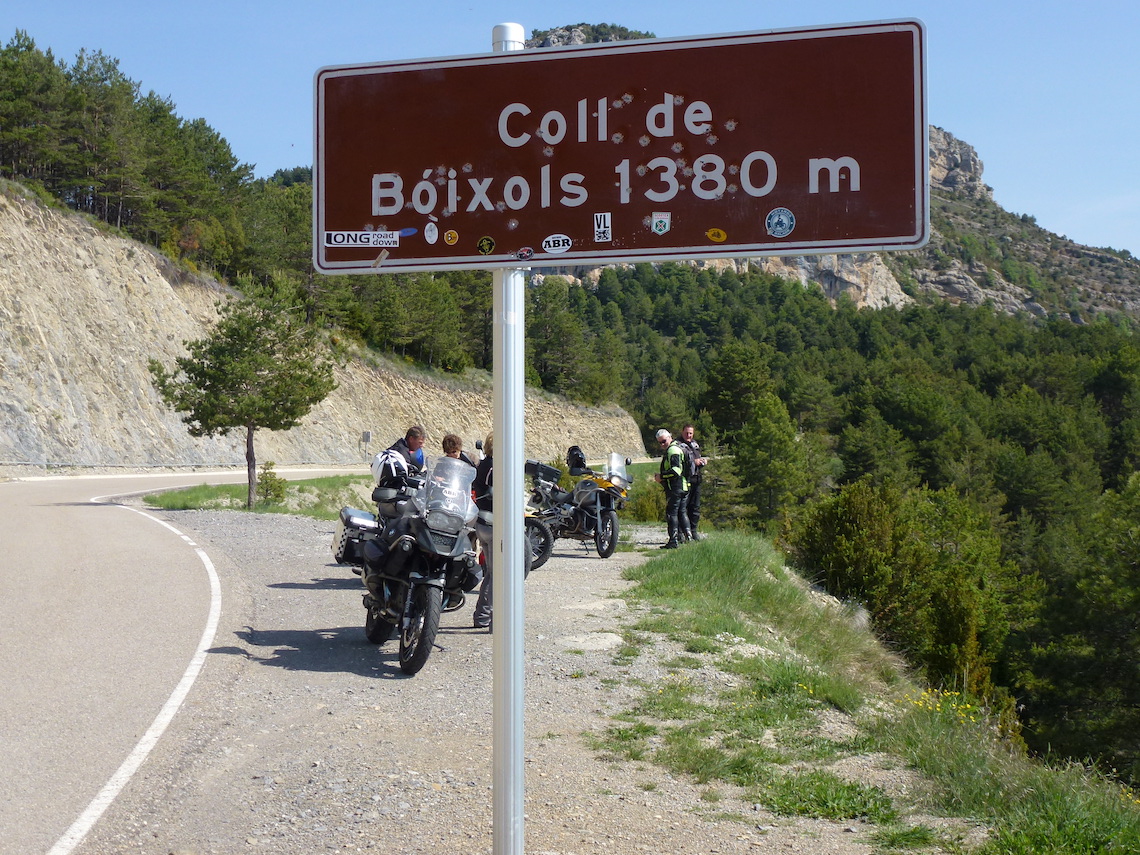 Document checklist
Green card
D16 ter
Current driving licence (both parts if you have a photocard licence)
Insurance certificate
V5C registration document
MoT if the bike needs one
Passport
No Visa is required for a British citizens
Green cards
Nowadays we take insurance green cards for granted. Most domestic Insurance policies usually cover riders for travel extensively throughout Europe, though it's always worth a call to your broker if you're unsure of your overseas policy cover. Few, however, offer automatic cover for non-EU countries, even if they're relatively near to home.
For bike travel in Morocco you'll need special insurance, and it's a bit hit and miss with UK insurance companies whether they'll issue cover or not. My company ceased doing green cards about four years ago, but have recently started issuing them again; sometimes it's included as part of your policy and with other companies there may be additional costs involved.
The alternative is to purchase Moroccan insurance on arrival in the country, to cover your riding there. However tempting it may be, it's not worth riding without insurance. If you do get involved in an incident and the police attend you may well end up as a guest at the local Moroccan jail if you're found to be riding uninsured.
The D16 ter
Or déclaration d'Admission Temporaire is all the paperwork you need to temporarily import your bike into Morocco for the duration of your visit. This three-page document can be downloaded and completed at home before you even set sail by visiting www.douane.gov.ma. You can also obtain it at the border crossing if you prefer.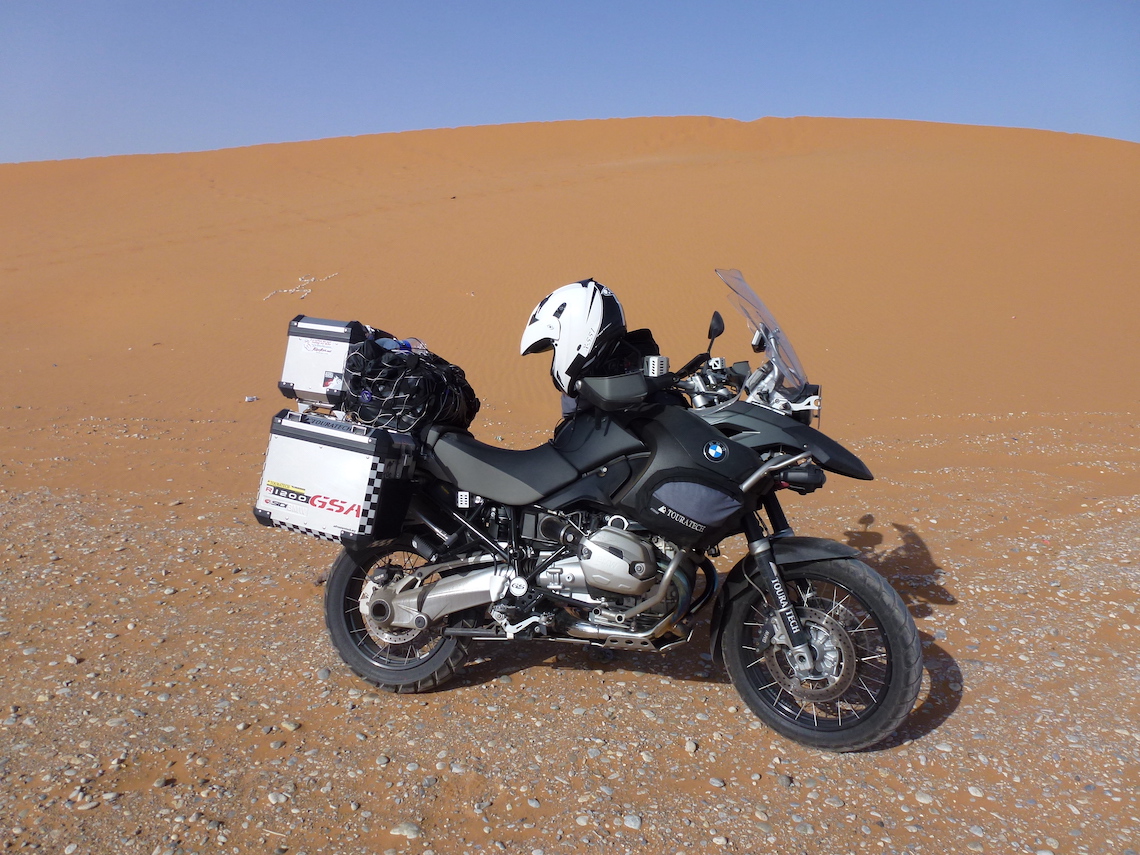 The D16 ter form at the crossing comes as a small three-page self-carbonating booklet, which you must fill in by hand. You must then give it to the duty customs official (douane) after you've had your passport stamped with a CIN number by the police. The douane will then fill in the relevant bits of your D16 ter, stamp it and sign it. He'll then keep one of the copies for custom's records and hand you back the other two. Keep them safe! On exit you'll need to present them so they can be checked, signed and stamped again. Customs will then keep a further copy and give you the remaining one back.
If you choose to return to Morocco with that bike or another vehicle, you will have to present that remaining copy again, as well as a new set of D16 ters.
Completing your D16 ter online
Prénom and Nom: your given name and family name as they appear in your passport (in capitals)
Identifiant: if you've been to Morocco before you will have a police number in your passport in the format 999999AA, in which case click on Étrangers non resident (non-resident foreigners) and stick the number in the box. If you haven't been to Morocco before, click on autres
Immatriculation: your registration number/licence plate number (no spaces)
Marque: manufacturer of vehicle (BMW for example). If yours isn't listed, click on autres which will bring up a dialog box for you to type in to
Type: model of vehicle (1200GSA for example)
Genre: choose from pull-down list box
Pays: your country of residence
Date de 1ere mise: date the vehicle was first registered in the format dd/mm/yyyy I
Chassis no: your VIN (vehicle identity number from V5C)