After deciding that his off-road riding needed a bit of a brush-up, Bryn Davies heads to the Mick Extance Kawasaki Experience to learn the tricks of the trade
Up until a month or so ago my off-road training had consisted of 'here's a bike, there's a green lane, ride it!' and off I would go, bumbling my way rather nervously down the tracks, not knowing whether I was riding right, or how to make it easier. My knuckles would be white and my eyes focused on my front wheel. While I desperately wanted to enjoy it, rarely was that the case.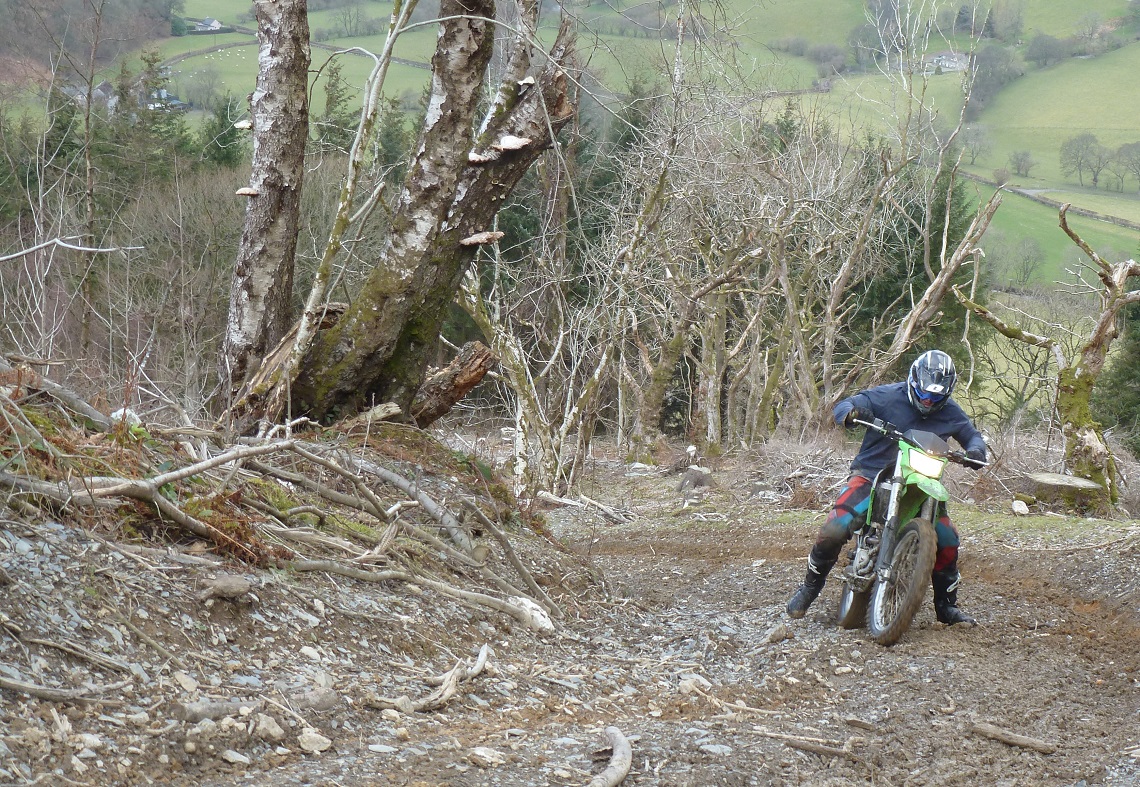 And so it was just my luck that on a chilly day in March I found myself perched at the top of a muddy embankment, on the side of a snowy mountain in Mid-Wales, astride a Kawasaki KLX 250. The slope was steeper than anything I would normally consider rideable, a deep rut ran a definitive line through the trees and the mud was wet and slippery with the occasional tree root crossing the track for good measure.
Stood by my side was seven-time Dakar Rally competitor, Mick Extance, and behind him, his son, Adam. 'Remember to use your front brake and keep the throttle in,' he told me, clearly seeing the nervousness on my face. I surveyed the route, took a deep breath and rolled myself onto the gradient of the hill, I was committed now and the only way was, well, down.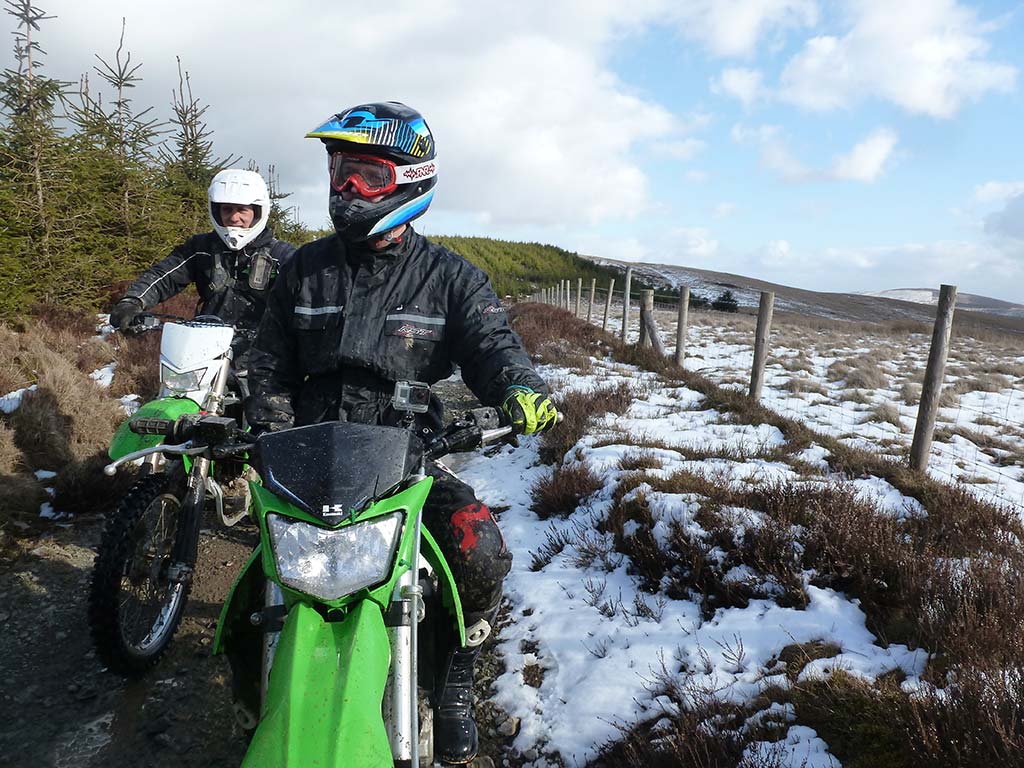 So down I went, but instead of the white-knuckled, laser focussed Bryn who was riding green lanes a few months earlier, my hands were relaxed, my eyes were focused on where wanted to go and there was a big, cheesy grin on my face. I was enjoying off-road riding like I'd never enjoyed it before.
As I made it to the bottom of the slope I turned around to catch Alex, a member of the ABR team who hadn't sat on a motorbike until that morning, effortlessly making his way down the trail as well, the same grin plastered on his face.
We were at the Mick Extance Off-Road Experience, the training school of the UK's most successful Dakar Rally competitor, located in one of the most beautiful and underappreciated areas of the UK, Mid-Wales. Nestled amongst the trees in the beautiful Vyrnwy valley there's no one there to disturb you, to tell you to be quiet or to tell you to stop riding as the forestry trails are made specifically for the off-road school and there's 1,500 acres of varying terrain to keep you occupied.
While Alex and I were excited to be riding terrain that we would have never before thought possible the joy on Mick's face was just as clear to see. It's obvious that Mick loves what he does and that he gets enjoyment from teaching riders new things, his enthusiasm for riding and riding well is contagious and there's no way that you can come home from a day at his school without feeling like booking a trip to Morocco or Spain to do some off-roading.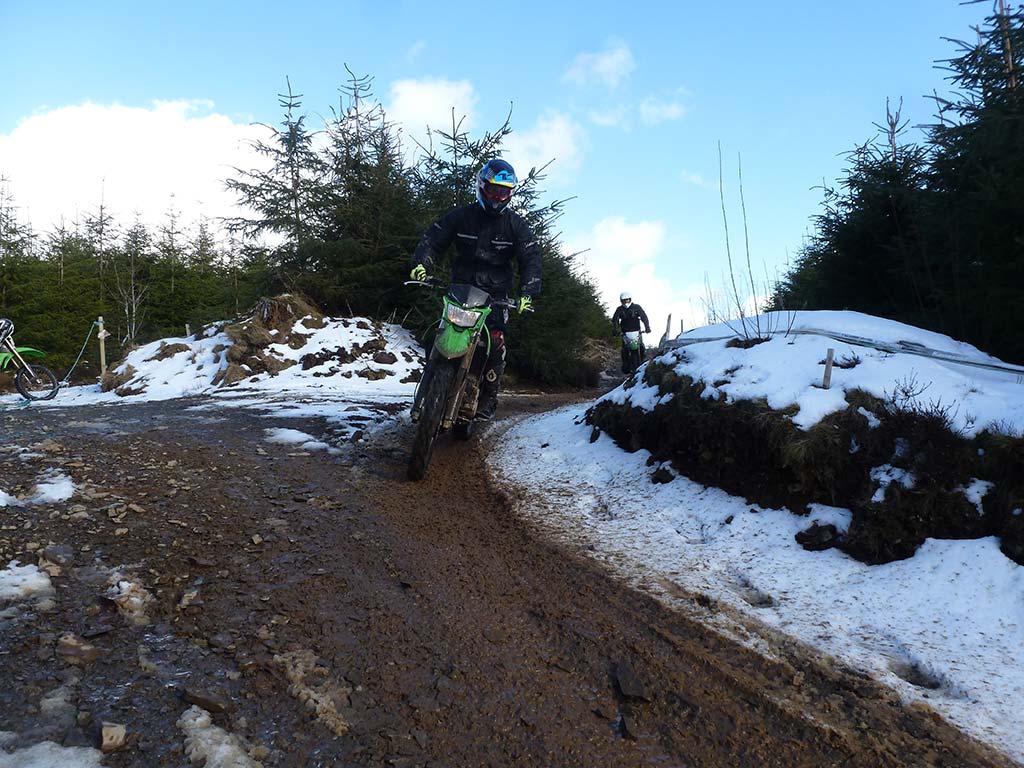 While it would be unfair of me to compare the Mick Extance Kawasaki Experience with any of the other off-road schools in the UK (as I've never been to any of the others) there's no doubt that if you want to improve your off-road riding that Mick and his team will have you covered. And it's not just your off-tarmac riding that will improve.
I went into the off-road day slightly nervous, an off I had in the Alps last year had dented my confidence, but after a day of being coached, not having to worry about other road users and truly seeing what I was capable of in the saddle, my nerves were eased and I found myself enjoying on-road rideouts so much more after as well.
---
Ride With Mick
If you want to brush up your off-road skills, whether you've ridden a bike before or not, then the Mick Extance Kawasaki Experience is highly recommended. We were riding on the 'Ulitmate Off-Road Day' (£225pp including bike and kit hire), a full day of learning to ride around 1,500 acres of forest with varying difficulties of terrain. Alex went from having never sat on a bike before to blasting around a motocross course in less than a day, while I went from a nervous wreck off the tarmac to riding with confidence. It's fair to say that you'll learn plenty no matter what skill level you are. Check out www.mickextanceexperience.com for a full list of what's available as well as prices.