Emily-Jane Cave and Sam Manicom check out stuff to fill the gaps in your bookshelf
Title: There & Back Again To See How Far It Is
Author: Tim Watson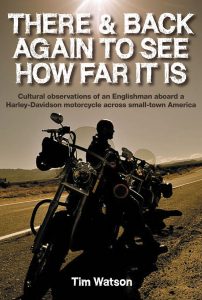 There & Back Again is the tale of ex-pat Tim Watson's six-month motorcycle jaunt around small-town America. Having endured 28 years' hard corporate slog in the UK automotive industry, novice biker Tim moved to California and bought himself an HD Dyna Street Bob, a machine which he admits still scares the pants off him but will never sell.
Armed with very little knowledge and even less experience, Tims passion for bikes and exploring 'what lies beyond' leads him to encounter some unusual places and even more peculiar people amid the US backwaters, including a mysterious moustachioed 'Doc Holiday' atTombstone's infamous OK Corral, an angry raccoon in dinosaur country, and a man riding his lawnmower across the Mojave Desert.
Tim's a natural storyteller with great comic timing, qualities which combine to make There & Back Again a humorous jaunt and a very easy read. He's also a history fiend and the book is packed with little-known facts and anecdotes about the places Tim visits en route. These iconic sites have been brilliantly captured by Tim's wife, co-rider and professional snapper Anne Watson, and really conjure the feel of 'out there' America. This book's one for the bedside table. EJC www.haynes.co.uk, £19.99 (hardback)
Title: Leprechauns in Latin America
Author: Norman Magowan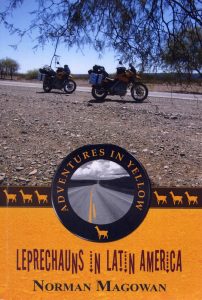 This is the first book in the 'Adventures in Yellow' series by ABR-ing 'leprechauns' Norman and Maggie Magowan, charting the couple's epic 35,500 journey cross the Americas. It's a tale that many will recognise: the dream of the road. But there are plenty of twists and a series of very good reasons to make an adventure like this happen for the Magowans. The prologue throws you right into the tale with a snap that makes you want to read more – and that's all I'm saying on that front. We don't want any spoilers, now, do we?
Kicking off in Chile, the story hurtles through all sorts of tales of the unexpected proving very well that however much you plan
a trip, those plans often don't work out. Norman captures this with great honesty, and many of the couple's escapades will have you wondering about the stamina and fortitude that's required to make a journey like this.
Norman has obviously done his research well and I found his descriptions of history and current events quite enthralling. I thought I knew this continent pretty well, but I learned a lot. I also really like the way he describes their encounters with other people, be they locals or other travellers. I did find the first chapter a little slow going, but stick with it. Fifteen pages in I was zipping through the book, itching to know what happens next. I enjoyed it so much if fact, I can't wait to get my hands on the second instalment, Leprechauns in Alaska! SM www.panamericanadventure.com, £8.99
Title: The World's Great Adventure Motorcycle Routes
Author: Robert Wicks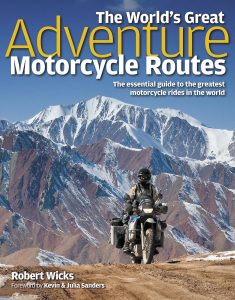 The World's Great Adventure Motorcycle Routes comprises over 30 motorcycle journeys, from epic transcontinentals like London to Beijing, to picturesque blasts through Greece and the Dolomites, all beautifully snapped and narrated by well-known ABRs like Walter Colebatch, Nick Sanders, and Andreas Hülsmann, who've been there, done the route and know their stuff. The book also includes routes and a foreword from GlobeBusters duo Kevin and Julia Sanders.
Divided into seven sections, this glossy hardback covers chapters on every continent with subsections on specific countries and maps illustrating the various routes. There are also information boxes on the riders and detailed facts about the places visited, including historic, economic and political climate, and local culture. This is ideal matter to fuel the fantasy and maybe help make it a reality. EJC www.haynes.co.uk, £25