Emily-Jane Cave, Sam Manicom and Paul Jennison check out stuff to fill the gaps in your bookshelf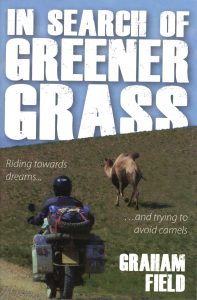 Title: In Search of Greener Grass Author: Graham Field
So you find yourself on a TV quiz show and you're asked, "What will you do if you win the prize money?". Naturally, your answer is going to be, "Ride a motorcycle to Mongolia." If this quirky start to In Search of Greener Grass doesn't capture your imagination, nothing will.
Graham Field has a very different way of looking at things to most people. I've read very few books that deal with the pre-trip wranglings and battles as well as this one does in the first chapter, challenging preconceived ideas with stacks of experience; it's clear from the off that he's a very well-travelled motorcyclist. Something I particularly like is the way that, as his KLR 650 adventure unfolds, Field weaves in exactly how the early kit choices he made before his departure either worked out or didn't.

This is the kind-hearted, funny and delightfully honest story of one man's 15,000-mile trip to Ulaanbaatar and beyond. His wonderfully descriptive style sends you from disasters that hurt, to pretty girls, to tales of the unexpected and being lost as he crosses the dusty plains of Kazakhstan and Mongolia.
As well as being entertaining it's also peppered with some very good travel advice. One of my favourite quotes is, Thinking outside the guidebooks, that's where I like to take my trips. Field even approaches some taboo overlanding topics, saying things that many travellers wouldn't dare utter. At times his bluntness risks offence, but then almost magically he puts his thoughts into perfectly reasoned acceptability. I particularly like the author's excellent way of describing both solo travel, and that with other people he meets along the way. A lesser talented writer or less genuine person could have come across as being pompous and self-opinionated. Not in this case – simply honest, thought provoking and refreshing. He frequently laughs at himself, and that readily adds to the fun. SM
www.troubador.co.uk, £12.99 (paperback)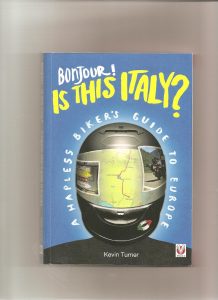 Title: Bonjour! Is this Italy? Author: Kevin Turner
Pegged by the author as 'A hapless biker's guide to Europe', the book describes how, after leaving his job in The City, Turner embarked on his first motorcycle journey to France and Italy before returning via Germany in the hopes of rekindling a lost relationship with the beautiful Nina, a girl he'd met at a party earlier that year and who had since returned home to Deutschland.
The trip starts with Turner loading his beloved Suzuki SV 650 with all he can manage, including enough toilet rolls to cater a small festival, and boarding a ferry bound for France.
His journey sees him getting diverted here and there, visiting as many race tracks en route as possible, to quench his passion for all things Motorsport, and naturally, getting hopelessly lost in the process.
Packed with plenty of photographs and comedic anecdotes of his trip, this highly entertaining read provides good advice on roads to take, places to stay and what to see and do in Europe. It also demonstrates perfectly what not to do when lost on a motorcycle in foreign parts! PJ
www.veloce.co.uk, £12.99 (paperback)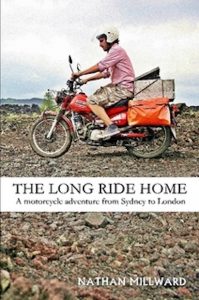 Title: The Long Ride Home Author: Nathan Millward
If you've never spent an evening in the pleasure of Millward's company, listening to him recount his hapless tales from the road, I seriously recommend you track him down at a speaking event, if only to get a taster of his infectious enthusiasm and friendly Nottingham lilt. Then buy this book, so you can hear him tell the whole story in his own words.
If you've not heard of Nathan Millward, you should look him up. Unlike so many modern travel authors who deliberately set off on an adventure with a mind to write a book, Millward set off from Australia in January 2009 with just one motive: to ride all the way home to the UK.
This nine-month odyssey was inspired by a rapidly expiring Visa and a girl called 'Mandy', who gave him the idea. The book follows his ride from Sydney to Darwin, across the water to East Timor, through Indonesia, Malaysia, Thailand, Nepal, India, Pakistan, China, the Stans, Russia and Ukraine, and then on in to Europe. He covered 23,000 miles in total – and the most remarkable thing about this journey? Millward left Sydney with just two days' preparation for the trip aboard a Honda CT 110 'postie' bike, affectionately known as 'Dorothy'.
As if the trip itself isn't enough of a page-turner, in true fire-side fashion, it's the way the author tells it that makes this such a good read. Millward's open nature and laidback approach naturally see him making all sorts of friends along the way, including becoming an honorary member of Indonesian bike gang the BigZoners, and it's these personal accounts that really set this story apart. The book's currently self-published in the UK, so don't expect bells and whistles. It does have plenty of black-and-white pictures, though, and to be honest, it doesn't need any corporate tarting up. EJC
www.thepostman.org.uk, £9.99