Stuart Barker checks out stuff to fill the gaps in your bookshelf and places to while away your time online
TITLE: Building the Ultimate Adventure Motorcycle AUTHOR: Robert Wicks and Greg Baker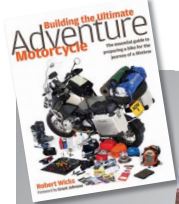 This is an invaluable guide for anyone who's into farkling. It takes you through everything from equipment and accessories to personal kit and how to modify your bike for big trips, including on-the-road case studies with RTW adventure bikers. All the information's presented in Haynes' usual easy-to-digest manner with plenty of pictures to illustrate the points being made, and comparison charts to help you select the best bits of kit and modifications for your touring needs. The authors have racked up over 100,000 adventure miles between them, so you know you're in good hands. £19.99 from all good book-shops or visit www.haynes.co.uk.
TITLE: Jupiter's Travels AUTHOR: Ted Simon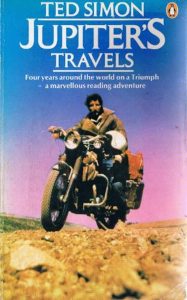 If you're new to adventure biking or you've spent the last 40 years with your head in a very big dune, there's a small chance you might not have heard of Ted Simon or Jupiter's Travels. Simon is the godfather of adventure motorcycling; this book is an ABR's bible. In the 1970s, Ted Simon rode a Triumph Tiger 500 on a 63,000-mile route through 54 countries over a four-year period. He rode through war zones, revolutions and disaster zones and was treated as both a spy and a living god. His experiences were so intense that the journey became more than just a physical one as Simon found himself exploring his soul. Jupiter's Travels is the classic book of this genre and has been an inspiration for almost every adventure motorcyclist in the last four decades. It's available from Amazon for just £5 or you can buy it from the author's website at www.jupitalia.com.
TITLE: The Longest Ride: My Ten-Year, 500,000 Mile Motorcycle Journey AUTHOR: Emilio Scotto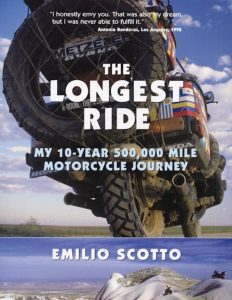 Biking adventures don't come much bigger than this one. Half a million miles, taking in every country in the world? Emilio Scotto's only problem, having set a Guinness World Record for the longest ever motorcycle trip, is where to go next. The Argentinian's epic journey was inspired after he received an atlas as an eighth birthday present. He drew out a route that would take him through every country on earth (and there are 279 to get through) and The Longest Ride is the story of his childhood dream coming true on a Honda Goldwing. Inspiring stuff. £17.50 from Amazon.
TITLE: Tea with Bin Laden's Brother AUTHOR: Simon Roberts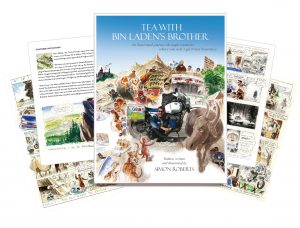 In 2005, graphic artist Simon Roberts packed up his house in Bristol and embarked on a seven-month solo ride to Kathmandu, travelling through Europe, Turkey, Iraq, Pakistan and India on a BMW R100 GS. He documented his adventure in a travel journal-cum-comic strip, accompanying each diary entry with colourful storyboards and even more colourful characters. Tea with Bin Laden's Brother is the story of Robert's journey. Fully illustrated with brilliantly witty comic-style drawings and photographs, the book follows Roberts through the highs and lows of his trip as he encounters vampires, snow leopards, UFOs and more down-to-earth locals, and always with a good sense of humour and fun. £17.50 from www.teawithbinladensbrother.com.
www.advrider.com An American-based forum that allows you to chat to like-minded adventure motorcyclists who've been there, done it and got the T-shirt to prove it. If you've got any niggling questions or concerns you're sure to find someone who has the answer on here. It's also a great way to get in touch with other riders who may be planning a similar trip so you can join up and tackle it together. A hugely popular site, Adventure Rider has over 100,000 active members and can attract up to 7,000 people at its busiest times, so there's an ocean of knowledge you can tap into.