Emily-Jane Cave and Sam Manicom check out stuff to ­ fill the gaps in your bookshelf
­Title: Overland to Egypt
Author: Gordon May
A 1952 BSA 125cc Bantam has to be the most unsuitable machine on which to undertake an overlanding adventure, surely? Having hugely enjoyed May's ­ first motorcycle travel book Overland to India, I was really looking forward to this, but I have to confess the concept worried me. I'm a great believer in the point that you can overland on anything, but this sounded like a bit of a stretch even for me. I needn't have worried, however. This book grabs you from the outset, and as it unfolds, takes you on an incredibly inspirational journey, exhibiting the very best of human nature and some of the nest aspects of motorcycling camaraderie. This is a tale of endurance, innovation, and both positive and lateral thinking. It's a story that abounds with the joy of travel on two wheels, though at times you'll wonder if the author is at all sane. You will also ­and yourself admiring both his philosophy and his determination not to let himself or his machine fail.
I'd never anticipated how fascinating the world of classic motorcycles could be. Overland to Egypt allows the reader enticing glimpses into the history of British motorcycling and manufacturing. It's also packed with brilliant tips and ingenious modifications, both of which are enhanced by flashes of pure common sense and quirky solutions. Would you think of cleaning a coked-up cylinder with a mix of toothpaste and soil, for example?
The debate as to whether a 60-yearold 125cc Bantam is the most impractical overlanding motorcycle in the world is still open, but I'd urge you to read this book and decide for yourself. Preconceived ideas might wobble, but I guarantee that travelling wheels will itch. Now, where are my maps of North Africa? SM
www.overlandtoegypt.co.uk, £9.95 + £1.80 p&p (paperback); £13.95 + £3.00 p&p (hardback)
­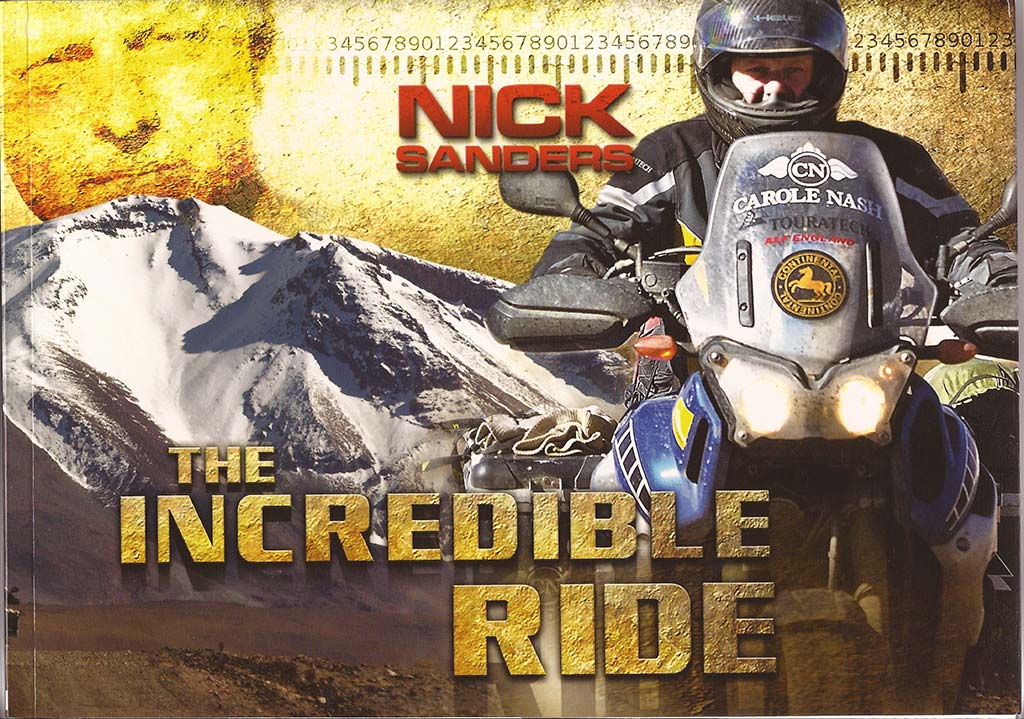 Title: The Incredible Ride
Author: Nick Sanders
ABR Nick Sanders is well known for undertaking long-distance endurance rides, but nothing quite compares to his epic 31,000-mile double transit of the Americas. In 2011Nick managed to take his Super Tenere from Alaska to Argentina and back again in just 45 days and 23 hours. This book is Nick's ­ first-hand personal account of that journey. If you've ever had the pleasure of meeting Nick, you'll know he's a very enthusiastic guy who's passionate about what he does. He's also very open and honest about letting his feelings be known, and it's that un­ unfiltered, unadulterated side of Nick which really comes through in the book, allowing the reader to share in the joy of the highs and get a glimpse of a man at his lowest ebb.
The tempo to this narrative is fast paced and helps reflect the speed at which Nick's travelling. The scenery and climate change as quickly as the author's mood as we follow his train of thought from Prudhoe Bay to Ushuaia. This book's probably not for lovers of conventional travel writing. The 'stream of consciousness' style means it's a bit disjointed in parts and as sleep deprivation sets in, so the coherency falls off, but once you're into the rhythm, this book's nigh on impossible to put down. EJC
www.nicksanders.com, £12 (paperback)
­
Title: Rolling Through the Isles
Author: Ted Simon
This is the long-awaited, hotly anticipated new read from the godfather of modern motorcycle travel, Ted Simon. Having crisscrossed the globe twice, ex-pat Ted returns to his roots in this book, exploring the British Isles by bike and rediscovering the country of his youth. Follow Ted as he uncovers the lost haunts of his London childhood; favourite routes around the country and fond memories of the people and places that shaped his early travels through Britain.
The book is peppered with fascinating glimpses into the past; some are personal to Ted (old girlfriends, for example, are a tantalising theme) while others capture a nostalgia of place and time that's at once comforting and compelling – beautifully painted in Ted's own enigmatic style. The snap-shot colour photos add to the book's charm and, coupled with the author's effortless anecdotes of bygone eras, the whole package is guaranteed to have you reaching for the A-Z. What better way to celebrate a Jubilee year than rolling through the Isles with Ted? Jupiter fans: you won't be disappointed. EJC
www.littlebrown.co.uk, £20 (hardback)