Alun Davies first set out to Morocco on a dodgy Norton Commando in 1978. Thirty-two years later he finally gets to ride in this spectacular and varied North African country. In the first of a two-part feature, he reveals what it's like to ride 1,500km over the mountains, scrubland and deserts of Morocco
It was an emotional year, 1978. Johnny Rotten quit the Sex Pistols, Jim Jones lead his People's Temple in a mass suicide in Jonestown, Guyana, and the layshaft bearing of my Norton Commando 850 shattered for the fifth time.
In the past, the unpredictable tube of British-made steel and ball bearings had chosen to collapse within sight of an acrid, flaming coking oven and within walking distance of my home town in the (then) mining community of the Rhondda Valley of South Wales. On this occasion the Norton had come to a crunching, grinding halt on a deserted country road 50 or so miles south of Paris on a cold, dark and wet Sunday evening in early winter.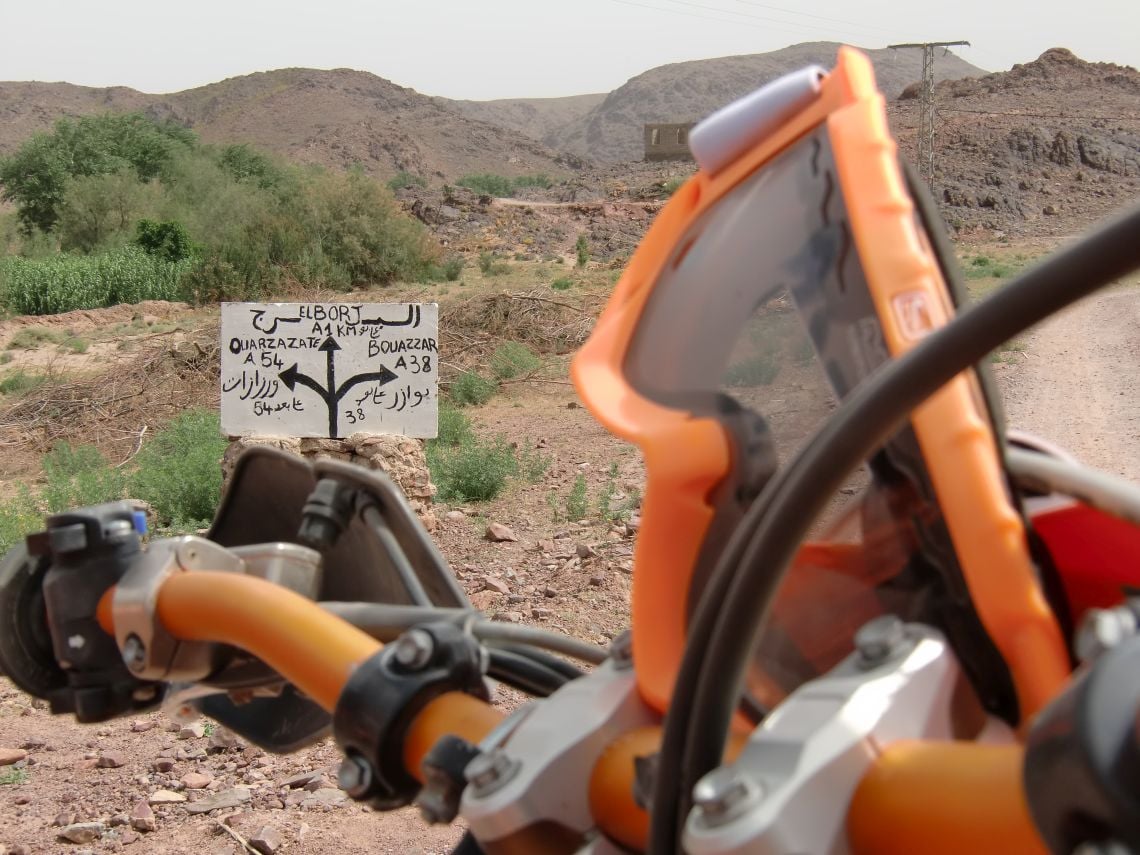 As was the custom back in the 70s, I was fully kitted out in technical adventure motorcycle touring gear to ward off the elements. But the storm was unrelenting and punishing in its intensity and in no time my Levi jacket and Wrangler jeans were filtering torrents into my baseball daps and the white Adidas kit bag tied to the saddle had soaked through.
Although I'd packed a spare bearing, and could strip a Commando gearbox roadside and replace the faulty part blindfold in a French monsoon, I knew it was the end. My trip to Morocco was over. No way did I want to risk riding down through the Agadooing fleshpots of Spain and sail over to the unknown of North Africa on a machine with a fatal flaw and no replacement part to tie me over.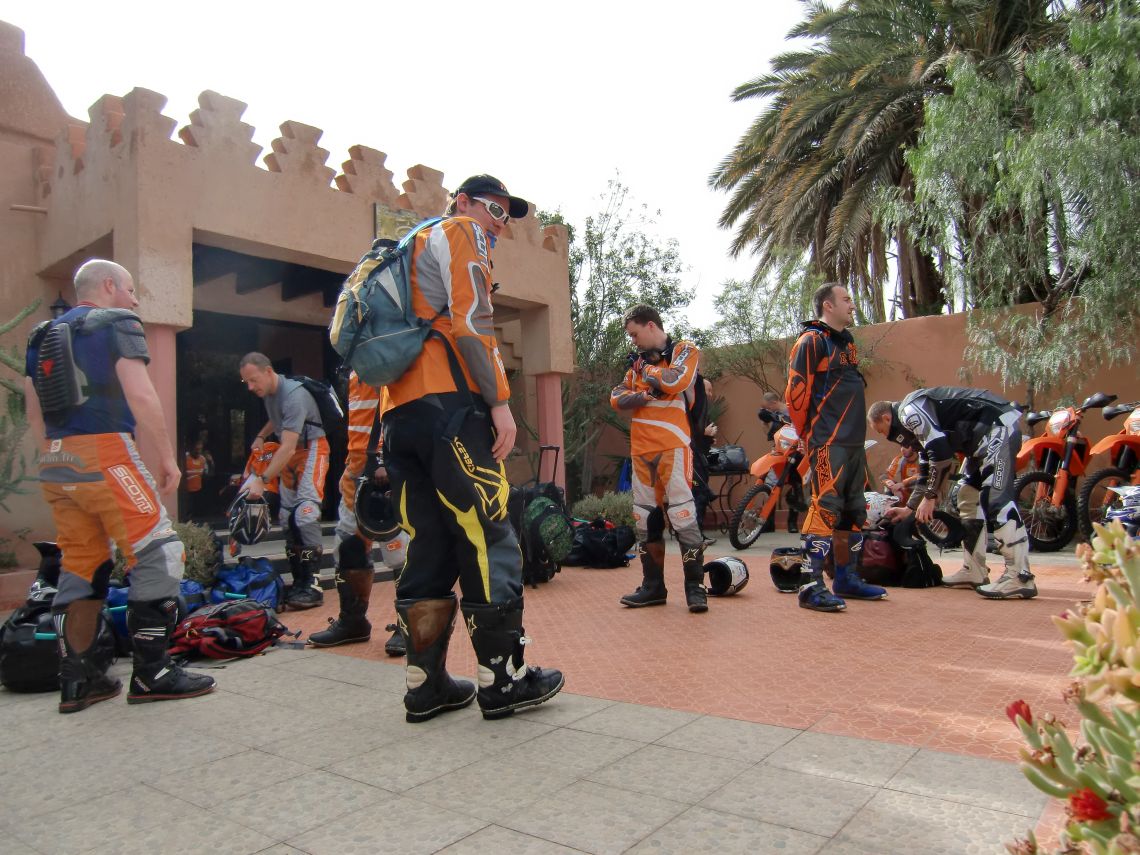 But when adversity strikes on the road, another adventure begins, and so it did as a car pulled alongside and I heard the opening chords of Roxanne chime above the wind and rain as a young French girl wound down a window and asked an even younger Welshman, "excusez-moi monsieur, je peux vous aider ?". Three weeks later I rode back to the UK 10 years older, having established a new Entente Cordiale.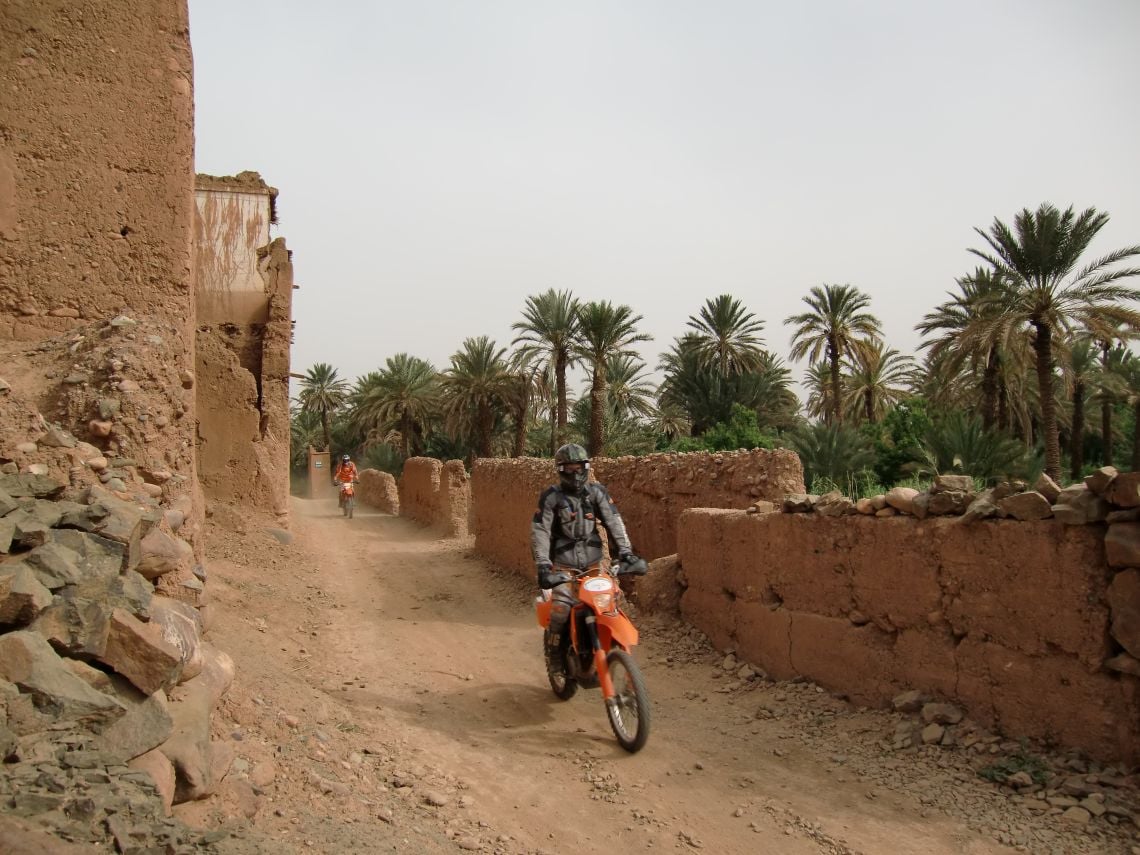 In truth, 1978 was not the end, it was just the end of the beginning of my love affair with Morocco which reignited in 1979 as I lay outside a mud hut listening to win the Africa overlanders hot spot of Asilah, just to the south of Tangiers. This time I'd left the cranky Norton at home, with the gearbox spread haphazardly on the garage floor and taken a last-minute cheap flight from which I really never returned.
Thirty years later and I'd been back to Morocco on many, many occasions. I'd climbed Toubkal, the highest mountain in the Atlas, three times: once in mid-winter when I found myself ice climbing with axes and crampons within sight of scorching Saharan dunes. I'd trekked for weeks across the wilderness of the Djebel Sahro with only a mule and scorpions for company, climbed huge vertical cliffs in the spectacular Todra Gorge, hiked the drug-laden Rif mountains in the north and backpacked around the south of the country with two of my young teenage children in tow.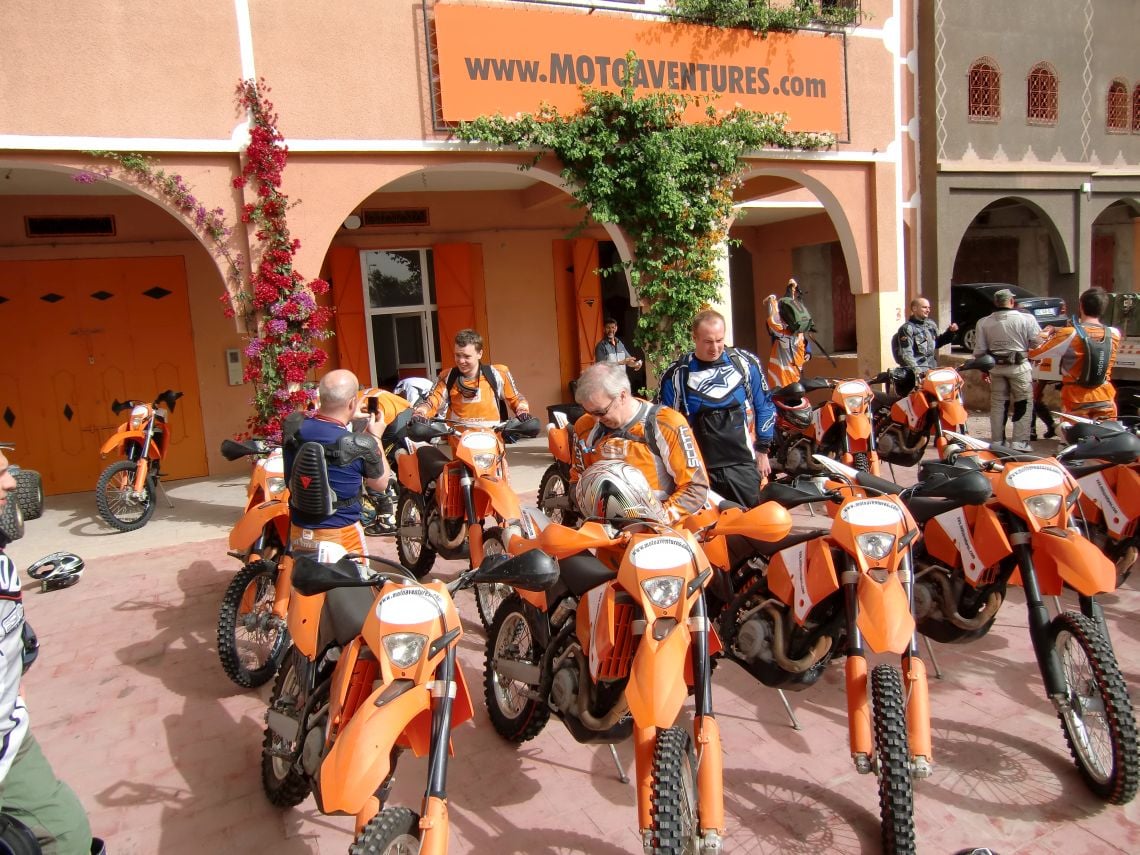 Even so, there was still unfinished business with Morocco that went back to the time when both Sting and I had pondered what to do with that red light… I'd still not ridden a motorcycle in Morocco. But 32 years on, in May 2010, that was all about to change as I booked an off-road motorcycle holiday to Morocco with Motoaventure.
King of pain
All around there was carnage: bikes strewn over the high Saharan dunes, distressed riders with 1,000-yard stares buried up to their knees in soft, shifting sand as a blistering sun zapped what little energy we had left. And for good measure, there was also a fine assortment of battered bodies on display, which, let's face it, is nothing short of what you'd expect for your money after riding 270km off-road in a single day.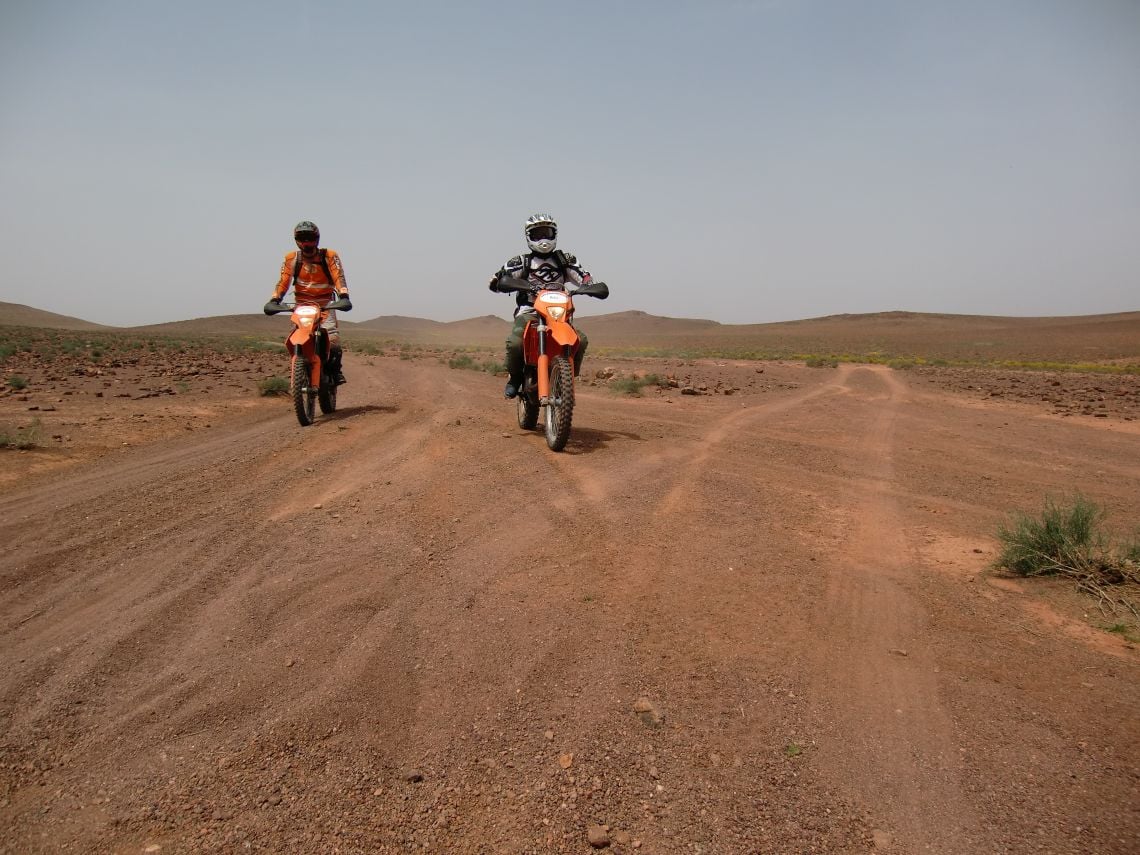 This was no holiday, certainly not in the conventional sense of the word – this was more like a reality TV show called 'Last Man Riding'. And to summarise, in 1970s' speak… man, were we having a gas.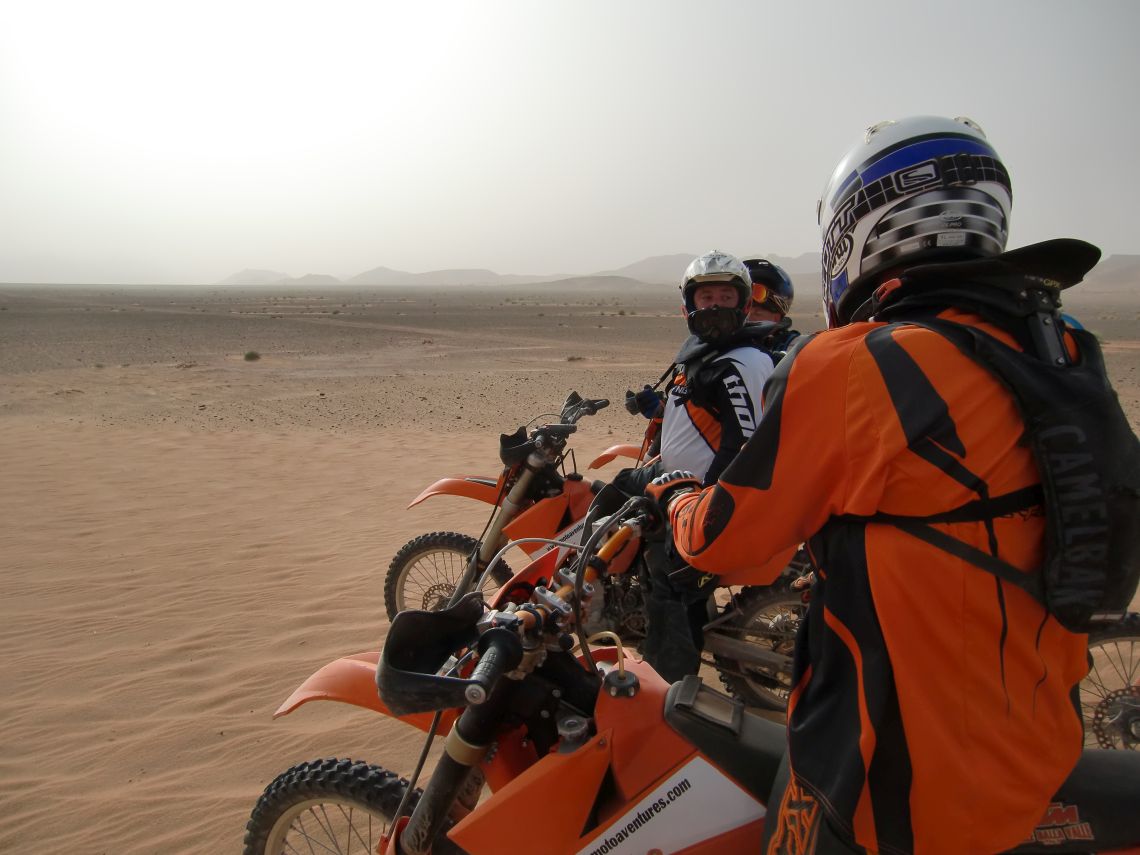 For the vast majority of Brits, traditional holidays have followed a familiar pattern: getting pissed, singing Agadoo and hand to hand grappling with Germans over sun loungers. More recently, some tour companies have tried to convince us otherwise, by adding words such as 'luxury', 'eco' and 'adventure' to the package and then flying us to exotic destinations. But the underlying Brit abroad theme runs true: we drink, we sing, we fight them at the poolside.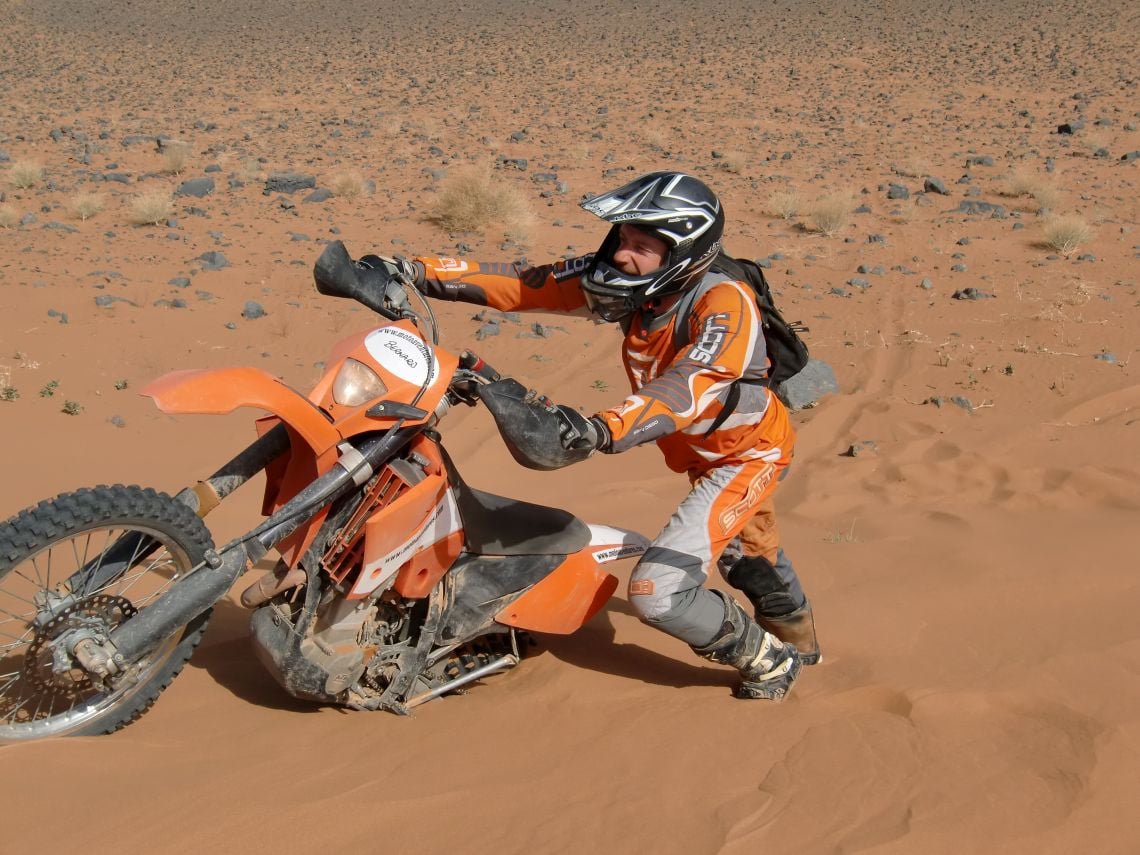 How refreshing, then, to go on a trip where you end up far too exhausted to be carried to the bar let alone sit there and sink a drink. And it gets better when you discover that smearing flesh and blood on volcanic rock soothes the soul in a way that coating a lounger with suntan cream never can. Yes, off-road riding in Morocco with Motoaventure is one of the most relaxing holidays I've ever had, and this is how it went.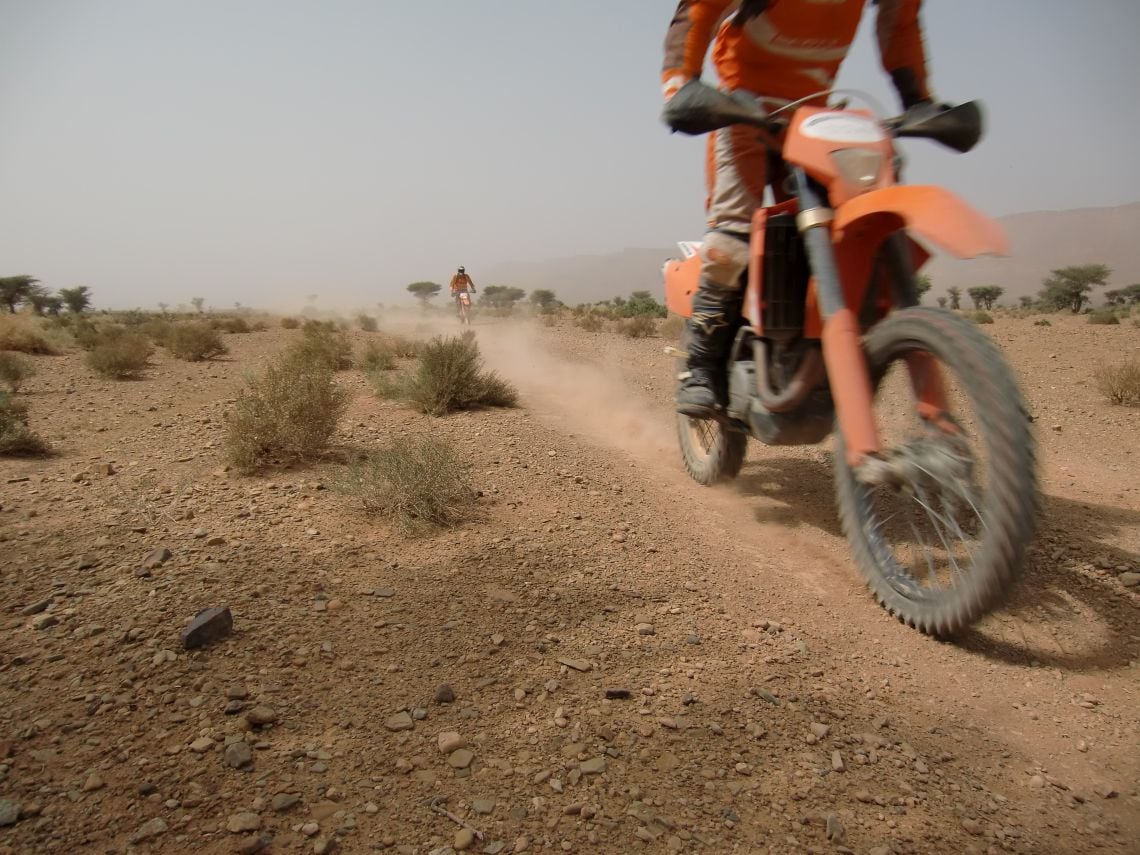 Tea in the Sahara
Morocco has changed all right. When I first set foot on north African soil back in the late 70s the international arrivals hall in Tangiers was of a size and décor that you'd expect of a portaloo on an underfunded building. Passport stamped and the drive into the village of Asilah was no less exotic or aromatic as I passed camels, blue men from the desert and locals living roadside in mud shacks obscured by mountains of peanuts.
Nowadays, the arrivals hall in Marrakesh is bordering on spectacular and the main highway into town is full of gleaming 4x4s, men dressed in sharp suits and lined with enough newly built buy-to-let flats to make the centre of Manchester and Leeds look like rural, village hall developments.
I'd travelled to Morocco to meet up with 16 other bikers taking part on an eight-day Mountains and Desert Tour, organised by Motoaventures, and kicking off in the old French Foreign Legion outpost town of Ouarzazarte – now marketed by the Moroccan PR machine as The Gateway to the Desert. We'd be riding between 160km and 270km off-road per day through the snow-capped High Atlas mountains, the imposing and spectacular wilderness of the Djebel Sahro, and the high dunes of the Sahara.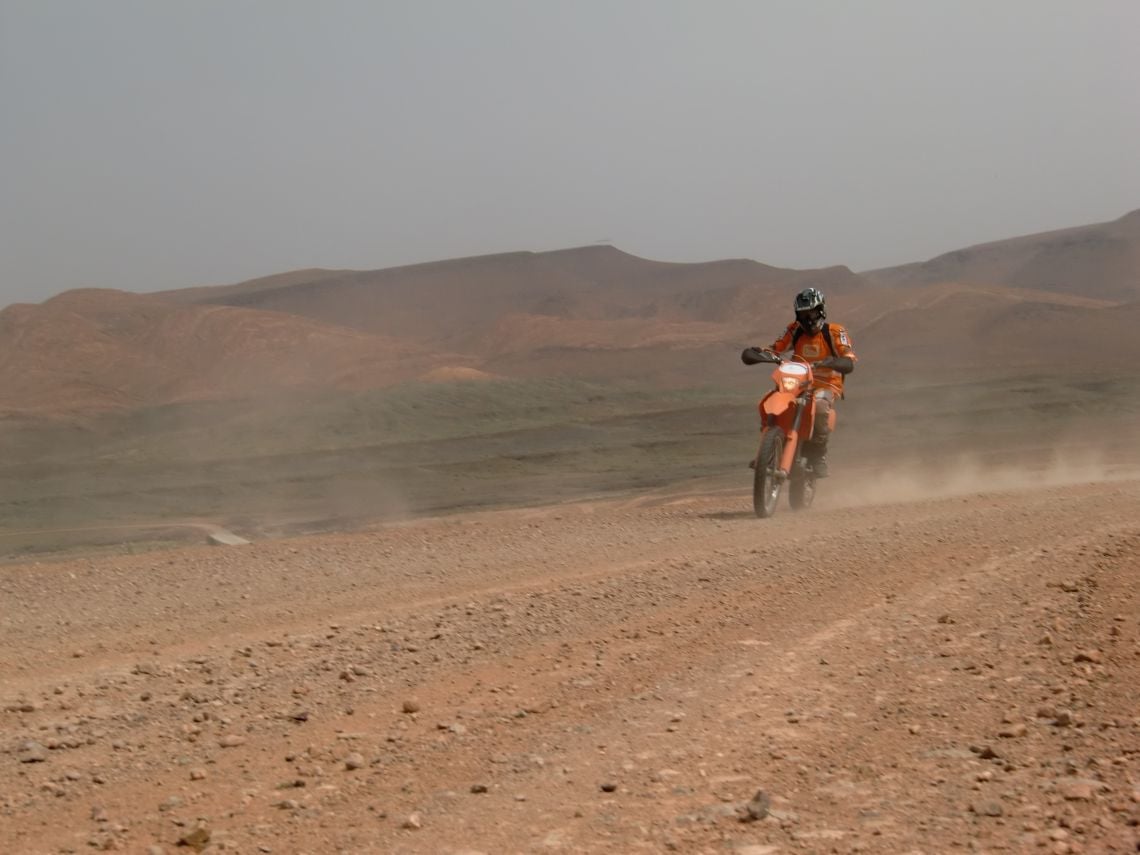 After a restful night in a surprisingly lavish hotel complete with pool, well-stocked bar and good food, the briefing on day one was an eye-opener as our guide, 'Jonny Maroc', explained the various ways in which we could meet our maker. High-speed collisions with animals and crashing into jaywalking Berber villagers sounded like fun, though getting lost in the wilderness was by far the more culturally appealing. The good cheer continued as it was pointed out that our support vehicles would be carrying all the holiday essentials such as splints, trauma equipment and a defibrillator.
Having covered all the essentials and kitted us out with full-body armour we were introduced to our KTM 450 steeds and told that the first day's riding would be easy going: 160km with an optional 50km tough bit thrown in at the end for those with masochistic tendencies. Option two was a shorter ride on tarmac to hang out poolside at our overnight stop in the town of Agdz.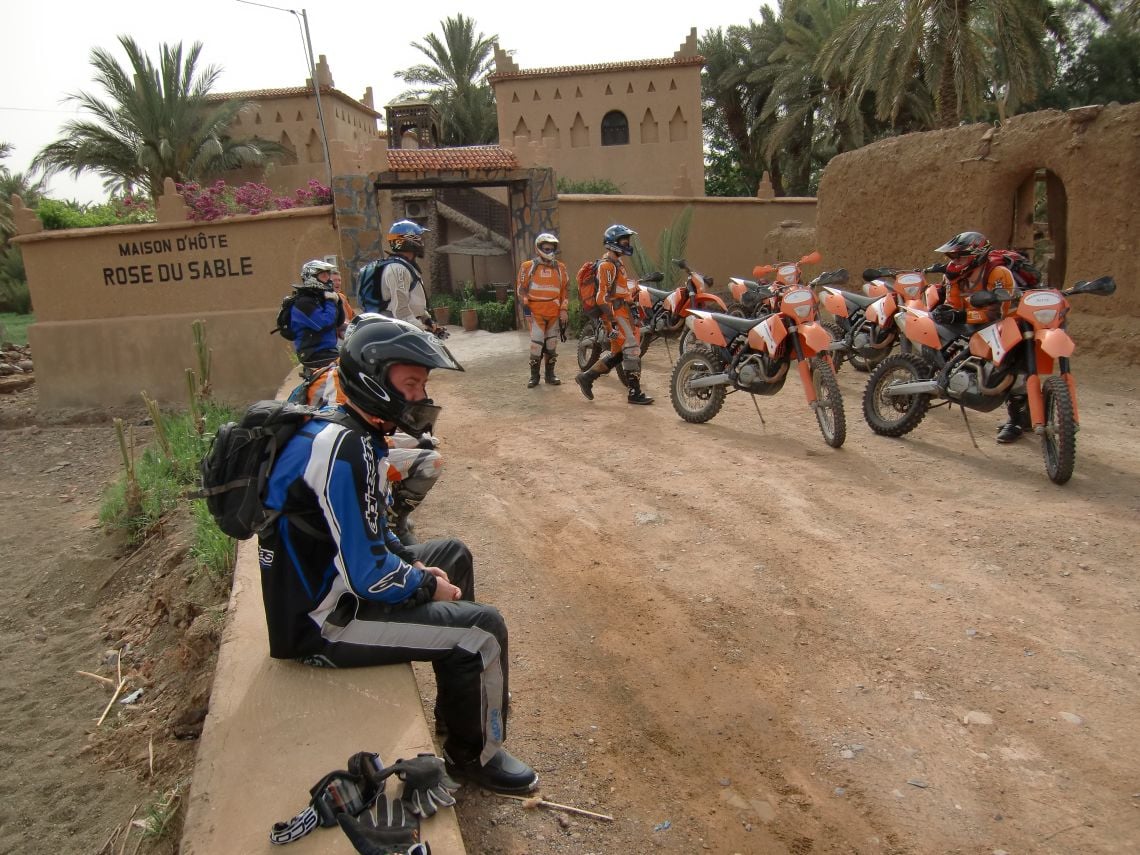 At least half of the bikes came fitted with GPSs which contained a download of the route for the day. The significance of this passed over me at first – we were a party with a leader, right? As we progressed over the coming days and split into three distinct subgroups governed by speed – slow, intermediate and mental – and then into twos and threes spread out in the wilderness, the GPSs came into their own. No way could we have proceeded unencumbered by slower riders and at our individual pace through the Moroccan wilds without the full technological might of the US armed forces on our handlebars. In essence, it worked like this: buddy up with a rider of equal pace who had a GPS or never be seen again.
The group of 17 had an international flavour: eight friends from the UK, most of whom most were bankers or property developers, one Aussi, one Kiwi, a Canadian, two Andorrans, a couple of French guys, Paul from London and yours truly. The two support vehicles contained Su from Motoaventures plus three Moroccan mechanics and then there was our lead rider and chief tormentor Jonny Maroc, otherwise known as John Griffiths.
The off-road experience of the customers was varied. Paul was on his third trip with Motoaventure. The two Andorrans owned trials bikes and had the Pyrenees for a back garden. Chris the Canadian owned a GS1200 plus a KTM Enduro, and Andy and Dylan – the boys from Down Under – both rode off-roaders back home. As for the rest of us, our experience ranged from limited to virtually nil. In fact, a few of the UK lads had only recently passed their bike tests.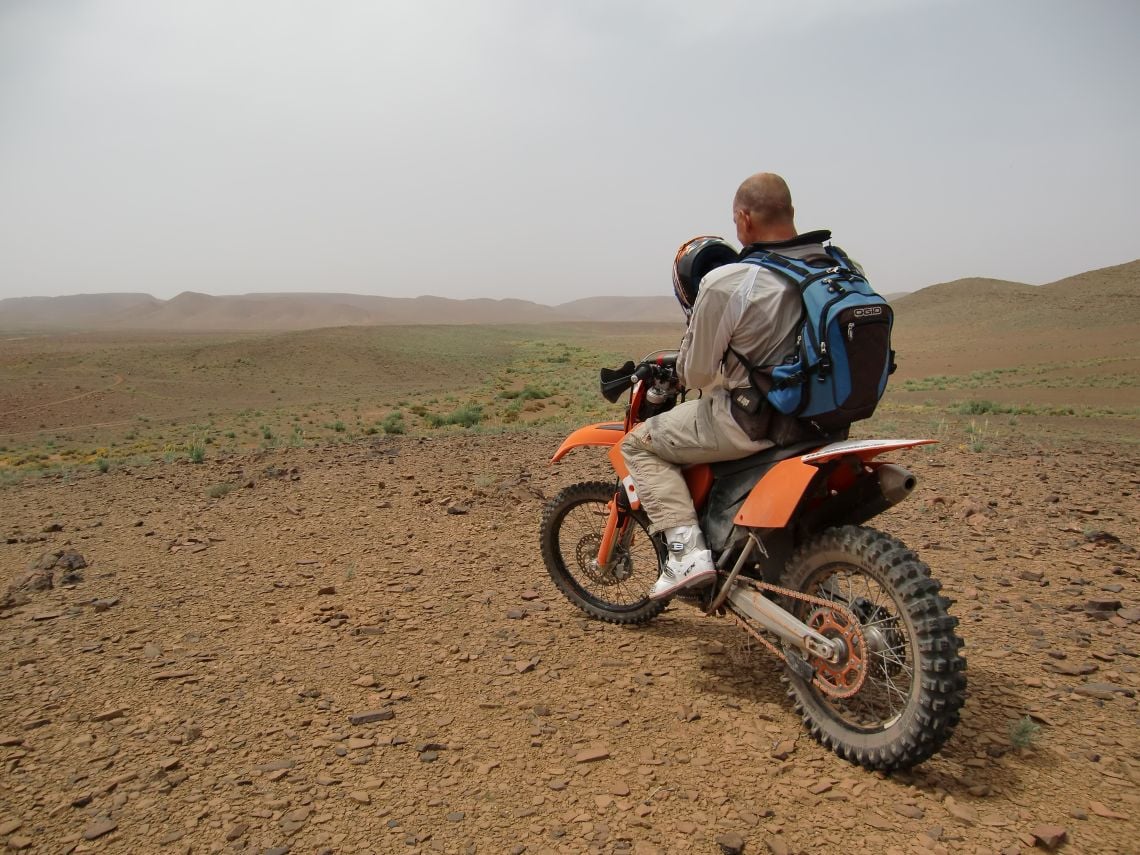 At 50 years of age, I was the elder statesman of the pack and at 18 Ali was the youngest, though, at a guess, I'd reckon the average age of the group to be somewhere between 40 and 45. Work-wise, it appeared that everyone on the trip was a well paid professional in their chosen occupation with the exception of Ali, who was a student. We were all male, except Su, of course.
And so we were off. The first 6km on tarmac through the city of Ouarzazate saw us pass by old, mud-walled Kasbahs, gleaming new hotels, donkey carts and brand spanking Mercs until we reached our first off-road section, a finely graded trail heading off into the Anti Atlas hills to the south-west. Over the next couple of hours, we were able to get a feel for the KTMs and begin to work out the mechanics of how a bike accelerates, moves and steers when riding over terrain with the stability of a dusty bag of marbles.
As I've just mentioned it, perhaps now is also the time to tell you a little more about the dust. Morocco is essentially one big dust bowl with a few camels and palm trees holding it all in situ. And you'll not come across anything like it this side of the Med. Even the most arid regions of southern Spain can't compete with the sheer quantity and fine qualities of the powder kicked up on a trail in Morocco. I'm telling you now, ride through a river and you'll kick up dust. Even midstream, even if the water is a couple of foot deep, you will kick up dust. Masses of the stuff. Period.
How the locals live beyond the age of three without getting a fatal dose of silicosis is a miracle of evolution. But that's enough of dust, for now – I'll leave the brutal expose of our confrontation with the most ferocious variation, fesh fesh, for another time.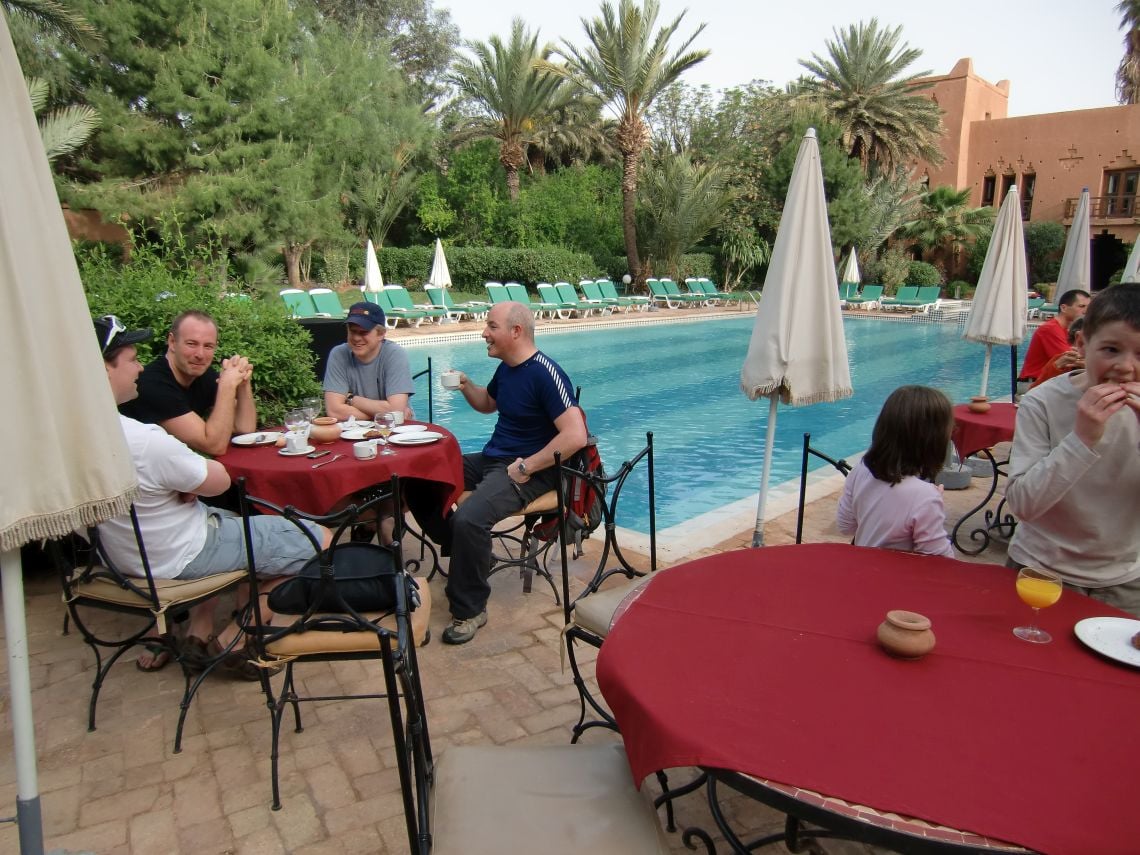 By lunchtime, we were off the graded piste and following a mix of rocky 4×4 trails, tight single-tracks and for the most part making it up as we went along.
The party had also split into three groups based on speed and experience, which was to be a feature of the next seven days. For reasons better known to others, I found myself scaring myself silly in the lead group of four with Paul and the Andorrans keeping me company and covering me in dust.
Occasionally, Dylan the Kiwi would hot up his pace and ride with the fast group, just as he did when he took his first fall in a patch of soft sand. I was alongside him in seconds but he was back on his feet and ready to go. These Kiwis are tough.
And that's when we noticed that the other pacesetters with GPSs had already ridden out of view. Ten minutes later, after following what we thought were their tracks, we were sat atop a bluff in the middle of nowhere with no other riders in sight, no idea where we were going and just about as much insight as to the way we'd just come. Our best guess to our precise location was: you can certainly travel a long way in the wrong direction in 10 minutes on a KTM 450.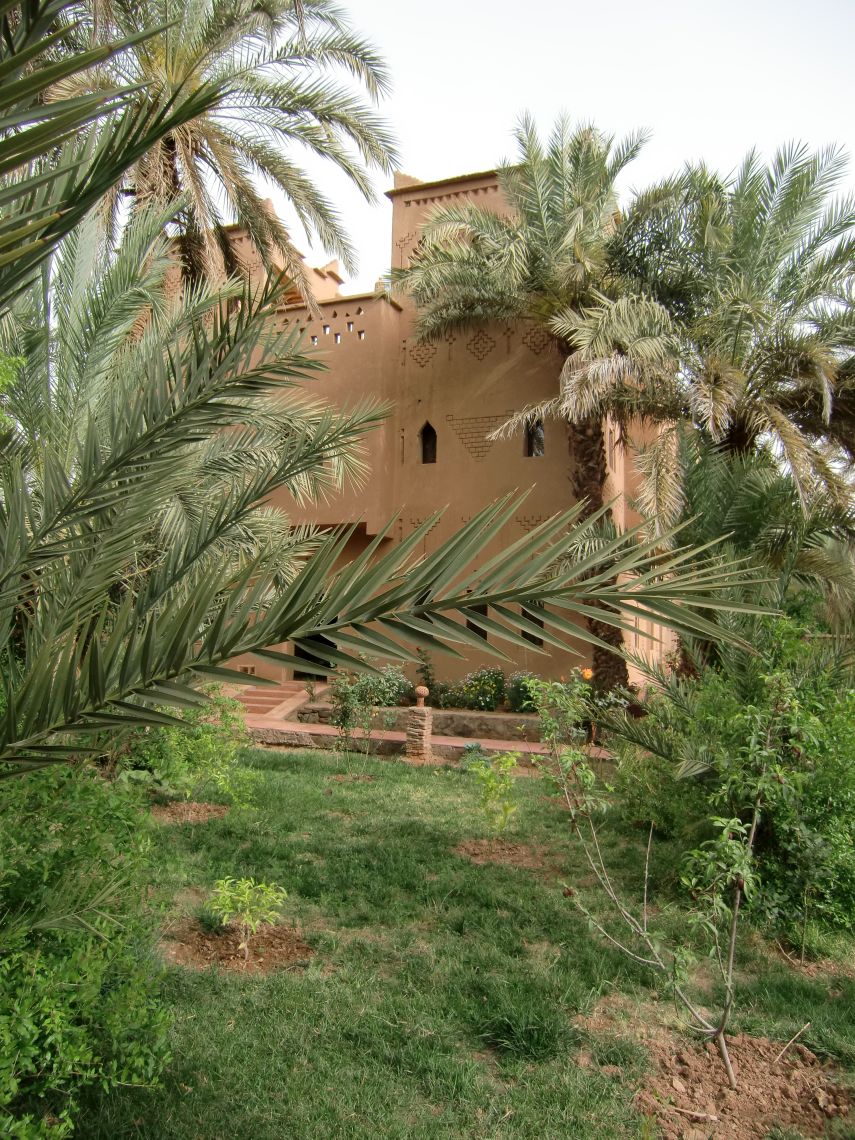 By now the sun was high in the sky, there was little to no shade and the temperature was rising considerably. Although the thought of 'we're going to die' wasn't first on the list, it had started to cross my mind that it wouldn't be so bad if it meant getting out of the heat. And then, a single plume of dust in the distance became two, then three, then four… the cavalry were approaching with GPSs and water.
The next hour or so was spent on fast, rocky tracks passing through the occasional remote, dust-blown village in the middle of nowhere. Occasionally we'd pass nomad tents that were well outside the definition of nowhere. Eventually, the trail intersected the tarmac road to Agdz which brought with it the option of an early bath or a tricky late afternoon section.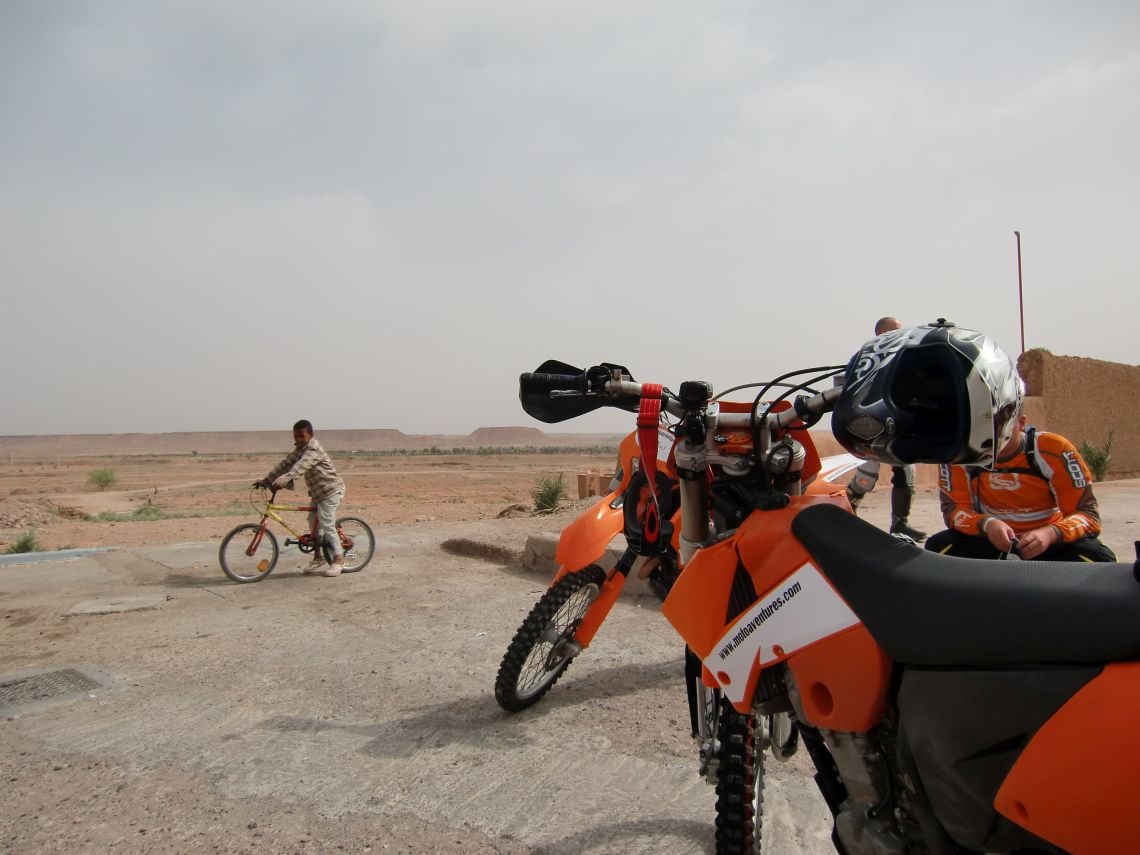 Having thoroughly enjoyed the day and with energy left in the tanks I decided on the latter and for the next two hours, a group of eight of us rode across a hard, flat plateau at speeds well in excess of what you'd call safe and then up and over a rocky pass with sections that were more trials than enduro. It had been a long day in the saddle and on the tight, sweeping trail down into Agdz tiredness was catching up with some of the riders and the number of falls and spills increased dramatically.
Day one came to a close with us sitting by a small pool in a charming Riad drinking cold beer and eating tasty couscous while discussing war stories from the trail. "Well, that's the easy bit done," said Jonny Maroc. He was right – the dessert was enormous.
---
Whos Riding?
Paul Thomas from London. A Gooner who works for the NHS and a veteran of three trips to Morocco with Motoaventures. EIE, as they say. David and Joan from Andorra. Not sure what they do but they supported Barca and man could they ride. Dylan from New Zealand, now living in Australia. He's in the legal profession, which was a bit of a surprise as he's a nice guy.
Bernard the Frenchman who's big in the chemical industry and can spot a female at 200 miles, blindfolded. Alex the Frenchman who lives in London with his Ducati and works in finance – think I talked him into getting an adventure-style bike. Chris the Canadian has a job that involves pulling things apart and getting paid for it. My Moroccan roommate and all-round good egg. Chris from the UK, works in finance and convinced eight mates to join him on the trip. Jonny Maroc's bank manager loves him.
| | | | |
| --- | --- | --- | --- |
| BERNHARD | ALEX | CHRIS | CHRIS |
Big Andy from Brisbane, Australia. Works in finance and was always smiling unless he fell off, which meant not too many grins on the last few days. Dave from the UK, works in finance where he's known for big hair. Special mention for lending me his Camelback. Thank you sir. Jeff from San Francisco, living in London and working in the legal profession. Also had nice hair. Hutch from the UK who introduced himself by apologising for being a banker. Quite right too. Had no hair.
Nigel the property developer from Somerset and Ali's dad. Wish my dad had taken me riding in Morocco. Ali the 18-year-old student who'd only just passed his test before the trip. Well done young man, where you taking dad next? And then there was finance man Jamie and property developer Jonny who were both MIA at the time of the photo round-up. Get well soon guys.
---
Who With
Motoaventure has been running offroad motorcycle trips to Morocco for years and if I said its organisation of the trip and knowledge of the country is premier league it would be a gross understatement. The company caters for all levels of riders and offers trips ranging from easy to, erm, well hard. The office number is 00 376 840580 (base in Andorra) or 00 212 6 483 87639 (base in Morocco) or check out its website at www.motoaventure.com
Are you up for it?
There were 17 of us on the trip in May 2010 and some had only passed their test a few months before flying out and had nil off-road experience. Granted, they had some nervy wobbles on mountain tails and all took a few tumbles – but so did the most experienced. You can ride at your own speed and if you find you've had enough for the day then the mechanics will load your bike in one of the support vehicles along with you. Basically, if you want to do this trip, you can.
The bikes
Motoaventure uses 450 KTM Enduro motorcycles and having blasted around 1,500km of punishing off-road terrain I have to say these bikes are better than I'll ever be. They're light enough to pick up – you'll be thankful of that – and have enough power to get you out of tricky situations. They'll also take you at the sort of grin-inducing speeds across open desert piste that you'd rather forget about when the adrenaline winds down and mortality crosses the mind.
Riding in Morocco
Riding on Moroccan tarmac is potentially far more dangerous than anything you could do off-road. In one week in 2008, 23 people were killed, 1,309 injured and the annual cost of road carnage to the state, according to official figures, is £1 billion a year.
Also try
Moto Morocco is another name to remember for tours in Morocco – see www.moto-morocco.com.
Next issue
You can catch the next instalment in issue two of Adventure Bike Rider where Alun describes how only four out of the 17 riders completed the whole 1,500km. you can also find out just how scary it is riding a motorcycle at speeds of over 100kpm on desert piste with visibility below five meters. Plus you get to see what the world looks like from a motorcycle on the summit of the highest dunes in the Moroccan Sahara.