MAN, OH, MAN!
Mike Beddows goes trail riding in Manx
At a recent ABR Rally, a few of us were discussing trail riding and the Isle Of Man (IOM) was mentioned. "There are lots of trails on IOM and they're all well signposted," a fellow ABR informed me. All signposted? This caught my attention. After trail riding in England and Wales for the last two years, I know how difficult it is to plan a route. It's easy enough finding the trails on an OS map, but it's a lot harder on the ground. Very few are signposted and it's always a concern whether you're actually riding the correct trail or not. A bit more tinterweb research on IOM confirmed that, yes, the trails really are signposted. This was all the encouragement I needed; I had to see these trails for myself.
Right on
Before my departure, I ordered the Public Rights Of Way maps from the IOM online shop (www.shop.isleofman.com). These are 1:25K maps split into the north and south of the island. They're fantastic tools and well worth the £7 (£12 including shipping to England).
I checked the maps legend and was surprised to see two routes that were accessible to motorbikes; the standard BOATs and Greenway Roads. These Greenway Roads are only for vehicles weighing less than 500kg, which means 4x4s are not welcome on them. I was looking forward to this trip more and more.
Also on the IOM maps is a section called 'useful information'. One of the headings is for 'GLUG', the Green Lane User Group ([email protected]). I emailed GLUG to ask if there were any lanes that were closed on the island, and whether there'd be signs on the ground stating this fact. I received a quick reply saying that a few routes would be closed from 1 November 2011 until 1 April 2012, and a map showing the affected areas. An additional lane was closed due to forestry work, and again, this was marked on the map that GLUG sent me. Fortunately for me, though, I'd be visiting the island before these restrictions would apply.
Manannan the boats!
I'd already been informed that two days was plenty of time to ride most of the green lanes on the island. So after a quick look on the Isle Of Man Steam Packet website (www.steam-packet.com) I booked an evening ferry from Liverpool on the Manannan Sea Cat, returning three days later to Heysham on the slower Ben-My-Chree ferry for the bargain price of £88 return for me and my bike.
I'd originally planned to camp on the island, but my wife reminded me that I'd be arriving and leaving in the dark. Also, factoring in that the clocks were going back that weekend and we'd be subject to longer darkness hours, I changed my mind and booked a cheap £20-a-night room in Douglas. A wise move.
Get in lane
After a rough two-and-a-half-hour crossing on the Sea Cat, I arrived in Douglas and checked into my room. I had a few pints and some grub, then settled down for the night. So excited was I by the prospect of having two days' trail riding ahead of me, I hardly slept. I was up and out the following morning like a kid at Christmas and by 7.30am I'd arrived at the first trail a couple of miles outside Douglas. As the maps I had of the island were split into north and south, this is how I decided to split my two days' riding; day one was to be the north.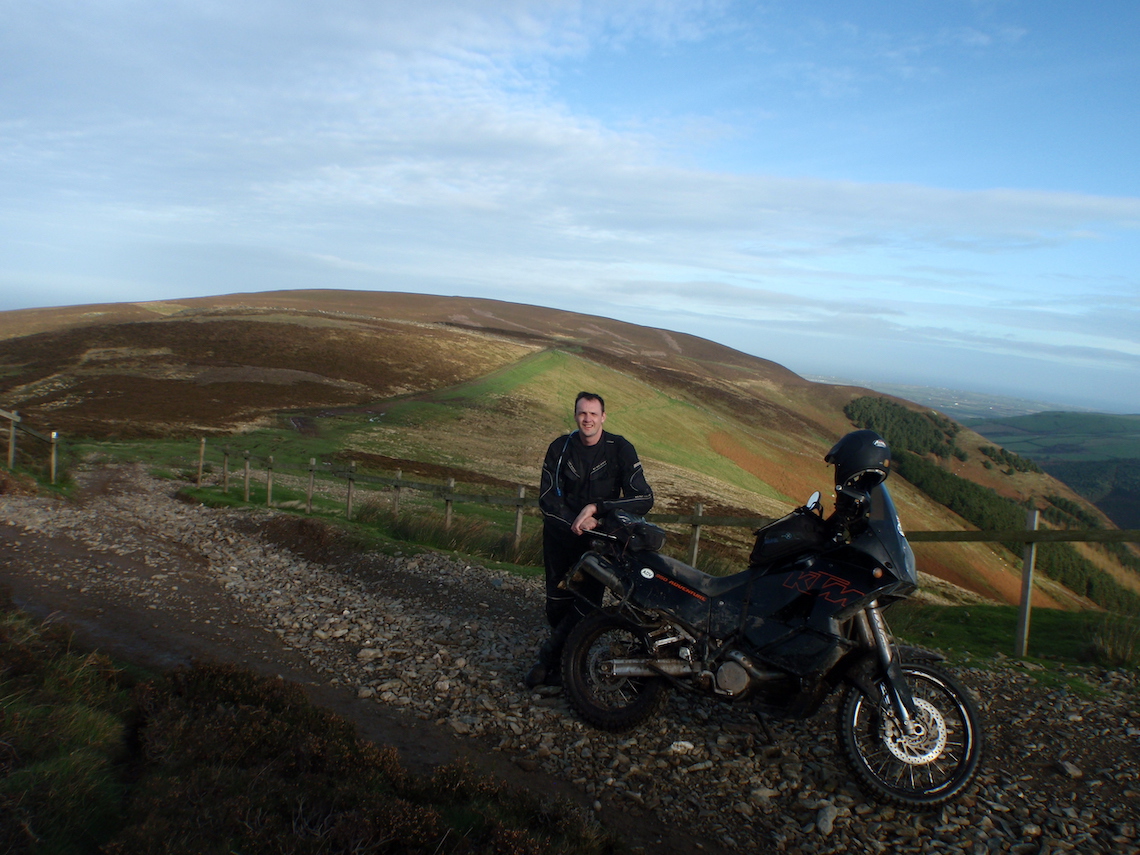 Immediately I got to the entrance to my first trail, I was pleased to find the sign that I'd so wanted to see. The first trail followed part of the Millennium Way, a long-distance footpath crossing the island south-north. This section was designated a Greenway Road. I'd expected no visible 4×4 evidence due to the 500kg max weight limit, but was surprised to find the trail heavily rutted. Some of the ruts were deep and picking a route was awkward, but it all added to the fun. I can only assume that at one time 4x4s were allowed down these routes, but they became so badly damaged that heavy vehicle access was stopped and they were designated Greenway Roads.
If only England and Wales' authorities followed this example, I'm sure there would be far more lanes open for motorbike access only.
A short road section led me to my next Greenway Road. This was mountain terrain now and led past Sartfell Plantation. The route was excellent. No evidence of 4x4s and the trail had several washouts which were fantastic fun to jump and a good opportunity to get the KTM in the air. At the top of the trail there was a glorious view down to Kirk Michael with the sea beyond. On a clear day I'm told it's possible to see Ireland and the mountains of Scotland and Wales in the other directions. I decided to pop down into Kirk Michael to get some breakfast and stock up the bike with supplies.
Mountain tension
After a brief stop, I found the entrance to the next lane, a Greenway Road, which would lead me back up the mountain. This trail was extremely difficult. There were lines after lines of ruts in the soft ground (all made by motorbikes). Common sense said turn around, but I didn't. Trying to get a grip in the soft ground was really hard. I had a TKC on the front that was struggling to cope and a Meffo Super Explorer on the rear that was also fighting to get traction.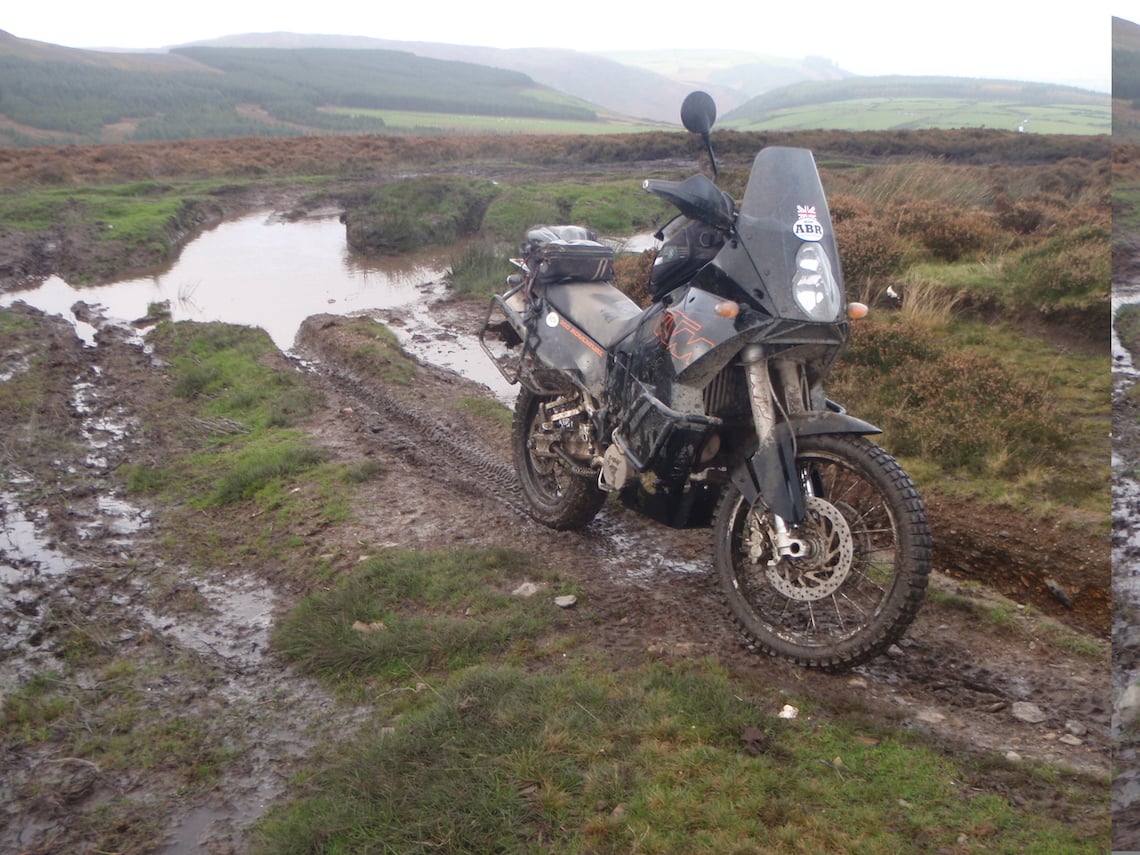 It got so bad that I adopted the approach of parking the bike up and walking the next hundred meters or so to suss out the best route. With deep ruts all around, the last thing I wanted was to get the heavy KTM so stuck that I'd be unable to free it. So it went on like this, walk a hundred meters, ride a hundred meters. It was exhausting, but it's the sensible approach when riding solo.
I was glad when I met up with the graded section I'd ridden earlier. I rode a few more good trails that afternoon with some difficult, challenging sections and each provided a different surface with lots of mud, some ruts, forest trails, steep inclines and descents, rocky tracks, and tracks barley wide enough to be considered footpaths. All were great fun.
Moor of the same
Then I reached open moorland again and had to choose whether to go left, which looked to be the easy option, or right, which offered more ruts in soft ground. In the distance I could see lots of enduro bikes and every now and then one of the riders would go down. I don't know why, but I opted to go right and head towards the other riders.
Lots of sweating later, I was within reach of the enduros. The short bit of terrain between me and the riders (who were now taking a break) was terrible and dotted with deep muddy bogs, so I walked over to have a chat with them. They thought I was mad for taking a KTM 950 as far as I had and helped me pick a line through the bog. Then they left (I was hoping they'd stick around in case I got stuck!).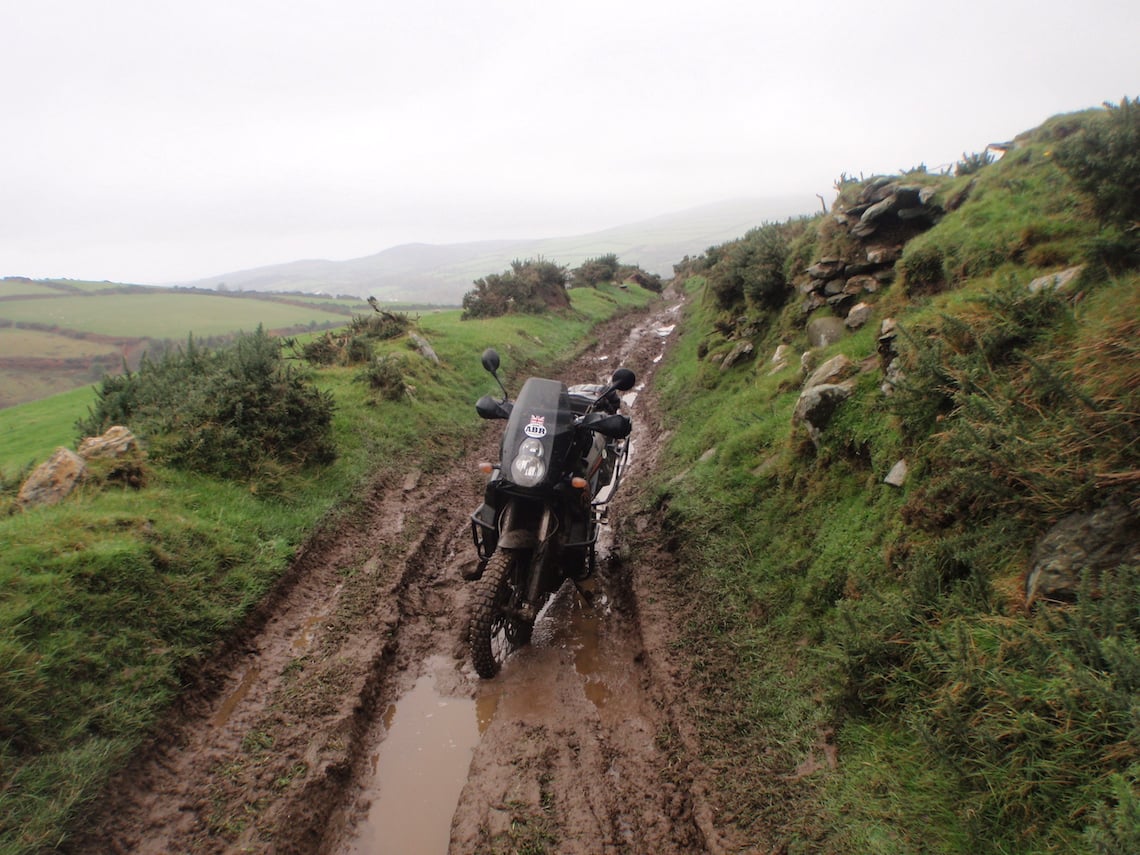 A short while later, having cleared the bog, I met a man on foot who motioned for me to stop and beckoned me over. It turned out he was a warden surveying the area. We had a chat and he told me not to continue. I'd reached a fork and he told me to go left. He said I should expect more of what I'd just come through, but the route right was a definite no-no for my big bike; I took the warning and went left.
Due south
Along the way, I met another group of enduro riders who asked if I was heading south. They showed me three trails on my map that I shouldn't attempt on my bike, so I marked them up and didn't do them. I'd seen YouTube footage of a few tricky trails and can only assume these were the same ones. I'm glad I got warned about them beforehand!
Time was getting on and I'd covered most of the trails in the north of the island, so after a fantastic first day's riding, I headed back to my hotel, via part of the IOM TT circuit.
The following day the terrain seemed a bit easier. Again, it was a mixed bag which I really enjoyed. I headed south, taking in as many lanes as possible before reaching the west coast where I proceeded to go north. Soon after I hit one really difficult trail. It was so steep, with a slippery rock surface, that the bike went down. It was impossible for me to ride the bike, so I inched it down, dropping it several more times before I eventually (and gratefully!) got to the bottom.
By now I'd covered about 80 percent of the trails I'd marked out on my map. The other 20 percent were either trails I was told not to do; those which were closed or the three I didn't manage to get to.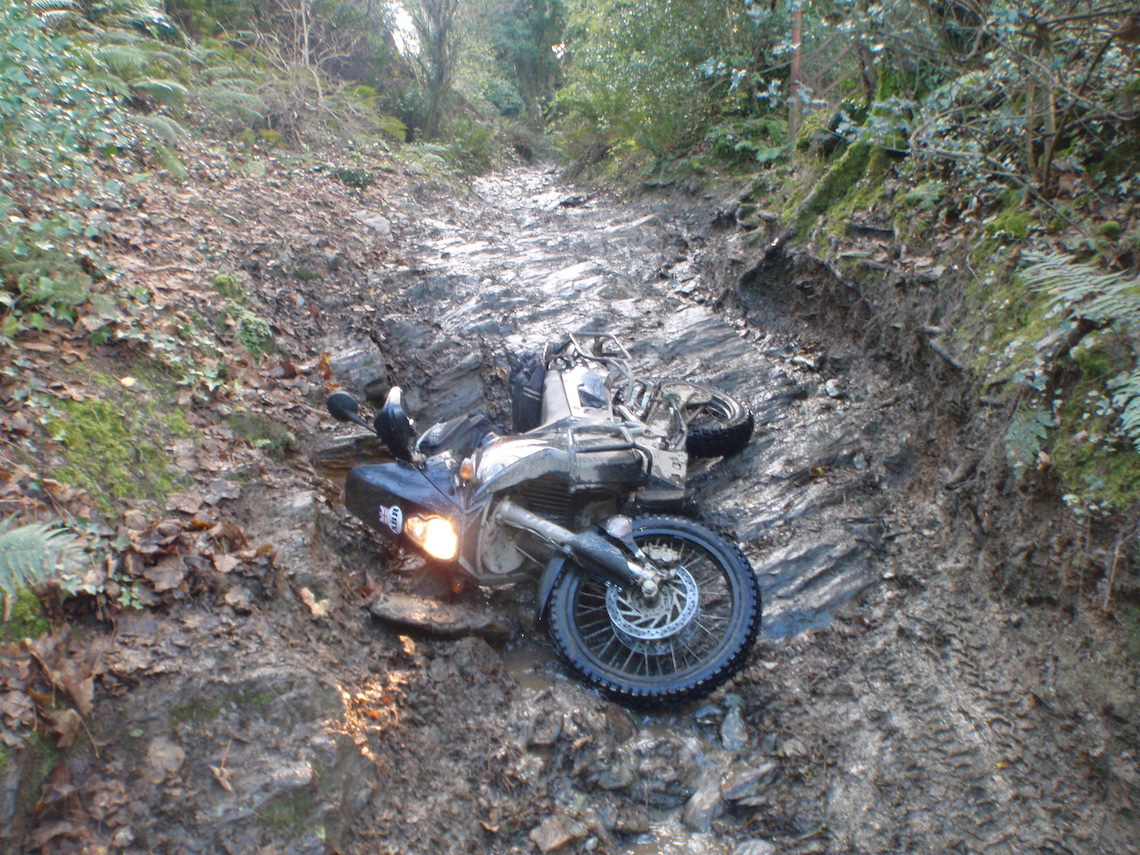 Homeward bound
On the Sunday, I saw about 50 other enduro bikes enjoying the trails, but no other big bikes, and on the Monday, I didn't meet a soul. I'm told that this is because a lot of people store enduro bikes on the island and just visit as foot passengers for the weekend. The island is a fantastic place for a small, lightweight bike, but there are lots of trails suitable to the bigger trail bike, too.
The IOM is an amazing place and I thoroughly enjoyed my time trail riding there. I'll definitely be going back next year for another few days of fun and any ABRs wanting to join me are more than welcome; just keep an eye on the ABR forum at www.adventurebikerider.com
Going solo?
I've done a lot of solo trail riding in the past and some people think I'm mad for even attempting to go it alone. Don't get me wrong, I prefer riding trails with other ABRs, but unfortunately, in the real world, it isn't always possible. This leaves two choices: either don't go, or go solo. Now it can be a daunting task to ride trails alone, but take these few precautionary measures and the risk is minimised…
Ride slowly
Preferably walk the trail first. This may not always be possible on a long trail, so when you spot a tricky section ahead, stop the bike, walk it and take a look
Take spare tubes (if required) and know how to change a tyre
Take plenty of water and food
Take spare warm clothes on the bike; make sure they're in a waterproof bag
Take a phone. You may not always be able to get a signal, but it's still better than being with without one at all
Carry a whistle in your pocket. If you're separated from your bike and cannot walk it could save your life
Carry a fold-up spade on the bike. Don't laugh, I've needed this on more than one occasion to dig myself out of muck and trouble
Carry a rope or strap that can be used to pull the bike out of the mud. If the bike does get stuck, try rolling it onto its side and pulling it that way. You can also put rocks and twigs under the wheels for traction or try lowering the tyre pressure
Try to avoid routes that are dead ends. Chances are they'll rarely get used; if you require help it's easier to get it on well used trails
Try to ride on a weekend. If you need help chances are more people will be out on a weekend than a midweek day
When in doubt, flat out'. If you go half- hearted into muddy terrain you're unsure of you're likely to encounter problems. This is one of the hardest thing to do, but speed is the easiest way out of trouble; momentum is your friend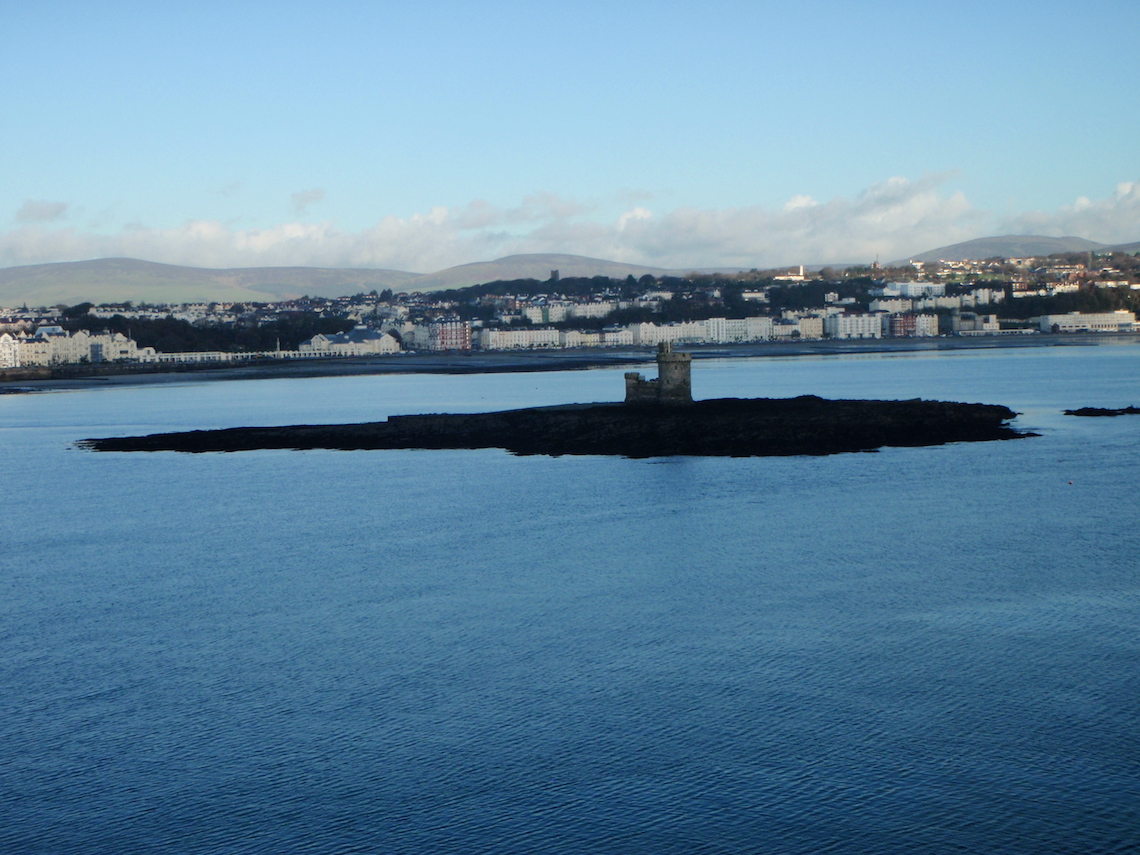 Manx facts!
In the Manx Gaelic language, IOM is called Ellan Vannin
The island is 52km long and 22km at its widest point, with an area of 572 square km to explore!
The capital is Douglas, on the island's east coast, with a population of around 26, 200
IOM became an island in 8000 BC due to rising water levels and was first populated in 6500 BC
The island's national symbol is the Three Legs of Mann, a triskelion of three legs joined at the thigh. It appears on the official flag, coat of arms and currency. Though its true origins are unconfirmed, speculation varies from Sicily to Scandinavia
The national dish of the island is Spuds and Herrin, boiled potatoes and herring, yum!
The IOM TT has been held on the island since 1907
The island has a total of 1,107km of public roads. In areas denoted by derestricted signs, there is no overriding national speed limit; only local limits are set. Rules for reckless driving and most other driving offences still apply, though, just as in the UK
The bike
KTM 950 Adventure ('Becca')
After just a few months' ownership we've got off to a rocky start. After losing sixth gear on the way to the Stella, the gears jammed on the return journey, resulting in a very expensive repair bill. Fantastic bike on the road and even better on the trails; Becca doesn't like slow
Who's riding?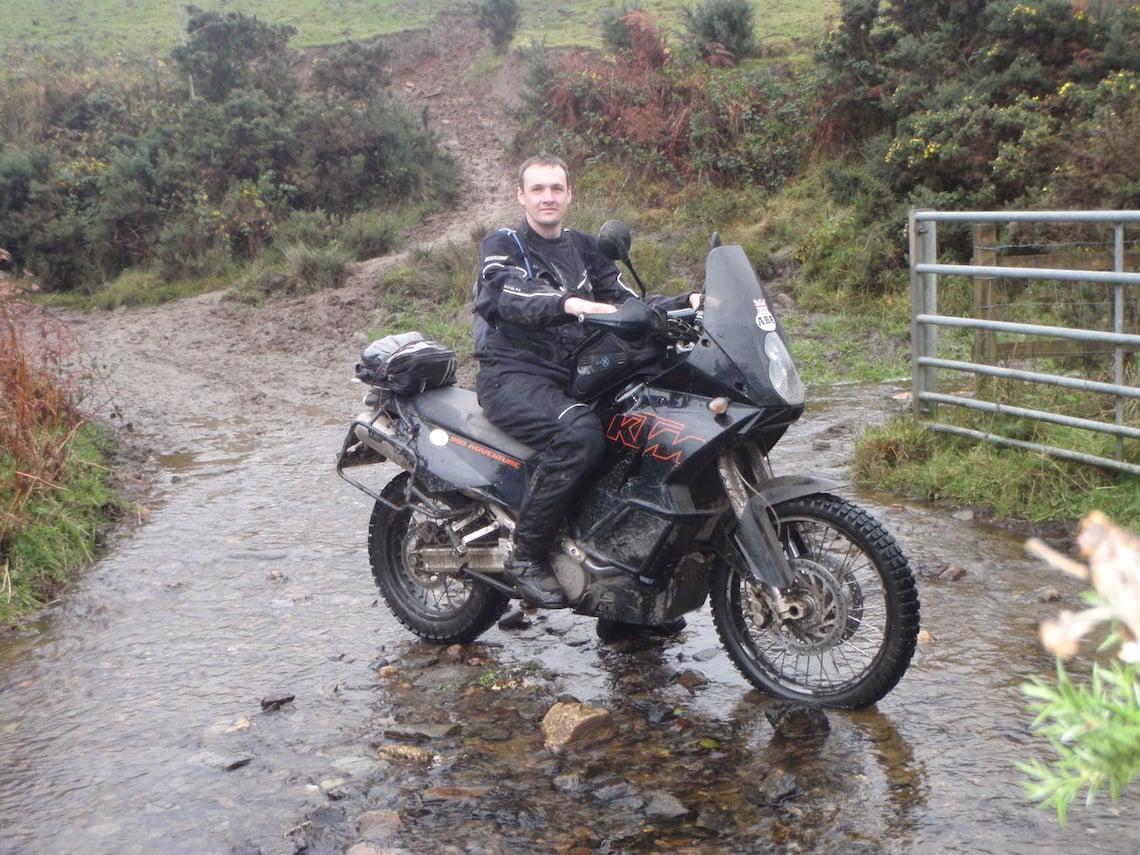 Mike Beddows, 35, is from Runcorn, but a Yorkshireman at heart. He likes trail riding and wild camping and dislikes tarmac. In 2012, he plans to attend HUMM and trail ride from coast to coast. He dreams of circumnavigating Australia with his wife, once the kids have all grown up!