For three years Lyndon Poskitt has been riding his KTM 690, affectionately known as Basil Bike, around the world. But this isn't your standard round the world adventure, as Bryn Davies found out…
If there's one thing I've learnt while working at ABR, it's that the word adventure is such a personal one with a different meaning for everybody. For some, it's that first ride into Europe, and for others it's an arduous journey through places unknown. For Lyndon Poskitt, a 38-year old mechanical engineer from Yorkshire, however, adventure comes in the form of an epic around the world ride in which he stops off in various countries to compete in some of the world's toughest motorcycle rallies.
His saga began in April 2014, when he left on a journey that he called Races to Places, and since then he's ridden through Europe, Russia, Asia, Australia and North America, currently finding himself in Buenos Aires, Argentina, South America. What initially started off as an 18-month ride blossomed, and his next plans are to ride to Ushuaia at the tip of the continent, before heading over to South Africa where he plans to ride north, competing in the Africa Eco Race en-route. From the finish line of the Eco Race, it's a long ride home.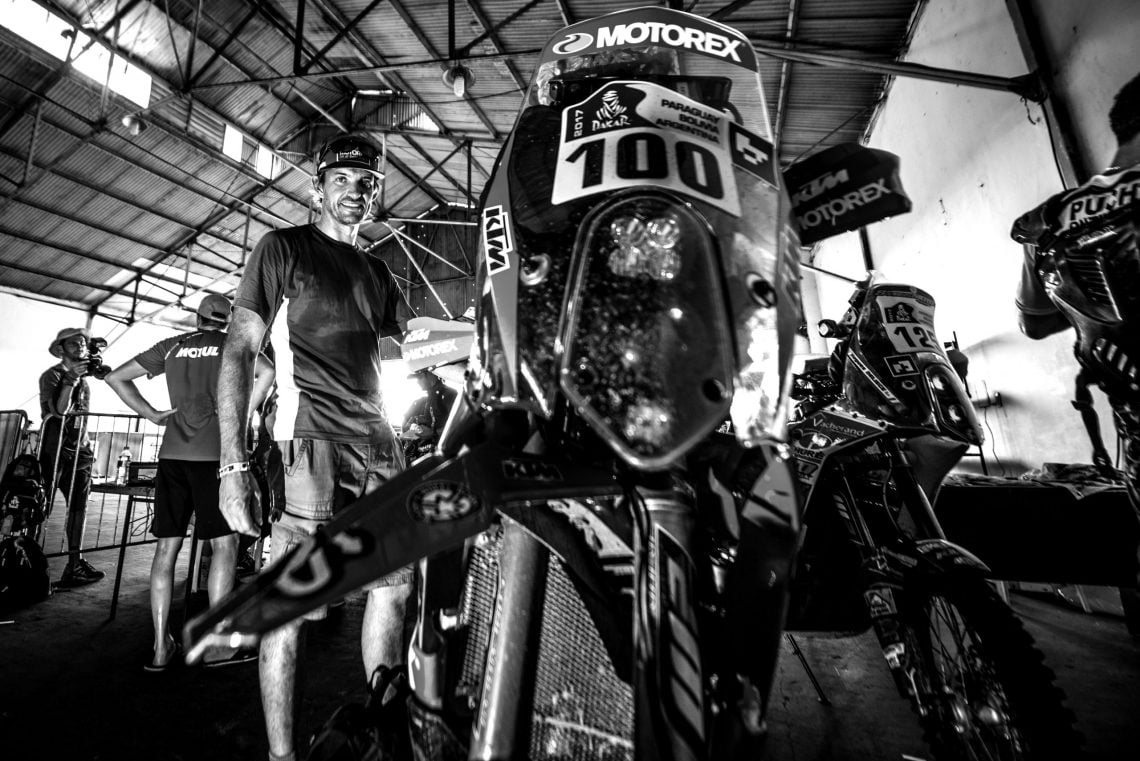 Lyndon got into riding at the age of 10, and when he turned 18 he began an apprenticeship in the aerospace industry, and for 17 years he worked as mechanical engineer. In 2013 he realised a life-long ambition, to race in the Dakar Rally, but later that year he touched mortality when he had a nasty accident which put him in hospital for an extended period of time.
That crash changed Lyndon, and he found himself thinking about what he really wanted in life, and that was to travel the world on his motorcycle. After recovering, he built his own "intimate travel/ adventure" bike from scratch, named it after his late grandfather Basil, and set off on his round the world voyage.
In January of this year Lyndon raced in the Malle Moto class of the Dakar Rally (completely solo and unsupported), which took him from AsunciÓn, Paraguay, to Buenos Aires via La Paz, Bolivia, the highest city in the world. Throughout the race, Lyndon documented the experience of riding in the Dakar Rally extensively on his Facebook page (/LyndonPoskitt), and amazingly he placed second in his class.
We spoke to Lyndon to find out more about his incredible story.
ABR: How did you get in to riding?
Lyndon Poskitt: When I was 10 years old I asked my dad for a motocross bike but he said they were too dangerous, but he would let me have a trials bike instead. I got my first at 10 years old and competed in trials for five years which gave me the balance, control and skill I needed to progress onto other disciplines.
I firmly believe this was a sound move and thank my father for this. I have since competed successfully in seven different disciplines of motorcycle racing, but Cross Country Rally is my favourite for sure, it rolls so many skills into one discipline, just magic.
ABR: You came second in your class in the 2017 Dakar Rally, can you sum up how it felt to cross the finish line knowing how well you'd done?
LP: Well, I wanted to win but after everything we went through during the race, the conditions etc., I knew that just finishing was an extreme achievement. The race was much more difficult than 2013 in so many ways, being alone with no support, the extended days at altitude, harder navigation rules and technical riding. It was a beating and I was extremely happy to finish second.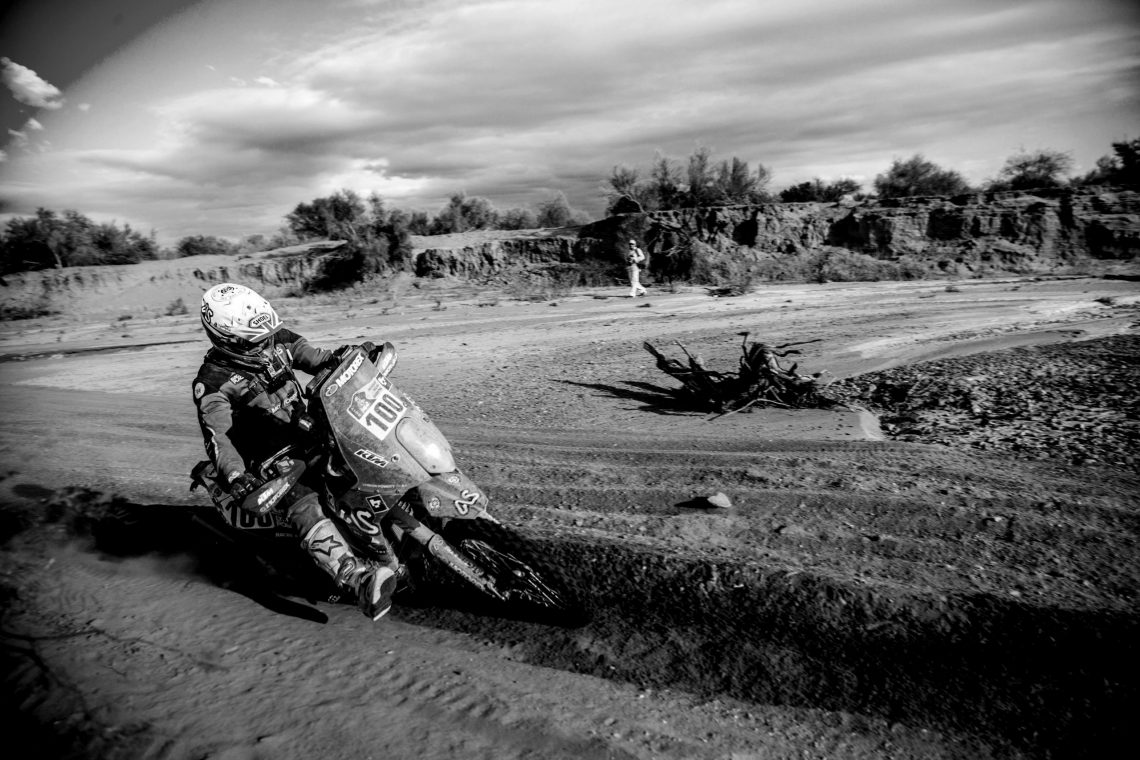 ABR: Did you think you'd do so well going into the race?
LP: I wanted to win the Malle Moto class and knew I had what it took, it was all going well early on, I took a stage win (Malle Moto) and needed to stay on that form for the rest of the race but didn't. I had a couple of crashes on day four and then lost a lot of time on two very tricky navigation points which ultimately cost me the chance of taking the win, but that's rally racing.
I knew if I kept my head down I could still get a podium, even when I was lying fourth in Malle Moto. I never stopped pushing, it was the small mistakes that let me down, not the bike or speed (when moving).
ABR: What was your worst moment of the Dakar Rally?
LP: The long liaisons really sucked and towards the end I was so tired that I simply could not stay awake on the road. These were the most dangerous and most worrying moments of the race and this is what upset me most towards the end, knowing that the race could come to an end after falling asleep and running off the road, not even in a stage.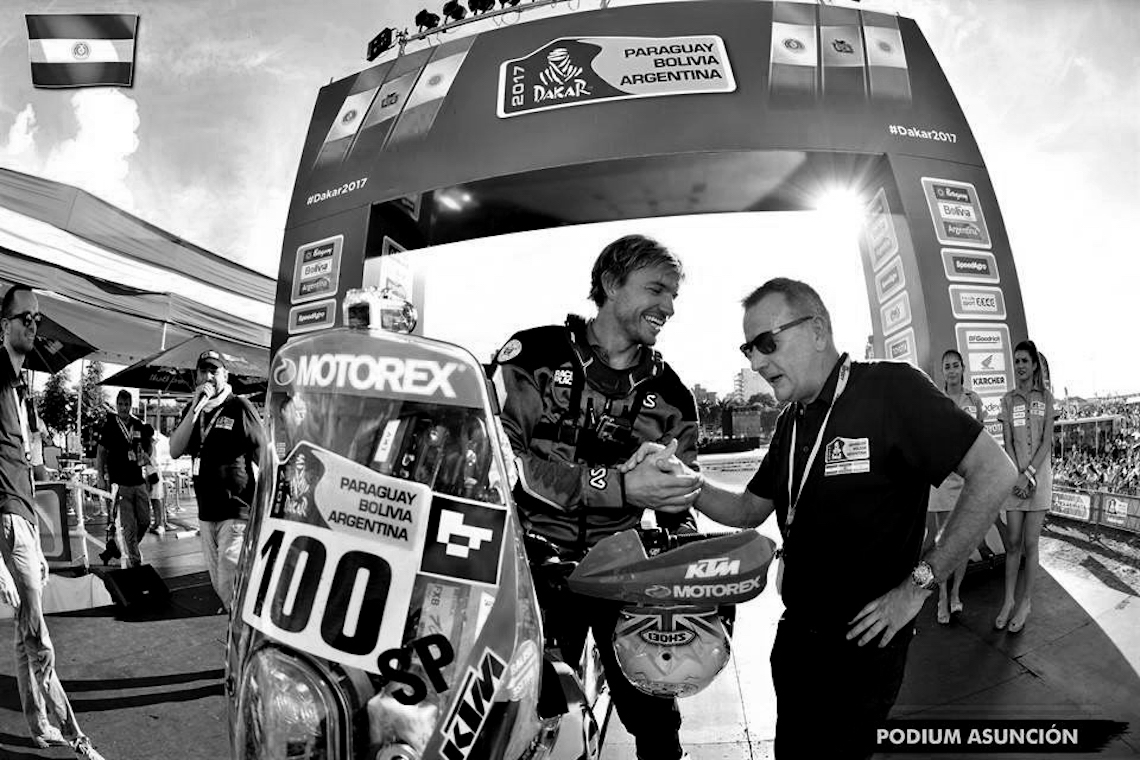 ABR: And the best?
LP: The last few miles of the race. I did a lot of screaming and shouting in my helmet, and the emotions were overwhelming. I lived my dream, I always wanted to do the Dakar the hard way and I did it, solo.
ABR: You extensively documented your race via your Facebook page, was this your idea, and how much extra time did it take at the end of a day to get it all posted?
LP: Yes, absolutely my idea, I wanted to do it in 2013 but I failed to set it up properly. I learned from this and from my travels on Races to Places over the years. I could not do it alone though. Months before the race a lot of planning and cost went into making this happen.
I partnered with Adventure Spec once again and told them my plans, they supported the idea and we worked the solution together. There were five people involved in making all of this happen, two on the ground within the race, one following the race on a motorcycle, and a person back home collating all the information and getting it out!
Getting bandwidth in all the places to get the info back to base for publishing was costly and a real challenge. Yes, it was time-consuming, I probably spent up to an hour a day filming stuff. I worked with the organisers on the Dakar Heroes stuff and filmed my whole race to release a feature-length movie which is in progress right now.
While we only achieved about 50% of what I had aimed to in terms of getting information out during the race, I considered it a massive success, most people do very little. I wanted to bring my followers and the fans along with me.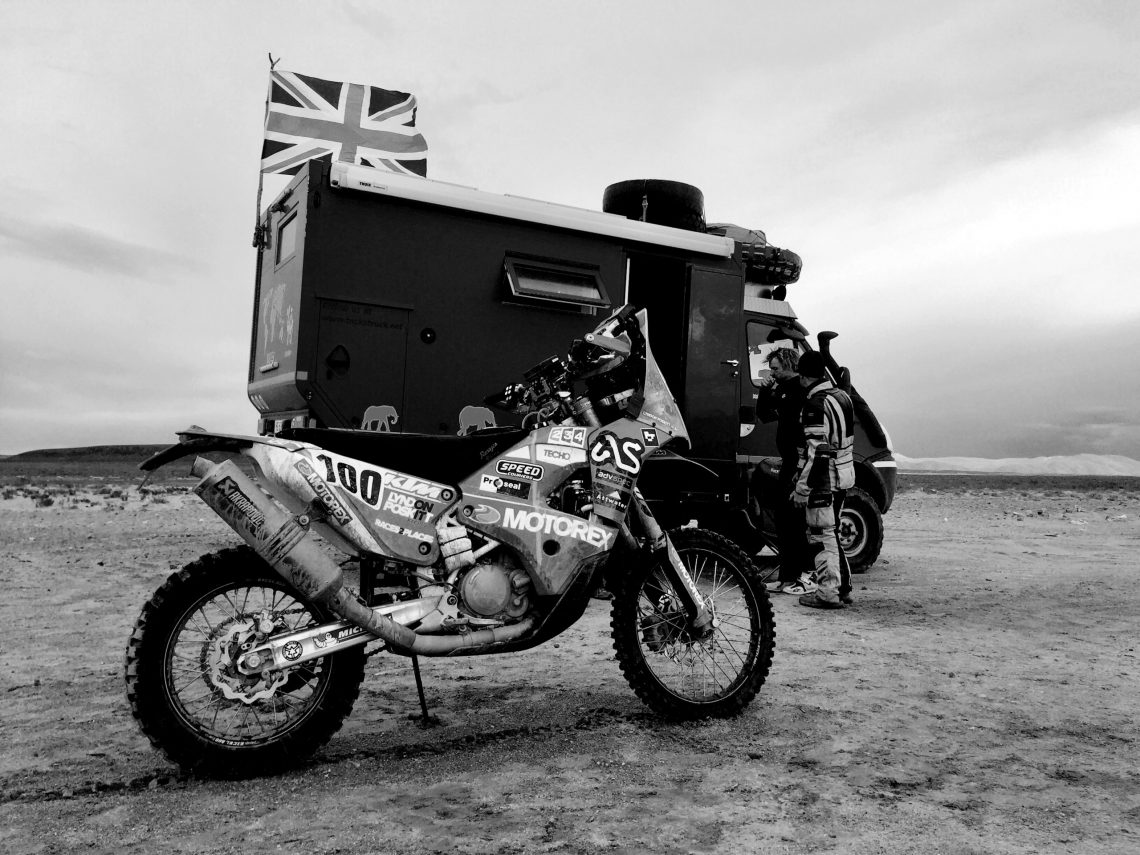 ABR: What is required, physically, mentally and technically to compete in the Dakar Rally?
LP: In terms of riding the bike, you don't have to be super-fast to finish, you should be consistent, strong and be able to get your bike through difficult and technical situations in extreme conditions without faltering. Obviously, the more physically fit you are, the easier it is to keep going and I struggled training this year because of a broken ankle I suffered a few months previous, but all-in-all it worked out well.
The bike time I got on Races to Places helped a lot too. Mentally, you must have a 'never give up' attitude. There are times when you have to dig deep. Times when you want to just throw the towel in but it's not an option. For me, physical injury or mechanical breakdown were my biggest fears of failure. I knew I had trained hard not to fail because of something else.
The Dakar Rally is not something you just decide to do and go and finish it. It takes years to prepare yourself for it physically and mentally and of course Malle Moto, you have to be an excellent mechanic as well and know your bike inside out.
ABR: Your Races to Places ride has taken you all over the world, but where has been the most memorable place you've ridden, and why?
LP: There are so many it's hard to answer, Japan for the people and their kindness, Utah, USA for the mind-blowing scenery and epic riding, and the 'Stans' and Australia for their remoteness. There is no bad place though, they have all offered exceptional adventure riding, you just need to search for it. I have now travelled 54 countries and over 100,000 miles, and even yesterday in Brazil I was blown away by the awesome places I rode.
ABR: What motorcycles do you own? LP: I personally own the following:
KTM 950 Adventure 2003 'S' – 110,000 miles.
"Basil" KTM 690 Rally (2007 self-build) – Over 120,000 miles total now, including a Dakar Rally (2007 but not with me). #basilbike!
KTM Factory Baja Edition (610cc) – One of only four in the world ever built to take on the Baja 1000 in 2007.
KTM 450 Factory Rally (2012) – The bike I raced to Dakar on in 2013.
KTM 250 EXC 2-Stroke (2013) – The bike I trained for Red Bull Romaniacs in 2013 on.
ABR: You're currently riding from Alaska to Ushuaia, tell us more…
LP: I used this to train for the Dakar. I pretty much rode from the Arctic Ocean to the start of the race finding as many off-road tracks as possible and also doing road book routes. It's been almost 40,000 miles. Now the Dakar is over, I will head south to Ushuaia but not before my detour to Brazil and Uruguay just to catch another two countries on the way.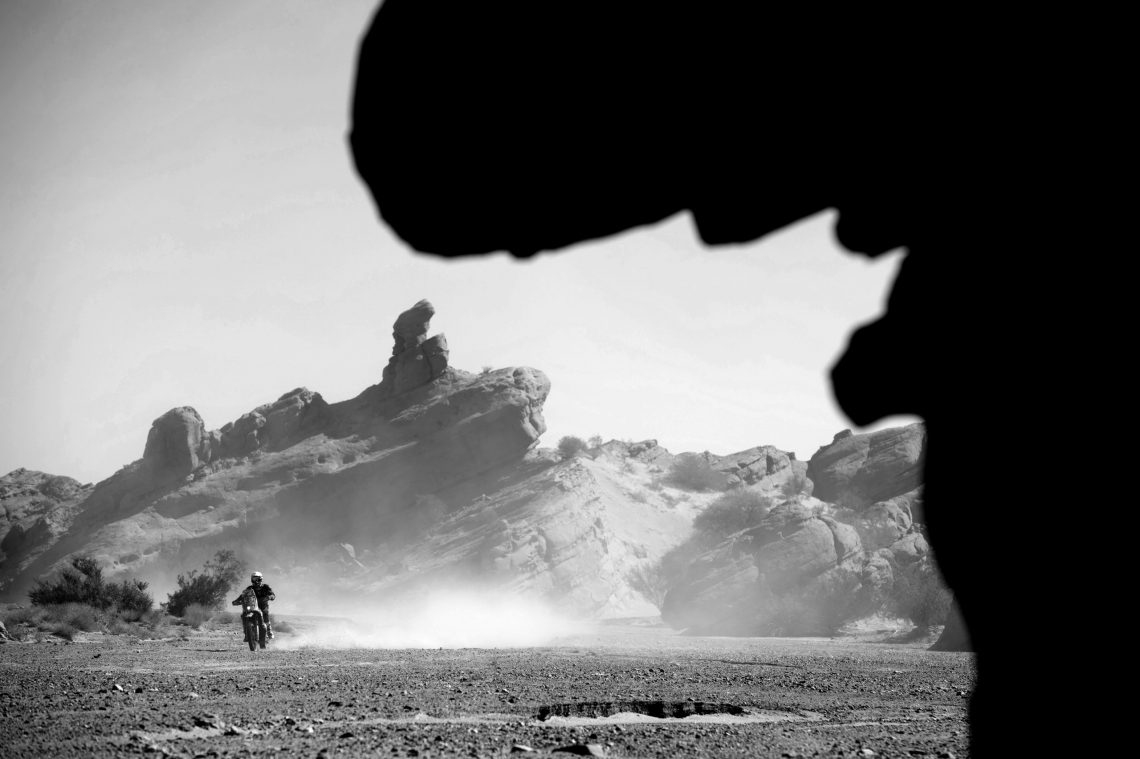 ABR: What's been your scariest moment on a bike?
LP: Probably recently transporting my bike across a river in Nicaragua in a tiny, rotten, traditional vintage rowing boat, I nearly lost the bike in the river, it was not fun (until we reached the other side). Technically though, that was not an on-bike moment so, riding wise, I've had some big crashes and the ones that have scared me the most are the high-speed ones where you have no way of controlling the outcome, you are just along for the ride.
Rallying is a fast and dangerous sport and you have to stay focussed at all times, reading the tracks well ahead because of the speeds involved. I also remember falling on the road after hitting some diesel in the UK just nine weeks before Dakar 2013. I suffered multiple spiral fractures in my foot but it would have been much more serious if cars were coming the other way. It was totally out of my control and that scared me.
ABR: When you're back home in the UK, where do you go riding?
LP: I usually just ride enduro on closed courses when back in the UK as there is not much in the way of rally or high speed available to train. I like to go to Spain, Portugal and Morocco for that stuff.
ABR: What's next for when you return home from Races to Places?
LP: First of all, I'm not 100% sure when I'm going to be coming home, so it's hard to say. There is still lots I want to achieve, see and do before then. One thing is for sure, I will not go back to work as I knew it back then, no more corporate jobs, I will figure something out for myself and it will involve doing something that I love.
---
Races to Places, the stats:
1036 days since Lyndon left
466 full days of riding
106,213 miles covered
99,833 miles covered by Basil Bike
55 countries visited
80 border crossings
29 oil changes
461 fuel stops
9,620-litres of fuel consumed
46.43mpg average fuel economy of Basil Bike
2,643 times Lyndon had to get his wallet out to spend money
8 mechanical roadside fixes
4 electrical roadside fixes
1 stoppage due to lack of parts 20 puncture repairs
27 rear tyres
19 front tyres
9 front sprockets
4 rear sprockets
6 rally races competed in
---
What is the Malle Moto class in the Dakar?
There's no denying that anyone who races in the Dakar Rally is an exceptional rider, but those who do it in most of the classes get the comfort of technical support, mechanics and the luxury of a bed to sleep in in the evening. For the nutters who ride in the Malle Moto class there's nothing quite as extravagant. Any work that needs to be done on the bike (repairs etc.) must be performed by the rider, there's no outside assistance from support crews and so sleep and downtime is at a minimum.
To keep up to date with Lyndon's progress on his round the world ride, and to find out more information about this exceptional adventurer, head to www.adventure-spec.com/blog/blog.