LIGHTS, CAMERA, ADVENTURE! PART ONE: THE HARDWARE
In the first of a three-part series, ABR and creator of YouTube's awesome Brainrotting travel vids Graham Styles shares some vital tips on selecting the right camcorder for you
I've been riding and recording my motorcycle adventure, Brainrotting, for the past three years. Having had no previous video-making experience, I think it's fair to say that my learning curve has been steep. I've had to deal with the complexities of editing in high de­finition, learn about a variety of video formats and how to store large volumes of data, as well as the challenge of trying to create videos that I hope people want to watch.
In this series of articles I'm going to share with you what I've learnt about making and editing videos on the road. First off­ I'll talk you through my camcorder and helmet camera selections; next issue I'll give my tuppence-worth on the PC versus Mac debate, talk about storage of technology on your motorcycle and how to edit and upload vids to YouTube; we'll then conclude with some shooting techniques and tips to make your movies stand out, as well as how to go about promoting them on the net if video blogging's your thing.
Sadly, some of the subject matter is technical in its detail and makes for a dry read but I'll try to cut through the jargon to help make taking the dive into amateur video-making less daunting. I'm going to assume that you, like me, will be shooting your videos in high definition (HD). Shooting in HD will increase the quality of your movies but also present you with a number of challenges when it comes to editing and storing the data.
So you've researched your journey and what motorcycle to ride. You've whittled your packing list down to your favourite thousand-wash-grey T-shirt, a toothbrush, and a pair of lucky underpants. Now you want to record and share your adventures with friends, family, and possibly the world… but how?
Hardware
I should start off­ by stating that I've received no sponsorship to date. I've personally funded my learning curve, which means that my opinions are based upon experience and not on brand loyalty. I can't underestimate the demands I've placed upon the technology described in this article; humidity, altitude, severe vibrations and drops. I am a very clumsy person!
My second assumption is that, like myself, you'll be packing a digital camera, a helmet camera and a camcorder for your trip. So, let's keep things simple. All the technology I carry records to the same media – SDHC memory cards. When it comes to camcorders, recording to solid state memory cards means there are no moving recording heads for your vibrating motorcycle to destroy, and in a world packed with myriad camcorder options it helps us narrow down our initial search criteria. So let's start off­ with my camcorder selection.
The Camcorder
I both researched and took advice on which brand to purchase before taking the plunge into the unknown. While you may come to a di­fferent conclusion, I chose to buy a Panasonic camcorder. I determined that Panasonic packed more into its camcorders; it's the market leader in bringing entry level, a­ffordable HD video to the masses and Panasonic equipment is widely used in professional broadcasting, too. All good credentials. I've used the following camcorders on my travels:
Panasonic AG-HSC1U – rating: 9/10
Panasonic HDC-TM60 – rating: 7/10
Panasonic HDC-SD600K – rating: 8/10
Both the AG-HSC1U and the HDC-SD600K are 3CCD camcorders. 3CCD cameras have three separate charge-coupled devices (CCDs), each one taking a separate measurement of red, green, and blue light. But what does that mean in real terms? Basically, better quality video, but at the cost of a higher purchase price. My HDC-TM60 camcorder which cost me less than £350 had a single CCD chip and while the difference in colour and overall image quality was noticeable, the quality of the video was perfectly acceptable.
Top Tips For Camcorders
When choosing your camcorder, look for a 'Pre-Record' option – the ability to record the previous three seconds of video prior to pressing the record button. I managed to get footage of dolphins jumping out at sea as well as crowd reactions to goals scored during the World Cup Finals while I was in Brazil by using a pre-record option
A camcorder with additional built-in memory can be handy if you run out of space on your SDHC cards out on the road
I'm on camcorder number three. 'Why?' you ask. The constant tripod mounting seems to damage sensitive electronics at the base of the camcorder. If your tripod mount screw is particularly long, add a small nut to the mount to act as a spacer which should hopefully save you from my expensive mistake
The helmet camera
They're not cheap, that's for certain. Having now tested three products, two of them to the point of destruction, I'm confident I can share my first-hand experience of each as well as their pros and cons…
VIO POV 1
$599.95 (£365)
My first helmet camera system was the VIO POV1. While the company was late catching on to HD technology VIO does now produce an HD version of its camera.
Advantages:
Waterproof
Easy to activate from your motorcycle by mounting a record button on the handlebars
Can take a power feed directly from the motorcycle, removing the need to recharge batteries
The controller can be mounted to the handle bars, giving you the ability to preview what you're about to shoot
It has a built-in microphone and an auxiliary microphone jack if you want to narrate while recording
Disadvantages:
Bulky
Spare parts are proprietary and expensive
The camera head cable has a tendency to break at the point of entry to the controller. You can only replace it by purchasing a new cable complete with camera head
Conclusion:
I really like this camera. Powering the camera system directly from the motorcycle battery removes the delay of the camera's start-up, allowing you to capture what you're seeing almost instantaneously. Being able to preview a shot is a big advantage over its competition too; this feature is especially helpful in preventing recording in bright light where the sun could burn out the video. However, having now been through three camera head cables, the cost of maintaining the camera deters me from investing in its HD version. I would still suggest this camera to anyone serious about making a documentary, just be careful with that camera head lead!
Rating: 7/10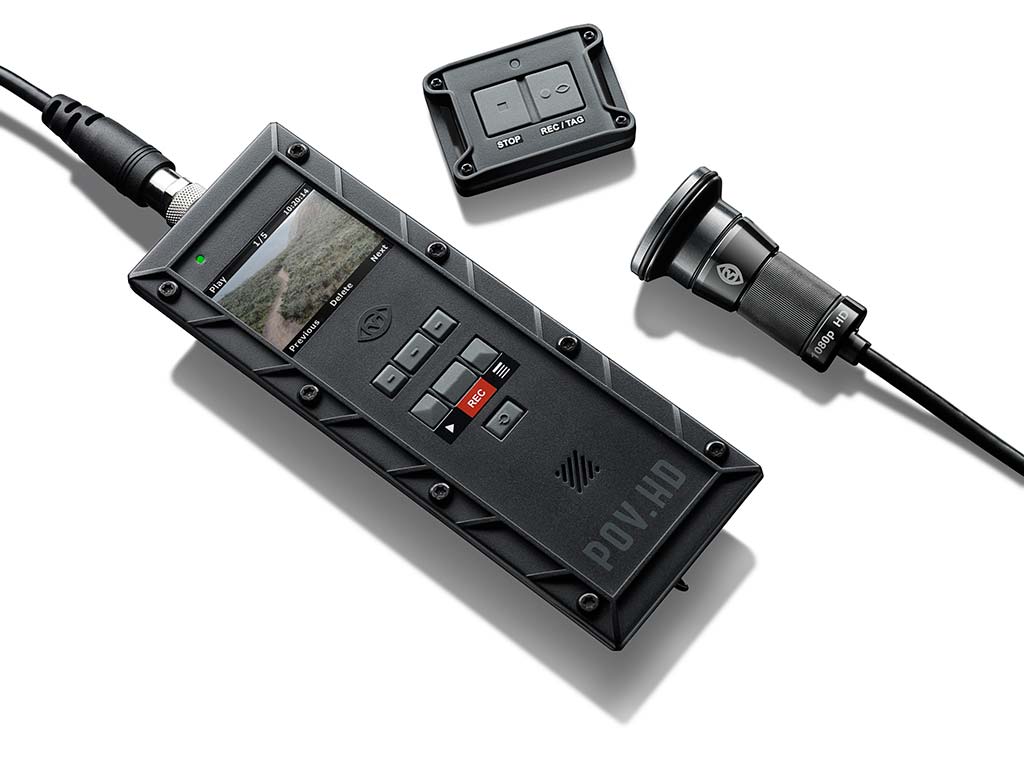 Contour HD
£349.99
The maker of the world's first and lightest HD helmet cam. The improvement in quality by shooting in HD was palpable, and after travelling with the VIO for so long I was delighted at its relative small size. Unlike the other products mentioned here, the Contour HD records to a mini- SDHC memory card, but these cards often come with a standard SDHC adaptor.
Advantages:
Lightweight
Two laser lights at start up help frame shots before shooting
High-quality images
Easy to mount in various positions on both your body and motorcycle
Disadvantages:
About 25 percent of all the video footage I shot was corrupted and unusable; that percentage only increased over time
Unable to preview an image before shooting
Hard to operate while riding
Difficult to monitor battery life
Dust gets behind the glass lens cover and impedes video quality
Conclusion:
The image quality is far better than the standard 480×640 video produced by my previous VIO POV1, but the high level of corrupted videos produced, coupled with difficult operation when riding, left me feeling disappointed with the product. It proved to be far from rugged. I had to tape the record slide button to prevent wind from switching the camera off while riding. The rubberised backing also fell off during a ride, but it was the high number of unusable videos recorded that eventually forced me to purchase a new product.
Rating: 4/10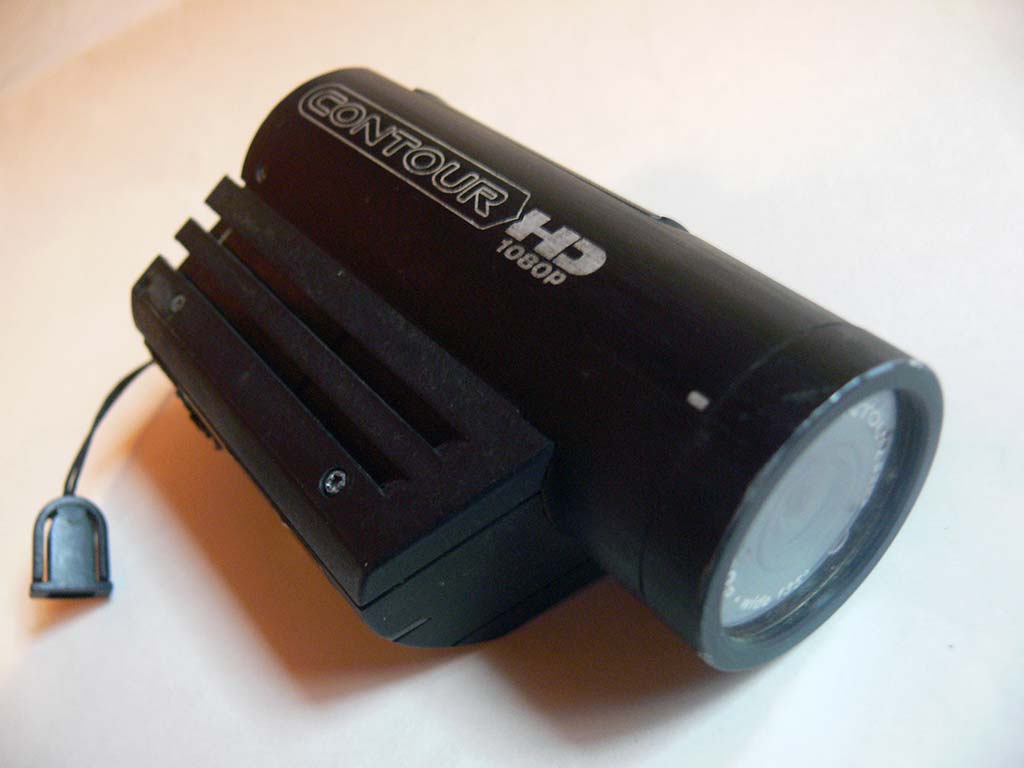 GoPro
$299.99 (£183)
I was initially put off by its design, which in hindsight is a poor reason to reject a piece of technology. Out of the box this camera comes with the best selection of mounting options and I'm impressed by the all-round ruggedness of the product. It also comes with a waterproof case. I found it much easier to operate while riding than the ContourHD and it packs in more features.
Advantages:
Lightweight
Rugged design, comes complete with waterproof casing
Easily recharged via a USB connection
Good variety of mounting options
Disadvantages:
Hard to align the camera when framing a shot from a helmet mount
Uses more disk space to store video images
Conclusion:
The GoPro is the most competitively priced of the three products and therefore represents the best value of the three cameras I've used. The Contour HD has two laser lights to guide framing shots; the GoPro is harder to align but it is possible to purchase an additional screen for the rear of the camera which would no doubt solve the problem.
Rating: 7/10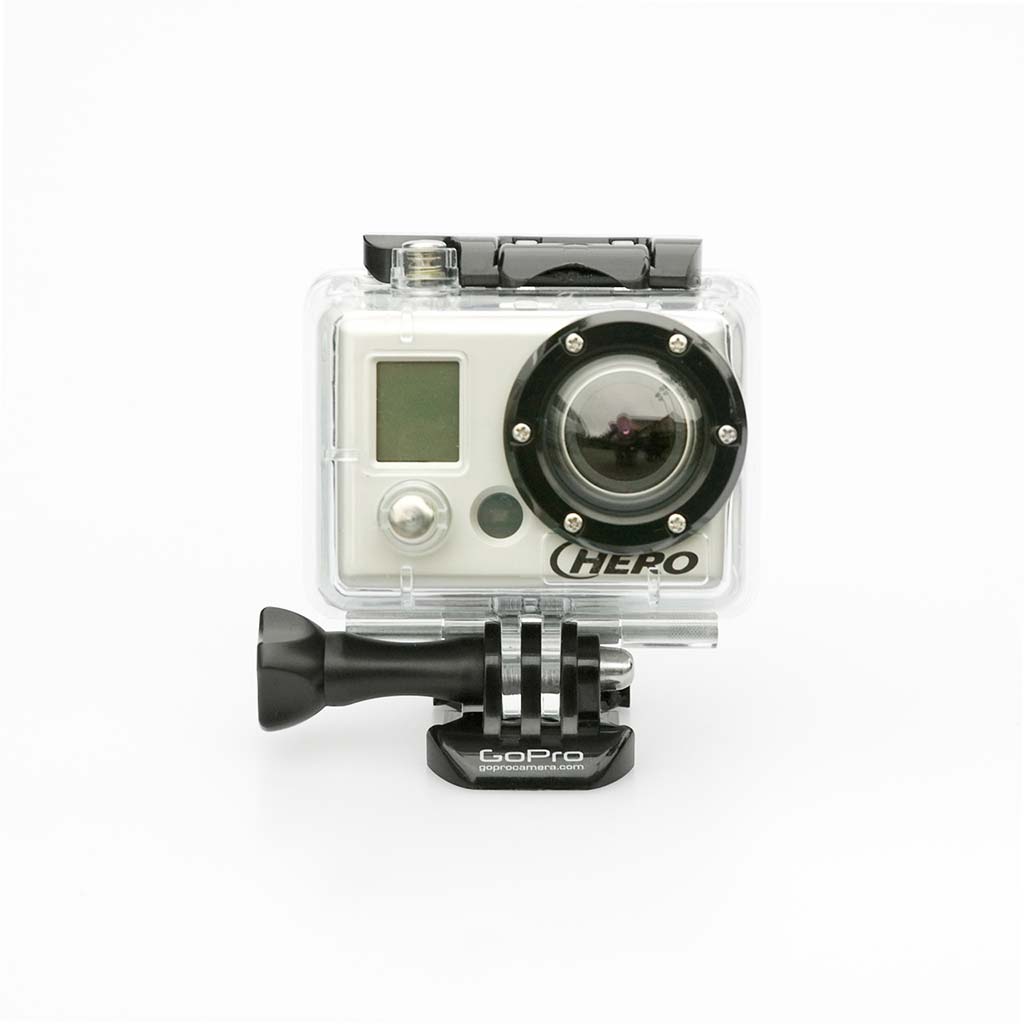 HD170 Stealth Camera
£249.99
This is one POV camera option you may want to research yourself. I'm yet to see or experience this camera, so I'll be leaving you to do your own homework on this one. If you do get your hand on one, get in touch and let us know what you make of it.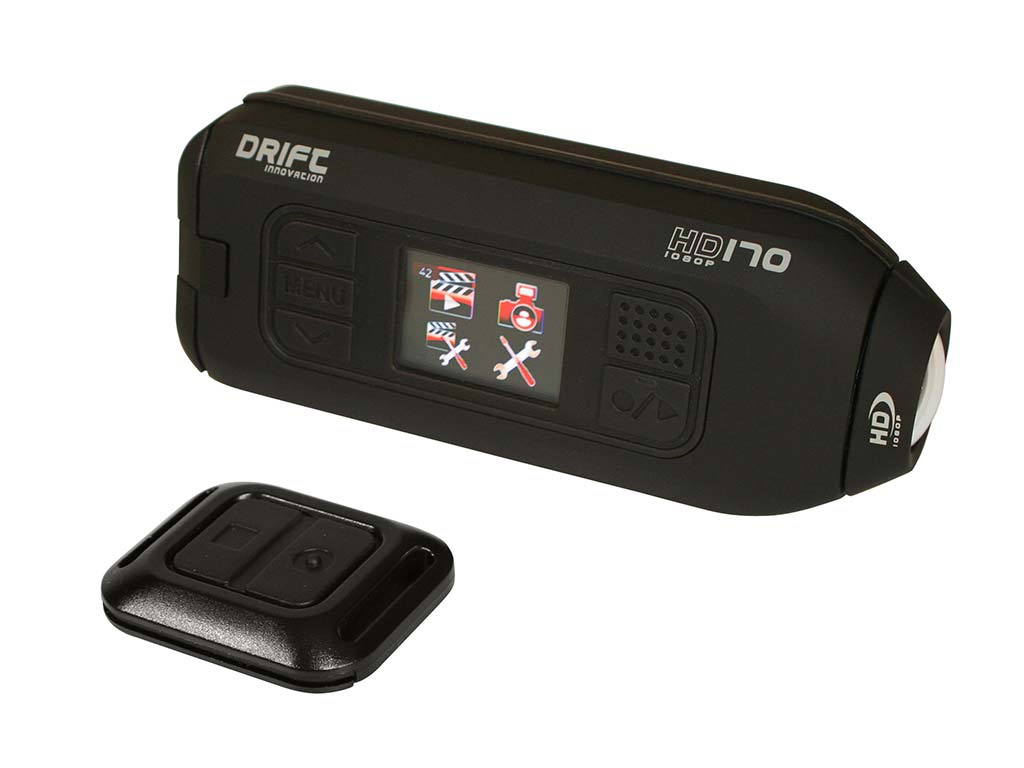 TOP TIPS FOR HELMET CAMS
Be aware of the direction of the sun when using a helmet camera. Filming into sunlight can burn out the video image. When riding I look at the shadow cast by my motorcycle before deciding whether to ­film
Mount the camera on your helmet and mark its relative position on the mount with a knife. From reviewing your footage you can determine the optimum angle for framing shots. Mark the mount with paint once you've perfected the camera angle
Install at least an 8Gb SDHC card in the camera so you can capture the most video from one battery charge
SOUND
Like many amateur film makers I'm guilty of neglecting sound as an important component to my videos. This has been exposed when recording in windy conditions or trying to record voice in noisy locations. While built-in camcorder microphones do the job, they don't discriminate between background noise and voice. I've also observed that adding the option of an external microphone jack to your camcorder can push up its purchase price. I now get around this problem by using voice-overs on my video. They're easy to do in the comfort of a hostel and it saves on carrying additional technology with you. However, if you're serious about your documentary making, do not overlook sound. It can be as important as the video image itself. I hope this insight into the camera options I've used has been useful and makes the prospect of diving into amateur video making less daunting. In the next article, I'll be discussing my choice of laptop, how to store all that video footage, where I pack all that technology on the motorcycle, and how I go about editing my videos and uploading whilst on the road. Until next time, happy shopping!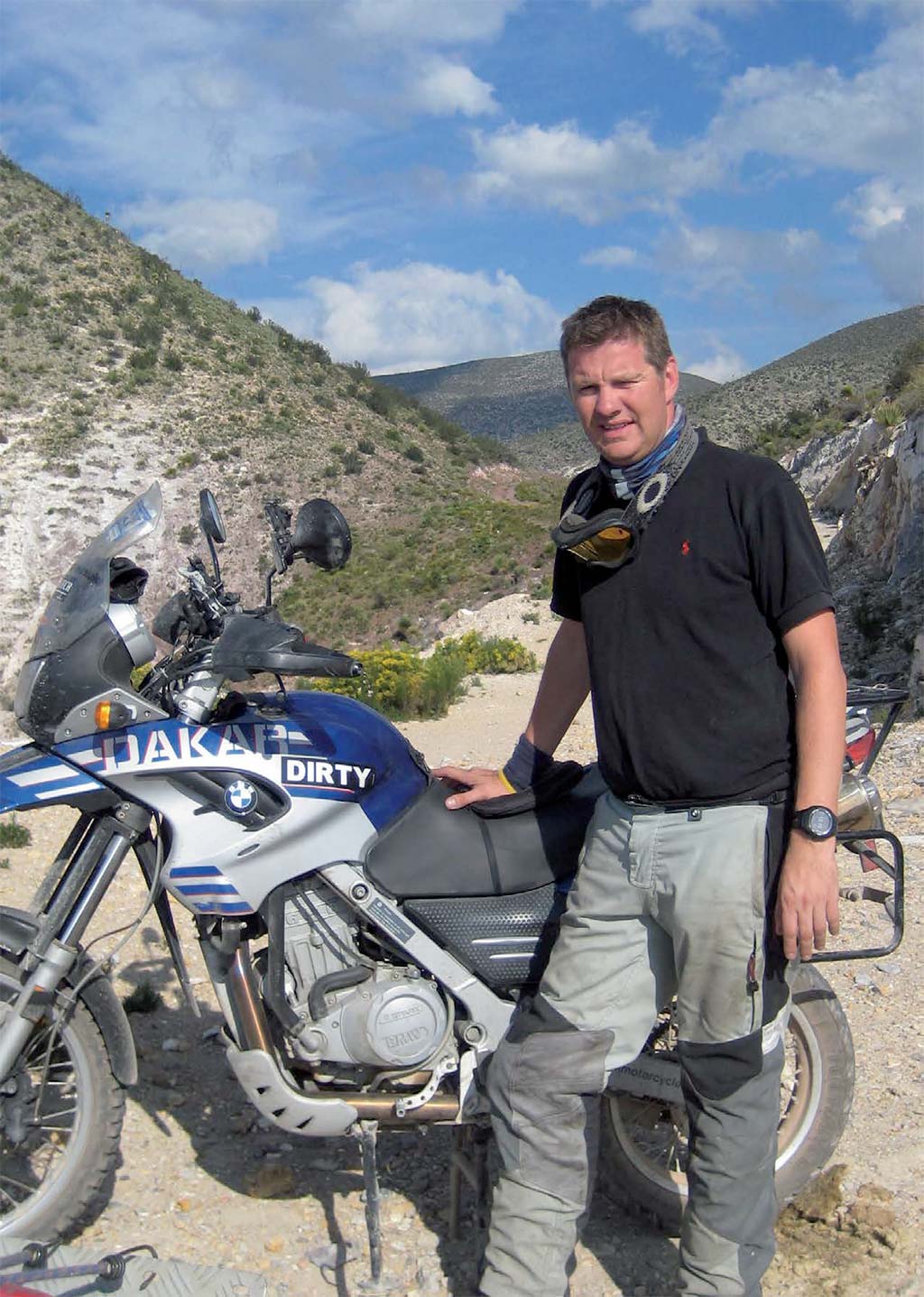 WHO'S WRITING?
Lifelong biker Graham Style escaped the monotonous 'brain rotting' grind of life in South London nearly three years ago, to travel North and South America on two wheels. So far as we know, he's still on the road and was last spotted in Memphis, Tennessee. See Graham's adventures in glorious colour HD video at www.brainrotting.com