ABR readers have been in touch to tell us all about their latest adventures…
Not Your Average Honeymoon 
"Do you fancy a road trip for our honeymoon darling?" I asked as we sipped on a couple of cappuccinos during our May ride to Tuscany. "Sounds fantastic," replied Lorna. "Where do you want to go?" 
I sat back and began to explain how it had all began with those two celebs that have since become the 'marmite' of adventurers – Ewan McGregor and Charlie Boorman. 
I was 19 when I fell in love with the concept of overland motorbike travel and I can honestly say that if I had not seen Ewan and Charlie ride the Long Way Round, I may not have been about to propose a honeymoon with a difference.. 
"The Pan-American Highway," I said full of excitement. "We can fly Terry (our trusty 1200GSA) out to Alaska and ride all the way to Tierra Del Fuego whilst both taking a sabbatical from work." 
Incredibly and without hesitation, Lorna agreed- and we are now in the middle of planning our PanAmerican adventure.
So, it is with complete honesty and gratitude that I thank both Charlie and Ewan for the inspiration that has led to our unconventional honeymoon commencing in July 2016! 
Tom Broadway
---
Taking the plunge 
I discovered ABR at the Motorcycle Live show at the NEC last December and paid for an annual subscription there and then. Thankfully I returned to motorcycling some nine years ago, riding for pleasure as well as commuting. A year ago I retired. 
Now with more time and fewer commitments, there is the opportunity to become more adventurous and instead of just reading about the adventures of others, to start getting involved. At the age of 61, it would be all too easy to decide such opportunities had passed me by.
However, and not without a degree of trepidation, I set out alone with a new set of panniers and as much camping equipment as I could fit on my Triumph Explorer and headed for Portsmouth.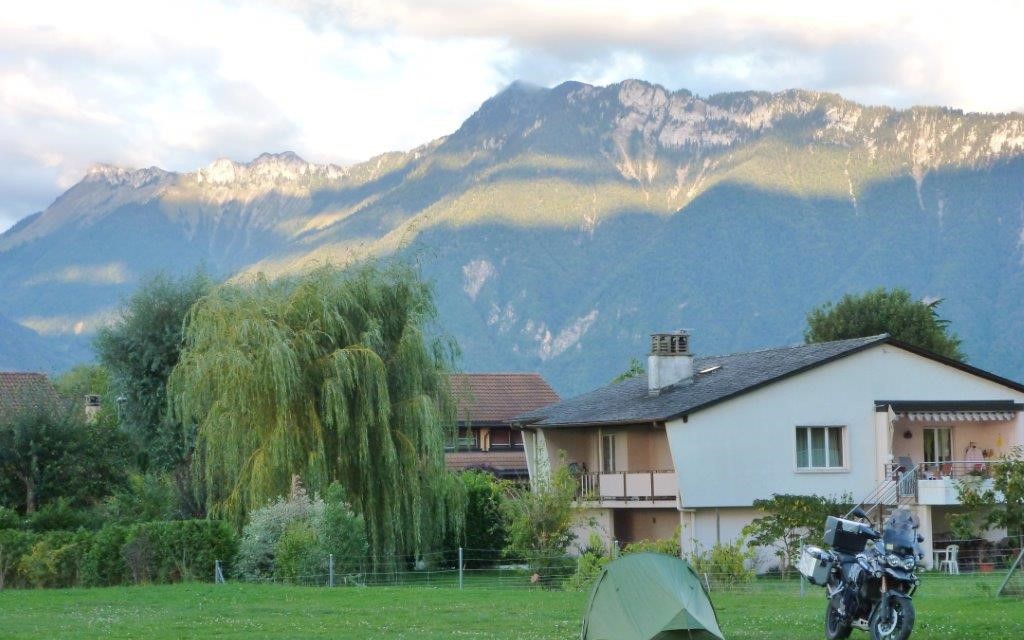 The plan was to travel across France from Caen, heading for Switzerland and some mountain roads. The tail end of Hurricane Andreas was sweeping across Northern France; plenty of rain and wind.
Staying in small campsites, keeping to back roads when possible and trying to keep the sleeping bag and tent dry while sitting out the worst of the storms, I made somewhat slow progress: what's the hurry? The Garmin made route planning and searching out campsites easy, with the reassuring voice of 'Serena' recalculating if I took a wrong turn! 
Apparently, very few bikers use campsites in France at the end of September! However, the bike always attracted attention; there was no shortage of people wanting to talk bike wherever I ended up. 
On crossing the border into Switzerland I was greeted by clear blue skies and the sun glistening on the surface of Lac Lemon. Ahead of me were amazing roads and snow-capped mountains before turning north and towards Calais. 
My plan for the coming year is an adventure riding course with Trailquest, already booked in April, and then to build on my experience to push the boundaries. 
Ian Lane 
---
With a little help from ABR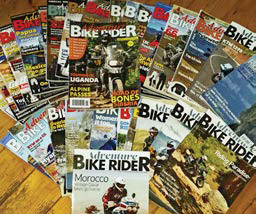 ABR style, think we've got them all. 
Now where to go, which bikes which kit. 
You don't make it easy. 
Three years more planning! Cheers 
Neil and Steph Aka The Talking Monkeys
---
From Social Media
| | | |
| --- | --- | --- |
| Facebook – PETER HODGSON | Facebook – BEN COWEN | Instagram – @BACKROADBIKER |
| | | |
| --- | --- | --- |
| Twitter – @CANAZEI1200 | Facebook – JOHN DOM | Facebook – CHARLIE GROVES |
---
We want to hear from you
Want to see your name in the magazine and win a year's subscription? At Adventure Bike Rider we love to hear from our readers, so if you're planning an adventure, want to tell us about a previous one, or just want to share your thoughts on anything bike related, get in touch!
Send your letters to:
[email protected] and if yours is chosen as 'star letter' you'll win a year's subscription to Adventure Bike Rider magazine.