My ABR in shining armour
I just wanted to say how one of your members helped me out near Applecross when I went away with my old man, a member of the ABR forum (Teflon) and his friend, Norm. We went to Ullapool for a weekend away and I was subject to a slow puncture. After trying to find a garage to help, my old man spoke to a pal of his (Gundog) who gave me a tin of Flat Mate which worked a treat and helped me not only finish my first big ride out but get home safe! He wouldn't take a penny for it. I don't know his name but hope you can put this on so he may get to read this and know how grateful I am.
Darren Lee Harrison
Ask Dave
I've just been reading issue 28 of ABR and read the response from Dave to Philip about comfort on a bike. Whilst I do not disagree with anything Dave says about screens and seats, and he does mention gel inserts in saddles. I just wanted to say that you can also get gel pads, a bit like Airhawk seats but gel pads.
On to mirrors, fully agree with mirror extenders, those which also lift are useful, but how about also putting in vibration dampers? I had to search a fair bit for some for the Guzzi I have, but Louis had some, in Germany. With delivery they came to about £15, plus bank charges if you do bank transfer.
John Wright
Scandinavian adventure
Loving the latest edition of ABR (I have to confess this is the first time I've seen and therefore read the magazine, this will be rectified from now on!) and saw on the first page you want some adventure pics.
Two years ago my brother and I embarked on a mini adventure to Scandinavia. We took the Eurotunnel to France and turned left, we stopped in the Netherlands to visit our grandfather before heading towards Copenhagen.
We then crossed into Sweden and headed north as far as we could realistically make it within our tight two week timescale. The scenery was wonderful, but nothing could prepare us for what we would experience en-route to Norway.
As we headed towards Norway we gained altitude and saw our first specs of snow on the edge of the road. This eventually turned into several feet either side! Thankfully the road itself was clear. We then headed towards Bergen, and down the beautiful (but very cold and rainy) west coast of Norway towards Stavanger to get the ferry to Denmark, which was 24 hours of hell on the high seas, feeling very sea sick!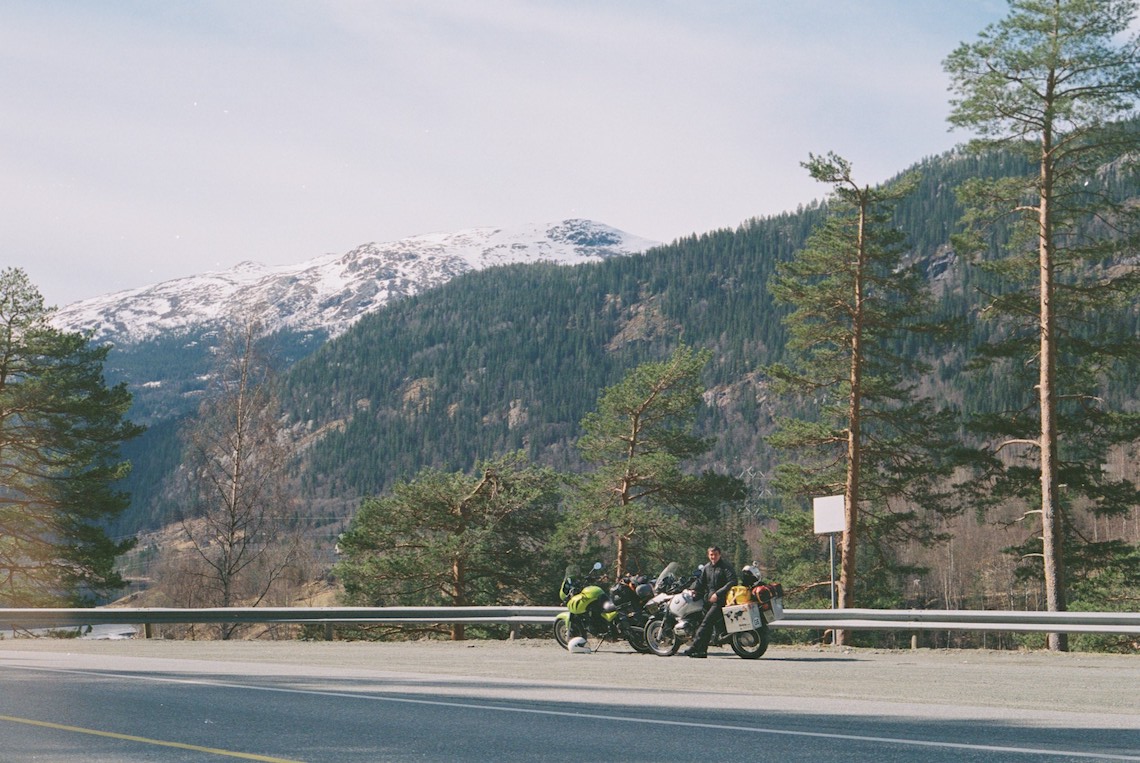 The trip went very smoothly, until I, decided to practice power slides in a lay-by with my fully loaded Tiger. I dropped the bike and snapped the clutch lever clean off.
Needless to say the ride home from Denmark was interesting, especially in busy towns! I had to stall the bike at traffic lights, and start it with the starter motor in gear to get going again! Loading onto our next ferry was quite embarrassing!
I've attached a few pictures, taken on an old 35mm SLR camera.
The bikes were a 2000 BMW R1150GS owned by my brother Ryan, and my 2002 Triumph Tiger 955i. The Triumph did extremely well, considering how little you hear about it as a touring bike, easily as good as the BMW, and more fun in my opinion!
I can't wait to plan my next adventure.
Greg Sargent
Sounds like a great trip Greg and thanks for the pics! Well done for making it home with a broken clutch lever, that must have taken some doing. We're also big fans of the 955 Tiger in the ABR offices, interesting colour scheme you've gone for though!
How to enter…
Adventure Bike Rider has teamed up with Michelin to offer you the chance to win a set of new tyres for your bike. All you need to do to enter is tell us about this summer's tour, where you're going and what you're doing! Send your letters to [email protected].
If your letter is chosen as 'star letter' you'll winasetof Michelin tyres of your choice.