LET'S FULL-FACE IT!
Paul Jennison puts 10 of the bestselling full-face helmets to the test. But which will come out on top?
In an ideal world, we could all afford a helmet to suit every occasion. For that summer tour, flip-front offering flexibility and ventilation; an Enduro-style with great peripheral vision, airflow aplenty and a real adventure look for going off-piste, and a full-face lid for winter rides where the least breeze felt the better. The full-face is certainly my helmet of choice this time of year.
Cosied up inside with draught excluders fitted and just the chin-bar vent open to keep the visor fog-free, not to mention the benefits of reduced wind noise thanks to the full-face's aerodynamics.
Besides offering protection from the elements, some riders prefer this fully enclosed style of helmet because it is, without doubt, the safest headwear option. The one-piece construction of a full-face gives the helmet greater strength, and its profile is that much closer to the wearer's head, which means it gives better protection. The lack of add-ons, such as a peak, is also appealing to some ABRs.
Budget is always a factor, so for this review, I've looked at 10 helmets ranging in price from 50 quid to just over £500. With this kind of scope, there's sure to be one that fits the bill.
Replacing your helmet
This varies between manufacturers. Some suggest replacement should take place anywhere between two and four years while others offer a five-year guarantee.
The general rule of thumb is after five years, based on average usage. Some manufacturers offer an inspection service, which will check the integrity of your helmet, and this may be worth looking into before shelling out for a replacement.
Most of you will know when it's time to replace your lid, but the following may help you decide:
If the strap is worn or frayed, or if the fastening clasp isn't working correctly, it's time to replace the helmet.
If a helmet suffers an impact, the damage may be unseen; a damaged helmet is next to useless if it's called upon to do its job in a spill, so it's recommended that it be replaced. Don't buy second hand. It may look perfect, but I refer you to the above.
With age, the properties that make up the helmet construction can degrade, from resins and glue to liners and padding. When a helmet shows signs of wear or becomes loose when worn, it should be replaced.
Regular cleaning of the helmet and liners will prolong the life of your lid.
Helmet care
The outer is open to all the elements and should be cleaned with warm, soapy water. Let the water loosen the grime before wiping it over with a non-abrasive cloth to remove the dirt; then dry it with a clean, dry lint-free cloth. If your helmet becomes soaked, always allow it to dry at room temperature away from any direct source of heat.
If the liners are removable they should be cleaned regularly, not just for hygiene, but because the bacteria build up will otherwise degrade the lining material, padding and the inner shell. There are some proprietary helmet sanitisers on the market, which will freshen up the linings, but these won't make up for a good wash.
Clean the visor as per the manufacturer's guidelines. If it has any anti-scratch/fog properties, be extra vigilant. Always use clean water; soak off the worst of the grim, and then wipe with a lint-free cloth or tissue. Don't use abrasives!
Features we like
Anti-misting visors
Whether it's an anti-fog coating applied at the manufacturers or a Pinlock insert that acts as double-glazing, a nice clear visor is a blessing in cold or wet conditions.
Vents
On hot days, a pleasant breeze from the chin-vent and cool air circulating around your head are musts. When the weather's foul, you'll want to close off those top vents and allow the open chin-vent to keep the visor free from mist.
Chin-cuffs
The addition of a chin-cuff to the chin-bar helps keep out the elements. Some lids come with removable ones and the choice of either large or small replacements. Then again, some don't have a cuff at all. I know which I prefer!
Removable, washable liner
Most modern helmets come with a removable and washable liner. This is a great feature as it means that, over time, you won't have to face the prospect of putting your head into something that smells like an old gym sock.
Integral sun shield
A lot of helmets now come with this feature. In our view, it's a bonus. Operating a sun shield on the go is far more convenient than stopping to mess around with sunglasses when the light's changeable. A small lever will activate or deactivate the shield.
Safety first
A few years ago, all helmets sold or worn in the UK had to comply with British Standard BS 6658:1985 and bear the Kite Mark symbol. You'll struggle to find a lid with that mark these days as they all must now comply with UNECE Regulation 22.05 or a standard accepted by a member of the European Economic Area, which offers a level of safety and protection equivalent to it. When you're out shopping for a lid, look for the ECE 22.05 label.
Any visor sold for motorcycle use must have been tested to BSI or its European equivalent standards. Look for BS 4110 or ECE 22-05 etched onto the visor or a sticker bearing either of these marks. Visors must be able to transmit at least 50 percent light. Deeply tinted visors, which will not have a mark of approval, are illegal for use in the UK.
Have a look at SHARP, the government's Safety Helmet Assessment and Rating Programme (www.direct.gov.uk/sharp), which was established in 2007 by the DfT as a buyers' guide to the various safety features of helmets.
Try before you buy. Fit is very important when it comes to the safety aspects of a helmet, and size really does matter; one manufacturer's large is another's medium, so get out there and stick your head in as many lids as possible before committing your hard-earned cash. For this reason, buying blind online is a bad idea. It may seem like you're getting a bargain, but a badly fitting helmet is uncomfortable at best, and at worst, totally useless in the event of an off.
Budget is a major factor, but don't scrimp on this important piece of safety kit. Get the best helmet you can possibly afford; you may be grateful for it and it'll last a lot longer, too.
Other things to consider…
Visors
The visor needs to fit well, so when it's shut it stays shut and will stay in place if opened for extra ventilation. It also needs to be sturdy with an anti-scratch surface; anti-fog properties are a bonus. Some come with a coating, which works well if cared for. This coating will degrade over time, though. The Pinlock system, which is a clear inner shield attached to the inside of the visor, works like double glazing and prevents misting. Even with the best of care the visor will eventually become worn and scratched. When this happens it's time to replace it. Personally, I would only ever replace with the original equipment. This can be more expensive than aftermarket alternatives, but ultimately you get what you pay for.
Construction
Helmets are made from polycarbonate, glass fibre, Kevlar/carbon, or a combination of these materials. Polycarbonate (sometimes called thermoplastic) is lighter than glass fibre, but must not be painted or have stickers affixed to it and must not be cleaned with solvents, because it can degrade the material, causing a malfunction in the event of an impact. Glass fibre helmets are heavier, stronger and last longer. They're also easier to clean than polycarbonate. Kevlar/carbon are extremely tough materials which combine great strength with lightweight, but lids made from these materials tend to be expensive.
Fasteners
There are three types of fastening for helmets: the double D-ring, which is recognised as the safest method of fastening; the micro-ratchet type where a toothed tongue slides into a receiving clasp, which releases when the tab is pulled; and lastly, the 'seat belt' buckle type with a simple clip into a receiving clasp, which releases with a push-button. The later two can be subject to wear and ingress of dirt, which can foul the clasping mechanism.
MT Thunder Fluro
SRP £49.99 – www.tri-motive.com
When a helmet with a price tag of under 50 quid lands on my desk, the sceptic in me comes out and my expectations drop. That said, I'm always happy to have preconceived ideas dashed and the MT Thunder is the helmet to do just that.
Tri-Motive has only recently started distributing some of Spanish manufacturer MT's range in the UK, but I can see this becoming a popular brand, especially for those who adventure on a tight budget. The fluorescent hi-viz paint job will also appeal to riders who want to be seen on their daily winter commute.
The shell is polycarbonate, aerodynamically shaped and has a good finish which belays its price. It's bonded to an EPS (expanded polystyrene) liner that will help absorb any impact forces. The helmet weighs just 1,450g in a size large.
Inside, the MT lining is soft with a decent amount of padding, offering a nice snug fit. It doesn't appear to be treated with any anti-bacterial treatment as some others on test here have, but it's fully removable and washable. The padding extends to the chin strap cushion, which reduces the problem of the micro-ratchet fastener rubbing the wearer's neck.
Ventilation is by way of the usual chin-bar and single crown-vent, assisted by a fixed rear exhaust port, which will pull air through for better circulation around the head. These vents work well, especially the chin-vent, which keeps the visor clear.
There's only a small chin-cuff, however, so a fair amount of air comes in around the neck. This also creates quite a bit of wind noise. A substantial scarf or Buff should combat this problem. A sturdy quick-release visor fits the aperture well and there's minimal wind noise around it.
It has an anti-scratch coating on the outer but it has no antifog treatment, so you'd need to apply a proprietary one. At this price, the Thunder doesn't run to fitting an internal sun shield, but we can't expect to have everything, and for £50, I was impressed with the all-around comfort and performance of this helmet.
ABR Rating – 6 / 10
In a Line: A recommended budget buy
| Padding offers snug fit | Micro-ratchet fastening | Good-ftting visor |
| --- | --- | --- |
HJC CL-ST Guardian
SRP £129.99 – www.oxprod.com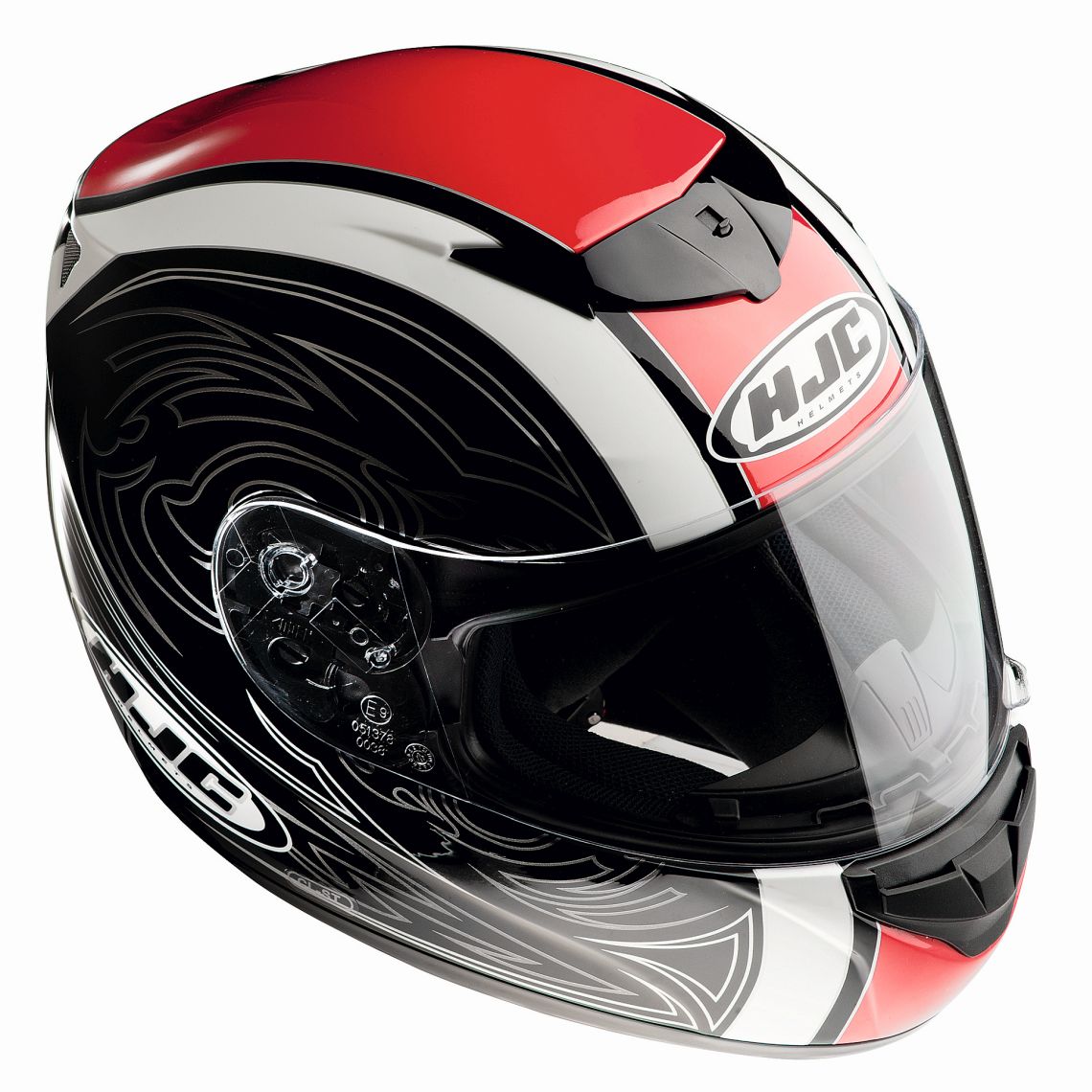 So vast is its range and so popular its products that when I started compiling this review, HJC was the first company to make it onto my 'must-have' list. Added to that, when I go into the larger motorcycle clothing shops for a browse, there always seems to be a display from this manufacturer.
This tells me that HJC must be getting it right in some style. The CL-ST has a shell constructed from a lightweight polycarbonate, which weighs in at 1,600g in a size large. This is bonded to an EPS inner, which will help absorb any knocks in the event of an off.
On the inside, there's a fully removable and washable Nylex liner, which will wick moisture away from the skin. This is also treated with an anti-bacterial agent, so it should keep odours to a minimum between washes. The padding behind the liner is deep but firm, to give a nice snug fit.
The double D-ring chin-strap fastener is backed by a comfortable cushion, which is long enough to prevent the strap itself from digging into the rider's neck. There's also a removable chin-cuff, which will help reduce draughts entering under the chin-bar.
Ventilation is via the closable vents in the chin-bar and on the crown. These are easily operated by a gloved hand. They give a good level of airflow around the head and are aided by the rear exhaust ports, which help to pull the air through the lid.
HJC has incorporated its Rapidfire visor replacement system in the CL-ST, which is basically a quick-release for easier changing and cleaning. The visor fits well around the eye-port gasket, so rain won't get inside. An anti-scratch and anti-fog coating has been applied to the visor, so it will withstand minor abrasions, and just as importantly, misting is minimised. There's also a removable nose piece to deflect breath away from the visor.
Unfortunately, HJC has chosen to omit an internal sun shield on this model, which is a shame. Riding with the HJC was a pleasant experience as it was considerably quieter and more comfortable than some of the dearer helmets on test here. The vents work well and the ride was only marred by the lack of a sun shield.
ABR Rating  – 7 / 10
In a Line: Good helmet, shame about the lack of Pinlock and sun visor
| Double D-ring fastening | The Rapid fire quick-release visor system | Removable breath de€flector |
| --- | --- | --- |
Caberg V2RR
SRP from £139.99 – www.feridax.com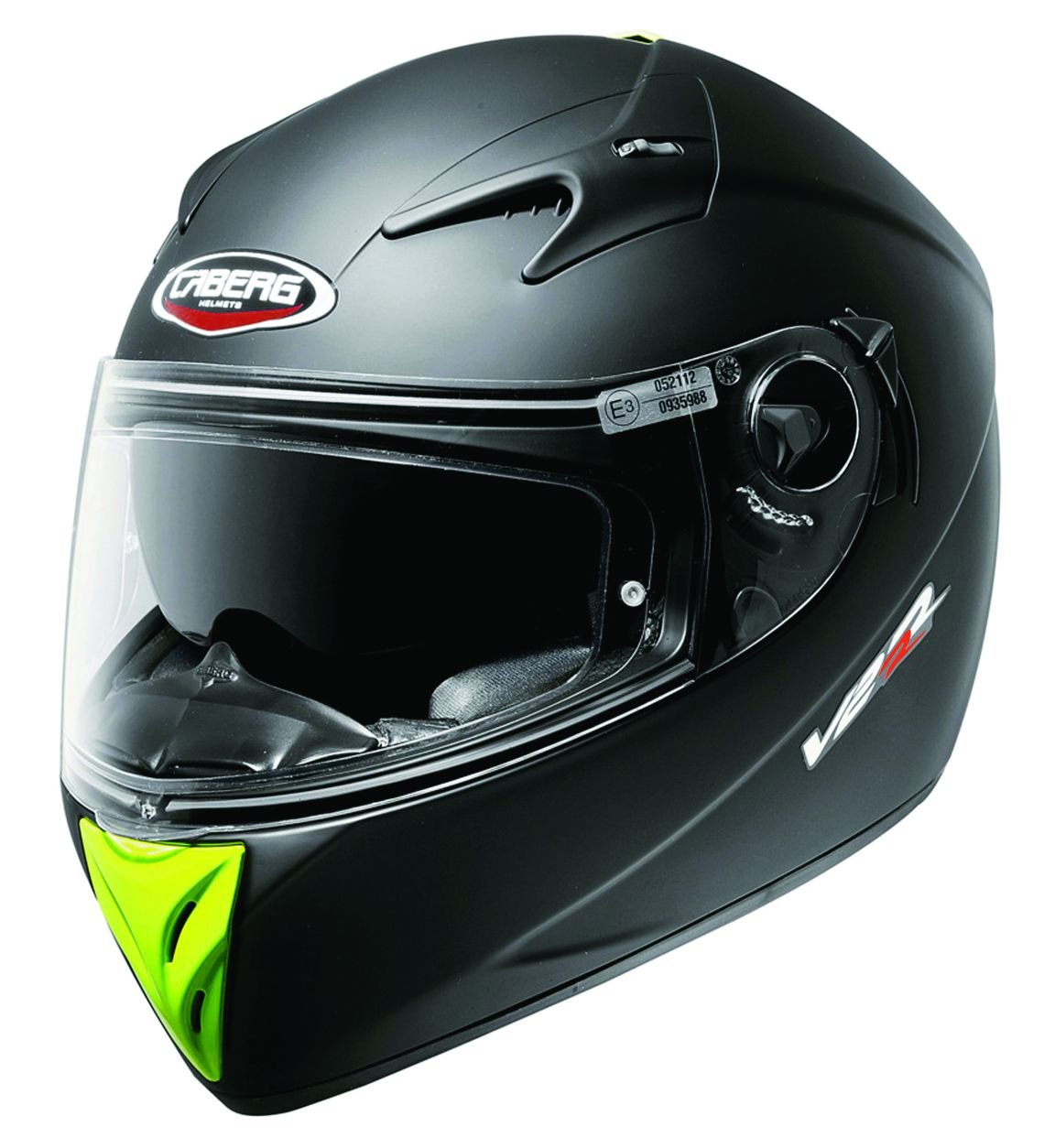 There won't be many ABRs who've not heard of Caberg, and I know a good few who use this company's helmets. This Italian manufacturer has been producing good-quality products for well over 30 years, and with the features that are included, they're great value for money.
The V2RR full-face lid is certainly no exception to this, and I have to say, I enjoyed the riding experience straight from the box. The shell is thermoplastic, which is light and strong (in a size large it weighs around 1,450g) and is bonded to a high thickness expanded polystyrene (EPS) inner, which helps to absorb and distribute any impact forces.
Inside, the quick-drying 2 Dry liner wicks moisture from the skin; it's also sanitised, which will reduce bacteria and odour after prolonged use. The linings are fully removable and hand washable. I found the padding in the helmet soft but supportive, giving it a snug, comfortable fit. This extends to the long cushioned chin-strap, which prevents the micro-ratchet fastener from digging in.
The fastener has an easy, smooth operation even with gloved hands. There's also a removable chin-cuff, which reduces drafts around the neck. There are small vents in the chin-bar and crown, but I have to admit they didn't seem to make much difference in the open position, so I fear it may become a little stuffy in warmer weather.
The easy-release visor is anti-scratch treated and has a Pinlock inner lens, creating an anti-fog screen so the rider has a clear view in cold/wet conditions. The aperture has a good seal with channelling to prevent rain ingress. A bonus with this lid is the internal sun visor, which is operated via a glove-friendly slide lever on the side of the helmet.
I'm happy to report that the V2RR is comfortable and quiet, even at motorway speeds, and I was impressed by its overall quality; it's just a shame that the vents didn't make a huge difference.
ABR Rating – 8 / 10
In a Line: Cracking value for money
| Easy-release visor with Pinlock | Chin-vent tab with removable chin-cuff | A cushion covers the micro-ratchet |
| --- | --- | --- |
Givi 40.2 GT HPS
SRP from £149.99 – www.givi.co.uk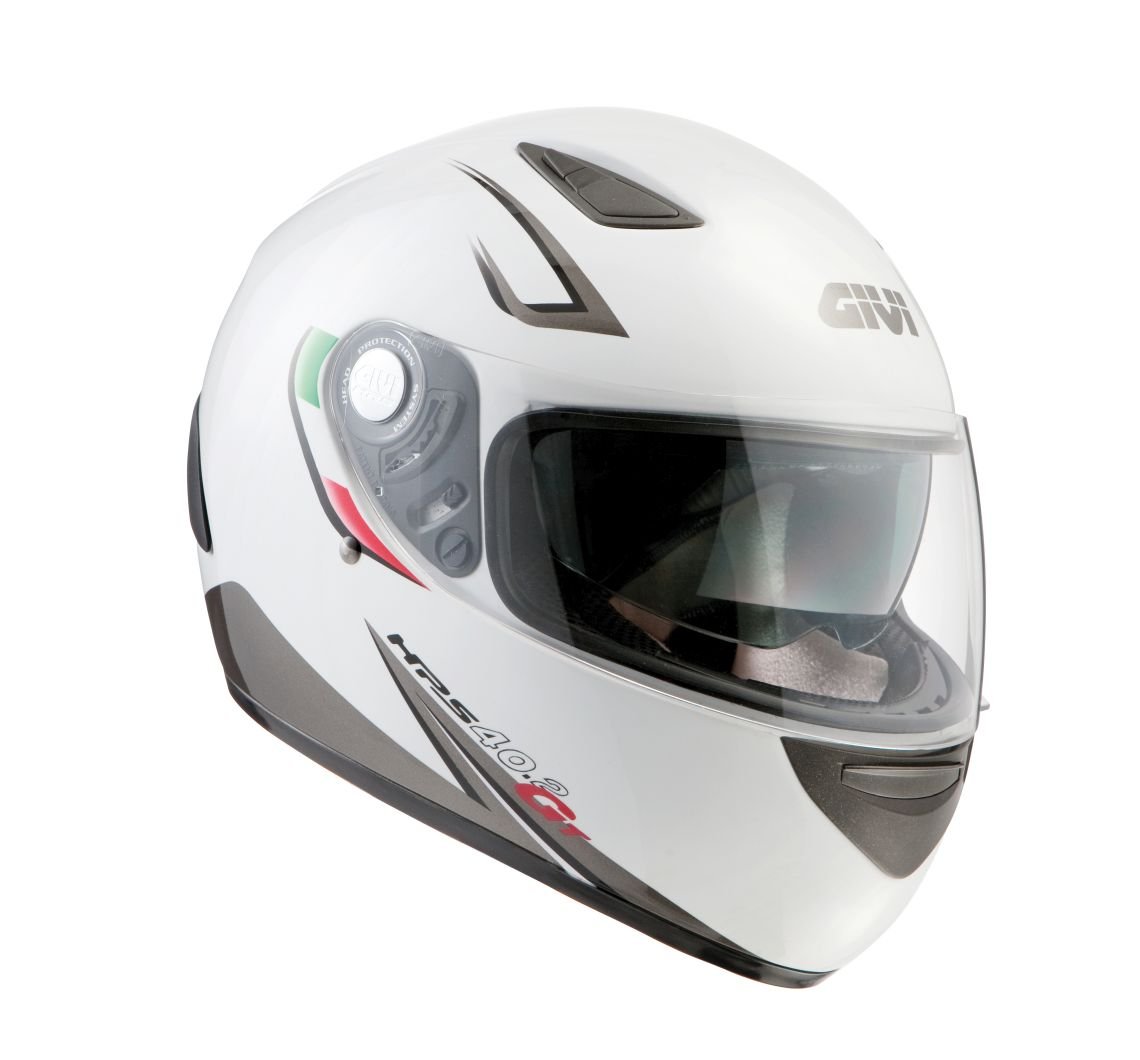 After retiring from a successful motorcycle racing career, Giuseppe Visenzi established Givi some 30 years ago with a focus on producing motorcycle accessories. This was mainly in the luggage arena, but over recent years, the company has also moved into helmet production.
Top of its range is the 40.2 GT HPS (Head Protection System) aimed squarely at the adventure biker who demands a high-specification lid for a very reasonable price.
Not many helmets in the sub£200 range come with a Tri-composite (fibre-carbon-Kevlar) shell; these are normally in the higher price bracket. The shell is bonded to an EPS inner, which will help absorb any impact forces. The 40.2 is around 1,550g in a size large.
The fully removable and washable liner is anti-allergenic and offers plenty of padding for a comfortable, snug fit. The liner extends to the chin-strap, so it doesn't dig in or rub the neck.
The strap features a double D-ring fastener, which is the safest type, although the rings are situated a little too high up and are therefore not the easiest to fasten. There is also a removable chin-cuff, which helps to block the winter chill.
Fresh air ventilation ports are situated in the usual places in the chin-bar and crown, with two fixed exhaust vents at the rear. The vents are reasonable, but the ones on the crown are difficult to locate on the move and increase the wind noise when open.
The visor is sturdy and the shape fits the aperture well. It has an anti-scratch finish for minor abrasion resistance, however, there's no anti-fog treatment, so you'll have to apply your own and rely on the chin-bar vent and the removable breath deflector to assist in demisting.
I understand that Givi is looking to install Pinlock anti-mist shields soon, or you can acquire the adhesive type from the company. It really does need some form of anti-fog remedy as the vent does a poor job of clearing the visor.
There is an internal sun visor, which is operated via a small glove-friendly lever on the left side of the helmet. On the road it's noisier than some other lids on test here, mainly around the visor, but not overly so.
The test helmet did get a little uncomfortable across the forehead after about 50 miles. This may disappear once the padding beds in, but it may not.
ABR Rating – 6 / 10
In a Line: Good product, but better value to be had elsewhere
| Double D-ring fastener | Sun visor lever | Fiddly and noisy crown vents |
| --- | --- | --- |
Scorpion Exo 500
SRP £179.99 – www.tranam.co.uk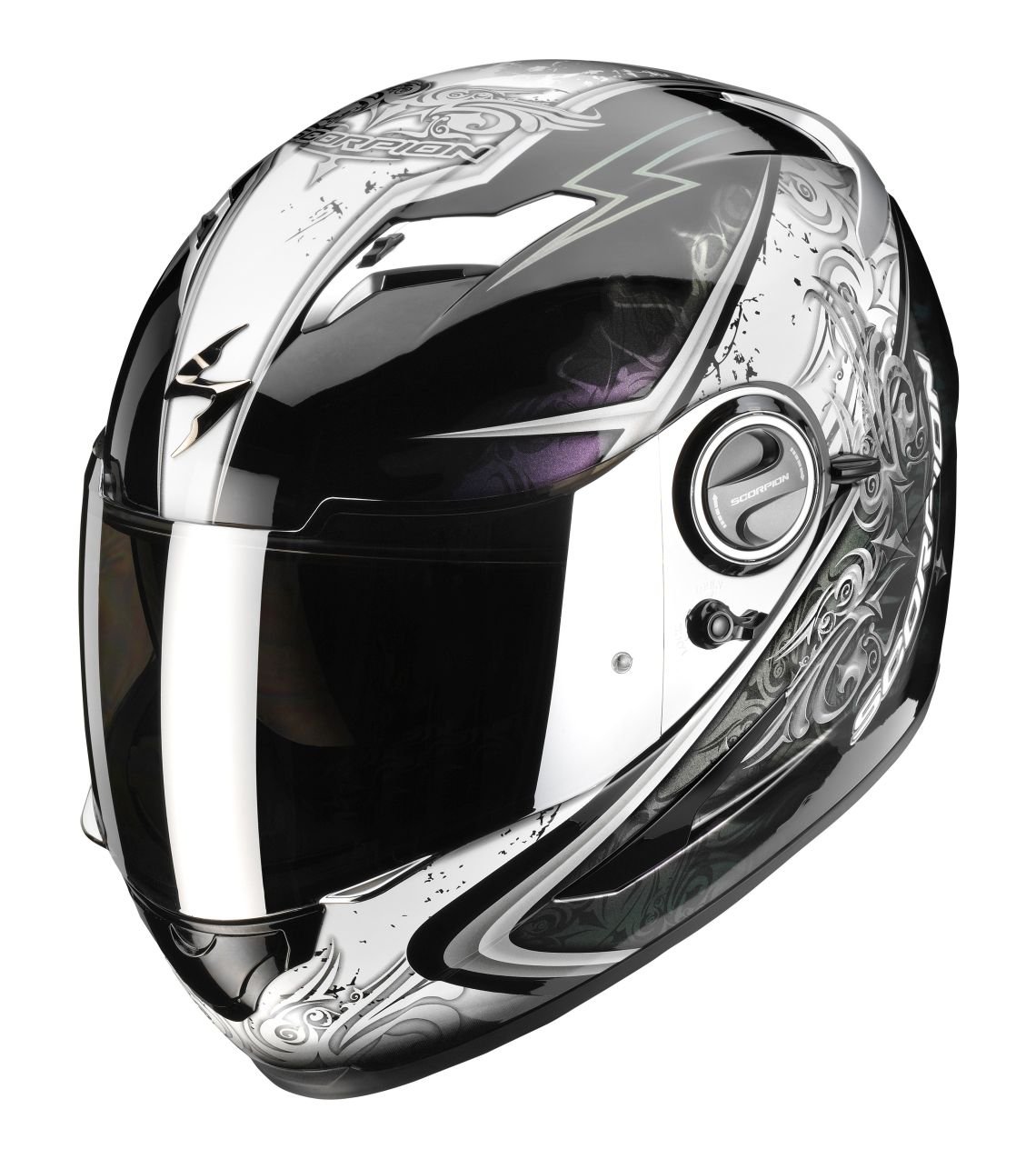 Scorpion Sports hit the USA in the early noughties and very quickly entered the top five best-selling helmet brands over the pond. With that success, the company spread its wings and entered the European market with a base in France. Straight away I could see that the quality of this helmet belayed its price tag from its design to its features and finish.
The Exo 500 is in the company's mid-range price bracket, so you're getting a lot of lid for your lolly, which is a good thing in these austere times. The advanced polycarbonate composite shell, which has an aerodynamic design, has been tested in a wind tunnel for quietness.
The EPS inner extends into and around the chin-bar for additional safety, so any impacts will be absorbed and distributed across the lid. It does feel quite heavy, however, so I weighed it.
The Exo 500 registered 1,808g, which is a fair bit over the stated 1,700g. It does have a very thick, soft padding and the lining is KwikWick, which as the name suggests wicks moisture efficiently away from the skin; it's also fully removable and washable.
The fit is very snug and this can be adjusted by the AirFit device deployed behind the cheek pads, which is a manual inflation system that enhances the fit. I personally found the helmet a narrow fit in this area anyway, without inflating the airbags.
Ventilation comes by way of closable chin-and crown vents, which I found very effective, with glove-friendly tabs for easy operation. The visor has a quick-release system for ease of changing and cleaning. There is even a locking tab to keep it shut. It seals around the eye-port well and offers an excellent peripheral vision.
This is complemented by the Pinlock MaxVision anti-fog shield, which extends to the edges of the aperture ensuring no misting whatsoever. There is also an interior sun shield, which is really effective, and it has anti-fog treatment on both surfaces for a clear view.
For the road test, I inflated the cheek pads slightly, but after a few miles, I was hitting the deflate valve as it was becoming uncomfortable. Unfortunately, this didn't remedy my discomfort; I think the narrow fit didn't suit my head shape. That said, the helmet is quiet and the weight wasn't an issue. I also really liked the visor and sun shield, which both performed well.
ABR Rating – 8 / 10
In a Line: If it fits, buy with confidence!
| AirFit cheek-pad in€flated | AirFit in€flation/de€flation valves | quick-release visor |
| --- | --- | --- |
Shark Vision-R Syntic
SRP £279 – www.nevis.uk.com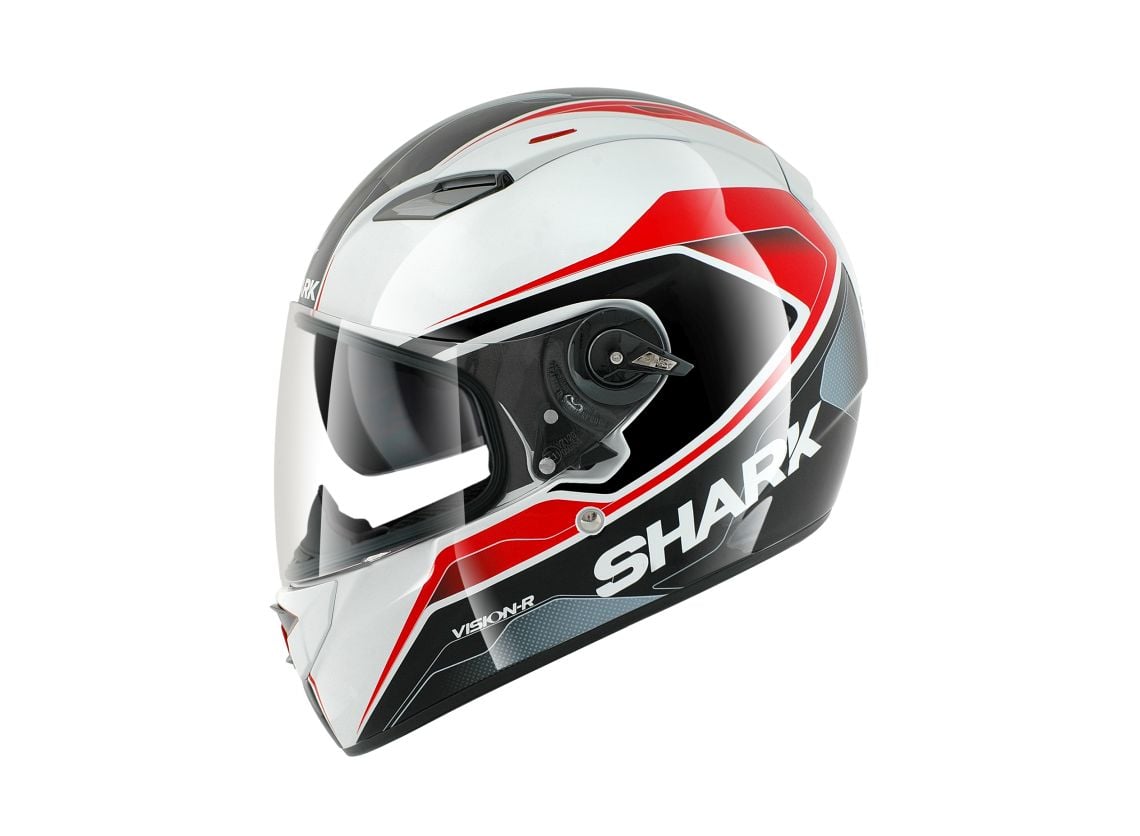 The first Shark helmet I owned and loved was a Carl Fogarty replica back in the 1990s. Until then, I'd never heard of the French-made brand. Now I have a soft spot for them as I find them well made, comfortable and great value for money in the mid-price range.
I was keen to test the Vision-R in this review as it's aimed at the adventure tourer, and I'm happy to report that it suits our genre of riding well. The shell is made from composite fibres, which are stronger than the thermoplastic lids, but with that, you get extra weight.
The Vision-R weighs in at 1,550g in a large, so still not as heavy as some comparable lids on the test. The three-piece EPS inner is bonded to the shell and will help to absorb and distribute any impact shock. As you'd expect, the lining is fully removable for cleaning and has an anti-bacterial treatment, to help keep it odour free.
With plenty of padding, I found the helmet a very comfortable and snug fit. The padding extends to give the micro-ratchet fastener a cushion, to prevent it from rubbing the rider's neck, and there are sumptuous neck pads to stop draughts and aid comfort.
The chin-bar has a removable cuff, which is adjustable via a drawstring; this can be set at the rider's preferred position to allow or block ventilation. On the subject of ventilation, there's a very effective chin-bar vent, which allows plenty of air through while assisting the anti-fog treated visor to remain mist free. There are also two crown vents, which give adequate airflow around the head.
Shark's R&D department has produced a panoramic visor and aperture which gives the wearer good peripheral vision. The shield fits well and is enhanced by the auto-seal system, so when it's shut no draft or water gets through; there's also a small lever, which will open the visor slightly for rapid anti-fog assistance, and an integral internal sun visor, which is operated via a small lever on the side.
On the road, the Vision-R is quiet and comfortable and the anti-fog visor works well and gives good all-round vision.
ABR Rating – 9 / 10
In a Line: Comfortable, quiet and worth every penny
| Panoramic visor | Sun shield and anti-fog levers | Adjustable chin-cuff with drawstring |
| --- | --- | --- |
Shoei Qwest
SRP from £289.99 – www.feridax.com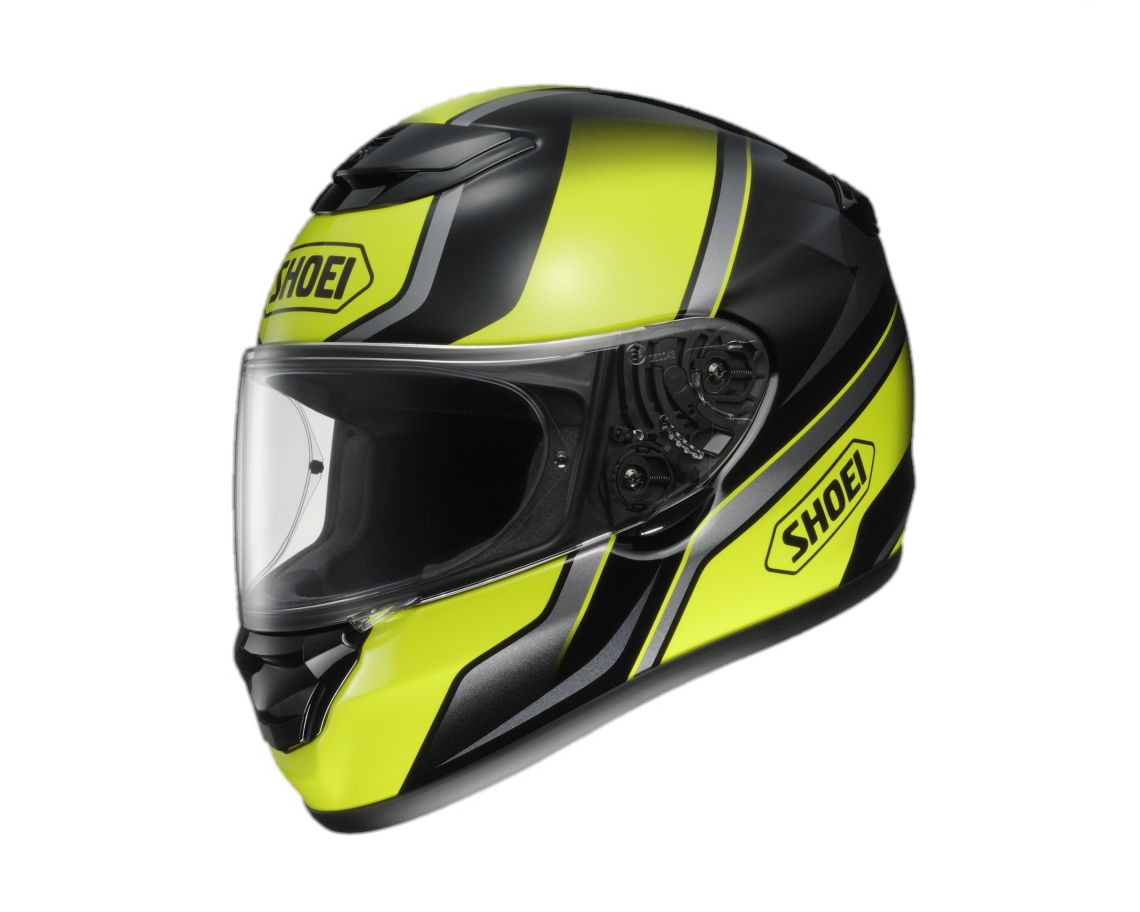 Shoei introduced the Qwest a couple of years ago. Its primary target is the sports/touring market, with which it's proving highly popular. With the Qwest, Shoei went back to the drawing board, creating a totally new helmet instead of simply revamping an older model.
The main issue this new design addressed was weight. The company managed to successfully shave off 200g from its lightest existing full-face models, making a large Qwest around 1,550g. The shape was also made more aerodynamic, cutting down on drag and lift, which makes for a quieter more comfortable riding experience.
The shell is constructed from six-ply multi-composite fibres, which give it its strength and rigidity. This is bonded to the dual-density EPS inner, which helps absorb and distribute any knocks in the event of a spill.
A soft-touch fabric has been used in the lining, which gives a luxurious feel, and with the deep padding, the fit is snug and comfortable. However, unlike so many other helmets on test here, the mainlining is not removable for cleaning, so only the cheek pads and chin-strap covers can be taken out for a good wash.
The Qwest comes with a large removable chin-cuff, which keeps the cold air out in the winter. Vents are located in the chin-bar and crown, which give excellent airflow, and this is aided by the closable rear extractors on the back of the lid.
The quick-release visor is sturdy and seals to the aperture well. This reduces wind noise and rattle, as well as stopping the rain from getting in. The opening tab is well positioned on the left-hand side of the helmet and can be easily operated with a gloved hand. There's also a Pinlock anti-fog shield supplied as standard, which will eliminate the dreaded visor mist.
Unfortunately, the Qwest doesn't have an internal sun visor. Shoei has only recently introduced this feature into its range on the Neotech flip-front, and the company is looking to use it on its other models in the not too distant future.
On the road test, the Qwest was quiet, comfortable, with good peripheral vision and the vents work really well. The only downside for me is the lack of the internal sun shield, but Shoei is addressing this soon.
ABR Rating –  8 / 10
In a Line: Quality helmet, but loses a point for the lack of sun visor
| Rear extractors | Chin-bar vents | Pinlock visor |
| --- | --- | --- |
X-Lite X-702
SRP £349.99 – www.motogear.co.uk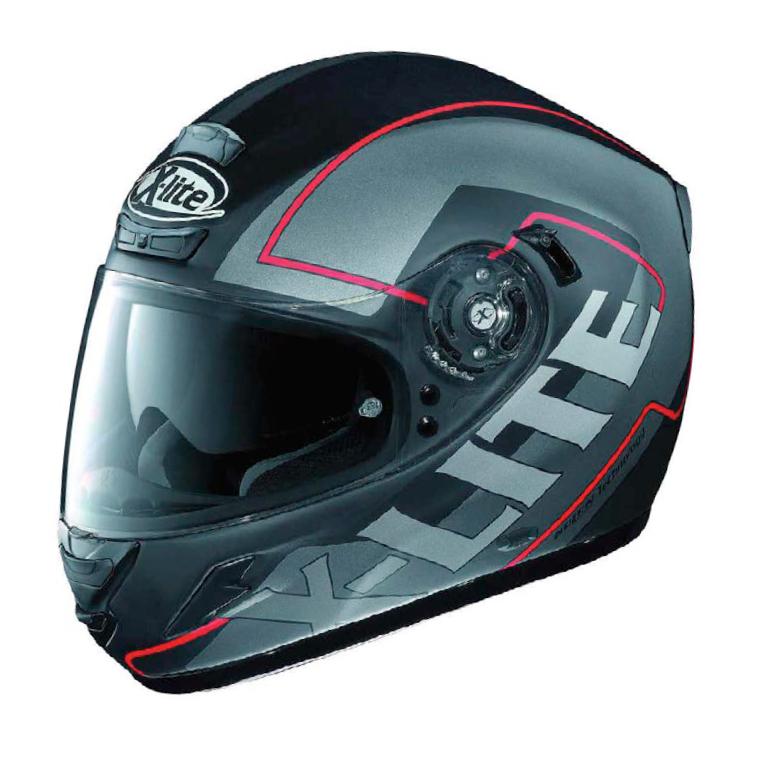 I'll admit to being a recent convert to the X-Lite brand. This Italian company, which is part of the Nolan Group, is producing some of the best helmets I've had the pleasure of wearing. X-Lites are extremely well made, with the focus being on quality, strength, low weight, comfort, and best of all, quietness.
A composite-fibre shell made up of carbon, Kevlar and glass fibre makes the X-Lite X-702 very strong. With this combination of materials, you'd expect it to be heavy, but it only weighs in at around 1,450g in a size large, which is very reasonable. The shell is bonded to an EPS inner, which will help to absorb any impact.
The lining of the lid is soft and comfortable with an anti-bacterial finish, which will stop it from getting all smelly in the hot weather. When it does need a clean, the whole liner with cheek pads is removable and washable. The lining does extend to the chin-strap cushion, which stops it from digging in.
The chin-strap itself uses the double D-ring method of fastening, which is the most secure way of keeping it in place. If it's venting you want then the X-702 is fresh-air heaven! I can't remember seeing so many vents in one helmet.
There are four individual vents on the chin bar; two in the middle and one on each side, which direct air to different areas around the face and visor. Then there is also a brow vent and one on the crown.
This gives you plenty of airflow around the head, which is assisted by the rear exhaust vents to help pull air through the helmet. The visor is very sturdy; it seals well against the eye-port gasket and affords excellent peripheral vision. It has a quick-release system, which will make cleaning easier.
The visor lift tab is in the middle of the visor and can be operated with even the thickest of gloves. The visor has an anti-scratch finish and a Pinlock insert, to stop it from fogging up.
There's also what X-Lite calls a 'Vision Protection System' (VPS), basically an internal sun visor, which is operated by a small lever on the side of the helmet. My faith in the brand was satisfied on the road test. The helmet was comfortable and quiet. All the components and features work really well to make the X-702 a helmet really worth considering.
ABR Rating – 9 / 10
In a Line: Nothing to dislike here; comes highly recommended
| Plenty of vents… | …and there are more here, too | Visor quick-release and sun shield lever |
| --- | --- | --- |
Arai Chaser V
SRP £379.99 – www.moto-direct.com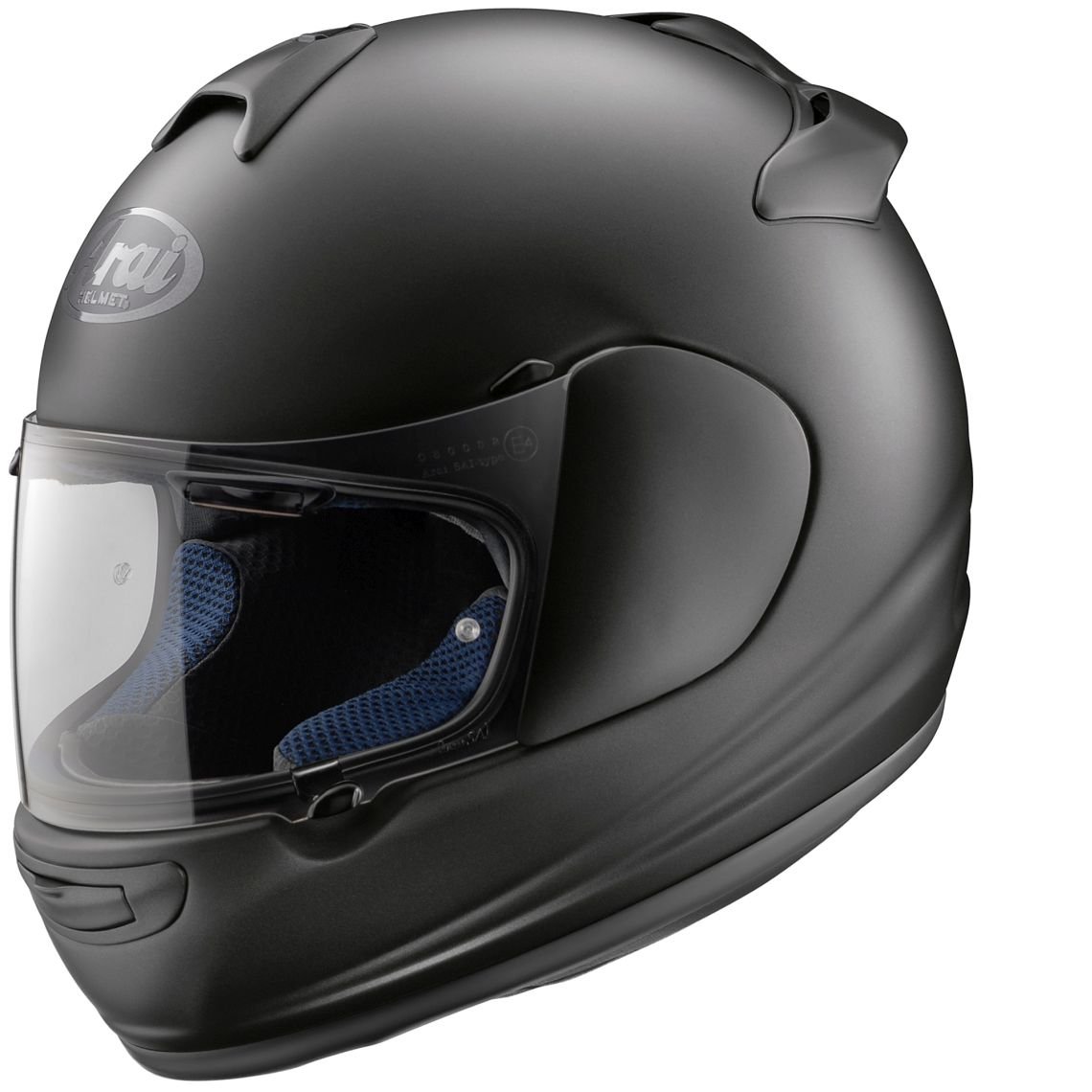 No helmet review would be complete without an offering from Arai. This Japanese giant in the world of helmet manufacture is simply too popular to ignore. I for one have used many of its lids over the years from full-on race replicas to Enduro-style ones and have always enjoyed the experience. For this review, I needed a helmet that satisfies demand in the adventure/ touring sector.
The Chaser V fits the bill to a tee. It has a shell constructed from 'Superfibre' and resin, a highly impact-resistant material which exceeded all safety standards during Arai's in-house testing. This is bonded to a triple-density one-piece EPS inner, which helps to absorb and distribute any impact forces.
The helmet weighs in at 1,560g, which sits well with the competition. What I've always liked about Arai is the soft but supportive linings found in its helmets and the Chaser doesn't disappoint.
They are also fully removable for cleaning and replacement cheek-pads are available. The fit is snug and comfortable and the padding extends to give the chinstrap a good cushion, too.
The strap fastener is of the double D-ring type, which is the only type Arai employs. There's no chin-cuff to prevent draughts entering from under the chin-bar, although this wasn't an issue on the road.
The chin-bar vent has three positions including 'closed', to vary airflow to the face and visor. There are the patented Arai brow vents situated in the visor and a crown-vent, all of which give great airflow around the head. This is aided by the adjustable exhaust vents in the rear spoiler. Arai's visors are always well made and fit the aperture well.
The peripheral view is good and with the inclusion of the Pinlock Anti-fog Shield Clear, unobstructed vision is the norm. There is a lock-down clip on all Arais which doubles to crack open the visor to assist in defogging, too. Alas, Arai has never employed the integral sun visor in any of its helmets and I can't see this changing anytime soon.
Having said that, the company's Japanese competitor has changed its stance on this, so maybe Arai will do the same one day? So did the Chaser live up to its predecessors on the road? Of course it did, and I'd go so far as to say it's better. But things should always get better, shouldn't they?
ABR Rating – 9 / 10
In a Line: Quality, if you can live without a sun visor
| The brow-vent sits behind the visor | Large chin-vent | Rear vents and spoiler |
| --- | --- | --- |
Schuberth S2 Lines
SRP £529.99 – www.schuberth.com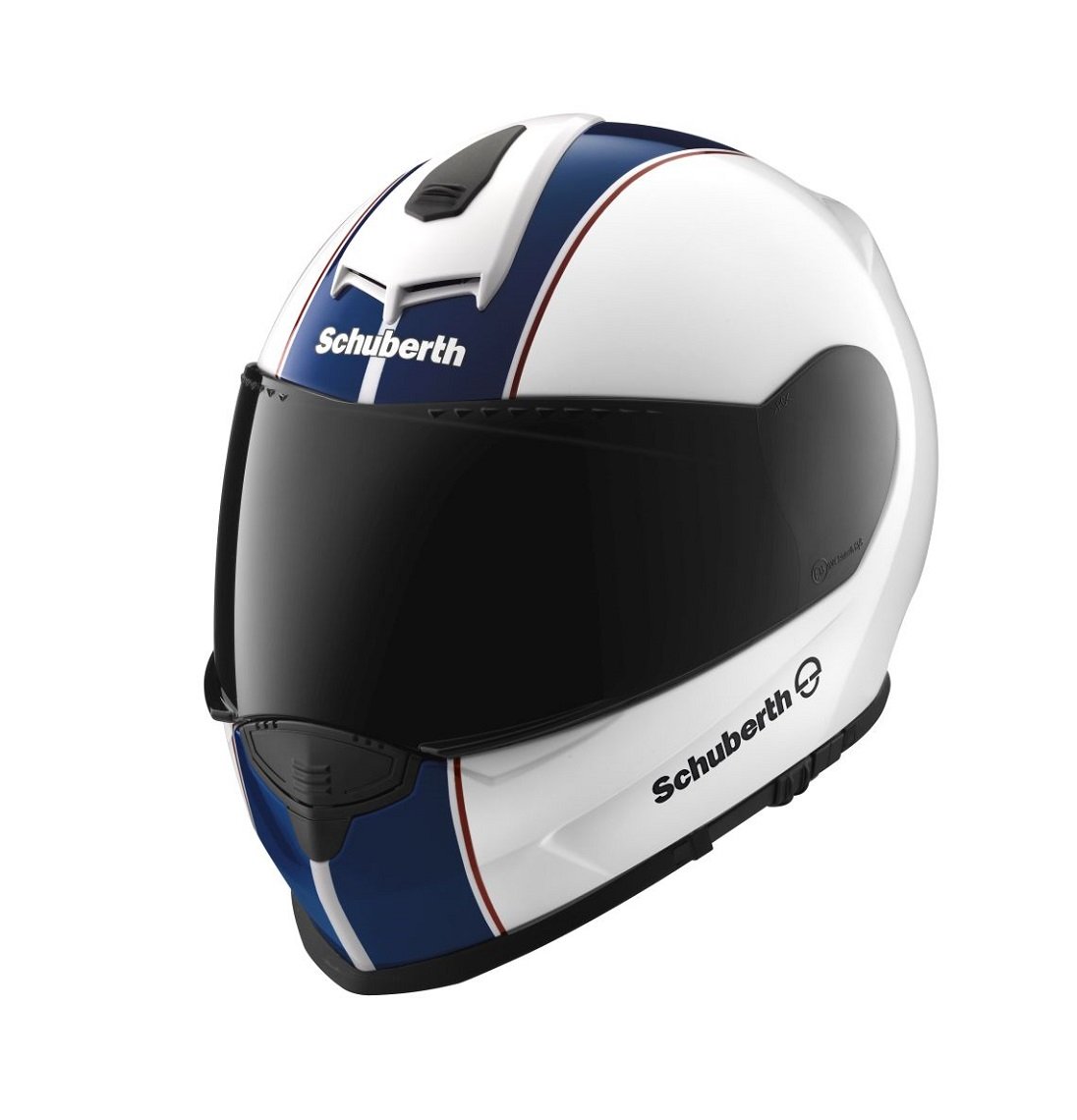 'Made in Germany with German engineering' is the core message Schuberth is using to promote its products to the world. The company has been producing protective headwear for over 70 years, releasing its first motorcycle lids in 1954. Schuberth is recognised as one of the leading manufacturers of helmets, and it's clear why. The S2 is stylish, aerodynamic, lightweight (1,450g in a size large) and quiet, which is everything we could ever want in a helmet.
But there's more… The shell is made from glass fibre with a special resin added which is compressed in a vacuum at high pressure to form the high-performance aerodynamic shape; the spoilers help to reduce lift and wind resistance. This is then bonded to the modular EPS inner, which absorbs and distributes any impact forces in the event of an off.
Inside there is a fully removable and hand-washable Coolmax and Thermocool lining, which wicks any moisture away from the skin while regulating the temperature inside the helmet to ensure that the wearer stays dry and comfortable.
The padding behind the liner is really soft but supportive and enhances the fit. The removable neck roll is close fitting but complements the helmet's aerodynamics by cutting down turbulence and wind noise. It also features a micro-ratchet chin fastener with an innovative anti-roll off system for added safety.
Ventilation doesn't get much better than what's on offer with the S2! The chin-vent directs air across the visor and face but not in a way that sees your eyes watering with the draught. The multi-adjustable crown vent allows the air to circulate around the head and this is assisted by the fixed rear exhaust vents.
The quick-release visor is sturdy and fits the aperture well, boasting anti-scratch coatings inside and out. The lift tabs are on both sides and can be easily operated with a gloved hand.
There is also a Pinlock anti-fog shield supplied to reduce misting. Of course, Schuberth was the first manufacturer to incorporate an integral sun visor for motorcyclists into its helmets, so it's no surprise that the S2 has one.
I've been searching for the helmet that does everything I want for many years, and believe, me I've tried them all. There's nothing I can fault about the Schuberth (except maybe the price) but for me, this is one area where it's worth paying for perfection.
ABR Rating – 10 / 10
In a Line: Mortgage the kids and buy one!
| Quick-release visor | Anti-roll off system | Good ventilation from chin-vent |
| --- | --- | --- |