Just because you ride an adventure bike it doesn't mean you can't wear a leather jacket. Bryn Davies puts 14 to the test.
A word on sizing…
If there's one thing we've noticed from this review, it's just how much manufacturers' sizings vary. In some of the jackets, an XL fitted perfectly, in others XXXL was a little too tight (really). While there's not much we can do about how companies decide to size their products, we can tell you that if you're planning on forking out a few hundred quid for a new leather jacket, make sure you go and try it on so that you know you're getting the right size.
A few years ago, I had the pleasure of interviewing a motorcycling icon of mine, Elspeth Beard, the first British woman to motorcycle around the world. As we were talking, it was fascinating to hear about her adventures, but also how, back when she circumnavigated the globe, there was no such thing as SatNavs, you couldn't Google advice while you were on the road, and adventure motorcyclists hadn't decided that the only acceptable form of clothing was a textile suit.
She still had her original Lewis Leather jacket, in which she had ridden thousands of miles in all conditions, and it looked like it had many thousands of miles more life in it. Of course, textiles have their places in the adventure motorcyclist's arsenal, especially if you're going to be riding off-road, but if you're sticking to the tarmac, a good leather jacket shouldn't be discounted.
Pair a leather jacket with a waterproof overcoat and you'll be touring in style and comfort, while it'll also be more suited A for those weekend rides to your favourite caff, or a bimble into town to pick up a loaf of bread. Personally, I also think a leather jacket and a pair of riding jeans looks far better than a textile suit, but I'm no Gok Wan.
Now that we've deduced that it's perfectly acceptable to wear a leather jacket on an adventure bike, what should you look for when you're buying a new one? Honestly, first and foremost, it should look good. I know, what a shallow thing to say, but bear with me.
If a leather jacket doesn't look good to you, it's probably going to spend more time hanging up in your wardrobe than it is being worn on the roads, and what a waste that would be. It's also fair to say that riding a bike is a lot about image for many people, and a good-looking leather jacket oozes cool. That being said, there's more to life than looks, and when you're about to drop a few hundred quid on a new jacket you'll want to make sure it's fit for purpose.
To that end, the quality and thickness of the leather that's used to make the garment is a good place to start when you're weighing up your options. If you want your kit to provide as much protection as possible, then you're going to want to look for the thickest leather that you can find.
Keep in mind, the thicker the material, the less comfortable and more rigid the jacket will be in use. For added protection, look for jackets that have CE-approved shoulder, elbow, and back protectors or, better yet, CE-approval for abrasion resistance and seam burst strength.
These will off er that bit more protection in the case of an off, and that's only a good thing. You should also be conscious of the fit when buying a leather jacket. There are a lot of different 'styles' out there, each with specific cuts. You should, of course, get the fit that's most comfortable for you, but be aware that more aggressively cut leathers will be more suited to the hunched over seating position of sports bikes than the upright stance of an adventure bike.
Ventilation is also a key consideration whenever I'm choosing gear. Leather is a breathable material, but you'll soon start to roast in it when the temperatures rise. Good venting options on the front and a nicely-sized exhaust vent on the rear are essential for fair weather riding (which is when you'll be wearing your leather jacket most anyway).
Other considerations will be whether the jacket has enough pockets (going from a textile jacket with more storage options than an Ikea dresser to a leather jacket with minimal pockets can be a bit of a shock), whether there's a decent-sized zip baffle to prevent cold spots from forming down the front of the garment, and whether the thermal lining is of good quality. I usually end up wearing a separate mid-layer, but those included with leather jackets are usually designed to fit more comfortably.
Here, we've reviewed 14 leather jackets for adventure motorcyclists. As usual, we've looked across the price range here to prove that you can get great kit without having to break the bank.
Features of a Leather Jacket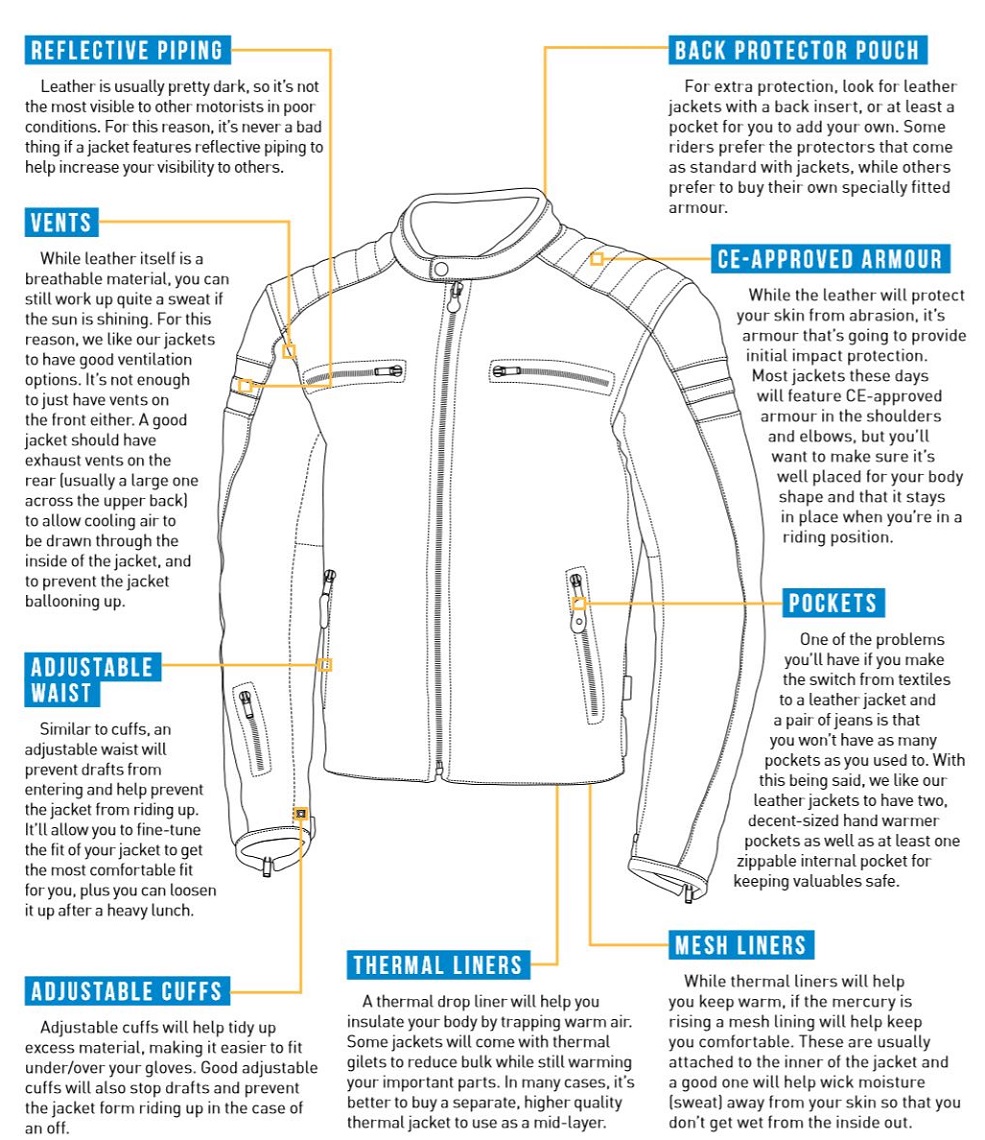 Weise Detroit
£249.99 www.thekeycollection.co.uk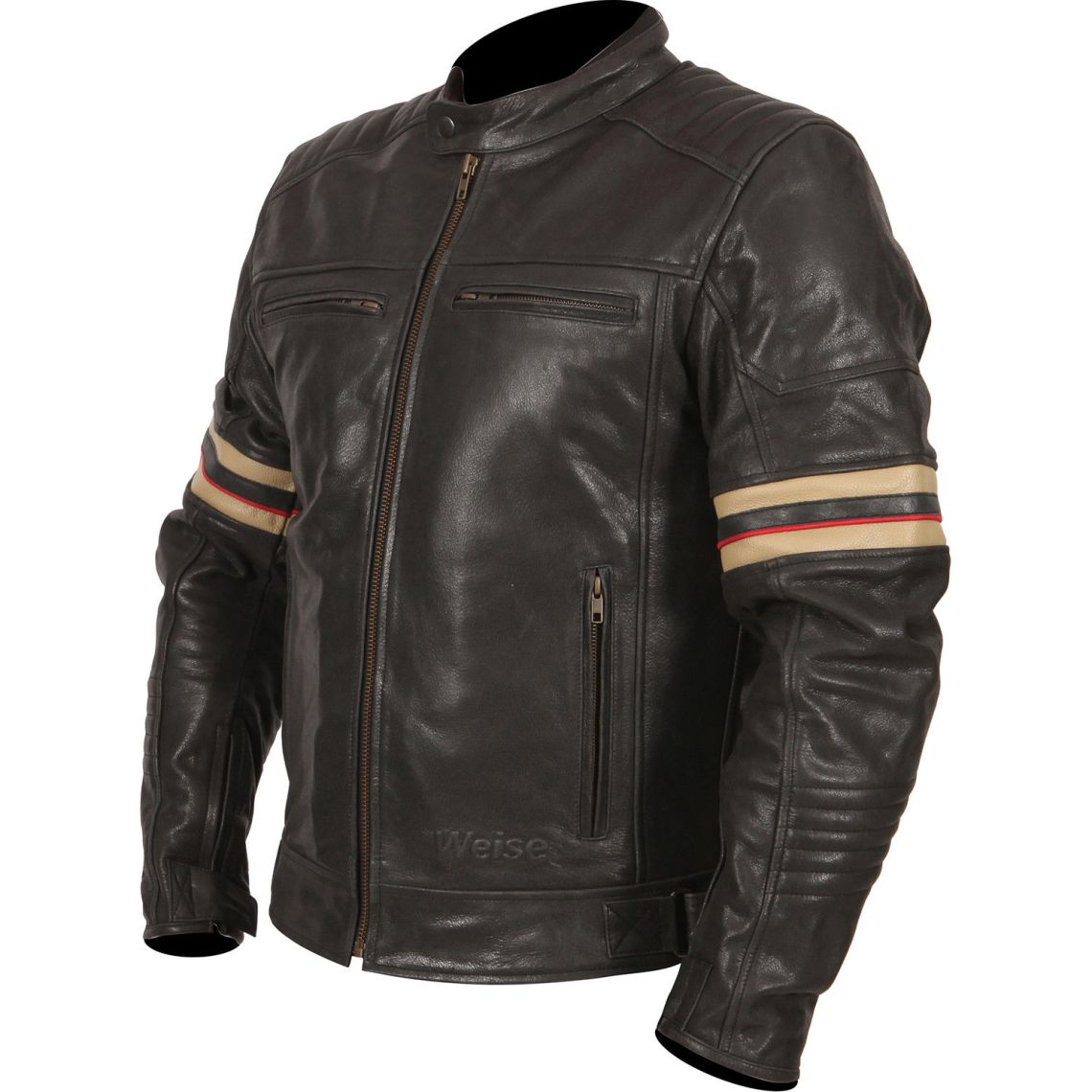 At £249.99, the Detroit is one of the three cheapest products in this group test. It's an entry-level leather jacket from Bristol-based motorcycle clothing manufacturer, Weise, and it's made from a natural milled, waxy leather that gives it a distressed, well-worn look straight off the shelf. CE level 1 armour is found on the shoulders and elbows, and there's the provision to include back armour, and you can zip them into compatible trousers if you wish to add a little more protection. A removable 120g thermal liner is included, though it doesn't provide much warmth. In terms of ventilation, the Detroit is lacking, with there being no vents included at all.
In the summer heat, the jacket will be very warm to wear, and the full polyester lining throughout will soak up sweat easily, making you damp on the inside. There's plenty of storage provided by the four external pockets (two hand-warmers and two on the chest) and two internal pockets, and these are all of a decent size and zippable.
I liked the inclusion of the neoprene fabric around the collar, which makes the jacket comfortable around that area, and the main zip is also backed by a large, effective wind baffle that prevents cold spots from forming. All in all, the Detroit is a stylish leather jacket, though it does have a budget feel about it. The lack of vents is a real shame, as is the polyester lining, though it is comfortable to wear in the right conditions and will suit all styles of bike.
IN A LINE: The Detroit looks nice, but has a budget feel to it and lacks ventilation.
ABR Rating 6/10
ARMR Nubakku
£249.99 www.tri-motive.com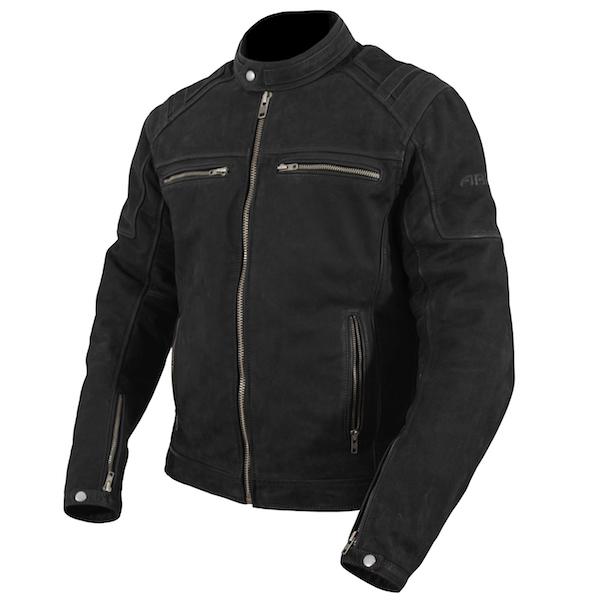 The Nubakku jacket is the entry into this group test from Armr Moto, a brand that was created by distribution company TriMotive to offer functional kit at reasonable prices. At £249.99, it's joint cheapest in this test, though it has the look of a more expensive jacket, being made from a 1.1mm-thick buffalo nubuck leather. It's soft to the touch and has a unique look to it, which won't, admittedly, be to everyone's taste.
The 1.1mm leather offers a very comfortable fit, being supple and flexible, but it doesn't offer the levels of abrasion resistance that a thicker, more rigid leather would. Ultimately, this is a compromise you'll have to make if you want top-tier comfort. Two chest vents allow you to get the cool air flowing in when the going gets hot, and they're nicely disguised as pockets when you're not using them. Unfortunately, there's no exhaust vent on the rear, which limits the potential of the front vents. When the temperature drops you can make use of the removable thermal lining. While this is lovely and comfortable to wear, it's not the warmest and wouldn't be suitable for winter riding.
There's plenty of storage throughout the jacket, including four external pockets, and two internal pockets, though they're mostly on the small side. While the waist is adjustable via two poppers, the cuffs aren't, forcing you to accept the standard fit, which was a bit loose on my wrists. Similarly, the neck closure only had one size, which was again loose, though the collar is exceptionally comfortable against the skin.
IN A LINE: Exceptional comfort from this nicely-priced leather jacket.
ABR Rating 7/10
RST GT
£249.99 www.rst-moto.com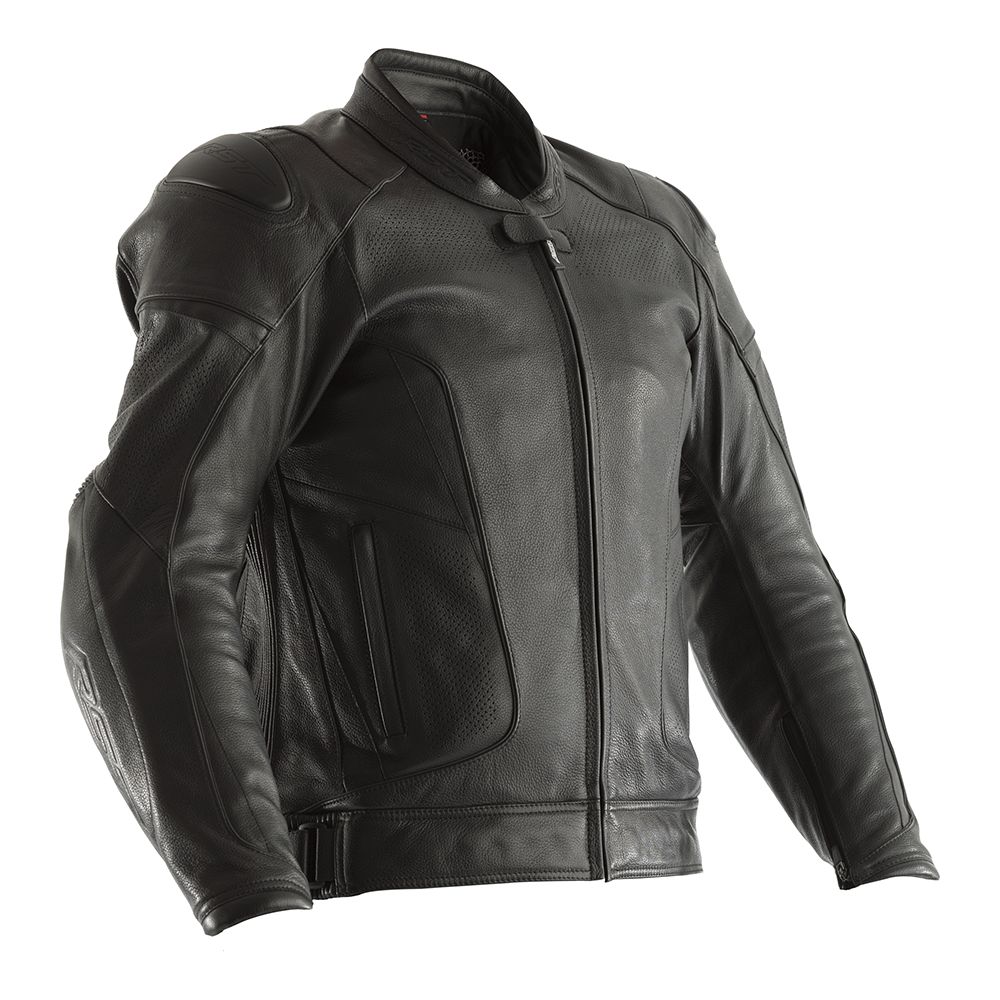 RST is a British motorcycle clothing company that offers good-quality kit at affordable prices, and the brand's leathers generally have a good reputation. The GT, on test here, is one of the three cheapest products in this review, but it has the feel of a more premium-quality jacket. Protection is provided by CE level 2 shoulder and elbow armour, while there's a pocket to house a back protector if you desire. Level 2 armour on a jacket of this price is a great addition, while you also get external-welded TPU shoulder armour for added protection and a more aggressive look, and you can zip the jacket into your trousers to prevent it from riding up.
The jacket has a sportier cut to it than most of the other jackets in this review, and I found the sizing to be rather odd. The arms were noticeably short, as was the torso, but the rest of the sizing of the jacket was in line with what I expected. This is one you'll want to try on before you buy. If you can get the right fit, the jacket is very comfortable to wear thanks to the '3D bubble mesh' lining, which will also do a great job of wicking sweat away.
While there aren't any traditional vents on the jacket, there are many perforated panels throughout that help get air flowing through the jacket – great on a warm, summer's day, not so ideal in the cold! There's plenty of adjustment in the waist, and the stretch panels up the torso and on the elbows are a welcome touch, but there's no adjustment on the cuffs, which means you can't fine-tune the fit here. For me, the cuffs were a little tight. The collar is very minimal, almost non-existent, which is a feature you'll either love or hate – I felt it left my neck too open.
IN A LINE: Sporty fit, well-made, comfortable and ideal for warm summer's days.
ABR Rating 7/10
Spada Hedonista
£269.99 www.spadaclothing.co.uk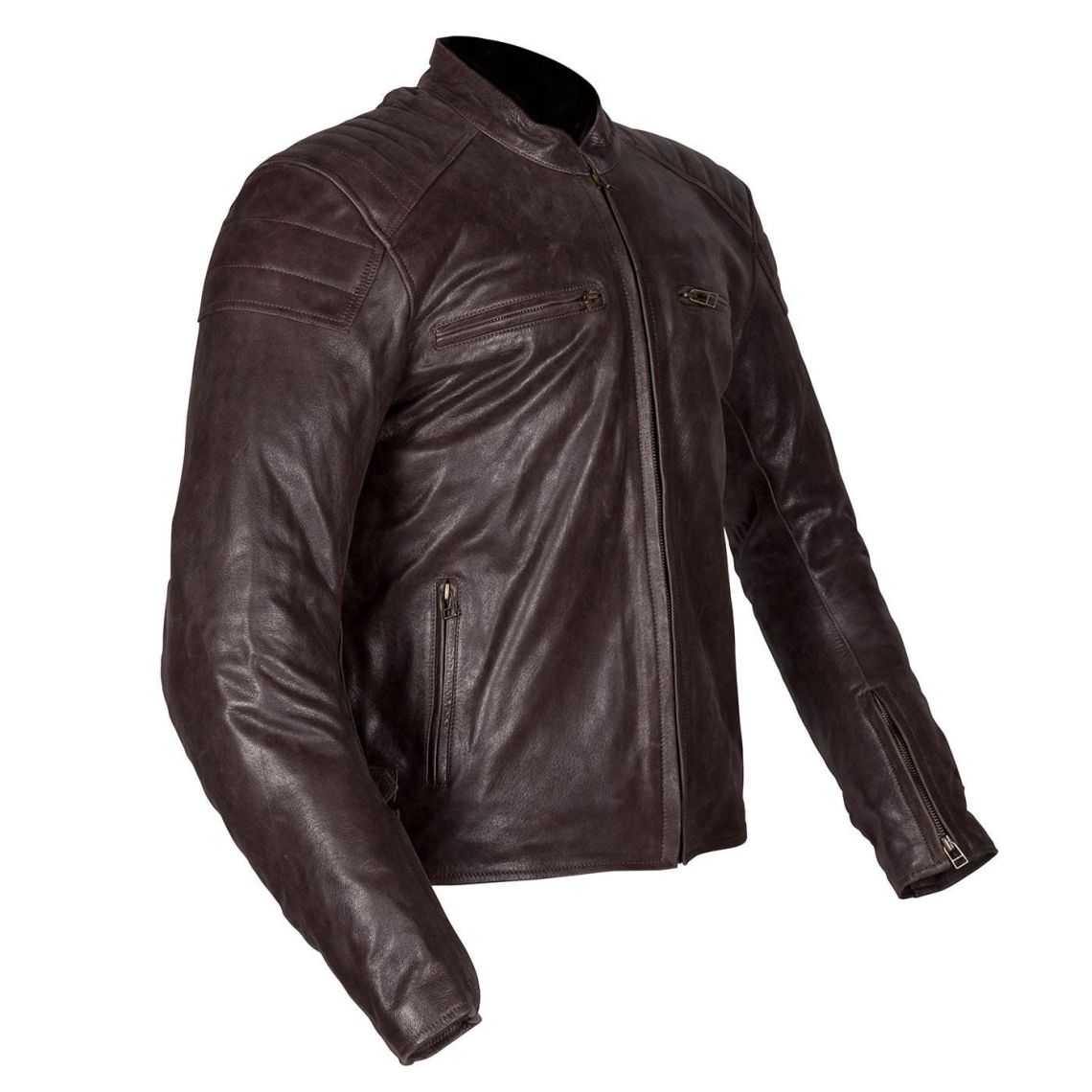 Spada is a low-cost motorcycle clothing brand that's been around for a good few years now, and the company's focus appears to be on providing trendy and good-looking kit at the budget end of the scale. With the Hedonista, we have a fashionable looking leather jacket that's made from 1.2-1.4mm thick leather with a distressed, already-worn look that's very easy on the eye. Protection is provided by armour on the elbows and shoulders, and there's also a pouch to add a back protector if desired.
The jacket cannot be zipped into a compatible pair of trousers. In terms of storage, you get two zipped hand-warmer pockets, one chest pocket, and two internal pockets. The main zip features an effective wind baffle, but there's a distinct lack of ventilation throughout the jacket and, because of this, it can run warm when the temperatures rise. This isn't helped by the thick, fixed polyester lining. At the other end, there is no included thermal liner – not a game-breaker for me, but a noted omission.
The cuffs feature a long zip that's backed by bellows, but there's no adjustment here. There is, however, adjustment on the waist in the form of a few straps and buckles. In use, they're fiddly and rather ineffective, seemingly in place purely for style purposes (and they do look good). The collar also lacks any form of closure or adjustment, and is low profile in nature, leaving my neck feeling rather naked. The cut of the jacket is relaxed and casual, and it looks great on or off the bike. I did, however, find it to be a little short on the torso.
IN A LINE: Stylish jacket that lacks some features.
ABR Rating 7/10
Richa Daytona 60S
£269.99 www.nevis.uk.com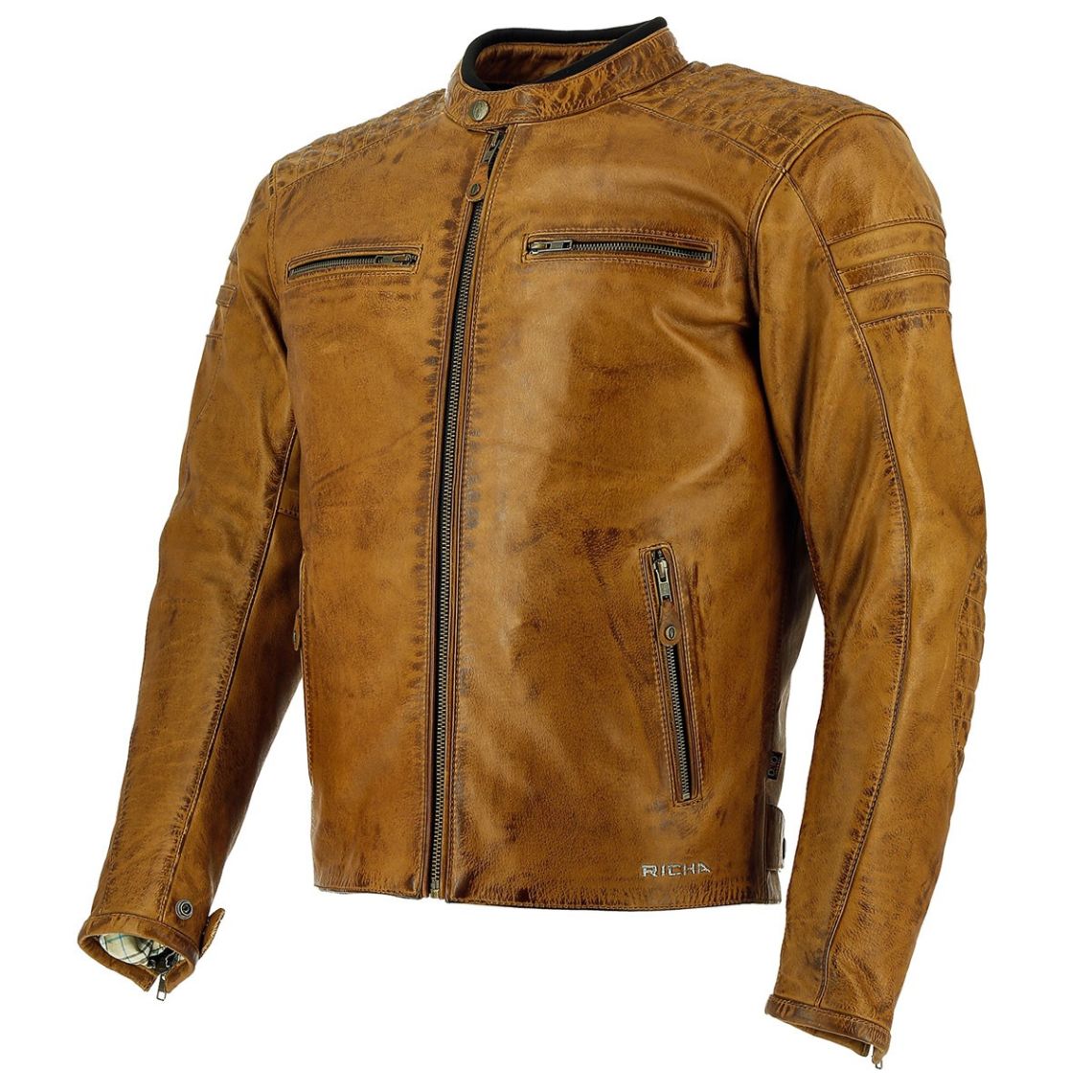 The Richa Daytona 60S has a look and feel to it that belies its low price tag. Considering it's one of the cheapest jackets in this group test, I was impressed with the quality that is on off er here, though this is something I've come to expect from Richa over the years. The Daytona is a vintage leather jacket that comes in two beautiful colourways, one being a distressed black, the other a gorgeous 'cognac' brown, and this 60S version was introduced to the company's collection to celebrate the model's 60th year in Richa's range.
For 2019, the Daytona 2 was introduced, but for this review, we've been trying out the 60S. Made from high-quality buffalo leather, which has been hand-treated to give it a unique vintage look, the Daytona 60S is a leather jacket that combines style and practicality. To add protection and a huge amount of value for money, CE level 1 D30 armour is included at the elbows, shoulders and back. The jacket can also be zipped into compatible trousers.
Storage is provided by two, large zipped hand-warmer pockets, two zipped chest pockets, a zipped internal pocket and an internal pouch. There's also a dedicated mobile phone pouch on the thermal liner, though this was too small for an iPhone X. Speaking of the thermal liner, I was actually pleasantly surprised by the warmth and comfort it provided. The collar features a neoprene lining, which is lovely and soft against the skin, while the cuff s and waist are adjustable.
There's a notable lack of ventilation on the Daytona 60S, which makes it a warm jacket to wear when the temperature rises. All in all, the Daytona 60S is a superb leather jacket considering its price tag. It's very well featured, though it lacks ventilation.
IN A LINE: A heck of a lot of jacket for your money.
ABR Rating 9/10
Tucano Urbano Bred
£299.99 www.tucanourbano.com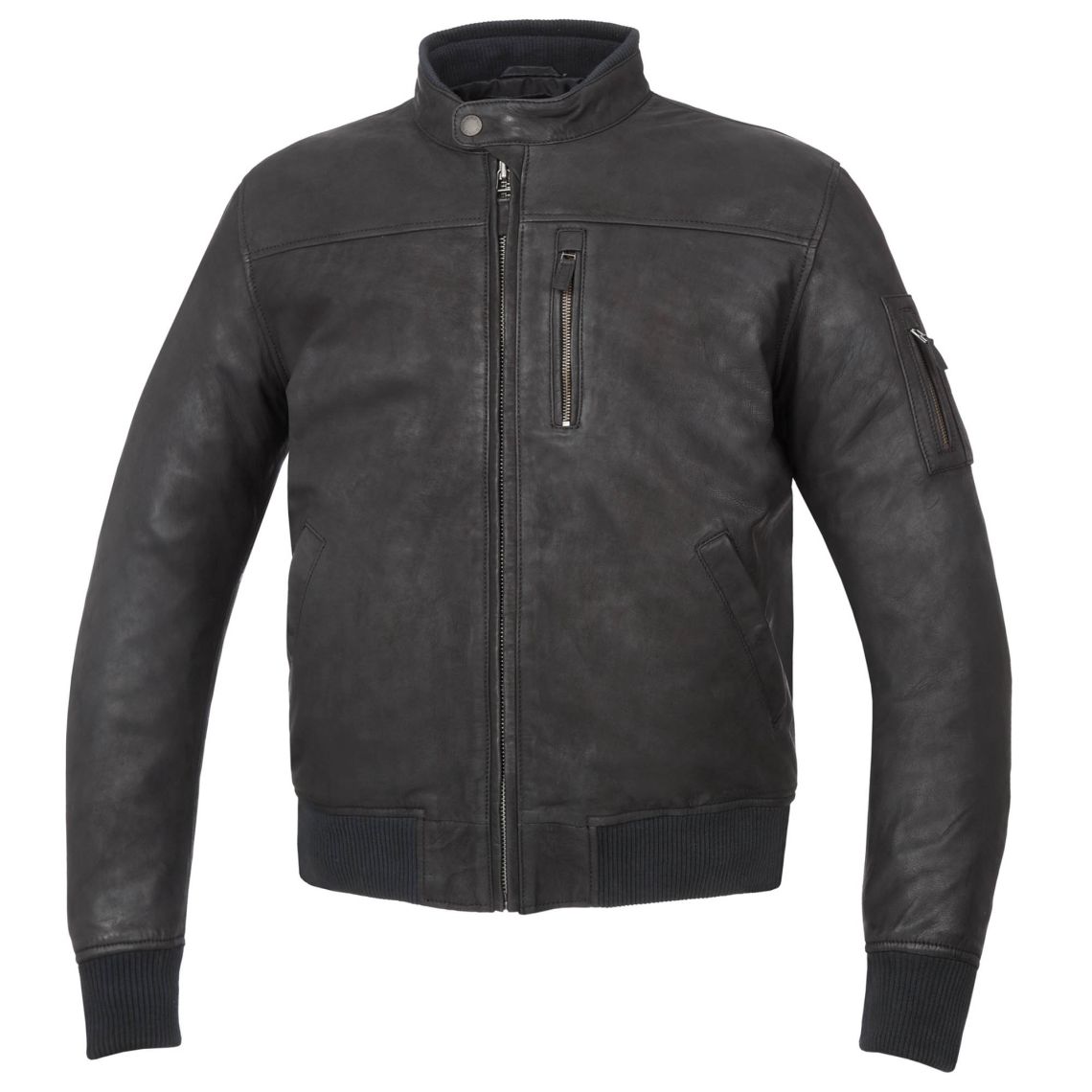 Italian brand Tucano Urbano makes some stylish urban motorcycle gear, and the Bred is the company's submission into this review. From the off, it's clear to see that the Bred has been designed with a fashion-first way of thinking, looking great off the shelf, though feeling somewhat flimsy in hand. The Tucano Urbano Bred jacket is made entirely of sheepskin leather. Sheepskin will offer less abrasion resistance than cowhide, particularly in the thickness that's used on the Bred, so if it's top-tier protection you're after, you're not going to get it here.
That in mind, where sheepskin does excel is in its soft and supple nature, and the Bred looks and feels like a high-street leather jacket, save for the included CE level 1 armour at the shoulders and elbows. The sheepskin goes a long way to making this a comfortable jacket, and the inner liner, which looks great, is also comfortable against the skin. The collar and cuff s are knitted which aids in comfort and looks, though they offer a loose, floppy fit.
In terms of storage, you get two hand-warmer pockets, though these only have a one-button closure, leaving them unsecure and of little practical use when on the bike. An external, zipped chest pocket is accompanied by a small, zipped pocket on the left bicep that's suitable for storing a credit card, and inside, you get a zipped chest pocket and a large pouch that'll happily take your wallet and phone.
IN A LINE: A great-looking jacket with limited protection.
ABR Rating 7/10
REV'IT! Stewart
£309.99 www.revitsport.com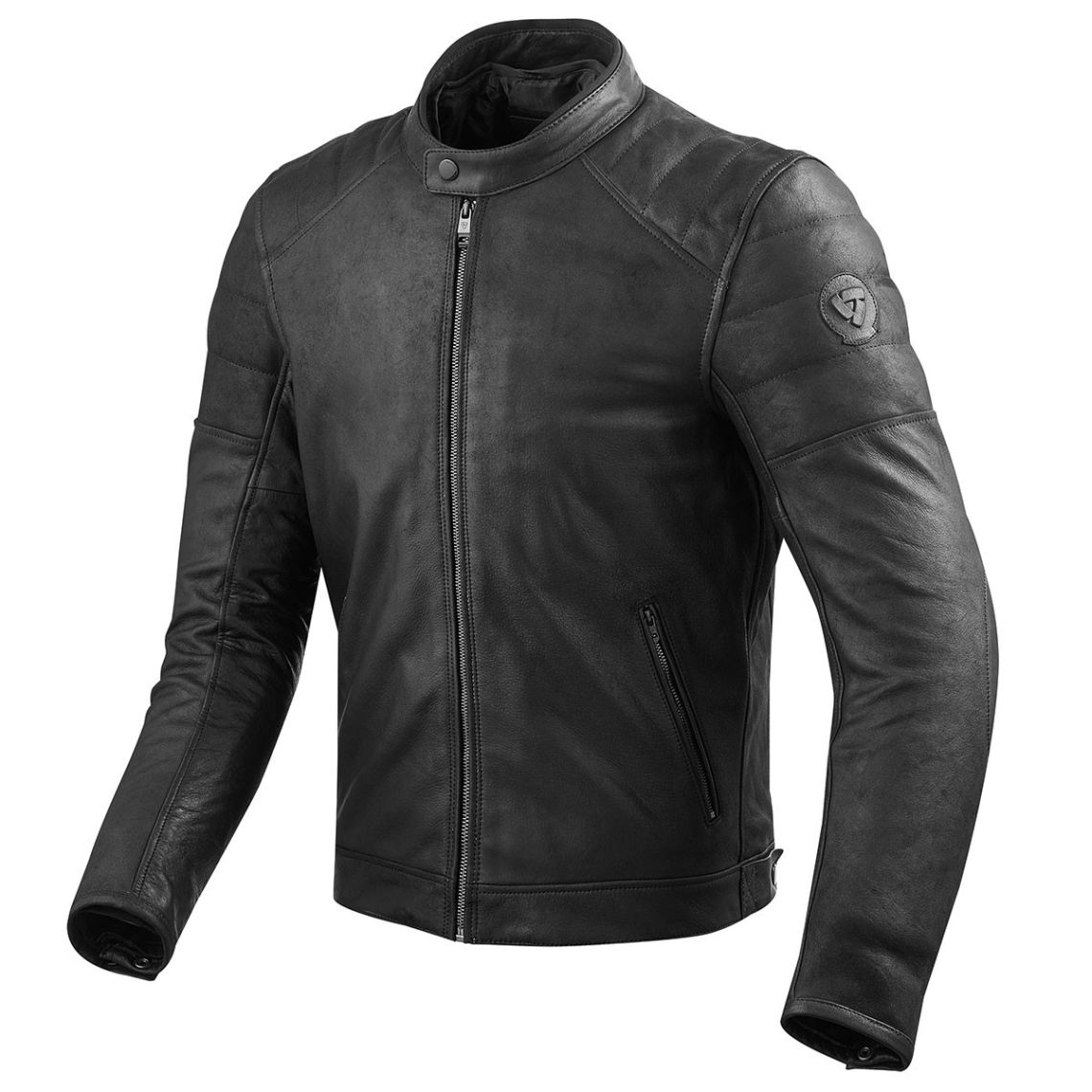 At £309.99, the Stewart is REV'IT!'s entry-level leather jacket, though it has a look, feel and fit that makes you think it's worth a lot more. At £309.99, it represents very good value for money, but I've seen it online for around £270 and at that price point, it's a steal. Made from durable, abrasion-resistant pull-up buff alo leather that ages beautifully the more you wear it, the Stewart offers a very simple, nofuss design that's one of the best-looking leather jackets in this test – I received more compliments while wearing this than any of the others.
The buffalo leather will protect you from abrasion, while the included CE-level 1 Seesmart armour on the shoulders and elbows will help to provide impact protection. They won't offer the amount of protection that CE-level 2 armour would, but the Seesmart armour is low profile and quite inconspicuous under the leather, giving the Stewart a casual look and fit. You can also zip the jacket into compatible trousers should you wish. Ventilation on the Stewart is non-existent, so the jacket will run warm when the temperature rises.
For when the temperature drops, the included thermal lining will provide an element of warmth, though on colder days you'll want something more substantial. The waist is adjustable via two press studs, while the cuff s and the collar don't have any form of adjustment. In-keeping with the jacket's simple looks and design, there's only two external pockets (zipped hand-warmers) and two internal pouches. In all, the REV'IT! Stewart jacket is a very good, casual leather riding jacket. It looks superb when worn and it'll be great on those weekend rides that end with a coffee and a cake in your local cafe.
IN A LINE: Simple yet aesthetic styling with excellent value for money.
ABR Rating 8/10
Icon Motorhead 2
£338 www.partseurope.eu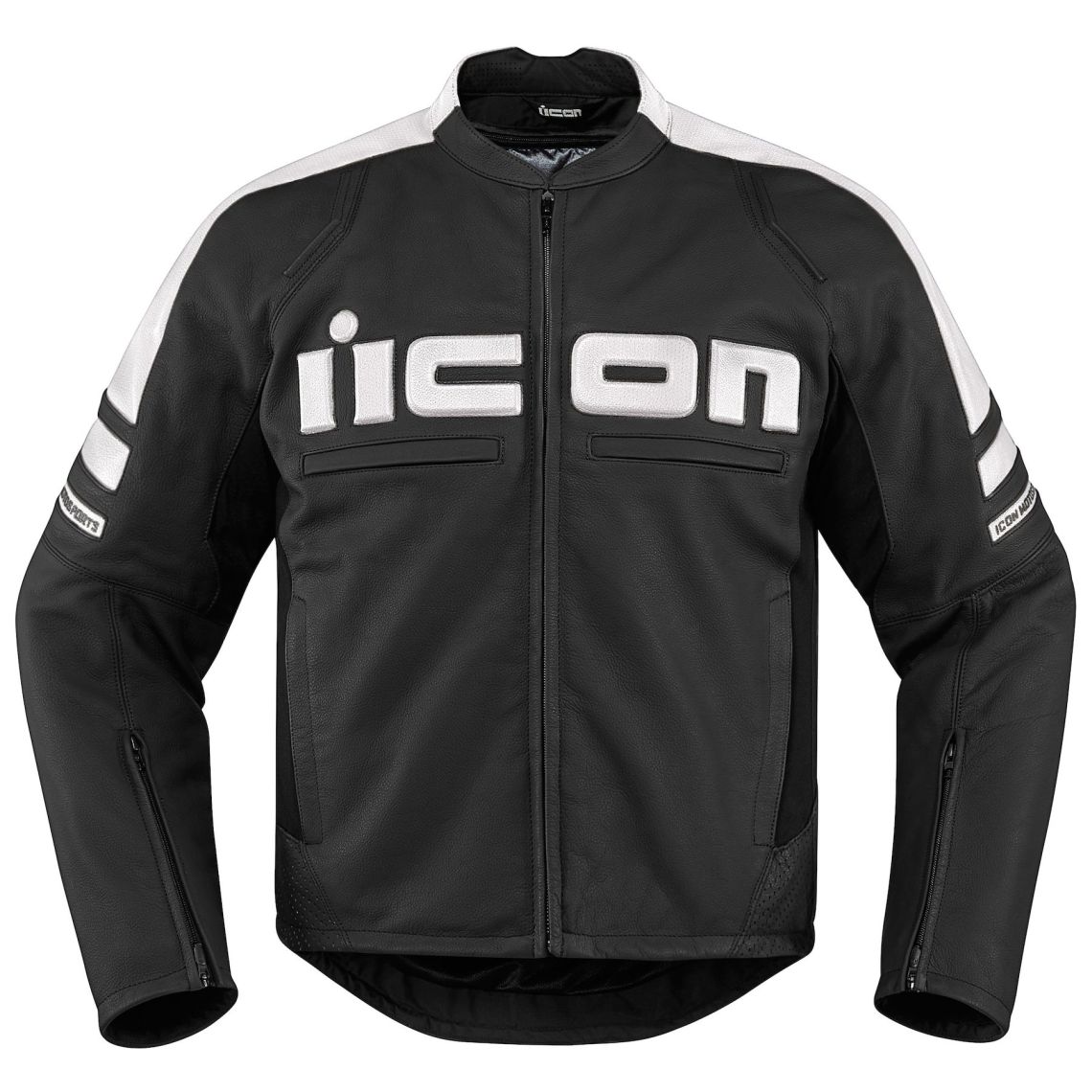 Oregon-based Icon is a motorcycle clothing brand that I'm seeing more and more of here in the UK. The company has a range of cool-looking kit that typically offers urban styling and well-thought-out and well-featured functionality. For this group test, we've been using the Motorhead 2, a leather jacket with a relaxed fit that's made using 1.2-1.4mmthick 'TrackSpec' leather. It's in the middle of the price range, but it has a quality and heavy-duty feel to it that's reassuring.
Protection comes from D30 CE level 1 armour on the shoulders, elbows and back. Icon is a brand whose products often feature bold, eye-catching designs, and in the black and white colourway that our jacket came in, you'll certainly stand out. Sporting white shoulder panels and a huge, in-your-face Icon logo across the chest, the style isn't going to be for everyone, so it's nice to note that the all-black version is more subtle. Considering the price of the Motorhead 2, it's exceptionally well-featured.
There are two well-placed chest vents on the front (which double up as pockets), the cuff s feature two-way zips that allow for more ventilation up the arms, and the shoulders and lower back are made from perforated leather to help get the air flowing, making the Motorhead 2 suitable for warmer weather. There are plenty of pockets, including two zipped hand-warmers, the two zipped chest pockets mentioned earlier, an internal chest pocket, and a couple of pouches on the warm thermal lining.
IN A LINE: The in-your-face logo will put some off, but it performs well.
ABR Rating 8/10
Halvarssons Eagle
£349 www.jofama.se
We're big fans of Halvarssons gear here in the ABR office. The Swedish brand consistently manufactures high-quality kit and I've been using its textiles since I got into riding. While the brand's leather range isn't quite as comprehensive, it's no less impressive, and for this group test we've been trying out the Eagle, a goatskin leather, retro-looking jacket. The first thing you'll notice about the Eagle is just how soft and supple the goatskin leather is. This is a big benefit of using goatskin, while it also offers great abrasion resistance, particularly as it's been reinforced by Hi-Art anti-abrasion linings in high-wear areas. I've had the pleasure of sliding down the road in Hi-Art and can attest to its abrasion-resistant properties!
Further protection is provided by CE level 2 armour in the elbows and shoulders, and there's a pocket for a back protector, though one doesn't come as standard. The seams are triple stitched in areas where they need to be, and you can zip the jacket into compatible trousers to prevent it from riding up. There's a nice amount of adjustment available at the cuff s from the Velcro closure, and the buckle adjusters on the waist allow you to fine-tune the fit around the gut.
There's no thermal lining included as standard, though the fixed polyester lining is comfortable against the skin. Ventilation is lacking throughout, though the chest pockets can be left open to help draw some air through. Speaking of pockets, the Eagle is well equipped, with two, nicely sized, zipped hand-warmer pockets, two zipped chest pockets, and three internal pockets, including a phone pouch (which was too small to take an iPhone X).
IN A LINE: Superb comfort and well-made throughout.
ABR Rating 9/10
Alpinestars Dyno V2
£379.99 www.alpinestars.com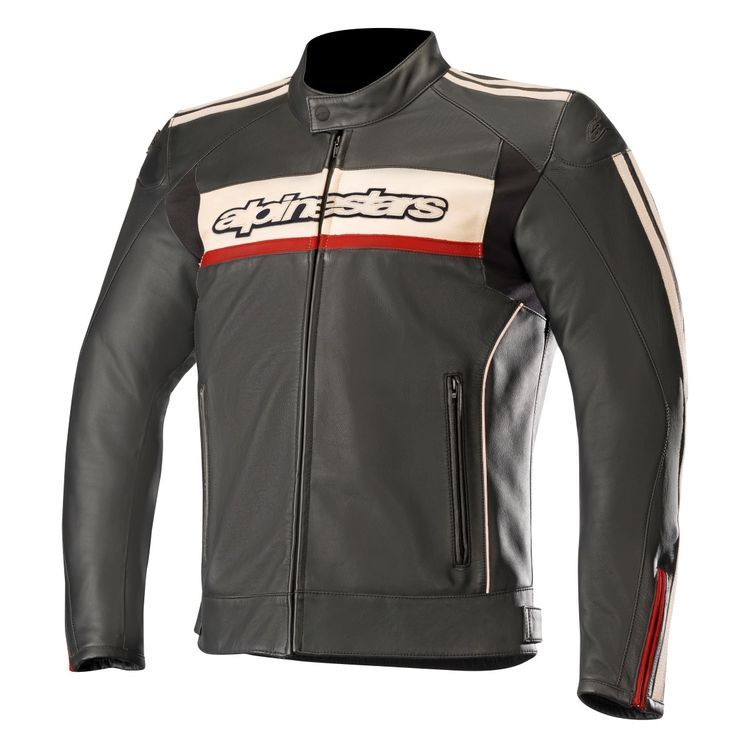 Italian company Alpinestars has a great reputation when it comes to producing leather motorcycle garments. The brand's entry into this review is the Dyno V2, a retro-styled leather jacket that's CE-approved and features CE level 1 'Bio-Armour' on the shoulders and elbows, while there's the provision to add a back protector if you desire, and you can zip it into compatible trousers. The jacket doesn't come with a thermal lining, but there is a fixed mesh lining in place that'll wick sweat away when the temperature rises.
As you might expect with Alpinestars' race heritage, the Dyno V2 couples its retro design with a sporty, aggressive cut which, while cosy, isn't restrictive and allows for a full range of movement. This is helped by the shaping of the arms and a couple of nicely-placed stretch panels on the shoulder blades and armpits. The Dyno V2 has an effective main zip baffle that helps prevent cold spots from forming down the front of the jacket, but there's a lack of ventilation options throughout.
Storage comes in the form of two nicely sized, zipped hand-warmer pockets, two large internal pouches, and an internal chest pocket that's waterproof and ideal for storing valuables in. There's little in the way of adjustment on the waist or the collar, though the cuff s have Velcro closures. The quality throughout the Dyno V2 is clear to see, and as soon as you pick it up it has a reassuring weight to it – though if you're going to buy this jacket, make sure you try it on first as, in true Alpinestars fashion, the fit comes up a bit small, so you may need to buy a size up.
IN A LINE: A quality made leather jacket with a sporty styling and fit.
ABR Rating 8/10
Ducati IOM C1
£419 www.ducatiuk.com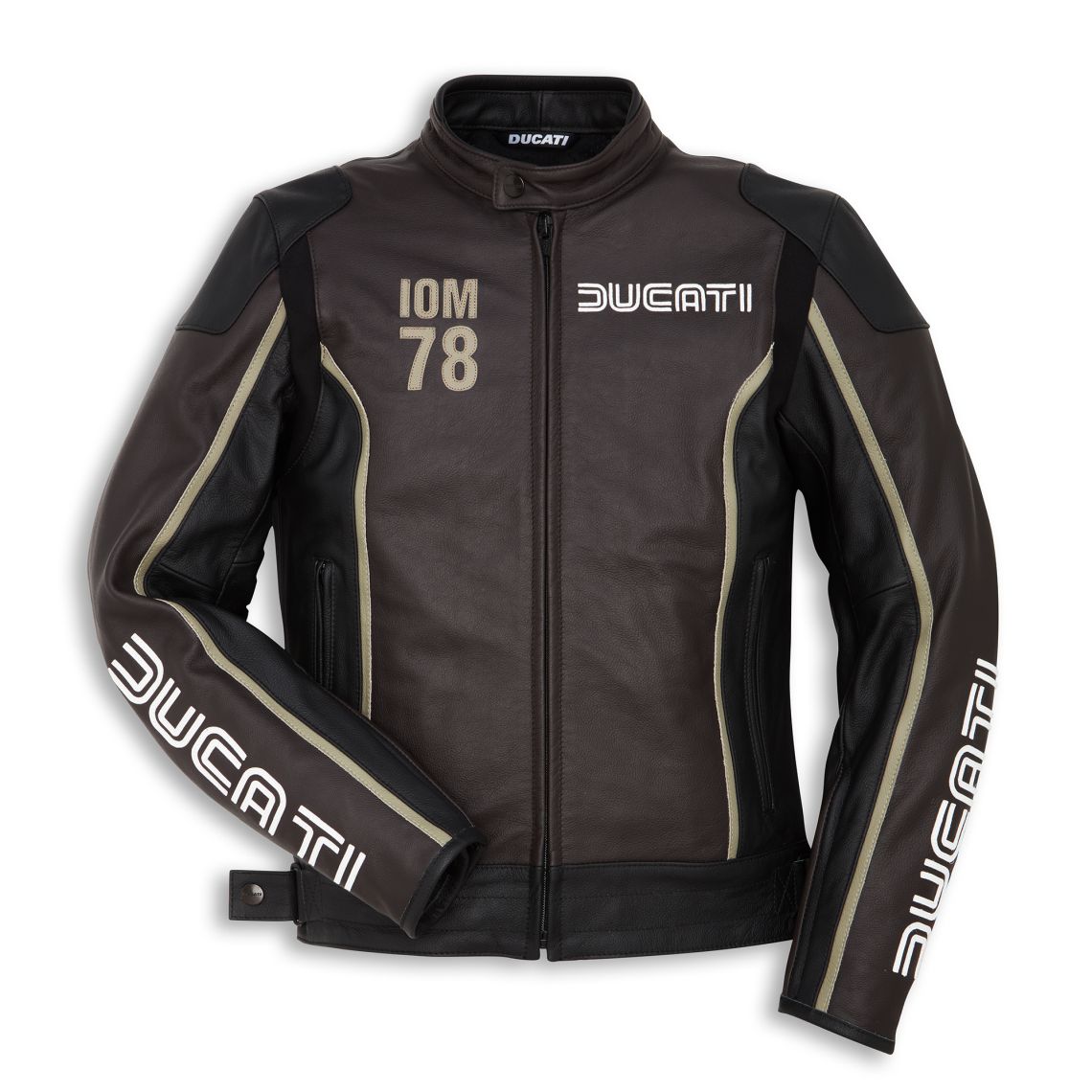 Made for Ducati by Dainese, the IOM C1 jacket was inspired by the Ducati 900 SuperSport, ridden by Mike Hailwood, that won the Isle of Man TT in 1978. With this in mind, it has a wonderful retro styling, and was designed by Drudi Performance (the company responsible for the designs of Valentino Rossi's helmets). Would you expect anything less from the Italian motorcycle manufacturer? While the Ducati branding on the IOM C1 is prominent, it's not overly in-your-face and actually looks classy and well-integrated.
That said, it's still not a jacket you're going to want to wear if you're riding anything other than a Ducati. So, if you do ride a Multistrada, is the IOM C1 worth your cash? In a word, yes. The IOM C1 isn't just a pretty face, and the jacket is CE-certified with CE level 1 armour at the shoulders and elbows, and has a pocket to add a back protector if you want to. The leather is a top-quality Dorset cowhide that's been barrel-dried and re-tanned for softness, and it has a delightful handle to it. The cut of the jacket is casual, and it sits nicely when you're in the saddle, not riding up when you reach for the handlebars.
Stretch material under the armpit helps to provide a less restrictive fit, and it's safe to say it does a good job, with the IOM C1 being a comfortable jacket to wear. This is also aided by the soft mesh lining that does a great job of wicking sweat away from the body when it's hot. The mesh is needed as well, as there are no vents to be found on the IOM C1. Storage options are lacking when compared to a lot of other leather jackets, with there being just three pockets (two hand-warmers and one internal chest pocket), though these are all zippable and generously sized.
IN A LINE: A wonderful Ducati jacket that's well made throughout.
ABR Rating 8/10
Spidi Garage Jacket
£419.99 www.spidiuk.com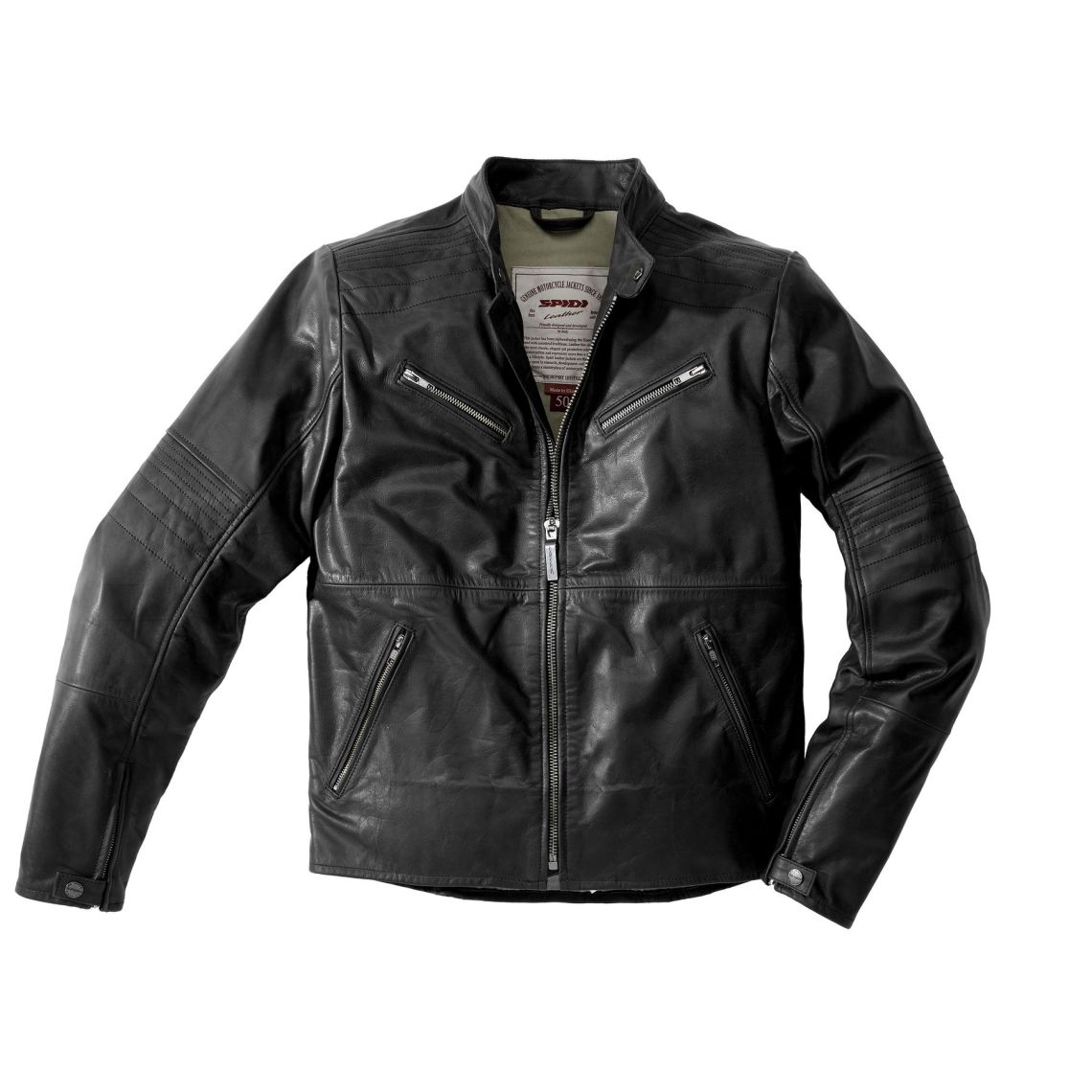 Coming in at £419.99, the Garage Jacket is a premium offering from Italian brand Spidi that makes use of a delightfully soft Italian cowhide and looks just as good off the bike as it does on it. You get CE level 1 shoulder and elbow armour as standard, while there's a pouch for inserting a back protector if you desire. Armour aside, in terms of protection, the Garage Jacket doesn't offer the levels of abrasion resistance that a thicker leather jacket would, with the Italian cowhide leather being only 1mm thick throughout.
This light and thin leather will, however, help reduce some of the warmth and bulk associated with leather jackets, while the chest pockets double up as vents to help bring cooling air in. They're on the small side, but they're better than nothing! The Garage doesn't come with a thermal lining, though there is a rather thick, fixed cotton and polyester lining that adds an element of comfort.
In terms of styling, the Spidi Garage Jacket has a slim fit with what can only be described as 'European flair'. As such, if you've got a bit of a belly (I'll hold my hands up here), it's not the most flattering motorcycle jacket to wear, though that's not the jacket's fault. With that in mind, you'll definitely want to try this one on before you buy it, especially as the sizing is typically Italian, with our XXL fitting more like an XL. In all, the Spidi Garage Jacket seems to take a style and rider comfort-first approach. The CE-armour adds an element of protection, but I wouldn't want to be sliding down the road in that 1mm thick leather.
IN A LINE: A very stylish jacket, but the leather is on the thin side.
ABR Rating 7/10
Triumph Raven GTX
£570 www.triumphmotorcycles.co.uk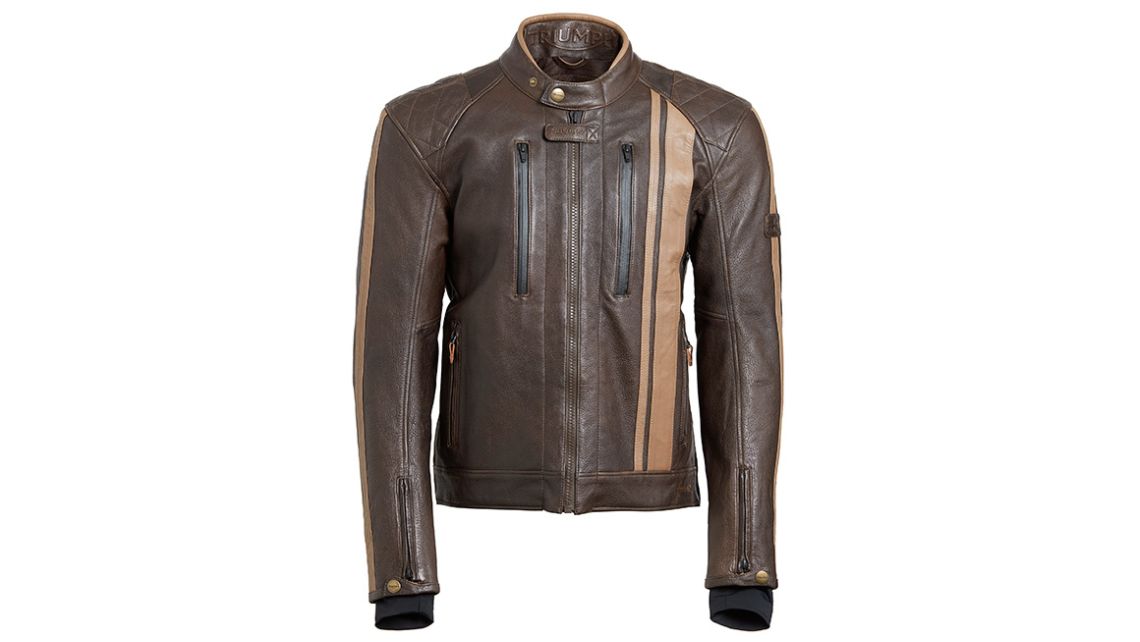 A few years ago, I had the pleasure of testing the Triumph Raven jacket, which was one of the nicest leather jackets I've had the pleasure of wearing. It mixed beautiful retro styling with quality performance, earning itself an 'Adventure Proof' badge in the last leather jacket group test we ran in Adventure Bike Rider (back in 2015). For 2019, we've been using the updated and considerably buffed-up Triumph Raven GTX leather jacket, and we were keen to see whether it built on the old model's success.
The Raven GTX comes with plenty of features to make it a great riding jacket, most notably a Gore-Tex lining to provide waterproofing, which is rather unheard of in a leather jacket. This adds to the versatility of the product, though it does make it run very warm. In an attempt to combat this, there are two large vents on the chest and a few holes under the armpits, though they're backed by the waterproof (and subsequently windproof) lining, which negates their effectiveness.
The inner mesh lining will wick sweat away nicely though, and it adds to the overall comfort of the jacket. The casual cut provides an exceptionally comfortable fit, and there's a great, unrestricted range of motion on offer. The jacket also sits nicely in the adventure bike stance, with there being no riding up of the torso. To provide protection, the jacket features D30 CE level 1 armour on the shoulders and elbows, while you also get an included level 1 back protector. You can also zip the jacket into trousers if you wish.
IN A LINE: A waterproof leather jacket that's great for colder and wetter rides.
ABR Rating 8/10
Belstaff Trailmaster Pro – Leather
£1,095 www.belstaff.com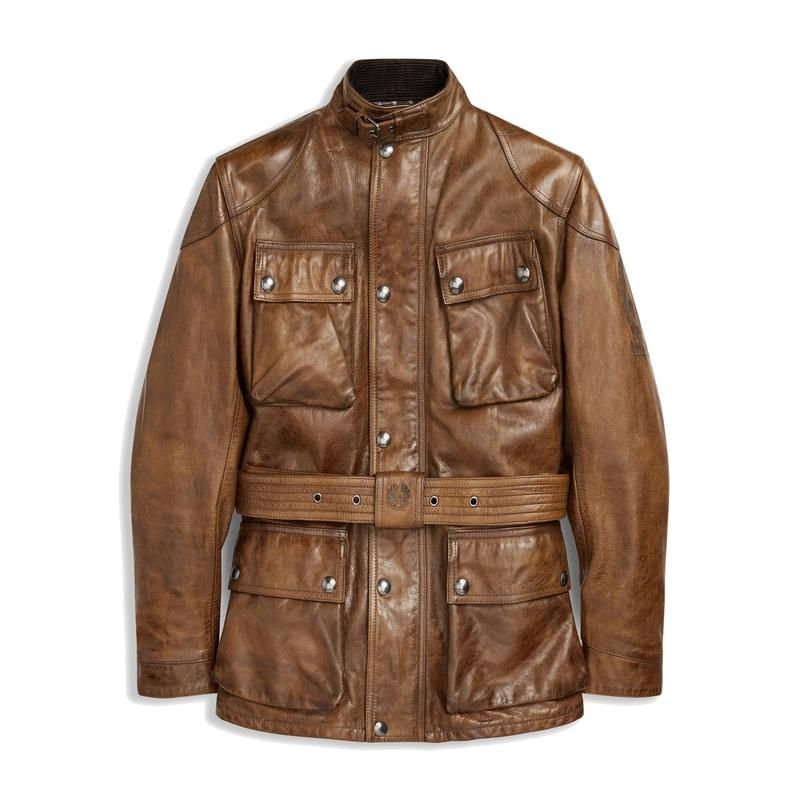 At £1,095, the Belstaff Trialmaster Pro – Leather jacket is the most expensive jacket in this group test by a considerable distance, costing almost twice as much as its closest rival. It's expected that you'd pay a premium for the brand, but at this price you'd almost hope the jacket comes complete with its very own butler service to launder it whenever you desire. Unfortunately, it doesn't, but it impresses in other areas.
The Trialmaster Pro – Leather jacket is based on the iconic Belstaff Trialmaster jacket, but it's been updated to include CE level 1 D30 armour at the shoulders and elbows, and the jacket has a pouch for a back protector. This armour is so subtly included into the jacket that it's hard to spot from the outside, helping give a classy, casual look that's going to get admiring glances both on and off the bike. On top of this, the whole garment is CE-certified to an A rating.
It's a shame that the jacket doesn't come with a back protector included (considering the cost), though there is a pocket to add your own. There's no thermal layer included, but the fixed tartan lining is exceptionally comfortable against the skin, and the included waist belt is a nice touch aswell. There are plenty of pockets, including four huge external ones, and a zipped internal chest pocket. If you're ready to shell out a grand for the Trialmaster Pro – Leather, you can rest easy knowing that you'll be investing in a jacket that has a look and a feel that matches its premium price tag. Compared to the other garments in this group test, the jacket stands out in a good way.
IN A LINE: Premium price but premium quality and styling.
ABR Rating 8/10
Waterproof your leather jacket
If there's one thing that textiles do better than leathers, it's weather protection, but that doesn't have to be the case…
Typically, leather jackets perform excellently from a road safety perspective, offering abrasion resistance over and above textile counterparts, but where they don't hold up so well is in their wet-weather performance. As such, if you're planning on touring in a leather jacket, you'll want to make sure you pack a waterproof overcoat to help keep the wet stuff out. There is an alternative, however. A few brands have started putting waterproof membranes into their leather jackets, and the results are pretty impressive.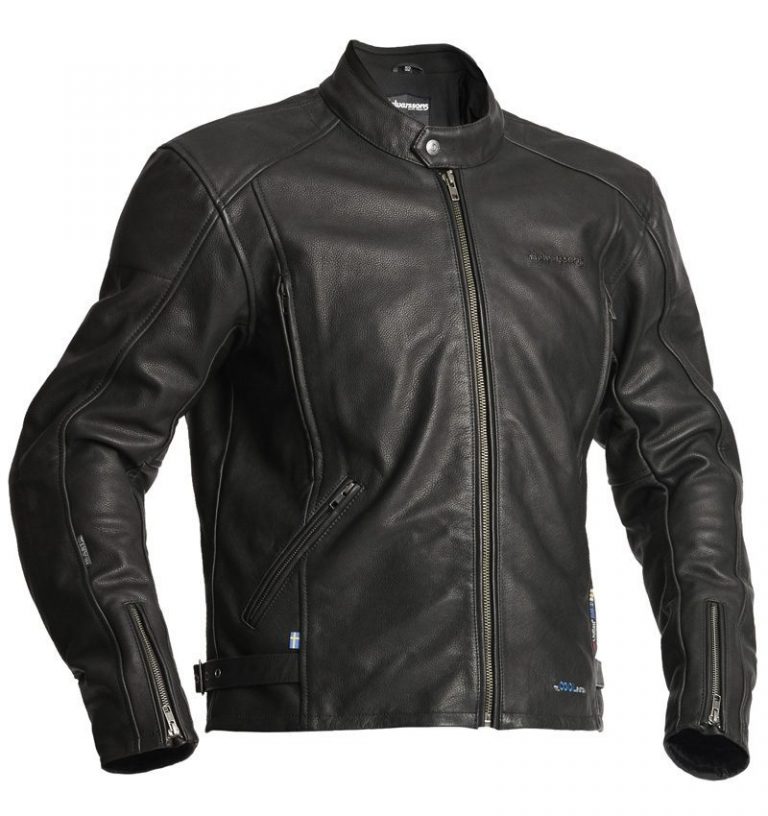 Halvarssons Celtic
There's the Triumph Raven GTX, which we reviewed in this issue's leather jacket group test, and there's also a fantastic offering from Halvarssons, the Celtic jacket. I've been wearing last year's model from Halvarssons, the Discovery, for a few months, and I've been impressed with its performance in a variety of situations. While my experience has been with the Discovery jacket (which had a retail price of £519), the Celtic is nearly identical, save for the upgraded CE level 2 armour on the elbows and shoulders, AAA CE-certification for the whole jacket and, amazingly, a lower price tag of £499. Leather jackets have a habit of running warm as it is, so, by whacking a waterproof membrane in, manufacturers run the risk of creating a garment that's only wearable in colder months.
To combat this, effective ventilation needs to be implemented, and on the Discovery and Celtic you'll find just that, with there being two chest vents, two arm vents, and then large exhaust vents to compliment them. This is one of the best venting systems I've come across on a leather jacket, even though the waterproof Dryway+ membrane sits behind the vents and blocks them to an extent. The Discovery and Celtic jackets also make use of TFL Cool Tec, which is a very smart technology that helps the leather reflect near-infrared radiation from the sun, meaning the jackets won't absorb as much heat in use.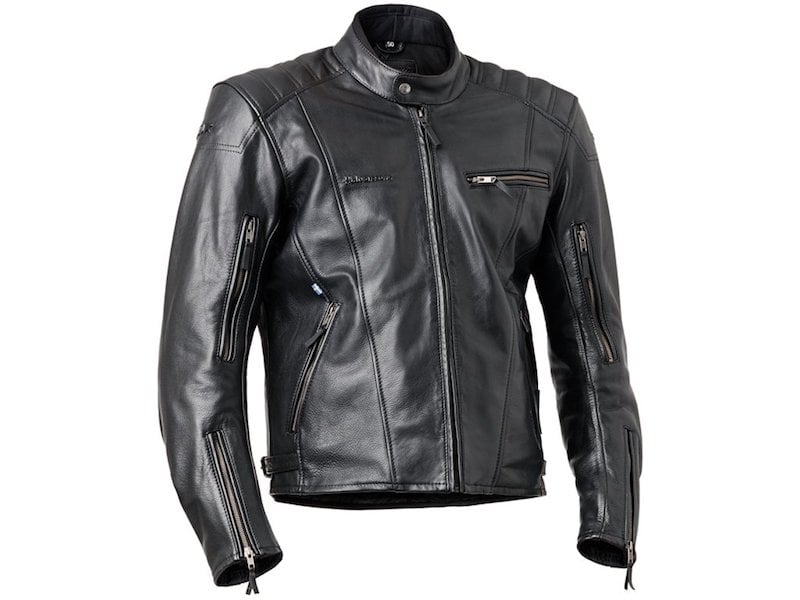 Halvarssons Discovery
To further prevent overheating, the inner lining of the jacket is made from Outlast, a temperature regulating material that was originally developed for NASA. It utilises phase change materials that absorb, store, and release heat, essentially meaning it will keep you cooler when it's hot outside, and warmer when the temperature drops. It sounds too good to be true, but I've worn Outlast in a multitude of conditions and am always impressed by its performance. Armour in the Discovery is provided by CE level 1 armour at the shoulders and elbows, and this has been improved in the Celtic by upgrading it to CE level 2 armour.
There is the provision to add a back protector if you wish, and the jacket also features a connecting zip so that you can attach it to compatible trousers. From a comfort perspective, the Discovery excels, with the overall cut of the jacket providing a casual fit that sits nicely when you're in the saddle, and the collar is comfortable next to skin. If you're after a leather jacket that'll offer the sort of weather protection that your textile will, then the Halvarssons Discovery and its updated version, the Celtic, are well worth checking out.
Find out more at www.jofama.se.