Craig Niven heads to Mid Wales for some off-road tuition with seven-time Paris-Dakar veteran Mick Extance
Back in March, Bridgestone became the new title sponsors of the Mick Extance Off-Road Experience Centre. To mark the occasion, we headed to Llangynog in Mid Wales for a day of mud plugging, with Dakar veteran Mick Extance as our instructor.
My bed for the night was to be at The New Inn, nestled in the centre of Llangynog and surrounded by mountains. This lovely little pub also serves as the meeting place for all Mick Extance days. The evening was fantastic and provided a great opportunity to meet the group that I would be riding with the following day.
The New Inn comes alive at night and it's like a central hub for the whole area, with Mick and the team being a huge part of it. The following morning I woke at 6 am as my growing anxiety had refused to let me lie in any longer. Looking out of my window at the mountain (which seemed to have grown overnight) did little to ease my nerves.
Come 8 am it was time to meet the group for breakfast. The sun was starting to pierce through the clouds and everyone was in good spirits and excited about the day's ride. Driving up the mountain to the venue is like the start of a roller-coaster.
It pins you to your seat while creeping upwards one click at a time towards the inevitable descent. My mind was racing and I began to question if I could even ride a bike, let alone ride one on this sort of terrain. I was telling myself, "don't worry Craig, Mick can teach total beginners so you'll be fine".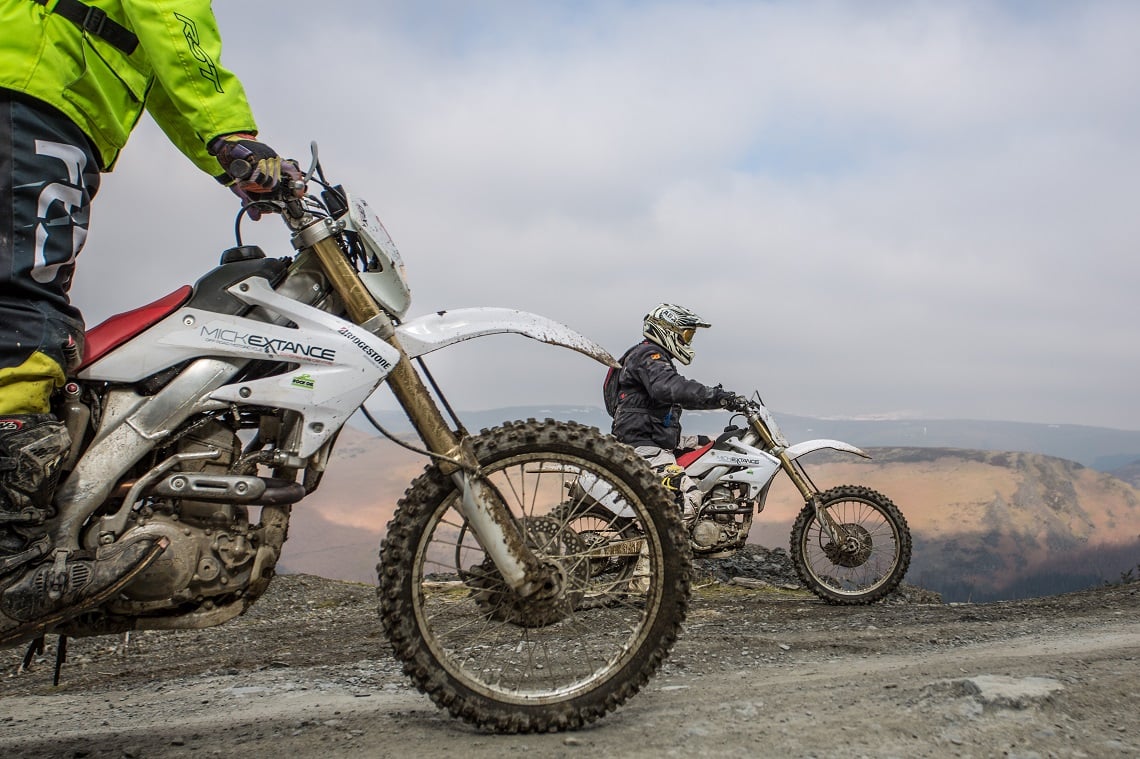 As we neared the complex it was obvious that the Bridgestone partnership had paid off. It looked far more like we were heading into a factory race team's paddock than an off-road experience day that caters for all levels of rider.
There were new Honda CRF250L enduro bikes everywhere, all clad in Bridgestone motocross tyres. The tyre selection is only achievable due to the nature of the venue. You can ride all 1,500 acres of Mick's land without touching a single public road, so there is no need to compromise off-road grip with road-legal tyres.
A nice touch I noticed immediately was that each bike had graphics to coincide with the type of tyre it had on. X20 soft terrain, X30 medium terrain, and X40 hard terrain. This makes it simple to pick the tyre compound you want for the day.
I opted for the X20 soft as I lack confidence on loose and boggy ground. Having kitted up and seen all the bikes, childlike excitement began to take over. In my head, I was jumping up and down with uncontrolled hysteria but I had to put on a calm, composed and professional exterior to disguise it.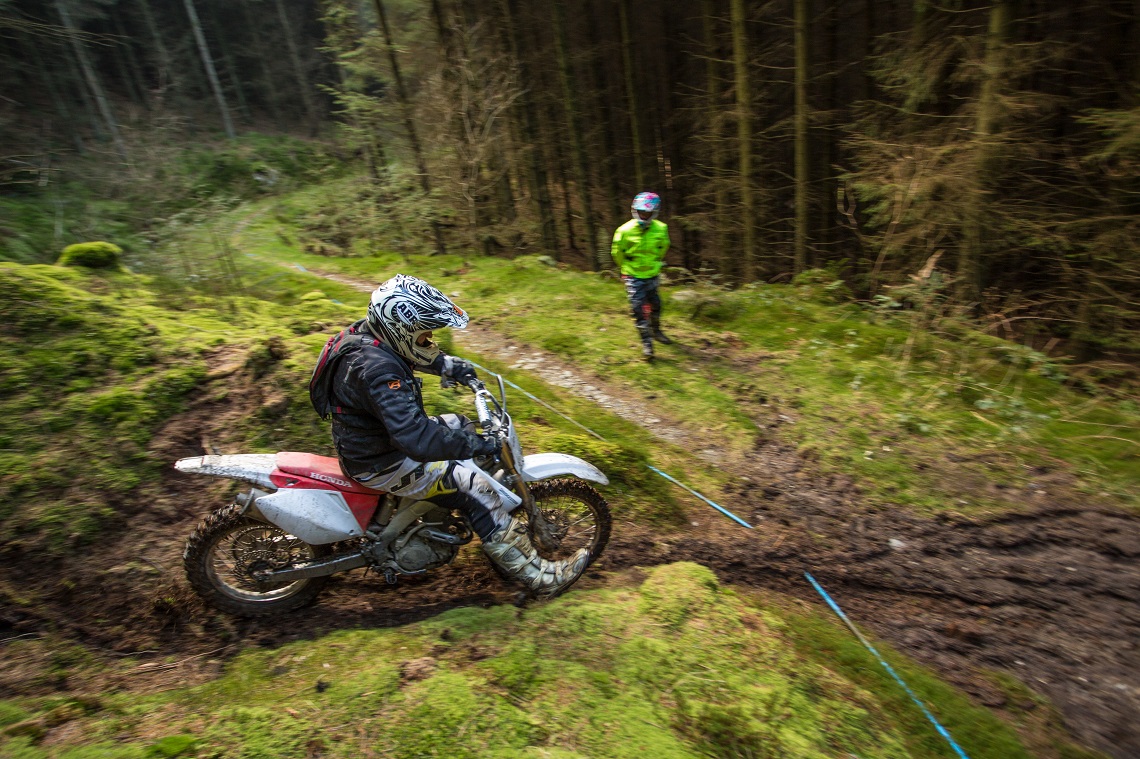 Yet, after reviewing the photos from the day it became clear that my calm, composed and professional exterior was more of a huge dopey grin. There are two seat heights to choose from with the Hondas, lowered and standard. I'm around 6ft tall and I could touch the floor with the standard seat height, but I went for the lowered seat anyway.
The ability to comfortably plant your feet in the ground can be a huge benefit off-road. After a short safety briefing and introduction, we set off for the morning ride at a steady pace. We followed Mick around the logging tracks with the occasional excursion through the marshy side trails to warm us up.
Our first stop was at a section known as 'The Dark Side'. Mick talked us through the best technique to tackle the heavily rutted descent into the woods. He explained to us that the trail at the foot of the hill was extremely boggy and rutted and we should "read the terrain" to pick the best line. I nodded like an all-knowing teenager and raced for the bottom of the hill.
It seemed that Mick had over-exaggerated and there was just a solitary rut with a nice, flat surface on the other side. With a blip of the throttle, I bounded over the rut and straight into a camouflaged quagmire that almost swallowed my bike whole.
I had to give loads of throttle to escape, and in doing so collected great dollops of the terrain to read later.
The next big challenge was a steep hill climb through a tight, wooded section. Mick explained that the best line to the top isn't always the well-worn path as this can offer little to no grip. We were to make our way to the top creating our own lines.
This section soon turned into what looked like a re-enactment of the Battle of Hamburger Hill. Bikes and riders were strewn everywhere with engines roaring and tyres spinning, trying to find that elusive grip. Having ignored Mick's previous instruction, this time I concentrated on every word he said.
The ones that struck me as important were, "You don't need to rev it here to find the grip, these bikes will pull you up on tick over." So I chugged up the hill with the occasional loss of grip on protruding tree roots. At the top, I was able to witness the insane amount of physical effort that Mick and the team put in to get everyone to the end of a section.
Each rider reached the top with a huge sigh of relief and a massive sense of achievement. After such a physical push the next part of the morning was a welcome break. We took a steady ride across the top of the mountain, around a purpose-built track with jumps and banked corners.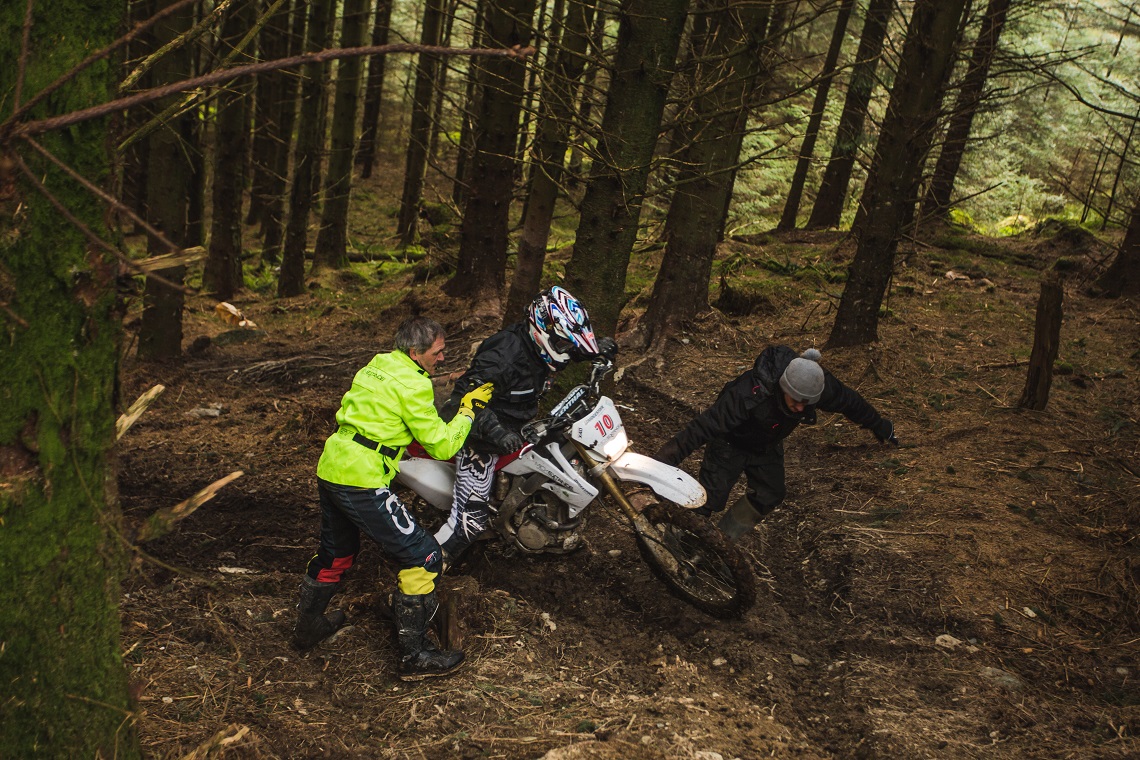 This led us to an area dubbed 'The Viewpoint', where you can see for miles to the distant mountains. This would have been the perfect opportunity for a few photos, and as I pulled out my phone a satellite must have aligned with Wales for the first time since the invention of mobile technology. I received tons of push notifications, so I opted to update my status rather than take a selfie.
Now that's what you call First World decision making at its finest (in hindsight I should have updated my status with a selfie. Doh!). We tackled another extreme hill climb just before lunch, but this time it was a rough, rocky surface.
Mick explained that momentum and line choice were key here. On the approach, there was a hairpin turn where I lost all my momentum and ended up relying on the grip of the Bridgestone tyres to keep me moving.
That, combined with my gangly legs flailing around in an attempt to remain upright, got me to the top of the hill.
I let out an uncharacteristic American style celebration, whooping and hollering with excitement.
The afternoon's ride was fantastic, everyone was flowing by this point, the morning tips were paying off and the pace was perfect. The sun was out and beating down on our shoulders. It was one of those rides where everything falls into place; life doesn't get much better than this.
As we stopped to regroup the overwhelming expression was WOW! Then, in a flash, Mick turned my euphoria into cold, hard fear with a huge downhill section. I was frantically looking for an escape route as my heart pounded as if trying to escape my chest.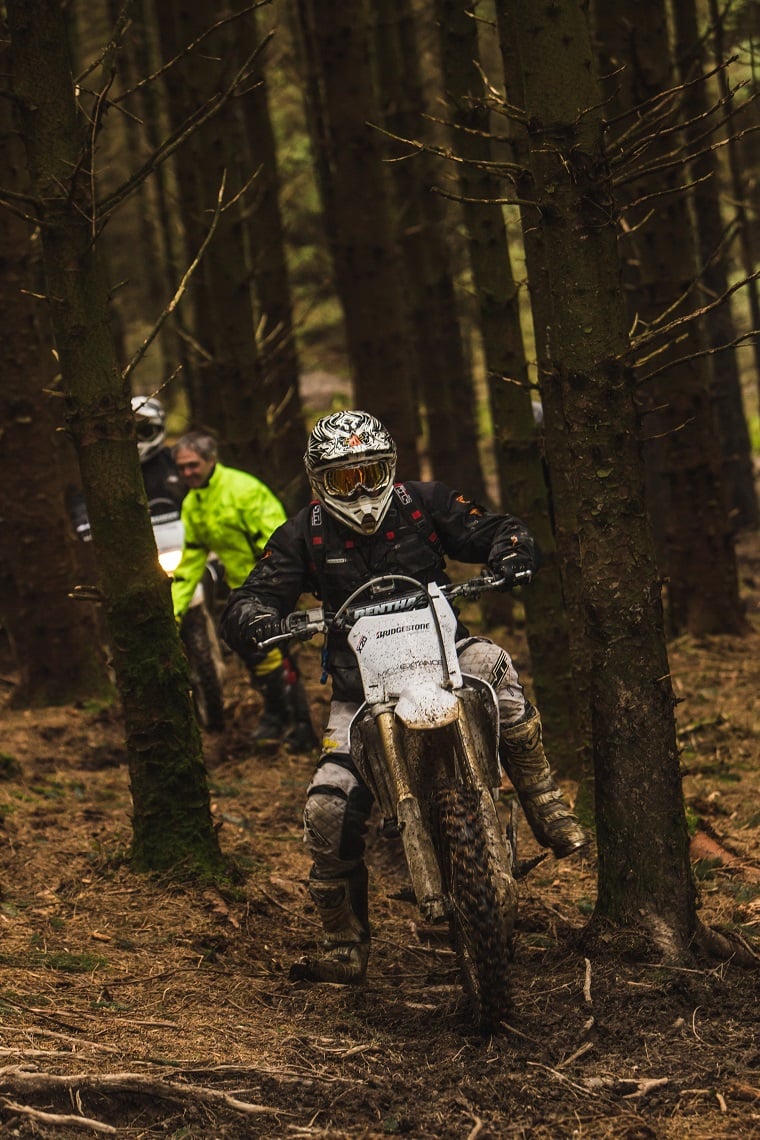 I had to steady myself to listen to Mick as he calmly explained how we should tackle the descent. Feet down and lean into the hill in a slalom motion was the advice. Setting off I found myself jabbing at the front brake and upsetting the bike. Rich (Mick's right-hand man) came and explained that if I released the front brake to the point where I began rolling, I would be able to hold it easier.
Needless to say, I made much better progress. This was a revelation and I was eager to get up on the pegs in a far more confident stance. I actually started to enjoy the descent. Reaching the bottom of the hill was like a milestone.
I would never have attempted it before, but with the guidance of Mick and his team, I will never shy away from a descent like that again. Looking back up the hill I couldn't believe that we had all just rode down it.
I was on a massive high at this point and riding with huge a smile on my face. Then I rounded a corner to see the jet wash area marking the end of the day, and there was a confusing and conflicting sense of emotion.
On one hand, I was on top of the world. I had just experienced one of the best days riding I've ever had and conquered one of my biggest fears off-road. But there was also a massive sense of deflation at the thought of the day being over. I would recommend a day at the Mick Extance Experience to anyone without hesitation, and I will definitely be going back myself.
---
Who is Mick Extance?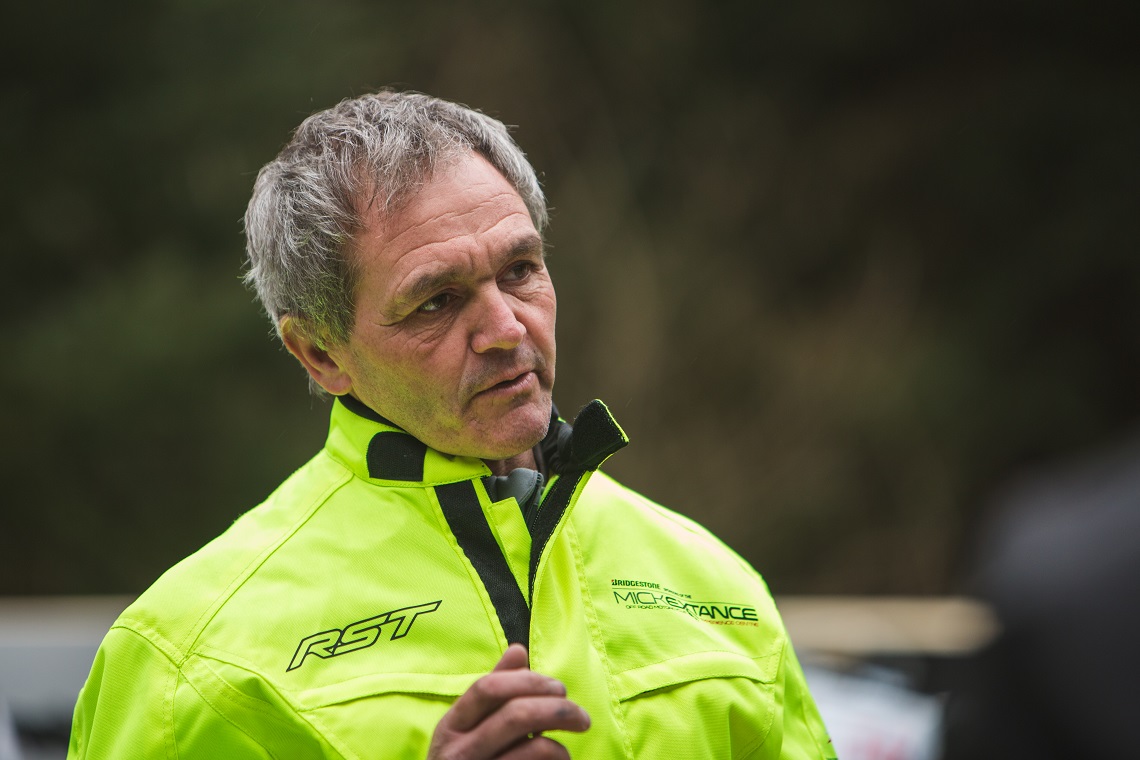 We followed Mick around the logging tracks with the WHO is Mick Extance? Having competed in the Paris-Dakar Rally seven times, finishing on five occasions, Mick Extance is the most successful Dakar rider from the UK. He has been around bikes his entire life and has represented Britain at the enduro world championships, where he won gold.
The Mick Extance Off-Road Experience Day gives riders the chance to learn from one of the UK's most experienced off-road motorcyclists while riding in 1,500 acres of private trails in the stunning beauty of Mid Wales. All skill levels are catered for and there are multiple capacity bike to suit each rider.
With Bridgestone's new sponsorship, all bikes come fitted with top-of-the-range rubber and you have the chance to try various hardnesses to see which suits your riding style best.
Prices start at a very reasonable £235 for the day (including bike and kit hire).
Visit www.mickextanceexperience.com for more information.