Should you visit an off-road training centre to improve your trail-riding skills? ABR editor James Oxley travels to the Honda Adventure Centre in Exmoor to find out for himself
I have a confession to make. Despite being editor of this great magazine, I've never been taught to ride a motorbike off-road. Sure, I've picked up hints and tip from fellow riders, and I've been given a few pointers here and there. But in the main, I've simply made things up as I've gone along. The trial and error school of off-road riding, if you like.
So, when the opportunity arose to visit the Honda Adventure Centre and take part in the school's two-day Exmoor Adventure, I jumped at the chance to finally discover the benefits of visiting an off-road skills school for myself. And more importantly, help you decide if it's something you'd like to do too.
With ABR staff writer Ollie on photography duties, we slung our kit bags into the back of his van one Wednesday evening and motored southwards along the M5 motorway, from our base in the Midlands towards the Honda Adventure Centre in Exmoor National Park.
This picturesque area of the England spans 268 square miles across the north coasts of Devon and Somerset. It's a landscape of expansive moorland, dense woodlands, steep valleys, and spectacular coastline. As a playground for adventure bikers, it doesn't get much better.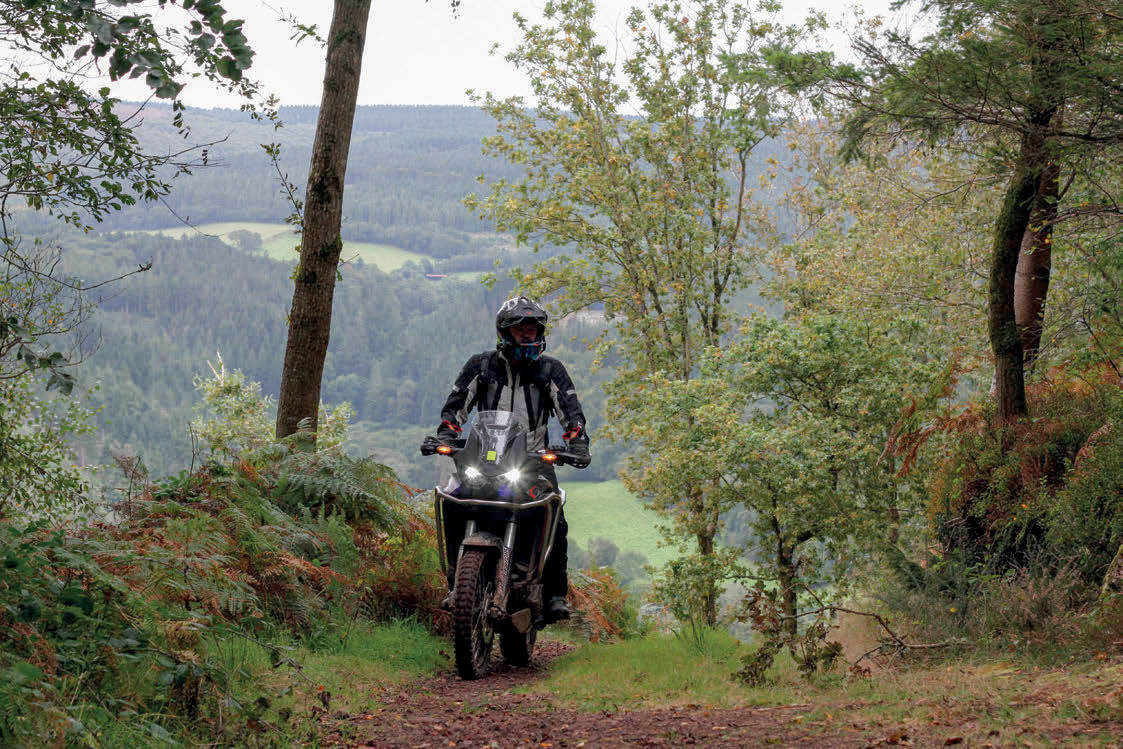 The school doesn't provide accommodation but it did give us a list of trusted local hotels and B&Bs to choose from. Once we'd arrived, we dug out a bottle whisky from my kit bag and enjoyed a dram or two of single malt before turning in for the night.
Thankfully neither of us suffered a sore head the next morning and we arrived at the adventure centre's 15th-century manor house headquarters at Combe Sydenham, a delightfully historic building nestled in a lush valley on the edges of the national park.
We received a cheery welcome from riding instructor John as we pulled into the car park and made our way to a meeting room which doubled as the changing facilities. "Hello everyone and welcome. I'm Flash, well at least that's my village idiot name."
Laughter erupted as the good-natured introduction from another of the instructors broke the ice. Flash was sat on a static Africa Twin and took the group through the fundamentals of riding off-road. This included how to position your feet and body, and the optimum settings on the Africa Twin, which were already dialled into our bikes.
There were about 15 of us, some of whom had ridden off-road before and others who had never left the blacktop. Following the briefing, we mounted the gleaming row of 2021 Africa Twins and set off. Rather than focusing the course in one specific area, the Honda Adventure Centre has negotiated access to vast swathes of Exmoor, allowing us to ride in places that wouldn't be legal if you visited independently.
Baby steps
A brief road ride through winding country lanes acted as loosener and gave us the chance to get a feel for the bikes before we stopped at the first off-road area of the day. Joining John and Flash on instructor duties was head coach Pat.
Between the three of them, they possess a vast amount of knowledge and experience that they'd be sharing with us over the next couple of days. I was also impressed with the five-to-one pupil to instructor ratio which ensured we got plenty of one-to-one time as the course progressed.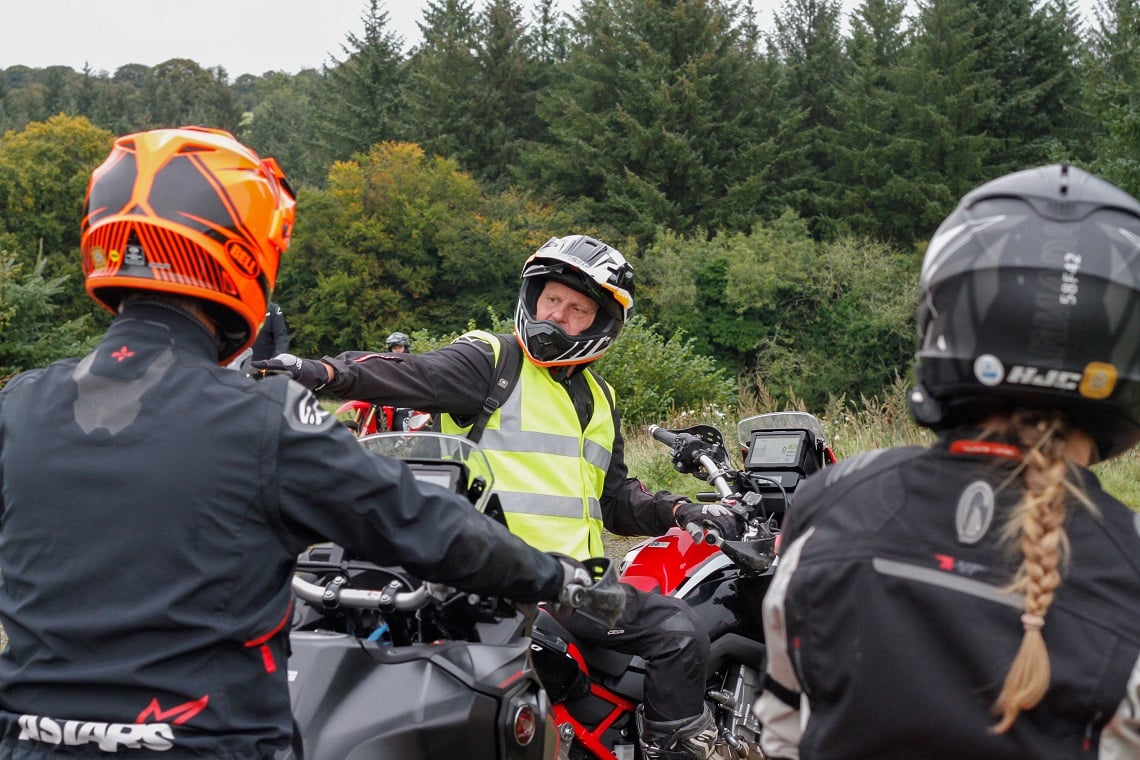 The first session started with a brief exercise involving walking alongside the big bikes as we turned and moved them around. Leaning the Africa Twin into my body as instructed and guiding it while the throttle did the work, provided stability and saved me the energy of pushing it around. However, I managed to make hard work of this exercise as I grappled with the sensitivities and lack of clutch lever on the automatic DCT bike I'd chosen to ride.
A long slalom of cones was then laid out and we were shown the correct technique to use to stand on the pegs and ride around them. It was the perfect first exercise and, in what seemed like no-time, the complete beginners in the group were stood on the pegs and experiencing the thrill of riding a big adventure bike on a trail.
For the likes of Ollie and I, it was a chance to hone our slow-speed technique under the guidance of Pat and his team. There were no egos, no competitiveness and the instructors were calm, friendly, and clear with their advice. Even at this early stage, it was clear we'd be having plenty of fun with a great bunch people over the next two days.
Divide and conquer
Pat and his team had been assessing our riding ability during the first exercise so they could split us into groups for the next sessions. Level one riders (those who hadn't ridden off road before) got more time to practice the basic skills, while the more experienced level two riders were taken on more challenging terrain. I wanted to see how quickly a novice trail rider could progress, so I asked that Ollie and I be part of the level one group.
Well, that progress was pretty incredible. Everyone was up on the pegs, riding up and down hills, turning around on slopes, and making slow speed manoeuvres over tricky terrain in no time. This was testament to the quality of instruction and the stability and balance of the Africa Twin.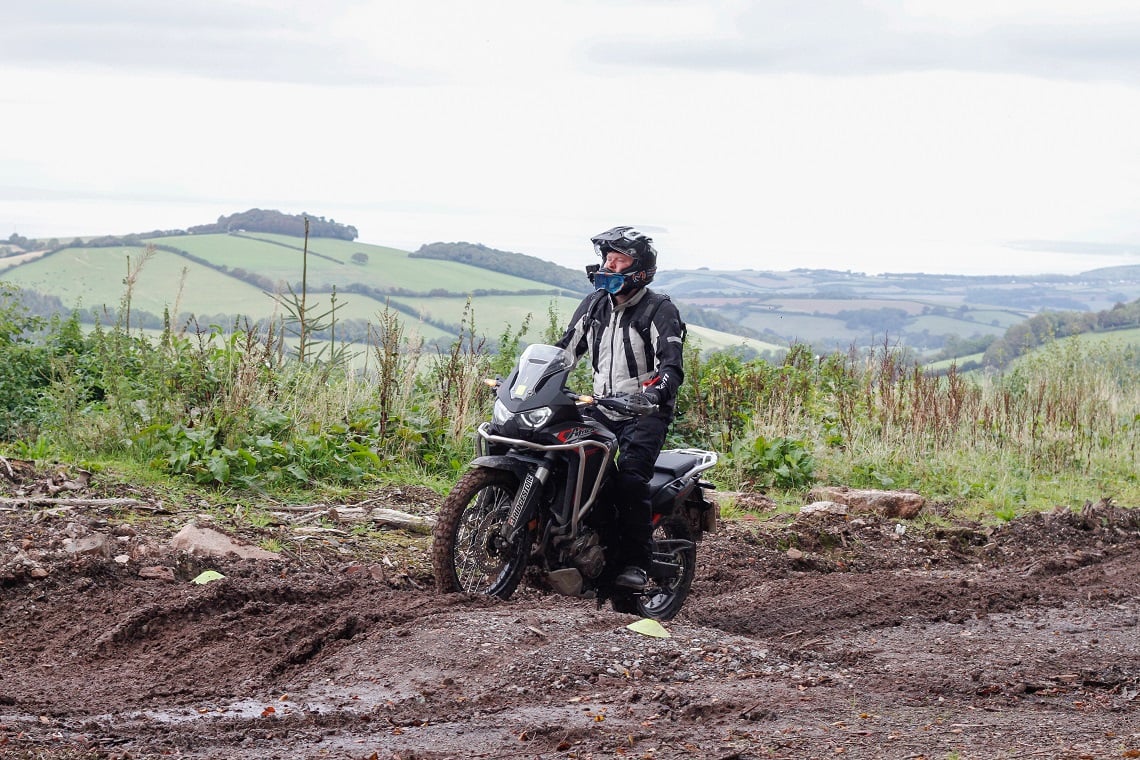 The morning flashed by, and following a buffet pub lunch of sandwiches and chips (included in the price of the course), we set off once again to put what we'd learned that morning to the test. This involved riding one particular long hill where we were shown how to identify the best line (or the 'least crap one' according to Flash), select the correct gear, and control the bike up the steep slope.
My instinct was to give it plenty of power and hurtle up the slope in true Jeremy Clarkson style. However, after a spirited but less than controlled run, Pat slowed me down and taught me to be steady and more controlled with the throttle, letting the torquey Africa Twin engine motor me up the hill. He was of course, right.
The next exercise proved something of a revelation for me. You see, I've never been a fan of boggy, muddy, slippery trails where if I fall off it takes me a week to get my kit clean and dry. Well, this was all about to change as we lined up in front of a stretch of thick, undulating, sticky, sludge that stretched for about 50m. Our task was to cross it.
There were plenty of smiles and laughter as bikes were dropped, textiles were dirtied, and rear wheels spun out. I stayed upright on my first run but my boots were squelching as I used my legs to do so, while instructor John calmy reminded me to keep my head up.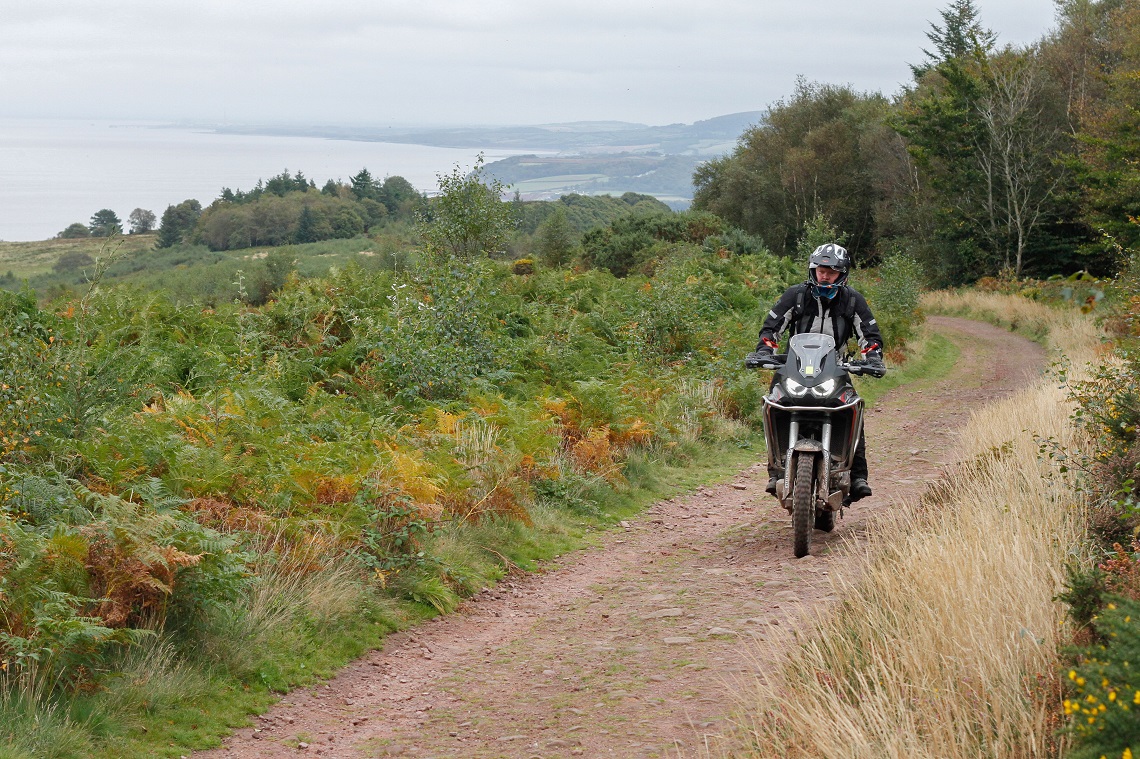 And then, on my second attempt, the correct techniques I'd learned that day clicked with the skills I'd taught myself over the years, and I found myself stood up on the pegs, whizzing across the mud bath, laughing into my helmet.
The big bike was slithering around beneath me, but with my head up, my hands relaxed, and my body compensating for the movement, I was loving every second. The following runs were just as satisfying and there was a fantastic sense of camaraderie as we all watched each other improve with each attempt.
Dinner time
After a great day of riding, we all headed to a local pub where we were joined by Pat, Flash, and John for drinks and a delicious dinner, along with plenty of bike talk. Aware that we had a busy day to follow, Ollie and I said our goodbyes at a fairly reasonable hour and headed back to our caravan with just one single malt for a nightcap.
Day two began with a fun ride along yet more twisting country roads before we turned down a narrow track and reached a clearing at the bottom of a huge forested hill. It was clear the terrain would be more challenging as we built on the skills and techniques we'd already learned.
After practising some slow-speed manoeuvres, we were again split into groups according to ability and ventured deep into the forest.
Ollie and I joined the more advanced group and we were soon following Flash up and down the twisting hillside, negotiating tight turns on steep slopes, and locking the back wheel to help control our descents.
I was riding with more confidence than ever as I cruised up a narrow trail, enjoying the feeling of the bike moving around beneath me on the uneven surface, and undeterred by the steep drop to me left. Well, they say pride comes before a fall.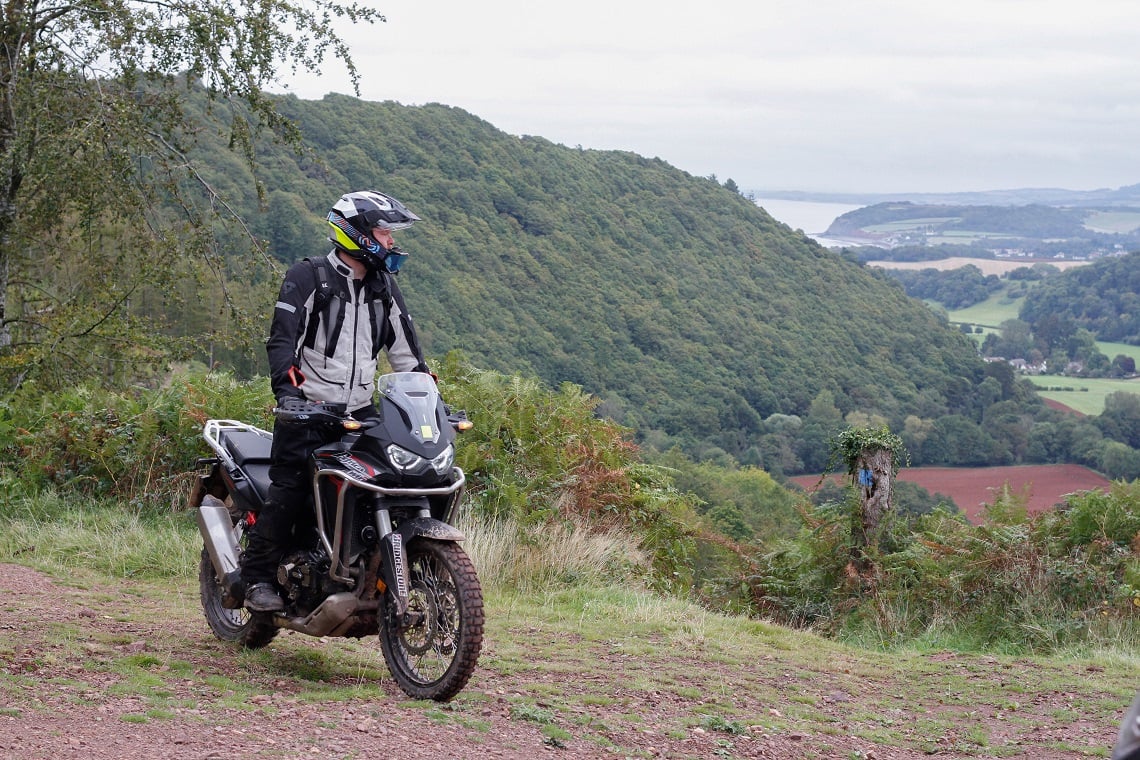 As I crested the hill, I rode towards a group of fellow riders who were waiting for us all to gather the top. The problem was, I couldn't stop my Africa Twin. No matter how hard I worked both brakes, the engine kept on propelling me forward and I collided straight into the side of a poor guy's motorcycle as he was sat on it, knocking him and me flying.
I couldn't believe what had happened, and after checking that the rider I'd knock over was OK, I tried to figure it out. I remember rolling off the throttle, but without knowing I must have kept some of it open as I braked. Perhaps my gloves stuck? I don't know. And, as been as this was an automatic bike, there was no clutch lever to disengage the engine. I felt like a complete idiot but very soon, concern from my fellow riders turned to light-hearted ribbing at my expense, and we continued climbing further up the steep, twisting hill.
We all gathered at a final climb, the steepest of the day, and watched Flash take the 'least crap' line over the rugged terrain. Most of us made it up with ease thanks to the skills we'd learned and the sheer tractable nature of the Africa Twin. It really is a marvel how the big bike simply motored up any incline without breaking a sweat.
Once we'd all made it to the top, we enjoyed looping around the fastest and flattest trail of the day which opened up to provide magnificent views of the Bristol Channel. After descending the hill for another buffet pub lunch, we returned to the area and spent the rest of the day riding superb trails through Exmoor before heading back to base and the end of the course.
A better rider
So, after two days of fantastic riding, expert tuition, and great company, would I recommend you book your own Exmoor Adventure? Perhaps, unsurprisingly, the answer is a resounding yes. At £499, it's not a small chunk of change (the one-day course is £299) but when you break it down, you get a lot for your money. This includes two days of bike rental, two days of tuition, and access to miles of trails on private land with your own tour guides to lead the way. You also get two lunches and a dinner included in the price.
But more importantly for me, I left the Honda Adventure Centre a better, more confident rider. As someone who has ridden off-road a fair bit before, I treated it as an opportunity to go back to basics, rectify some bad habits, and learn new skills and techniques.
But most impressive was the progress made by those on the course who had never ridden off-road before. Within the first hour, they were stood up on the pegs controlling the bike on rough trails, and by the end, they were whizzing up and down hillsides getting stuck into technical terrain with confidence and huge smiles on their faces.
Key to that success was the tuition provided by Pat, Flash, and John. As instructors, they set the tone for the whole experience and they did it superbly by helping those of us taking part progress our riding quickly, no matter what level we started from. And, most importantly, we all had a hell of a lot of fun in the process.
Thanks chaps, I'll be back again soon.