Touring just got a whole lot more exciting. Alun Davies checks out the ultimate hooligan machine that's been tagged with panniers.
When it was first rumoured that KTM were planning a GT model of the Super Duke it also occurred to me that Honda would announce a fully dressed Goldwing as their works bike in the Dakar. GT, in case you didn't know, is the abbreviation for Grand Tourismo, a term more associated with long-distance continental comfort where overnight stops are spent quaffing fine wines whilst politely attempting to educate and civilise the natives.
Super Duke, on the other hand, conjures up a world of rip-roaring naked burnouts, stoppies and wheelies where après ride relaxation involves mainlining Red Bull followed by a base jump off the building most likely to annoy the locals. So, there we have it, combining the name 'Super Duke' with the initials 'GT' appears to follow the same logic as implementing air hostess services on RAF Typhoon attack missions.
It's fair to say I was having difficulty visualising the outcome but relishing the thought of trying it out. From the moment I picked up the KTM one feature was undoubted, the GT possesses a look that turns heads and starts conversations. Of all the bikes we've had on test over the past six years at ABR I can categorically say that this touring version of the Super Duke has attracted more positive comments from bikers and non-bikers alike.
The sharp and aggressive angular design is more of a Judge Dredd prop than a Long Way Round lookalike and, as much as I'm not a fan of bright orange on anything other than a dirt bike, I can think of no other colour that would better suit the GT. It is an aggressive-looking stunner.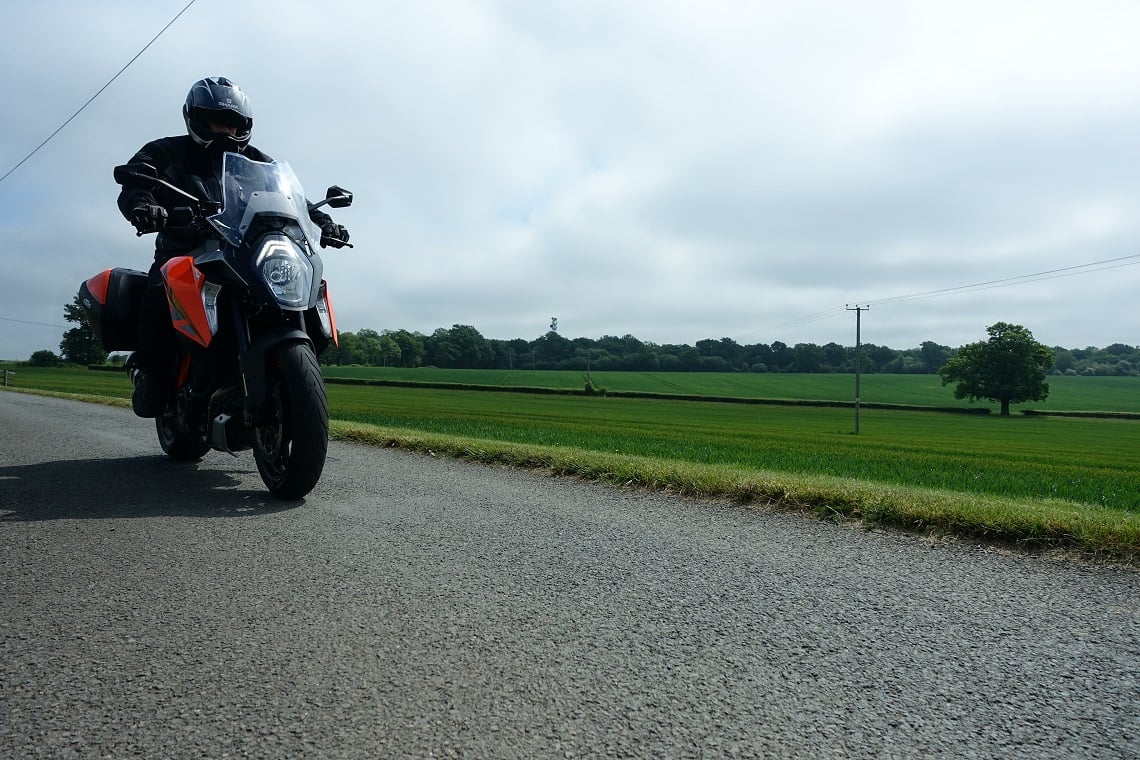 Throwing a leg over the 1290, the stance complements the looks. This is no upright adventure sports bike like say the Multistrada or BMW S1000XR let alone a comfy laid back GT tourer but a machine firmly in the sports touring mould. The foot, seat and bars geometry pitches the rider forward with weight focused on the wrists and forearms. Taller riders who've long ago thrown in the towel with contorting onto a sports bike will, following a nostalgic photograph,  probably want to get straight back off and lie down for a while.
Conversely, a shorter rider or one tentatively moving from sports into touring will no doubt appreciate the GT inspired stance. Being 6ft 2in tall and having spent most of the past ten years on comfortable, upright adventure styled bikes my first thoughts did not include a burning desire to travel long distances on the 1290. I found the knee bend angle a little too tight and despite the upright, wide bars I was still leaning too far down and forward for my liking. There is adjustment built into the bars but not enough to make a significant difference.
On the other hand, I found the seat firm (which I like), roomy and comfy over long and short distances and with an 835mm seat height there's solace to be gained and car park stability to be had in being able to plant two feet, from heel to toe, firmly on the ground. There's a school of thought that reckons you'll know in the first three minutes or miles of a test ride if a bike's the one for you. And if I were to judge the Duke on that basis alone then I'd have been back at the dealers in short shrift.
It was all a little cramped, excitable and the GT tended to thud over potholes far more than what I'm accustomed to. In short, it was difficult to envisage being comfortable on a Grand Tour of Warwickshire let alone a long-distance European trip. However, I've made far too many early calls on bikes that I'd only come to fully appreciate with extended time in the saddle and what does not suit me may well be perfect for you.
I recall my first, brief ride on an air-cooled BMW 1200 GSA which initially I considered to be an overweight and slow clunking tractor rather than the ultra-comfortable and formidable long-distance adventure tourer that it is. And so it was with the GT, where every mile and ride out proved more pleasurable than the last.
Indeed, my appreciation of the Super Duke grew over time to the point where I was on the verge of lighting a memorial candle when the call came from KTM to hand back the keys. So, what happened to turn that uncomfortable first date into a loving relationship with legs? Before reporting on the ride and performance, first, let's catch up on the development and features of the new Duke.
Essentially the GT is the result of a tryst between the bonkers Super Duke R and the superb 1290 Super Adventure. It's a bike that shares features with both models but make no mistake it has its own character and personality. The geometry, frame and single swing arm are the same as the R whereas the technology has been inherited from the Super Adventure.
All three bikes share the same engine – the LC8, 1301cc V-Twin – though the fuel mapping is bike specific as are the power outputs with the Super Adventure, GT and R producing 160, 173 and 180bhp respectively. Where the GT differs from the R is in the inclusion of semi-active suspension (same as the Super Adventure) and a longer and stronger rear subframe to accommodate panniers and pillion comfort.
There's also a larger tank (23-litres), new exhaust, quick shift gear change, cornering headlights (again from the Super Adventure) a new screen and the single-piece handlebar position is higher and wider. For all you combustion chamber groupies poised to wag an accusing finger I'd also better mention they've modified the ports and chamber design to reduce noise and vibration and to meet EU 4 emission standards.
The technology inherited from the Super Adventure offers the rider three engine modes (Sport, Street and Rain) plus you get three semi-active suspension settings (Comfort, Street and Sport). The 'semi-active' feature of the suspension auto-adjusts the pre-load when it detects a change in load weight and feeds in anti-dive whilst running in street and comfort modes.
Sticking with the technology the GT also comes with a slipper clutch and a Motor Slip Regulation system which all means you'll avoid the dreaded bunny hopping back wheel when slamming on the anchors in a down-shifting panic. Speaking of anchors the KTM also comes with cornering ABS which allows you to grab a handful of brake mid-corner and come out the other side with the bike still upright.
Plus you get cornering Traction Control. Electronic ABS and Traction Control systems have their detractors as do central heating and the Romans. However, having benefited from both in real life red mist and casual ride situation they are undoubtedly seriously impressive rider aides and features I've no doubt will assist in my quest to stick around long enough to pick up a state pension.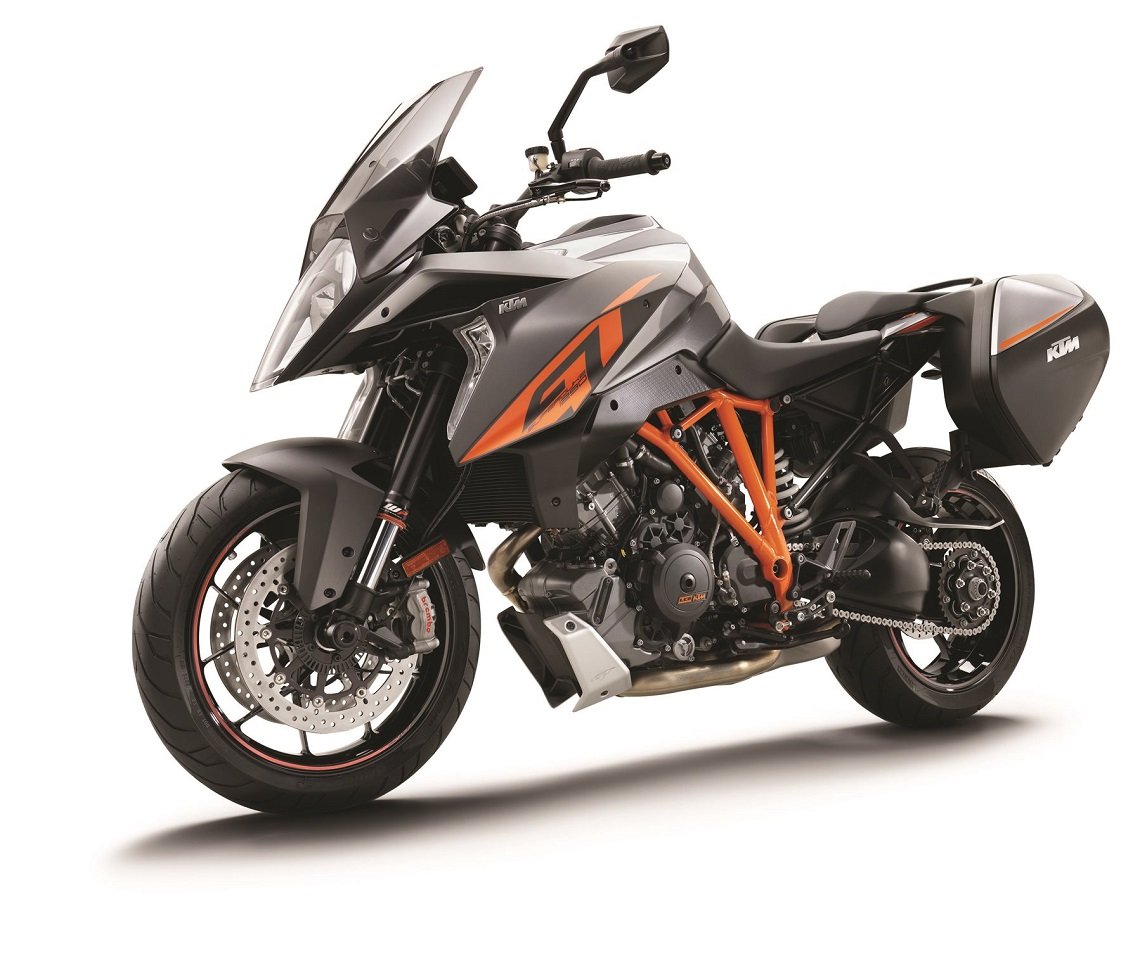 In the case of the GT all this electronic wizardry is controlled by a Bosch six-axis IMU Control Unit which KTM market as their Motorcycle Stability Control. For the rider it really comes down to this; in addition to braking and changing line mid-corner, you can power out of a wet, slippery bend with far more confidence and control. If I'm making this sound as if cornering ABS and Traction Control are only going to be appreciated by those who most like to flex their right hand then you'd be wrong.
These features are ready and waiting in the background for that time when even the most sedate or cautious rider makes a misjudgement. Should you wish to prove you can do better than the technology then both the ABS and Traction Control can be disabled. However, in use, the system offers a combined level of brake, grip and stability control that no rider I've met claims to be able to better.
On the more prosaic side of the technological race, the GT offers cruise control which is always nice to have on empty French motorways but of limited use on busy roads in the UK. There's also a hill start assist where the brakes stay on for that crucial moment on inclines when you need more hands and feet than you were born with. There are also self-cancelling indicators, three-stage cornering headlights and a remote tyre pressure monitor all of which I could happily live without and trade in for wind deflecting hand guards and a centre stand which would be far more useful and practical on a 'tourer'.
On the plus side, you do get heated grips. The headline grabber with the Super Duke R and only to a slightly lesser extent with the Super Adventure is the on-road performance and so it is with the GT. As soon as I'd left the crud splattered, potholed single track leading from the ABR office and hit the serpentine A and B roads leading down to the Cotswold's the GT came into its own.
The performance from the 173bhp LC8 engine is blistering to the point that it'll compete with almost any sports bike on the road.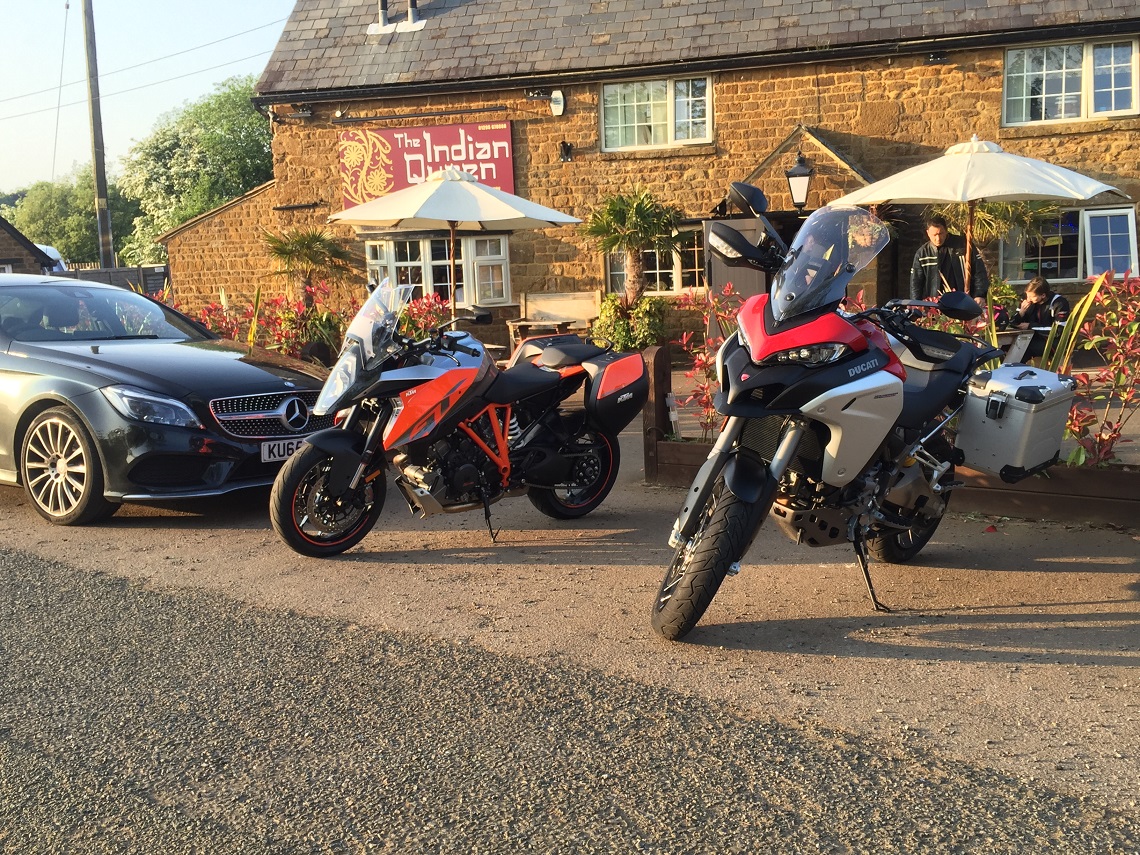 If you keep the revs above 5,000rpm the GT catapults away from bends at a rate of knots that will either delight or terrify, probably both. Good news then is that the Brembo brakes and sharp, steady handling complement the enormous power. Riding at pace on the GT around country roads and lanes produced more of those, man and machine in perfect harmony moments than I've experienced for many a year.
This was especially so on Fish Hill a set of switchbacks leading up the steep escarpment above Broadway. It's the nearest we have to an Alpine Pass in the Cotswold's and in my experience the Super Duke is at its best on these kinds of twisty roads where the power, performance and poise can be used as KTM engineers envisaged they would.
The more time I spent in the saddle the more I came to appreciate and utilise the capabilities and features of the GT so much so that I'd be finding excuses – not that I need any – to spend another sunny afternoon double-checking a feature on the leafy middle England back roads. And it's here where I see the GT appealing most; to the sports bike rider who wants a little more comfort without sacrificing performance or the sports tourer rider looking to upgrade to a more potent and exciting set of wheels.
The KTM will not disappoint any of those riders. Without a doubt, if you prefer to ride in a spirited fashion on windy roads then the GT has the makings of being your new best friend.
In case you've not clocked where I'm going here, the KTM is better suited to exhilarating sports touring than to comfortable long-distance cruising.
That's not to say the KTM is a no-no for trips down to the Alps, in fact, I'm struggling to think of a bike that would be better suited for those high roller coaster strips of tarmac. It's just that there are far more comfortable bikes for getting there. If you're past the point of rip-roaring touring and prefer a more leisurely and comfortable long-distance ride then the GT has its drawbacks.
For example, whilst I never found it excessive I was continually aware of a slight buzzy vibration through the bars and pegs. Plus the KTM does not like rolling on and off the throttle to match the variable legal speed limits on A-roads. In fact, the GT was not particularly happy under 3,000 revs which meant a lot more gear changing when riding in bimbling mode.
In addition, sixth gear is so high that when riding on motorways at 70mph I found the bike and myself far more comfortable in fifth. On a full day ride out taking in all types of roads and mixed weather conditions I must admit I began to tire from the constant wind blast. Although the adjustable screen didn't contribute to any eye-boggling head-buffeting there is not much upper body protection with the full force of the blast hitting all areas above my lower chest.
Over time this led to neck ache and eventually riding at lower motorway speeds than I'd do so on a less powerful adventure or touring bike.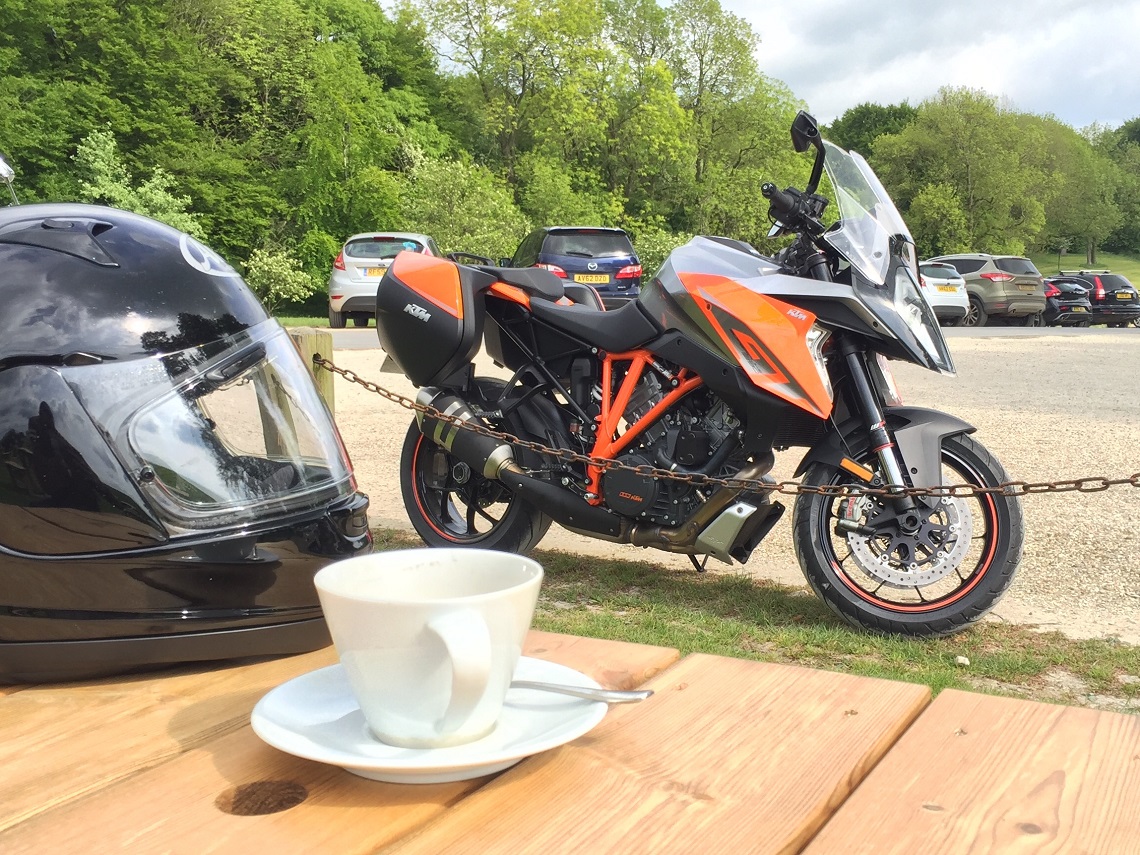 Conclusion
KTM have designated the Super Duke 1290 GT as a Sports Touring machine and whilst there is no doubt that they've cracked the 'sports' part of the equation the 'touring' side is not as comfortable as I'd have liked.
At £15,999 the GT is only £200 less expensive than the superb 1290 Super Adventure which I can confirm is as powerful as you'll ever likely need it to be and comes with excellent comfort and a higher level of versatility built-in.
I guess it really does come down to this; the KTM Super Duke 1290 GT is a superb motorcycle if you are looking for sports bike performance with a nod to touring comfort. On the other hand, if your preference is for touring ability and versatility over and above a sporty performance then it's probably not for you.
---
ABR Verdict
As a commuter
Commuting is not the first thing that pops into my mind when I think of the Super Duke GT but there's no reason why not. The purpose-built panniers complement the look of the bike and are a handy extra. Their slimline design allows for unimpeded filtering, but I found them a little on the small side and was unable to pack away an XL helmet.
As a weekend tourer
You'll either love it or hate it depending on your recent choice of wheels. If you're coming from a sports bike background then it'll be all lovey-dovey. On the other hand if you checked in your leather one-piece 10 years ago and you're done with ballistic performance there are more comfortable and versatile choices.
As an off-roader
If you have any off-road aspirations then the Super Duke GT is not your next purchase. Period.
As a continental road tourer
Now here's the thing, whilst the GT would not be my first choice for a long motorway trip down to the Alps it would be on the shortlist of bikes I'd like to ride when there. If you're used to the long-distance comfort and versatility of an adventure bike or the luxury of a tourer then it's probably not for you. If you're looking to ship your bike over there and meet it on the other side, for high-speed twisties it's a seriously exciting and intoxicating machine.
As an RTW Overlander
There are many accounts of riders spanning the globe on bikes as diverse as Yamaha R1's and Harley Davidson cruisers so, should you have a mind too, there's nothing to stop you from spreading your RTW wings on a Super Duke GT. In reality, there are far more suitable machines.
As a pillion carrier
KTM have extended and strengthened the subframe of the GT to better accommodate the pillion however the word from the back seat did not lead me to believe that we'd be planning any long-distance trips as a happy couple.