Our KTM has covered over 3,000 miles in the making of this issue, here's how we got on with it.
Words: Bryn Davies
Over the last few months, our long term KTM 1190 Adventure R has seen a lot of action, clocking up roughly 3,000 miles during the making of this issue. We've battled the varying terrain of the Alps (both on and off-road), endured the long motorway ride home via Dunkirk, and explored one of the most beautiful areas of the UK as we rode Northumberland for this issue's Discover Britain instalment. And let me tell you, the KTM has taken it all in its stride. 
Our Alpine adventure was an 11-day epic riding as many high passes as we could, including some tasty off-road trails for good measure. As a bit of a hoarder, when it comes to packing I like to take everything for every eventuality. With my weight and the tonne of gear, I was carrying in and on the panniers, the KTM had to do some serious pulling to make it up those passes.
Which it did with ease, for the most part. It was interesting to see how the altitude on the higher passes affected the performance of the bike, with there being a definite decrease in power on roads like the Great St Bernard Pass (2,469m), to the point where the 1190 groaned to life on the press of the ignition, rather than giving a fierce roar like it usually does. This didn't cause any serious problems, though, with the bike starting on every occasion. 
I was impressed with how well the bike could handle the twists and turns of the demanding Alpine tarmac, and it's still amazing to me with how flickable and nimble it is for such a big, heavy bike, despite being fully loaded with all of my luggage. Even the off-road sections were a doddle. I can also report that after 11 long days in the saddle, my arse remained relatively pain-free. 
When we got home, I decided to fit an aftermarket exhaust onto it to give it a bit more grunt, so we acquired a Fuel Exhausts Diablo end can, which is hand-built in Cumbria, retails at £204.99 and comes with a lifetime guarantee.
While the Diablo will save you a few kgs in weight, there's no denying that it's more of a vanity accessory, giving the KTM a gorgeous purr which rises to a vicious growl when you open it up.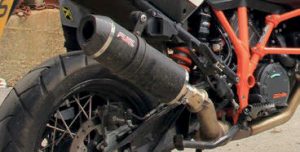 The noise levels are slightly increased (though still road legal), and one of the best things is that there seems to be a flat spot in the cacophony when you reach motorway speeds, meaning no droning buzz on long journeys.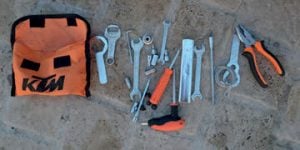 It's been mentioned before, but the tool kit that's included with the KTM is class-leading. You could take the whole bike apart with it if you really wanted, and I had the Diablo fitted in no time at all using the stock tool kit.
Plus, it comes with a bottle opener so you feel obliged to have a beer while you work on your pride and joy.