Curious to see how his 1190 Adventure R handles the rigours of two-up touring, Bryn Davies head down south for a multi-day adventure
Over the last two months I've not been able to get out on the KTM anywhere near as much as I would have liked to. Moving house, moving offices and just generally being a busy body has all got in the way of having fun on two wheels, but I did manage to get some time to head off down south to ride the Two Moors Way (featured on page 51).
The trip saw me riding about 500 miles over the course of a weekend, and it was the first time I'd taken my girlfriend on a multi-day ride as pillion on the KTM. The bike's credentials as a flat out, balls to the wall adventure bike are undoubted, but I was interested to see how it performed on a tamer, more relaxed ride, towing the weight of the two of us and our luggage, and whether it would be enjoyable.
From my perspective, it was near enough faultless. Interestingly, the KTM with panniers fitted has the tendency to get a bit of an unstable front wheel when you reach high motorway speeds, something I experienced when touring Europe this summer.
With a pillion in position, however, the bike was steady as a rock and straight as an arrow on the long ride down the M5, and cruising was as stress free as it could get, both for myself and the bike which seemed content to roll along at 70mph.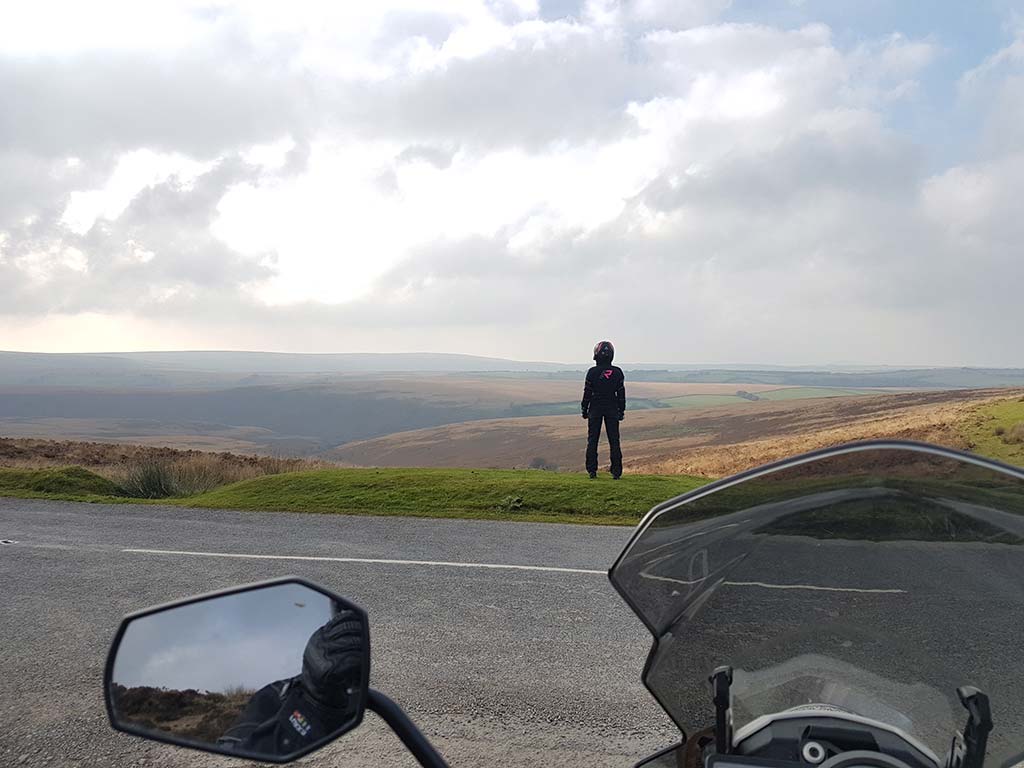 Turning off the M5 at Bridgwater and heading to Minehead I found, once again, that the KTM handled its given task with ease. For this portion of the ride we were stuck behind slow moving tourists, happy enough to plod along at 30mph in a 50, all the while angering me who wanted to enjoy the twisting and turning coastal roads.
The bike doesn't want to go slow, that's for sure, and at every opportunity, you become possessed and feel the need to overtake. Fortunately, there's more than enough power and grunt to let you do so effortlessly.
After Porlock the roads quietened down, and I got to enjoy the A39 to myself, and the 1190 adapted once again to the long, sweeping bends that were occasionally broken up by tighter, slower corners. How did the pillion get on? Well, I'll let her tell you in her own words (for reference, she's 5'9 and stick thin):
"I think if you're a larger person, the grab rails would be under your thighs, which would be rather uncomfortable on a longer ride. The peg positioning was good and my legs didn't hurt, which is a problem I've had on previous bikes, like my dad's Yamaha MT01. I think the seat is OK but just OK. It was fine for the first couple of hundred miles, but by the end of the ride I was begging for it to end! Having the top box as a backrest was a godsend though."
So, both rider and pillion enjoyed the KTM 1190 Adventure R. I've no doubt that there are more comfortable bikes for the pillion to sit on, and perhaps the seat needs a bit of modification for those long distance journeys, but in terms of performance you won't even know that your significant other is there, and that's the next best thing to leaving them at home, right?