In a world where Facebook and Twitter rule our personal lives, sometimes it's nice to take a break, and to keep some things secret. Michael Taylor heads up to Scotland and the Isle of Mull.
Let me just say, I don't hate the internet. I'm not one of these people who yearns to be free of Facebook or feels that 140 character sentences are the scourge of the universe. I love the internet. I Instagram the shit out of my meals. I have thousands of photos online of my cats. I write a blog. But. It's important to keep some things for yourself.
I'm just back from a trip away up north. Four friends, Egor, Bob, Ferg and myself. Four bikes, an 1150GS, a 1200GS, an R1100s and my Africa Twin. Four days. It's all anyone wants to do, right?
Rewind a week. My brand new Africa Twin has just returned from its 600-mile first service but I'm shitting broken glass because the rails for my Touratech Panniers that I pre-ordered in January still haven't arrived. I'm on the blower to Alfie at Touratech UK about twice a day who promises me a loan of his own prototype panniers if mine still aren't here in time for the trip.
Sure enough, a few days before I'm set to go Fed Ex turns up with a large package. The pannier rails are here. According to Touratech's website fitting them is "child's play." Sorted. Well, nearly sorted. You need a 20mm hole saw to cut two holes in the under-side of the bike. There's a template supplied. Once the two holes have been cut in the underside of my brand new bike the panniers are mounted on the bike.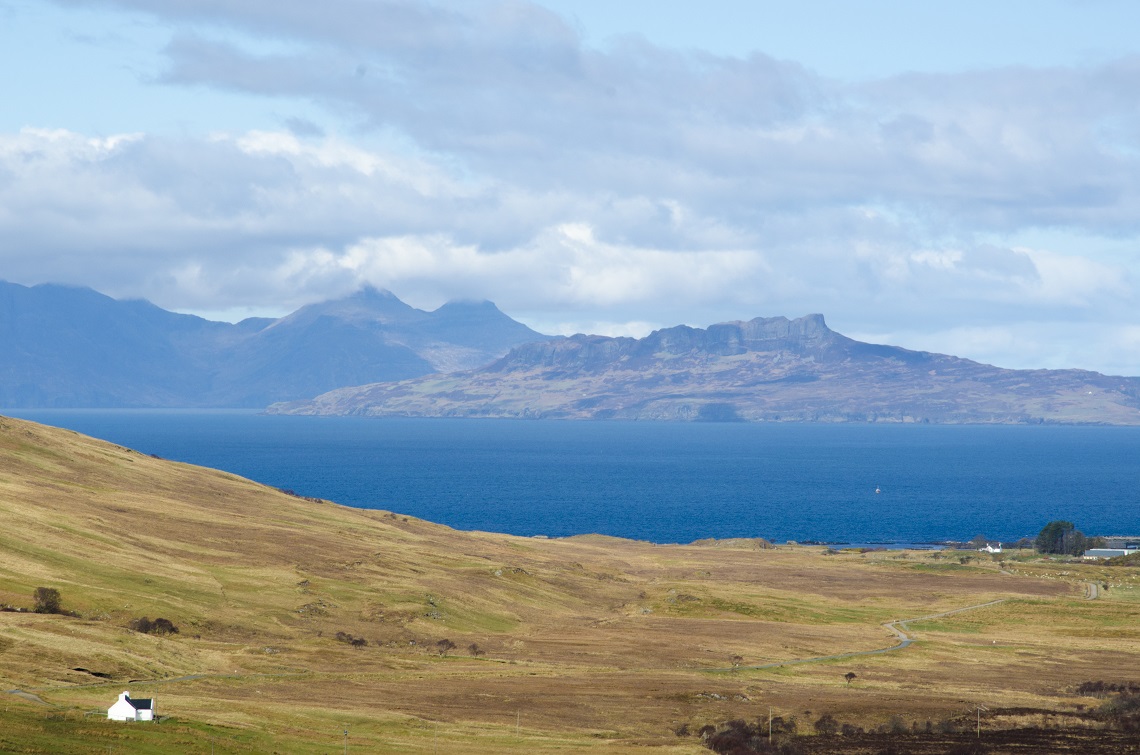 I'm ready for the trip and the internet has several new photographs of the first Africa Twin outside Touratech to have Zega Mundo Panniers fitted to it. The rain followed us up to our first destination, a bothy I've known about for a couple of years. A bothy is a basic stone house. There's no electricity, running water or toilets. Just a couple of couches and a fireplace with a wooden floor upstairs for your camping mat.
By the time we all arrived my old trusty TCX boots had begun to leak with the sun only making an appearance for the final 10 miles or so. Most bothies are way up in the hills and only really used by walkers, but this one is accessible by bike as long as you're happy riding a bit of dirt road. We set our camping mats and sleeping bags upstairs and cooked our food on the camping stoves. We got the coal on the fire and gathered some fallen timber from the woods nearby.
It got dark around 8. We'd brought a pile of candles up with us which were lit and put in the various holders around the bothy's room. It was a cloudy night so when we went outside it was pitch black.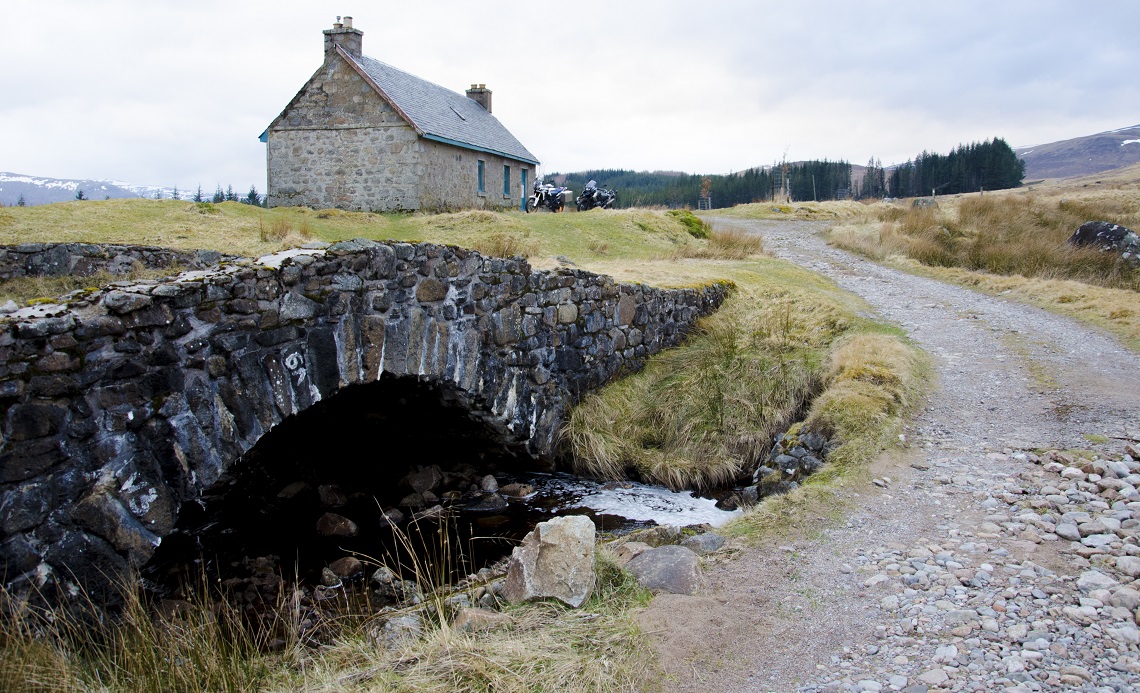 The light from my headtorch seemed to be absorbed into nothing making my fears of murderers/dead people/ghosts all the more real when I ventured out to attend to the calls of nature. Luckily this fear was quickly extinguished by Bob demonstrating his retina-burning auxiliary lights he's fitted to his GS. Deadly dark night was transformed into a sunny summer afternoon giving me a clear view of Egor crimping off a turd by a rock over the road from me. Beautiful.
The evening in the bothy was a great laugh, talking crap and sitting around the fire with a couple of beers. Egor, Ferg and I all slept upstairs with our camping kit while Bob crashed on the couch by the fire. We warned him about murderers and zombies but he wasn't phased. We all awoke on Monday morning unharmed by any creatures of my imagination and set off for Kilchoan at the end of the Ardnamurchan Peninsula.
A couple of hours later a discussion over lunch changed our plans. The rain hadn't let up one bit and as we ate a pond was forming from the waterfalls pouring off our wet kit. Tim's place, Sunart Campsite, was just around the corner.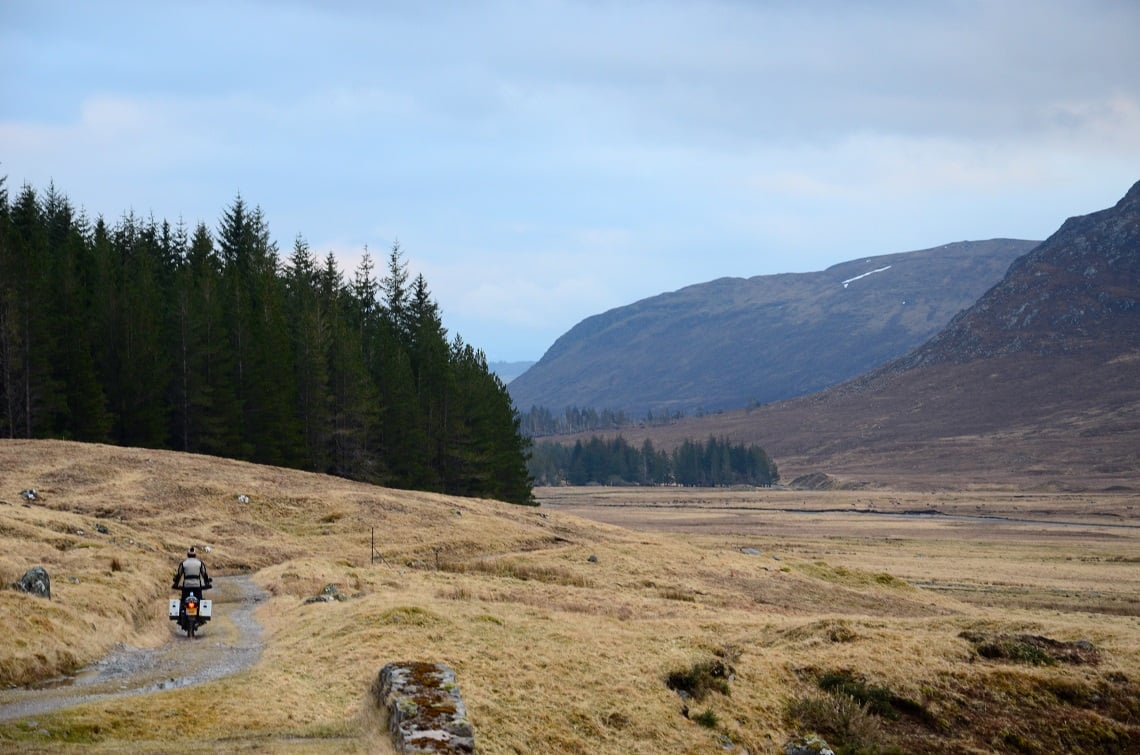 Tim had camping huts available and a cosy room with a wood-burning stove, ideal for drying wet clothes. There was a nice pub just beside the campsite too. Kilchoan can wait for another day. Egor had to head home for work. Goodbyes were said and he headed off as we followed the previous day's soggy plans to Kilchoan. The temperature crawled from spring to summer as we went. I was getting more used to the Africa Twin too.
Its dirt bike pedigree making easy work of the tight, swoopy singletrack roads. It's only about thirty miles from Strontian to Kilchoan but it can take well over an hour to navigate the road as it snakes along the side of Loch Sunart then up and over the hills to Kilchoan.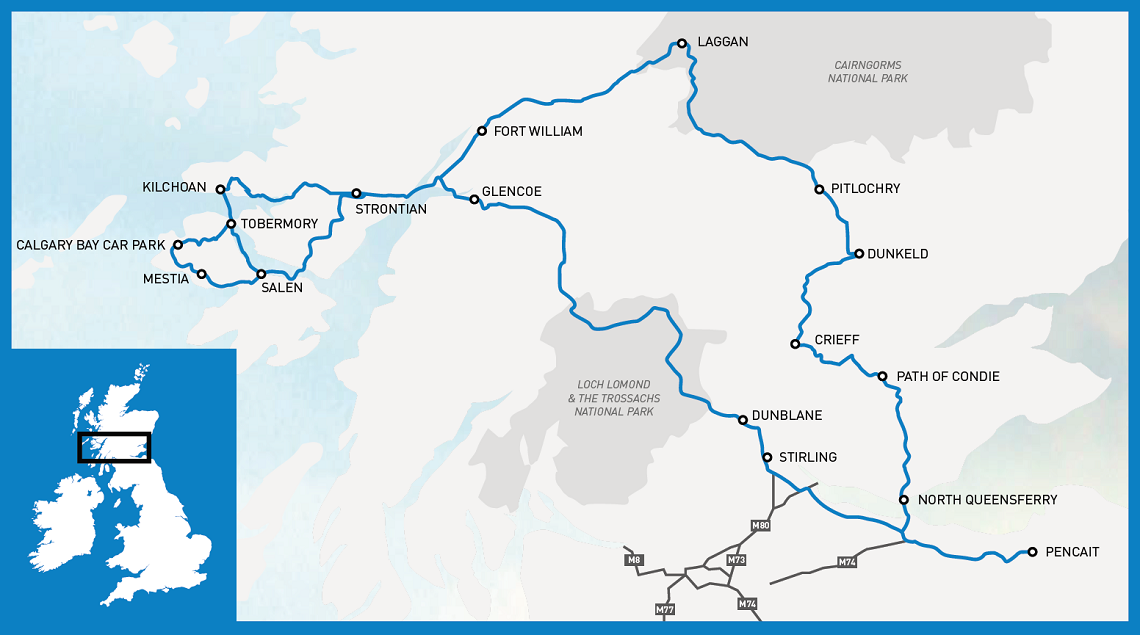 It's worth taking your time along here anyway as the scenery is stunning, the roadside birch trees giving way to great coastal views the further west you go. Once at Kilchoan we boarded the ferry to Tobermory on the Isle of Mull, a bargain at just over a fiver for the bike and rider. Bob and Ferg spent the ferry crossing laughing at how the Africa Twin swayed with the rocking of the boat on its supreme plush suspension and Ferg and I cleared the air over a wee niggle that had been pestering the both of us over the past wee while.
I'm guilty of trying to push my hedonistic, bike centred, child-free approach to life on to other people. Riding bikes is all I really seem to like to do. I'm lucky to have a fiancé who doesn't mind, she even likes coming with me on bike trips.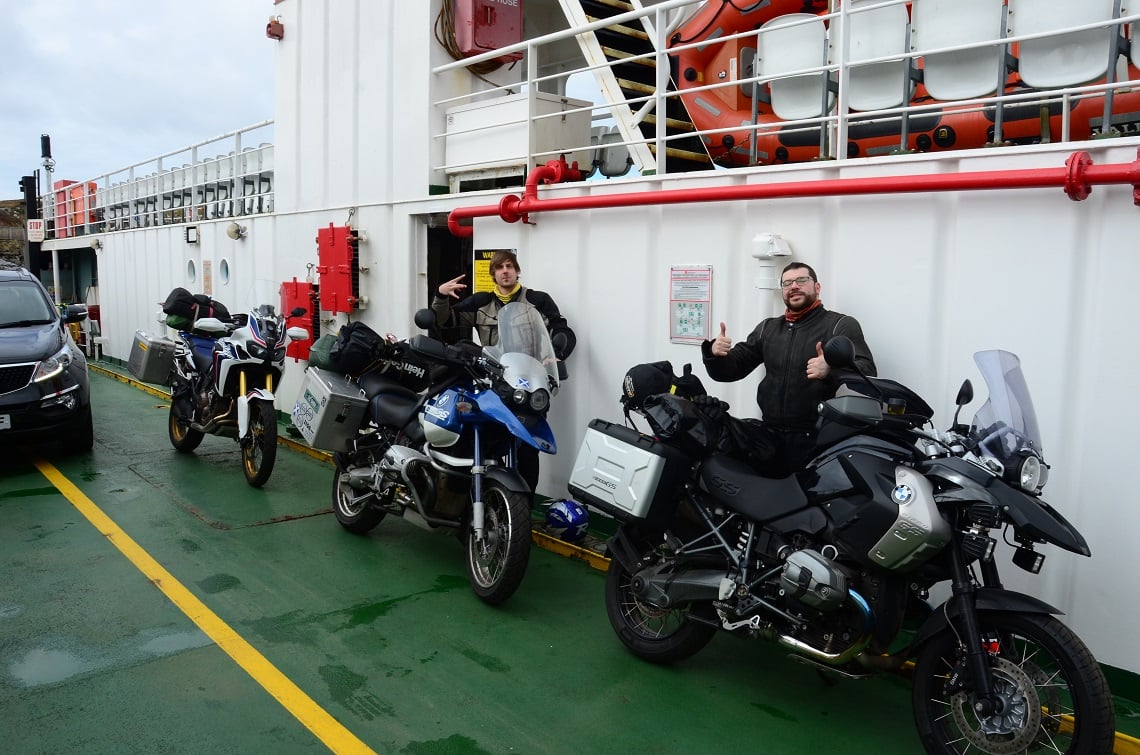 I couldn't give a toss about having a new bathroom or a nice car, if there's an opportunity to go on a bike trip, I'm in. Ferg enjoys biking, but he also enjoys lots of other things too and compromises things for others as he feels appropriate. He's also got a baby on the way. I'm always banging on about how he's trying to do too much and he says that I live like a child. Turns out that riding bikes all the time isn't everything everyone wants to do.
The air was cleared though, a few hours sitting on a motorcycle is a great way to gather your thoughts. We'd both really enjoyed the run so far which reflected in our conversation on the ferry. There were no dummies spat or toys ejected from prams. This wasn't a mid-bromance tiff, just a basic conversation.
Once in Tobermory, it was a short trip along the main street to the chippy van for some quality fish and chips. Bob was feeling a bit crap with his cold and Ferg wanted a coffee. While they strolled around the town I went for a spin round the island. The weather had transformed into a proper summer's day.
It was warm and I was even sweating a wee bit as I rode out of Tobermory heading To Dervaig then on to check out Calgary Bay where we'd be camping that evening. As the road climbed steeply out of Tobermory the Africa Twin came alive. What a road! Flying along the side of Loch Peallach the Africa Twin gave me great confidence.
The rough road was smoothed out by the long-travel suspension, the weight of the luggage easily balanced by a few clicks of the rear shock's adjustments. The front end remained positive on loose gravel and when the bike did move it felt balanced and predictable, no rabbit's nose style arse twitching at all.
Then you get to the Dervaig Hairpins. Like Renton in Trainspotting, this is good. Reeeeally fuuuucking goooood. Proper alpine-like switchbacks. Sure the Bealach Na Ba has hairpins, but not like this. I don't know if the road had been recently resurfaced or not but it was smooth as a snooker table and flowed like a river.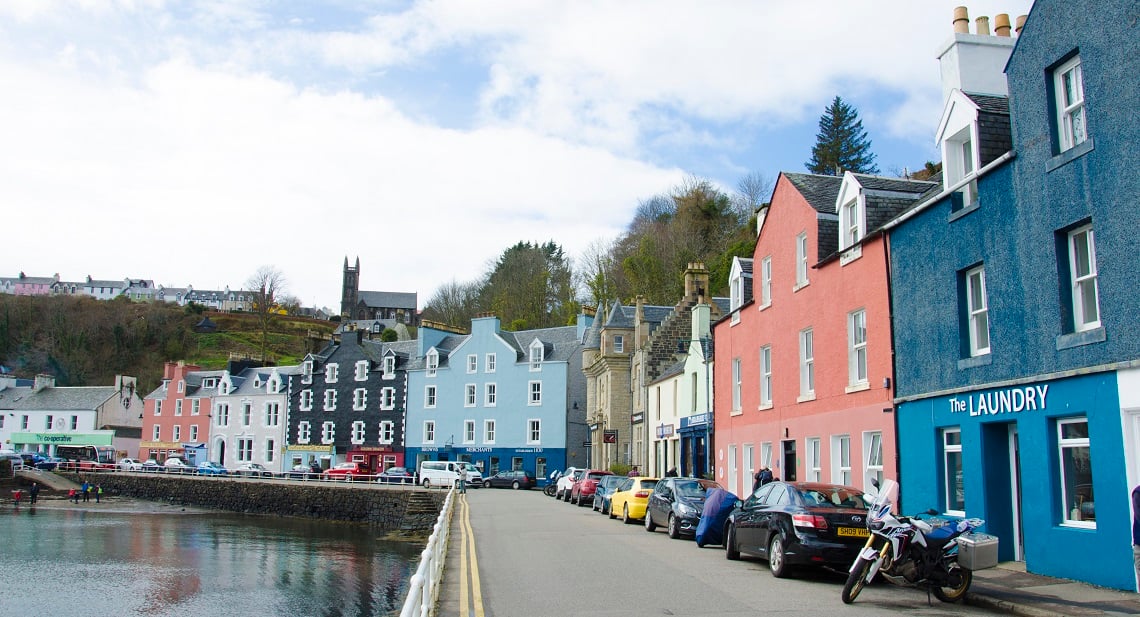 Like all big traillies the Africa Twin was a pendulum on the switchbacks. I really would not have wanted to be on any other bike. All this in only twelve miles. I'd forgotten how good Mull is. Calgary Bay is just a few miles around a flatter road from Dervaig. The wild camping spot is beside the public toilets.
There were a few other folks there but still plenty of room for our three tents. Campsite inspected I carried on round the coast to Salen. This is a much tighter, steeper road than the Tobermory to Dervaig stretch but you get great view of Mull and over to Coll and Tiree. Back in Tobermory, I met Ferg and Bob banging on at them about how good the road was. We got supplies in and headed off once more over the Dervaig hairpins.
The good weather stayed with us at Calagary till well after dark. We got a fire going and shot the shit between trying to tap into some mysterious Wifi signal that faded in and out, before some heavy drizzle drove us into our tents. Our second night on Mull was spent in the Youth Hostel in Tobermory, we got there early and spent the day relaxing in our own individual ways before meeting up in the evening for a meal and quite a few beers.
Now at home, I've been putting my photos on the various social media sites. In times gone by there would have been hundreds of them and a video to go with it. Things can be overshared though, sometimes it's nice just to stop and have a look around somewhere.
Keep the memory for yourself. Your GoPro won't ever really show the true beauty, satisfaction and reward you're getting from those bends, so just enjoy them. Don't just show people places you've been, organise a run and take them there and let them experience it first hand. Seeing with your own eyes is better than a life through a lens.
Oh, and if you recognise the bothy we visited, keep it for yourself.