When Siberia doesn't seem exciting enough for you, what's the next logical step? Buy the world's fastest production bike, make it even faster and try and ride it to India in record time, of course! ABR speaks to Sushanth Shetty about his attempt to set the record for the fastest ride from London to Bangalore
ABR: Why did you decide to attempt the speed record?
Sushanth Shetty: It all began with a few beers. I'd spent a couple of weeks travelling the Trans-Siberian train route from Moscow to Beijing and ended up in Bangkok to catch a connecting flight to my parents' home in Bangalore. As beautiful as Siberia was in December, it just didn't seem exciting enough. It was nowhere near as challenging as the previous Christmas when I'd spent a week as a crew member on a Dutch fishing trawler in the depths of the North Sea. So the bar had to be raised.
I'd always wanted to ride a bike to India, and I'd planned on doing it on my XT660. But, I was quickly reminded of the three engines I'd gone through that year. I wanted something fast, and as the beers flowed, fast became faster, and that became fastest. After some more beers, the plan was finalised – buy the fastest production bike, make it faster, and ride it to India as fast as I could.
I returned to London, and bought a Hyabusa, drew up targets and a project plan. I called the project 'The East India Express', built a team of friends, and went out and spoke to some people. Luckily, the likes of Suzuki, Race Dynamics, Bridgestone, BikeTrac and Held loved it!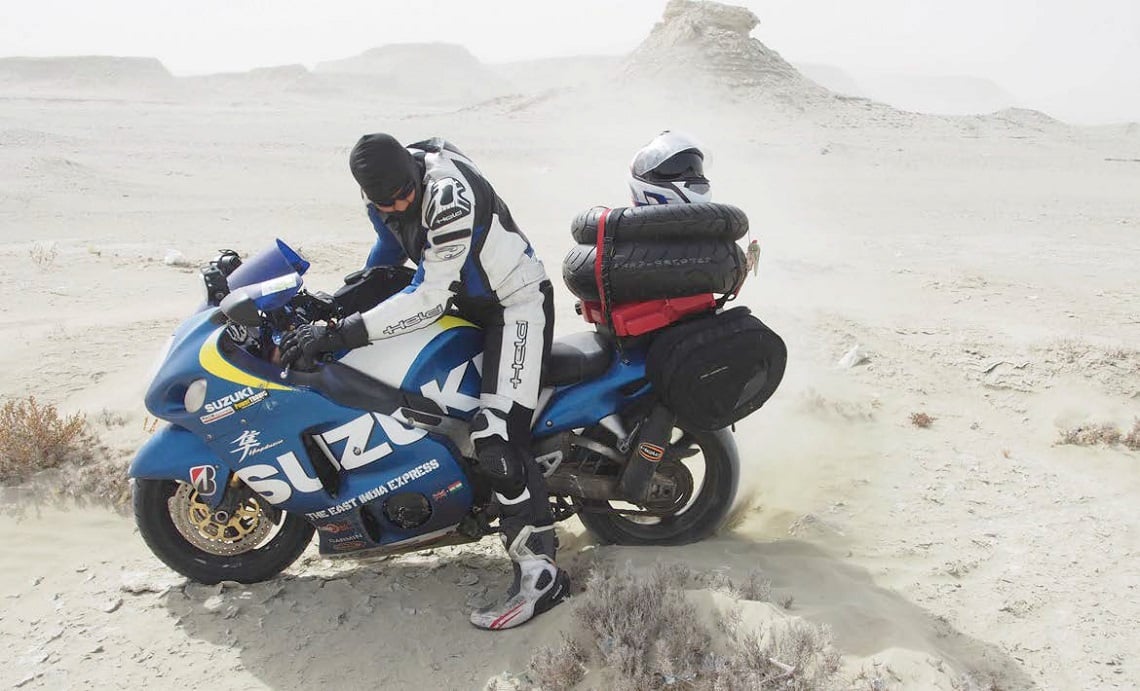 ABR: Walk us through the record attempt – where were you by when, and how were you feeling?
SS: The shortest overland distance between the British and Indian borders is around nine thousand kilometres. This involves heading southeast across Europe into Turkey, then Iran, and Pakistan from where you'd enter India. My target was to cover this in fifteen days.
The biggest challenges were going to be the border crossings at Iran and Pakistan, and the first eight hundred-ish kilometres through Balochistan – western Pakistan, where I'd have to travel in a police convoy. With Pakistan's reluctance to grant me a visa, I was going to travel to Bandar Abbas in southern Iran, from where I'd get an overnight ferry to Dubai, and then have the bike shipped to India.
London to Bandar Abbas is just shy of eight thousand kilometres and the plan was to ride it in ten days. I made it in less than ten days and was on track. I was in a lot of pain when I reached Bandar Abbas, which was only made worse by not being able to celebrate with a beer. Iran is a dry state!
Reaching Bandar Abbas was a very special feeling; I remember being physically destroyed about five minutes before I finished, but when I finally finished, I felt fine. It was then a bit of a low point as there wasn't a lot of riding left, and everything from that point was out of my control. It was going to be a game of logistics.
ABR: Before the trip began you broke your knee – how did you manage that?
SS: Two weeks before I was to set off from London, I threw a party, and less than an hour into it, I injured my knee. Embarrassingly, it happened as I tried to get some food out of the oven! At first, I dismissed it as a sprain but it turned out to be a stray piece of bone that had lodged itself in my knee, and I needed surgery!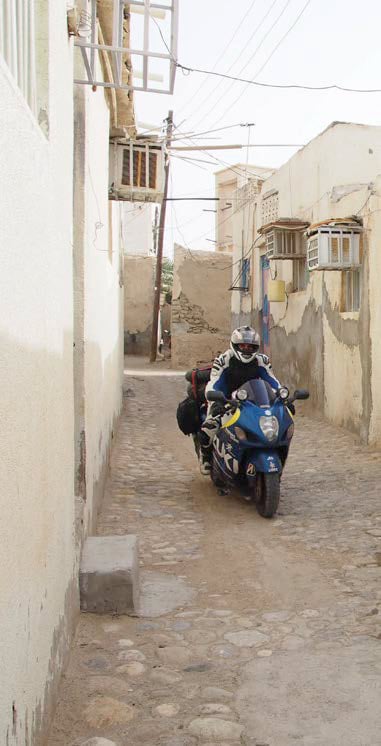 ABR: Your bad luck continued when you weren't allowed through Pakistan, what happened there?
SS: Pakistan had been a challenge all along. My visa application had nineteen sets of forms and twenty-something photographs. As an Indian citizen, I'd only be granted a visa for the regions I declare on my application. As soon as I mentioned Balochistan, my chances became very slim!
I made twenty-three trips to the embassy to lobby my case. On my last visit, I was warned by the embassy staff against travelling.
One of them said 'you seem like an educated man; don't be an educated fool. It's just not safe out there'. In the end, I never received a visa.
It wasn't just that, though! When I eventually reached Bandar Abbas, the Middle East was engulfed in sandstorms. Ferries out of Iran were grounded for five days, and I missed my connection out of Dubai. Sandstorm number two meant the vessel out of Dubai was delayed by four days, and halfway through to India it met sandstorm number three and was diverted to Pakistan – the one country I wasn't allowed to visit!
What should've been a six-day transit took over twenty-three days in the end!
ABR: You didn't claim the record for the fastest journey between London and Bangalore, why was that?
SS: The point of the project was to set the bar really high, and I don't think I managed to do it. The final nail in the coffin was when in Dubai I spoke to my friend Stig – a Norwegian rally driver who's now travelling the world in a VW van. He said 'You've spent a week here drinking beer with me. If you claim that record, I'll make sure I beat it next year in my van!'
ABR: Riding long distances on a sports bike is most people's idea of torture, why did you decide to use the Suzuki Hayabusa for the trip?
SS: It's quite simple. I was trying to set a speed record across nine thousand kilometres, and at least 95 percent of those roads were asphalted.
Of course, everything hurts a bit more with a sports bike, but there is so much power, it makes it all worth it. And I really, really love the Busa, it's got so much character, and God is it fast!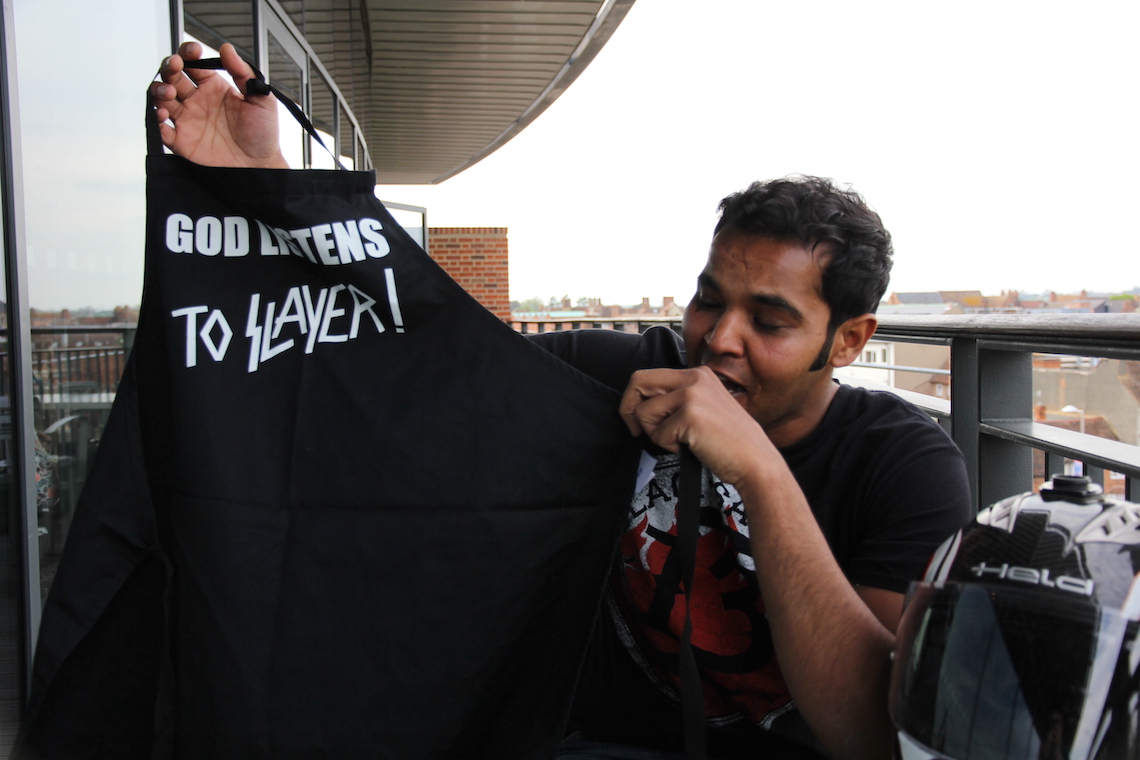 ABR: Tell us a little more about the bike and how it performed on the ride?
SS: I chose to use a 2002 Gen1 Hayabusa, so the Carnet would be cheaper. I bought it in Portsmouth from a man named Tracey! It had 14,000 miles on it and although Tracey had it fitted with flame blue exhausts and matching blue seats, it was a very well looked after example without a scratch. I then dropped it getting it out of the van!
ABR: Do you think that speed riding ruins the beauty of adventuring?
SS: Yes and no. Speed riding can destroy you mentally. You learn to survive on adrenaline and the hardest part is riding 16 hours, waking up after a couple of hours and doing it all again. It makes for a phenomenal adventure.
Adventure for me has always been about meeting interesting people, and with this project, there was always the risk that I'd miss out. Then Silje – one of my closest friends suggested Couchsurfing, and I'm glad she did! It worked beautifully for the most part, and in general, I met a lot of interesting people.
ABR: What's the craziest thing that happened while you were riding to Bangalore?
SS: A lot of crazy things happened along the route, but Iran takes the cake!
In Iran, when I couldn't get a hotel, some local boys offered to put me up for the night. As I followed them home, they ran out of fuel at 3 am in the middle of nowhere. As they flagged down cars at random to borrow fuel, I was approached by a man who insisted I run away from them when I had the chance, as he said 'the boys have a notorious reputation and you're most likely going to end up in serious trouble'. They turned out to be amongst the nicest people I've ever met.
Again in Iran, in the middle of nowhere at nearly 2 am, there was a man selling melons. We didn't speak a common language but he offered to let me sleep in his tent. He had friends call in all night who huddled up in the tent to smoke what appeared to be Iran's choicest opium!
ABR: How did you get into riding?
SS: I started rallying when I was 18, and with very limited experience, I foolishly entered the Raid-de-Himalaya on a borrowed bike. The Raid-de-Himalaya is one of twelve events on the FIM calendar, goes up to over 5,000m above sea level, and is one of the toughest motorsports in the world. For seven days it runs for over 2,000km at sub-zero temperatures.
I was 19 when I first attempted it. Wearing a pair of jeans, a borrowed baseball jacket and a James Hetfield inspired haircut that made me look like Oprah Winfrey, I failed miserably! I went back the following year with a haircut and conjunctivitis in both eyes. I crashed over a dozen times on the first day, but I managed a podium finish.
ABR: You carried a few mementoes with you on the ride, what were they and why?
SS: Silje came up with the idea of the 12 o'clock shot which basically was – every day at 12 pm GMT, I would stop and take a shot of what was around me, and I was to carry an item that was of personal significance to me, and it would feature in the shot. I chose to carry my favourite apron that read 'God listens to Slayer' because, you know, God does listen to Slayer.
ABR: What's next for Sushanth Shetty?
SS: There's something on the cards, but it's too early for me to say. All I can say is it's going to be faster, louder, and harder.