You're never too old to pack your life into your panniers and set off on that epic around the world adventure, as Steve Raher discovered.
"Just do it… But plan it first!" is the advice that Steve Raher gives to any riders who want to pursue their dreams of riding around the world. In 2017, at the ripe age of 59, he had returned from a 12-month two-wheeled voyage with his wife Nicola (56), having ridden extensively around North and South America. 
"We're not a typical 'gap year' couple," he told me. "I'm 59 and my wife is 56, but it was our lifelong dream, and after our daughter got married and before our son did, it was our 'gap' and we took it!" 
Intrigued by Steve's story, and a perception out there that once you reach a certain age it's time to settle down as you've missed your chance, I decided to ask Steve more information about his trip, and what advice he'd give to others in his position. Here's what he had to say: 
"Biking is in our blood – all of us who read these magazines. Travel and adventure (and adrenalin hits) are also in mine and I hope they always will be.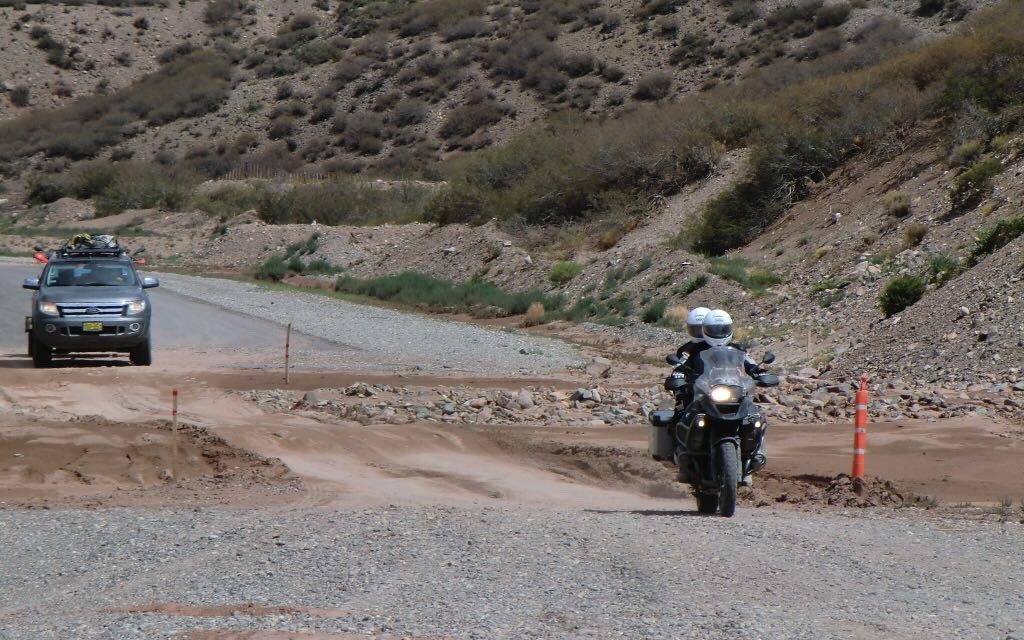 So, when you've had a dream to travel around the world and take your bike through the Andes for 40 years, what do you do? 
The answer is "Just Do It"… But doing a little bit of preparation (and having patience!) will make that dream trip even more enjoyable. I've ridden sports bikes for 40 years, from a KH250 through to a Z650 to a Honda 1000 and now a Ducati 749, and got into touring on my Suzuki Bandit 1250 seriously about 10 years ago with my wife.
Then we progressed to a BMW R1200GS (and then the Adventure version for 'The Big Trip'). 
But the 'round the world' dream remained just that while the day job and two kids created a solid white line in front of it. But, the golden rule is 'keep the dream alive', even when it seems very firmly hidden beneath nappies, work deadlines and mortgage payments. 
So, when our daughter got married in July 2016 and our son bought a house in London, it was the perfect moment to make our dream come true.
On 1 October 2016, aged 58 and 55, my wife Nicola and I left our home and our jobs in software sales and teaching, said goodbye to friends and family who all thought we were crazy and headed for Heathrow. 
One massive tip, given to me by the fantastic Ted Simon of Jupiter's Travels fame, was "don't buy a return ticket, otherwise you are forever working out how to get back," and how true was that. It's called total freedom. So, armed with a single ticket each to Delhi, we headed off. Firstly, we back-packed around India and Thailand for a month, followed by two months in Australia and New Zealand in a camper van.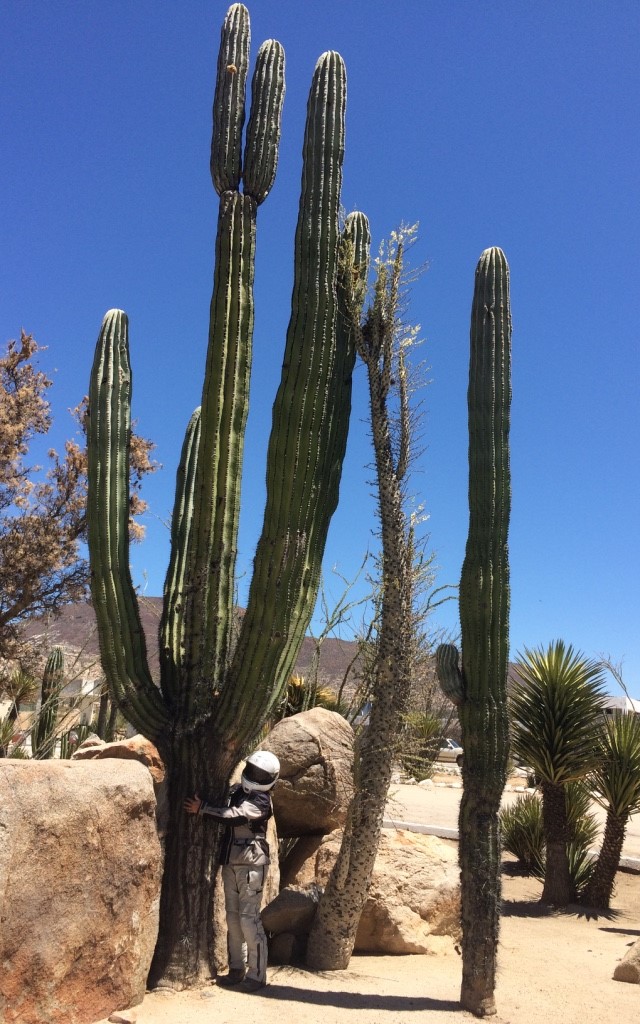 Those three months were honestly just a series of fantastic and exotic holidays. The real dream was about to start – the big moment. We flew from Melbourne to Buenos Aires where we were to collect our BMW R1200GS Adventure from the airport. 
Our Spanish was limited to ordering cervezas and booking into a hotel, our route was uncertain and limited to a yellow marker line on a National Geographic paper map bought from Stanfords book shop in London, but the excitement at the enormity of what we were doing was incredible. 
And what lay ahead was a nine-month journey down to Ushuaia and then up through the west coast of Argentina, Chile, through Bolivia, Peru, Ecuador, into Colombia, through the San Blas islands to central America on the Stalhratte sailing ship, up through Panama, Costa Rica, Honduras, Guatemala, Belize, across Mexico into the Baja, up through California, Las Vegas, Death Valley, Utah, west to San Francisco and then finally to Vancouver and home, 54 weeks after setting out. 
Was this the best thing I have ever done in my life? Yes… After getting married and having two children of course (that saves my marriage!).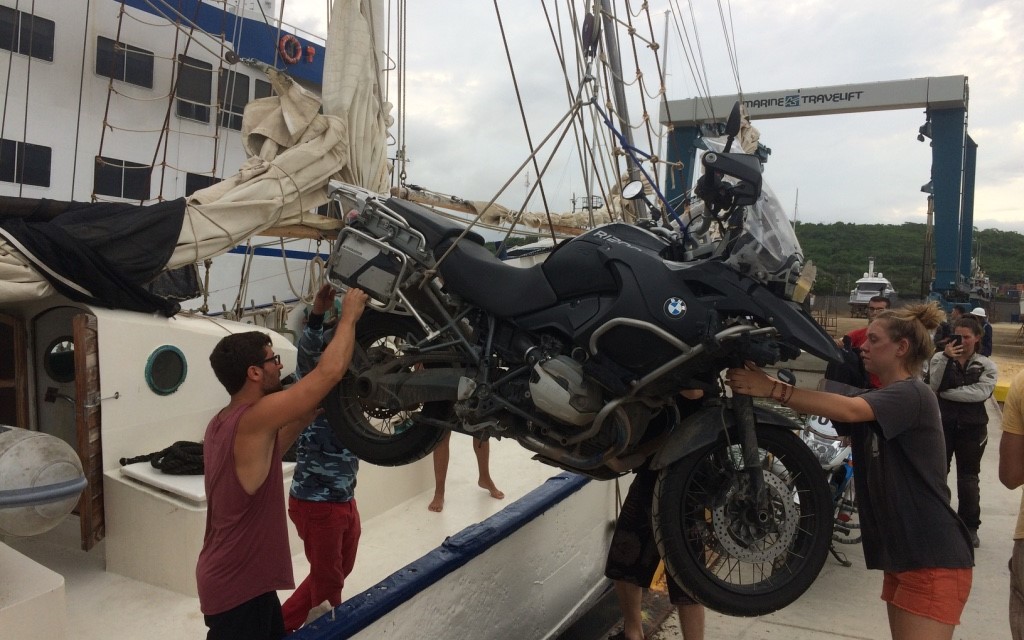 Seriously, it was life-changing and an incredible learning experience about coping, handling problems, learning to let go and go with the flow, learning about other people and getting a true perspective on the world and being totally inspired by the many people we met, both local and travellers.
And the joy of riding my bike every day through the Andes and over incredible landscapes never once left me. What an experience, what an incredibly comfortable and reliable bike! 
Yes, we were very fortunate to be able to do this. You need health, time and money. The rest is about the will to do it and the courage to take that step and just do it. 
So, to give just a little bit back, on these pages are our top 20 learning's from our trip, from a basis of no knowledge and a plan based on a wing and a prayer! I hope this might just inspire one person to make their own trip happen, to fulfil their own dream. 
25,866 miles later, we are back home and both working, having found new jobs and are back in the old routine, which was both surprisingly easy and surprisingly hard. It almost feels like a dream now, but on cold evenings we sit down, read our blog, look at our photos and remind ourselves "we did it". So can you. Just do it! 
For anyone interested in more details our blog is called "The Big Trip": www.steveandnicola2016.tumblr.com"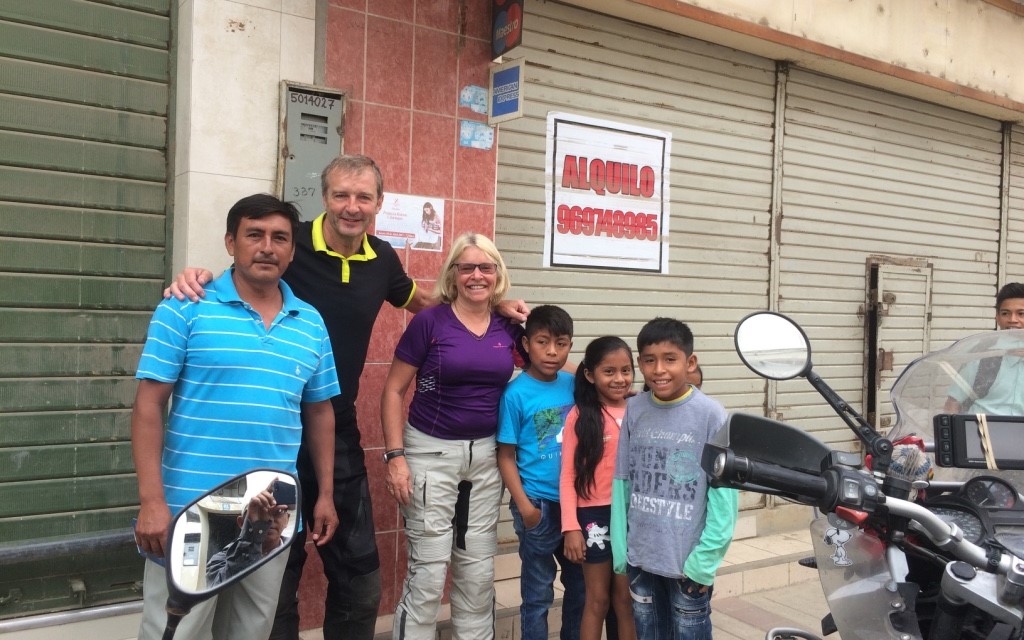 ---
Turning dreams into plans – Top 10 Tips
1. Keep the dream alive no matter how difficult you may think it is to make it happen. Believe in it. Set a date you want to go, no matter if its two or 20 years from now. From that your plan will emerge. 
2. Two years out, start to plan in detail, including the date you stop work! Clothing, which bike, what equipment, what route, how long, medical equipment etc. Enjoy the planning – it's part of the trip, but don't agonise over too much detail. Go to overland shows and meet like-minded people. 
3. Use a good freight agent – they make your life simple! On our trip, we used Roddy at Motofreight (www.motofreight.com).
4. Take a three-man tent for two people. Bike gear is bulky and needs to stay dry overnight. We took a Vango and it was great. Camping gives you freedom and a backup – and the stars at night are unbelievable in South America!
5. Use Inner bags for clothing to pack in your panniers. Much easier to pack and unpack and you don't need to get everything out every night. You can also use them as pillows when camping, and they keep stuff dry if your panniers leak!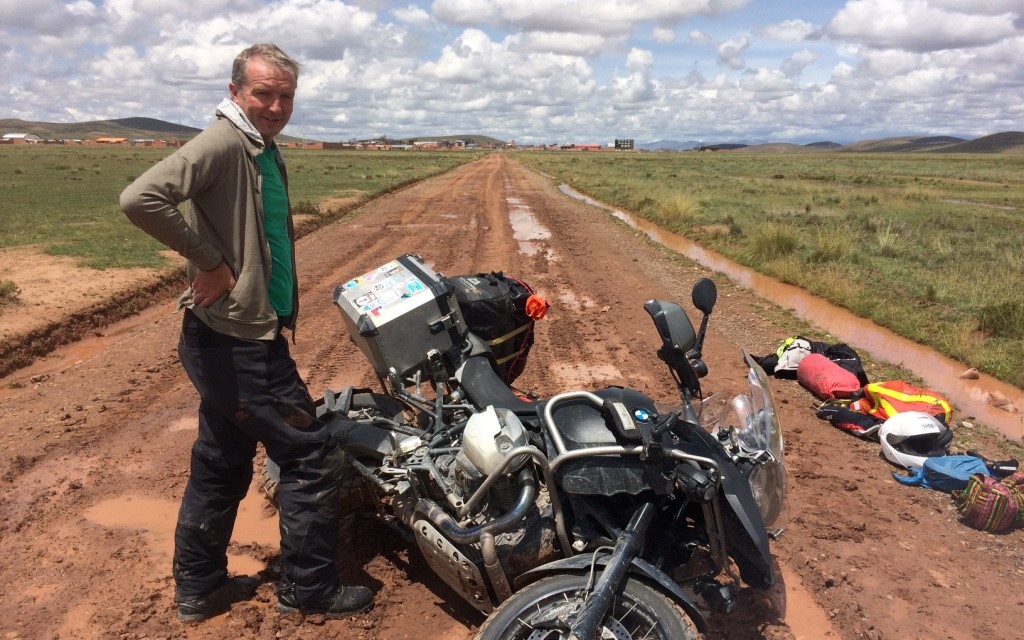 6. Most invaluable clothing was a fold-up lightweight puffer jacket – wear at night, on the bike and off the bike. You need three of everything, that's all. Just buy good quality, lightweight outdoor gear. It's so worth it. 
7. Other great items were Leatherman, penknife, inner gloves, lightweight hat, fold-up daysack, lightweight towels, Primus Omni-Lite stove that runs on petrol (to make a cup of tea anywhere by the side of the road), merino wool inner sleeping bag liner (sleeping bags were too bulky to take).
Take a good camera – you will regret it if you don't. Plus take GoPro and plenty of spare SD cards to back up photos on. Lastly, a good quality water filter bottle that can filter any water – it will save you a fortune. 
8. Best bike kit items were Touratech tool box (fits downside of pannier), headlight guard, bash plate, handguards, flexible mirrors (dropped bike six times and saved the bike completely – we had no damage at all), Touratech tank bag with map pocket (acted as man bag for everything).
Buy good quality boots – you live in them and they make such a difference. Sidi Adventure for me and Forma Adventure for Nicola. Both pairs stayed totally waterproof. Take two pairs of gloves – wearing wet ones is not fun. Waterproof over jacket and trousers, go with hi-vis, it might save your life as truck drivers might not see you or simply don't care. Keep them handy at the top of your panniers. 
9. Techie stuff. Set up an iCloud account with loads of storage and back all photos and your personal files onto it. Use Find My Phone (or an Android equivalent) and give your login to trusted family/friends. iOverlander and maps.me apps are invaluable on the road and work offline too.
Take paper maps as well as your SatNav – navigate by the sun and a compass as well. It's very reassuring and doesn't go wrong. 
10. Take gifts for local people that help you. We took London key rings, bottle openers and football cards – it's amazing how much joy it gives. 
---
Living the Dream – What did we learn? Top 10 Tips
1. Don't believe your friends and family who say you can't – it's called their fear of the unknown. 
2. You are the stranger in their country. You look odd on your 1200cc motorbike with all your kit and equipment in countries where mopeds and pushbikes are the norm. 
3. Smile when you take off your crash helmet and say "Buenos Dias. Como estas? (good morning. How are you?)" It works and breaks the ice. Don't mistake a stare as hostility, you are the odd one out in their environment. 
4. People are fantastic the whole world over and are like us, simply trying to look after their family and make their way through life. We did not encounter one moment of hostility in almost 300 days of travelling across the Americas. 
5. Use your bike to engage with local people. Your bike is a spectacle so learn enough local language to explain what you are doing, let kids sit on the bike and rev it up and take photos with them. Its amazingly heart-warming. Take time to speak to people. You don't have deadlines now!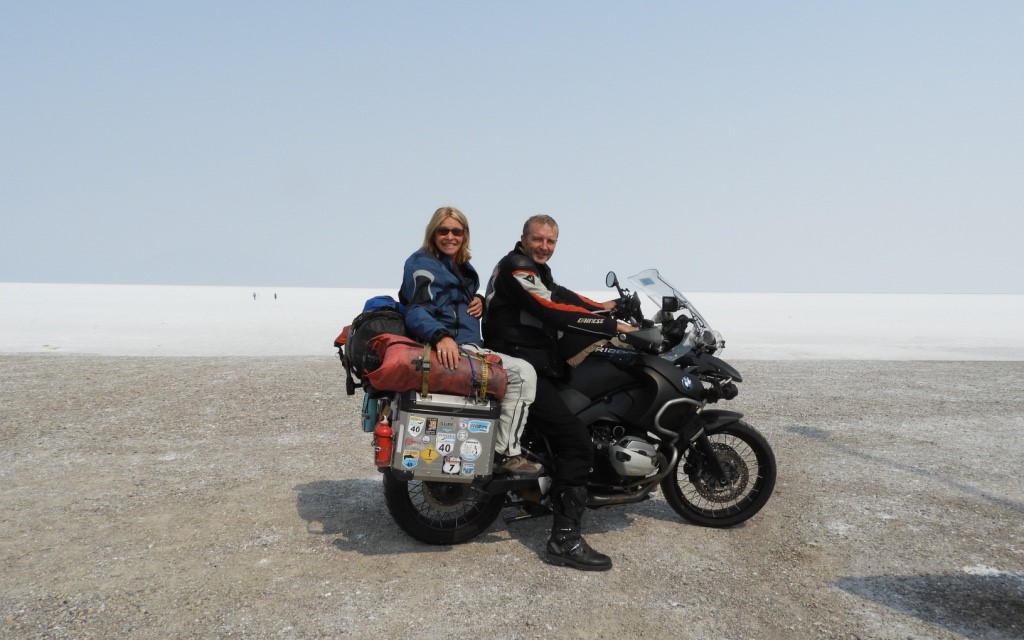 6. A delay is a blessing – a quote I read in a bike travellers book. Where are you going anyway? Customs borders are chaotic and will take two-four hours. Don't get frustrated, just enjoy the experience. Heathrow is just as bad and nowhere near as exciting as crossing from Panama into Costa Rica! 
7. Be prepared for the unexpected though. We had a backup wallet each that we kept in our main pocket with a few dollars and local currency, an out of date credit card and a false ID card (bought in a Bangkok market!). So, if we did get held up this would be what we would hand over. 
8. Have enough cash to get you to an airport/spend one night in a hotel in case of an emergency. Hide that money in a false bottom in one of the panniers (homemade from an aluminium sheet). 
9. Go with the flow – don't over plan. Stop and enjoy local food, local people and trust your instincts every time. 
10. Stay in hostels, not hotels. You meet more people and if there's just one lesson we learnt it was that people make the experience. It's a cliché, but doing this trip is about the journey and not the destination.