In 2012 Bruce Smart attempted to ride his Suzuki GSXR1000 around the world. He made it as far as Mauritania before turning back. A year later he made a second attempt. This time, taking a different route, he made it. We caught up with him at the Ace Cafe upon his return home…
What was the original plan?
My original plan was to ride 100,000 miles, all around Africa, the Middle East and I was going to do China as well.
Where did that first trip go wrong?
Me mainly. Maybe it was just so much of a shock. I look back and I think, 'was it so bad?' I certainly had a lot of guns pointed at me. And I got robbed umpteen times. The border at Rosso certainly lived up to its reputation as well. That's the one in Mauritania before you head into Senegal. That was pretty bad. I don't know, I'd only ever travelled in Europe before and my first experience out of it was Africa.
Morocco and Western Sahara were spot on. No problems at all. But crossing into Mauritania, it was almost like ringing the dinner bell as I was in my flash leathers with a flash bike and they automatically think you're a millionaire. I was charged 20 euros for a two-litre bottle of water. At one point one guy wouldn't even sell me it. I put the 20 euros in his hand and he pulled a gun up from behind the counter and pointed it at me, and I'm looking down the barrel of this gun and I can see his eye is all cloudy and I'm thinking, 'I'm going to get shot by a blind old man.'
Another time they took us out of the compound, down some side-streets into a concrete block and sat us in a room. One minute they're laughing and joking with you and giving you a can of Coke and the next minute he comes in with an AK pulling the trigger and it's going 'click-click-click'. And another time six of them come in the room and start fiddling with their flies as though they're going to rape us. Just get me out of here. Just a complete mental mind fuck.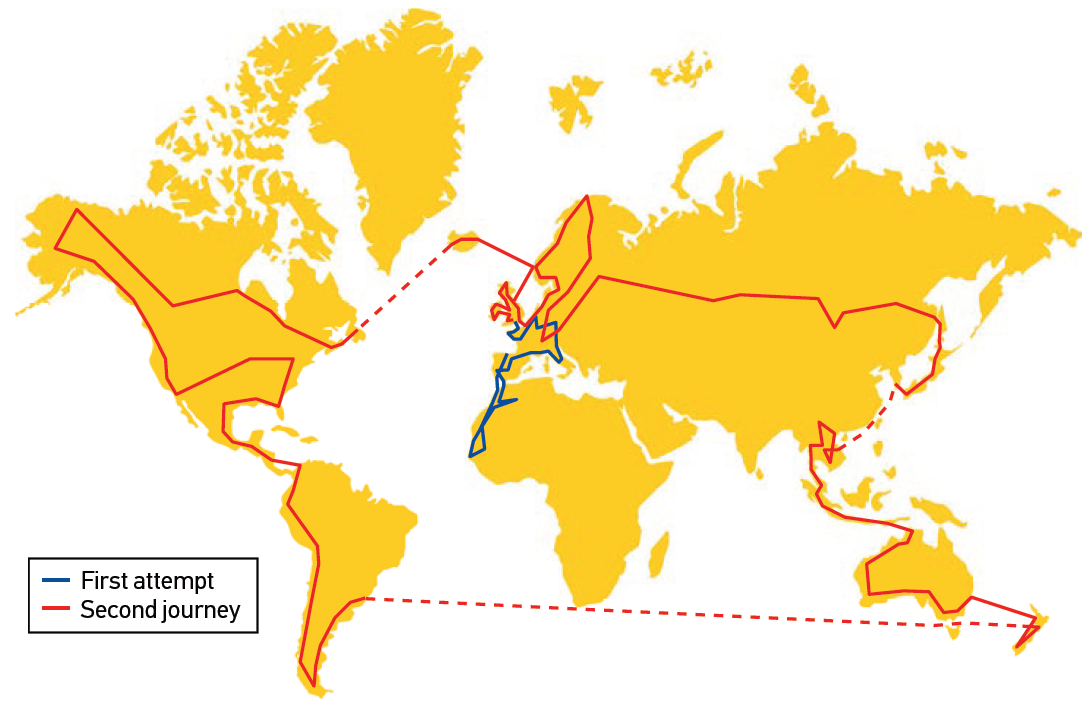 Was it a difficult decision to turn around and go back?
Yes, it was a difficult decision to turn around. Four years of my life I'd been leading up to that. I'd promised my mum just before she passed away that I'd do the trip. When I got back I thought I'd blown my chance; that was my chance gone. And then when the opportunity came to do it again, no way was I not going to do it that time. I would have strapped the bike to my back and carried it if I'd have had to.
How did the second attempt differ?
The west coast of Africa just didn't appeal to me anymore and then the Middle East all kicked off and that kind of scrubbed that bit out. Instead of the original route, I decided to go through Scandinavia as I'd never done that before, heading up to Nordkapp. From there I went down to Romania, Moldova, Ukraine, then across Russia.
From Russia, I took the Vladivostok ferry to South Korea and from there a ferry to Japan. I then shipped to Bangkok, rode around Thailand and down into Malaysia for the MotoGP, back into Thailand, tried to get into Burma, but couldn't get the bike across.
Instead, I went into Laos, right up to the China border, down to Cambodia, back down to Malaysia and a fruit boat across to Indonesia. Then the rigmarole of getting into Darwin. From Australia to New Zealand, and across to South America for the ride up to Alaska, then back to New York and home.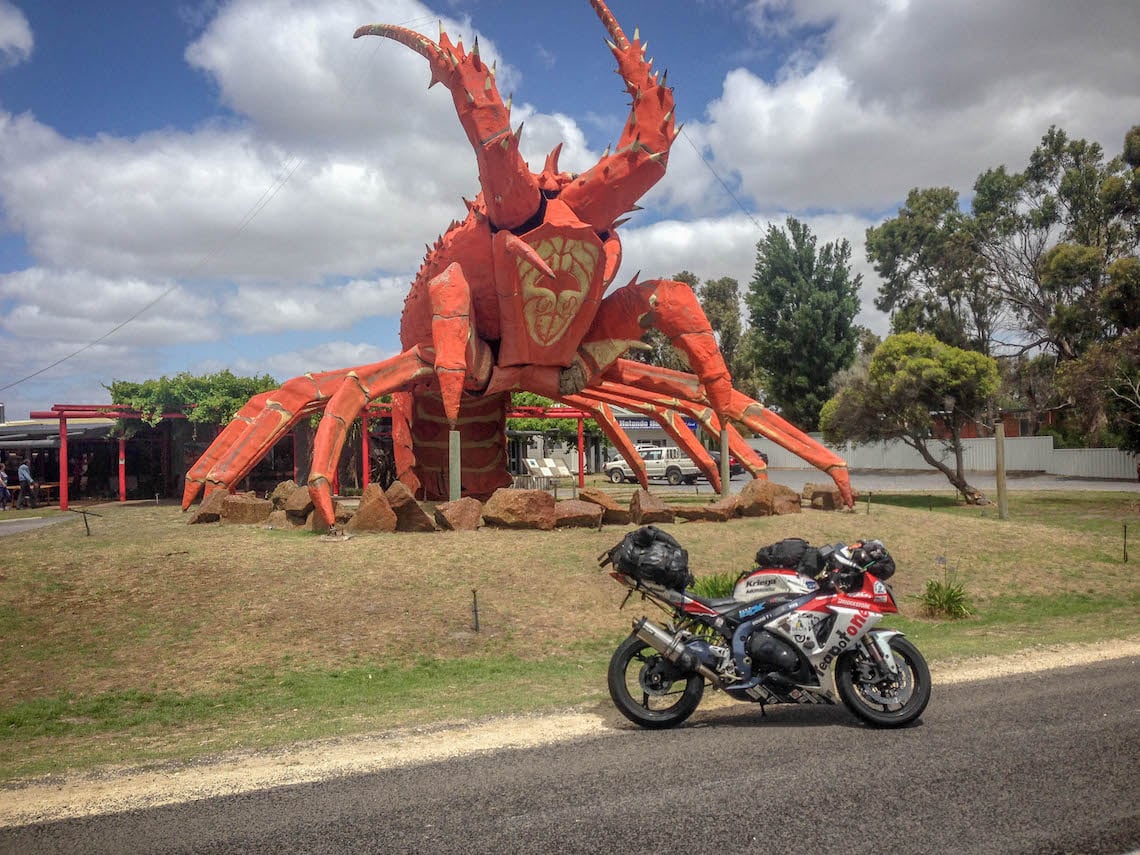 What made you go again?
I was helped by a company called Delta. They're an oil company specialising in recruitment for pipeline inspection. The UK head of the company is a biking nut and had been reading in Fast Bike magazine about my trip when it all went wrong in Africa.
I was on the Bridgestone stand at the NEC and he came over and introduced himself and said they were looking at chucking me a few quid if I would be interested in going again. I'd just got back and the missus was thinking that was me home now. So I told them to give me a little time to think about it and I was back at work one night and I thought, 'I've got to finish this trip.'
Would you have finished it had they not come onboard?
I would have done, but it would have taken me a long time because I sold everything and remortgaged everything to go the first time and it still wasn't enough. I simply needed the extra money.
What did your partner make of it?
I met my missus after I'd already started planning the first trip so she's always known about it. I remember being on the phone to her when I was in Dakar saying that I don't think I can go on with this; 'it's been horrific.' She just said, 'take your time, don't rush it, just make the right decision because I know what this means to you. I don't want you coming home and this eating away at you'. So when I did come back she was fine.
She was great. She was proud of what I'd done. But she knew I would have to try again. And so when this company offered me the chance I waited until I was definite I was going to go and then told her. To be honest I didn't expect her to hang around. I expected her to go, but she didn't. She came out to visit me in Thailand, and then in America, which is where I proposed and we got engaged.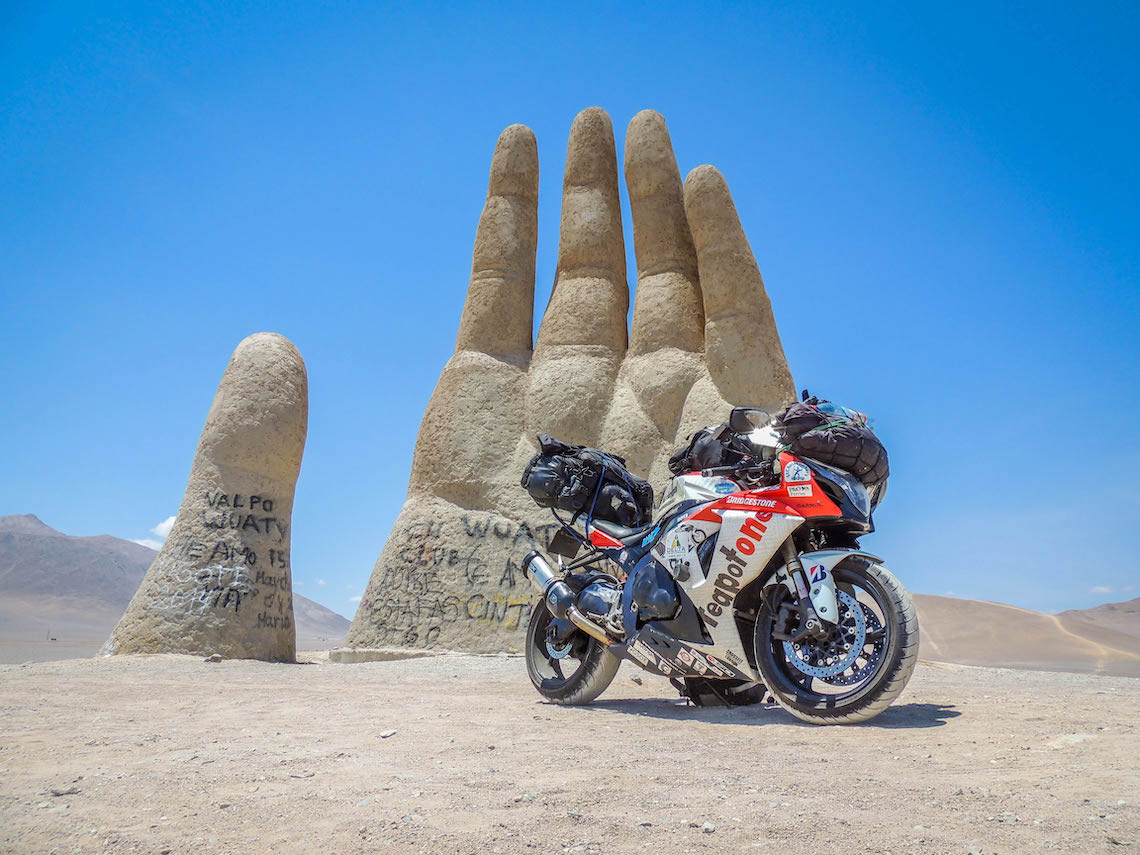 How do you maintain a relationship on the road?
Skype and Whatsapp, as you can get Wi-Fi all over the place now, and it's only a year at the end of the day. The longest we were apart was seven months. I planned it to be roughly 13 months as my best mate was getting married so I knew I had to be back for that.
That first time; do you think you'd underestimated the extent of the trip, or do you think you'd just had a particularly shitty experience in Africa?
I met a South African riding home from Scotland. He'd heard it was bad as well so we decided to buddy up and I'm glad we did as he saved my life. When we got to Dakar in Senegal and I decided I was going to turn back he carried on and got as far as Congo, but they wouldn't let him through with the bike.
In the end he had to ship it back and fly home to South Africa, but he did say that after Mauritania everywhere was brilliant. Nigeria was very bureaucratic but was really welcoming, nice people; he had the time of his life. But he said Mauritania was the worst. So even if I'd carried on I would still have got stuck in the Congo. In a way it all worked out for the best.
What was the change in mindset that second time round?
I was more street-savvy the second time around. I was definitely less nervous. And the second time there really wasn't anywhere I felt unsafe. Certainly, a bit of nerves and trepidation but everyone was so good. Even in Russia; some of the nicest people I'd met. Laos, up in the mountains, the people couldn't understand what I was saying, or me them. They'd walk around with guns in the villages and sometimes they'd stick them in my face when I showed up. But they were good guys, inviting me to stay with them.
Mexico was brilliant. I certainly didn't feel in danger. Central America felt like some of the African borders, just because you've got all the people rushing to help you all the time. And there's $4 tax for this and $3 tax for that. It took a few hours to get through some of the borders.
In Central America, you can do two borders in a day. It's just a bit of a laborious process getting through some of them. Costa Rica was amazing, so too El Salvador. I was warned not to go to El Salvador, but I went in there and they were the friendliest of the lot. Colombia was also amazing. It was everything I hoped it to be the second time.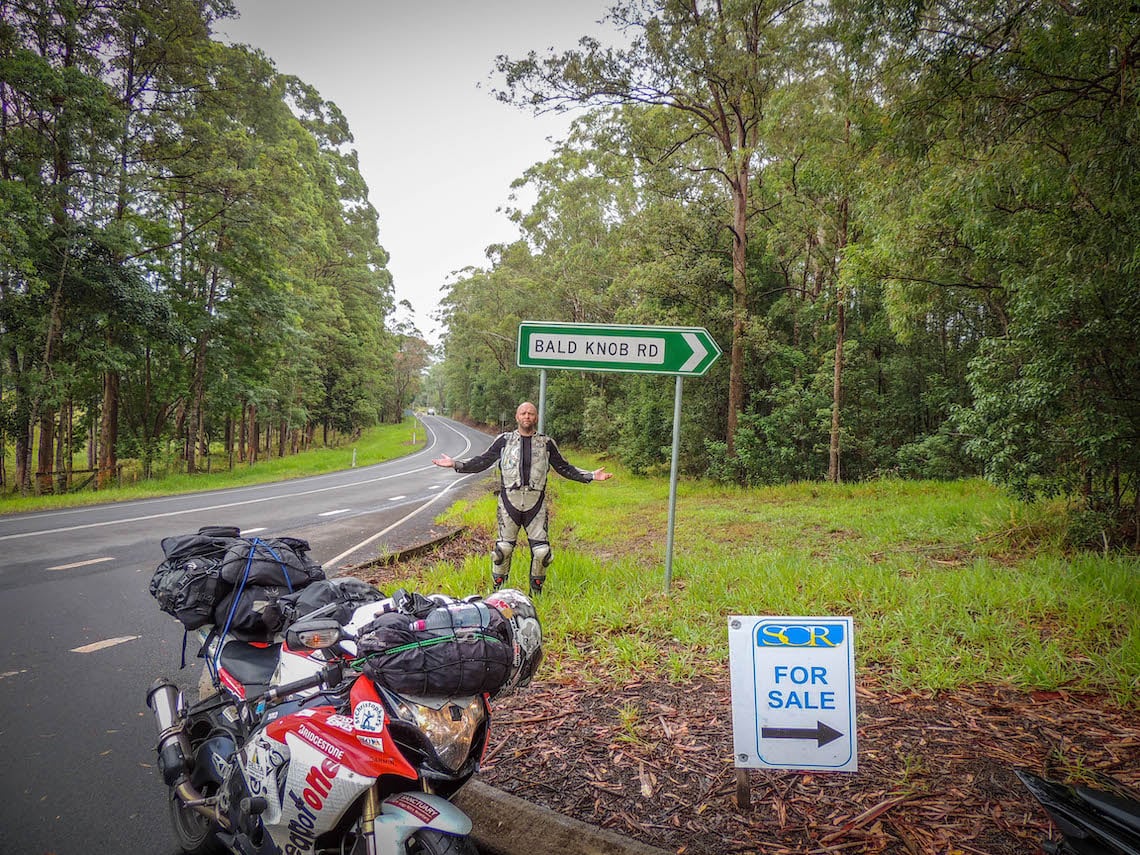 Did you think you put too much pressure on yourself that first time round?
Yes, I think I did.
Did you get what you wanted from the second trip?
Completely.
What was that?
To get all tree huggery on you; I wanted to prove to myself that I could do it. I wanted to set my mind on something, make it happen and achieve it. For me that was a big thing. I went through stages ten years before this, leaving my son's mum, I felt I let myself down there.
I was twenty years of age, at uni, and it wasn't as though I just buggered off, I just felt 'I've got to go, I can't do this'; and from that moment on I've never felt like I've stuck at anything. So it was a case of just getting back to sticking at something. Set your mind on something and see it through. And I made that promise to my mum before she died and so I definitely had to do that part.
So why a GSXR1000?
I've been a Gixxer fan since I passed my test. I've had Gixxer 600 and Gixxer 1000 all the way through. It's all I've ever ridden. I love them, that's why I took the Gixxer. I'm comfortable on that bike, I know how the bike feels and sounds, and I knew it would get round.
I thought I'd have a lot more issues than I did. Apart from the subframe and changing oil and oil filter, air filter, chain and sprockets, everything else is genuine on that bike. It's still on the original clutch. I did have to change the forks because I crashed in Japan but it's all bog-standard. I bought it in September 2011, brand new for the trip.
Did you think of taking a GS or anything similar?
No, not at all. It's not really my style. And I'm not taking anything away from someone who has done a trip on a bike like that – it is hard, mentally hard as well as physically hard, you've got to keep on going – but for me, because I had the charity angle – and because I'd set myself a challenge – it was always going to be that I'd do it on a sports bike, I'd do it on a Gixxer. So no other bike came into my mind really.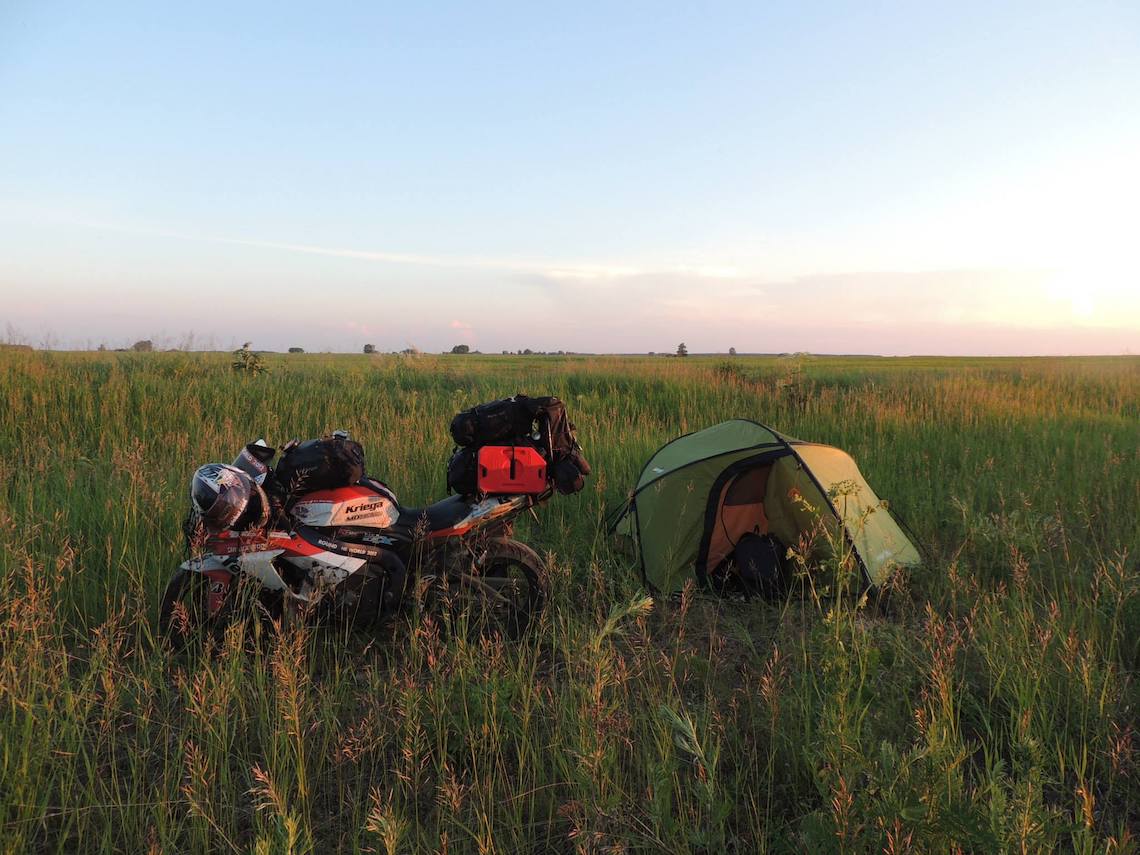 You were making the trip harder than it really needed to be?
Naively I thought every man and his dog is going off around the world at the moment, so I wanted the trip to be different so that bikers could appreciate, okay that's something different, especially when it's going through the mud and sand and the water. I thought it might push people more towards donating to the charities. As it was it didn't really, people were more inclined to donate to the trip itself.
The public support for my journey was incredible. I felt guilty really as I was doing a trip for charity and people were more inclined to chuck me a tank of fuel than they were to give five quid to one of the charities. I guess they can see where that five quid for fuel goes. And they would say, 'we're never going to do a trip like this, we're able to experience it through your blogs and Facebook and stuff and they said well if your dream ends then our dream ends so we will keep you on the road.' And these were complete random strangers.
Was it an enjoyable part of the journey; the blogs and social media?
Definitely. It's a massive workload because in hindsight I probably didn't do it the right way. Instead of doing a daily blog, I would leave it 'til I'd either done a country or a month and then do it in one big whack. It takes a long time. I'd literally book myself in once a month into a hotel for four or five days and I'd sit there and write the Fast Bikes article. That would get sent off. Then I'd start on the blog, then import the video files, which would be the longest part. Sometimes it'd take more than a week; so I'd go off for a week, come back and finish it, so I'd perhaps only be on the road for 2 1⁄2 to three weeks of a month. The rest was working, sat on the laptop.
What filming/camera equipment did you take?
I had GoPro 2 initially but it was useless. It just didn't work. I think I had a bad one. I filmed most of the trip on a Nikon D5 bridge camera; that was fantastic. Really good quality zoom. I did most of my pieces to camera on it; most of the pictures. The on-bike stuff, when it worked I used the GoPro.
I bought a GoPro 3 when I got to Darwin and that's been faultless. And my iPhone; I did a lot of video and photos on that, especially if the light was okay. Certainly in the dark, it's no use at all. I took a MacBook Pro for the video editing as I'd heard from other travellers that that was the best one to take. Especially with so many large file sizes.
Any problems with the bike?
The bike's now done 99,000 miles. The only issue I had was with subframes. I've been through four in total, one when I crashed in Japan on Mt Fuji, the others because on the first trip I used the Venturi System, which was just too much weight for the bike. I must have had 60 kilos of gear sat on the back. The second time I went I didn't have any of that. I just used Kriega luggage and that did the job… until I got to the Isle of Man and someone nicked the tank bag. Over 70,000 miles, get to the Mecca of motorcycling and someone nicks my tank bag!
Why leathers and not textiles?
Again stupidity, just to go with the bike really. You know, Sjaak Lucassen did it; he did it in one-piece leathers; this is two-piece. But I'm that sort of bloke where if you can do it then I can do it. I thought if I'm on a sports bike then I may as well go the whole hog. And I had in my mind's eye how it would all look. I suppose it was about the image, but the image was for me, not for other people. I wanted to say, 'I've done that trip on a sports bike, dressed like a sports bike rider.'
Any problems in wearing leathers?
It got hot, really hot. But I was glad I was wearing them as I came off in Japan when trying to get my knee down on the roads around Mt Fuji.
Any damage?
It smashed the front of the bike up, bent the forks, smashed the plastics up. Thankfully the guy I was riding with was setting up his own bike shop so I ended up staying with him and his missus for about three weeks whilst we fixed the bike up. We serviced the bike, rebuilt the front; the biking family had struck again. I was fortunate the whole trip. Whenever I was in trouble someone would help.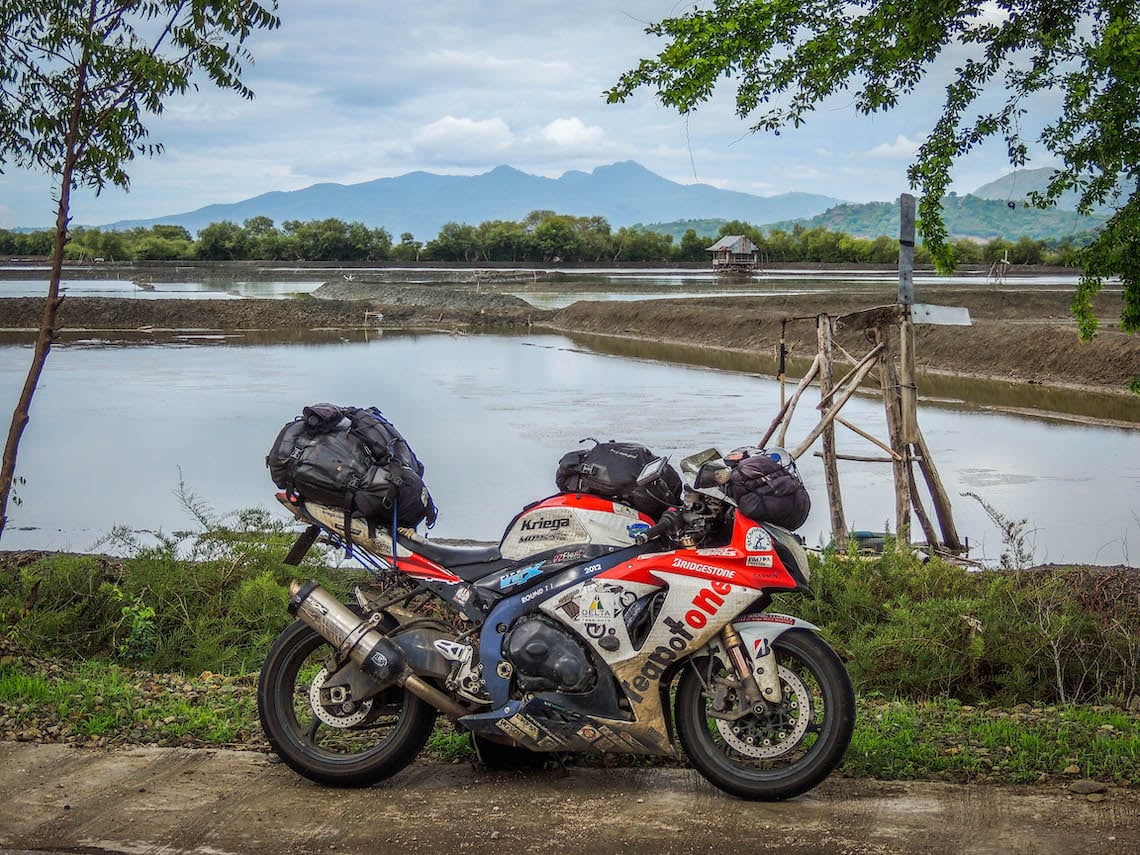 Tell us about the beard?
I couldn't be arsed shaving. Where I worked [in the police] you either had to have a full beard or be freshly clean-shaven. So I'd never had a chance to grow a beard, so as soon as I left I thought 'I'm not going to take a razor I'll just see how it goes.' And I wanted to see if my hair would grow as well, as I've never let that just grow.
Did it?
Not really. I just looked like Friar Tuck.
Could you have spent the rest of your life on the road?
I don't know, I really don't know. Financially if I'd been self-sufficient I think I could have done that for a while. But on the road finances were an hourly worry at times. I didn't like that. I've always been self-sufficient. In fact, the second half of the trip was pretty much all funded by social media; people putting tanks of fuel in through PayPal. That must have made about £9,000 and meant that I was able to finish the trip. I'll be forever grateful to those people, most of whom I've never met.
What do you think the trip cost?
All in, I budgeted £35k. That's what I thought it would be. But I certainly didn't camp enough, especially when I first left. I was staying in hotels/motels, so you soon piss through the funds. And the shipping, in the space of the 2/3 years of me researching how much it would be, the shipping costs had tripled in a lot of cases. That blew the budget. I would say all in it has cost me around £50k. For the whole thing; the first effort, then doing it the second time. Compared to some people it's a lot less than some have spent, but compared to others it's astronomical. I always flew my bike. Never put it on a boat, just because I had such tight time constraints.
Money well spent then?
Yeah completely. I'll be working a long time to pay that off; credit cards, remortgaging the house…
What were the sacrifices necessary for the trip?
Personally, it would be the relationship with the missus. I was just incredibly lucky that she stood by me. I'd love to say career wise, but it doesn't seem to have impacted on my career. I definitely spent too long worrying and planning for the trip. Looking back, give yourself a month, two months. Russia it takes a bit of time to get a visa, same with Africa, but pack your bags and go. It's just all the worry and the unknown. I sacrificed a lot of time with my missus, with my family. It's all anyone spoke about in the two years before I left…
Why did you call the project Tea Pot One?
It's all to do with the police. The Met police used to have a catering truck. If there was a mass deployment of officers, like a riot or football match, or anywhere there's going to be hundreds of Old Bill and you're going to be there for any length of time, they deploy a little van with a little hatch on the side that would come down and you'd get a cup of tea or coffee, and a biscuit. And if you were there for a long time you might get a bacon buttie. And the call sign for the van was Tea Pot One.
It'd just mean you'd get ten minutes off the front line to get your head together, then back in the shit hole. I was trying to come up with a name for the trip; the Smart Way Round, that sort of stuff. Then one of my mates in the job said, 'just call it Tea Pot One, cause 30,000 Old Bill in London will straight away know what Tea Pot One means, and that's where the name came from.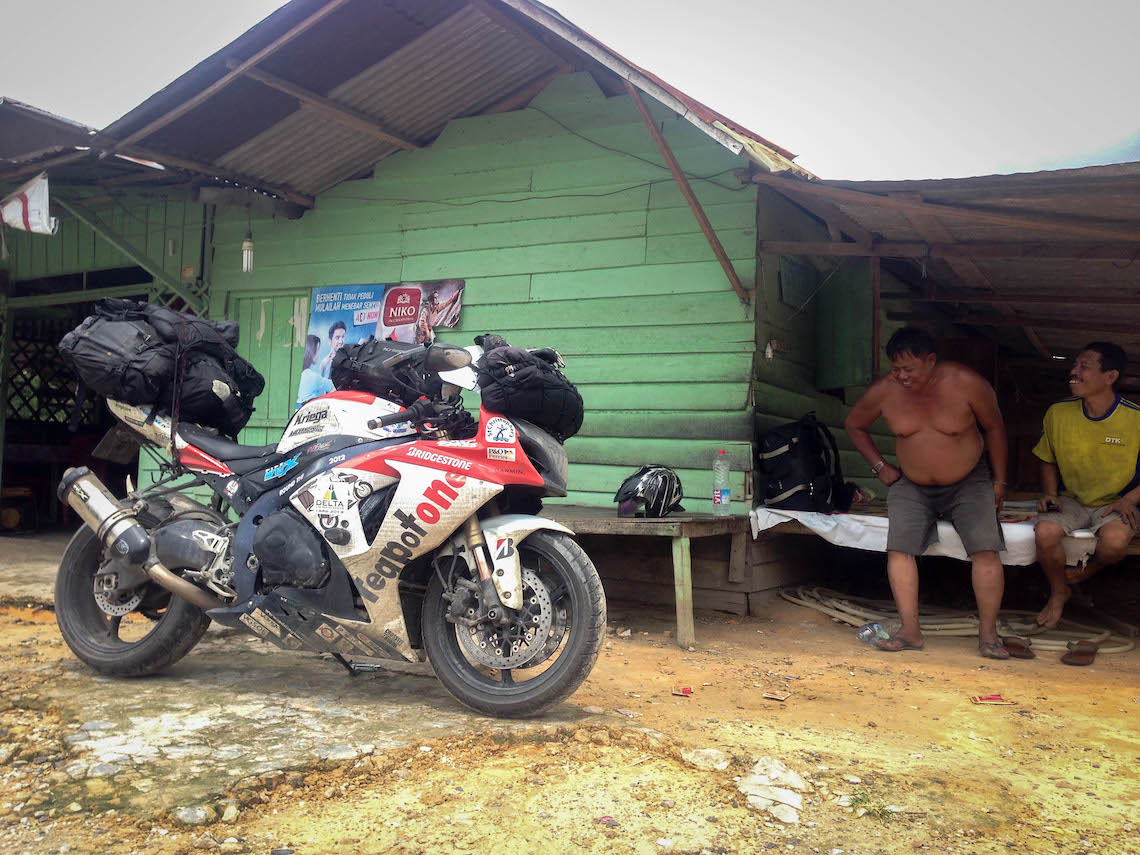 Do you think it has changed you?
My job as a policeman definitely is an institution. It does expand you in a lot of senses. You're exposed to many things; great things, horrific things. You meet great people, you meet scum of the earth. You do become very single-minded in your attitude to people. Basically, you don't trust anyone. Because the minute you trust someone they'll shit on you. You'll give someone the benefit of the doubt only to learn that they've been lying to you and you've let them go or something like that. So it does harden you a lot.
Coming away on this trip has been good because you find yourself where something does happen and you're relying on the kindness of complete strangers and it has refreshed the system a lot. So I've come back a lot more open than I was before. And for me, I thought there was no life outside of the police, whereas now I've come back and I know that's not the case. It's a big old world out there and you only get one shot, so live it. Enjoy it.
What's the difference between someone who does it and someone who just talks about doing it?
Mindset. It's having the faith in yourself. It's not a case of not worrying about the unknown, but if the unknown happens then it happens, you've just got to deal with it. The unknown can happen even when you're sat at home living your 9-5. That can happen. So I'm not scared of what the future will bring. You just roll with it. And I guess I've proven to myself how adaptable and resourceful I am, which most people are if they need to be.
Would you advise anyone else to do it?
One hundred percent. If you want to do it then do everything you can to make it happen. Very few people would be able to do a trip like that without having to make a sacrifice. Everyone has to make a sacrifice of some kind. Make a plan, figure out a way you can do it. Can you afford it? If you can't afford it figure out a plan to get the money. Follow the plan. Stick to the plan. And just do it. The hardest part that first time was leaving. I almost didn't want to go. That was weird. But once you're on the road you just have to go with the mentality of 'just roll with it'. That's part of the adventure.
To find out more about Bruce's trip visit: www.teapotone.com