ABR's green lane expert, Mike Beddows, shares how he goes about discovering new green lanes to ride.
I have ridden in many different areas of the UK (and abroad) and I'm often asked how I go about finding the lanes in a new (to me) area. In this issue I will be explaining the steps I undertake, along with detailing the lane that I've never ridden before (Offa's Dyke, page 30) and will use this as an example of how I find the lane, make sure it's legal and then what I do to actually mark the lane up for ABR.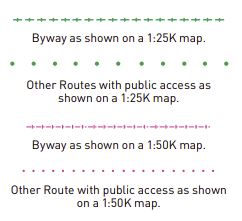 Firstly, I obtain an Ordnance Survey map of the area I want to ride. This can be in a paper copy (1:25K is best for detail, but 1:50K will do as well) or an electronic copy. Paper maps can be bought from the online map shop at www.ordnancesurvey.co.uk or in many high street outdoor shops, but my favourite method is to use the online maps from www.gpxeditor.co.uk (see GPXEditor section).
I drill in on the area I want to ride and look for the lanes. The way green lanes are marked will depend on the map you're viewing, so here's what to look for: 
It's also worth noting where the "Unclassified Country Roads" are, these look like normal roads but are in white on an OS map. Not all unclassified country roads are trails, some are simply tarmac but they are also worth considering. At this point it's also worth pointing out that not all byways and other routes with public access are trails. There are some occurrences where a pre-existing lane may have been tarmacked. Additionally, not all legal byways may be marked on an OS map. An example is the Snow Road in South Yorkshire.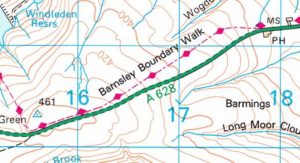 IS IT LEGAL? 
An important point to note is that even though a route may be marked on an OS map, it does not mean that it is legal to ride it, so exercise vigilance. Ordnance Survey cover themselves with this statement: 
"Public rights of way shown on OS maps have been taken from local authority definitive maps and later amendments. Rights of way are liable to change and may not be clearly defined on the ground. Please check with the relevant local authority for the latest information. The representation on this map of any other road, track or path is no evidence of the existence of a right of way." 
Imagine the scenario. A byway exists. An OS map is created and the route is highlighted for all to enjoy. The byway then unfortunately has a Trail Regulation Order (TRO) imposed, meaning that it is now illegal to ride on motorised vehicles. This effectively makes the byway on the map redundant. It now not legal, even though it is marked on the OS map. 
TRAILWISE
So now I've found a lane I want to ride. The next step is to find out if it is legal. This is the tricky part, and when I now check the TrailWise website (www.trailwise.org.uk). This will be more up to date than the OS maps, but still does not mean the lane is 100% legal. It will obviously point out if the lane has a TRO but again, this may not be 100% correct information. It is possible for lanes to have temporary TROs which expire and the lane becomes legal to ride again. 
The TrailWise site may not be up-todate so it can be used as a reference. But if the site states the lane has a permanent TRO, then it's not worth venturing any further. I take this as gospel. A permanant TRO means that it's pretty much closed for good. If you are a member of the TRF (Trail Riders Fellowship) you can ask for a code that gives you greater search parameters. As a guest you only get a narrow search radius on the map. 
So, you've now checked the OS map, found the lane, checked TrailWise and nothing points to the lane being closed. The only real way to find out if the lane is legal is to make an appointment with the local council and go and view the definitive map. 
THE DEFINITIVE MAP 
This is a live council document detailing what is, and what isn't legal for you to ride. I have to admit to never taking this step in the past… Until now. 
Not all councils have an online version of the definitive map, and even if they do, they state that the online version may be out of date (so, not 100% accurate). Apart from making an appointment with your local council and actually going to visit the 'live' official paper map it's the next best thing. 
SHORTCUTS 
Obviously, as you can see it's very time consuming to do all the above just to find lanes to ride. But if you want to be 100% sure you are riding legal lanes it has to be done… Or does it? For me, the enjoyment comes from getting out there and riding. So I do take a few shortcuts. I do get an OS map and look for the lanes. I use GPX editor to formulate a route that I can upload to my SatNav. 
Occasionally I will use the TrailWise website but, if I'm honest, I find it a bit clunky and outdated. Apart from viewing the online definitive map for the lane I've marked in this issue, I never bother with this bit. So I've now got a route on my SatNav that I've created from OS maps. I now ride the route. 
If I get to a new lane I've never ridden before I first look for signs of legality. This will come in the way of signage. Unfortunately the UK isn't great when it comes to signs. If you see a sign stating byway, then go ahead and ride it, if the sign states the route is closed (no motor vehicle sign) or has a TRO then definitely do not ride it. 
So, there are no signs. I now look for locked gates or obstructions. Have a look on the ground, are there any motorbike tracks? What's the area like? Are there houses, are you in the middle of a farm yard (I hate this on new to me lanes). If there are people about I will strike up a conversation. A lot of this comes down to common sense. If I'm in any doubt then I will simply bypass the lane and move on to the next one. If I choose to ride, I do it in a careful and considerate manner. Even after all this there is no guarantee the lane is legal. I am now taking a risk. 
The only way to be 100% certain is to have viewed the council's definitive map or join an organised ride out where you are shown the lanes by a local. Another good way is to join the Trail Riders Fellowship (TRF) and attend their rides or ask the TRF rights of way officer questions on legality of lanes. If you are a member, then they are there to help and assist you to stay legal. 
PRACTICAL EXAMPLE 
I decided to plan a ride in Shropshire in January, so I needed to find legal lanes to ride. I found a great looking lane using GPXEditor. A quick check on the Trailwise website and it isn't marked as having a TRO, so all's good so far. 
Next was to check the Shropshire Council's Definitive map. I found an online copy at the following web address (www.bit.ly/ShropshireMap). Not all councils have an online definitive map so it's worth doing a bit of research first. 
This short guide has explained how I find the legal lanes. Once I have identified a lane I go and ride it. I use a Drift Ghost action camera and film the lane from beginning to end. Whilst riding the lane I stop several times and take plenty of photos. At the end of the lane I decide if it is suitable for the magazine. If so, I download all the footage and watch the video back whilst making notes of the relevant sections. The first green lane article in this issue details Offas Dyke that I used for the example in this feature.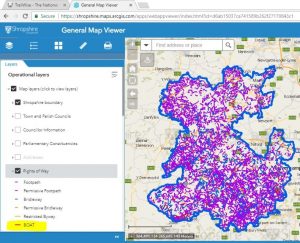 On the Shropshire Online Definitive map you can select to view all the Rights of way. This shows the byways in Red (highlighted on the left) but unfortunately does not show any 'ORPA' (Other Routes with Public Access). You will soon see that there are not a lot of byways when compared to the other routes, e.g. roads, restricted byways, footpaths and so on. You may think Shropshire isn't a good placed to ride due to the lack of byways, but fortunately there are a lot of UCRs and ORPA, though you need to search for these on an OS map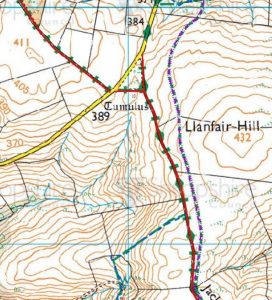 The online map even lets you drill into to 1:25K detail (remember the legend on a 1:50K map will be different, on the map to the left you can see the Green crosses of the byway).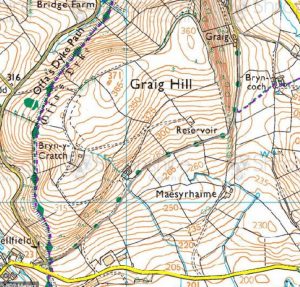 On the zoomed in detail from the interactive online map the route can be seen (1:25K) as green dots. I have selected 'Shropshire Maintained Roads' on the legend and this indicates an 'Unclassified Country Road' in grey. This is also legal to ride and is nonetarmac in this instance.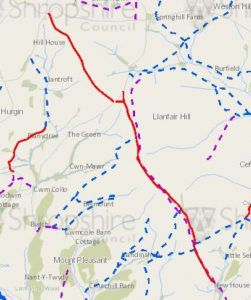 Still on the online definitive map. The interactive map allows you to zoom in and see a detailed view. If the route is listed as a byway on the definitive map the chances are it is legal to ride. There is still a slim chance that there could have been a recent TRO and that the online map hasn't been updated, but in this case I would expect a TRO sign on the actual route.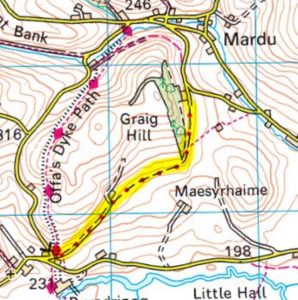 Just to prove that ORPA are also shown on the OS maps and Online definitive maps, here (highlighted) is an example found in Shropshire. It is viewed here on a 1:50K scale from www.GPXEditor.co.uk
GPX Editor 
www.gpxeditor.co.uk is a fantastic tool that not only allows you to view OS maps but also allows you to create, and view GPX files which are great for uploading to SatNavs. I always plan my routes in advance using this site and then save as a GPX file. I then load this into Garmin Basecamp, connect up my Garmin Montana 650 to my PC and upload the GPX file to the SatNav. It's then an easy case of following a line as I ride the route. As this is an article on riding the lanes I will not be going into detail on how to use this site (we'll look at that next issue), but it's worth spending a bit of time and having a play