If the boot fits, buy it, says Alun Davies
Why do you need touring boots?
The simple answer is protection. To get the most out of your motorcycle touring and enjoy your extended time on two wheels your feet need to be protected against the elements, flying debris and in the event of an accident.
The perfect boot will help keep you warm and dry in wet and windy conditions; it'll protect your shins and calves from loose objects kicked up by your front wheel and by the car or bike up ahead; and as feet and ankles often bear the impact of low-speed accidents (as opposed to head, hands and arms in high-speed collisions) your boot needs to be a robust and supportive first-line of defence.
How do I pick the right boots for me?
Protection is vital when it comes to choosing a pair of motorcycle touring boots but, in our opinion, it's not as important as fit and comfort. The wrong-sized boots, even if they have the defensive capability to see off an Exocet missile, will just make your life on tour a total misery to the point that having your lower leg severed by a rocket is a viable option.
Historically motorcycle boots were made out of heavy, thick, unforgiving leather and the only rule was you wore them until your feet moulded to the shape of the boot. I've a deep fondness or nostalgia but an even greater love for the more comfortable out-of-the-box type boots which are available in the shops today.
To ensure you buy the boot that fits best you're going to need to take into account that over the course of a day your feet will swell, and in some cases this can be up to a shoe size. It's therefore best to go for a boot fitting in the afternoon rather than the morning. It's also a good idea to take along the socks you plan to wear when riding, especially so if you prefer wearing thicker thermal socks and a thin liner.
First, have your feet measured – the best shops will have facilities to do this. Take your time trying on different styles and brands and you'll find that some fit better than others. Then try on both boots and walk around the shop making sure you can wiggle your toes. There should be a space between your toes and the front/top of the boot; your heel should be held firmly in place, though, and not feel as though it's raising up out of the boot. Also, make sure the widest part of the instep is a comfy fit with no pinching of the foot.
If the boot doesn't fit, leave it in the store. Don't buy uncomfortable boots thinking you'll be able to 'break 'em in'. It's not worth the pain, even if they are the hottest fashion. You could end up with corns, calluses or blisters, especially so if you plan on doing any amount of walking in them when on tour.
Boots that are too tight will restrict circulation, which causes cold feet and can increase the chances of frost nip or frostbite if riding in severe winter temperatures, and at the very least make life seriously uncomfortable. Both over-tight and excessively loose boots can cause blisters, but if you can't find a pair to fit spot-on then I'd advise going for something a little on the larger side and filling them out with thicker socks or a change of insole.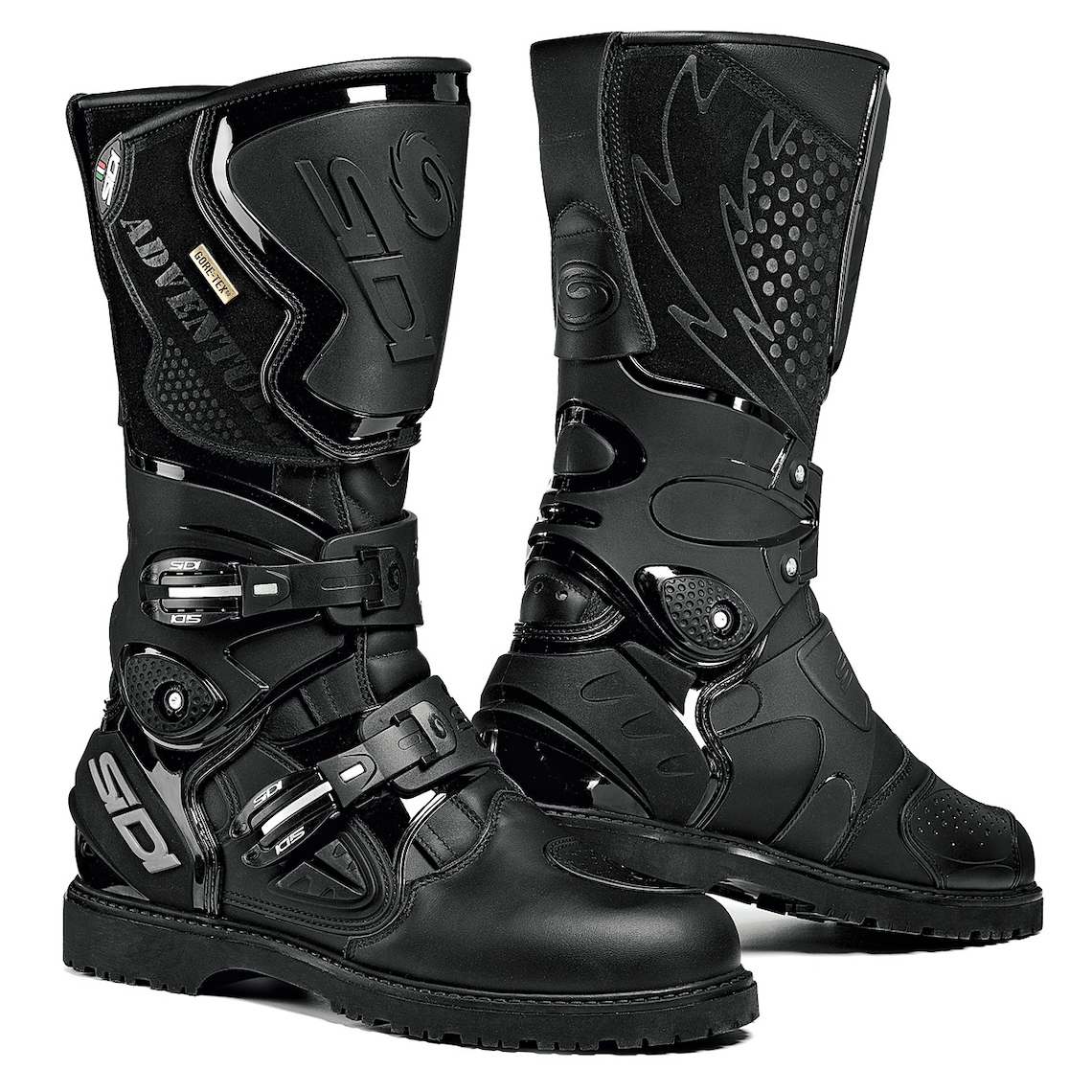 And once you've found the right fit…
Check that the boot carries the European Safety Standards EN13634 mark
Make sure it's at least six inches high, the best height for a touring boot
For general touring avoid hard, slick soles and choose a good tread pattern for grip
Are they leather? Full-grain leather of at least 1.5mm thick is ideal
A waterproof lining keeps out the wet stuff but will make feet uncomfortable in hot weather. You can't win on this one!
Seams are a weak point; the fewer seams the better
Reinforced shifter pads, toes, heels, ankles and shins are good news
Sidi Adventure Gore boots in black are available in sizes 41-48, SRP £294.95, from Feridax.com or call 01384 413841 for your local dealer