The latest and greatest biking kit
Richa airforce
£189.99 www.nevis.uk.com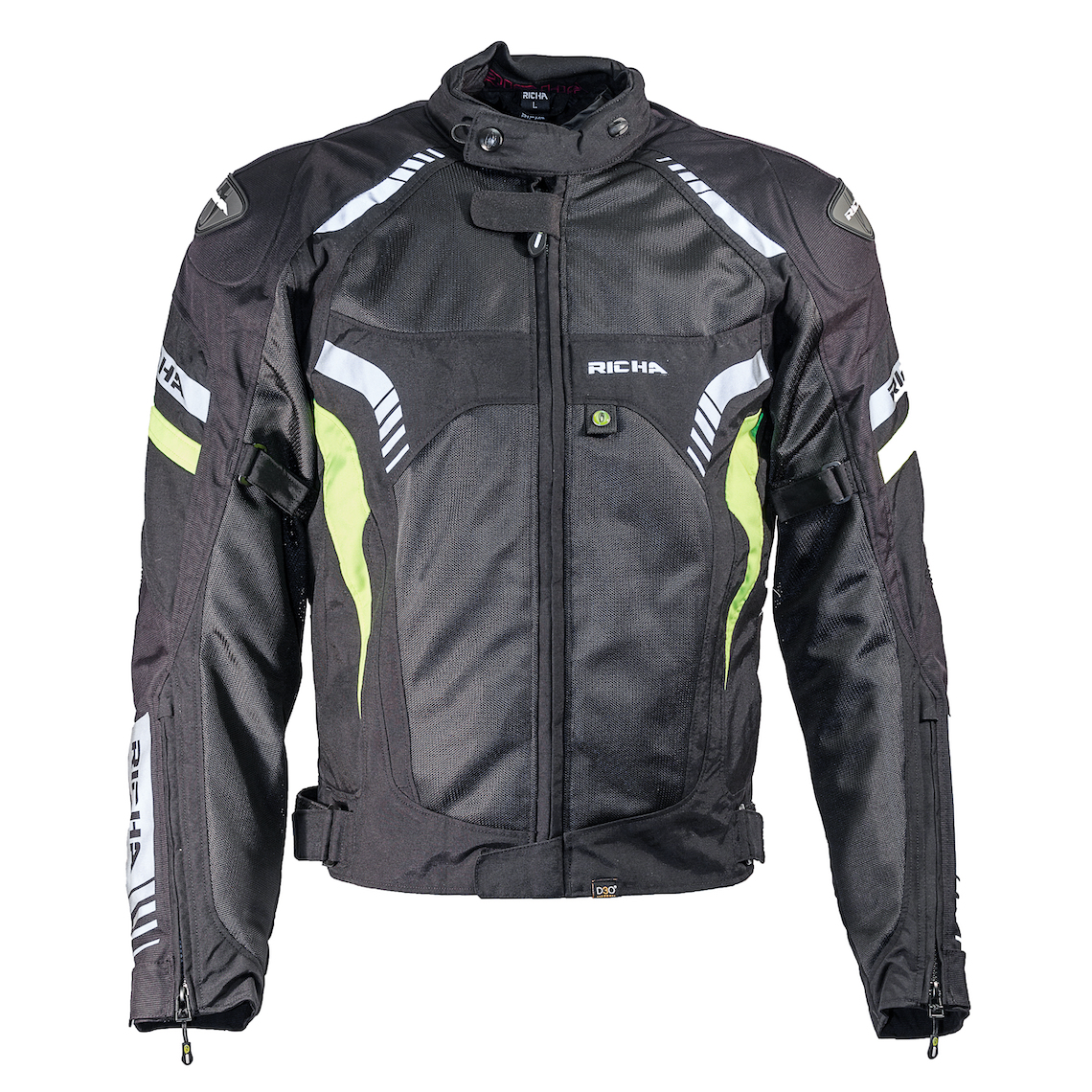 What is it? A new three-layer textile touring jacket that's ideal for summer riding
As more and more adventure sports bikes are sold it seems that manufacturers are responding by offering fresh textile suit designs with aggressive, sporty cuts. The Airforce is a brand new jacket from Richa that looks to provide an ideal combination of versatility and a sporty fit, being of a three-layer construction.
The Airforce features fully removable thermal and waterproof linings, and the external shell is made using a high-density polyamide fabric with full mesh panels to provide a fantastic flow of air for warm weather riding.
The Airforce comes with CE Level 1 armour inserts on the shoulders, elbows and back as standard, and reflective detailing will help ensure you're more visible in poor lighting. In terms of sizing, some may find the torso to be a little too short for their liking, so it's essential to try the Airforce on before you buy. With that said, if the jacket fits, for £189.99 you have a great, versatile textile jacket with stylish, understated looks.
Muvi X Pack
£139.95 www.veho-world.com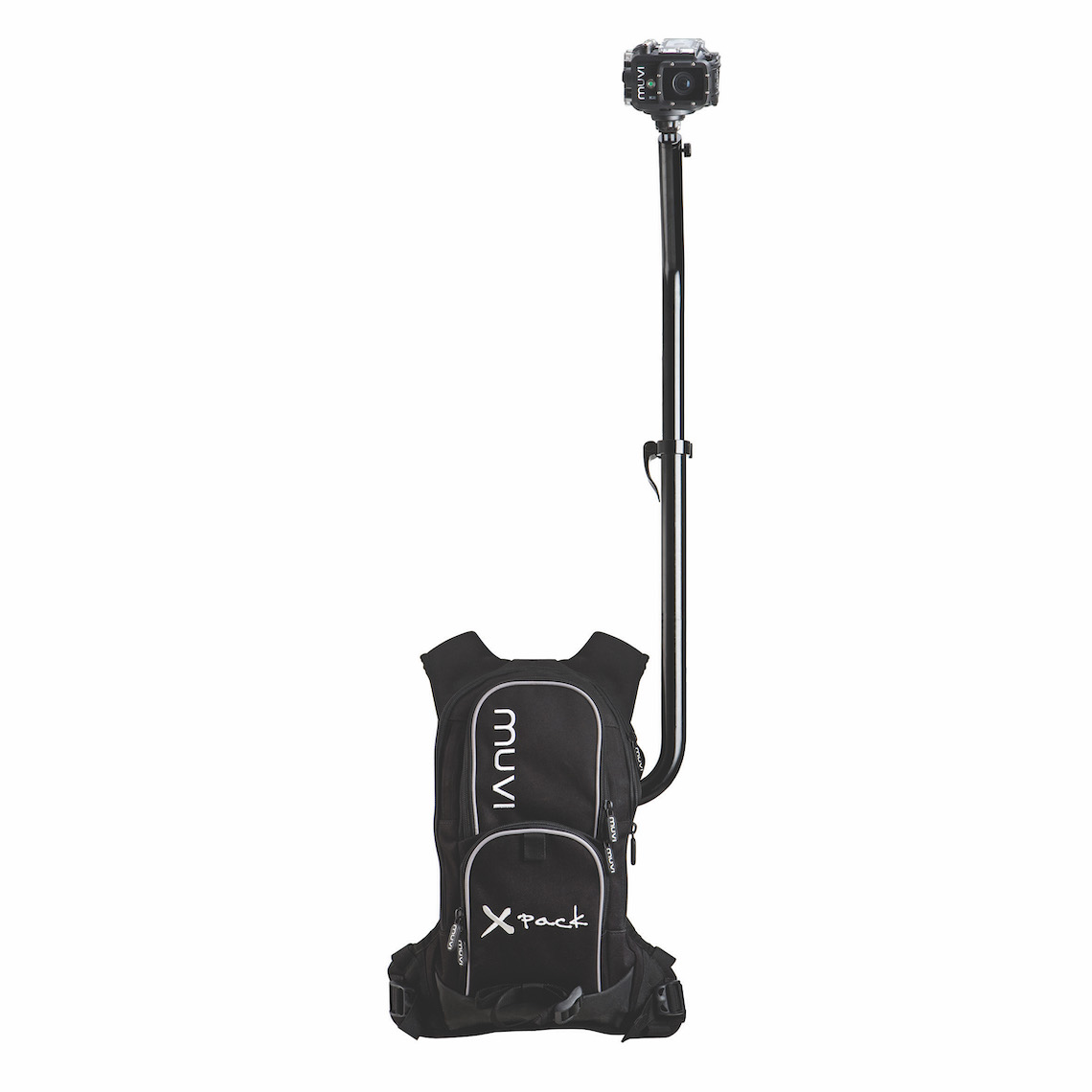 What is it? A rucksack with an extendible boom pole mount to allow you to get some awesome viewpoints for your action camera footage
If you're shooting footage of a ride on an action camera, you'll no doubt be aware that when on a bike you're pretty limited to what perspective you film from. It's usually a straight choice between helmet-mounted rider point of view (POV) or fairing-mounted bike POV. With the Muvi X Pack that all changes.
What we have here is a wearable rucksack (which fits nicely over the bulkiest of jackets) with an extendible boom pole that allows you to mount your camera up to 128cm overhead, behind, in front, or to the side of you to get some unique POVs.
The boom pole can be split into three sections so that you can customise the mounting distance, and the standard mounting point is compatible with most action cameras (it uses the same style on GoPro). If your action camera doesn't fit this you can usually buy an adaptor.
The boom pole features a shock-absorbing baseplate so that the X Pack can be used on the toughest of terrains. In terms of carrying capacity, the X Pack will contain itself as well as your action camera, but not much more.
TCX Comp EVO Michelin
£339.99 www.compevotcx.com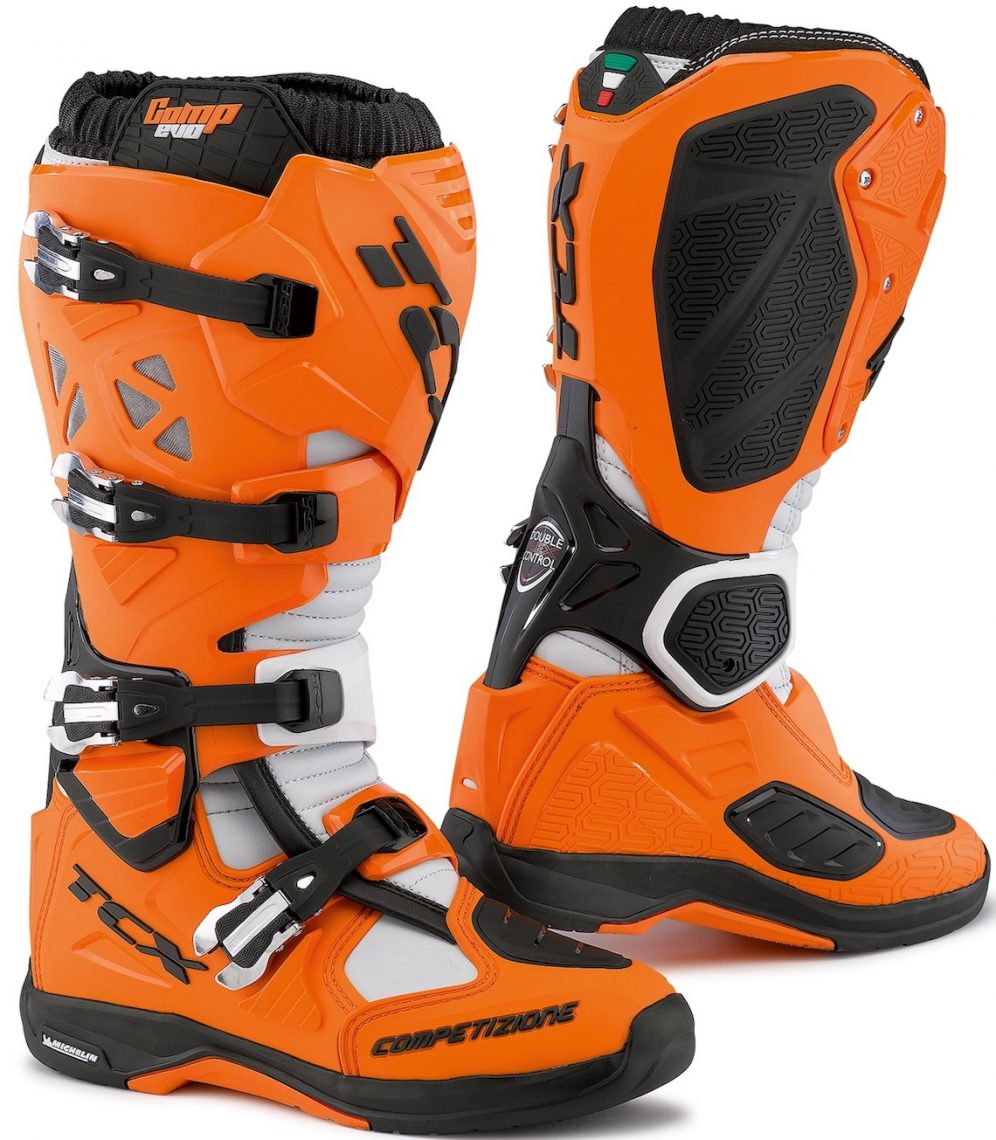 What Is It? A pair of off-road motorcycle boots that make use of a hybrid Michelin sole
If you're an avid green laner or your tour destination of choice involves warm weather and off-road riding then the TCX Comp Evo Michelins are worth a look. These impressive looking boots are part of TCX's off-road range and they're the result of a collaboration with tyre manufacturing giants Michelin, whose input can be seen in the sole unit that the product uses.
The upper is a remarkably solid, yet flexible amalgamation of polyurethane and soft microfibre with an elastic upper collar (to prevent debris from entering the boot) which comes together to create an incredibly comfortable, reassuring, and protective fit.
The TCX Comp Evo Michelin boots are chunky, there's no denying it, but when compared to similar boots, like the BMW GS Pro, they offer a far more comfortable fit straight out of the box. This is largely down to TCX's Double Flex Control System, a construction method which allows the ankle to pivot with the natural movement of the foot up to a 15 degree angle.
The Michelin MX Hybrid sole is fantastic in most off-road conditions, with a variety of tread patterns combining to provide optimum grip in all areas. The exclusion of a waterproof lining and the presence of multiple ventilation points make these an ideal choice if you're going to be travelling in warm countries, or if you're planning some deep river crossings.
At £339.99 they're a significant investment, but if you spend as much time on the trails as you do on the tarmac, give them a go.
Trailblazer Guides Adventure Motorcycling Handbook
£15.99 www.trailblazer-guides.com
What Is It? The seventh edition of the iconic adventure motorcycling bible
"The first thing we did was buy the Adventure Motorcycling Handbook", Ewan McGregor is quoted as saying when asked about preparation for the trend-setting Long Way Round ride. Well, he certainly won't have been the first, or the last, person to do so.
The Adventure Motorcycling Handbook is the brainchild of serial adventure motorcyclist Chris Scott and it does exactly what it says on the tin.
Punctuated throughout with anecdotes from some of adventure motorcycling's most iconic names, the book is a fountain of knowledge with advice on planning, preparation, bike choice, gear advice as well as a full breakdown of what to expect on the road.
For anyone looking to do some extended touring this is a must-read, especially if you're heading to Asia, Africa or Latin America. The book has recently been updated for its seventh edition to add new sections on bike choice, an updated overland route outline, and a solo woman's perspective by Lois Pryce and over a dozen full-colour trip reports.
BMW Rallye Suit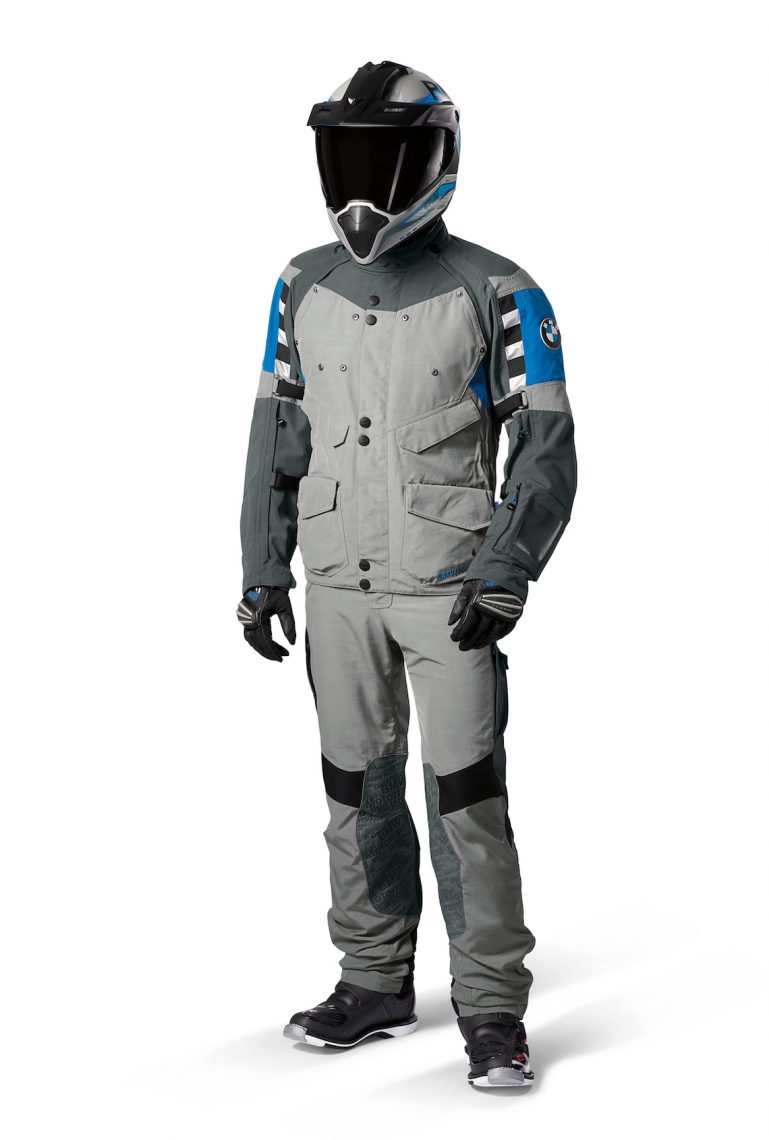 What is it? A two-layer jacket and pants combo
You can say what you want about the look and image of the BMW Rallye suit but there's no doubting that the original product created the 'adventure' styling that is now commonplace and that the suit itself is of an exceptionally high standard when it comes to quality.
BMW class this Rallye as suitable for off-road and RTW adventures though in our experience it's just as functional for a weekend ride out in the Cotswolds. There's no doubting that the price is at the upper end of the scale and as such if it has a weakness then it's down to the fact that the waterproof membrane is not laminated to the outer layer, allowing it to wet out quickly in downpours. That said, it is more breathable and suitable for warm weather riding than it's high-specced and priced laminated competition.
As with previous Rallye Suits, you get just about every useful and practical feature you could need and a few you might find redundant – we've yet to zip off the sleeves in over six years. New for 2016 are two new colourways plus an improved outer material which includes a 13% technical wool mix. The result is a far more pleasant handle and increased rider comfort for a product which was already top-notch.
Glovetacts
$9.99 (roughly £6.80) www.glovetacts.com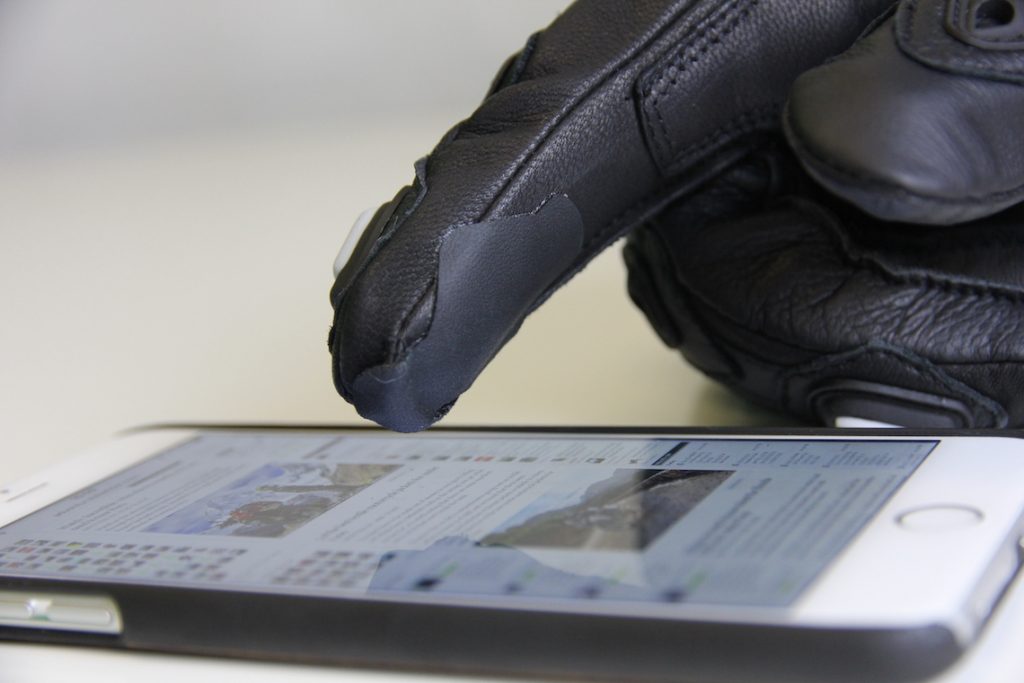 What Is It? A sticky pad that makes your gloves touch screen compatible
If you've ever tried to use your phone with your riding gloves on then no doubt you've come to terms with the earth crushing realisation that our link to the digital world is effectively cut off as long as gloves adorn our fingers.
Some manufacturers have begun to make specially designed finger pads on their products that allow you to use your phone while still gloved up, but what happens to us Luddites who are happy enough to use our old, non-touchscreen compatible gauntlets?
Fortunately, someone has come up with a genius way of making your old gloves touch screen friendly. GloveTacts are small adhesive pads that you stick to the index finger of your gloves to make them compatible with a smartphone screen.
They're incredibly easy to attach, the adhesive has a super-strong bond that GloveTacts claims will offer a 'lifetime connection' and they're also machine washable. I've had the GloveTacts on my riding gloves for the past few weeks, and I've found them to be a brilliant, easily affordable solution to the old glove/touch screen dilemma.