The latest and greatest biking kit
Shoei Neotec II
£519 www.shoeiassured.com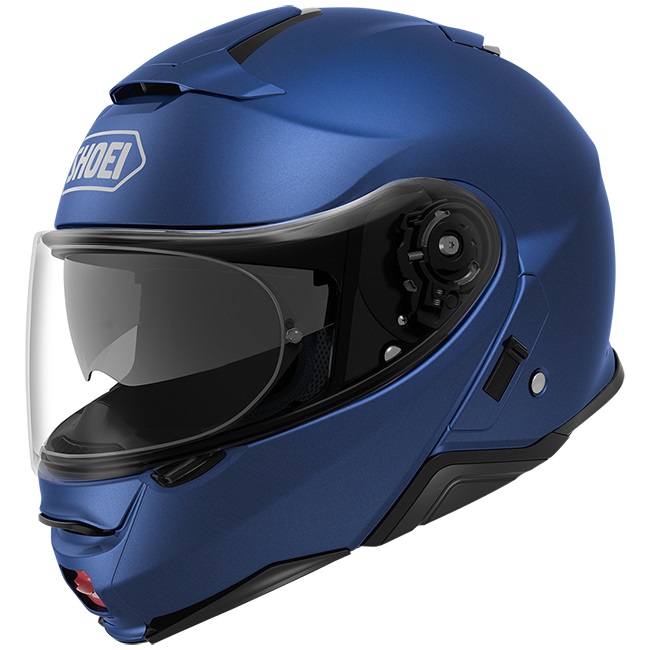 What is it? Shoei's premium flip front helmet. For the first time in my life, the helmet I was wearing received more attention than the bike I was riding, and considering I was on a BMW R 1250 GS, that's quite an achievement. For the past few months, I've been sliding my head into the beautiful Neotec II, Shoei's premium-priced and specced flip-front helmet.
Available in 15 different colours and styles, I opted for the matt blue metallic one, and boy is it a beauty. But looks aren't everything, and the Neotec II's been designed with comfort, safety, aerodynamics, and noise isolation in mind. In fact, Shoei calls the Neotec II an 'every-occasion helmet with the adaptability to excel no matter where your next journey takes you'.
With this in mind, the helmet is dual homologated, meaning it's legal to wear on UK roads either flipped up or down, making it an ideal touring lid. Even without the chin bar flipped up, the Neotec II is well ventilated throughout and is an absolute delight to wear thanks to the soft, plush cheek pads and inner lining.
The flip-front mechanism is simple and easy to use with a single gloved-up hand, while the internal sun visor is nicely placed and effective in bright conditions. In the box, you get a Pinlock insert as standard, and a chin curtain that works impressively well at reducing turbulence inside the lid. I've put just over 1,000 miles into mine so far, and it's my goto lid at the moment.
REV'IT Expedition H20
£499.99 www.revitsport.com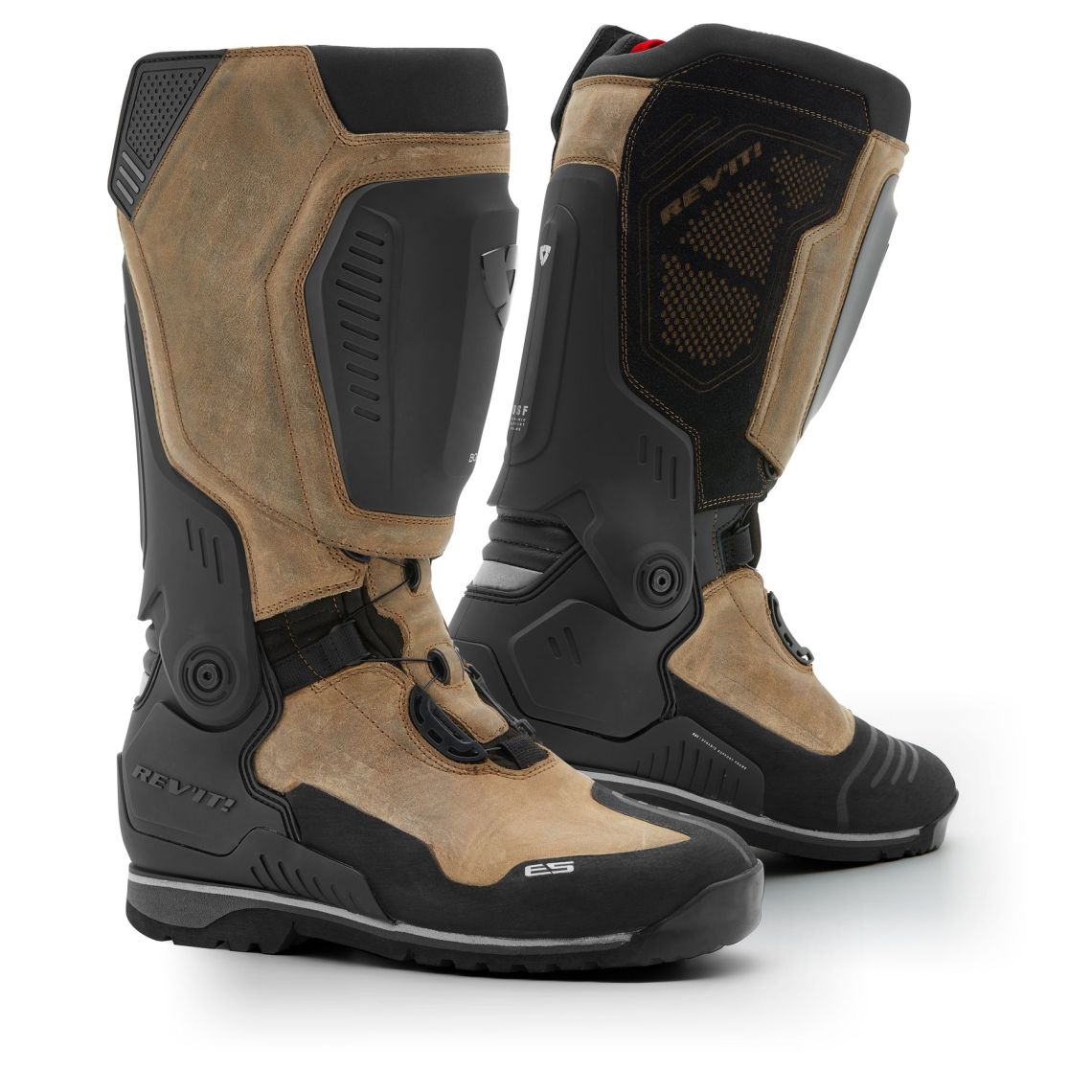 What is it? REV'IT!'s newest adventure boot that's designed to offer comfort and protection. Over the past few years, REV'IT! has been producing some superb kit, striking a great balance of cool, stylish looks and genuine high performance.
During the making of this issue of Adventure Bike Rider I was lucky enough to get my hands on a pair of the company's new adventure boots, the Expedition H20. A quick look on the REV'IT! website reveals marketing spiel that claims the boots are 'revolutionary' and 'motorcycle footwear like you've never seen it before'.
I'm usually quick to dismiss product descriptions, but these are unlike any other bike boots I've slipped my feet into. While stylistically they may not be to everyone's taste, a closer look revealed a beautifully crafted product which has clearly had a lot of thought put into it – and at £499.99, you wouldn't expect anything less.
They're designed to offer uncompromised levels of protection and armour while maintaining waterproofing and all-day comfort, even while walking around. To satisfy all three points of this holy trifecta is a notoriously tricky task, but the Expedition H20s come well equipped. Starting with a Boa lacing system which allows you to get a snug, comfortable fit with ease.
Waterproofing is provided by hydratex Sphere, a laminated membrane that offers great weather protection all-round, impact protection is provided by substantial armour inserts throughout the boot, and REV'IT!'s Dynamic Support Frame offers a supportive fit that prevents overextension and rolling of the ankle.
With that in mind, the next step up in terms of all-round protection would be sticking your feet in the hatch of a Challenger 2 tank (or full-on motocross boots). I'll be breaking these boots in over the summer and will post a full review on the ABR website, but the early signs are great.
Click'N'Ride 4 Set Quick Release Indicator Kit
£82.49 www.rg-racing.com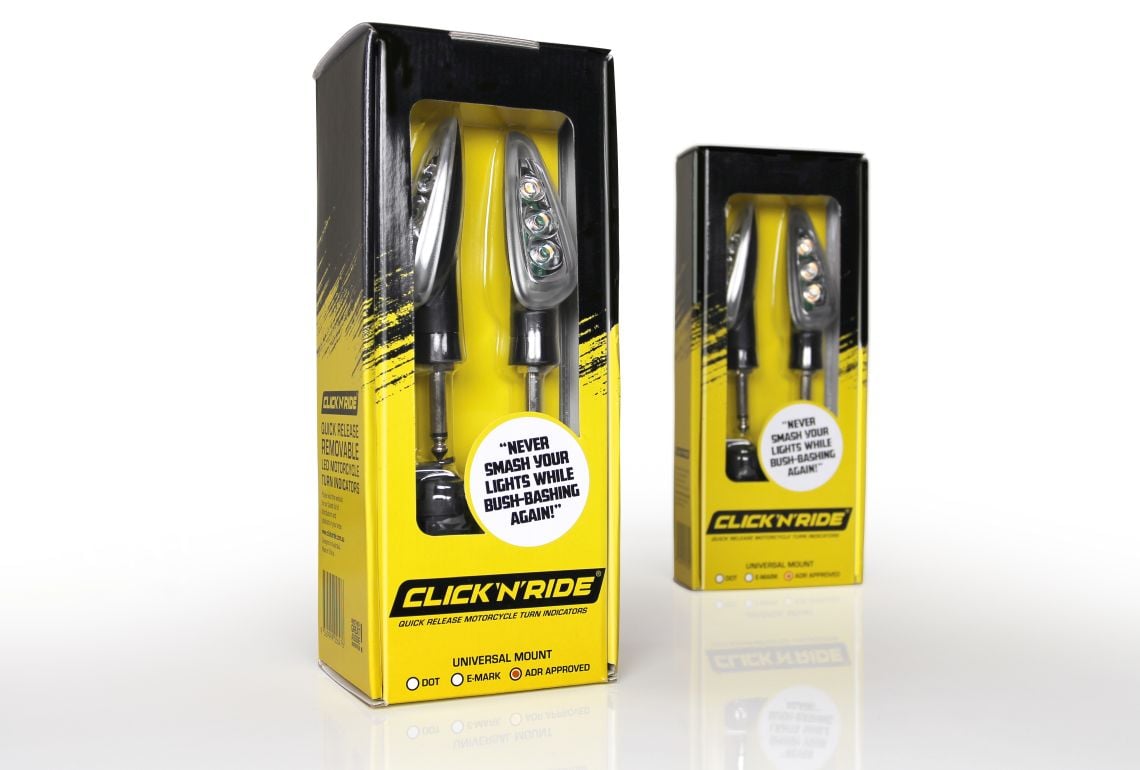 What is it? Removable indicators for off-road riding. It's a fact of life that if you ride off-road you're going to have to replace a broken indicator at some point. It's just the way it goes.
I even broke the indicator on James's Tiger 800 XCx recently. Of course, it was an accident (I caught my foot on it as I dismounted) and I told him he broke it. So, what can you do other than Duct tape them and resign yourself to the inevitable? Click'n'Ride has thought of a genius solution in the form of a quick release indicator kit.
Once fitted, your indicators essentially become plug and play lights, with a simple socket and pin attachment system allowing you to take them off or put them back on in seconds. The LED indicators wire into your existing indicator set up and are easy to fit with simple to follow instructions.
A set of four indicators will set you back just over £80, but once you've got them fitted you shouldn't have to worry about damaging your indicators off-road again. If you do, replacements can be bought for a very reasonable £13.33.
Halvarssons Light Wool Sweater
£54 www.jofama.se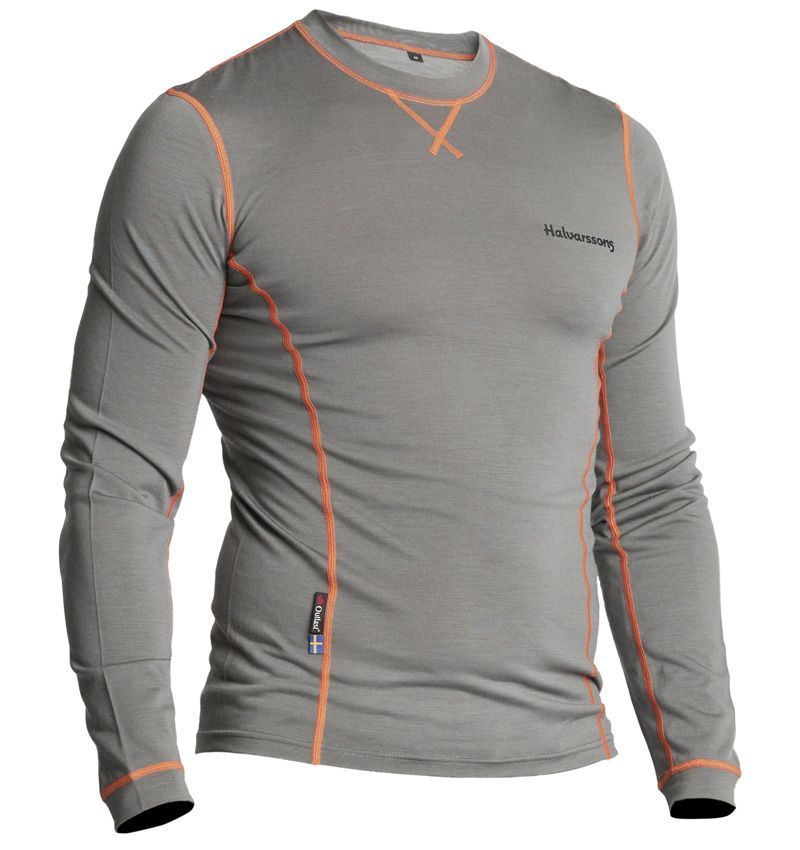 What is it? A base layer that uses a blend of merino wool and Outlast to provide efficient temperature regulation. The importance of good base layers is often overlooked when shopping for motorcycle gear, but it shouldn't be. While your motorcycle jacket will provide protection from the weather and the tarmac and your mid-layer will largely provide warmth, it's your base layer that helps regulate your body's temperature and keeps you comfortable in the saddle.
Recently, I've been using the Light Wool Sweater from Swedish company Halvarssons. Made with a composition of 61% merino wool and 39% Outlast, the base layer has been designed to offer the benefits of both materials.
Outlast is a phase change fabric that stores body heat when you're getting too warm and releases it when you get cold, effectively managing your body's temperature, while merino wool offers superb next-to-skin comfort, an excellent warmth to weight ratio and it benefits from odour resistance.
By combining these two fabrics, Halvarssons' Light Wool Sweater makes for a very good motorcycle touring base layer. It's nice to wear, offers a good fit, and it does a great job of regulating body temperature to help keep you comfortable in variable temperatures.
Richa ARC GTX
£639.99 www.nevis.uk.com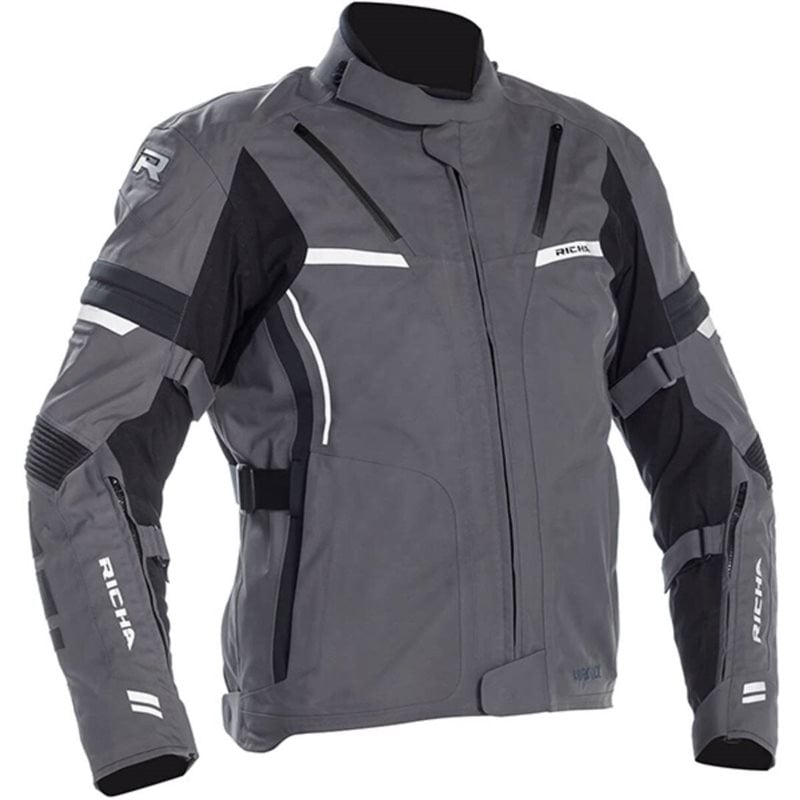 What is it? A laminated Gore-Tex touring jacket with a sporty fit. Straight out of the box, the Richa Arc Gore-Tex jacket feels like a quality item, which reflects the fact it sits near the top end of the Belgian firm's textile range.
All of the seams are neatly stitched, zips are waterproof or feature substantial storm flaps, and reflective material is subtly worked into the design of the jacket throughout. Putting the jacket on for the first time reveals how light the Arc feels.
This is thanks to a full complement of D30 armour in the back, shoulders and elbows, a material that manages to be both lightweight and protective in the event of an impact.
The fact the jacket features a laminated Gore-Tex membrane also means there is no need for a bulky waterproof liner. Richa describes the Arc as having a sporty touring fit with slim-fit sleeves. This is reflected in the shorter cut of the garment, with it being sportier than the adventure jackets I'm used to wearing.
This leads to a more stylish and figure-hugging look, which looks fantastic if you have the figure to pull it off! The outside of the jacket features two sizeable pockets at the front, a map pouch at the rear, chest and exhaust vents, and adjustment straps at the waist and arms to finetune the fit. Inside, there is a detachable thermal liner for colder days, as well as handy phone pouches and pockets.
There are also pouches for D30 chest armour, which needs to be bought separately. On first impression, the Richa Arc Gore-Tex jacket appears to be a quality piece of gear at a reasonable price for a laminated jacket. It'll be suitable for touring, commuting, or weekend rides, whatever the weather.
Pro Series X-Raid Textile Trousers
£219.99 www.rst-moto.com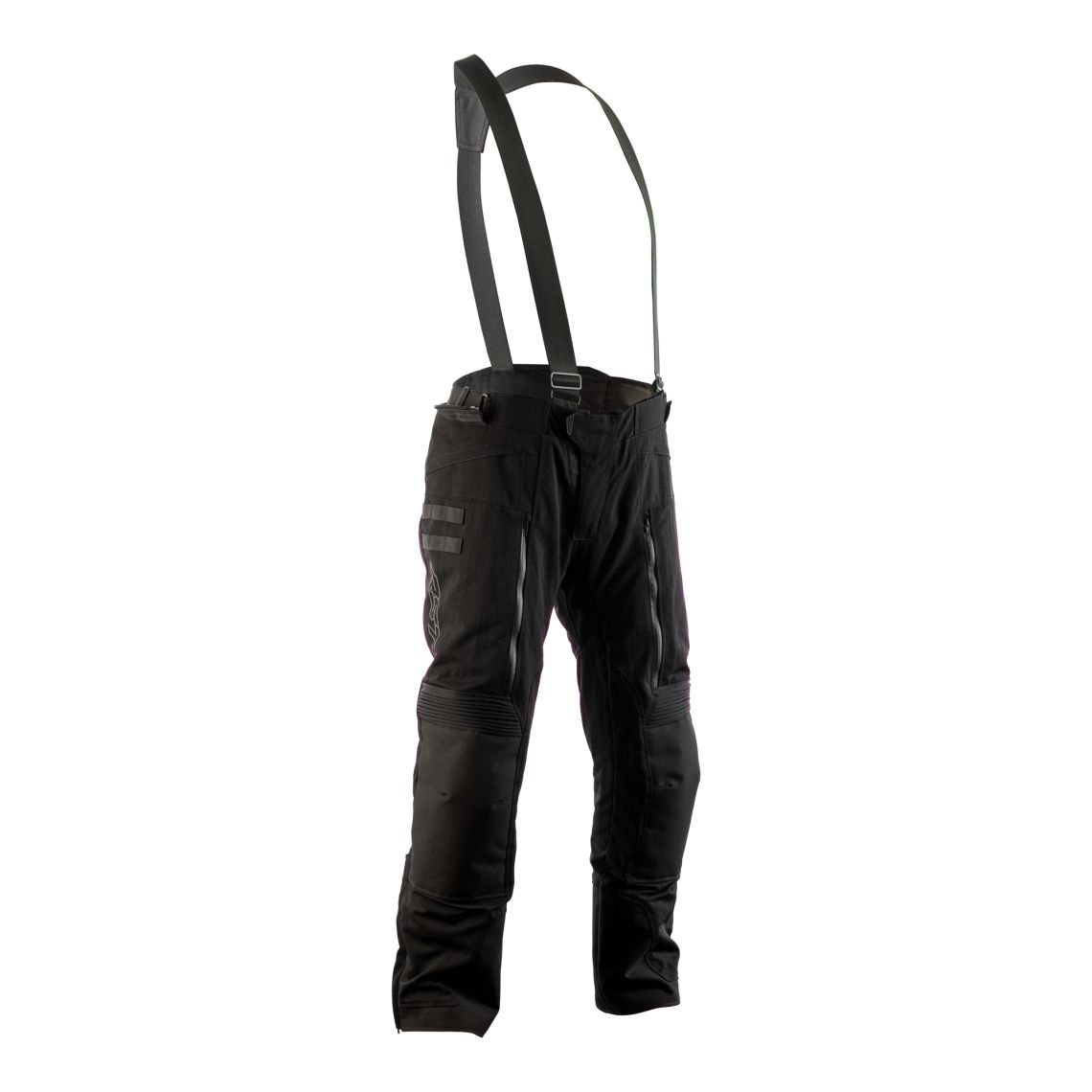 What is it? Textile motorcycle trousers from British brand RST. I once owned a motorbike that pooled water on the seat just in front of my crotch when it rained. I also happened to own a pair of motorcycle trousers that leaked like a sieve. The result was some of the most uncomfortable riding of my life.
I've learned that cold and wet legs soon make for a miserable riding experience, no matter how warm and dry your top half is. I had no such issues on a recent 460-mile roundtrip to Cornwall while wearing the RST Pro Series X-Raid trousers.
It was the first time I'd donned the stylish looking textiles and I was hugely impressed. The journey consisted of eight hours at motorway speeds, lashing rain, high winds, and plummeting temperatures. The trousers kept my lower half dry and warm throughout.
Made from abrasion-resistant ripstop and Cordura fabrics, the RST Pro Series X-Raid trousers feature a fixed SinAqua Pro waterproof lining and a removable thermal lining. They also have CE Level 2 armour at the knees as standard and a pocket for optional hip armour.
Overall, the trousers have a quality feel about them, noticeable in features such as the inclusion of removable braces, waterproof zips with substantial storm flaps, and two large vents on the thighs (though they are backed by the waterproof lining so their effectiveness will be limited on warmer days).
They also look stylish and feel comfortable to wear. The trousers also have a matching jacket, the Pro Series X-Raid, which retails at £259.99. I've not had the chance to put any miles into it yet, but if the trousers are anything to go by, RST has produced a solid textile suit here.