Cool gear that's good to go riding with
CONTIGO
Feeling s-mug
From £28.00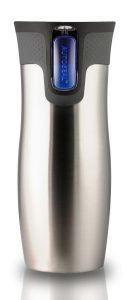 Any liquid which leaks inside panniers or bags is a pain in the arse, let's be frank. This Contigo travel mug promises that, whether you're carrying hot tea or cold drinks, you'll never spill another drop. It's claimed to be 100 percent spill and leak proof – and we're inclined to believe them. Even when filled to its 500ml capacity, once the Autoseal lid is screwed securely in place the Contigo can be shaken, rolled and even stood upside-down without so much as a trickle of liquid escaping – impressive! And it's all thanks to its clever Autoseal design, which means that liquid can only be dispensed through the drinking hole in the lid when the release button is depressed; otherwise it remains as watertight as a nun's alibi.
Contigo's vacuum insulation also keeps cold stuff cold for up to 12 hours and hot stuff hot – very hot, in fact. Tea made with boiling water will stay piping for two hours and pleasantly drinkable for four. The only caveat here is that, because the mug's so well insulated, it's difficult to tell exactly how hot the content is. It's worth taking a very tentative first sip, to avoid a burnt mouth (the instructions advise that hot drinks be made with water not exceeding 90°C).
The mug's slim stainless steel design means it's easily slipped inside a tank bag or smuggled in among larger items in the panniers (so long as nothing's pressing into the release button!). On days off the bike it will sit comfortably in the car cup-holder too. And as far as travel mugs go, it's a bit sexy, eh? Available in six metallic colour combinations, you're sure to find one which complements your ride. www.contigo.ie
ACF-50
Weatherproofing your wheels
Around £14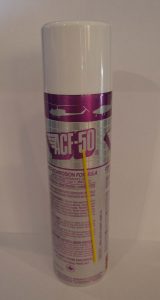 During shooting for Pirates of the Caribbean, special effects and lighting crews found that high humidity and temperatures in the Grenadines were playing havoc with their electronic equipment as sensitive elements began to corrode in the warm, damp conditions. Enter ACF-50, an anti-corrosion formula so strong (and handsome!?) that it even upstaged Johnny Depp on set.
ACF-50 is a state-of-the-art, anti-corrosion/lubricant compound that was originally designed for the Aero Space industry. It's dispensed as an ultra-thin fluid film compound which actively penetrates corrosion deposits to the base of the cell, where it emulsifies and encapsulates the electrolyte, lifting it away from the metal surface. It then dispels moisture and provides an atmospheric barrier, thereby keeping the cell inactive – clever, eh? One treatment will actively penetrate and seep into seams, lap joints, micro cracks and around rivet heads, dissipating the moisture – even salt water – for up to 12 months. When used on new metal, it forms a self-healing barrier that prevents corrosion from starting.
ACF-50 can be used anywhere on the bike except the brake; it's also an excellent lubricant, but doesn't contain wax, resin, silicon or Teflon, which can gum up mechanisms, block drain holes, or cause corrosion by trapping moisture. www.acf-50.co.uk
AIRHAWK SEATING SYSTEM
Long-distance comfort
From £80.68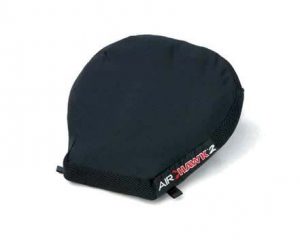 The Airhawk seat overlay system is designed to eliminate discomfort, numbness and pain caused by long days in the saddle. The inflatable cushion incorporates dry flotation technology, to perfectly match body shape and riding posture; this helps to relieve sensitive pressure-points and provide a more comfortable ride.
Dry flotation technology uses interconnected air pockets within a non-hardening neoprene or a polyurethane model. The result is that the seat effectively mimics the properties of water, evenly distributing the rider's weight across the cushioning surface and away from peak pressure areas. The design also reduces vibration to the spine, another source of discomfort, and promotes blood flow.
The cushion is available in two guises; the Original Airhawk, which is made from a soft, pliable neoprene rubber, and the Airhawk 2, which is made from a polyurethane material. There is a distinguishable difference between the two materials; the polyurethane is much lighter, thinner, and does not stretch as much as the neoprene rubber. The neoprene's stretchy material has a much more substantial and luxurious feel and gives better feedback from the road. The other significant difference, however, is the price. And with the original coming in at £162.38 – around twice the cost of the Airhawk 2, you may want to opt for the cheaper seat. Having said that, you can't put a price on long-distance comfort, can you? www.bykebitz.co.uk
OREGON ATC9K HD ACTION CAMERA
Lights, camera, action
£249.99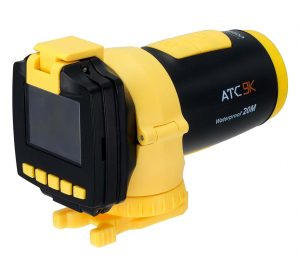 Want something more exciting than a PowerPoint presentation to show the folks back home? The ATC9K HD (trips off the tounge, eh?) has been specifically designed for extreme sports enthusiasts and professionals who want to capture every exhilarating moment, on-and off-road – it's built-in G sensor can even measure the force of gravity during acceleration and deceleration, so you can savour every aspect of the ride, and the optional GPS plug-in will let you map your location, speed and distance travelled using Google Maps or Google Earth.
As well as being clever, this gadget's hardcore. Shock resistant and water proof to 20m, it won't fall apart at the first off and should cope with river crossings and water splashes admirably, (the manufacturers claim it's the perfect scuba-diving companion, so even if you end up arse over tit in the drink your investment and footage should be safe.)
The camera records straight onto a Micro SD (up to 32GB) and a USB is included, so you can connect to a PC or Mac, and an HDMI cable, so you can watch your masterpiece back on HDTV. The GPS function will also allow you to trace your location, acceleration and altitude on Google Maps when playing footage on your computer. Plus, there's a handy viewing and playback screen, so you can re-live your adventure around the campfire (or bar) every night on tour. The camera comes with a full set of mounting accessories, so it can be attached to handlebars or helmet – it can even be worn on an arm or leg strap… Stylish. www.uk.oregonscientific.com