Cool gear that's good to go riding with
Arai Helmets
Arai Tour X-3
£354.99 (plain)
£389.99 (Motard silver/black)
£429.99 (designs)
Arai is probably the best-known of the premium helmet brands. And while it doesn't do flip-front helmets (see page 28) this is its idea of a touring lid.
This is the latest version of the Tour-X helmet made famous by Ewan McGregor and Charlie Boorman in the Long Way series and it has all the features you'd expect from this long-running member of the Arai family.
You've got the Super Fibre Construction and Triple density inner shell and the fully washable and removable Dry Cool interior. You've also got a secure double-D ring retaining strap and you have a visor ready for the Pinlock system (which is included) and this keeps the inside of the visor fog-free.
What makes this suitable for the long-distance rider is the excellent ventilation system, which is adjustable via head and chin inlets, as well as the side exhaust vents and the removable diffuser. You've also got a re-designed, removable peak which makes the lid more stable at speed.
Many manufacturers have been going big on safety in the event of a crash and so has Arai. The X-3 now has the emergency release tab cheek pads which allow easy removal of the helmet in the event of a suspected back or neck injury where moving the rider is not recommended.
Comfort is vital if you're doing distance and Arai has worked hard with the new X-3, by featuring a flatter neck-roll to reduce wind noise which works with an 'Aeroflap' which also helps reduce noise and turbulence. Most importantly you've also got six sizes of skull-cap and cheek pads, to ensure that perfect fit.
While we're talking about fit, we would suggest you are best off visiting one of Arai's 5-Star dealers to get a professional fitting, with the various pads changed to suit you. So find out where your nearest is by checking out: www.whyarai.co.uk
Sizes go from XS (53-54cm) to XXL (63-64cm).
---
TomTom
TomTom Urban Rider
£249 (UK and Ireland maps)
£299 (Europe)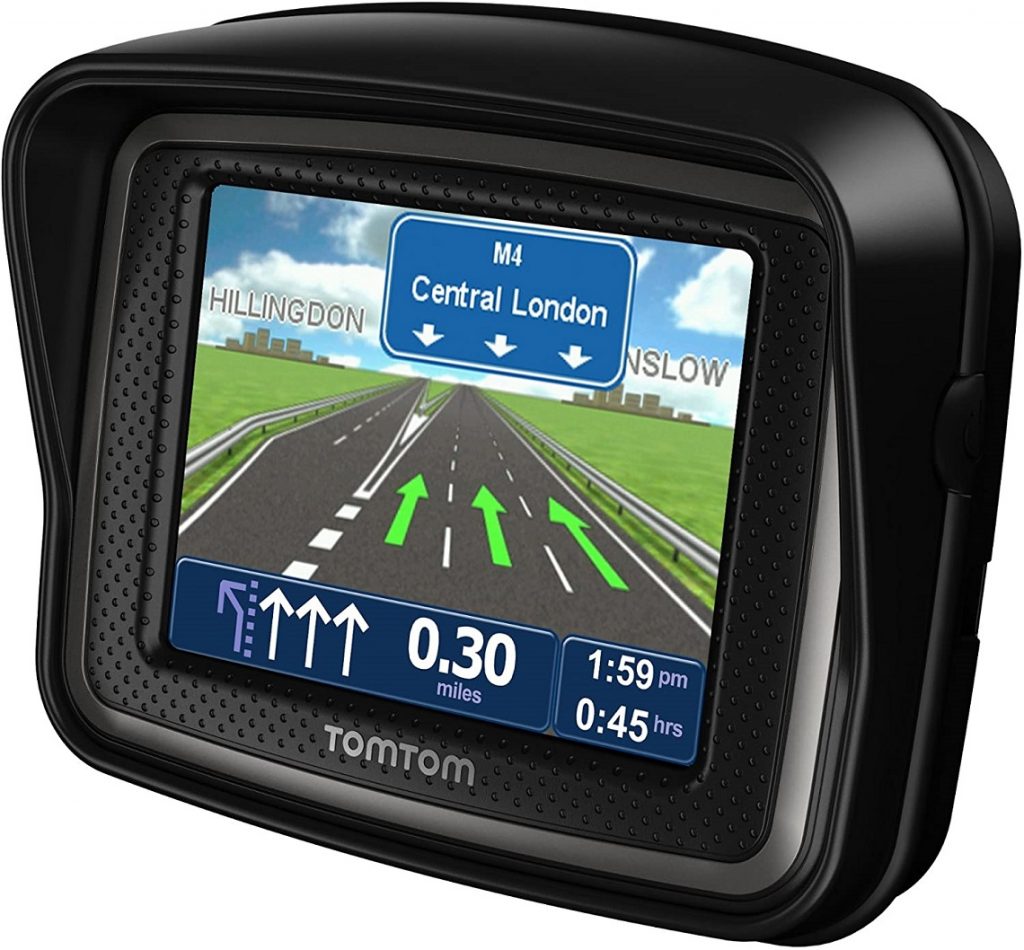 It's fair to say that bikers have been slower to either want or trust sat-navs compared to car drivers.
For many of us, the 'voyage' of getting there is the whole point, however circuitous. Also, other things have meant that sat-navs haven't been practicable until fairly recently as they've been too big, or we couldn't see the screen in sunlight, or hear the commands or press any buttons with gloved hands. Things are moving on at a pace though, as the TomTom Urban Rider proves.
First up there's the glove-friendly screen with larger icons and simple user interface which just asks where you want to navigate to or whether you want to just browse destinations. There's also something called an 'advanced lane guidance', which shows a graphical interpretation of the junction ahead, lessening the chances of that last-minute manoeuvre when you realise you're in the wrong lane.
Another innovation are IQ routes, where TomTom uses average speed data collected from millions of users to help choose your fastest route, even taking into consideration the time of the day. Clever.
And, free of charge, the Urban Rider can be updated thanks to Map Share technology where users can make corrections to their map thanks to input from thousands of other TomTom users, rather than wait for the regular map updates online. In the package are a dock and RAM mount so it can be secured to the bike and a mini-USB charger for home charging. The 'Rider Pro' version features a Bluetooth headset.
TomTom truly believes this is a great value package for a biker, although we'd still love to see the prices come down to something around those for their basic car sat-navs. Why not? www.tomtom.com
---
Rukka
Rukka Armadillo suit
£729.99 (jacket)
£599.99 (trousers)

Yes, Rukka has an enviable reputation as purveyor of top-notch motorcycling kit. No, the prices aren't for the faint-hearted. For the total cost of this suit (£1,329.98, in case you can't bring yourself to add the two up) you could buy a pretty good suit for a third and probably have change to tour Europe with.
But would the suit be as good?
That's your choice as you're paying the money, but with the jacket, you're getting a Gore-Tex XCR lining bonded to the Cordura outer fabric, which should make for a less bulky jacket and one which doesn't see moisture build-up between the layers. The outer construction also features something called 'Armacor' which is a membrane for increased abrasion resistance. Add in a removable thermal liner, CE-approved (and breathable) armour at the shoulders, elbows and back, as well as four useful pockets, comfy neoprene-lined collar and sleeve adjustment and you might, just might see where all your money is going.
The trouser matches perfectly, following the same three-layer bonded system of Gore-Tex and Cordura, removable thermal liner and (like the jacket) the trousers are impregnated with TFL Cool for protection from the sun's heat. CE Armour is included in the knees and hips with Keprotec in your butt to stop you from sliding around on the seat. Best of all the trousers come with Rukka's braces, which stop the pants from drooping down if you're crouched on a sports tourer.
Jacket sizes go from 38-inch to 50inch chests while pants go from a 32-inch to a 44-inch waist.
And do realise that it's not even the top-of-the-range kit from Rukka… www.grandprixlegends.com