Ollie Rooke checks out the latest and greatest biking kit
BRIDGESTONE BATTLAX BT46
£66-£120 (Price varies on size) – www.bridgestone.co.uk
What is it?
The latest iteration of Bridgestone's Battlaxx touring tyre. There's no worse gut feeling than the slip of your back tyres as you corner in the wet. Having recently experienced it while touring in Spain, I know how a lack of trust in your bike's boots can dent your confidence on the road. With a tour likely to take us through all types of weather, we need a tyre that doesn't let us down whatever the condition. Enter the Bridgestone Battlax BT46.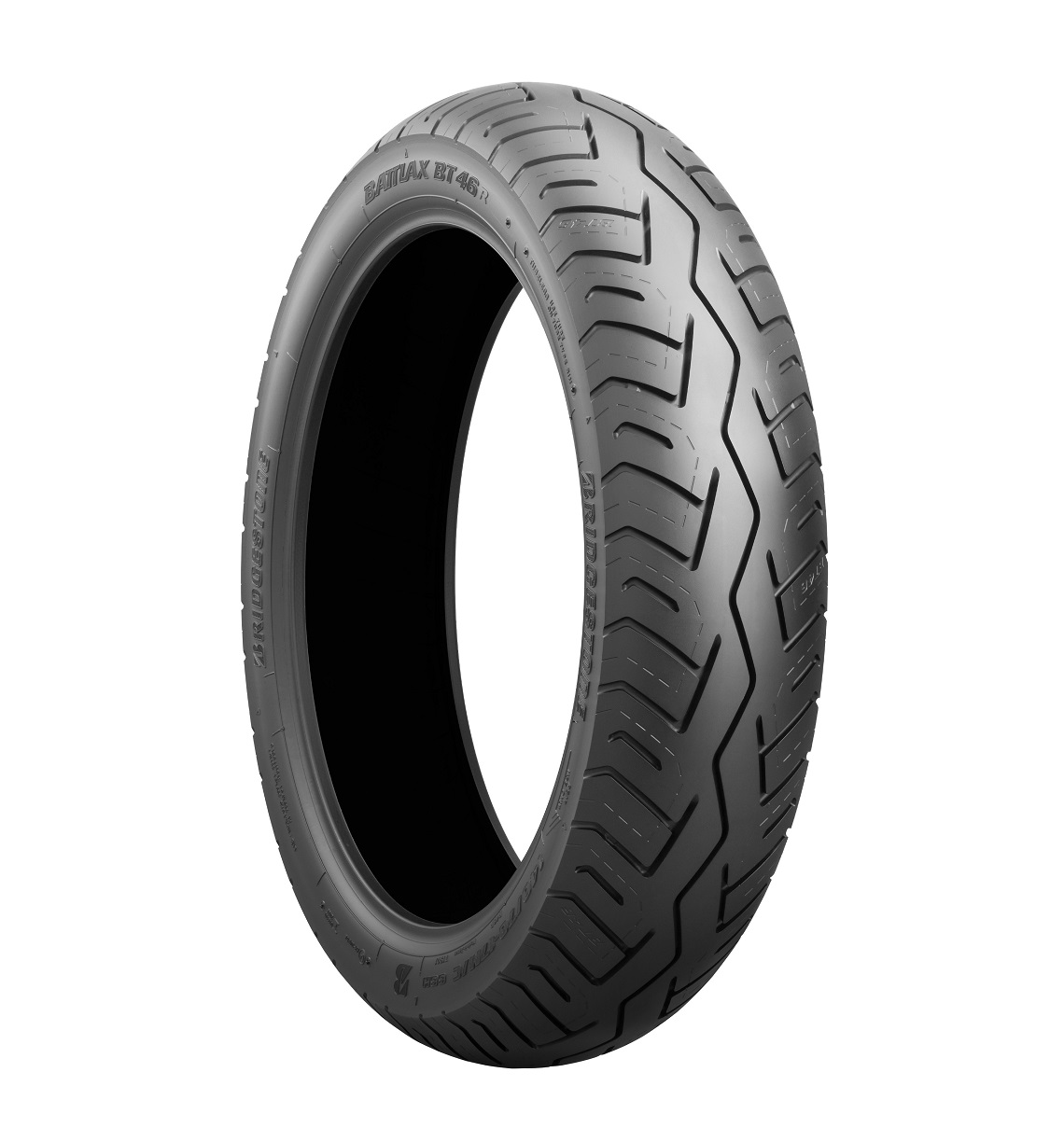 Since it was introduced 22 years ago, Bridgestone's Battlaxx range has gained a reputation as a leading touring tyre, coupling long life with fantastic dry handling and good performance in the wet. For 2020, the BT46 seeks to build on this heritage, offering even better wet-weather performance while maintaining the high standards the range has been built on.
Both the front and rear tyres have seen minor changes, with an inverted V-shaped pattern giving you a great feel at the front while a silica single compound at the rear gives better grip to stop those terrifying slides. Although marked as tubeless tyres they are also approved for mounting on tubed tyre rims and come in 21 sizes at the front and 27 for the rear to fit a full range of bikes.
MOTO PRO SHIFTER
£53.55 – www.bullshiftsales.com
What is it?
A bolt-on gear shifting control to turn your single peg into a twin shifter.
There's no denying it, motorcycling puts a strain on our bodies. Even as a relative newcomer to riding, mine has quickly adopted the motorcyclist's chorus of cracks and groans. Add five screws and a metal plate in my left ankle and it's easy to worry that, while I love motorcycling, motorcycling may not love me. This is where the Moto Pro Shifter comes in.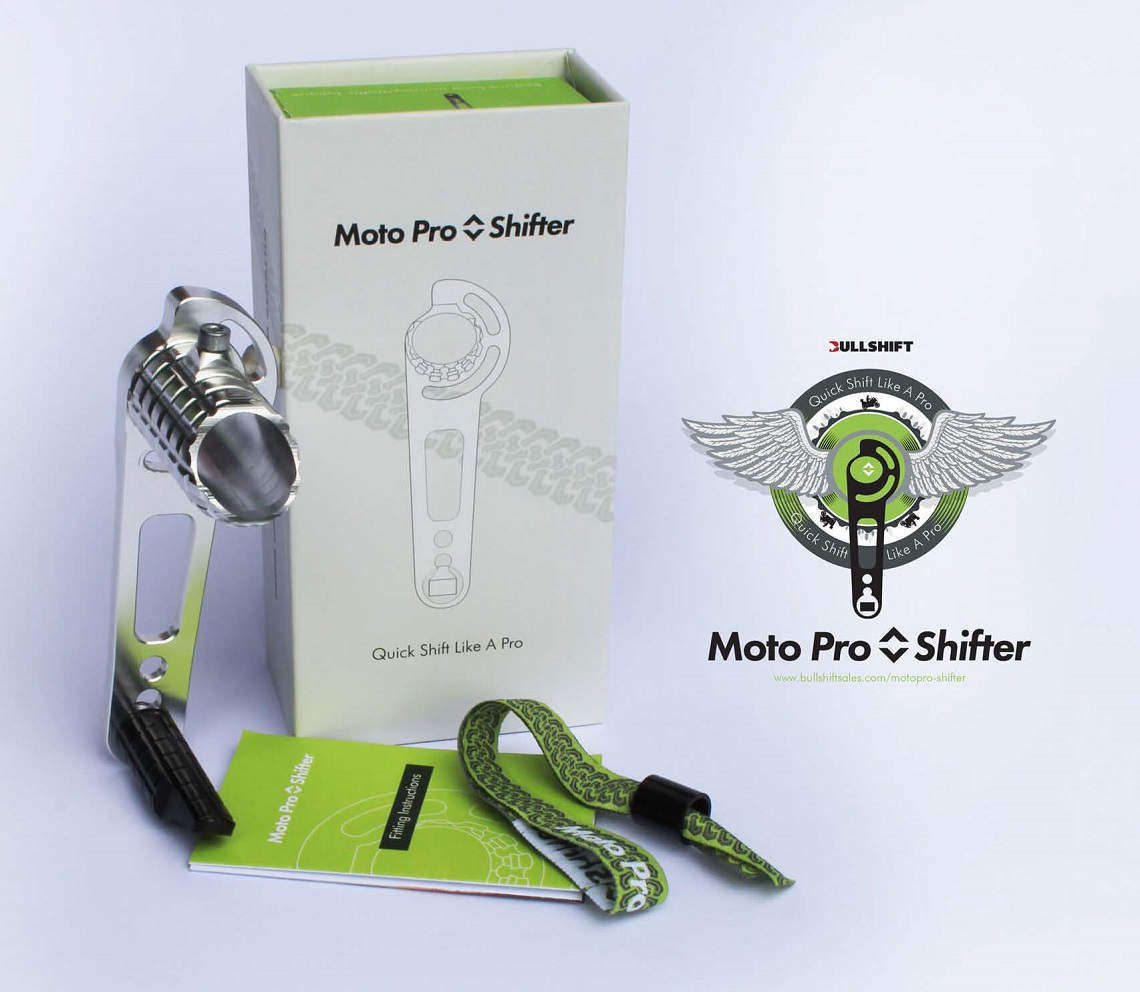 A bolt-on addition for your gear shifter, Moto Pro claims it will reduce shifting fatigue and increase gear reaction time during your ride. The shifter is designed to attach over your existing gear lever and give you a twin peg set-up. This enables you to shift up and down gears without lifting your heel off of the footpeg, speeding up your gear changes.
This should also reduce fatigue over long distances and around town, taking the strain of constant gear changes off your left hip and ankle. While we'll be testing these claims in the new year, we can see how the Shifter would minimise left leg movement and take the effort out of moving up and down the gears.
An inexpensive add-on to keep you riding your motorcycle, this piece of kit should make shifting gears as simple as possible and keep you in the saddle for many years to come.
MOTO PRO PANNIERS
Full set £687.99 including frame – £469.09 Side panniers and frame – www.bullshiftsales.com
What is it?
A competitively-priced, full 160-litre set of lockable, water-tight aluminium panniers for the BMW R 1200 GS/GS Adventure.
While a debate rages on between soft and hard luggage, it's clear to see how the convenience of hard luggage wins over many admirers. There's little hassle in pulling up at your hotel after a day's ride and simply taking out the inner bags to head inside. And you can't beat the security of a solid metal box for your helmet, gloves and jacket while stopping for lunch in unfamiliar areas.
However, original manufacturer metal pannier and top boxes can be eye-wateringly expensive and after-market brands tend to follow suit. This is why I was pleasantly surprised to discover the competitively-priced Moto Pro Panniers.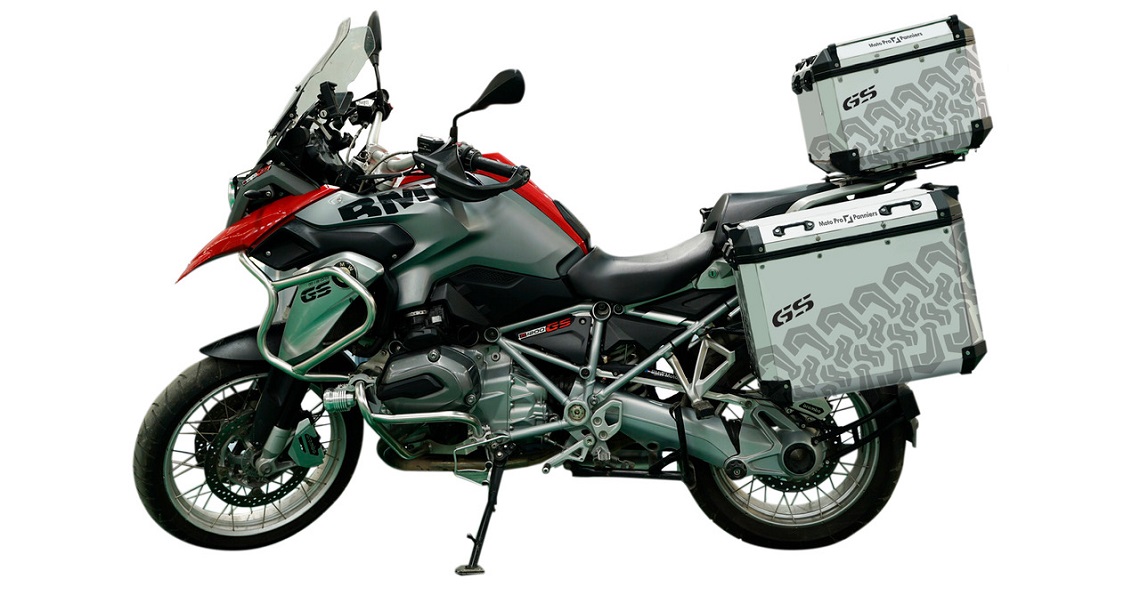 The aluminium panniers are designed to fit the BMW R 1200 GS/GS Adventure. Locks on each box and at-the-frame fittings give you security and peace of mind on the road. A mammoth 160-litre capacity and tie-down loops provide plenty of space for you and your pillion's luggage, whether you're away for a weekend or a month.
Now, Moto Pro isn't re-inventing the wheel with this set of hard luggage, but very few manufacturers are. What Moto Pro is offering though is a full set of metal luggage, with a frame kit included, for just £687.99.
And that is pretty impressive if you've ever had to shell out on luggage and fitting frames in the past. If you're looking to deck out your bike for summer touring look no further, you can save those pennies for petrol on the other side of the channel instead.
KRIEGA OVERLANDER-SYSTEM (OS) 32 SOFT PANNIERS
£239 per single pannier – kriega.com
What is it?
Soft panniers designed for adventure motorcyclists. With the name Overlander-System, it's clear that Kriega is targeting those riders whose tours will take them far off the beaten track. Off-road, soft luggage helps keep the weight down and is less likely to cause damage to you or your bike in a fall but can be seen as more impractical during a tour. The OS-32 looks to keep these positives while also adopting some of the popular features of their competitors in the hard luggage market.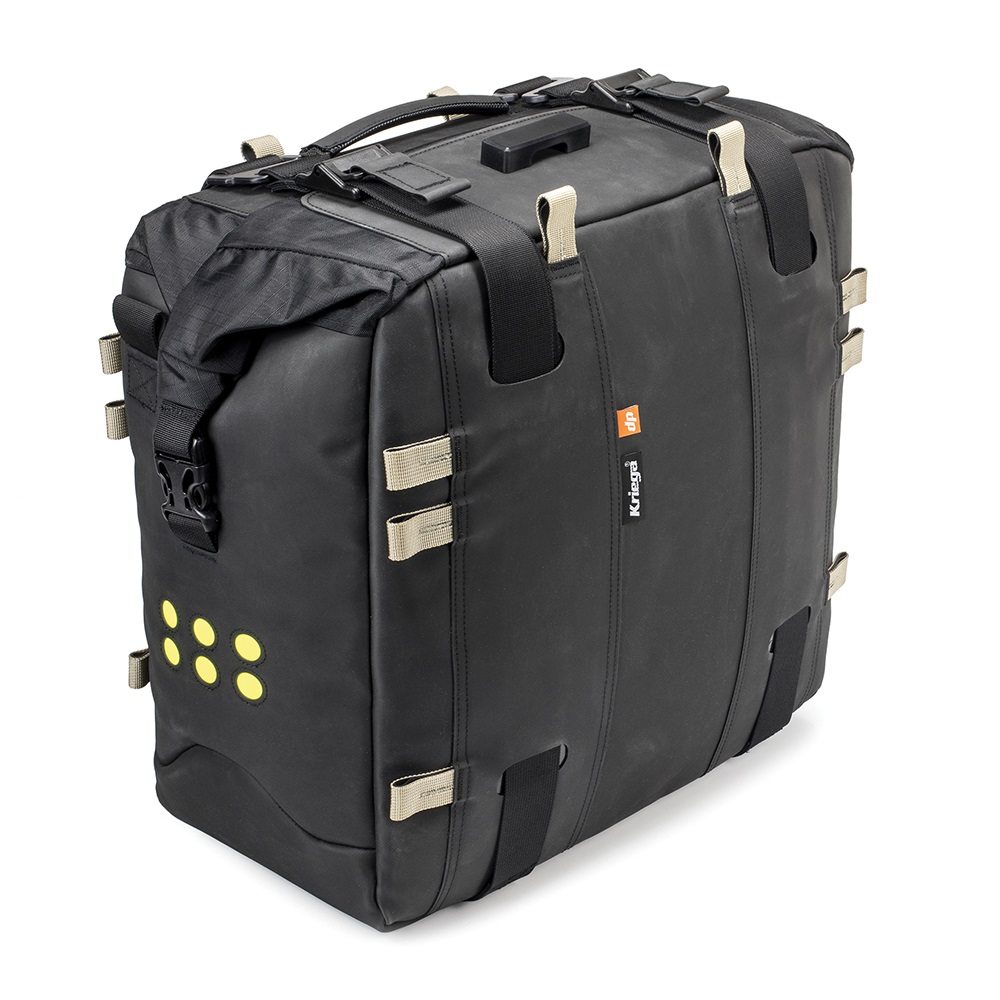 The roll-top closure allows you to pack the bags even when they're fitted to your bike, and they expand into a semi-rigid box shape when full. If you're packing light the adjustable top and bottom straps can pull them in for a slimmer profile in comparison to hard luggage, ideal for filtering through traffic or navigating narrow trails.
The panniers can be fixed to existing racks or held in place with an over-saddle strap and Kriega claim they can be released from the bike in under a minute. While I'm yet to fit these to my bike, the large quick-release straps and buckles seem easy to use, even with gloves on.
With a range boasting a host of add-ons, including tool rolls and fuel carriers, Kriega has also added 16 hook-on points to the OS-32 to make them the ideal companion for trips into the wild.
Well-known in the industry for producing rugged and practical luggage, the OS-32 looks to continue Kriega's successful range for 2020.
EVOTECH RADIATOR AND HEADLIGHT GUARD
Radiator £52.49 / Headlight Guard £73.49 – Triumph Tiger 800 XC
What is it?
Well-priced, attractive aftermarket motorcycle protection and accessories.
'Your bike is smoking, mate.' Sadly, it wasn't a compliment.
I'd arrived at Dublin Port only for coolant to pour out of a gaping hole ripped in my radiator by a stone, enshrouding me in a cloud of steam. This experience brought home how important it can be to spend that little bit extra and ensure your motorbike's soft, fleshy bits are protected.
Evotech's radiator and headlight guards for the Triumph Tiger 800 XC are great examples of aftermarket protection, while Evotech also offers a range of accessories for motorcycles from all the major manufacturers.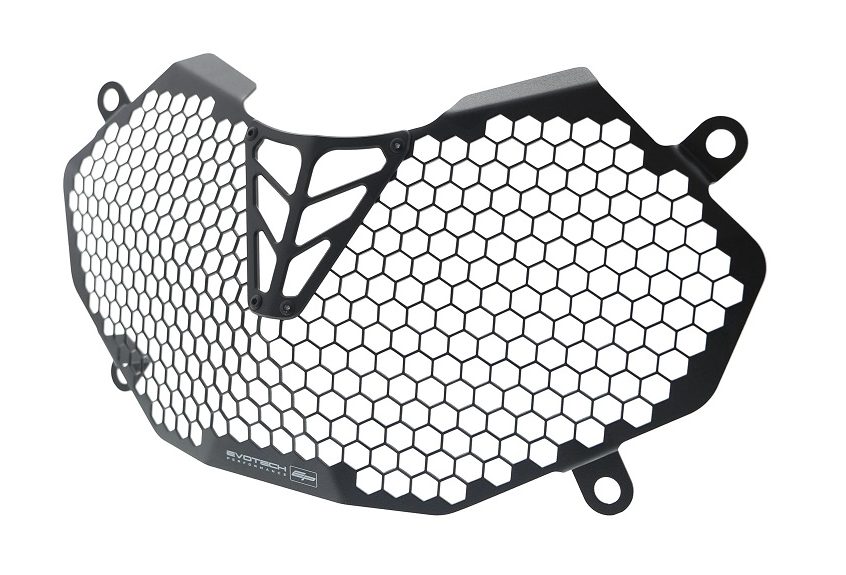 Made from aluminium, they feel impressively lightweight while also strong enough to resist a stone at 70mph. They're also finished with a good-looking black powder coat that gives the bike a cool, understated look in comparison to some of the bright and heavy products that you see on adventure bikes across the world.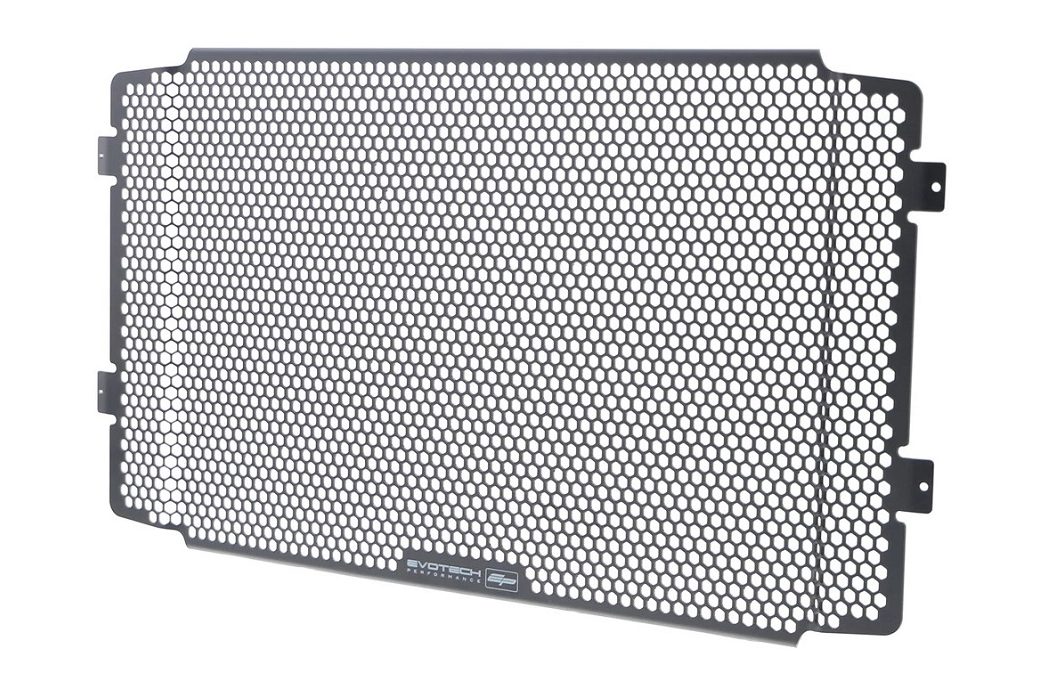 Fitting aftermarket protection to your bike is a relatively simple process, and Evotech's range looks to be no different. With all the included screws designed to use the existing mountings on your bike, you'll just need a screwdriver and a few minutes and your bike will be protected.
With my sights set on completing the ABR Ride Round the World Challenge next year I'm going to need some protection to keep my bike safe over 18,000 miles, and this looks to be just the trick.
BLAZEWEAR SOCK AND TROUSER LINERS
Sock liner £84.99 / Trouser liner £139.99
What is it?
Heated under-layers for your lower extremities. Electric blankets, hot water bottles, fluffy socks. There are a host of ways that we keep our feet and legs warm while we're enjoying the comfort of our own home. But when the seasons change and we find ourselves faced with riding through the winter, it seems that many brands focus on your hands and torso, while your lower extremities are left neglected and cold in the wind. We've reviewed heated gear for your top half later in this issue (page 140), but for Hot Stuff I wanted to take a look at Blazewear's heated gear for your bottom half.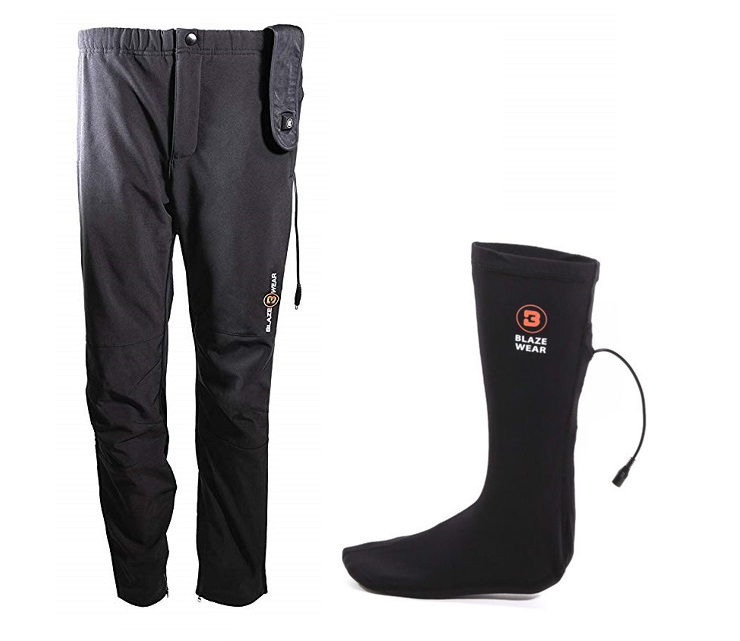 Designed to be worn separately, or together using a splitting cable, Blazewear's sock and trouser liners run off a wiring harness that you'll need to attach to your battery. Being powered by your bike's battery you'll not have to worry about running out of charge while riding through sub-zero temperatures, and an easily accessible button allows you to increase or decrease the heat setting for the trousers on the go.
The liners are extremely lightweight and they're designed to sit under your outer layers while the sock liners go over your usual thick winter socks. Indeed, you can barely feel them until the ultra-thin heating elements kick in and heat up within just 10 seconds. Even through thick socks I quickly realised what I was missing. These will be a welcome addition to your winter riding wardrobe.