Paul Jennison rounds up some cool gear that's good to go riding with
Acerbis Active Helmet SRP £124.95
What is it? Bargain-price dual-sport helmet from Acerbis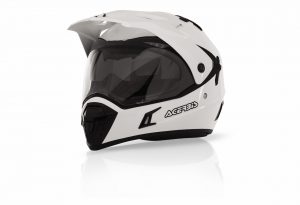 I got a bit of a surprise when this helmet arrived in the ABR office; with a retail price of just under £125 I wasn't expecting such good quality.
Looking at the helmet, I was impressed with the build quality of the ABS shell, which is impact-resistant polycarbonate plastic. This type of shell is usually lighter than the stronger glass fibre ones, and the XL Acerbis weighs in at 1,600g, which on average is about 100g lighter than its pricier rivals.
The shell is bonded to an EPS (expanded polystyrene) inner which will help to absorb and distribute any impact across the lid. The interior fabric is well padded for a comfortable fit and is removable for cleaning.
The peak is removable and held in place by two screws on either side, which also hold the visor in place, and two top quarter-turn fasteners, which are a little on the loose side.
The polycarbonate visor fits the aperture well and is operated by a large tab on the left-hand side, which can be found and used easily with a gloved hand. The visor has an anti- scratch outer surface, but there's no anti-misting treatment on the inner, so you'll have to apply your own.
The vents work well, allowing cool air to pass around the head, and this is aided by two fixed top vents and two exhaust ports, which help to pull the air through the helmet.
An added bonus is that there is an internal sun visor, which is operated by slide a lever on the side of the helmet.
On the road it's fairly quiet, although I always wear ear plugs and I felt that I needed to with this helmet. The fit is good, but the sizing is a bit off. I had to go a size larger than I would normally, so be sure to try before you buy.
In a Line: A spot on dual-sport helmet at a good price
Ambient Light Dry Bag SRP £45 (£15 bag only)
What is it? A clever dual-purpose camping gadget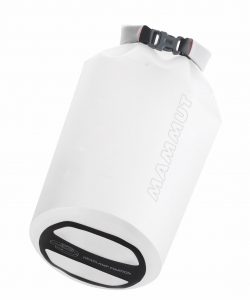 Now I love a good gadget, me, but when this Mammut head-torch-and-dry-bag combo arrived at the ABR office, I was a little bemused. A dry bag is great for carrying gear and a head torch will help you find what you put in there once it's gone dark, 'so what's new and different about these?' I thought.
Nothing is the answer. Well, not until you combine the two. I know, bear with me. The head torch is the Mammut T-trail, which features four very bright LEDs in a swivel head, a simple on/off switch, and three brightness settings. It's powered by three AAA batteries and mounted on a single, adjustable head-strap.
The stuff bag is called the Ambient Light Dry Bag (a clue for you there). It's a strong plastic bag made from the same stuff as water carriers and even has measurements on the side to help you when carrying fluid or food. It features the usual roll-top fastening arrangement associated with this type of dry bag.
Both of these items are useful in their own right, but put them together you get a super-innovative camping gadget: a dry-bag camping lamp. Simply inflate the stuff bag slightly, seal it, turn it upside down and insert the head torch into the bag's 'base' via the fixation point – et voila! A very nice lantern, which can be used for cooking or reading while spending a night under canvas. Brilliant! The only sang is the cost of the whole shebang. As clever as it is, at this price, I'd be tempted to get me a cheaper torch and just buy the dry bag.
In a Line: Simple and ingenious, we love it!
CamOne Infinity HD 1080 Action Camera SRP £209
What is it? A bike-or helmet-mounted HD video and stills camera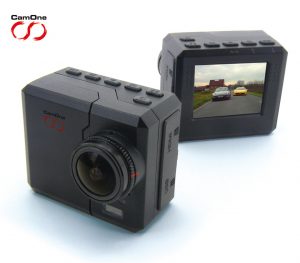 Like most blokes I know, shiny, techy stuff floats my boat. However, like most blokes, if it comes with an instruction manual the size of Tolstoy's War and Peace I glaze over at the thought of having to plough my way through a load of technical jargon, most of which I don't understand, in an effort to get the thing working. The bigger the manual the more inclined I am to pitch it back in the box and try to work the thing out for myself.
So when I opened the box containing the CamOne Infinity, the first thing I looked for was a big old instruction book; I can happily report that I was pleasantly surprised when I pulled out a small 16-page booklet, with very clear, brief explanations on how the various functions work. A great start.
What's in the box?
 CamOne Infinity Camera 1080p
Battery
Waterproof dive box
USB cable (for charging or downloading) I USB AV cable (for connecting to a TV)
Long and short connectors to get the desired camera angle
Handlebar mount
M-Mount (this clips into the helmet or universal mounts and connects to the dive box)
Curved helmet mount
2x curved universal mounts
Adhesive pads for fixing the various mounts
Instruction booklet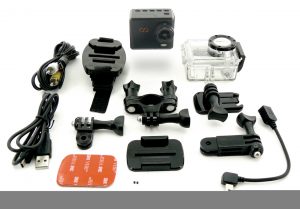 Specifications
Video resolution: [email protected] fps, 720p H/p @60/30 fps, 480 @ 30fps Photo resolution: 8 / 5 / 3 megapixels Photo time settings: one picture every 3, 5, 10, 30 or 60 seconds Memory capacity: 2 x 32Gb microSDHC cards (loop overwrite recording possible) Output: HDMI or mini-USB Microphone on/off facility Powered by: Li-ion battery or mini USB Camera size: 49mmx42mmx34mm Screen: 1.5" TFT
The verdict
Once I had the camera set up and mounted it to my lid, I was ready for my first outing. Mentally logging which buttons I had to press to switch it on and start recording were the only things I had to remember while using it in helmet-mount mode, so after a few miles and a couple of files recorded it was time to stop and review what I had filmed.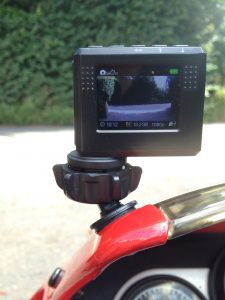 Watching my footage back was made easy with the inbuilt TFT screen. I was able to take a look at my efforts while still on the trail and make the fine tuning adjustment needed to get the camera angle just right. The next trip out saw the CamOne mounted on the bike. I found it far easier to operate this way and see where the camera is pointing, although the system is flexible enough to get the exact angle you want.
It's possible to record up to nine hours at full 1080p HD using two 32GB micro SDHC cards; the Li-ion battery will last a couple of hours, but on-bike charging and usage is available via the mini USB. Downloading your footage couldn't be simpler; either connect the camera to the PC via a USB port or remove the micro SD card and put it in to a reader.
That done, I have to say the quality of the recordings was really good and so it should be as I had it set at 1080p @ 30fps (frames per second).
The hardest part of using the set-up is mounting the system, whether that's on the helmet or the bike. Once you've got that sorted, it's a press of a button and away you go.
The CamOne is a really good camera that will allow you to take moving or still pictures from the comfort of the saddle and record your ride for posterity.
In a Line: You too can be Steven Spielberg