Ollie Rooke checks out the latest and greatest biking kit.
GIVI X.33 CANYON HELMET 
£182.90 | www.givi.it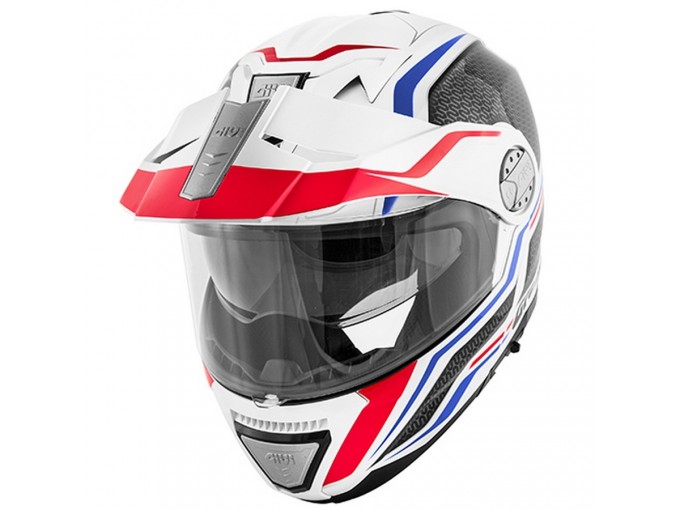 What is it? A reasonably-priced adventure touring helmet packed full of features for the adventure bike rider. 
Building on its reputation for producing a wide range of high-quality luggage for motorcyclists, Givi has released a flip-front adventure helmet with a host of features designed with motorcycle touring in mind. A sizeable peak offers protection from the sun, while closable vents on the chin and top of the head, along with an extended chin-bar help provide ample venting, pushing cooling air past your face. The Givi X.33 is also dual-homologated, meaning that it is safe and legal to wear with the chin bar in the open or closed position while riding. The visor comes Pinlock ready, with an insert in the box. There's also an internal sun-visor, saving you from carrying two separate visors or trying to push on a pair of sunglasses when the sun starts shining. 
At sub-£200, the Givi X.33 is also very competitively priced compared to other flip-front adventure helmets on the market. Keep an eye on the ABR website as we'll be giving this helmet a full review in the coming months. 
BIKERCOMM APP 
£1 a month subscription www.bikercomm.com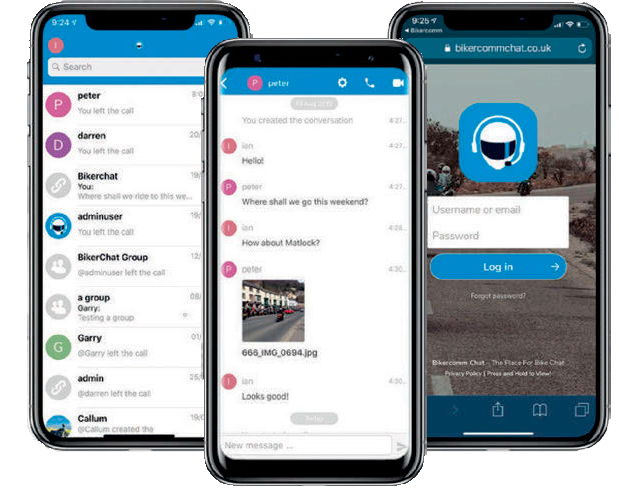 What is it? An app for your phone designed to keep you and your riding mates in touch. 
Organising a ride-out with a group of mates can sometimes feel like herding cats, particularly if you all have work and family commitments vying for that all-important riding time. And, once everyone is finally assembled on the spot and ready to ride, there's the issue of keeping a rag-tag bunch of bikers together all day without losing each other on the road. It doesn't need to be so hard, which is where the Bikercomm app comes in. 
Bikercomm has developed a motorcycling app specifically designed to keep you and your riding mates in touch. As bikers themselves, the Bikercomm team set out to solve the problems that we all encounter while riding as a group. And they may well have done it. 
The app allows you to create group chats or direct messages to organise your ride-outs in advance. Once you all get together, you can use the group page to dial in on a shared call. As the application runs on your phone, it works no matter what comms headset you're using. Now of course, some of us just can't help but get lost and if you've ridden using a Bluetooth system before, you'll be familiar with the cracking voice as your riding partner gradually drops out of range. 
This isn't a problem with Bikercomm. As the application runs using your 3/4/5G network connection, you'll have crystal clear audio no matter how far away you are from each other. No interference, no dropped connections and no wasted 10 minutes in a petrol station trying to pair your headsets. Uninterrupted riding time for you and your mates.
ALPINESTARS HONDA ANDES V2 DRYSTAR TEXTILE SUIT 
£219.99 Jacket £189.99 Trousers | www.alpinestars.com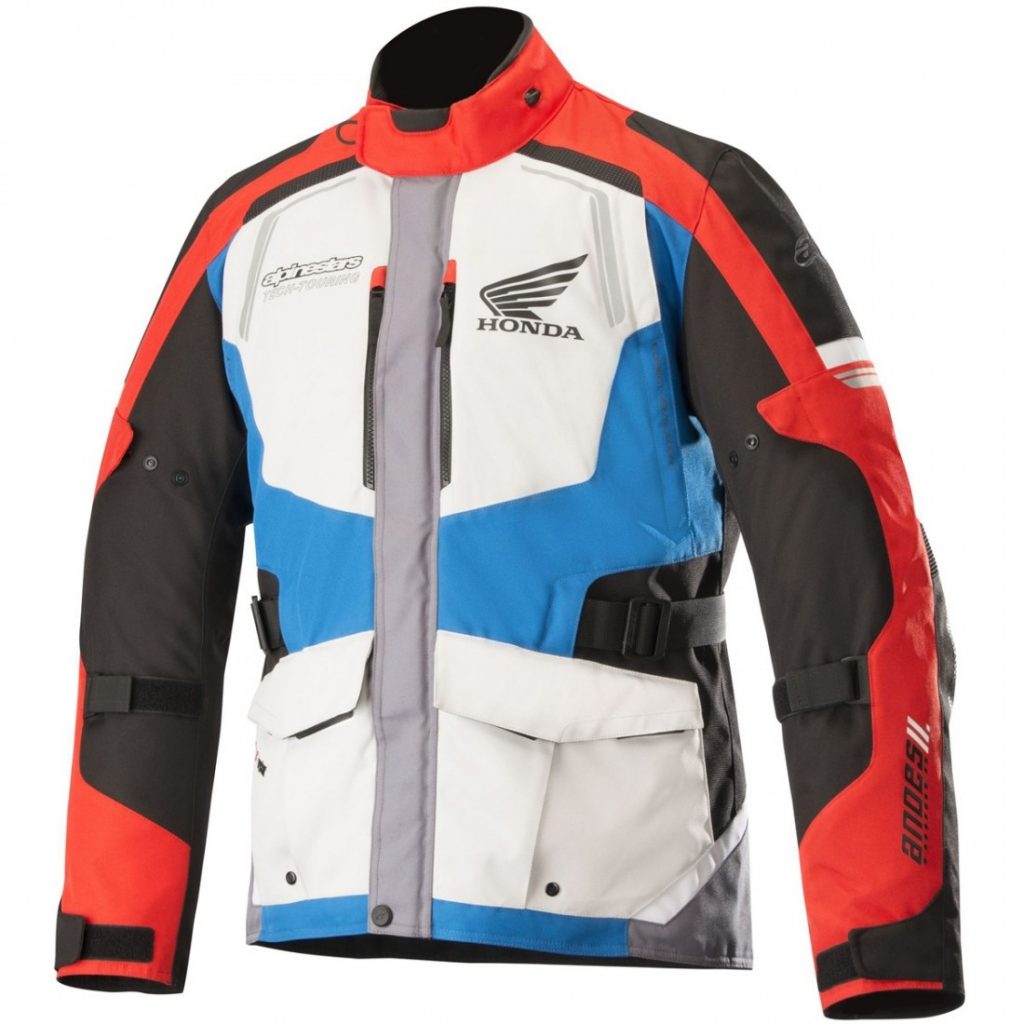 What is it? Alpinestars' competitively priced textile adventure suit in a Honda Africa Twin colourway. 
As motorcyclists, our bikes quickly become our pride and joy. And, much like football fans, some of us like to pin our colours to the mast and go one step further by wearing our loyalty with pride. This is where branded gear comes in, and I've been looking at the Alpinestars Honda Andes V2 suit to see how it holds up. 
Now, if you're an owner and fan of the Honda Africa Twin, with that traditional blue/red/white colour, like ABR's own editor Bryn, this suit is going to be right up your street. But I'll let you into a little secret. I don't ride a Honda. And you know what, I still like it. 
It's extremely lightweight and comfortable when on while offering genuine four-season versatility. The suit's construction consists of two layers, a poly-fabric textile outer with Drystar waterproofing and an internal, removable thermal liner. Don't let the lightweight feel of the suit fool you though, it's extremely cosy and warm during winter. 
And in summer, when the sun shines and the mercury begins to rise, you can pop out the thermal liner and benefit from direct ventilation offered with zippable chest, back and thigh vents. You get four-season versatility and a lovely overall package for a very reasonable price. In fact, I may have to find a way to borrow that Africa Twin from Bryn, just for an excuse to wear this suit more regularly.
BIKESEAL
 £30 per bottle |  www.bikeseal.co.uk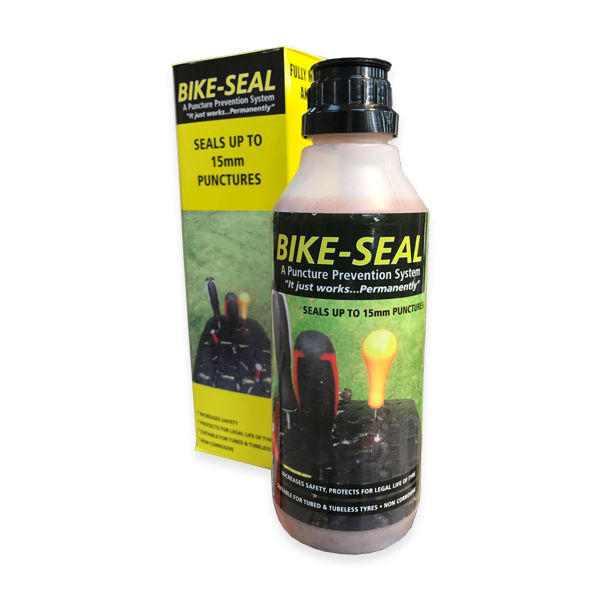 Whatis it? A water-based puncture repair and prevention system without speed or distance restrictions. 
There's never a right time to pick up a puncture on your motorcycle. But even so, they have an irritating habit of happening right when you need them the least. Recently I came across a product that seeks to avoid the trappings of other internal puncture-sealants. It's called Bike-Seal. 
Bike-Seal is a water-based, non-corrosive, solution that you squirt inside your tyre. Inside the solution, there are a variety of lengths and sizes of fibre and filler particles. So, when a nail punches a hole in your tyre as you ride along, the internal air pressure and the rotation of the tyre forces the solution through the gap. Those fibres within the solution then essentially mesh together as they're forced through the small gap, clogging up and plugging the puncture. The filler particles then fill any final gaps for the air to escape from. The only evidence you've had a puncture? A few wispy fibres sticking out of your tyre. 
Unlike plugs, or other 'get home' puncture repair solutions, Bike-Seal is designed to be ridden on. There are no speed or time limits with the fix meaning you can continue to use your tyre to its legal limit. And, with it repairing punctures up to 15mm (the maximum that can be sealed with the solution), chances are you'll be able to carry on riding while on tour. 
As my only form of transport, keeping my bike on the road is crucial, and knowing that my tyres are protected gives me that extra peace of mind when it comes to motorcycle punctures. If you do travel by four wheels as well as two, sister product AutoSeal is available for use on car tyres.
POWERBRONZE POWERBLADE 
£195 | www.powerbronze.co.uk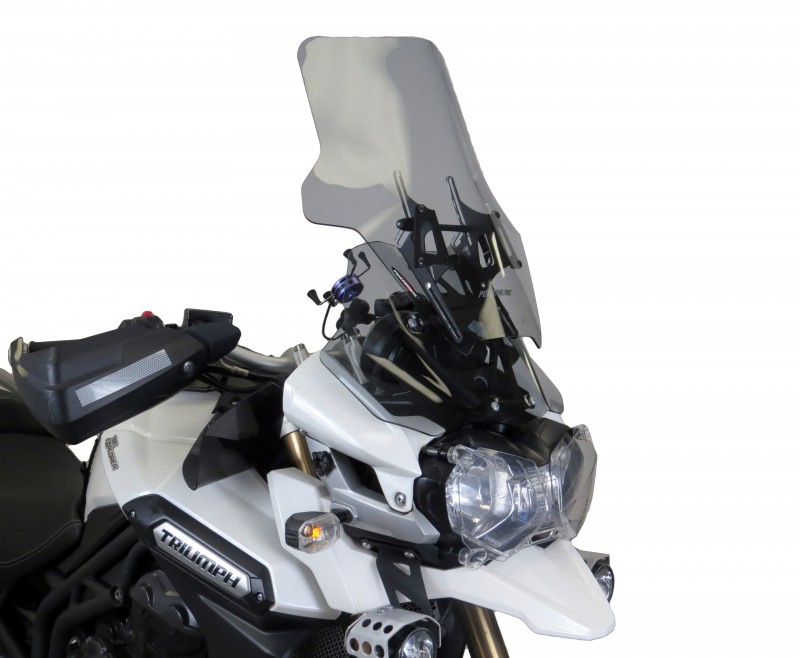 What is it? Adjustable after-market screens for motorcycles. 
One of the first things I look at when buying a motorcycle is the screen. There are a few reasons why I do so. I tend to put in quite a few motorway miles regularly and, combined with my slightly-above-average height, my head usually sits directly in the buffeting zone of stock windscreens. Add an adventure helmet to the mix and my bobble-head toy impression becomes a tad tiring after a day in the saddle. I've tried to change it with a taller aftermarket screen and a clip-on spoiler. It's better than nothing but still hasn't entirely solved the issue. 
This is why I was so intrigued to take a look at the Powerbronze Powerblade. As well as looking good, it offers two ranges of movement, so you can move it up and down as well as adjusting the angle backwards and forwards to get it in the perfect position. 
This is particularly handy when it comes to fine-tuning to reduce buffeting. After all, it's all well and good riding with a large screen, but if it punches through the air with the grace of a dumper truck then you'll be stuck with plenty of turbulent air behind it. The smooth curves and aerodynamic lines of the Powerbronze Powerblade reduce this problem. And, because bikes come in all different shapes and sizes, there are Powerblade screens available to suit a host of different motorcycles. 
MOSKO MOTO RECKLESS 80 
approx. £480 |  www.moskomoto.com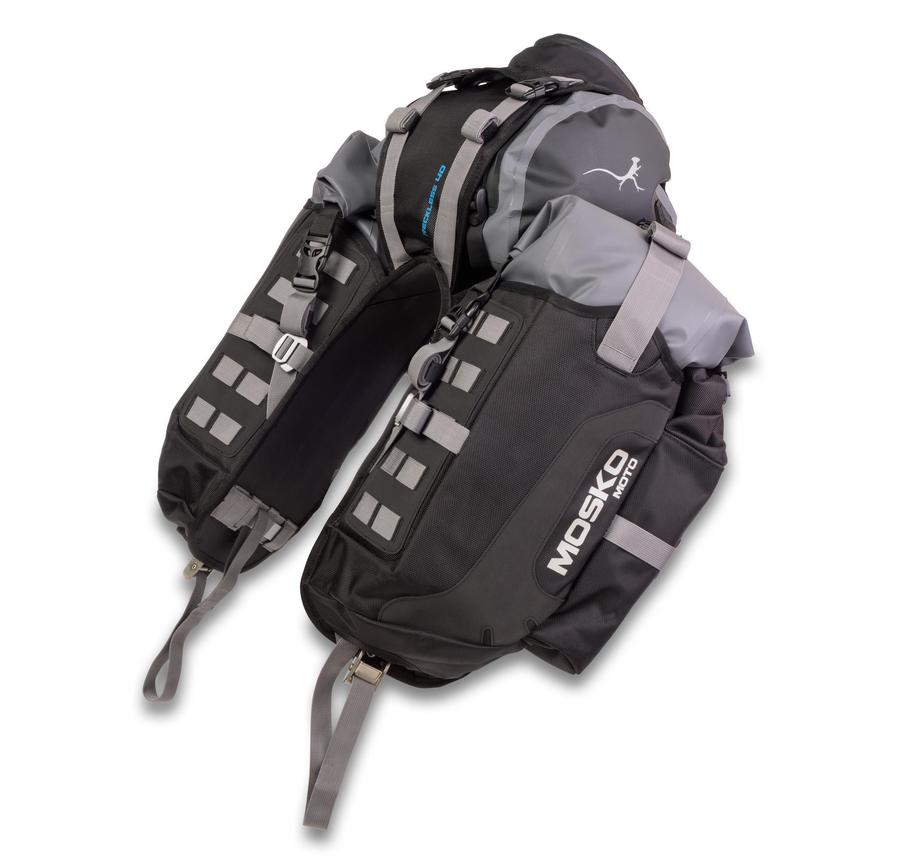 What is it? A soft luggage system designed for use without racks. 
If you're tempted to ditch your aluminium panniers for a soft luggage system, I'd recommend taking a look at the Mosko Moto Reckless 80. Gone is the need for heavy and expensive pannier racks. Instead, simply loop the harness over your rear pillion seat, secure the straps to the rear pillion footpegs and you're away. 
The system comes with three bags. Two 25l bags to act as panniers and one 22l tail bag. They're all waterproof and secure into the harness with a few clips. Simply arrive at your hotel, unfasten the clips in seconds, pull the dry bags out and bring them inside, leaving the harness secured to your bike. It really is that simple. 
There are also plenty of neat little features to make your life simpler on the road. The rear beavertail securing is expandable, allowing you to slip another bag/waterproofs/shopping next to the tail bag before tightening it back up again. Underneath the tail, there's also a waterproof map pocket. On the outside of the harness, there are numerous expansion loops to attach further accessories.
 With the Reckless 80 System, you have a soft luggage option that looks the part and performs on the road.