The latest and greatest Hot Stuff biking kit.
Halvarssons Prime Jacket 
£419 | www.jofama.se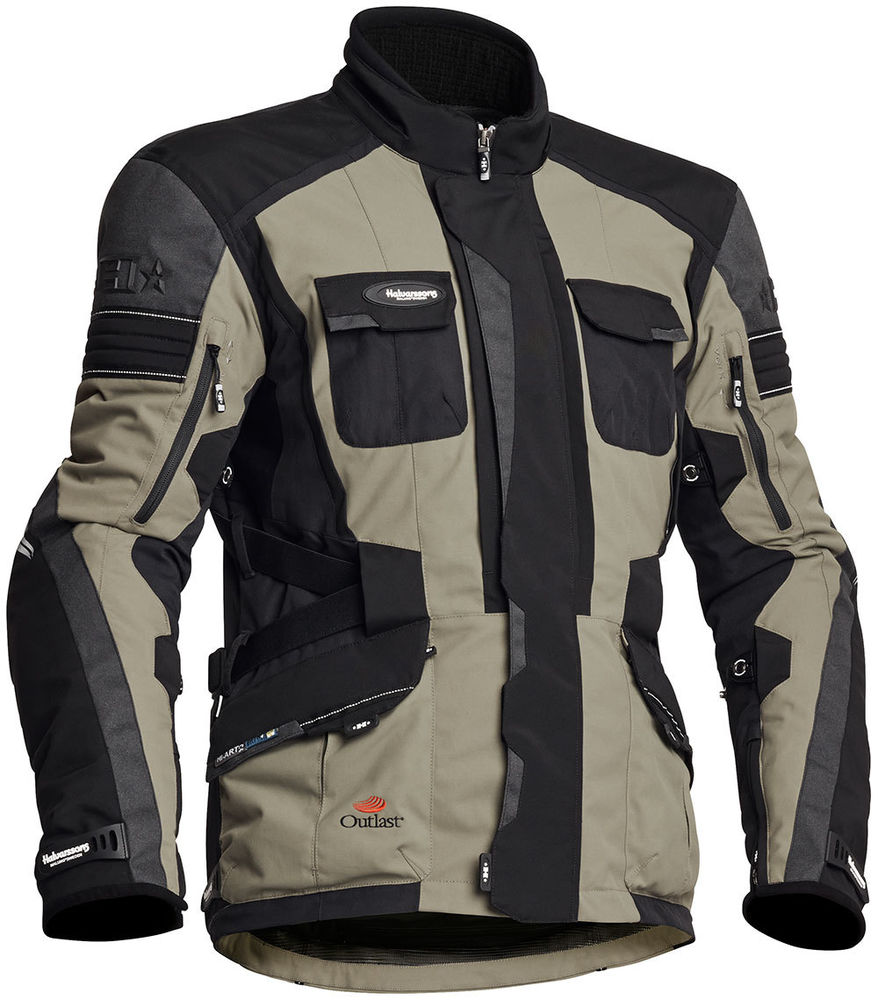 WHAT IS IT? A textile motorcycle jacket that's got style as well as performance
Over the years we've really come to like Halvarssons motorcycling products. The Swedish company has a knack for producing quality kit that looks, fits, and performs excellently on the bike, particularly in colder weather, and the Prime jacket is no exception to this.
I've been wearing the Prime since December, and in the three months that I've used it I've found it to be an exceptionally good jacket that's working its way to top spot in my wardrobe. 
The jacket is of a three-layer construction, consisting of a textile outer that's reinforced with abrasion-resistant Hi-Art in areas likely to see friction in the event of an off, a fixed Dryway+ waterproof membrane to keep the wet stuff out, and a removable Outlast liner with Thinsulate insulation thrown in for good measure.
The combination of the three provides a great amount of weather protection in both cold and wet conditions, and when the sun starts to shine removing the thermal liner makes it more comfortable in hot temperatures.
You get adjustable CE-approved armour on the elbows and shoulders, and there's the provision to add a back protector if you desire (though some would expect this to be included in the price at £419). 
The styling and fit of the jacket was spot on for me, with the multiple adjustment points on the arms and torso allowing me to get a perfect fit. In terms of storage, you get two large handwarmer pockets which are protected by a hey storm flap, two handy external chest pockets, a waterproof internal chest pocket and a very useful zipped rear pouch.
In terms of ventilation, there are two nicely placed, mesh-backed vents on the biceps, and a large exhaust vent on the rear helps create a good cross-flow of air. It's worth noting, however, that as the waterproof liner (which is also windproof in nature) is fixed and non-removable, the ventilation points aren't as effective as they could be. 
All in all the Prime is an excellent textile jacket from Halvarssons. I've thoroughly enjoyed wearing it through the winter, and I'm looking forward to putting some more miles on it this summer.
Mekey Tap 4 ICE ID Sticker Pack
£7.50 | www.tap4iceid.co.uk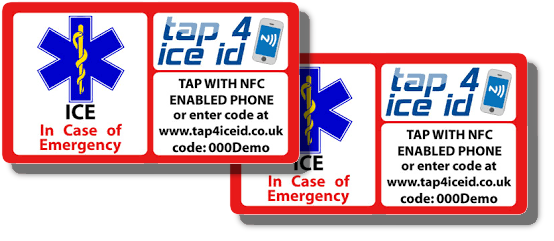 WHAT IS IT? An NFC 'in case of emergency' sticker that allows emergency services to get your personal details in the event of an accident
The premise behind the Tap4ICE Sticker pack is a great one – if you have an accident when you're out riding and you're in no state to give the emergency workers your details, they can simply tap the sticker with a near field communication (NFC) enabled device (most smartphones these days) and they'll have all of your personal info to hand – most importantly your next of kin contact details. 
The sticker has been designed to be placed on a helmet, with 3M adhesive providing a strong hold, and it features the paramedic star and ICE logos to help emergency services identify it.
While the NFC functions of the tag won't work on iPhones (Apple has locked iPhones NFC to only function with Apple Pay), services can still follow the simple, two-step instructions on the sticker to access your details via a web browser. 
You enter your information via an intuitive online dashboard, and while a paramedic won't take certain information, like your blood type, for gospel, the next of kin contact information could be extremely valuable if you're not carrying any identification on you at the time of an accident.
Sidi Deep Rain Boots
£249.99 | www.sidiselect.co.uk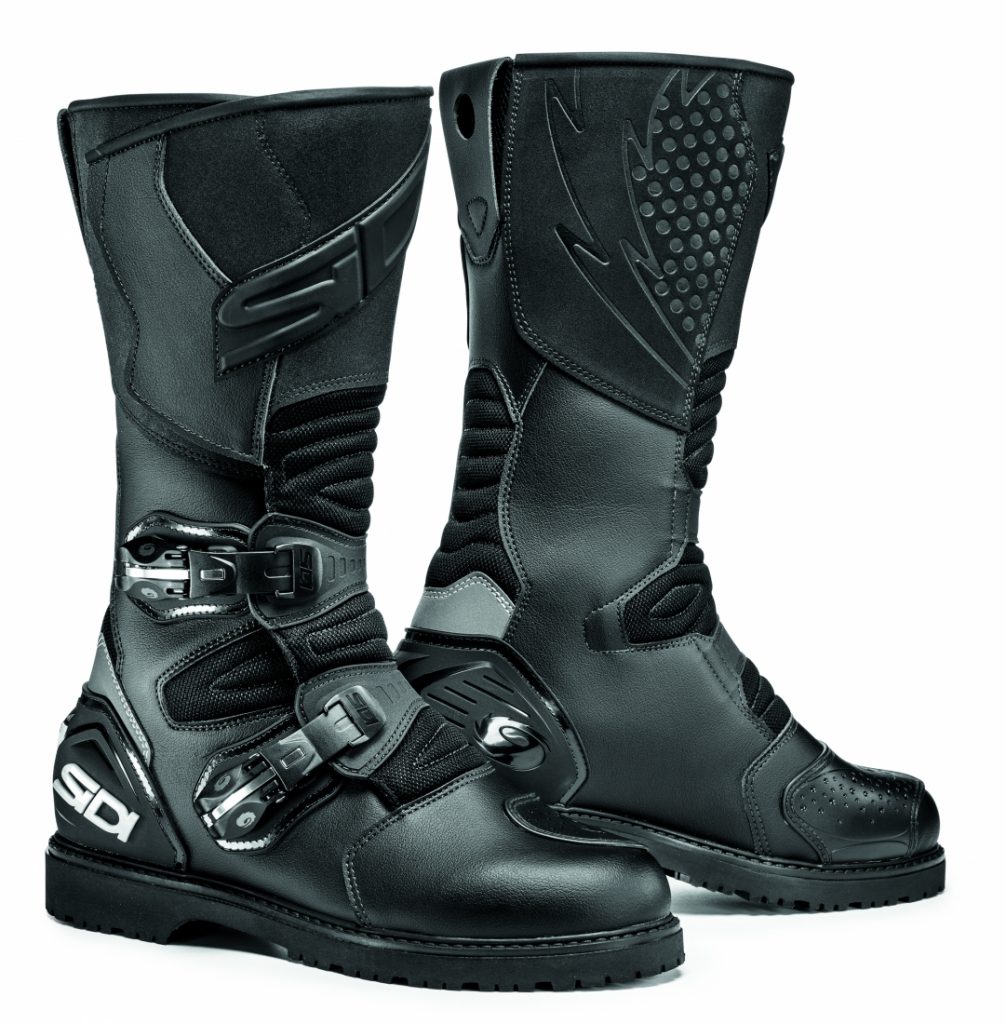 WHAT IS IT? A new adventure touring boot from Sidi
The Deep Rain Boots are a new release from Italian motorcycle clothing manufacturers, Sidi. They take design hints from the more road-biased Black Rain Evo boots, though these have been beefed up and re-imagined to offer the modern-day adventure rider a great compromise of all-day comfort and off-road protection and performance.
The Deep Rain boots rise about halfway up the calf, with the leather and textile upper being lined with a waterproof membrane to keep the wet stuff out.
The sole of the boots has good off-road credentials if your aspirations lie no further than easy green lanes in good conditions, with the tread having a pattern that you'd expect to see on a hiking boot. The sole is nicely stiffened to provide underfoot stability and cushioning when stood on the pegs. 
In terms of protection, you get a reinforced toe cap, a chunky, reinforced heel cup, and a sturdy shin guard. While the ankle does have a plastic insert to provide some protection, it's minimal and there's a lot of flex in this area of the boot.
Though you can't have it all, and the Deep Rain boots strike a very good compromise of rugged, sturdy protection and flexible, all-day comfort. The buckles on the Deep Rain boots are perhaps the best I have come across in terms of ease of use. 
They clip effortlessly into place and are nice and easy to adjust, and when you get it right they pull the upper of the boot snugly and comfortably around your foot and calf. At £249.99 the Deep Rain boots sit themselves in the middle of the adventure boot price range, but they offer a lot of quality and functionality for this price, and the styling is spot on for dual-sport riders.
Acewell Foxeye GC1 Moto Cam 
£215 | www.acewell.co.uk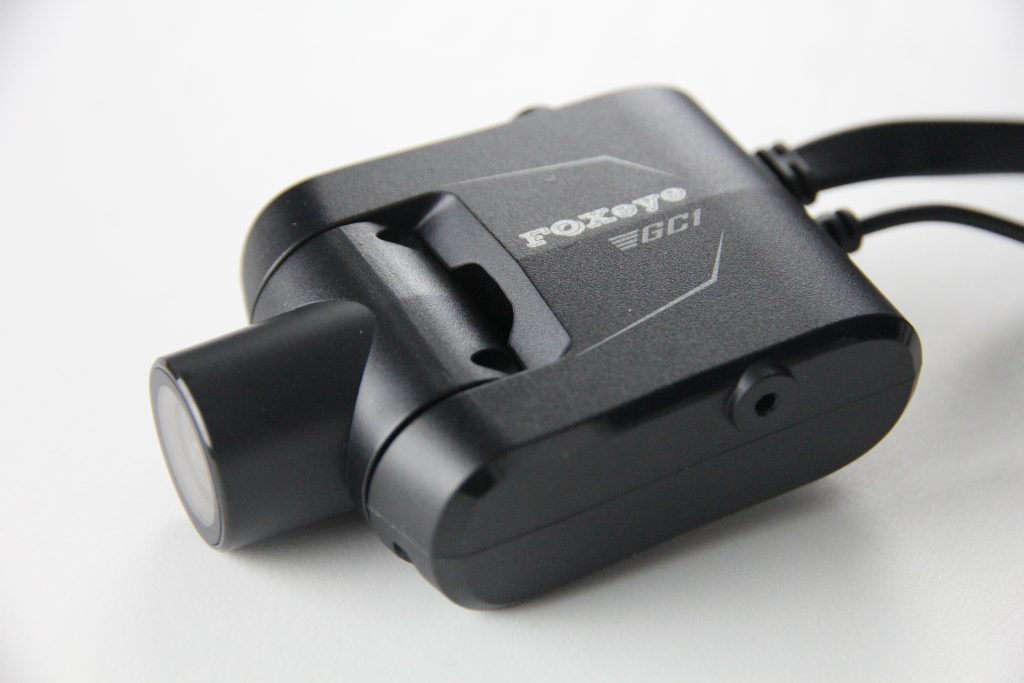 WHAT IS IT? A dashcam for your motorcycle
In 2013, according to the Association of British Insurers (ABI), there were 59,900 dishonest motor insurance claims, which were worth a combined total of £811million.
There are various methods employed by fraudsters which aim to pin the blame of an accident on the innocent party (deliberately slamming brakes on, flashing headlights to let drivers out before deliberately hitting them), and if you've not got a witness who's on your side then you're likely going to end up out of pocket.
If you're recording the event, however, you'll hopefully be able to collect enough evidence to prove that you weren't at fault for the accident. 
The Acewell Foxeye wires into your bike's battery and automatically starts recording when you turn the ignition on. Footage is then recorded on a loop (you get the option of one, two, or three-minute recording loops) with new footage overwriting old to ensure that you never miss an accident or dangerous driving incident.
The quality of the recording is good enough to clearly make out car registration details in all lighting conditions, and should you need to prove, for insurance or legal purposes, that you weren't at fault in the event of an accident you'll be happy you spent the £215 on the device. 
The Foxeye can be paired to a smartphone with its own dedicated app so that you can see what you're recording through the screen of your phone, though when it comes to time to take the recordings off the camera, the built-in SD card means you'll have to fiddle around with plugging a USB cable into the device while it's attached to your bike. 
All things considered, with insurance fraud on the rise an on-board camera like the Foxeye could end up saving you a ton of money and blame if involved in an accident that's not your fault.
Sena 10S Bluetooth Communication System 
€239 single €439 dual | www.eu.buysena.com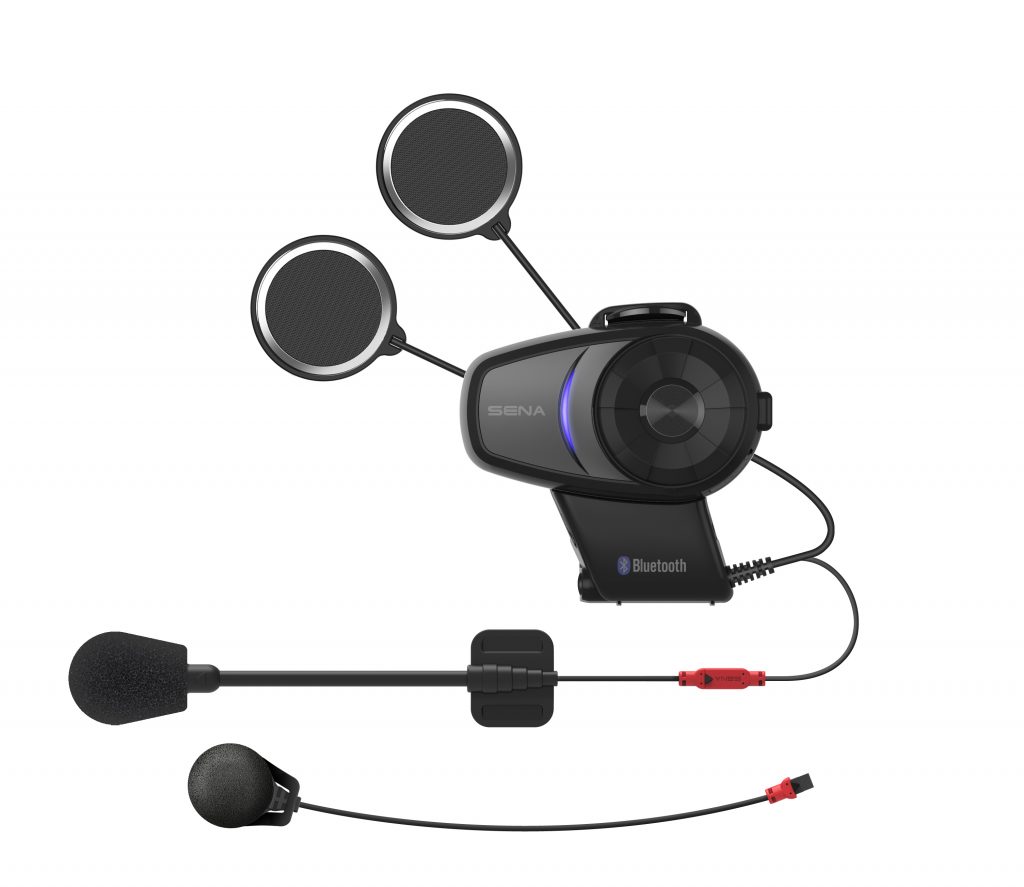 WHAT IS IT? A Bluetooth communication system that fits into your helmet
The 10S Bluetooth Communication System allows you to communicate with up to four fellow riders within a one mile radius, whilst also allowing you to make and receive mobile phone calls, play music, or communicate with other Bluetooth products such as the Sena Prism action camera (this neat pairing allows you to voice over action camera footage in real-time) via HD audio. You can pair with any other non-Sena headset as long as it uses Bluetooth. 
The instructions state that the speakers need to be placed in the ear pockets of your helmet lining. Unfortunately, my AGV helmet does not have ear pockets, so the best I could manage was to place the speakers behind the lining, attaching using the sticky pads provided. I was really surprised as the sound quality in the helmet was fantastic. The audio is really clear and, on the loudest setting, certainly loud enough for use in a motorcycle helmet. 
The unit has to be installed on the le side of the helmet, which means you have to use your le hand for operation (naturally, as your right will be controlling the throttle). It's not the easiest trying to operate the headset with your left hand if you are right-handed, but after a bit of practice, it all becomes second nature. 
There are two buttons and one dial used to operate the headset. There are numerous different button presses to perform different functions. The buttons are fairly small and not the easiest to operate using a gloved hand, but again, after practice, things start to become easier. You can access most settings using the headset but I preferred to use the mobile phone application which was a lot easier. You can store three-speed dials and up to 10 different radio stations and all can be accessed whilst out riding using different button presses. 
Once charged (three hours) you have up to 12 hours of talk time and the headset has a 10 day standby time making it perfect for trips away. This was my first use of a headset and I was really surprised at how impressive the clarity was and how (with practice) simple the device was to use.
I now look forward to the longer rides away when I can access the radio without having to have wires trailing to a pocketed phone, or make and receive calls without having to stop first.
GIVI T508 Camera Bag 
£30.20 | www.givi.co.uk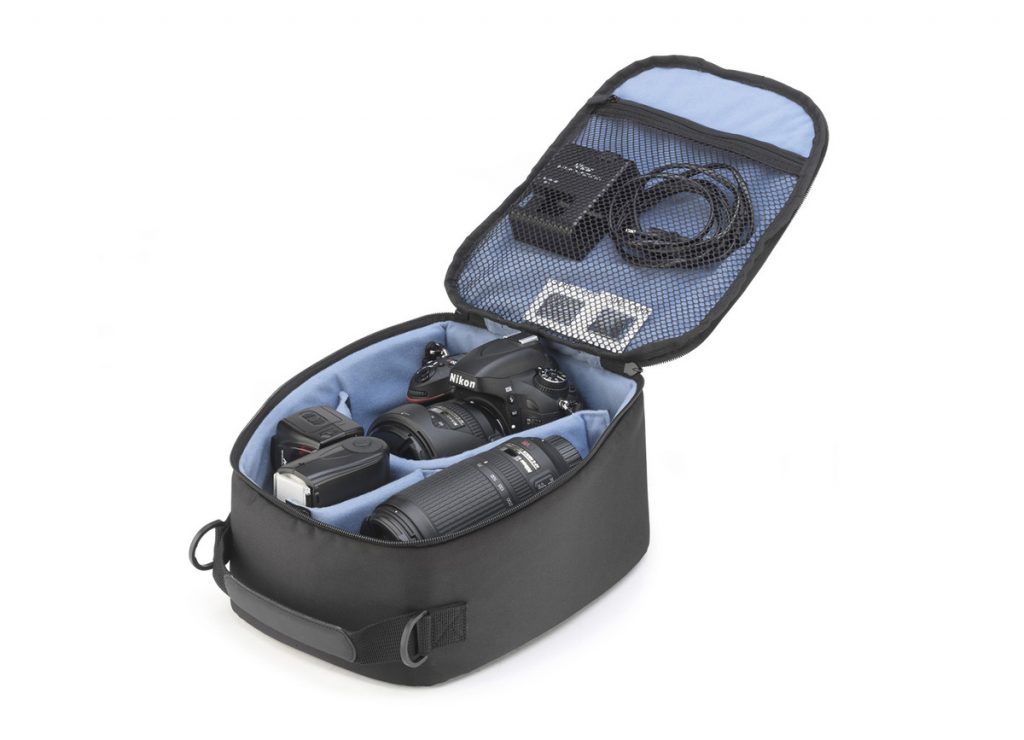 WHAT IS IT? A carry case for your camera equipment that fits in a tank bag
If you like to consider yourself a bit of a photography whizz, or if you just like to take some snaps while on a rideout or tour, you'll have no doubt realised how nerve-racking it is carrying expensive camera equipment on a bike.
Over the past few months, we've been testing out the GIVI T508 Camera Bag, which has been designed to slip effortlessly into tank bags with a minimum capacity of 14-litres. The camera bag's interior is lined with anti-scratch velveteen and the internal compartments can be adjusted in size using the padded separators that are included.
A zipped, mesh pocket can be found on the inside of the lid and this is great for storing spare SD cards, charging cables etc. in.
While on the bike the bag will keep your kit protected and safe, and as it's not directly attached to the bike it's easy to remove once you stop, and easy to carry with the included shoulder carry strap. At £30.20 it's a small price to pay for the added convenience and protection it offers your camera equipment.