The latest and greatest biking kit.
Nolan N100-5 
£400 | www.motogear.co.uk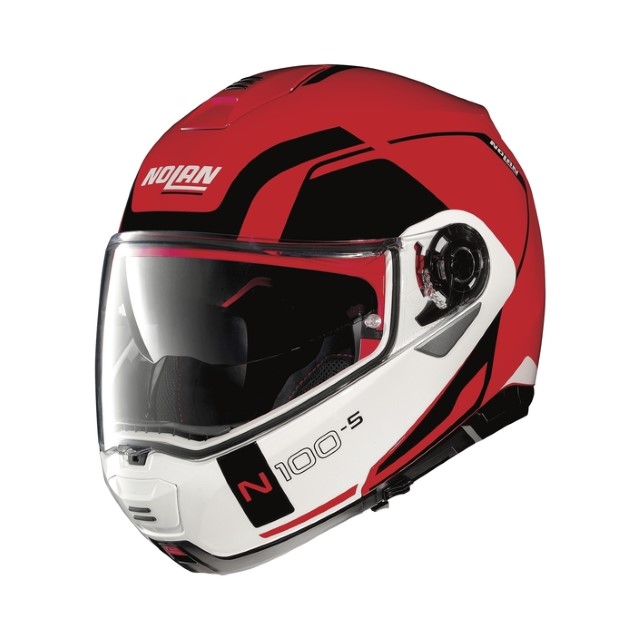 The N100-5 is a new flip front offering from Italian helmet manufacturer Nolan, and at £400 it sits itself at the top end of the price range, though it's still £100 cheaper than the Shoei Neotec and Schuberth C7. The N100-5 is dual homologated, meaning it's been designed to be used with either the chin bar closed or flipped open, and a polycarbonate shell is used. 
The visor of the N100-5 offers a fantastic field of vision, and it's both scratch and fog resistant, though a Pinlock insert does come in the box as standard. Ventilation throughout is brilliant, with a large chin vent and brow vent paired with a decent exhaust vent, and when these are all open the amount of cooling air that's drawn through the helmet is spot on for warm weather riding. 
With the helmet costing £400 you'd expect a premium user experience, and you certainly get that. The Clima Comfort interior lining and cheek pads provide arguably the most comfortable fit that I've ever had the pleasure of trying out in a helmet, and from a comfort point of view the N100-5 excels. One thing that I did notice, however, was that there was some misting towards the bottom of the visor, even with the Pinlock insert attached. It wasn't the end of the world, but a small annoyance. 
SP Connect Moto Bundle 
£89.95 | www.sp-connect.co.uk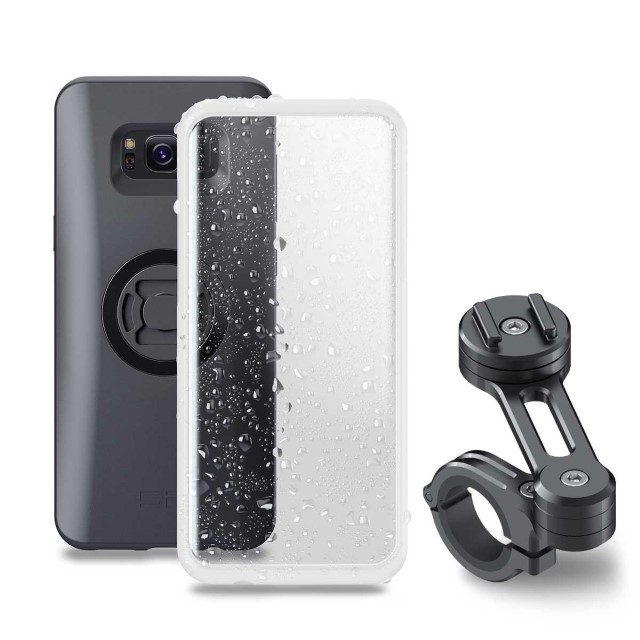 These days, smartphones are replacing everything. Laptops, alarm clocks, cameras, debit cards and, most importantly for the motorcyclist, SatNavs. There's one problem with them, though. Typically, they're fragile and don't stand up to adverse weather conditions too well.
That is until you put them in a Moto Bundle case from SP Connect. Along with the included mount, the Moto Bundle is a brilliant solution for anyone wanting to use their mobile phone as a SatNav on their bike. 
Available for all phones (specific models for Samsungs and iPhones, universal packages for other phones) and designed to fit all handlebars, the mount is super easy to install and offers a rock-solid mounting point that keeps your phone secure, even on the bumpiest of roads.
The case, which clips onto the mount, is minimalistic yet protective, and the setup has a vibration dampening system that SP Connect reckons cuts G-forces by upto 40%, providing more protection for your handset. 
An included weather cover is a fantastic addition to keep your device protected from rain, and the mount allows you to swivel your phone 360 degrees to get the best view of your screen. It might be pricey, but this mount truly opens up the possibility of using your phone as a serious riding device.
Klim Badlands Pro 
£1,025 | www.adventure-spec.com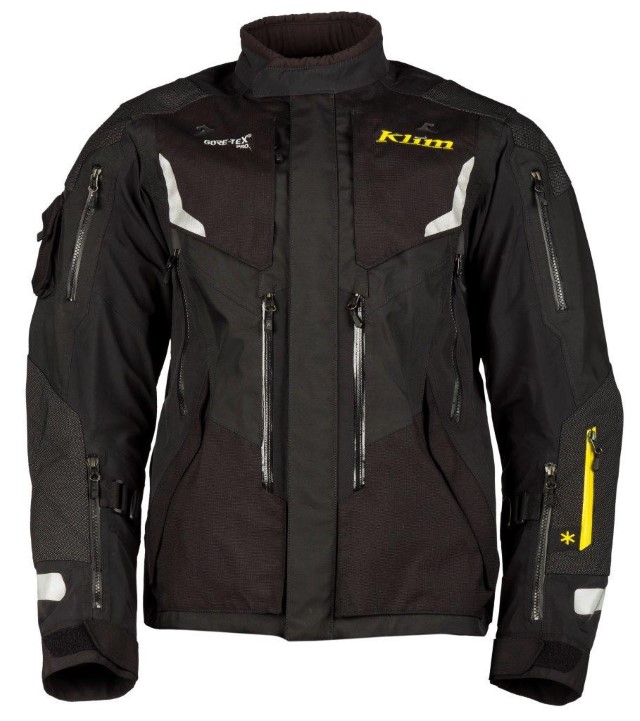 If you've ever been in the market for a laminated textile motorcycle suit, I've no doubt that you've come across the Klim Badlands jacket and trousers before. The suit set the benchmark for top-level overland riding kit, and when I've tested it in the past there was very little that I could fault.
Moving into 2018, Klim has introduced an updated version of its much-loved textiles – the Badlands Pro. We've been lucky enough to get our hands on one of the jackets, and let me tell you, from initial testing, this is an awesome piece of kit. 
Retailing at a few quid over £1,000, the Badlands Pro jacket is a serious investment, but if it's built to the same high standard as its predecessor, it's money well spent. It's been designed 'for the toughest adventure riders who overcome the harshest elements', but it'll be just perfect for those whose riding is mostly limited to the UK as well. Waterproofing is provided by a top-quality GoreTex three-layer Pro Shell membrane, and ventilation is well taken care of with an excellent air intake system. 
Protection is provided throughout by all-new Klim D30 Aero armour, which offers great coverage and is CE-Level 2 certified. Abrasion resistance is taken care of by the inclusion of Superfabric 'extreme abrasion panels', which are strategically placed on areas that are likely to see the most wear in the event of an off. The result is a jacket that feels bombproof and protective, but also agile and unrestrictive in its fit. 
I'm excited to put this jacket through its paces over the next few months, and there'll be a full review of it in the next issue of Adventure Bike Rider, so keep your eyes peeled.
Nuviz 
£615 | www.ridenuviz.com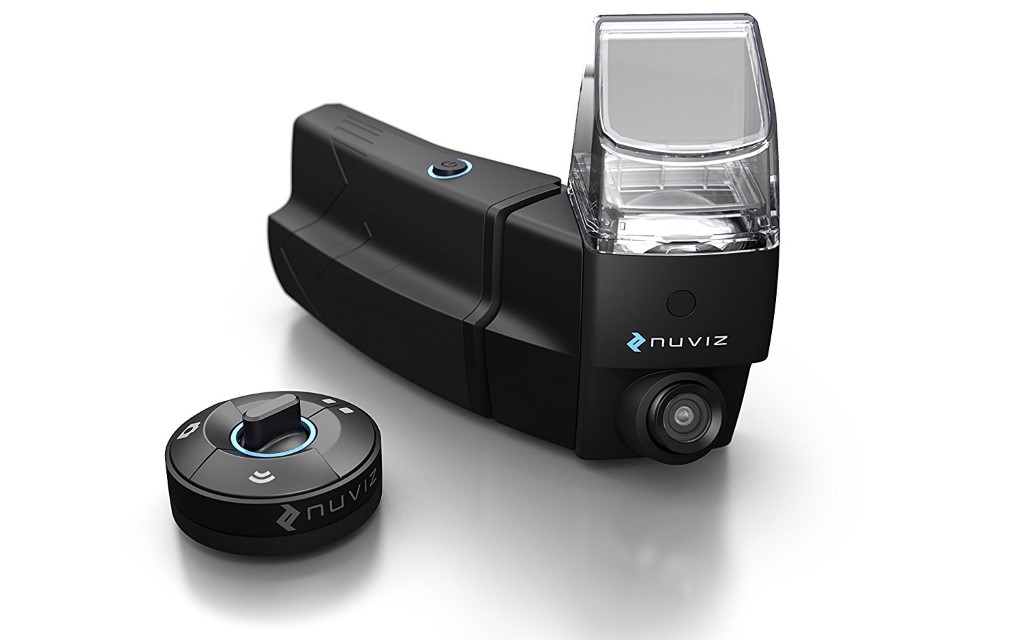 I've seen a lot about heads-up display (HUD) units on the web recently, with the question often being posed, 'is this the future of motorcycling?' Essentially, a HUD unit displays all of the relevant information you need to know while riding in your line of sight, reducing the need to look down at your bike's dash when on the move.
Having used the NUVIZ, which the company claims is the world's first fully-integrated HUD designed specifically for motorcyclists, if this is the future, then I like it. 
The NUVIZ is an attachment that you stick to the outside of your helmet, on the right-hand side, which comes with a camera, a controller and a small viewing portal that sits just at the bottom of your visor line of sight. It's unobtrusive but adds a certain amount of bulk to your lid.
Once fitted (which is an easy process) and set up, you'll be able to see your SatNav instructions, communication notifications and media information in a 'virtual' image that floats in your line of sight, appearing as though it's a few metres away. You'd think the image would be enough to put you off, but I didn't find that to be the case. 
But it's not just a handy HUD that shows you a few snippets of information, the device comes complete with a HD camera that shoots both video and still, and the included controller, which you can easily mount to your bike, means you can easily control it without having to fiddle around with the device on the side of your lid. 
Due to the fact that I rarely use media devices while riding, I wasn't too concerned with that aspect of the NuViz, but it does make following SatNav instructions and viewing your speed (and the speed limits of areas that you're riding through) a breeze, and I'd be more than willing to take this (which uses maps that are downloaded to the device free of charge) instead of a SatNav on my next adventure.
Tru-Tension Big Boy Bundle 
£94.94 | www.tru-tension.co.uk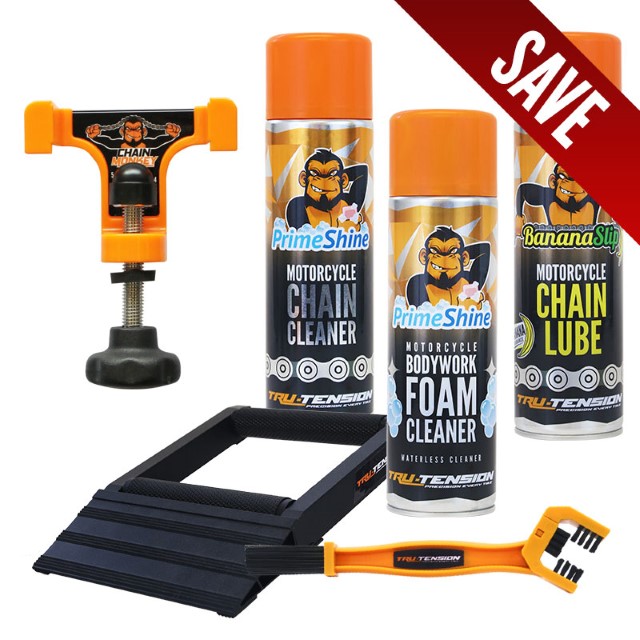 As anyone who has one will know, one of the downsides of owning a chain-driven motorcycle is the need to maintain it. While there are those amongst us who enjoy tinkering with their machine, for some it's just a hassle that you don't get with a shaft drive. But that hassle is made a hell of a lot easier with the Tru-Tension Big Boy Bundle. 
Retailing at £94.94, the Big Boy bundle includes a Chain Monkey (more on that in a second), BananaSlip Chain Lube or Wax (depending on your preference), PrimeShine Chain Cleaner, PrimeShine Bodywork Foam Cleaner, a Muck Monkey and a Wheel Monkey. The quality of all of these products is superb, and they get the job done to an excellent standard each time. 
The Chain Monkey is a brilliant little bit of kit that allows you to easily and almost effortlessly adjust your chain tension perfectly every time, thanks to its great design and easy-to-understand instructions, while the Wheel Monkey and Muck Monkey make cleaning your chain an absolute doddle. For anyone with a chain-driven motorcycle, this is well worth checking out.
Lindstrands Ziggy Jacket 
£149 | www.jofama.se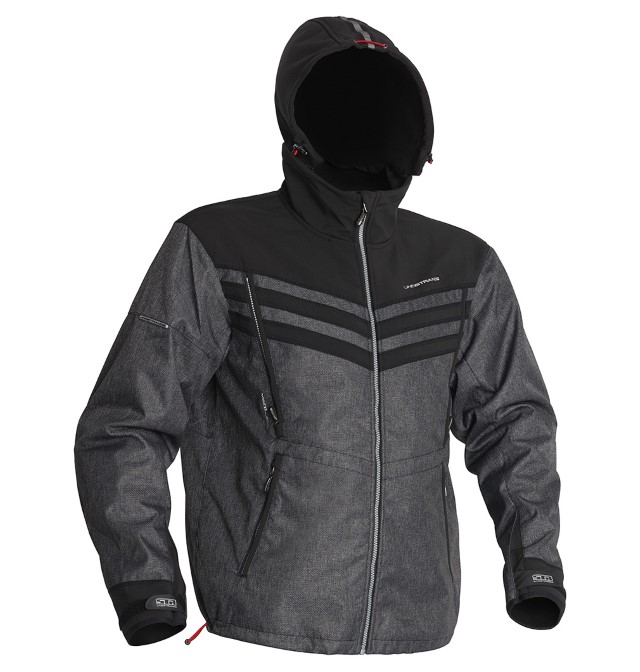 Lindstrands has some of the best looking casual motorcycle apparel on the market, and I've been almost inseparable from my Raggy Fleece this past winter. As we head into warmer temperatures (hopefully), I'm excited to start using my newly acquired Ziggy Jacket. This lightweight textile jacket has all of the style of casual streetwear with the added functionality of armour insert pockets and vents. 
While I'm yet to give it a 'proper' run out, as it's been blummin' freezing recently, I've had a few short rideouts in it and it has all the makings of a great summer-weight motorcycle jacket that'll also be ideal for adventurous forays along the UK's green lanes.
It's windproof and shower resistant and the huge, mesh backed vents on the chest will help cool you down when you're working hard off-road. Plus, the hood is removable for when you're wearing it in the saddle. It's also a great jacket to wear when you're popping into town as it still offers an element of protection while looking stylish off the bike.