The latest and greatest biking kit.
Signature Custom Designs BMW R Nine T Urban GS Styling Kits
from €55 (approximately £48) | www.signaturecd.com
The BMW R nineT Urban GS is a bloody beautiful bike in its standard form, but there's always room for improvement. That's where Signature Custom Designs comes in with their unique and classy styling kits. With no less than 12 designs to choose from, you can add a little something extra to your bike's image.
Fitting the decals couldn't be easier, there's no need to trim or faff, and they're waterproof, scratch-proof and colour fade-proof to ensure your ride will be looking just as fresh every time you throw your leg over the saddle. If you don't have an Urban GS, then it's also worth checking out the company's designs for other bikes which all add a custom and beautiful aesthetic. BD
Cool Covers Seat Cover 
£45 – £75 | www.coolcovers.co.uk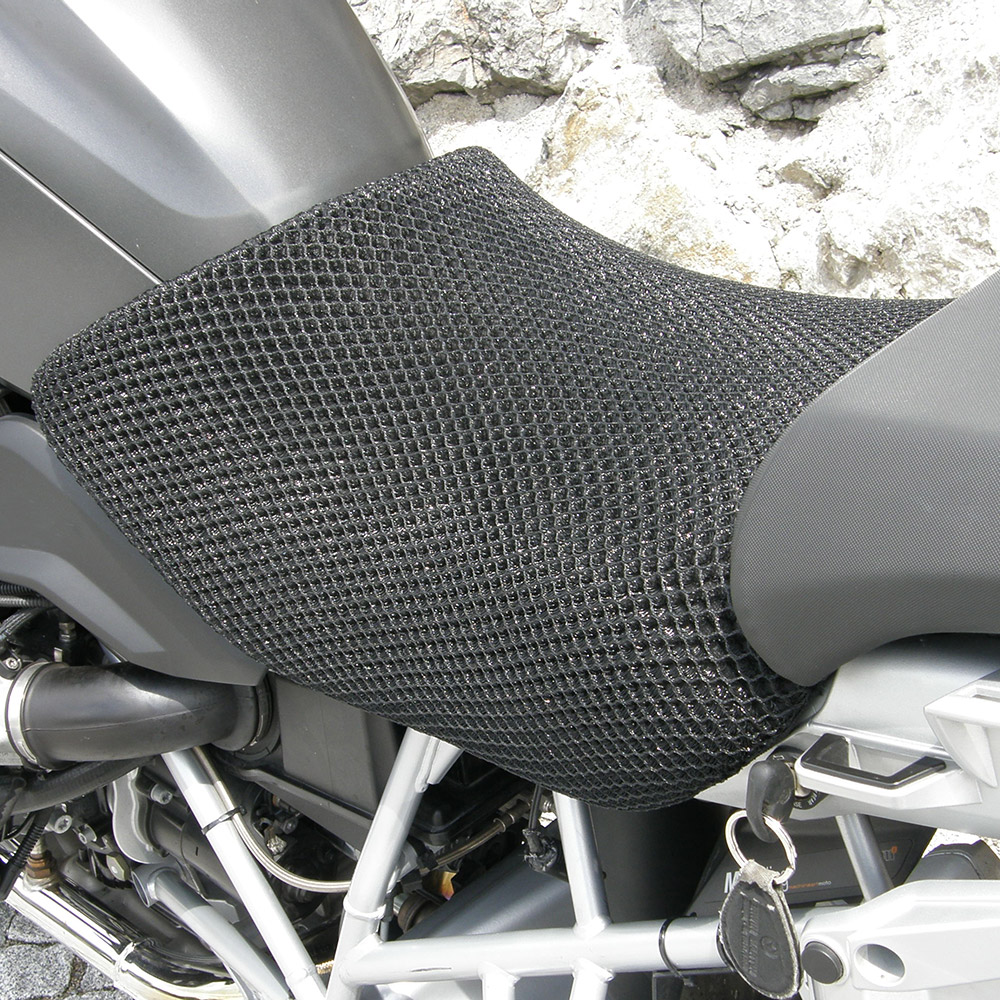 Throughout the start of 2018 I've been riding the KTM 1290 Super Adventure R. The bike's great, there's no doubt about that, but there's one area than can be a bit of a pain in the arse, literally. Like the KTM 1190 Adventure, the seat on the 1290 Super Adventure R warms up super quick from the heat of the engine, and that's before you factor in heat contributed by the air and your body.
So, in need of some relief, I fitted a Cool Cover to my saddle after being intrigued by the concept at the London Motorcycle Show back in February. 
The main selling point of the Cool Covers seat cover is, as the company describes, that it's like air conditioning for your motorcycle seat. It's an easy to install, strong mesh cover that's 98% air-permeable and it works by allowing cooling air to flow underneath your butt, much like how vents in your helmet cool your head down by allowing air to flow over your noggin.
Not only this, but it also helps keep your arse dry when it rains, and the honeycomb raised mesh also makes your bike's saddle more comfortable and helps reduce fatigue. 
Having had the cover fitted to my bike for a month now (fitting was incredibly easy and took me no longer than five minutes), it's obvious that the cover does what it's supposed to. The KTM no longer burns my buns and my lofty perch feels noticeably more comfortable!
The Cool Covers seat cover is available for a huge variety of bikes and seat types, and if you can't find your model on the company's website, then they'll custom make one for you. BD
Bike Trac Grab Bag and Chain 
£149.95 | (1.2m) www.biketrac.co.uk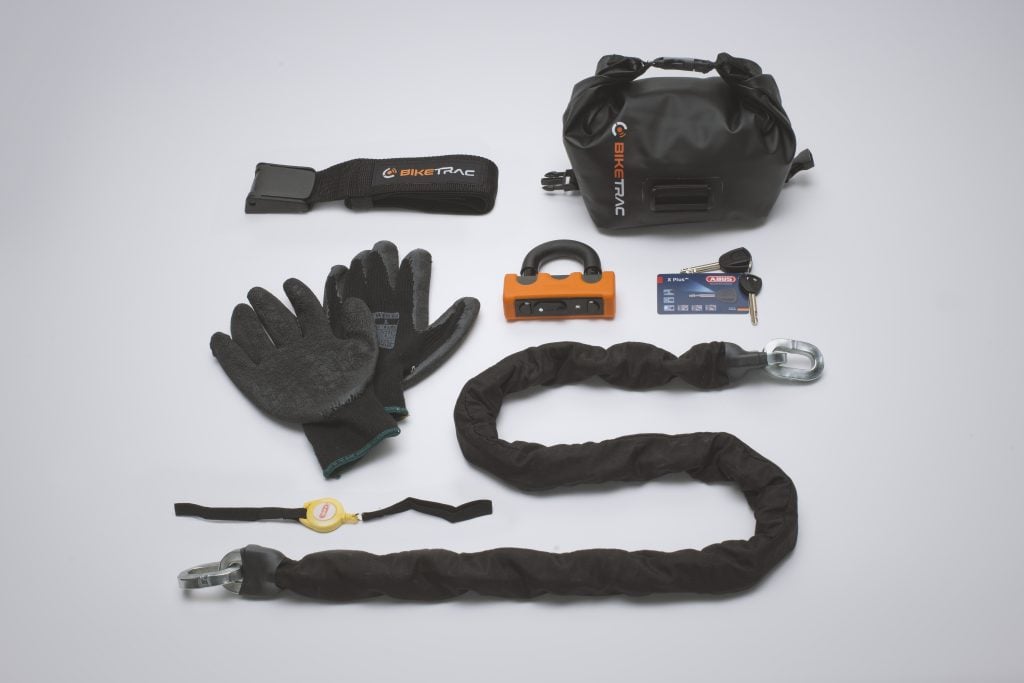 Motorcycle security should be a concern high on everyone's lists, and while there's little you can do to stop the most determined thieves other than cross your fingers, a chain and ground anchor will definitely act as a deterrent to the more opportunistic criminals out there.
BikeTrac has been in the motorcycle security game for a while with its flagship product being a tracker that'll help you locate your bike if it's been nabbed, but for 2018 the company has introduced a range of hard security products that'll hopefully reduce the likelihood that you'll have to rely on said tracker. 
Most interesting is a chain and disc lock that has been designed to be fully portable and comes with its own carrying bag so you can take your security with you on your ride.
It is, according to BikeTrac, the industry's first 10mm Thatcham Category 3 approved chain. Available in two lengths (1.2m and 1.4m), the chain also comes with a grab bag and fastening strap so you can easily attach it to your bike when not in use, gloves, an Abus disc lock, and keys. BD
Hood Jeans K7 Infinity Jeans 
£152.99 | www.hoodjeans.co.uk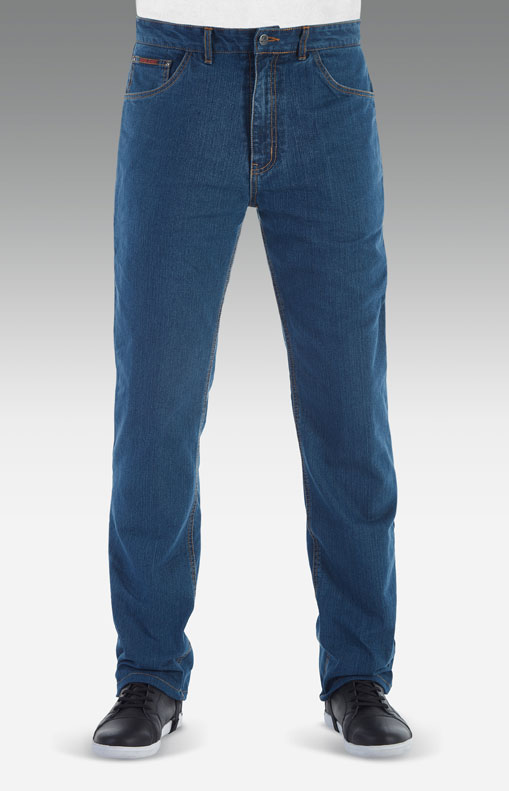 If you ever get the chance to visit the Hood Jeans factory in Norfolk, it's well worth going. There you'll find Chris and Julie, the couple who have owned Hood Jeans since the brand's inception in 1998. Immediately you'll sense an underlying passion from the pair for making top quality riding jeans that don't cost the earth, and alongside that is a desire to take the protection side of motorcycle clothing seriously. 
We've worn the company's K7 Jeans for a few years now and have been consistently impressed with them. New for 2018, the K7 Infinity is the first pair of motorcycle jeans in the UK to be certified for new PPE Regulations which were brought in in April 2018.
The jeans retain everything that was good about the original K7s, but add a softer and more breathable K-tech para-aramid liner with more coverage, a softer and more comfortable airflow mesh lining, strengthened seams, D30 hip and knee armour as standard, and stirrups to prevent the legs riding up if you're unfortunate enough to a slide down the road.
With these updates, the K7s have become both more protective and more comfortable, and for jeans that already offered performance and comfort in abundance, these updates are more than welcome. BD
Icon Airflite 
From £199 | www.partseurope.eu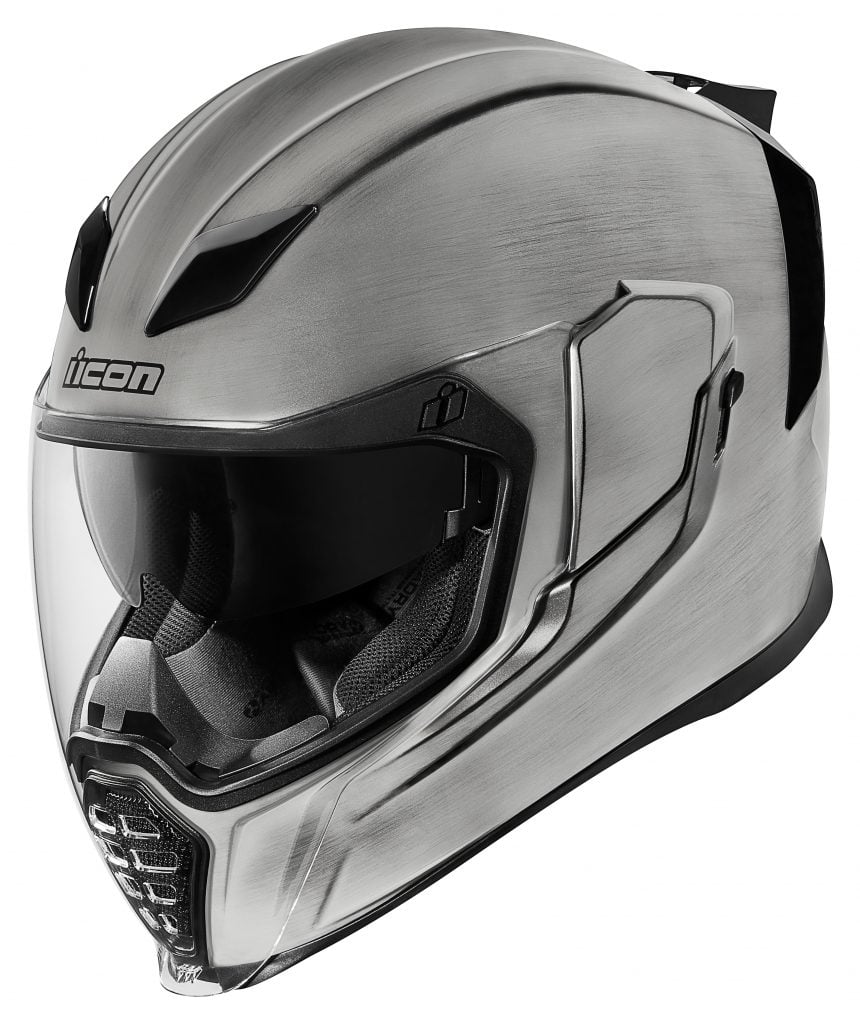 While it's certainly 'on trend' to wear an adventure-style helmet if you ride an adventure bike, if you do big miles on tarmac and rarely venture onto the dirt, the sail-like qualities of most peaks can be a pain in the neck. Road focussed helmets are then the option of choice, and for the past month or so I've been slipping my head into the new Icon Airflite, an aggressively styled helmet that's been designed to suit all types of riding. 
With prices starting from £199, the Airflite sits itself in the middle of the price range, and for your money you get a very unique looking helmet with an injection moulded polycarbonate outer shell. Comfort is great, thanks to the soft inner liner, and the internal sun visor is simple to use and well placed for effective use. 
Ventilation on the helmet is very good, with four vents allowing for a good inflow of air, while the extended chin bar also allows cooling air to enter. Exhaust vents on the rear complete the setup. Perhaps the best feature of the Airflite is the huge field of vision offered by the visor, giving you an almost unrestricted view of the road ahead and any scenery you're passing through. BD
Scottoiler xSystem 
£199.95 | www.scottoiler.com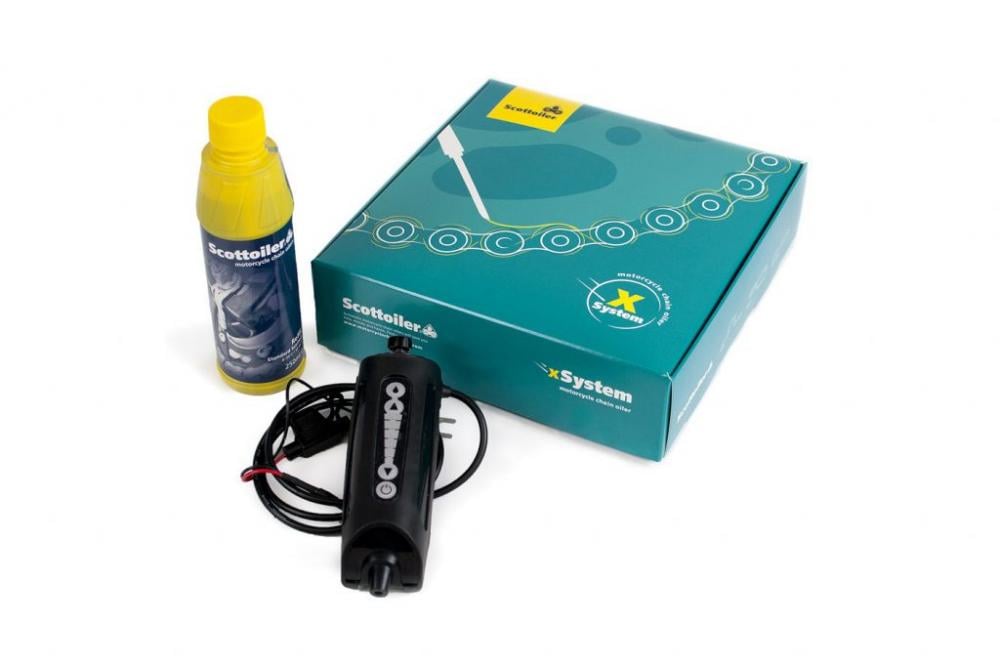 Ah, motorcycle chains. The scourge of all bikers who want hassle-free ownership and an easy life on two wheels. I must admit, I fall into the category of riders who often neglect chain maintenance, and to be honest, it's usually because I forget that it needs doing!
I have fond memories of almost getting stranded high in the Alps on an old military road when a poorly maintained chain broke, but I've still not learnt my lesson. So, as I've been riding the chain-driven KTM 1290 Super Adventure R, I've decided to fit a new Scottoiler xSystem to the bike. 
This is the latest automatic chain oiler from the Scottish brand, and it's been introduced into the company's range to be the easiest to install and most user-friendly offering. The clever little device offers a discreet solution to chain maintenance, and with its motion-activated oiling system, your chain will stay well lubricated for longer.
Installation is very simple (and there are step-by-step guides available online), and operating the device is also hassle-free. BD