I first met my wife on my doorstep seven years ago. I liked her immediately. She had kind eyes and a sweet smile. She'd come to move into the spare room in my London flat share.
Karina was laid back, didn't sweat the small stuff and burnt brightly when it came to enjoying life. I was smitten. Last year we married. We topped a perfect day by exploring Italy as honeymooners by motorcycle. I can still taste the summer air in Florence when I close my eyes.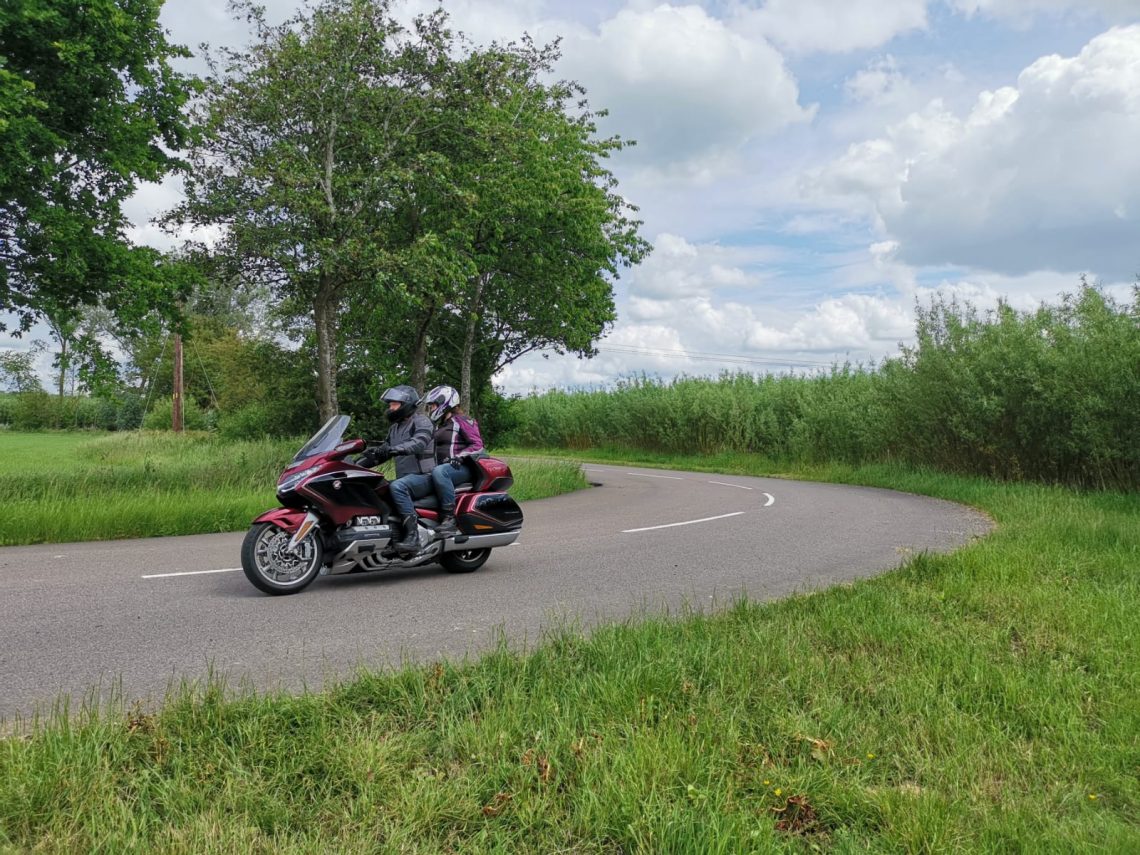 Back home we resumed our lives in our little home overlooking the sea. Life wasn't perfect, but hell it was close. Then I got a phone call.
Unexpectedly, I was offered a job at ABR magazine. It was a dream come true for me, but there was a catch. It was 250 miles away from home. My wife and I hadn't lived apart since we first met on that doorstep seven years previously. Sweetly, she told me to chase my dream and we began living a long-distance marriage during the week. That was last December.
Exploring the world on two wheels together
Six months later, we both managed to align our work diaries to book a week's holiday together. Karina doesn't ride but she loves to explore the world on two wheels from the pillion seat.
We decided to jump on a bike and take a Brittany Ferries crossing to Europe. We had no plan, no route and no accommodation booked – just the open road and each other for company.
I was determined to ensure Karina had the perfect holiday. It was my way of saying thank you for being so supportive over the past few months. With this in mind, I decided to give her the most luxurious pillion experience possible, free of aches, pains and a numb backside after days in the saddle. She would travel as a VIP in style and comfort.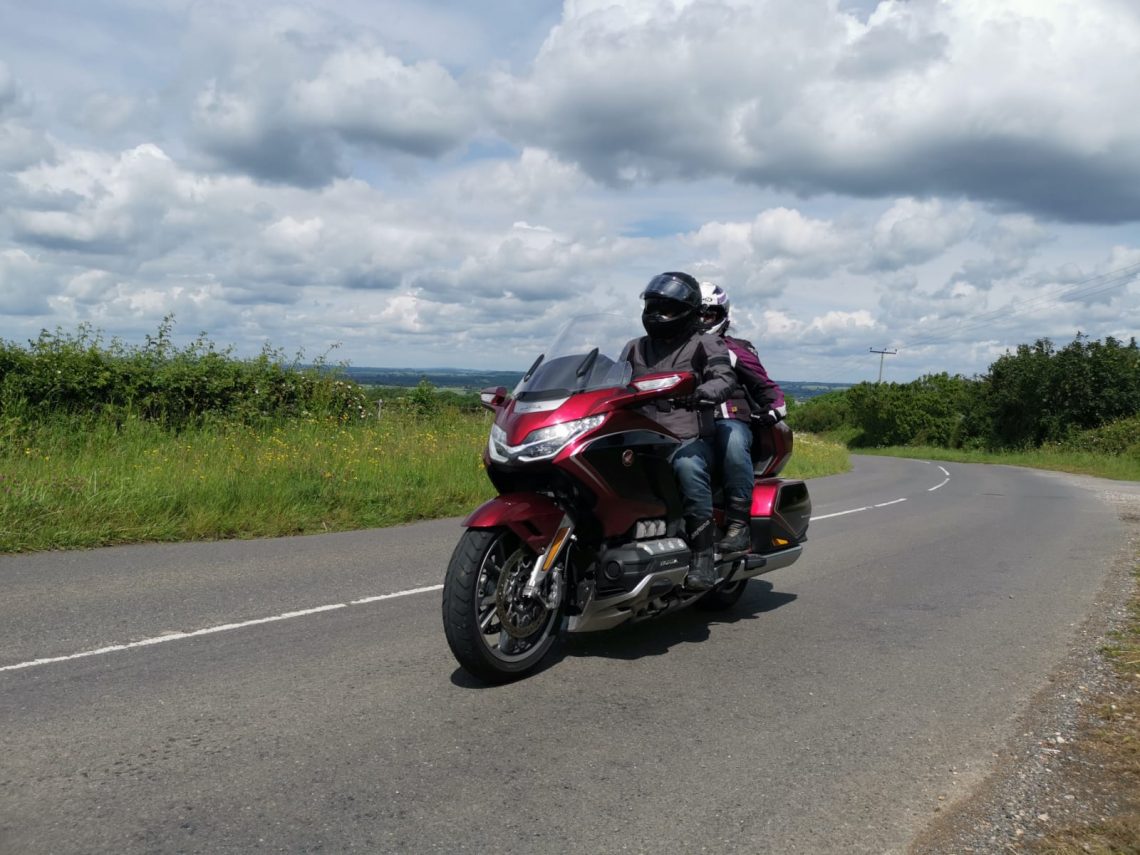 The ideal pillion-carrying tourer
In my mind, there was only one bike for the job – the Honda Gold Wing. The luxury long-distance tourer is famed for its ability to carry two people over many miles in supreme comfort.
It also boasts a catalogue of accessories, such as heated rider and pillion seats and an in-built entertainment system, to create a five-star riding experience. On paper, it was the perfect bike. Thankfully, a nice man at Honda agreed to lend Adventure Bike Rider magazine, and hence myself, a 2019 GL1800 Gold Wing Tour with DCT.
At this stage of proceedings, I should take a moment to admit something to you. A couple of years ago there is no way in hell I would have chosen to ride the Gold Wing. The reason being it was the uncoolest motorbike on the planet, at least in my eyes. I loathed the heavy beast's cumbersome looks and its reputation as a sofa on two wheels for retired couples.
I suspect Honda feared potential buyers thought the same way because, in 2018, the Japanese manufacturer did something rather marvellous. It released a more compact, lighter, streamlined version of its big tourer in a bid to attract new riders.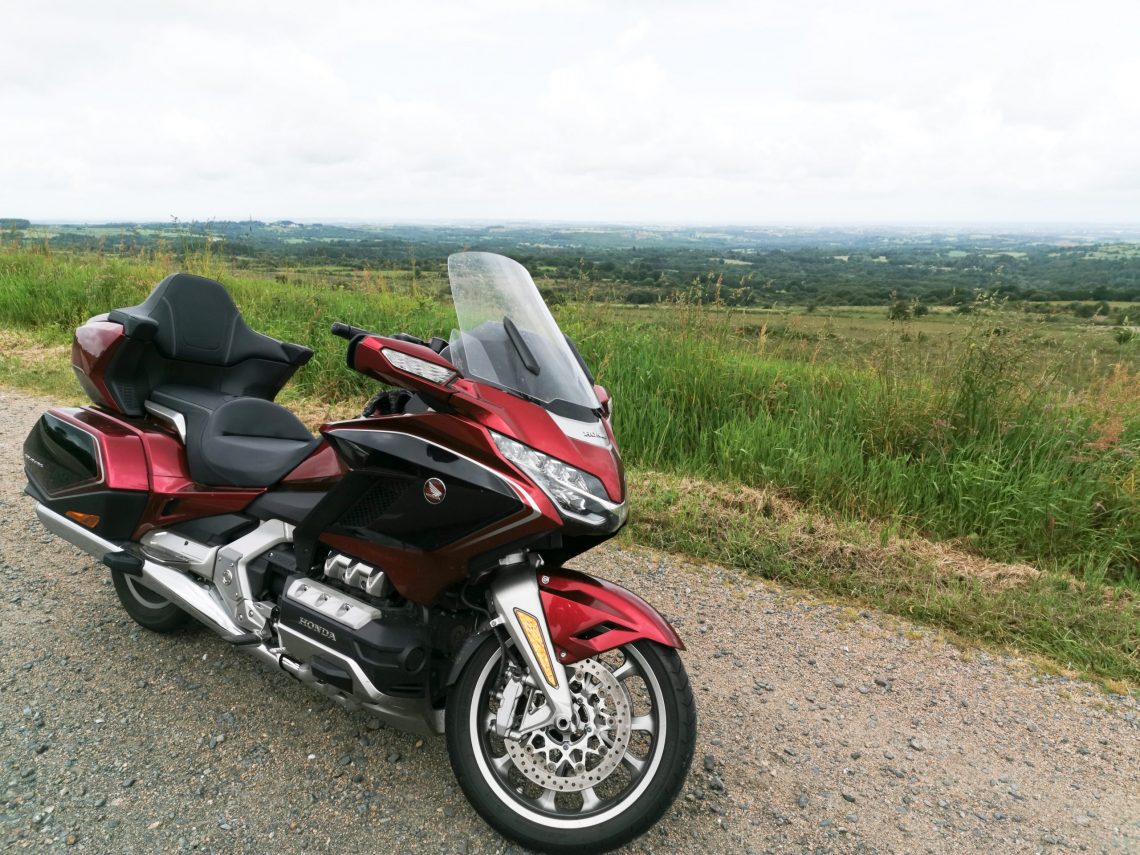 Giving the Gold Wing a face-lift
For the first time, my eyes feasted on a Gold Wing I wanted to ride and own. Dare I say, it even looked cool with its sculpted bodywork and slicker profile. But the changes weren't simply skin deep.
The new GL1800 featured a new aluminium chassis, new suspension system and a new engine. The Gold Wing got a major overhaul inside and out. In doing so, it also managed to shed 48kg and looked damn good in the process.
The changes were met with almost unanimous praise by the motorcycle press which liked the bike's looks and performance. However, it hasn't all been plain sailing for Honda. Some long-time Gold Wing owners complained about the new model's smaller fuel tank (21.1 litres compared to 25), although Honda says improved fuel efficiency from the new flat-six engine gives the current and previous models a similar range of about 220 miles.
There was also disquiet about the Gold Wing's leaner looks, with some saying the sleeker styling led to less weather protection. Eyebrows were also raised at a reduction in luggage capacity.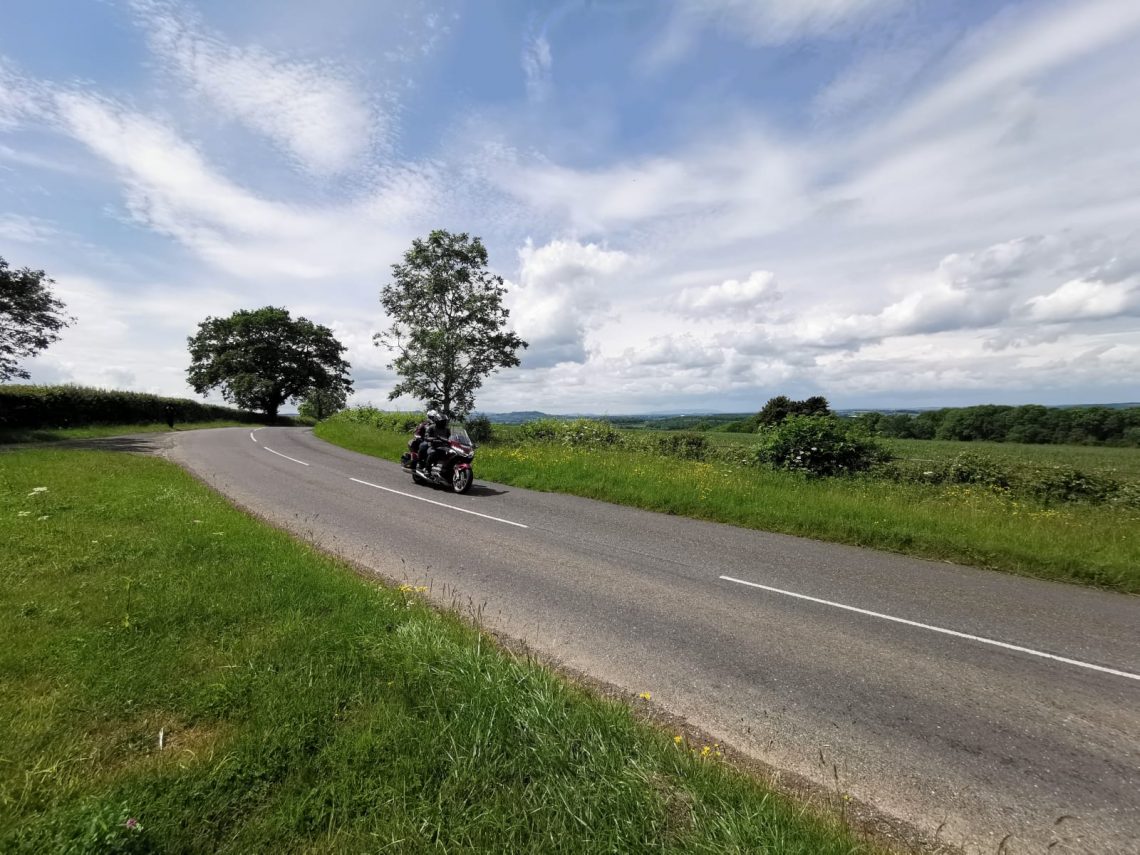 Heading into France
These were concerns I'd made a mental note to look out for on my journey. However, as Karina and I rolled off the ferry into Roscoff and travelled down the west coast of France, I admit to relishing every second of the VIP touring experience.
As we rode, I spent time adjusting the large electric screen into the perfect position – low enough to keep us cool but high enough to avoid pesky buffeting. I switched between the four engine modes (tour, rain, econ and sport), before leaving it on tour for much of the journey.
I electronically adjusted the suspension at our first stop, selecting the icon of two riders plus luggage on the Gold Wing's large, seven-inch TFT dash. Before we hit the road again, I also enjoyed not having to search my pockets for my keys thanks to the bike's keyless ignition system.
We followed directions on the in-built SatNav and tinkered with the settings on the heated rider and pillion seats. The ample warmth ensured we remained toasty as we played cat and mouse on the motorway with rain showers and accompanying bouts of cooler air.
When it did rain, the bike's excellent weather protection kept us both as close to dry as you'll ever be on a motorcycle during a downpour. I guarantee you the Gold Wing certainly isn't lacking in this department.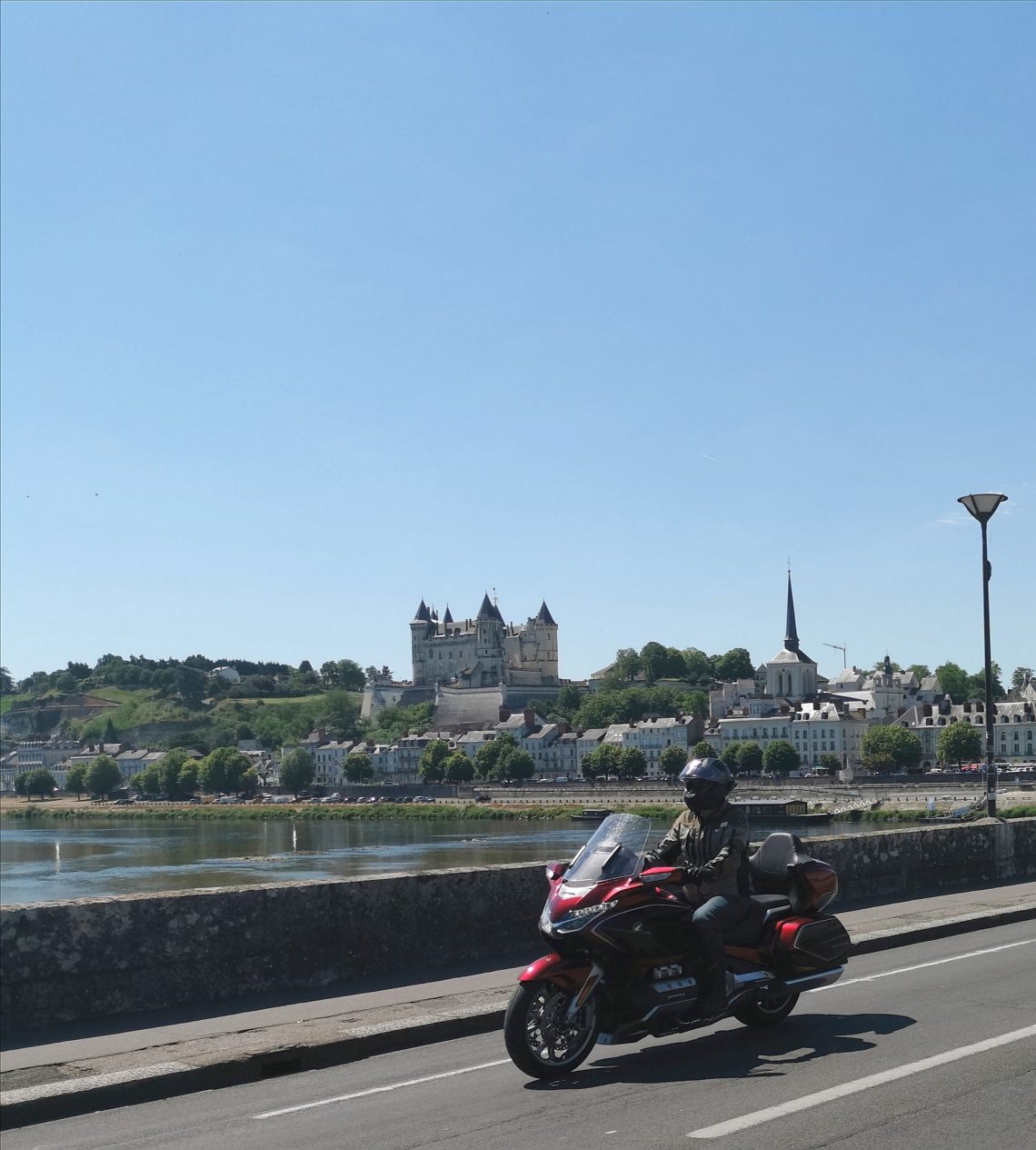 Blasting out the tunes
A couple of hundred miles into that first day, the monotony of riding along French toll roads finally overtook the excitement of being abroad. However, the boredom was easily banished by connecting our phones via Bluetooth to the onboard entertainment system.
We then found ourselves singing along to tunes blasting out of the bike's ear-splittingly loud speakers. There may even have been a few dance moves going on, the extent of which will remain a secret between Karina, myself and Taylor Swift.
Over the coming days we luxuriated in the Gold Wing's lavishly comfortable seats. Karina was practically sat in an armchair behind me while I relaxed on my ample perch and let the cruise control take the strain.
High-speed cruising on the Gold Wing is a dream. The miles peeled away in a cosseted blur as we crossed the French border and struck out into northern Spain, before we looped back upon ourselves to catch the Brittany Ferries crossing home from northern France a week later.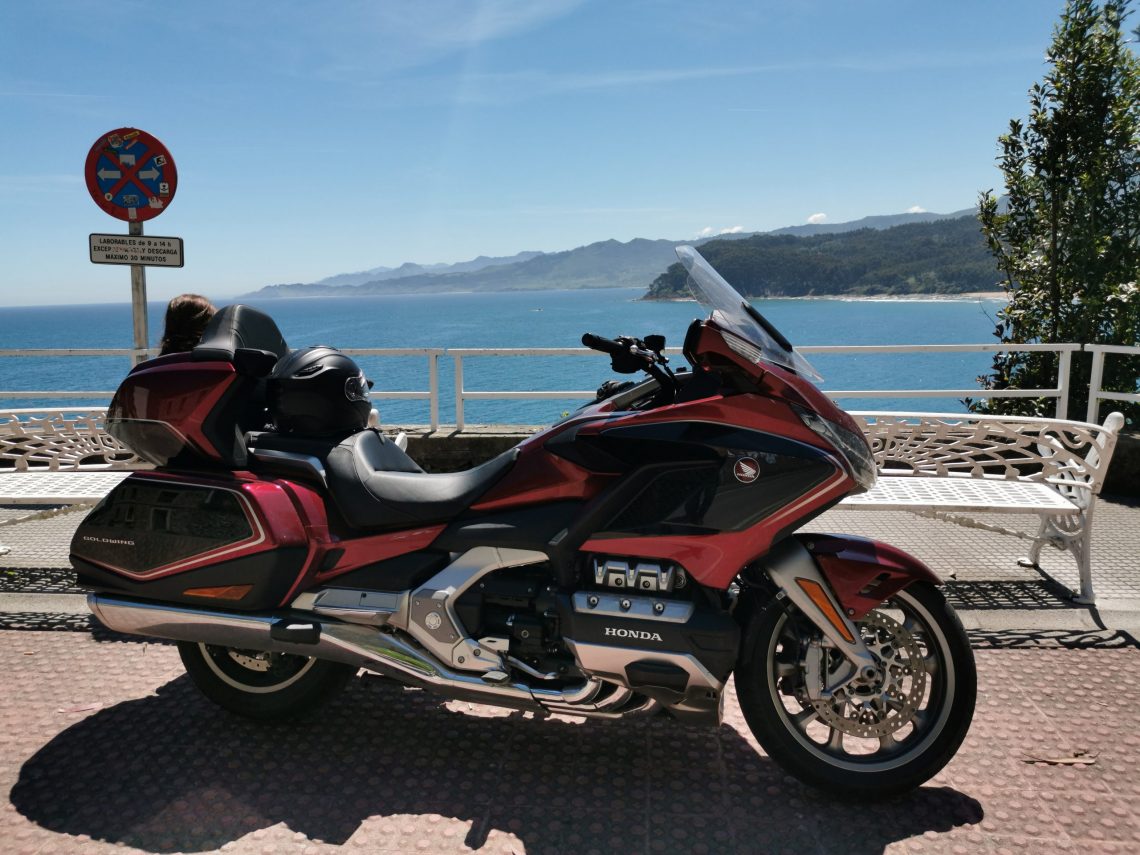 Under the microscope
Throughout our journey, we covered more than 2,000 miles on every conceivable paved road you can imagine. We crested twisting mountain passes in the Picos de Europa and the Pyrenees; we filtered through the busy city streets of San Sebastian and Gijón; we spent days on the high-speed motorways of France and Spain; and we cruised along meandering coastal highways marvelling at the spectacular scenery of the Bay of Biscay.
The large distances we covered in a relatively short space of time demanded we spend long days in the saddle. This meant the novelty of riding a new bike, even one filled with so many toys as the Gold Wing, soon wore off. It was replaced with the pressing need for the motorcycle to live up to its reputation and do what it was designed to – cover long distances in comfort, two-up, over multiple days on tour.
While it wasn't perfect, it wasn't far off.
Comfort
In terms of comfort, the Gold Wing passed the test with flying colours. I'll go as far as saying it is the most comfortable bike I have ever ridden. I can't find fault with the upright yet relaxed seating position, which manages to distribute the contact pressure on your hands, backside and feet near perfectly.
Honda has replaced the traditional front fork with a double-wishbone front suspension system. It claims the change has resulted in a 30% smoother ride. While I can't testify to the accuracy of those figures, there's no denying the Gold Wing delivers a silky ride.
Sat behind me, Karina was equally as happy. Many years of dancing have caused her to suffer recurring back pain. We usually manage this on bike tours with plenty of stops and stretching.
However, the arm and backrests on the Gold Wing pillion seat meant she could relax completely. There was no need to work her muscles holding onto grab rails, or to stop herself sliding backwards under acceleration. She could simply sit back and soak up the world around her in comfort.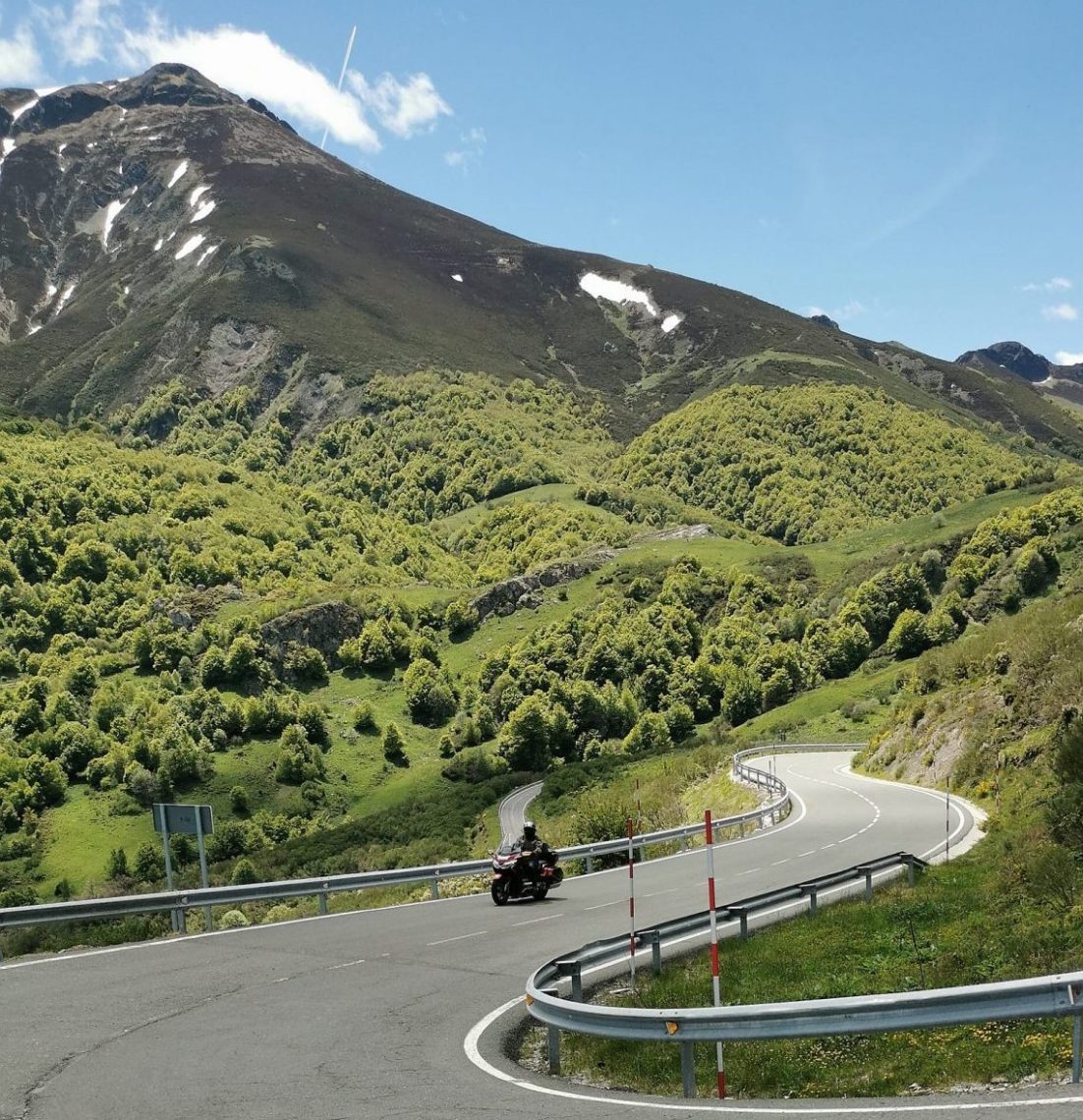 Weather protection
Adding to the bike's long-distance comfort is the protection the Gold Wing gives you from the elements. During light showers our legs and bodies remained almost dry as we rode. Even during heavier downpours, we never felt the need to stop and put on waterproofs. Despite the Gold Wing's sleeker new looks, it still provides plenty of weather protection. It's a revelation in this department compared to the adventure bikes I usually ride.
Handling
It may weigh a whopping 383kg, but the Gold Wing inspires confidence with its stable and responsive ride on the road. It never feels cumbersome or a burden. It is actually a very easy bike to ride. This is partly due to the bike holding much of its weight low down. We can thank the flat-six engine poking out of the sides for that.
Low-speed manoeuvring is straightforward. The 745mm seat height and ground clearance of 130mm meant I could plant both feet firmly on the ground with plenty of leg bend to spare, inspiring confidence when parking and performing U-turns
Even better, the Gold Wing also has a reverse gear! Yes, you heard correctly. At the flick of a switch, you can put the bike into reverse and control your speed with a button located next to the left handgrip.
The reverse gear will only take you backwards at walking pace, but it proved a lifesaver on a number of occasions, particularly on loose, steep surfaces. The same control can also be used to creep forward which helped when parking in tight spots.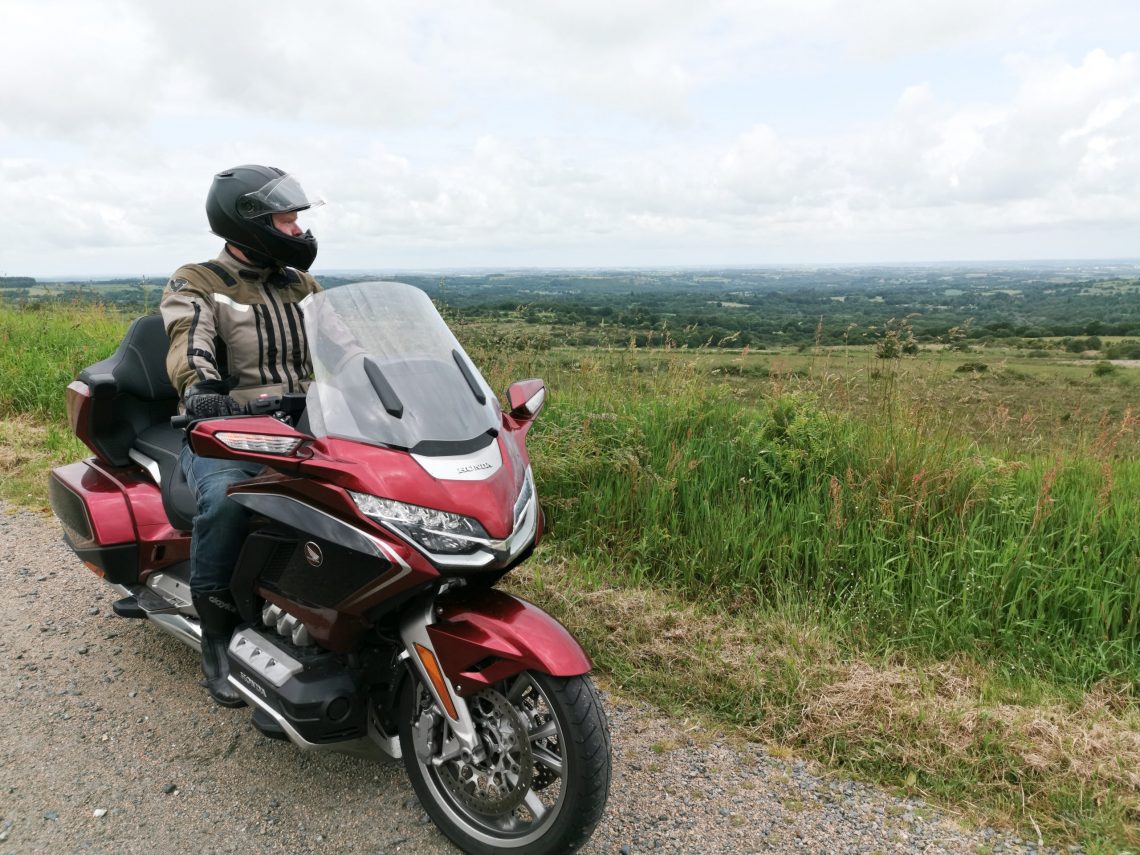 Performance at high speed
At the other end of the spectrum, the Gold Wing at high speeds feels planted, predictable and has a fantastic road presence. The feeling of controlling the momentum and energy of 383kg of metal hurtling down the highway at speed is rather intoxicating. It's a 'king of the road' type experience.
However, excellent high-speed touring ability is something we should expect from a bike of this calibre and reputation. What impressed me more was how much fun it was to ride on twisty mountain passes. A bike of this size is never going to be as nimble as a Triumph Tiger 800, for example, but I was genuinely impressed by the way it handled tight turns, esses, and switchbacks.
With Karina on board, we effortlessly glided our way up and over mountains, the Gold Wing never putting a foot wrong. But it was when I dropped her off at convenient photo spots and I doubled back to pose for the camera that I got to see what the Gold Wing was made of in the twisties.
Riding this bike at speed on narrow, snaking roads was exhilarating and terrifying in equal measure. Slip the bike into sport mode and that 1,833cc engine enables the hooligan within to rear his head. Thankfully, the Gold Wing's balance and poise dealt the power and handled tight corners with ease.
I will admit to having a couple of 'oh shit' moments. The weight of the bike means it takes a little longer to correct any overspeed going into a corner. At least once I was convinced I would overshoot and end up in the mountainside, but I escaped with my bones and ego intact.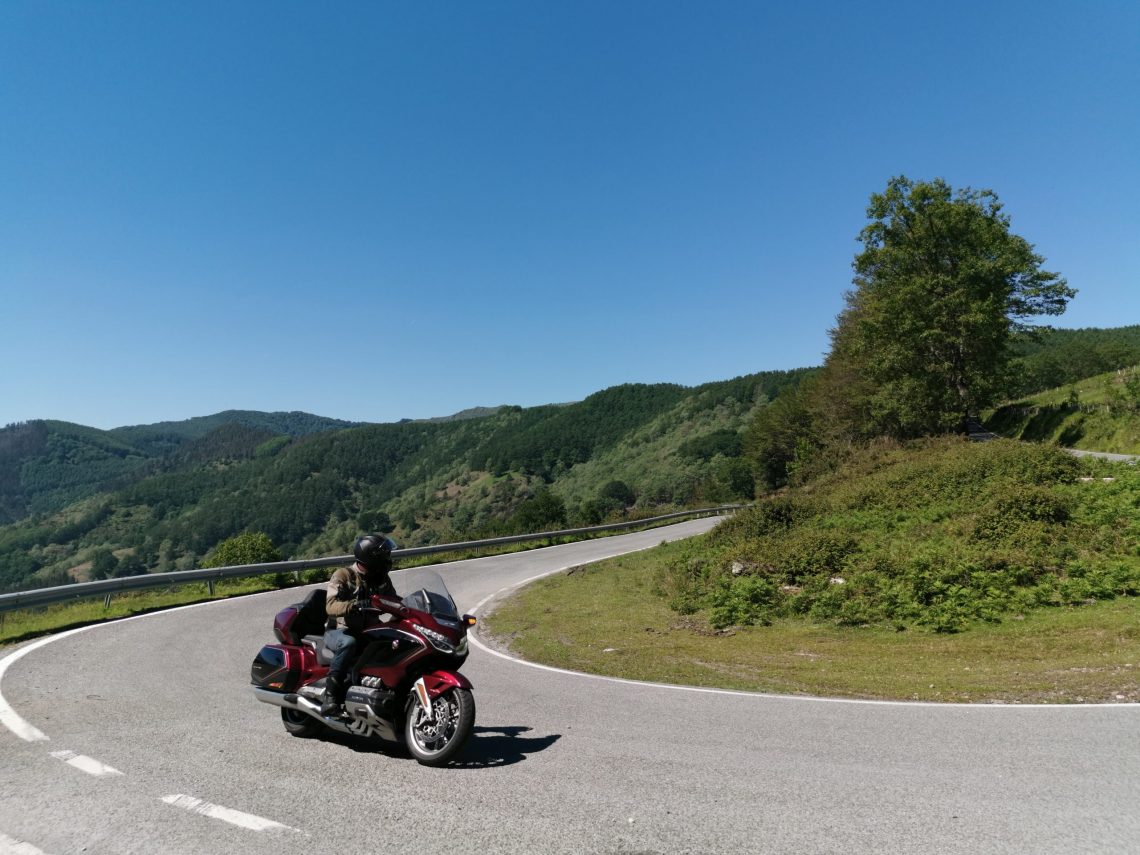 Brakes
This escape was partly due to the Gold Wing's excellent brakes. At the front is a dual hydraulic disc brake with a six-piston calliper and sintered metal pads. At the rear is a disc with a three-piston calliper and sintered pads. A bike of this size demands powerful brakes with a firm initial bite and plenty of stopping power as you continue to pull the lever. That's exactly what you get.
DCT
One of the few aspects of the Gold Wing I didn't like was its DCT automatic gearbox. On those twisty mountain roads, I missed the engine braking that knocking down a gear manually provides. As I rolled off the throttle approaching a tight bend at speed, the bike felt like it was free-wheeling in neutral until the DCT rather belatedly changed down. I ended up using the front brake way more than I usually would with so little engine braking to rely on.
Switching to using the quickshifter to move up and down the gears did alleviate some of these issues, but it still didn't provide the control of a fully manual gearbox. If you're a fan of automatic motorcycles, then I reckon you will enjoy the DCT system on the Gold Wing. It worked just fine, but I did yearn for a clutch lever, both in the mountains and when filtering through cities.
Filtering is an area of Gold Wing ownership that requires patience because the bike is wide with fixed side cases. However, take the time to spot your gaps, like you would with any fully-loaded adventure bike, and you'll find yourself squeezing through lines of crawling cars in no time.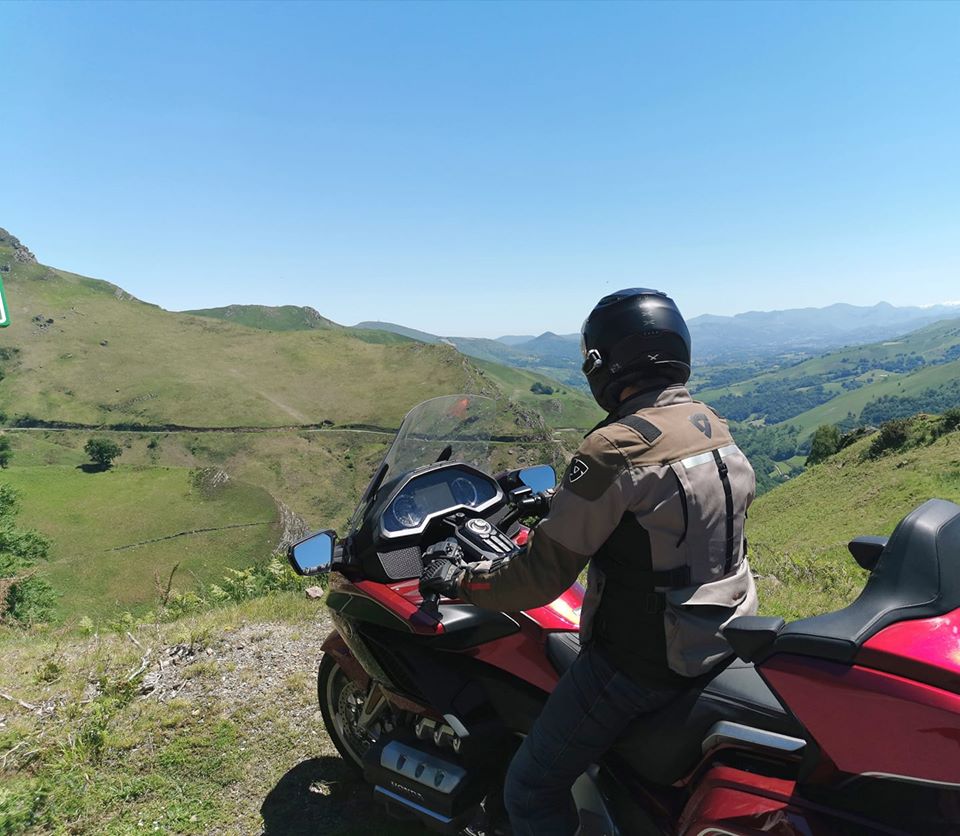 Navigation
I would have pulled all my hair following the Gold Wing's built-in SatNav if I hadn't been wearing a helmet. It was infuriating, particularly in towns and cities where it prompted me to ride the wrong way down one-way streets, enter pedestrianised zones, or follow obscure routes when straightforward ones were available.
The SatNav failed us so often that Karina regularly had to fish out her phone and direct me using Google Maps. Out of town, it was more reliable, but it was a shadow of a navigation tool compared the TomTom Rider I usually use. Hopefully, Honda will update its SatNav software very soon.
Luggage
Those fixed side cases feature 30l of storage and they are accompanied by a 50l top box. Despite grumbles from long-time Gold Wing owners that there is less storage capacity on the new model (110l compared to a previous 150l), I found it adequate if not generous.
Karina and I did manage to pack a tent, sleeping bags and roll matts, along with our clothes for the week, electronics and documents, but it was a squeeze.
The luggage is keyless and opens at the touch of a button, as long as the bike's electronic key fob is nearby. It's a little luxury, but I did appreciate not having to look for my keys each time one of us wanted to open a box. You can also fit two full-face helmets into the top box.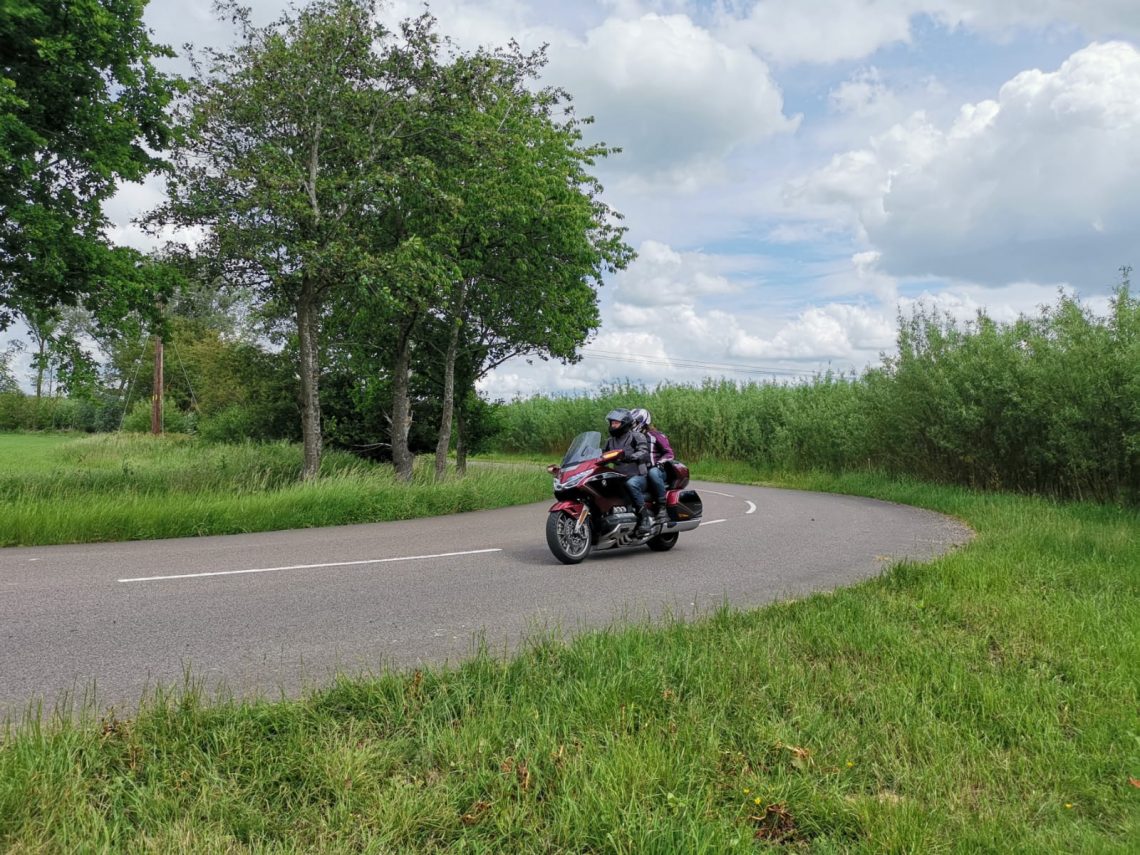 Power
Propelling the two of us and all our luggage along was the Gold Wing's new 1833cc flat-six engine. As you might expect from a power plant of this size, there is power available everywhere. The Gold Wing drags its hefty weight up to speed from a standstill with ease.
And, cruising along the motorway at 80mph and beyond was effortless – the bike barely broke 4,000rpm. However, twist the throttle in sport mode and the kick of acceleration feels like a star ship propelled into warp speed (or so I imagine), making good use of the 125bhp available. The Gold Wing may be a heavy bike, but it still packs a mighty punch as it rockets through all seven gears.
Despite all this power, the engine is incredibly well mannered. It never felt unwieldy or out of control. If it were to, the traction control would cut in and calm proceedings down. In fact, it may be a little too smooth for some. I did find myself yearning for a little shaking or vibration to remind me I had a whopping 1.8l powerplant between my legs. But I guess this isn't the point of the Gold Wing.
If you want engine shuddering and loud pipes from a touring bike, you'll no doubt be casting furtive glances in Harley-Davidson's direction. The Honda is far too refined to do anything so vulgar.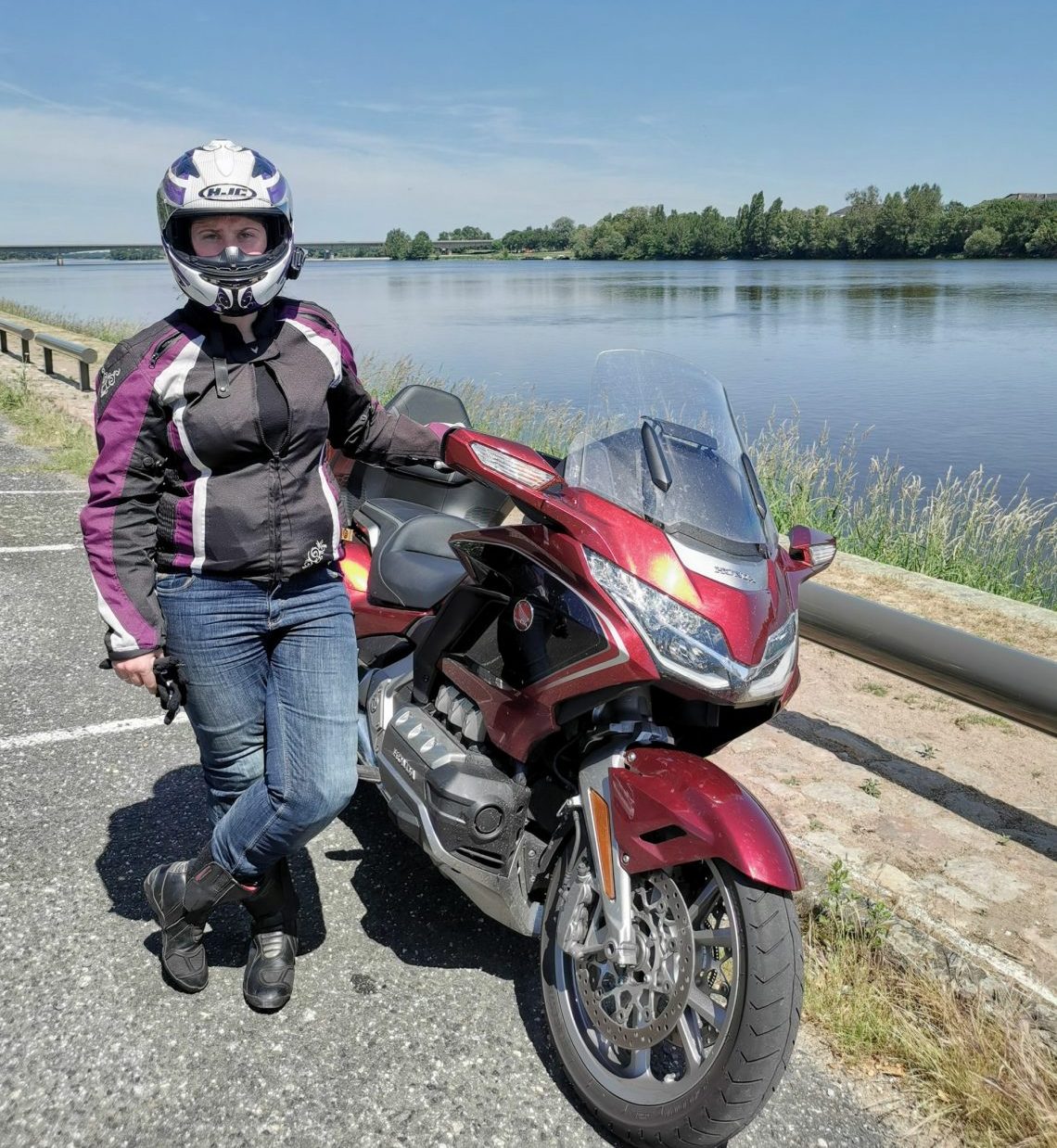 Conclusion
As a long-distance tourer, the Honda Gold Wing more than lives up to its reputation. It is an outstanding motorcycle that delivers a smooth and extremely comfortable ride day after day, for you, your better half, and all your gear.
The bike is packed with so many touring-friendly features it's difficult to recount them all. I haven't even mentioned the shaft drive, hill-start assist, heated grips, tyre pressure monitoring system and airbag; all of which make long-distance touring a more pleasurable or safer experience.
However, there is an elephant in the room and it's time we discussed it – the price. The 2019 Honda Gold Wing Tour with DCT and airbag that I used will cost you £30,699. That is a huge amount of money for any motorcycle and will price a new Gold Wing out of many people's reach. A manual version minus the DCT will set you back £27,499, and the base model Gold Wing, which doesn't feature a top box or pillion back and armrests, costs £22,299.
But what if you have a spare £30,000 burning a hole in your pocket? Is it worth the money? If you want the ultimate two-up road touring experience that money can buy then the answer is a resounding yes. Your pillion will certainly thank you.
You see, the Gold Wing isn't simply a bike for one person. Travelling on a Honda Gold Wing is an experience to be shared. When my wife and I travel, her comfort is more important than my own and I'm sure many motorcycle-loving couples out there are the same.
If I could afford one, I wouldn't hesitate to have a Gold Wing in my garage to use the next time I'm lucky enough to travel with Karina. I'll be forever grateful to the big tourer for helping us both enjoy a sensational week on the road after spending so much time apart.