HELPING HANDS, HEALING WHEELS
Adventure volunteer Jon Lee realises his biker dream to join Riders For Health in remote Zambia
I've really loved the idea of riding in Africa ever since I saw Charley Boorman and Ewan McGregor do it in Long Way Down. I first passed my bike test on a 125cc at the end of 2006, then, in September 2007, I did the big boys' test and bought a Yamaha Fazer 600. So far my riding in the UK has been limited to just Sussex and a little of Hampshire, but I have plans to ride further soon, namely Wales. I'd done a bit of riding abroad before going to Zambia. last December, I hopped on a plane to Madeira and hired a BMW F650GS for a three-days tour around the island. But Africa is a place I never thought I'd get to ride in my wildest dreams.
I saw the Bennetts Biker Dream competition while searching for insurance online. The company was asking bikers to submit their biking dream to the Bennetts website, along with a picture, and people could vote on the dream they thought most deserved to win and have it fulfilled by Bennetts. I read a few of the most popular entries which were posted on the website and saw lots of Route 66 dreams and track days with the likes of James Toseland. Besides having the chance to experience Africa by bike, I couldn't think of a better way to do it than combining the ride with charity work. So, crossing my fingers, I submitted my dream to join Riders For Health and go off-roading in Africa.
One evening a few months later, I got a call to say I was on a shortlist and that Bennetts was seriously looking in to making my dream come true. They asked me to come in for what I thought was a kind of interview, but on arrival I was told there'd been some confusion; I wasn't there for an interview, I'd won my dream motorcycle trip!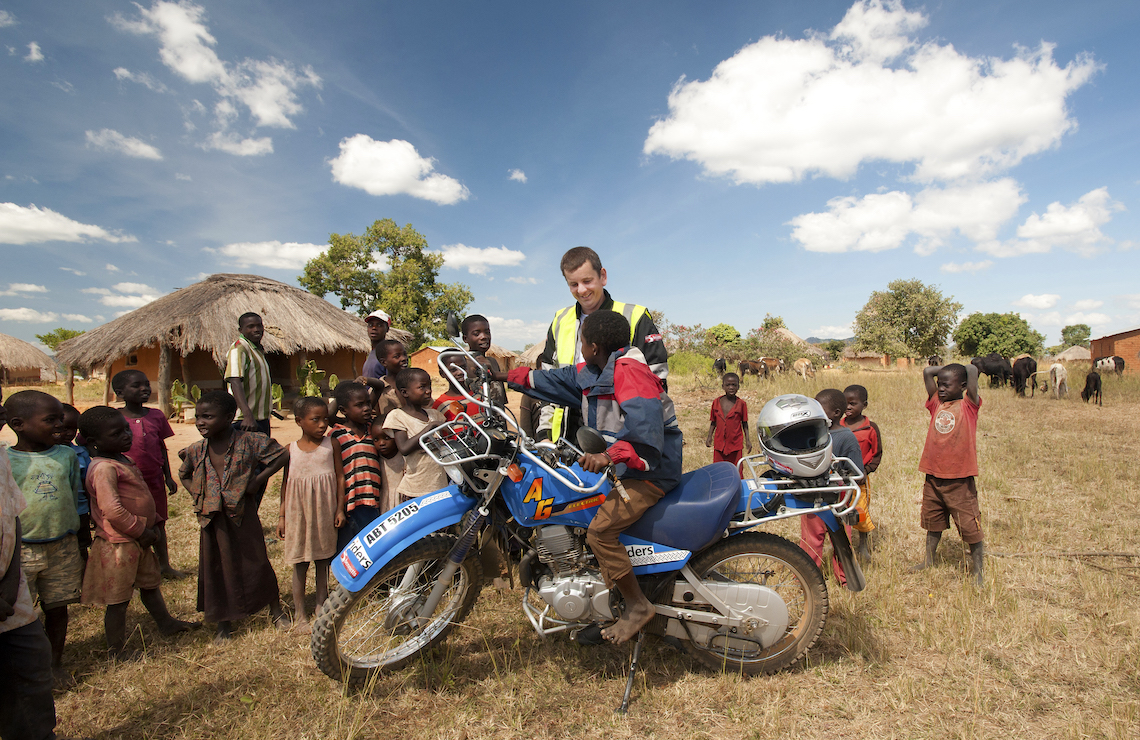 Photo: Jon Lee
Once I'd recovered from the shock, we got down to planning where I'd like to go. My main criteria was that I wanted to avoid anywhere in Africa that's too affected by Westernisation. Zambia was suggested as the ideal destination as it has a combination of both; the rural villages that need help and it's one of the easier places to reach and explore by bike. It also tied in nicely with Riders For Health and the work they're doing there, biking much-needed medical support and supplies to remote areas. Knowing that Riders For Health doesn't usually accept volunteers because the core of their work is done by local people, it was an opportunity I couldn't refuse.
To prepare for riding in Zambia, I took part in a Yamaha Off-Road experience day at the Golding Barn Raceway in Small Dole, West Sussex, run by ex-professional racer Barry Johnson. I spent the day learning how to position myself on the bike, to aid fast changes in direction on loose surfaces, and how to stay upright. We then went on to the main circuit where I got to put these new-found skills in to practice. I got more and more confident as the day went on to the point where I was doing jumps and really having fun! It was really tiring, though, and towards the end of the session I was totally drained from the adrenaline wearing off. The training certainly helped with my riding in Zambia as I'd never ridden off-road before; it definitely prepared me for those sandy and loose rural roads.
I also had a series of vaccinations to prepare for the trip. On taking advice from friends, I ended up playing the pin cushion and received Yellow Fever, Rabies, Meningococcal Meningitis, Hep A, Typhoid and Hep B jabs. Finally, the day came when it was time to board a plane to the Dark Continent and explore what Zambia has to offer. This is my travel journal from that trip…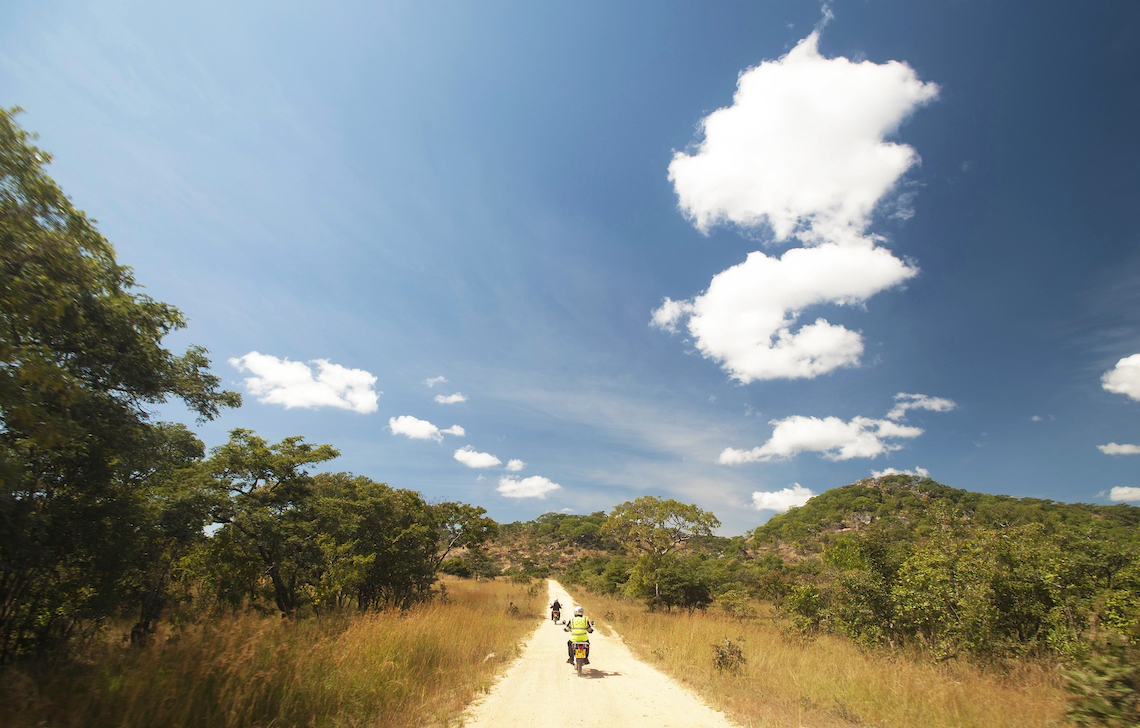 Photo: Jon Lee
9 May
After being shunted in traffic on my way to Heathrow, I checked in and then boarded the plane for Nairobi and then on to Lilongwe, Malawi. The anticipation is building now and I'm excited and nervous at the same time; I don't know what to expect when I reach Zambia. I'm really looking forward to getting on the bike and exploring, but I think I'm most excited about going in to the villages and meeting the people there. I've heard how kind and welcoming the people of Zambia are and I can't wait to get involved. I have to admit, my main apprehension is the riding; it's a very exciting prospect, but something tells me I'm going to have concentrate if I'm to avoid a nasty off!
10 May
I arrived in Lilongwe and was met by Marvin, a Riders For Health technician based in Chipata, the area where I'll be staying in Zambia. Marvin has been trained by the charity to service bikes and mobilise health workers. Many international aid projects deliver help in such a way that those receiving it become dependent on outside support. By training folks like Marvin, Riders For Health ensures the charity's work is largely self sufficient and provides vacancies for local people seeking employment and ways to help their community.
It was a two-hour drive to the Malawi/Zambia border to meet Constance, the Riders For Health programme director, at the office in Chipata. I was then taken to my accommodation, The Cross Roads Lodge. In the evening, I met with Constance and Marvin for dinner and discussed plans for the week. I also got to meet Kameko, who is the charity's Partnerships Director. Her level of knowledge of the operations of Riders For Health in all of the countries they work in is astounding and being very hands on means that she can discuss every little detail with the people on the ground.
I know already from my meeting with the Riders For Health staff that I'm going to have an amazing and eye-opening trip. I hope it will be a lifelong memorable experience, one that so few other people ever will get a chance to participate in; I intended to savour every minute here.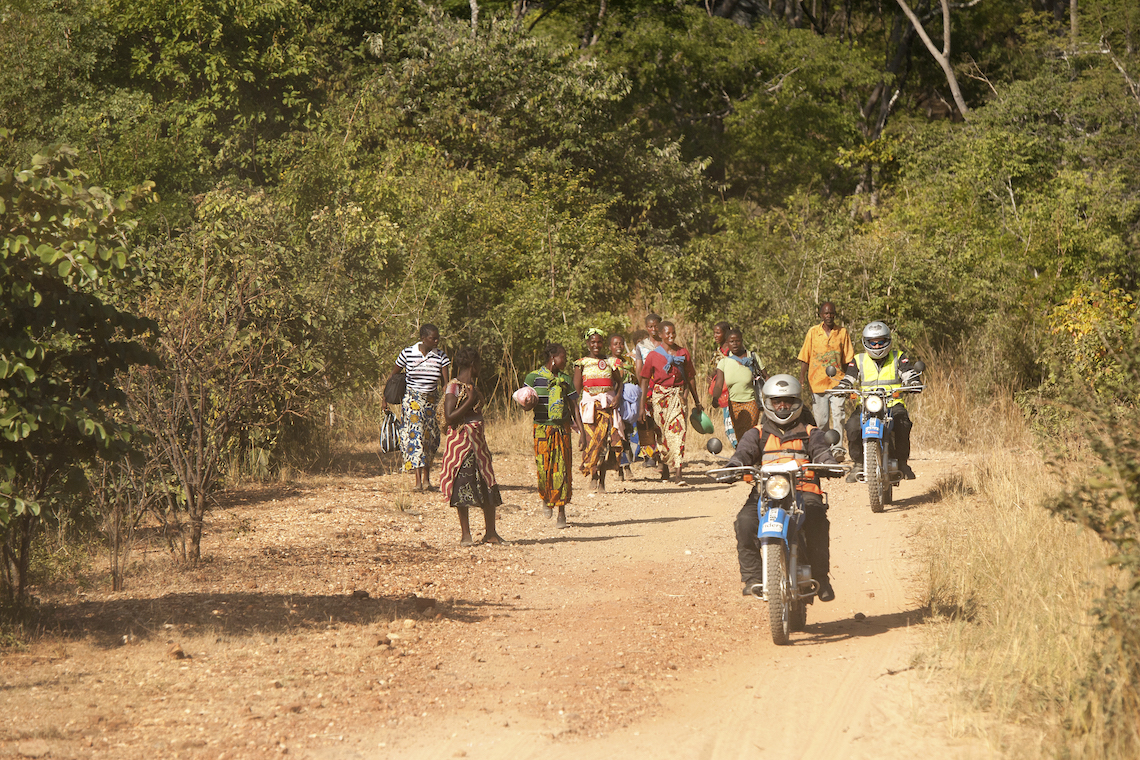 Photo: Jon Lee
11 May
Marvin picked me up from the hotel this morning and took me to Chadiza District to meet David who is responsible for the work in the labs at the Chadiza Community Hospital. We were witness to a clinic where people gave blood samples for Malaria tests, CD4 counts to monitor the white blood cell count in HIV patients, and liver function tests. The initial diagnostic HIV testing for children is carried out in Lusaka by means of dried blood samples, which can go by mail, as the equipment is not available yet in Chadiza.
The lab was basic, but had all the required machines for testing bloods at a local level. The work carried out there is crucial for the local community, but the clinics rely on the transport provided by Riders For Health as samples often come from as far away as 135km!
I was then introduced to my trusty steed – a Yamaha AG200 – and then to Gideon, one of the charity's sample couriers who helps collect samples and delivers results by motorbike. Gideon was to lead me along the sometimes treacherous roads to the health centre in Miti which is 33km away. We were there to collect samples to take back to David for analysis.
The ride really highlighted the work Riders is doing. Even 4×4 vehicles struggle to pass safely along these rural roads, so bikes are much more practical and efficient. I can't imagine how the riders feel after 135km of dips, gravel and sand, something they have to do once a week to get to their furthest health centre. The concentration is tiring, let alone the actual riding itself! This had to be the biggest challenge of the whole trip. The ride from Chadiza to Miti involved crossing a broken bridge, which had been a temporarily repaired with some logs which were tied together. There was a channel through which the bikes could pass, but we had to make sure we didn't clip the sides of the logs and fall over the edge. I found myself passing over faster than Gideon, so I had to be careful not to knock into the back of him and send us both in!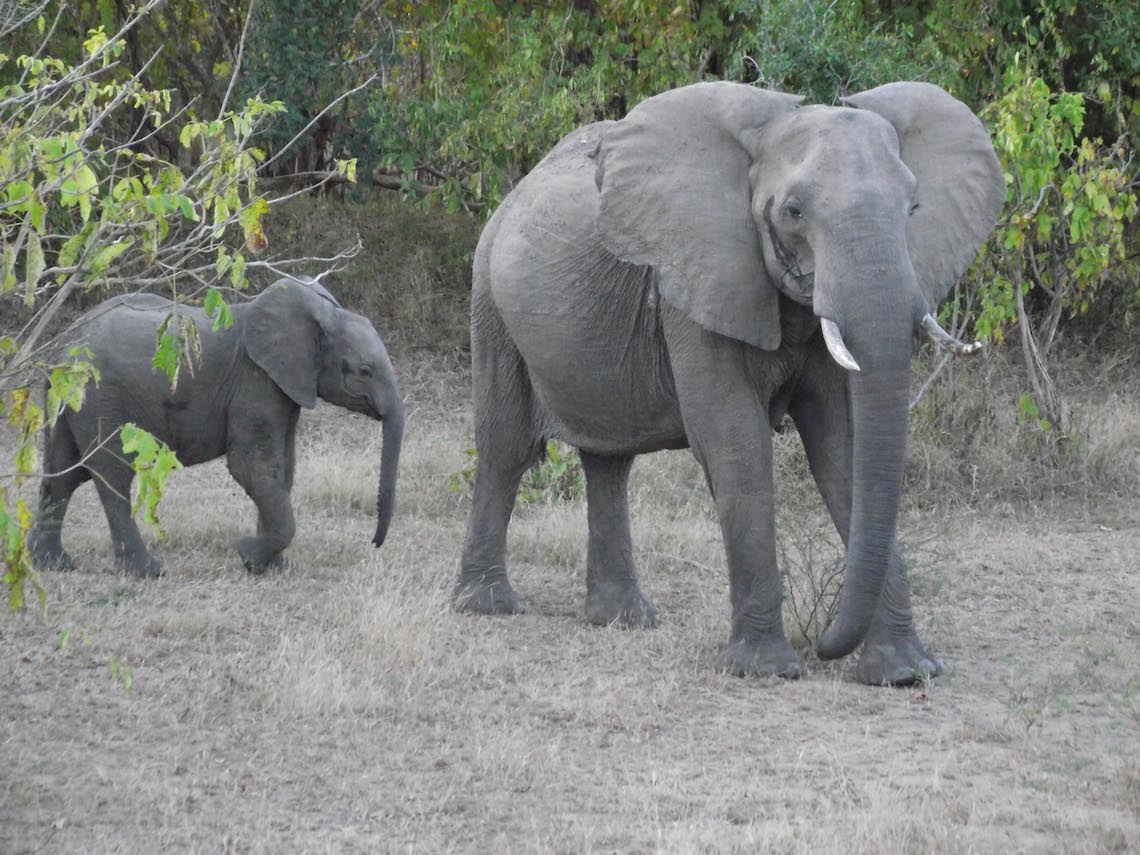 Photo: Jon Lee
The riding was constantly challenging. I had sand, loose stones, big potholes, fixed stones jutting out of the ground, goats and pigs walking out from bushes in front of me; Once I got more used to it though, it was really exciting dodging all over the place!
On the way back to Chipata, I was most impressed to see a local lady riding her bike with a pumpkin balanced on her head – that takes some doing on the roads around Chadiza! It's been a definite day of ups and downs for me, both physically and emotionally. But overall I feel privileged to have been able to see the great work that's been done to help those in real need.
12 May
Today Marvin took us to Bwanunkha where we visited the health centre and met Kenneth, an Environmental Health Technician. His job is to visit rural villages where people are unable to access the necessary health care available without walking for many hours. For many in the villages, the distance makes it too much to manage, so without help from people like Kenneth, they go without access to vital healthcare.
He carries out tests for diseases like Malaria using instant test kits, which make identifying the disease so much easier. Kenneth and I went to the village of Msazula in Bwanunkha, where I almost ended up in a ditch that was covered by greenery. It was here I saw a weigh-in clinic in action and then shadowed him while he carried out the Malaria testing.
Vaccinations were also administered for several illnesses such as whooping cough and TB. Then Kenneth handed out advice to all the villagers in group discussions to try and help them to reduce the likelihood of contracting these illnesses again. All this was made possible by the help that Riders For Health has given in mobilising people like Kenneth to carry out his life-saving work; it's all really impressive.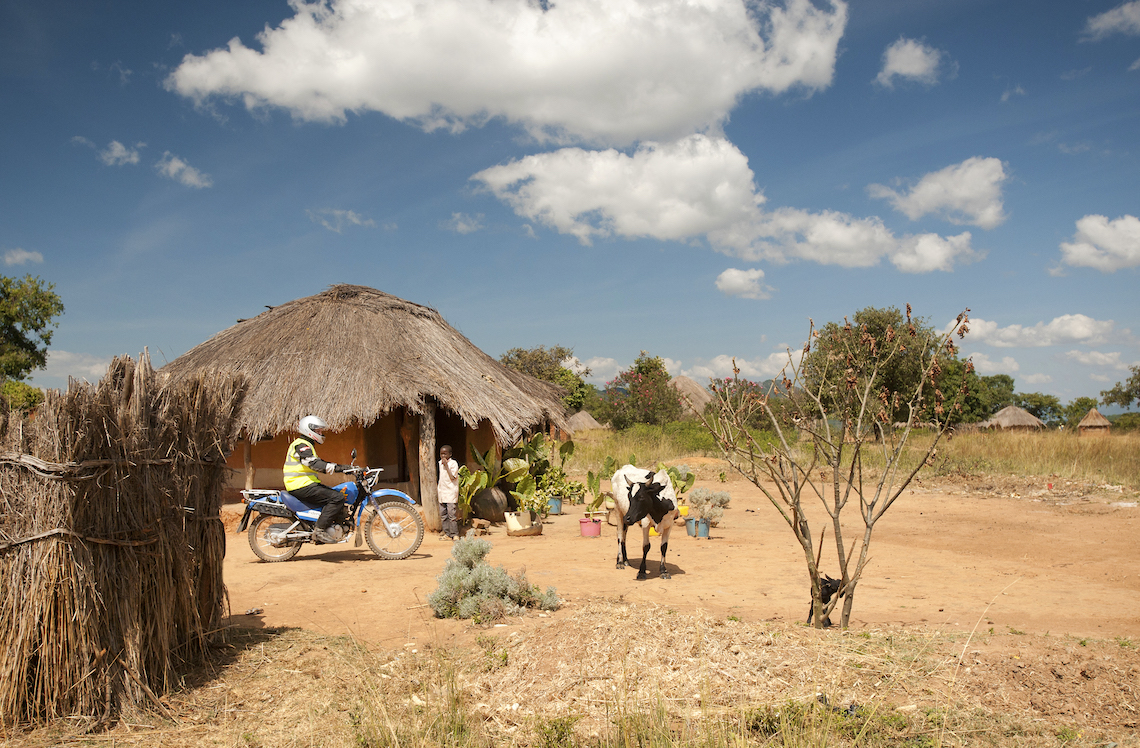 Photo: Jon Lee
The children were simply wonderful, so full of joy and life. Their happiness is infectious and is the only thing that's allowed to spread here, thanks to Riders. When I took photos they adored seeing themselves on a little camera screen, with videos leaving them laughing uncontrollably at the sight of their moving images, which they made me play over and over again. What we accept as normal is like magic to them. To have so little in the way of belongings, but to have such a lust for life is testament to the work being carried out to enable this to all be possible.
13 May
I went to the Riders For Health office today to get an insight into what they do and to help Marvin service one of the bikes. He explained that the bikes get serviced by him at 1,000km intervals because of the conditions in which they run and the lives that depend on them. We started with the air filter, which unsurprisingly was full of sand and dust. We then adjusted the chain, which is completely encased with a chain guard, so when we removed the cover it looked spotless, well lubricated and needed little adjustment at all. After a few basic but necessary service checks, such as the oil and the fuel filter, the bikes were ready to go again – remarkable given the riding conditions!
Once we finished the service, I was whisked away in preparation for my free day tomorrow. I was to go to South Luangwa National Park on safari, staying at Kafunta River Lodge. After a painful three-and-a-half-hour journey on some dreadful roads, we arrived. As I walked into the communal area I was greeted by a beautiful open plain with grazing animals dotted around in the afternoon sun. Amazing how you can pass from one area of a country to another with such a dramatic change!
After dinner I stayed up a while with one of the guides and watched the pukus (antelope) getting uneasy at the presence of some hyenas; an interesting scenario to watch unfold.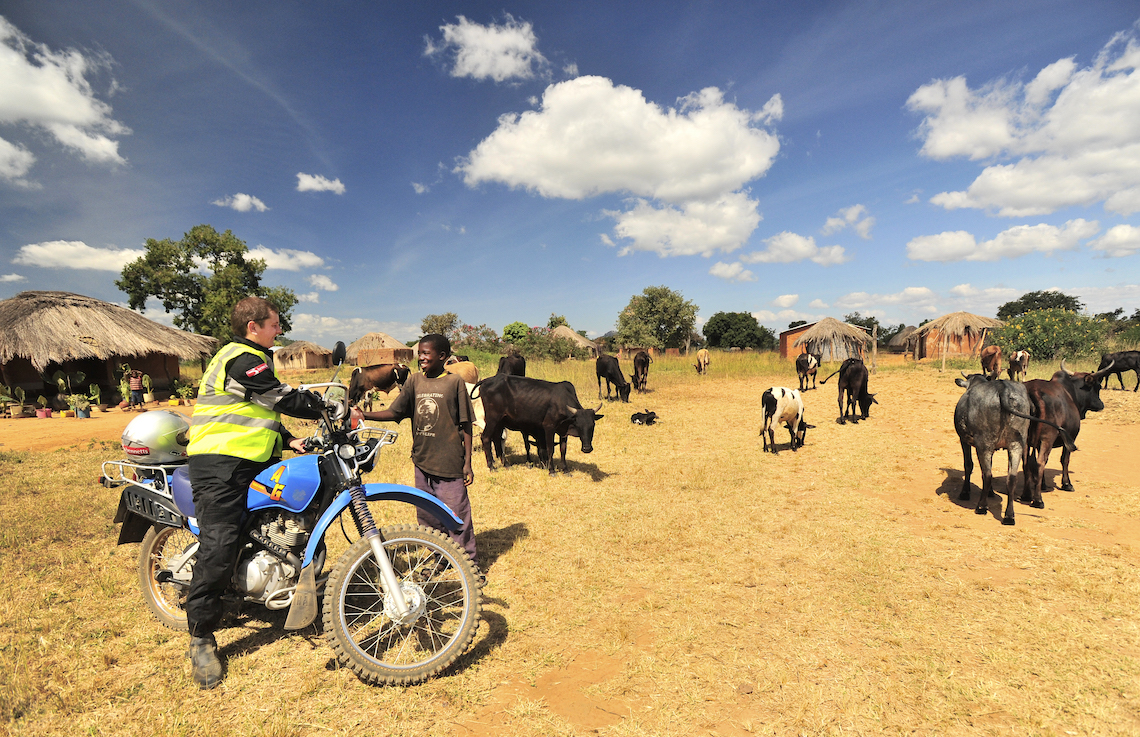 Photo: Jon Lee
14 May
I was woken at 5.30am for breakfast, then out for a game drive at 6.00. What an amazing experience getting close to impala, puku, warthog and monitor lizard, to name but a few. We were also lucky to see a leopard – which are apparently hard to spot (haha!) during the day – just after getting to within about 10 metres of a pair of giraffes. We went back for brunch after a few hours and then there was time to relax until the evening drive, which I couldn't help feeling a little guilty about. We got to see a bush baby, some kudu, baboon, buffalo, got close to elephant and watched the sun setting before heading back in the dark, only to get really close to a leopard walking down the road. A totally amazing experience to top off a totally amazing week full of contrasts and surprises!
15 May
Up early today at 3.30am to head back to the airport via Chipata so we could say goodbye to Constance before Marvin drove us back to Lilongwe for our flight home. I'm totally shattered but completely engulfed in my dream, it's been better than I could have possibly imagined. I've met some wonderful people who I'll never forget and hope to meet again. Bennetts, with the help of Riders For Health, really have made my biking dream come true this week. The people I've met. The things I've experienced. The challenges I've conquered on the roads. I've realised how blessed we are to have so much how little you actually need to be truly happy. The kids I met who had virtually nothing in the way of possessions were so much happier than most kids I know at home. I've become more aware of how materialistic we are in the west and the things we all take for granted. I feel that I'm a little more appreciative of what I've got now.
Who's Riding?
31-year-old Jon Lee is a Railway Signalling Maintenance and Faulting Technician from Lancing, West Sussex. He rides a Yamaha
Fazer 600, but harbours secret motorcycle desires… "I have a few bike ideas, but I'm really rather fond of the Triumph ST1050 at the moment," admits Jon. "I fancy something that's a bit sporty but is still designed to be comfortable for longer distance rides for when I get to tour Europe a bit. The Triumph Tiger looks a bit tasty, too, if I were to head outside of Europe's tarmac roads. It appears I have a liking for British bikes just now!" "Having realised my Africa dream, I'm now keen on the idea of participating in an Enduro India charity ride. It again fulfils my desire to have a life-changing motorcycle experience with the benefit that a decent amount of the fee is going to local charity. But I think I may just have to save up for a while to do that one. In the meantime I'm going to ride as much as I can and hopefully see a bit more of Europe."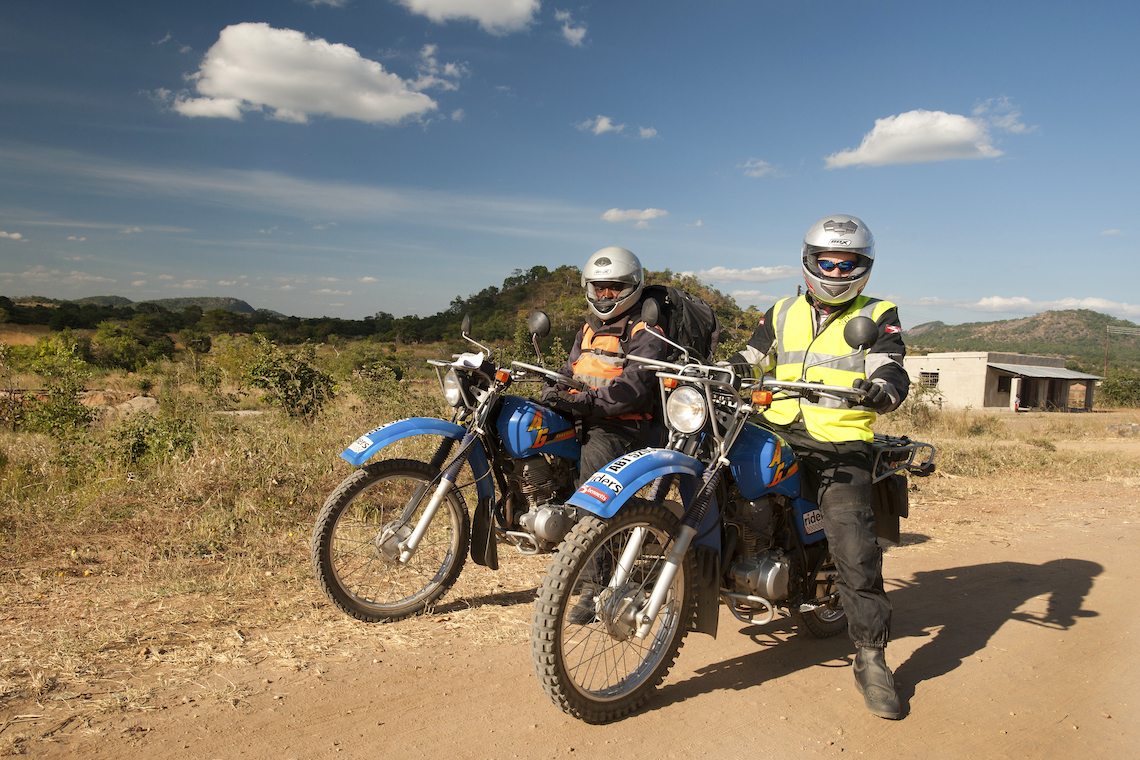 Photo: Jon Lee
The bike
I can see why Riders For Health uses Yamaha AG200s. Having never ridden one before, I found it really easy to manoeuvre and very forgiving of the riders inputs, even though it was totally different to the bike I ride at home; light and agile is the best way to describe it. They're also simple and reliable, and servicing them is breeze, too.
Make your dream trip happen!
Bennetts is running its Biker Dreams competition again this year. To be in with a chance of winning your dream two-wheeled adventure go to www.bennettsbikerdreams.co.uk