HEART OF JAVA
Ride a motorbike into the smoking crater of a still-active volcano while fighting off dengue fever? All in a day's work for Aussie adventure junkie Ian Neubauer
Images: Satria Purnatama and Ian Neubauer
The three golden rules of adventure riding are: 1) Never travel after dark; 2) Arm yourself with a GPS or reputable map, and 3) Take a bike that fits the job. So why did I find myself racing out of Jogjakarta, the cultural centre of Java, on an undersized, underpowered Kawasaki in the middle of the night with nothing more than a compass and a few place names to guide me?
Dengue fever. That's why.

I caught the mosquito-borne disease on my first night in Jogja and spent the next four days – half the time I'd allocated to ride a motorbike around Java – locked in a hotel room shivering with fever. When the fever finally broke just before dark one day, I was overcome with an irrational need to jump on whatever bike I could get my hands on and get the hell out of dodge.
With only four days left in the country, I had to trim a radical amount of fat off my route. A friend in Sydney who knows Indonesian well told me if I only saw one place in Java, it had to be Mount Bromo – a collapsed but still smoldering volcanic caldera that looks like the surface of the moon.
A quick trip to an Internet café revealed that the Bromo-Tengger-Semuru National Park was 233 miles east of my current location – an easy feat even in my psychically wrecked state… or so I thought. After scribbling a few notes into my logbook, I sought out one of the dozens of small businesses renting motorbikes in Malioboro, the tourist district of Jogja, where I hired a nearly-new Kawasaki KLX 150 S – the only dirt bike available. An hour or two later I reached the city of Solo, where I coughed up $5 (£3.30) to crash in a roach hotel. I'd only made it 40 miles from Jogja by this point, but at least I was on the move.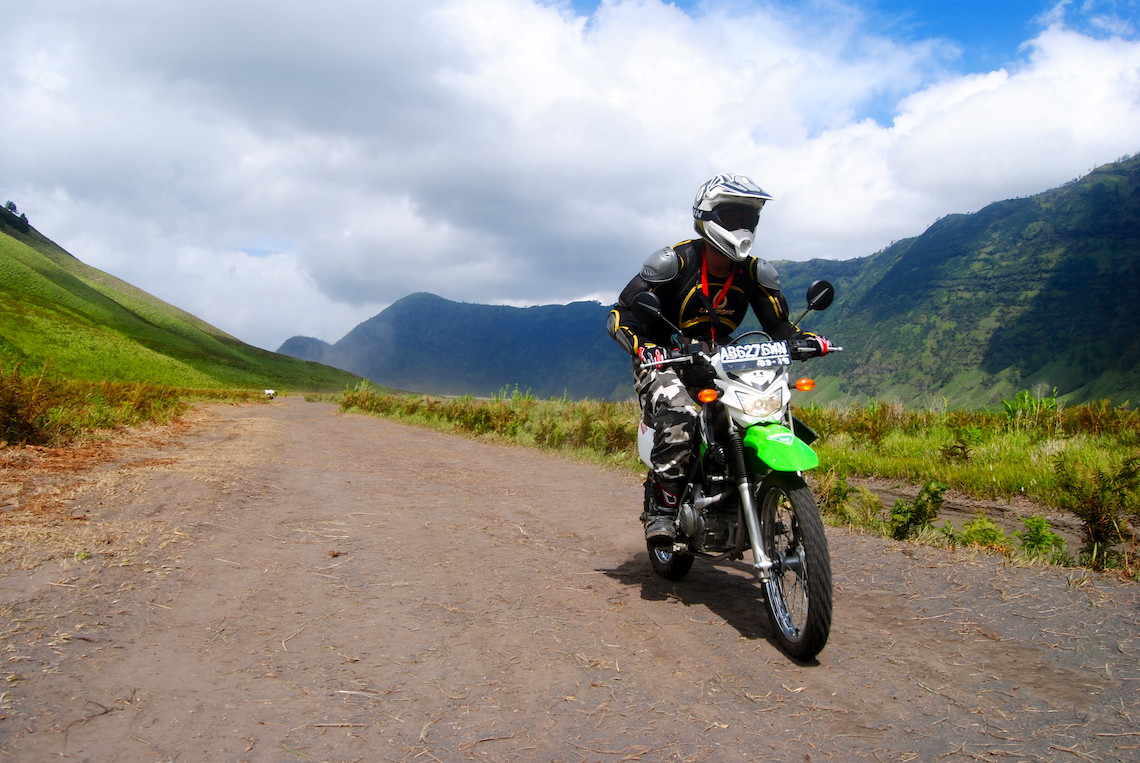 A near miss
At 5am I'm woken by the Muslim call to prayer – a guttural growl that reverberates through my hotel room with the force of movement. With little chance of getting back to sleep, I jump into my gear and continue due east.
With a population of 135 million, Java is one of the most densely peopled places on the planet. Vast swaths of the island are covered with urban and industrial sprawl. Instead of the idyllic rural setting I'd imagined, the scenery consists of drab Soviet-era apartment blocks, billboards, factories, and power stations. Two hours pass before I catch sight of the first rice paddy field, and even then it's shadowed by unsightly chimneystacks.
With so many people living on Java and most of them getting around on scooters, the roads are cut straight out of a horror movie. According to the Antara News (Indonesia's official government news agency), 12 people are killed in Central Java everyday – most of them on scooters. I see riders overtaking around blind corners, up the crests of hills and in the face of oncoming traffic, ducking and weaving around slow-moving, smoke-belching trucks and buses as though they're impervious to metal.
In the same vein, I'm often forced off the road and into muddy ditches as oncoming vehicles merged in to my lane to overtake. Making matters worse, the seat on my joke of a dirt bike is so painfully thin that no matter how often I shift my weight, I can't get comfortable. My butt cheeks are numb, my lower back cramped up and for the first time ever, I find myself jealously eyeing the scooters' wide comfy seats.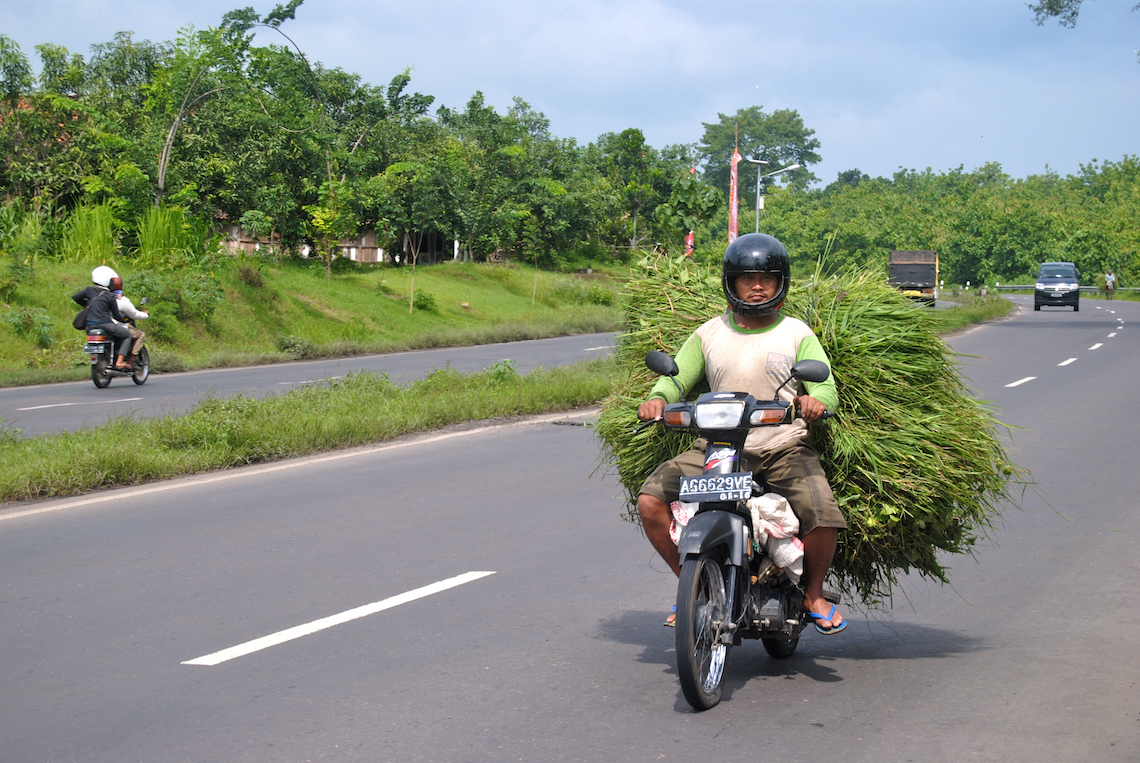 At around midday, just after seeing a woman cross at a traffic light completely naked, I stop in a roadside Padang-style restaurant in the town of Nganjuk.
My meal of beef rendang, greens and rice with sambal chilly paste is cheap and delicious, but the ice in the homemade ice tea I washed it down with gives me the runs. I make six emergency roadside toilet stops before the Imodium tablets I always carry in my med kit neutralises the bacteria rummaging through my guts. I thought the day was turning out to be a bit of a bummer, when, without warning, an overloaded truck comes skidding around a corner with its inside wheels off the ground, heading right for me.
I make eye contact with the driver, looking directly at my would-be killer. Then, at the last possible moment, he jerks the steering wheel to the left and levels the truck. He drives on without stopping, while I come to a screeching halt on the shoulder of the road. I'm shuddering and covered in sweat. I can actually feel my heart beating through my hands. Later on, I see an identical truck lying face down on the opposite shoulder. I stop to take a quick photo and carry on.
It's about 4pm when I pull into the city of Blitar. It's marketed by Visit Indonesia Tourism as a sleepy colonial Dutch hill station, but I find it to be yet another polluted, crowded semi-modern city. Desperate to get away from the snarling traffic, if even for a while, I take an hour-long detour to Serang Beach, billed by the same Visit Indonesia as one of the region's finest. Riding a dirt bike is one of the most efficient ways to absorb heat, so after 12 hours of it, I'm dying for a cool swim.
Serang will answer all my prayers and make a good place to stop for the evening.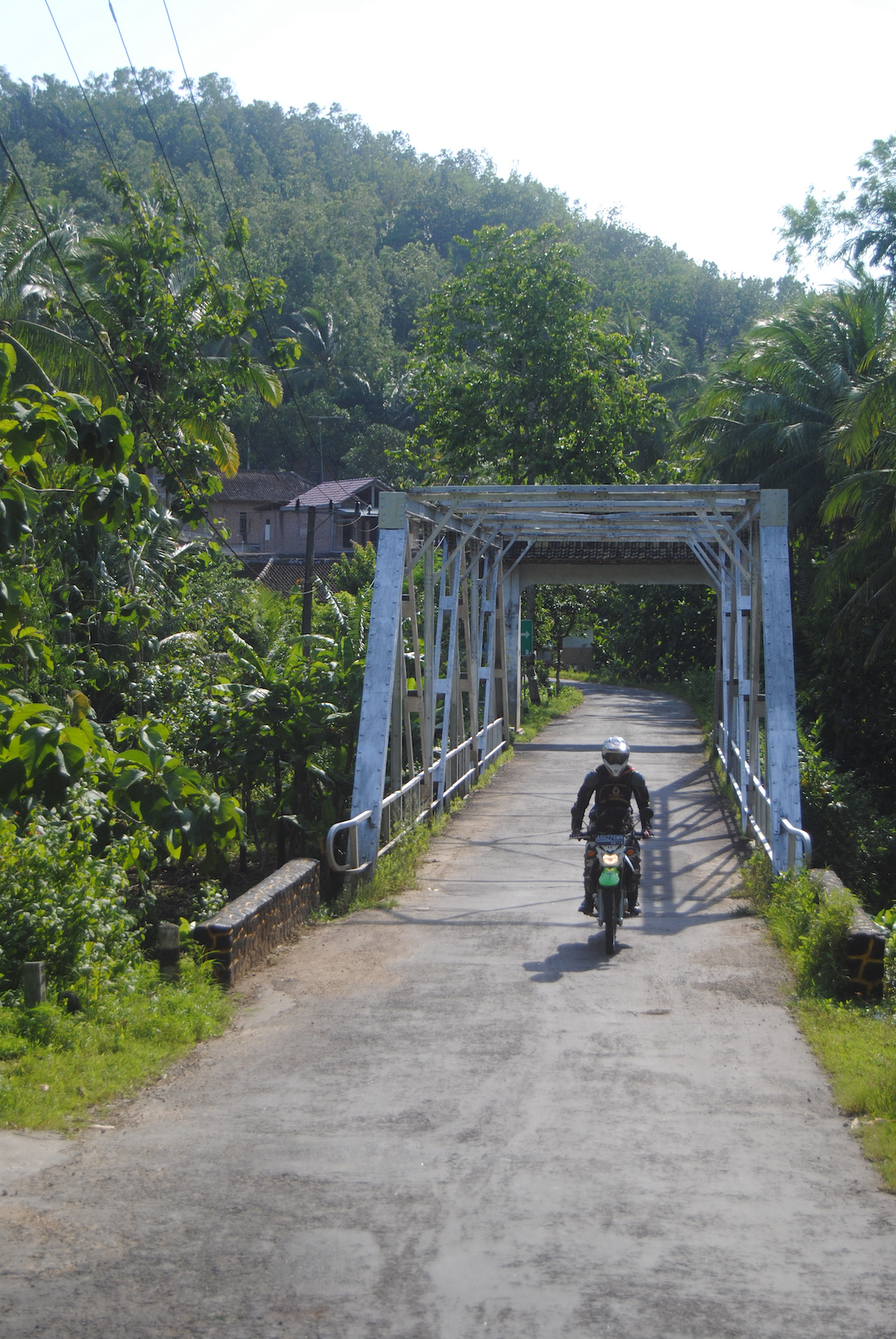 Turning off the highway onto a patchy little road, I'm instantly immersed in the picturesque rural setting I've been longing for: rice paddies, running streams, sleepy villages, people on bicycles, children waving, the whole shebang. But while the drive here was sublime, the destination is not. The beach at Serang is covered in flotsam and jetsam, and the surf is so big and so close to shore it would be suicide to jump in. There's a large number of stalls running along the beach but they're all empty. Serang is a ghost town. And the icing on the cake? Not a hotel in sight.
"A hotel? On the beach? No, go to the city," replies a man I stop to ask for directions. Of course, why would anyone build a hotel on the beach!?
With the sun starting to set, I'm forced to reverse course at speed; I have to find a hotel before dark. After rejoining the highway 90 minutes later, I suffer another 90 minutes of Mad Max highway hijinks until I hit the city of Malang at the base of Mount Bromo. Then, I spend another hour or so crawling through Malang's traffic-and smog-clogged boulevards, looking for an affordable hotel. 'Why am I doing this to myself?' I think, as I finally fall into bed.
The payoff
My spirits rise as I charge out of Malang the next morning towards the volcanic range that divides the stiflingly hot plains of east Java from the sparsely populated highlands. Mount Bromo is now within eyeshot, with neighbouring Mount Semeru, which at 3,676m is Java's highest peak, towering in the south. Semeru is also one of Indonesia's most active volcanoes, belching a puff of white smoke every half hour. The last significant eruption took place in January 2011.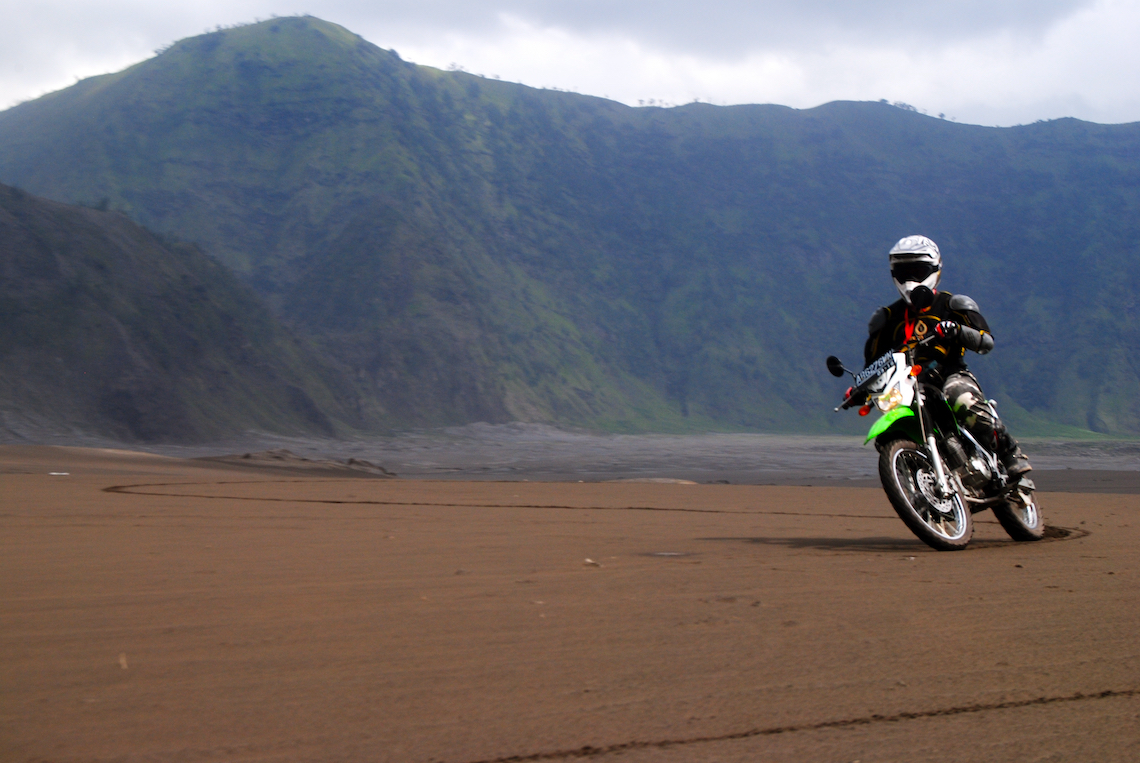 I arrive at the town of Pakis and turn onto a winding mountain road, leaving the bone-crunching traffic I've lived and breathed for the past 36 hours behind me. The little Kawasaki whines with pleasure as we shoot into the hills where thick, green treetops soar into the sky and fall into valleys sluiced by white rivers. This part of Java looks very similar to the Swiss Alps.
At the halfway mark I reach a cobblestone village that looks like something out of Bolivia or Tibet. Whitewashed homes and shop fronts and a green-tipped Mosque dazzled under the rising sun as schoolchildren run behind me, shouting with glee. I take a couple of happy snaps and continue up the range, switchback after switchback without a care in the world. At the 2,000m mark, the temperate plummets and mist becomes a constant, but there's no stopping me after all I've been through to get here.
The next village, Ngadas, is the last before the caldera and home to a quaint little homestay called Padi and Potatoes. With rustic wooden bungalows, panoramic mountain views and a kindly owner selling bowls of hot pork bun and noodle soup for 50 cents, it provides a great place to base myself while exploring the national park.
After checking into my bungalow, I walk down to a viewing platform where I see three well-dressed Indonesians tinkering with a video camera. Their names are Theo, Satria and Donna, the respective director, cameraman and presenter of the primetime Indonesian travel show Jelajah – Adventure. They're awaiting the arrival of a couple of quad bikes – props they need to enter the park.
After hearing my story, they ask if I'd like to be part of their show. I tell them I'd be happy to, so long as Satria, their cameraman, can take a few shots of me zipping around the village.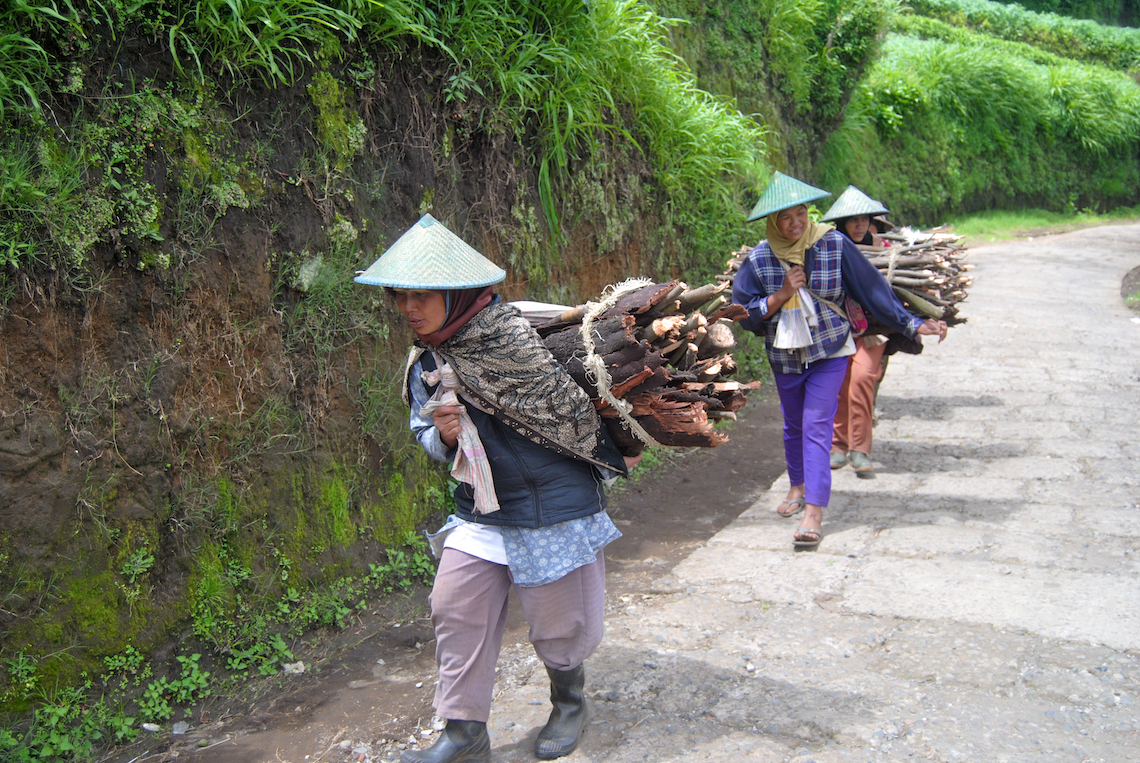 "No problem," he says. "But the scenery here is nothing compared to what you'll see inside the caldera. Have you ever been?"
"No," I reply.
"Then I'm very jealous of you. It's an amazing place."
After lunch, the quads arrived on the back of a truck and we charge out of Ngadas for the final three-mile stretch of earth into the caldera. I'm on my bike, leading the way. Behind me are the two quads piloted by Satria and the team's mechanic. Theo and Donna are in a short-based 4WD Land Cruiser.
A few minutes later, the road comes to an end and we veer into a firetrail that falls into a tremendous valley leading to the caldera. With 600m-high walls covered in thick, green jungle, the size of this thing is incomprehensible; it could be Jurassic Park. Stopping to take a pic, I know all the pain and suffering I went through to get here – not to mention nearly losing my life – has been worth it.
As we approached the heart of the caldera the landscape flips 180 degrees and in an instant we're transported to an American desert, a flat mass of black-grey lava known as the 'Sea of Sands'. This desolate plateau has two exceptional characteristics. The first is its noise. It's like a chainsaw or a two-stroke engine working away. The second is a mist of fine volcanic sand that seems to hover over the ground – or is it smoke escaping from the earth below? As I ride through it – parting it at speed – the mist takes on the form of a ghostly curtain. Like Satria had foretold, it's amazing.
Being a lot faster than the others, the quad bikers and I spend the next half hour powersliding through the sand and flying off the tops of naturally made ramps. There aren't any down ramps, but the ground is so soft that it doesn't really matter; our tyres sink safely into the earth no matter how we land. Then, just as I think I've see it all, Satria takes me to a giant Hindu temple that could pass for Jabba the Hut's palace in Return of the Jedi; someone should definitely film a movie in this place.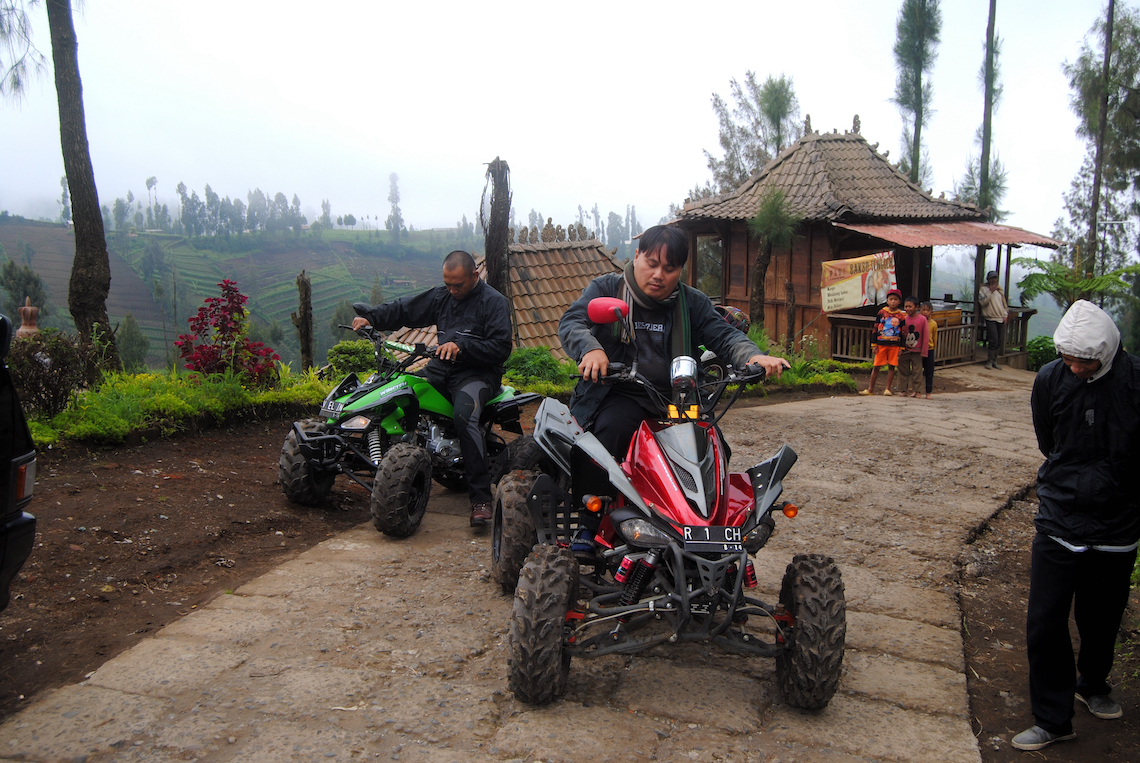 When Theo and Donna arrive, the fun is over and it's down to work. My piece to camera sees Donna stuck in the middle of the caldera on a 'broken-down' quad bike. After a few failed attempts to flag down passing 4WDs, it's my cue to pull over on my dirt bike. Taking off my helmet, I give Donna a corny smile.
"It's a bule!" she says to the camera, using the Indonesian word for white people. "Can you help fix my bike?"
"I'll give it a go," I say, swaggering towards the quad. "Looks like your fuel pump is off," I add, pretending to adjust a switch that isn't even there. "Try kicking it over again. It should start now."
And sure enough, the quad starts first go. What a hero!
We then do a short interview in which Donna asks me what brought me to Indonesia and blah, blah, blah. Then, we ride off into the sunset together. The bit probably won't win me an Emmy, but it was a lot of fun and the perfect ending to the wackiest adventure ride of my life. You can see my TV appearance on Jelajah – Adventure at us.mytrans.com.
Who's Riding?
Ian was five years old when his parents took him on his first overseas trip to Tahiti. As soon as he finished high school in Australia, he hit the road, spending years backpacking across Europe, the Middle East, South America, Southeast Asia and the South Pacific. He's combined his work as a journalist and passion for off-road touring to travel to and through some of the most exotic countries in the region, including Cambodia, Laos, China and the Philippines. Ian loves nothing more than charging solo through strange lands, getting to know the locals and covered in mud. It's a tough job, but someone's got to do it.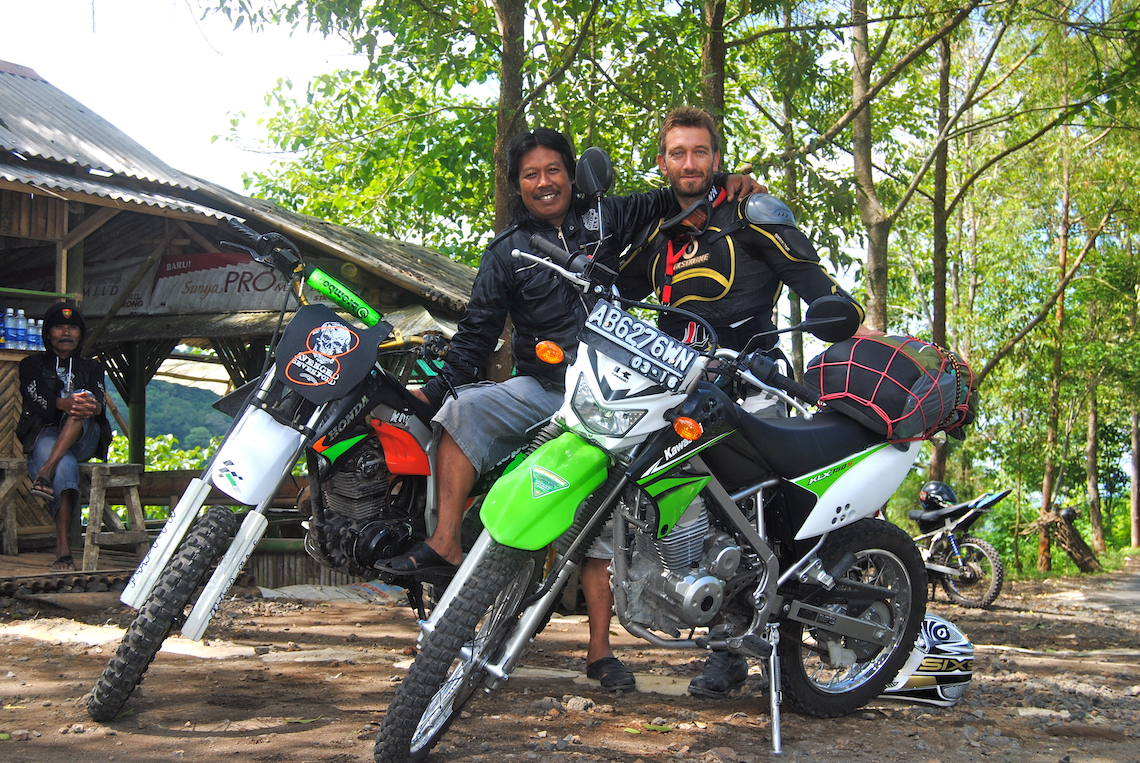 The bike
This tiny Kawasaki KLX 150 S wouldn't have been Ian's first choice for a blast through an active volcano, but when needs must there's just no stopping the avid (or just plain crazy?) ABR. Not as powerful a machine as Ian usually opts for, the 150 S is "basically a sewing machine with wheels," he says, and about as comfortable as a DIY colonic by the sounds. "When I finally did get to rest, my bum was so sore I had to sleep face down." No prizes for comfort, then, but to be fair to it, the little Kwaka didn't let him down when it mattered and he lived to tell the tale.
Facts about Java
Java (Jawa in Indonesian) is an island off the coast of Borneo, with Sumatra to the west and Bali to the east. It's roughly 650 miles long and up to 130 miles wide
Java is an igneous island formed mainly from volcanic eruptions. It's the 13th largest island in the world and the fifth largest in Indonesia
Temperatures on Java average 22-29°C throughout the year. The dry season is from May-September and the rainy season October-April, with the wettest weeks falling in January and February
With a population of 135 million, Java is the most populous island on the planet and is home to around 60 percent of Indonesia's residents
Indonesia's capital city, Jakarta, is located in West Java
The predominant religion on the island is Islam – over 90 percent of in-habitants are Muslim – although Java has a diverse mix of religious beliefs, ethnicities, and cultures
Java's volcanoes
There are over 44 volcanoes on Java, at least 20 of which have been active in recent times. These volcanic hot-spots not only help to make the island's soil rich and fertile, but they also play an important part in sustaining traditional Javanese culture.
Mount Bromo is perhaps the most well-known volcano on Java, famed for its surreal lunar landscape, which can be found in the heart of the caldera, and the stunning sunrises, which can be witnesses from the 2,392m-high crater rim. It's still customary for the Tenggerese Hindu people of East Java to honour ancient fertility rites and secure themselves good fortune by throwing offerings of food, flowers and livestock into the volcano in an annual festival called Yadnya Kasada.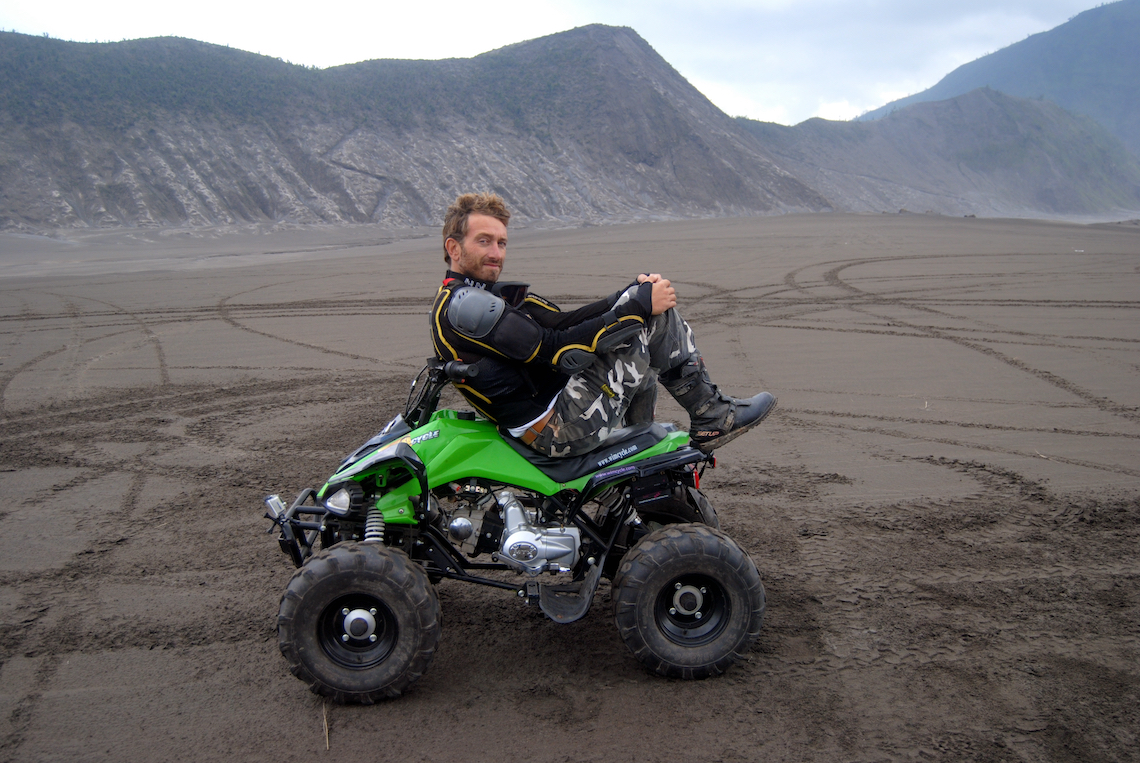 Despite being an active volcano (at the time of going to press, the last recorded eruption was in June 2004) Mount Bromo is a hugely popular tourist attraction. For this reason its activity is closely monitored by the Center for Volcanology and Geological Hazard Mitigation (CVG) Agency, Indonesia.