HEART OF AFRICA
ABR Tommy Foy is on the motorcycle trip of a lifetime: London to Cape Town via West Africa on a BMW 1200 GSA. We catch up with him deep in the Congo where he's learning to take the rough with the smooth…
I wake early in my roadside chalet where the ceiling fan hangs by two wires. It's still dark outside, though temperatures remain a humid 30°C even at the night. Sweat beads down my forehead as I prepare coffee using my Jetboil and I suddenly realise I am unconsciously delaying the journey ahead; I'm nervous about the unpaved roads I'm likely to encounter while riding through the Congo.
Riding a 250kg machine with 100kgs of equipment strapped to the back, my main concern is the terrain and has been since leaving the UK. During my research, I'd seen several videos and photos of the Congo roads, in particular the much-feared Dolisie-Brazzaville stretch, which I'm due to cross in two days' time. As soon as I depart, I'm straight onto the hard stuff. The red dirt is so corrugated that me and the bike vibrate uncontrollably until I think something will break – the question is, which one of us will go first?
Twenty miles from the chalet, I nervously approach the Congo border. I'm prepared for a chaotic scene, but I'm met with quite the opposite. This has to be the most relaxed border crossing of the trip.
I don't even have to pay any extra fees and the officials are very welcoming. The Gabonese police and douane (customs) simply stamp my carnet and passport and wish me 'bon voyage'. During this trip, I've learnt that dismounting my motorcycle, removing my helmet, and sometimes offering a cigarette or handshake is the way to save a fortune in monetary contributions, and this approach has certainly saved me from some risky situations, too.
Local traffic
As soon as I cross into the Congo, I notice elephant dung along the roadside. I look excitedly into the thick bush, but I'm too nervous to stop so continue along the corrugated hard-packed gravel track. I pass through several villages where locals shout 'white man!' I'm used to this now, so I continue riding.
I stop in a quieter village and conspicuously ask for directions so as not to attract a crowd. There, the children run over shouting 'chief!' or 'masta!' on the instructions of their parents while thrusting bread and fruit into the air to sell.
Soon enough, my satnav corrects itself and tells me Dolisie is only 50 miles away. It's surprising that, even when travelling slowly, you see and notice so much more and this makes time pass quickly.
Just 15 miles further on and I'm exhausted, mentally and physically; I need to take a break. I seize the opportunity while passing through a village and make a bulk-buy on water. Fizzy drinks have been more available than water until now. The shop keeper secretly summons me over. He is Indian and speaks good English, which is unusual in these parts.
He whispers in my ear, trying to hide his bilingual ability from the gathering crowd. He says I look tired and should ride around the corner to the Catholic Mission where I can rest or even sleep for the night. "My boy will take you there," he says.
I follow the boy away from the crowd, around the corner and up the hill to the church. He introduces me to the vicar who shows me to a very basic but large room. There's no electricity or running water in the church, but the only thing that matters to me is that there's a bed.
After a snooze, I sit outside the church and watch the sun go down behind the spire. I make myself pasta while the talented locals play football in bare feet on the church field just opposite. I consider joining in but their game looks way too energetic for me after today's rollercoaster ride.
At sunrise, and after yesterday's ball-bashing ride, I walk achingly outside my room looking like John Wayne. Before leaving, I make a generous donation to the church in return for their hospitality.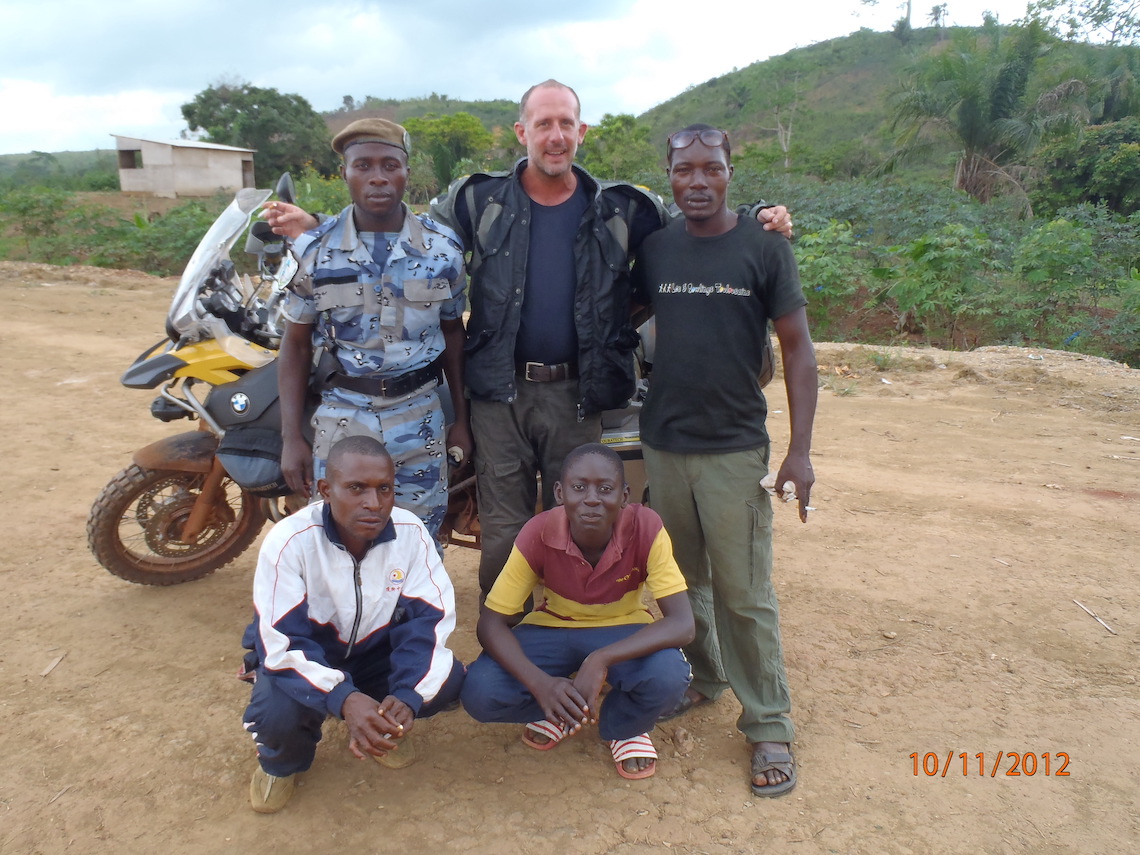 Smooth operator
I pass groups of ladies and children walking to the nearest river, which can be miles from their villages. Crossing the rickety bridge I see locals crouched in small manmade dams to bathe themselves on the banks of the river. The only vehicles that pass me are overloaded trucks thundering along the corrugations in the earth. They create clouds of thick dust that billows up in to the air making it almost impossible to see. I sit behind them for miles and miles before either they or I pull over to take a break. By now, as usual, me and the bike are covered in red dust.
Finally I arrive just East of Dolisie where to my surprise I find a newly constructed roundabout. I pull over and ask a group of men, including a soldier, what the road conditions are like ahead. They tell me that the road is good all the way to Brazza. I don't believe them, so I ask again, specifying whether the road is dirt or 'tiled', the local expression for tarmac. "The road is tiled, sar, all the way," comes the reply. I look ahead and see the brand-new tarmacked road fading into the distance. I can't believe it; had all my fears been for nothing? Was I too late to experience this adventurous and renowned dirt road?
After covering hundreds of miles on hard-packed corrugated roads, the tarmac is a pleasure to ride, that is until 20 miles in where it suddenly ends, spitting me out onto a heavily pot-holed dirt track. Back on the rough stuff, I'm soon battling trucks head-on, which if nothing else reassures me that if they can pass the road ahead then I certainly can. By now there are four or five trucks ahead of me creating a great whirlwind of red dust which I'm stuck right behind. I keep telling myself that every mile along this technical, bumpy road is progress. I'm tired and the light is fading quickly as it does in Africa.
I pass through a village called Mindouli but there's no accommodation here, or for miles around come to that. I decide my only option is to wild camp, so I ask around for the village chief. An elderly lady points me over to a seemingly disused hut where I find him chatting among his friends. I ask if it's ok to pitch my tent under the trees. The chief says it's no problem.
As I unpack my panniers I realise I have no food. Luckily, I remembered to refilled my water bottle down by the river, so I mix it with some chlorine tablets and settle for a good old fashioned English cup of tea, which I share with the chief. As the light fades, I climb excitedly in to my tent as the sounds of the surrounding jungle come alive with creatures of the night; I zip my tent up well.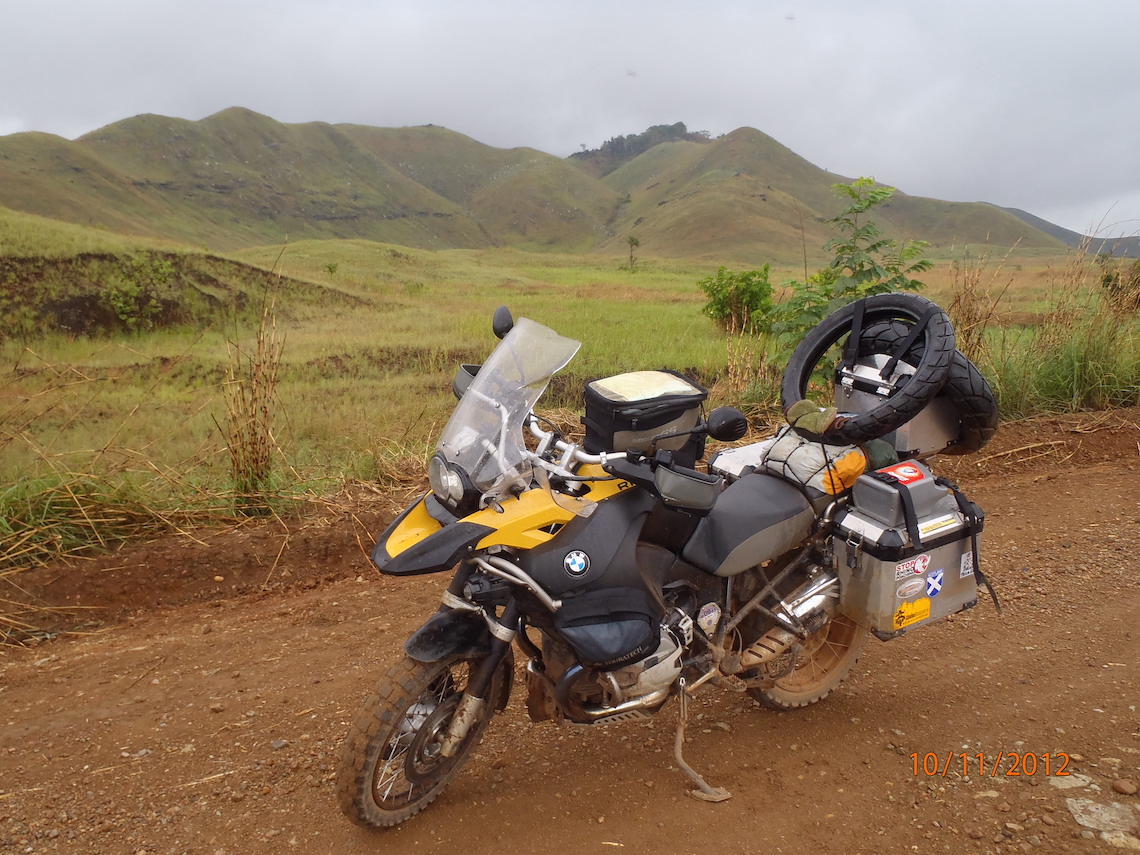 Holiday town
By morning word has spread that there is a white man in the village and soon a small crowd of young men is gathered around my tent. The men and I talk and drink coffee while some villagers sit and stare at us from a distance. It's not intimidating, though, and I've become used to this kind of friendly curiosity now.
I pack my tent away and make a contribution to the chief, asking him to spend it on the dilapidated classrooms or maybe some books for the school. I thank the chief and villagers for their hospitality and leave in the hope of making Brazzaville by this afternoon or evening. The road from Mindouli to Kinkala remains corrugated with deep pot-holes and ruts, but it's dry and there are stunning views across the African plains.
Nearing Kinkala, the corrugations begin to even out and the ride is much smoother. This improvement in the road's surface causes its own problems though as trucks accelerate past me until I end up stuck behind a queue of them. From here it's almost impossible to see through the dust. Considering these vehicles don't use brake lights, the silhouette of a truck's rear end emerging suddenly through the dust is enough to induce a heart-stopping squeeze of the brakes. After a while, I find that listening out for the screech of the trucks' brakes is a good indication of when to hit mine.
Arriving in Kinkala is like entering a different country compared to what I've just ridden through. The streets are lined with coffee shops where people sit under umbrellas listening to Caribbean music. It reminds me of a coastal resort. I stop to re-energise and take the opportunity to eat some bread and jam, my first meal in nearly three days. The road from Kinkala to Brazza is brand new, smooth tarmac all the way. After a long hard day's ride I arrive safely in Brazzaville.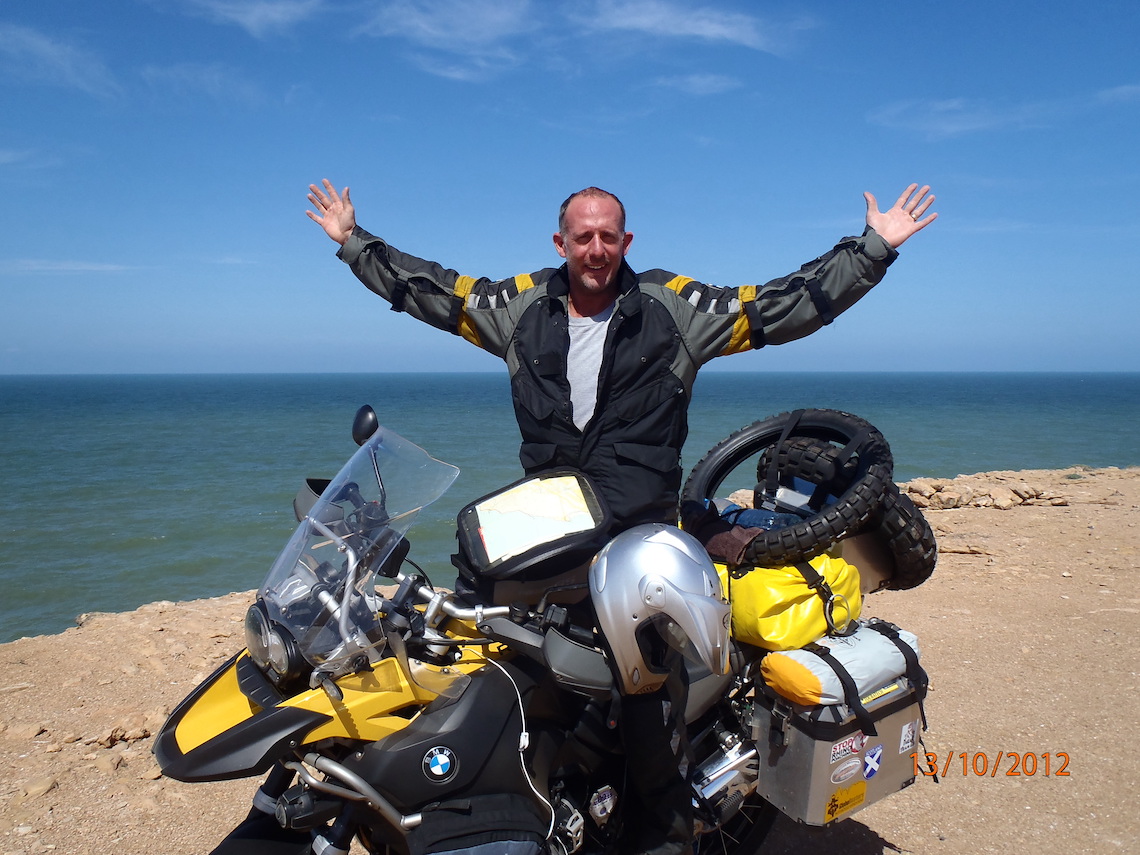 Hippos and bears
Eugene, a fellow ABR I met in Mauritania told me of a well-known travellers meeting point in Brazzaville called the Hippo Hotel. I have no idea where this place is so I gratefully accept guidance from an older local who says he knows exactly the hotel I'm after. I follow him for a few miles before pulling in to the Hippo Hotel car park. As I'm parking the bike, a white man rushes over to welcome me. He holds out his hand as I excitedly jumped off my motorcycle. Being so pleased to reach Brazzaville and to meet an ABR brother, to his surprise, I knock his proffered hand away and instead give him a big bear-lifting hug.
Jean Luis is a Belgian overlander touring Africa on his Urla and sidecar, a magnificent set-up. He tells me he's been on the road for two years with no final destination, just a carnet and few visas, travelling wherever his Urla takes him. This is a true adventurer in my eyes. I ask how he manages to fund his prolonged adventure. He tells me he relies on the rent from his New York apartment.
I make enquires with the Hippo Hotel's proprietor, Oliver, but unfortunately there are no vacancies, so I decide to use the Brazza Hotel around the corner. It's expensive at 35,000 CFA (£45) per night but I feel I've earned it after accomplishing the rough ride on the Congo roads.
I walk around to the Hippo Hotel to meet Jean Louis for breakfast the following morning, though he doesn't eat. I suspect he is conserving his funds to remain on the road for many years to come. I'm envious of his passion and time for exploring.
After breakfast, I take a ride in Louis' Urla sidecar to the ferry port that crosses the Congo River from Brazza to Kinshasa and make enquires about tomorrow's timetable. There appears to be one passenger ferry a day and I'm told to return later that afternoon to make arrangements for payment and customs to cover my crossing the following day.
That evening I meet Jean Louis for dinner in the Hippo's fine Thai restaurant. Just as I'm about to ride back to my hotel around the corner, another motorcycle rolls into the car park. I can't believe my eyes; it's my good friend Eugene who I shamefully abandoned in Mauritania all those weeks ago when his bike broke down. Eugene looks exhausted and so does his poor single-cylinder Tenere. I greet Eugene with an apologetic, emotional and understanding bear-hug just as Jean Louis had greeted me yesterday.
Good cop, bad cop
I leave the luxury of the Brazza Hotel the following morning and nervously make my way to the Brazzaville ferry port. I avoid the touts and head straight for immigration so they can stamp my passport with the Congo exit stamp. From here, I go to the douanes office to have my carnet stamped as proof of my motorcycle leaving the country. Surprisingly there's nothing to pay to either of these authorities and I'm sure flirting with the lady customs officer yesterday hasn't done me any harm in that respect.
As the ferry approaches the port of Kinshasa I count up to 40 Gendarmerie, customs and military personnel stood in a line, many more than at the Brazzaville port, awaiting the arrival of our unruly, crowded vessel. When I look back, it's like scenes from a pirate movie. We dock and immediately the officials show their authority by cracking their whips and waving their tazors in the polluted air. As soon as I park the bike, a very helpful immigration officer grabs my hand and walks me to the safety of his office where I'm introduced to the chief. I had heard immigration is strict when entering the Democratic Republic of the Congo, but I hadn't anticipated the next two hours of interrogation that follows!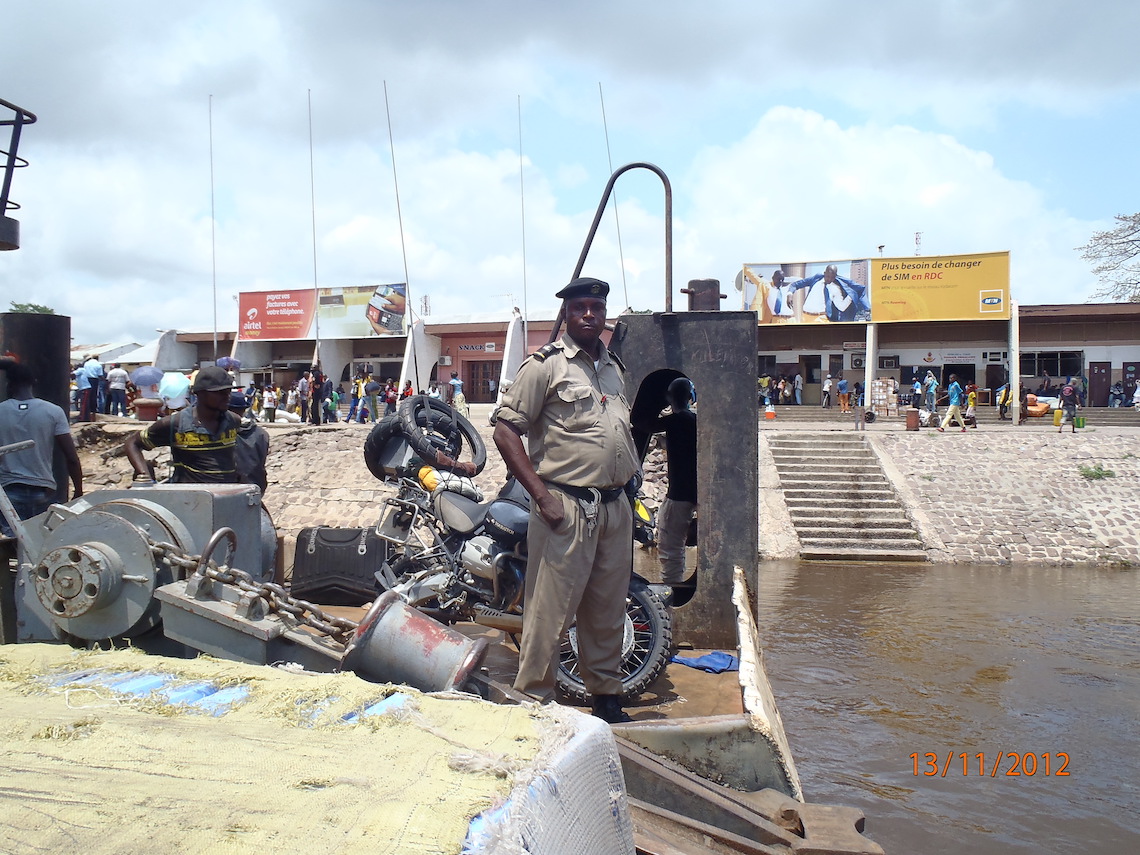 Exiting the port and then the city, I climb perfectly tarmacked roads as I crest the rolling hills. The sky is dull and the temperature drops the higher I climb. Luckily the rain holds off as the wind picks up. These hills resemble moors. It reminds me of riding across the Pennines thousands of miles away. I stop for a much-needed break at a roadside shack. The people in the village are friendly and welcoming, but don't crowd around me as I've experienced in previous countries, which is a relief.
Thundering off again across the moors, I notice a police officer at the side of the road. He raises his hand. 'This is no check point,' I think to myself and slam the breaks on to offer him a lift, not knowing that someday in the future I may need his help.
The officer proudly climbs aboard my bike and we're off, leaning into the long twisting bends. I slow down through the villages as I always do, so he can see my consideration, but then open up along the wide-open stretches, to his great delight. Twenty miles on, he grabs my shoulder indicating that this is his village. I pull over so he can dismount. The short, skinny officer is wearing a grin from ear to ear as he salutes me proudly with feet slamming together as if I am his chief. After a mentally exhausting day, I locate a hotel in Kintanu just in time before the rain comes in.
I wake to the sound of rain. As I begin the day's ride, the thunderstorms continue to chase me down. Every mile is an effort and I consider turning back to the hotel for a rest day. I can't though, I'm too close to the Angola border for that and my curiosity is piquing. After a while I turn left off the major road and on to a gravel track. Louis suggested I take this shortcut towards the Angola border, but as the rain continues to pour the track soon becomes a shallow, fast-flowing river. With nowhere for the water to drain away it gradually becomes deeper and deeper…
Beneath the flood, I imagine the track is in good condition, because my tyre traction holds steady and the torque remains. Approaching the Angola border the road deteriorates and the track is deeply potholed. The gravel becomes mud, making my front wheel slide in whichever direction the narrow ruts run and I almost fall.
Exiting the DRC is efficient with nothing to pay any officials and as soon as I enter Angola, the gravel turns to tarmac and the rain stops. With the dull sky, strong wind and occasional downpour, the hills of Angola remind me of back home and how far I've travelled. This country seems immaculate compared to what I've ridden through to get here and the roads are free from traffic. Little did I know this would come at a price…
Who's riding?
Tommy Foy is a 36-year-old engineer who hails from Leigh, Lancashire, but currently resides in London. He's travelled by motorcycle through the UK, Europe and Morocco; his London- to-South Africa trip saw him cover a further 11,000 miles through 22 countries including Mali, Ghana, Nigeria, Cameroon, the Congo, Angola, Namibia, Zambia and Botswana. For his next adventure, Tommy has his sights set on India and would also like to explore South America. "Eventually, I'd like to travel the world by motorcycle," he says, "but to do this I need a job and an income – it's an expensive hobby! So for now my RTW dream will be intermittent."
The bike
Crossing West Africa in the rainy season and alone was a challenging ride on the GSA; it's a heavy motorcycle. I questioned my choice of bike many times along the way, but I'm proud to say that I only dropped it once and that was my own silly fault. The GSA proved to be an awesome machine and served me well – London to Cape Town without so much as a puncture!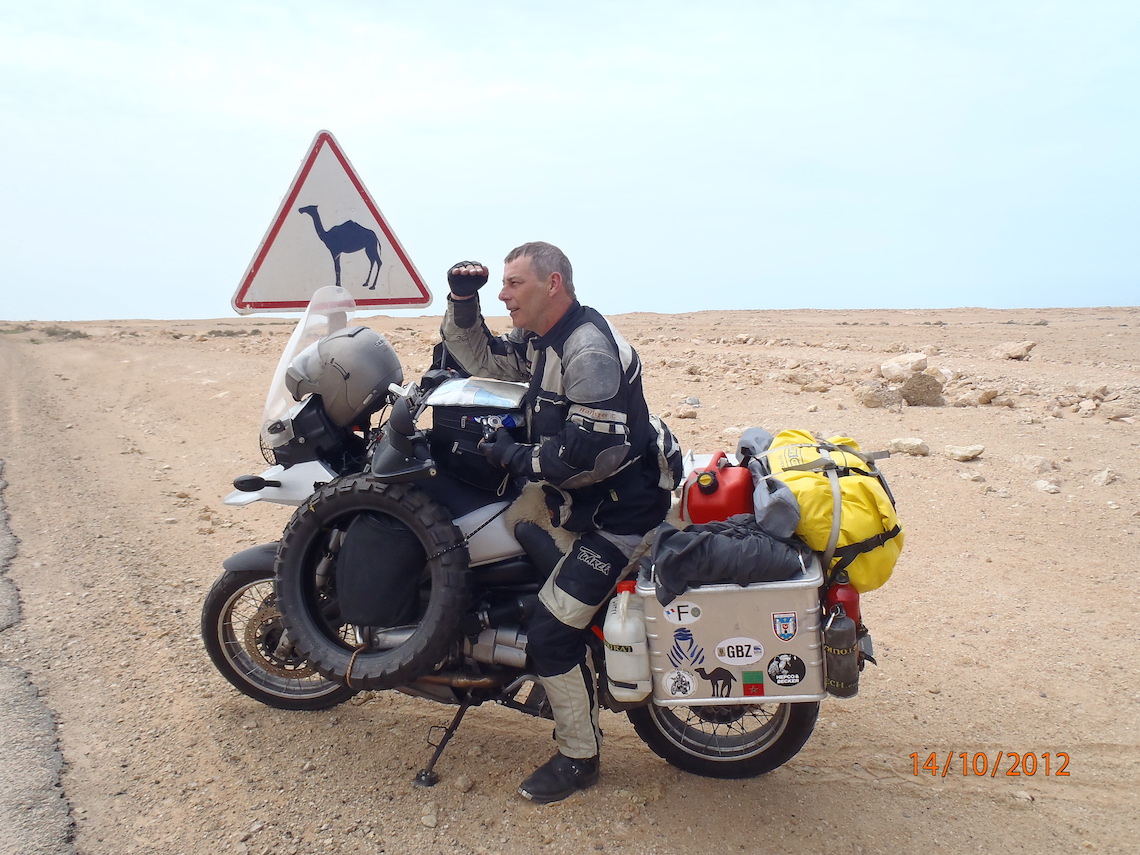 Tommy's top tips
Do your research, but don't go overboard, because before you know it, you'll feel like you've already been; let each country be a surprise
Any pre-trip off-road experience is a bonus. I ended up doing about 35 percent of my Africa ride off-road. The ABR rallies are a great cost-effective way of getting used to handling your bike in the rougher stuff
If time is tight, plan your visas carefully, especially Angola and the DRC. Take your time at check points and border crossings. Remove your helmet and let the officials feel they're in charge, but remain confident. Have a laugh with them and definitely offer a handshake every time
Food isn't always available locally, especially in the poorer countries. Take small packets of dried, flavoured pasta, available from most supermarkets. They're much cheaper than the dried foods you find in camping shops and don't take up as much room. Chlorine tablets are a must to cleanse the local water
If you want to be able to communicate with friends and family back home, buy a local sim card. They're only £2-3 each and can be purchased at most borders.
Want to do this?
How long does it take? Tommy took three months to ride the 11,000 miles from London to Cape Town via West Africa. The Congo stretch of his trip was spread over six days.
When to go? The Congo has a tropical climate with a dry season from June-October and a rainy season from March-June. Temperatures and humidity are high all year round.
Get there: If you can't spare the time off work to ride there, the most popular major airport in the Congo is Kinshasa in DRC. Flights are available from most major UK airports and prices are around the £500 mark for a return ticket, although you may be able to find cheaper deals if you shop around online.
Fly or hire? James Cargo Services Ltd, can transport a BMW R 1200 GS to arrival into Kinshasa for £1,858 by airfreight, see www.jamescargo.com.
Accommodation: Tommy was lucky to be offered free accommodation by some of the people he met, but rather than rely on local hospitality, a sturdy, lightweight tent is the best option for wild camping. If you plan to camp near a village, it's always always wear additional layers or even your motorcycle jacket if it gets chilly in the desert, and use your clothes bag as a pillow.
Paperwork for you: You'll need your passport and separate visas to enter the Congo and DRC; in order to obtain a visa for the DRC, you'll need to get hold of a letter of invitation from a DRC resident. The British Embassy in the DRC can offer advice on how to do this. You'll also need to produce evidence of the accommodation arrangements for your stay in DRC at the border, such as a hotel booking confirmation, for example. Good travel insurance and your UK drivers licence are also essential.
Paperwork for the bike: You'll need a carnet and the vehicle V5C to take the bike into the Congo and DRC, you'll also need to inform your insurance company of your travel plans and take out additional insurance if you're not covered.
Is it for you? "If anyone reading this is considering such a trip then don't hesitate, just do it!" says Tommy. "China is constructing super highways across Western and Central Africa and soon these challenging tracks will be turned into tarmac, which will no doubt lessen the adventure, good practice to introduce yourself to the chief and ask permission to set up your tent. "Leave the bulky sleeping bag and pillow at home," says Tommy. "A silk liner is enough to keep you warm at night. You can so get out there before it's too late! If you're planning on riding solo, make sure you're physically and mentally prepared. Over 11,000 miles alone with your head stuck in a helmet can be testing."
Photos: Tommy Foy