As soon as Phill Hall-Davis laid his eyes on his mate's CRM250 Activated Radical he knew he had to have it, and mod it to be his ideal bike
My name is Phill. I am a helicopter pilot and most of my time is spent lifting stone in the mountains for footpaths, or aerial targets out of the sea on military ranges, though I did work on the Costa Concordia salvage in Tuscany, Italy for a few weeks.
Bikes have been a passion of mine for many years, however, most of my experiences have been off-road, and I only recently took the time to get my full bike license. My AR is registered as a 1999, however as you may know, production of the AR ceased in 1998.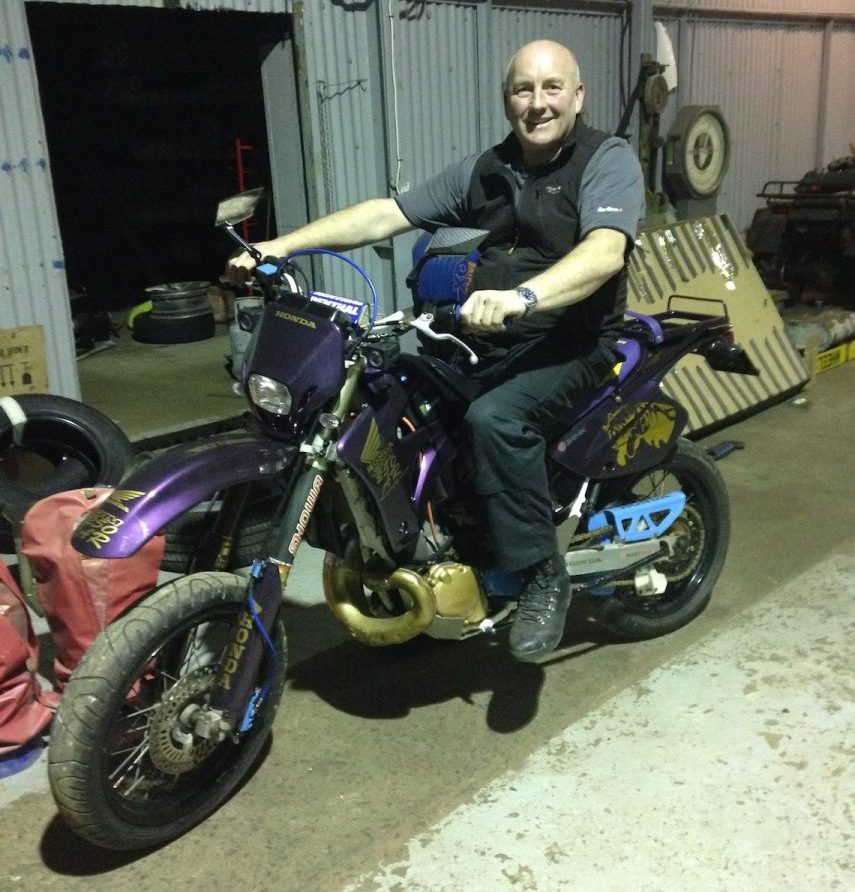 The rebuild, and also deciding to take my bike license, all started in 2015 when a mate of mine lent me his AR in motocross format. My crewman and I were riding around the beautiful beaches of the Outer Hebrides and, well, I fell in love with it there and then.
The crazy throttle response that kicks in like a supercharger, that almost four-stroke feel in overrun and when cruising at higher speeds, yet it's still a nice, lightweight bike that is so nimble and easy to ride, it was simply awesome.
My mate was keen to sell it, and I loved it but had no license. I agreed to help him out by re-assembling his vintage tractor and he was so relieved he actually gave me the bike. How cool was that?
So I decided to strip her down and begin a refurb. My mate had all the supermoto kit, and his dad offered to paint the panels for me. Don't you love a plan that comes together? We started with the strip down and cleaned the rusted frame, particularly around the rear mudguard.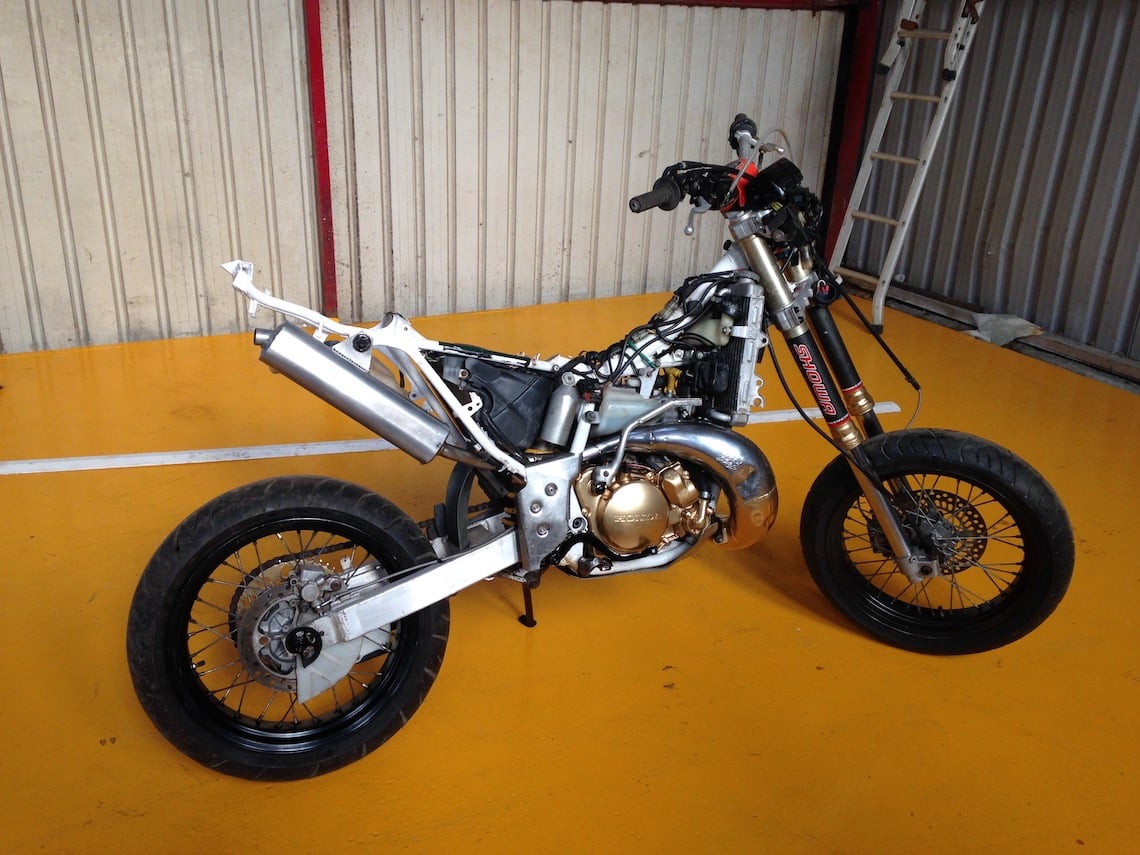 I also resprayed the gearbox casing and polished up the swingarm and exhaust, there were several things missing that I required (pillion pegs, chain guard, sprocket cover) which I managed to source from a combination of bike breakers and Japan. We decided on a lovely purple, very similar to my favourite chocolate, which is an old European Ford colour.
I found an excellent decal guy in an old nuclear bunker in Benbecula, Outer Hebrides. What a surprise, after entering through the enormous blastproof doors to find this small but efficient and very professional decal shop.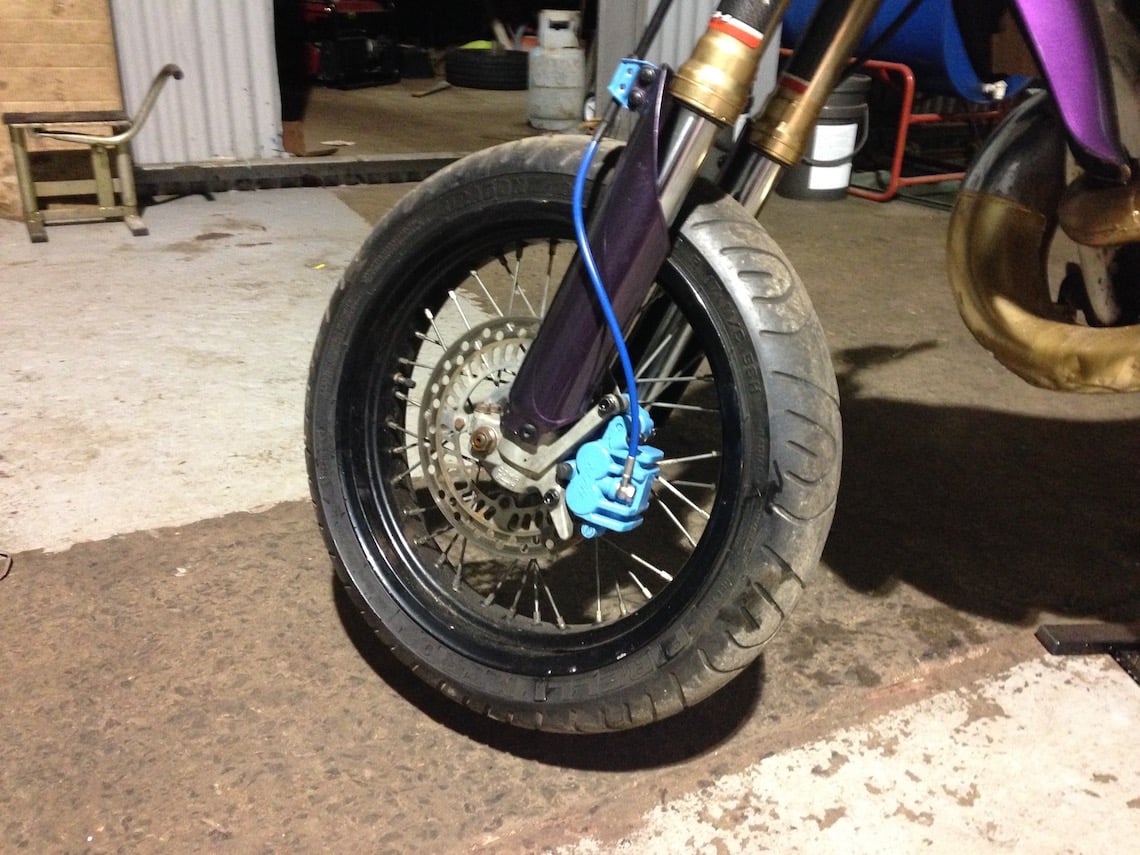 I then managed to get a seat cover to match the paint scheme that was developing nicely now. The contrast of the gold against the purple was so sweet. Not everyone had faith in my vision when I first described it, but after it was completed the pleasing comments came fast and furious.
I wanted to make my bike different and stand out more than average so I went for an additional colour of blue for the chain and sprocket guard, and I also later painted the refurbished calipers in the same colour. Of course, this meant I had to fit a new, blue brake hose.
I soon realized that my chain and sprocket ratios were wrong for the job, the standard format should be front 14 teeth and rear 43 teeth, however, I had front 13 teeth and rear 47 teeth, knocking off quite a considerable amount of top-end speed.
This was rectified by acquiring the correct 14 and 43 teeth combination. When fitted this made a difference of a complete gear, first was now as high a ratio as second was previously and gave a very nice low rev cruising speed.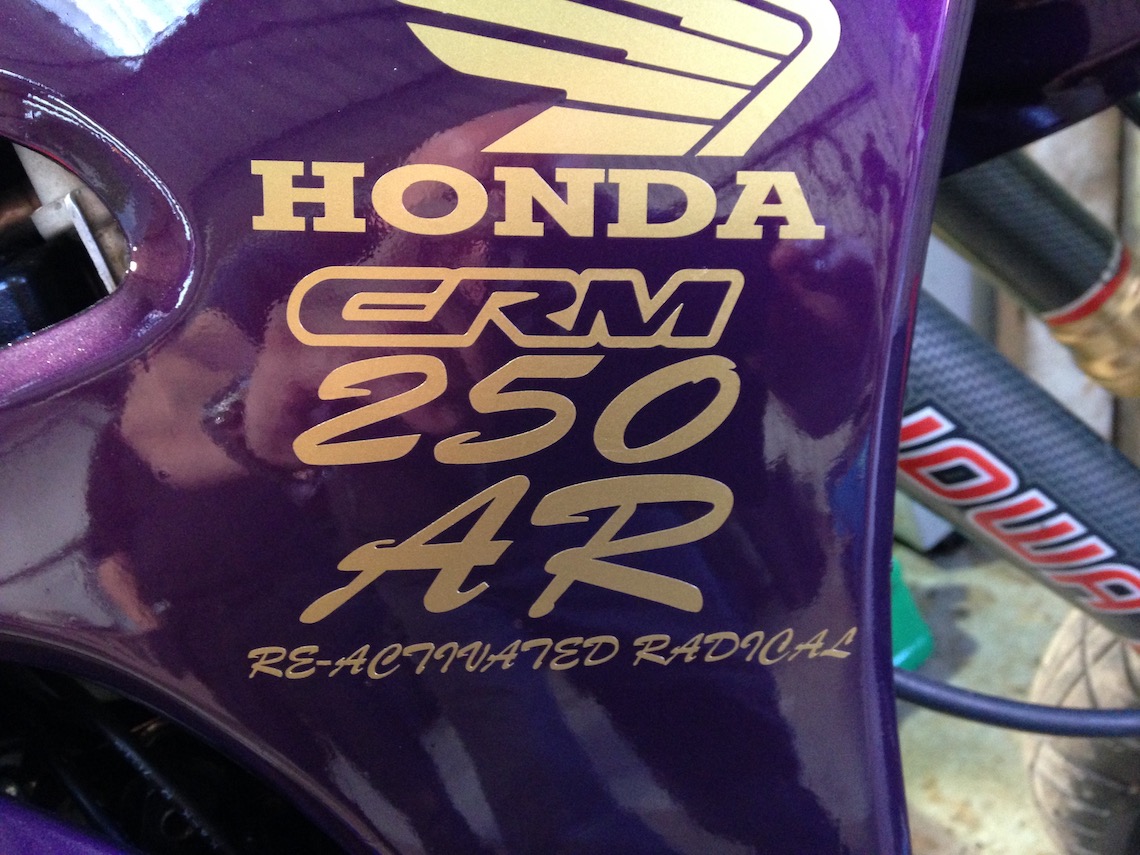 The MOT was a breeze with a simple repair to the earth connection on the headlight that was loose giving a very dim dipped beam, the rest was all good giving 150kg force on the rear brakes and over 300kg on the front, which I was told was very good.
Now my bike was looking so good and legal to go on the road, I thought it was time to get my ticket to ride. I completed my theory test whilst up in the Hebrides but then had to wait to my Christmas holiday period to complete module one and module two early in the New Year.
It was very nerve-racking taking driving/ riding tests after years of being on the road since the last test, however, all went well (thank goodness), but this was helped by the quality of the training and guidance, and I ended up thoroughly enjoying the whole experience.
My bike is now at my home in South Wales and I am thoroughly enjoying riding around the Welsh roads and mountains.
One day I would like to get a larger ad- venture bike, I love the look of the Triumph Explorer, but my heart is with the new Africa Twin, that would be really cool, but for now I will enjoy my Re-Activated Radical.
Maybe I can dream of having both.