While you're not going to jump on a Harley if you have any aspirations of off-road riding, for long distance road touring they're a formidable choice. Alun Davies heads to Washington State to check out the 2017 road glide range.
So what's a Harley Davidson doing in the review section of Adventure Bike Rider? There are a few reasons; I've recently grown a beard, become partial to bandanas and have come to the crushing realisation that I need more than a comb-over to appeal to the fairer sex. I jest, of course, the comb-over still has 'em swooning.
Anyway, I take a relaxed view when it comes to defining the word 'adventure'. In my mind, there's little doubt that for the vast majority of motorcyclists who love to travel, 'adventure' is more continental cruising with coffee stops rather than snorting buffalo dung in a quagmire up the Congo.
I've been fortunate to have spent the better part of my adult life actively involved in both of the above activities. In fact, I can personally vouch for the versatility of buffalo (and yak) dung over coffee, but what I've never been is a subscriber to the autocratic ideology which implies, 'unless you're sleeping in a ditch or riding through an untamed wilderness you're not on an adventure'. Tacoma is also the gateway city to the Olympic Peninsula and national park, the last wilderness area in the USA to be mapped. It's a region that I've long wanted to visit and spend time exploring the temperate rain forests and climbing the glaciated peaks. There'd be no hiking or climbing this time, but thanks to Harley Davidson, I'd be doing the next best thing, touring the peninsula by motorcycle.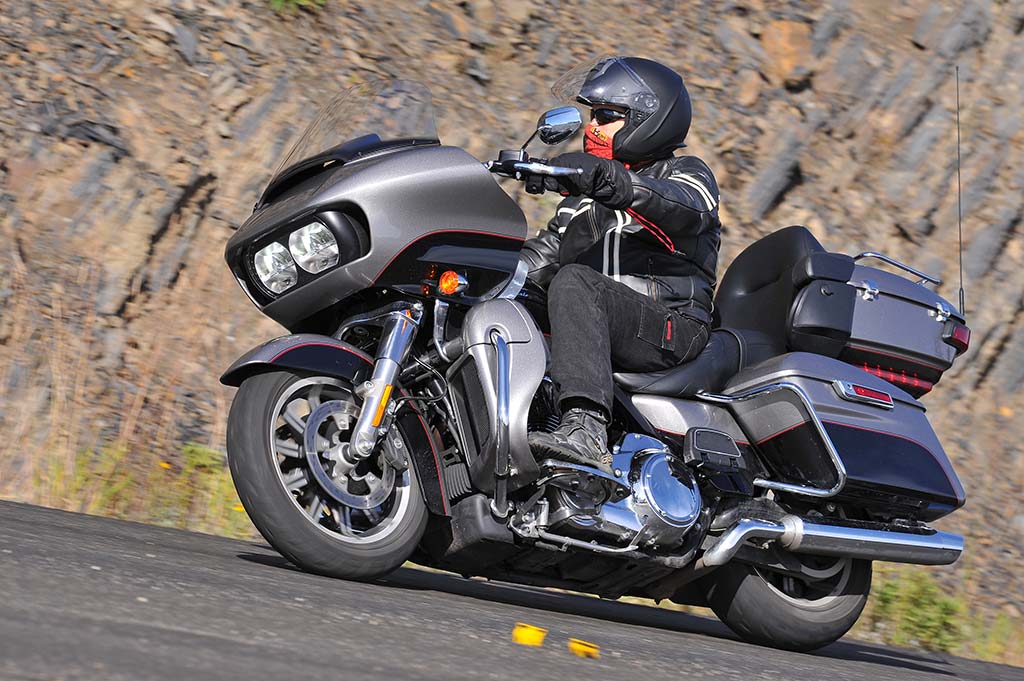 Tacoma was the place chosen for the official unveiling of the all new Milwaukee Eight engine and Harley's new 2017 touring range. The new power plant is the big story here, with the company promising riders more power, more comfort and more control.
Harley, probably more than any other motorcycle brand, has a built-in restriction when it comes to developing new bikes, namely the customer. Whereas most other brands can radically alter machines with little to no fuss, Harley is hamstrung by customer surveys highlighting both existing and prospective customers' desire for the iconic look, sound and feel of a HD above all else. They simply don't want much change.
With that in mind, 'why bother' developing anything new is a valid question. However, when gripped by the throat, owners revealed that they wouldn't be amiss to a little more power, quicker acceleration, better heat management, (slightly) reduced vibration, lower idle speed and a richer exhaust note.
In addition, when questioned about suspension owners reported a desire to cut chiropractor bills. They'd also welcome more comfort for rider and pillion, the ability to fine-tune suspension to suit needs, better handling and simple, maintenance-free adjustability.
So there we have it, a customer-inspired shopping list that led the company to produce the all-new Milwaukee Eight engine (four valves per cylinder, get it?), a fully upgraded suspension system and the new 2017 Road Glide which looks almost identical to the 2016 Road Glide. In other words, just what the customer asked for.
And speaking of looks, the Road Glide takes some getting used to, with the 'shark nose' front end dominating the overall appearance. I'd like to offer a fingerless glove high five to the man who gave the production nod on this love it/hate it nose cone, a very brave man indeed. But here's the thing, whilst my initial question was "can you take it off?", by the end of the two day ride I'd grown to appreciate the quirky looks and was hugely impressed with it's protection and touring practicality. And if you were wondering, no you can't take it off.
At the press launch prior to the ride out we were also told that the new range of Harley tourers all come with ABS, upgraded comfort, new audio systems and enough after-market options to make customisation a full time occupation and riding an optional extra.
It was interesting speaking to the company's engineers who confirmed that there'd be no problem getting their iconic V-twin to run smooth, but that's not what the customer wants, so the rumbling vibes are built to order. When I asked, "Why no electronic adjustable suspension?" (a favourite of mine), it was also confirmed that the company still needed to work out how to 'fit it in' without altering the looks and image.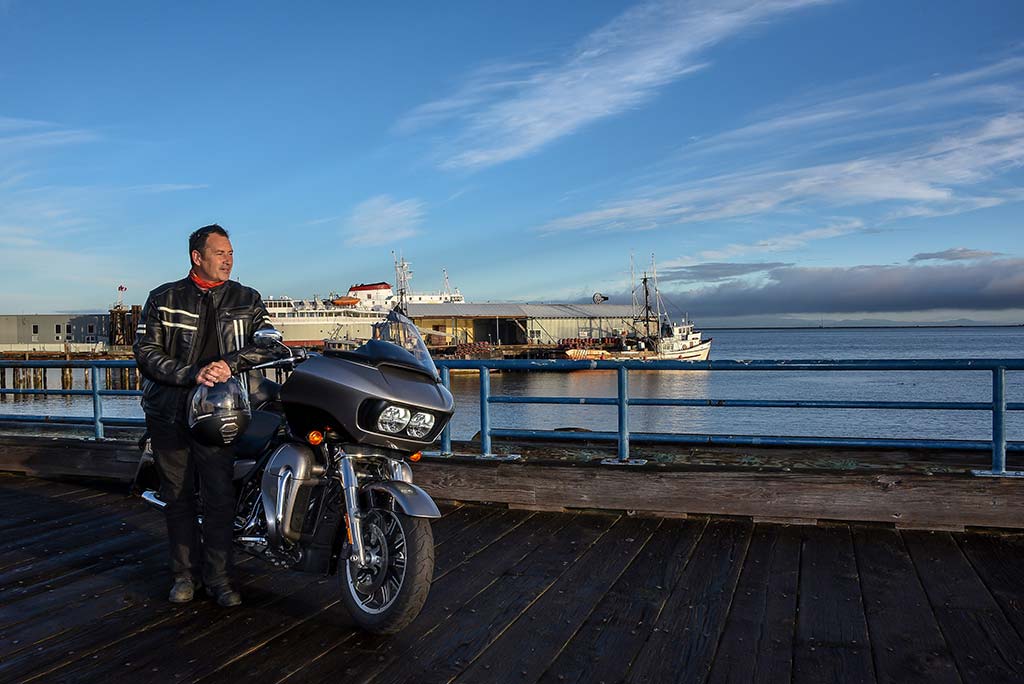 The more I talked to the company staff the more it became clear that HD is a business that actively pays attention and engages with customers rather than applies the lip service gloss of PR. Well done HD, long may it continue.
But what of the Road Glide and that all new Milwaukee Eight? Well the first thing of note was the low tick over at 850rpm and the slightly toned down vibes at standstill. The rumble is still there alright, but it's not in the tooth-loosening league of old. It's now more of a pleasant vibe rather than the San Andreas fault in full swing. What's more, this is the first Harley I've ridden in a long time where the mirrors are vibration free, almost.
Shorter or less athletic riders are also going to appreciate the low seat height and the fact that most people will be able to plant two feet firmly on the ground for stability when slow speed paddling or manoeuvring around car parks. I've said it before, the tip toe balancing act that's a feature with tall adventure bikes is becoming more of a problem to the ageing motorcycle tourer, and I've a few mates who've gone the Harley route for that matter alone.
Pulling away from the car park on the Road Glide Special, it was immediately apparent that the new HD V-twin is as torquey as it ever was and then some. There's also no doubt the new eight valve engine feels smoother, and if you're into the distinctive Harley 'potato, potato' sound track you'll not be disappointed.
The gear box is still harsh when compared to most other modern bikes, with a very noticeable metal on metal clunk when shifting, but then turn up the sound system and it goes away. Speaking of music on the move, the system on the Road Glide is very, very good, even at speed, and I couldn't think of any better way to exit Tacoma and enter the Olympic Peninsular than listening to Tom Petty's Running Down a Dream as the Glide cruised smoothly at 60mph with the rev counter showing an effortless 2000rpm.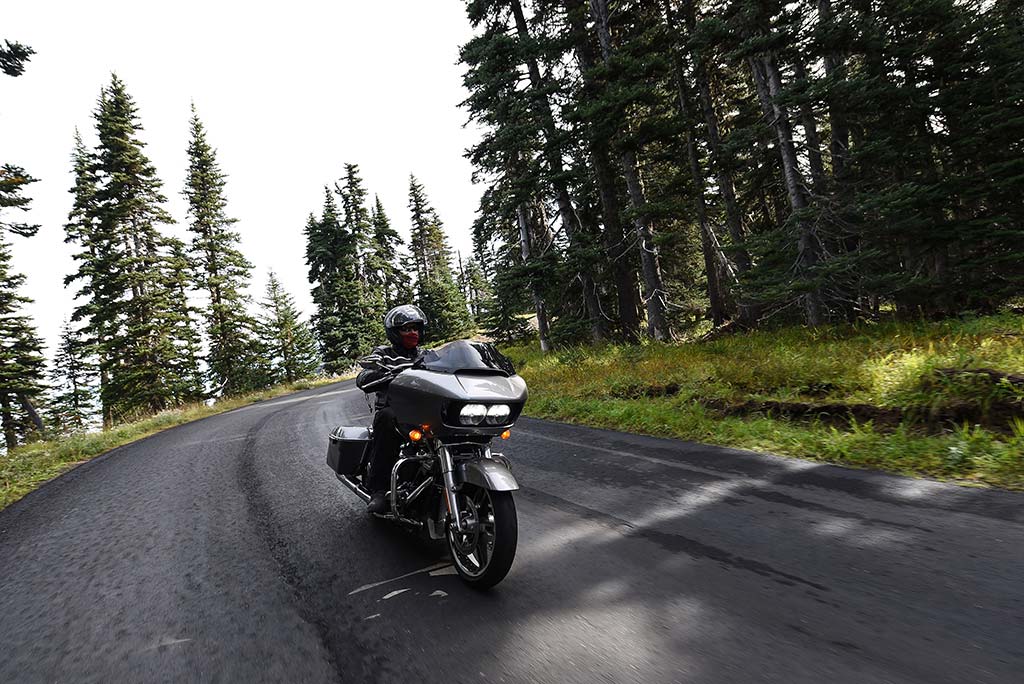 I've never been a fan of foot boards, especially so in a congested country like the UK where I find they tend to get in the way of my size 11s at foot-downs. However, on a long ride where you're not stopping and starting all the time they are seriously comfortable and perfect for stamping along to Zeppelin's Rock and Roll. I can tell you now, I am fast becoming a fan of on-board sound systems. Pulling off the straight line dual carriageway and onto the twistier roads heading towards the coastal town of Port Angeles, I was keen to check out the new suspension on something more challenging than a smooth strip of tarmac.
The first deep pothole told me all I needed to know with a painful jarring of the back. There's no doubting that there is an improvement over the 2016 model but anything deeper than a shallow imperfection in the road is best avoided. But it's not all due to the suspension, the foot forward stance of a cruiser means your legs are not best placed to help diffuse any impact which means the lower back takes the full, jarring force. The simple lesson here is avoid pot holes and, if you can't, scroll through your tunes for a soothing recovery track.
I've been surprised by the hustling performance of HDs over the years. Both from my own riding experience and, more impressively, when trying to keep up with Hog riding locals on Alpine passes in Europe. In the right hands these big V-twins will surprise the most spirited of riders, but it always pays to keep in mind the design limitations.
If you're not used to riding a big cruiser at speed on winding roads then the first sharp bend is usually a "save me father, I've forgotten how to corner" moment. However, adjust your riding style and it'll not be long before you're sweeping along at pace and with grace until the low-slung undercarriage starts throwing out sparks. You really can hustle a big Harley cruiser should you want too, and the upgraded suspension is a noticeable improvement. The overall comfort of the Road Glide is superb, and whilst the stock seat on the 'Special' is not going to impress a pillion, it is exceptionally plush for the rider. The riding stance is classic Harley cruising mode where on a long ride you're more likely to start stretching your arms and hands before needing to flex legs. If I had a niggle then it was down to the shape of the fuel tank which forces the rider's legs apart a little more than I'd have liked. Other than that, heated grips should come as standard on a touring bike rather than be deemed an optional extra.
The dashboard is all contained in the shark nose half fairing and along with old school clocks, you get a new 'entertainment' screen which displays GPS, rider info and the all important sound system. It's simple to operate, but I felt the screen would benefit from upgraded anti-glare treatment as it was unreadable on too many occasions and tended to dazzle in direct sunlight.
All the hand controls are well placed for easy operation and it's only the separate left and right mounted self-cancelling indicator switches that I'd probably like to see changed into a single switch operation that you'd find on most other bikes. What I have to mention is the eff ort required to pull the clutch lever. On our return journey we hit a 10-mile jam of slow moving traffic requiring clutch slipping and foot paddling. Super pumped forearms all round.
By the halfway mark to Port Angels we started to experience the other characteristic for which the Olympic Peninsular is most famous for, rain. The Olympic National Park is the wettest place on mainland USA and with heavy precipitation combined with low cloud and dense mist, the visibility was so bad that the afternoon ride up the spectacular Hurricane Ridge Road was abandoned.
The wet weather protection of the screen was good, but the conditions only emphasised the lack of heated grips with my hands becoming seriously cold. In truth, I wasn't that disappointed that the ride was called off as the stock Dunlop Multi Tread Blackwall tires were nothing short of dangerous in wet conditions. Day two arrived with blue sky and a switch of bikes to the Road Glide Ultra. Whilst the 'Special' of day one could be described as the stripped down Glide, the Ultra is most definitely the full dresser.
In addition to the colour coded panniers, the Ultra comes with a huge king and queen styled seat complete with armrests, an enormous top box big enough to take two helmets, surround sound speakers, a taller stance than the 'Special' and, being 'twin-cooled', you get the extra protection of front leg guards covering the rads. _ is really is touring in style and when you throw in the handy cubby holes with USB points and dual communication plugs, you get convenience too.
The ride up the serpentine Hurricane Ridge was as spectacular and entertaining as they come. It was also a time for us to cut loose a little and check out the handling and performance of the Glide. I have to say, it was like riding a huge pleasure cruiser with negligible feel of the road. You just have to sit there, trust and wait until something scrapes to know how things are going.
When pushed, the suspension shows it's limitations and becomes wallowy. Hit an undulation mid-corner and the entertainment factor rises even more, but in fairness this is a cruiser and the bike always emerged from a bend where I'd asked it to. Love them or hate them, there's no getting away from just how popular Harleys are when it comes to touring. Observations over the past three years in the Alps have them second only to BMWs in the popularity stakes.
Once you get past the looks of the Road Glide, it really is a good touring bike and I'd go as far as saying the best Harley I've ridden to date. The US launch was, for the most part, ridden at a sedate pace unlike the thrash events that take place in Europe and most of my time was spent admiring the scenery, taking in the entertaining road signs (Skipper John's Seafood being a favourite) bopping along to the sound system and avoiding low flying eagles. And you know, that's my kind of riding.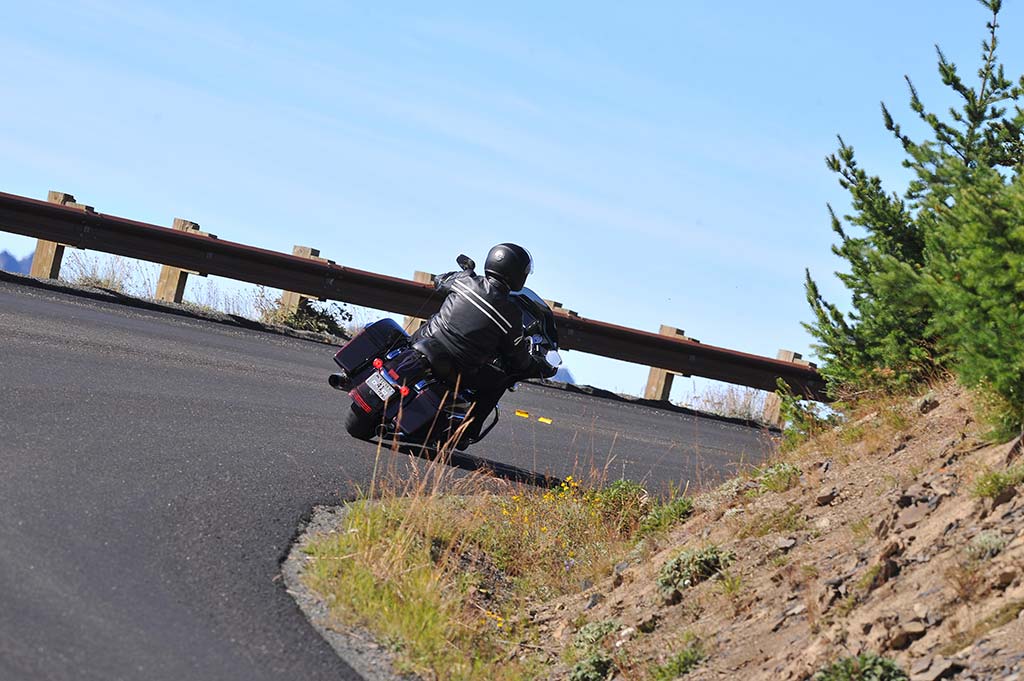 Specs at a glance: Road Glide Ultra
Price £20,995
Length 2,430mm
Seat height 685mm
Fuel capacity 22.7-litres
Dry weight 372kg
Engine 1746cc V-twin
Torque 150Nm/111ft [email protected]
Wheels size Front: 19in Rear: 16in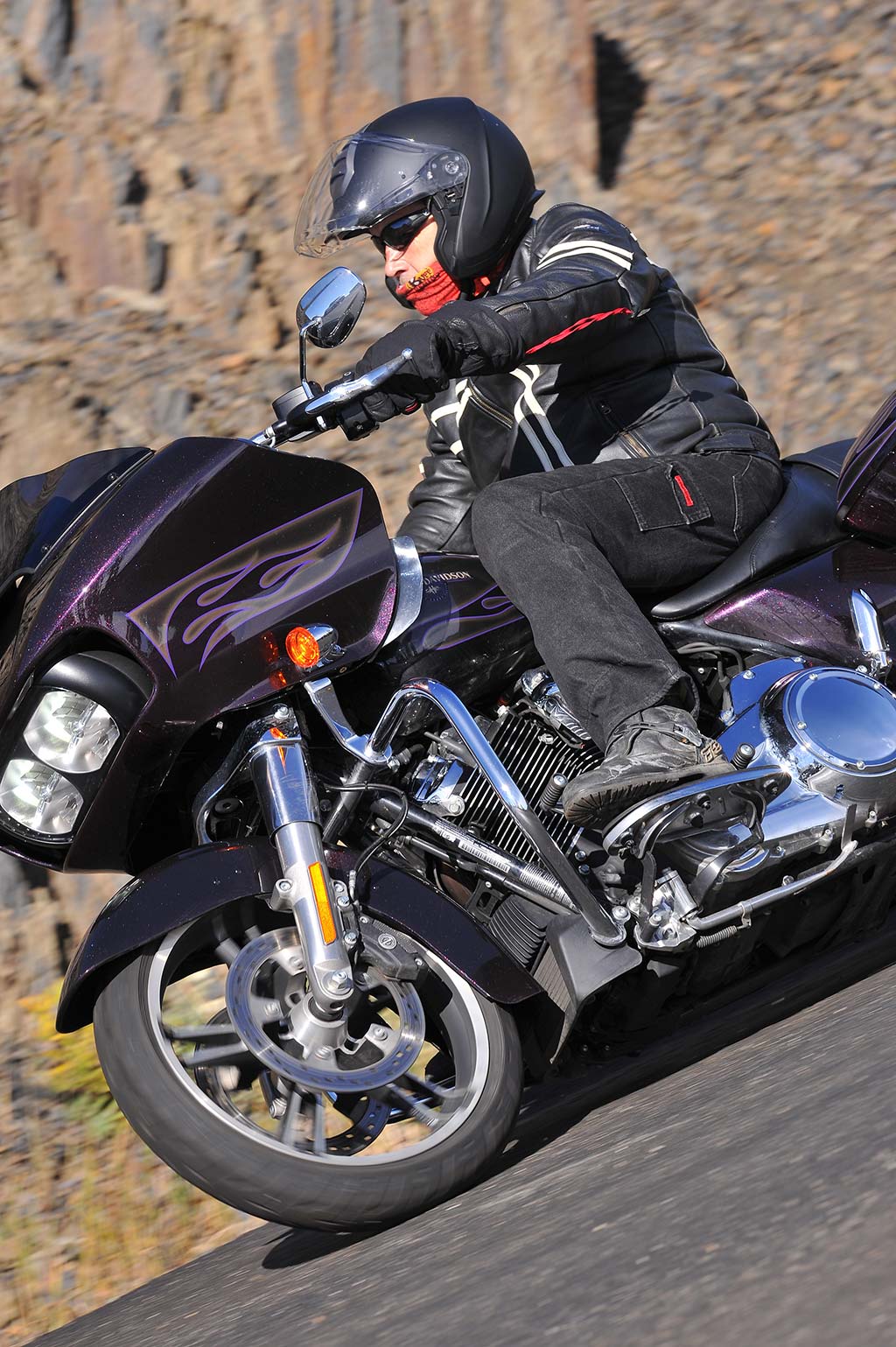 Specs at a glance: Road Glide special
Price £23,195
Length 2,595mm
Seat height 735mm
Fuel capacity 22.7-litres
Dry weight 22.7-litres
Engine 1746cc V-twin
Torque S153 Nm/112 ft [email protected]
Wheels size Front: 17in, Rear: 16in
ABR Verdict
As a commuter
The Road Glide is not the sort of bike that would inspire thoughts of city commuting. Would be fine for rural locations or where there's a long motorway haul.
As a weekend tourer
If you like your touring taken at a comfortable and relaxed pace then the Road Glide is a worthy contender
As an off-roader
The only sensible answer here is… no.
As a continental road tourer
Given the choice I'd go for the Road Glide Ultra over the 'Special'. The 'Ultra' is a formidable long distance tourer where comfort is simply not going to be an issue.
As an RTW overlander
There are accounts of Harleys taking on the Sahara and the Siberian Road of Bones. However, in the real world, you're not going to do either on a Road Glide. Stick to the tarmac routes and I can't see why not.
As a pillion carrier
No pillion is going to thank you for taking them further than the end of the street on the stock Special seat. On the other hand pack them on the 'Ultra' and they'll be buying you drinks for life.