There's nothing quite like the pleasure of slipping your feet into a new pair of motorcycle boots. The leather is supple and fresh, the lining plush and pong free, and there isn't a spec of dirt on them. 
Make the right purchase and your feet will stay warm, dry, comfortable and protected for thousands of joyous miles of riding. However, get it wrong and new boots can quickly turn into something more akin to medieval torture devices, squeezing and rubbing your feet painfully, and exposing them to the elements. When buying a new pair of motorcycle boots, it's all too easy to become baffled by the sheer number and variety of models on the market and the range of different features they offer. The best advice we can give you when you're looking for some new kicks is to keep it simple and have one thing at the forefront of your mind – fit. People's feet come in all different shapes and sizes and so does motorcycle footwear. 
Sizing between manufacturers varies considerably. For example, those made in southern Europe tend to be narrower at the bridge of the foot than those produced in the northern part of the continent. Try on plenty of boots, walk around and make sure they feel comfortable. Ensure the inner padding feels good and the boots fit your foot shape. It's best to wear your riding socks when trying them on, and keep in mind your feet will swell up throughout the day and in the heat, so allow room for this.
At the outset, we recommend taking a few minutes to think about the type of riding you do, as this should heavily influence which boots you opt for. For example, off-road specific boots will offer superb protection and a myriad of technical features, but their rigid construction will make them far less comfortable to wear on and off the bike. If you rarely hit the trails, they aren't the best choice. 
Be honest with yourself. We may harbour dreams of joining Ewan McGregor and Charley Boorman on the Long Way Up, but the reality is often less glamorous. If you are thinking about buying a touring boot, you may well want to commute in them, wear them on weekend rides, and take them touring in all weathers. You might even stray off-road once in a while, although touring boots, unlike adventure boots, are predominantly designed for road use. 
Factor in the need to walk in them, particularly when travelling abroad. Touring boots need to be flexible and comfortable enough to handle sightseeing on foot, whether that's wandering through the cobbled streets of Rome or descending the stairs into a Bavarian beer hall.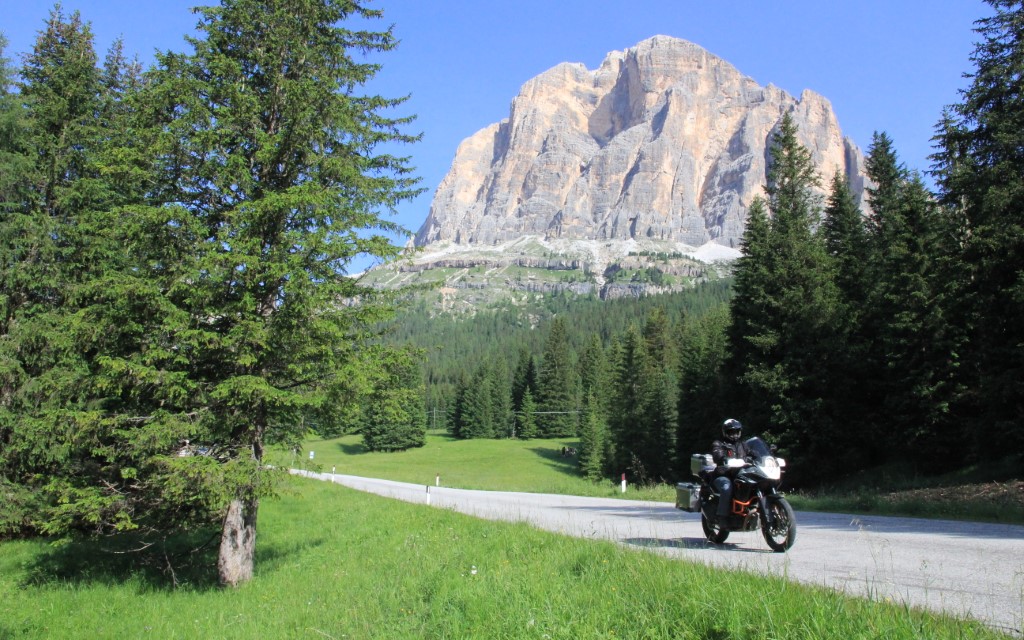 If this all sounds like the type of riding you do, then a touring boot could be the right choice for you. If this is the case, there are certain features to look out for. They should have armour at the shin and ankle, as well as a stiff heel cup and toe box for protection. Some touring boots only come up to your ankle and these can be more comfortable to wear and often appeal to those who prefer a casual look on and off the bike. However, the trade-off is a lack of protection for your shins, which is particularly important if you do stray off -road from time to time. 
A touring boot should also be waterproof. Chances are you will be wearing this boot all year, but even if you don't ride in winter, you're almost guaranteed a rain shower or three while touring in mainland Europe in summer. 
When it comes to keeping your feet dry, we recommend a waterproof membrane as the most effective and convenient way to keep the rain out, Gore-Tex being the most commonly known. 
The downside is a laminated membrane will lead to your feet feeling warm in hotter temperatures, despite breathability claims by the manufacturers of such products. But trust us when we say warm feet in good weather is far better than having wet feet in bad. 
Whether you choose a boot with a zip, clasp or buckle fastening is down to personal preference, but ensure any zips are either water resistant or feature a substantial storm flap. It's also handy if the zip is chunky enough to use while wearing thick winter gloves. 
You'll find Velcro used as a fastener on most touring boots because it's such a versatile material. However, it can all too easily get clogged with dirt and crud from the road and trails. So, a good pair of touring boots should be comfortable, flexible, durable, waterproof, and provide strong protection in the event of a spill. 
It's not an easy ask, but luckily for us there is a huge selection on the market at prices to suit all budgets. And you don't necessarily need to go for the most expensive option. 
If you confine your motorcycling to sunny weekends in the UK, do you really need to splash out on a top of the range boot designed to take you around the world? If you're honest about the amount and type of riding you do, you'll be able to pick a pair of touring boots at a great price, which will fulfill all your motorbiking needs and, most importantly, help you have fun while staying safe. 
In this group test, we're specifically testing touring boots that are designed for covering long distances on-road. So, over the next few pages you'll find reviews of 12 boots that should be up to the task of taking you the distance. 
OXFORD WARRIOR 7/10
£99.99 | www.oxfordproducts.com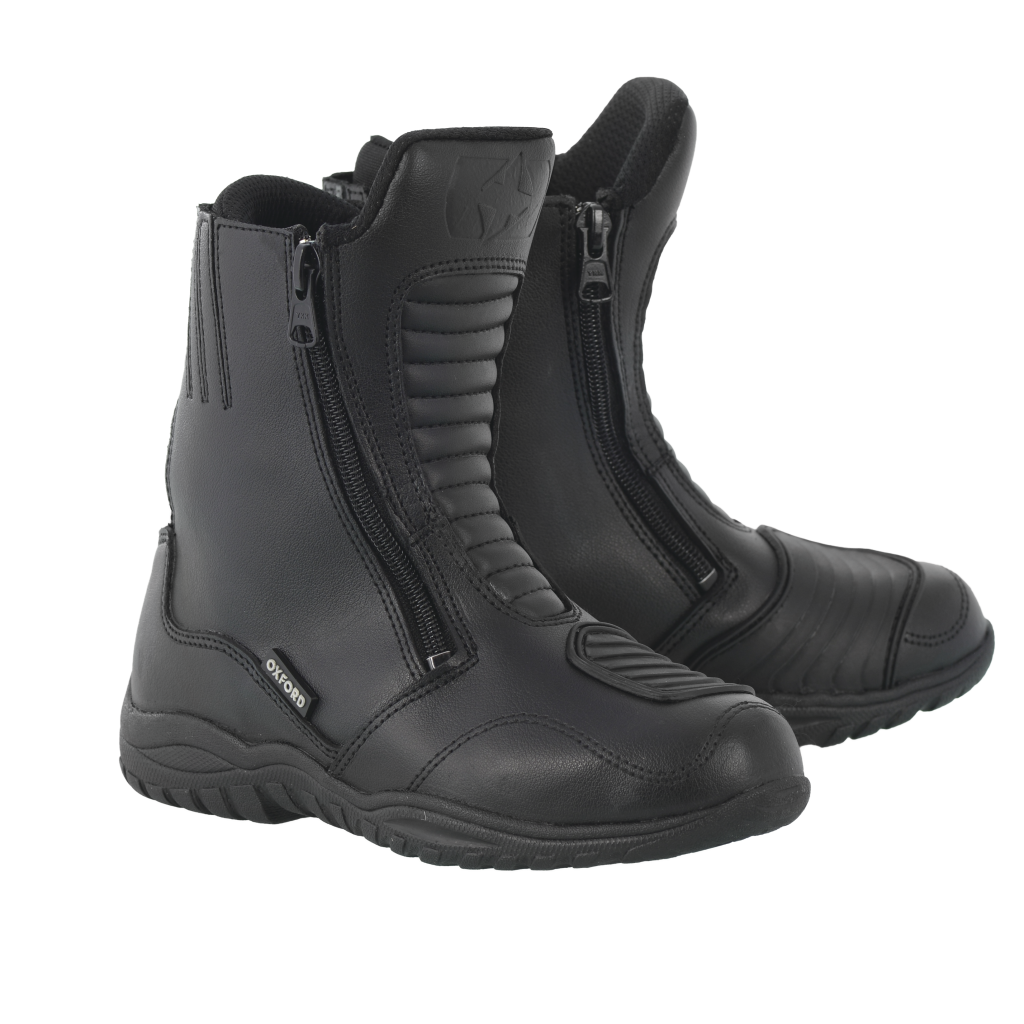 Motorcycling is an expensive business once you've added up the cost of a bike, insurance, helmet, textiles, gloves, servicing and so on. 
So, the opportunity to buy a touring boot from an established company for less than £100 will come as a relief to some, particularly new riders who need to fork out for a lot of gear all at once. 
There are of course better made boots on the market that will provide more comfort and performance in the long-run, but for the price, the Oxford Warrior ankle boot is an absolute bargain. 
It's a sturdy boot that offers plenty of protection in the heel, toe and ankle and the sole feels stiff enough to offer plenty of support. There is of course no shin protection in a boot of this height.
The Warrior passed our waterproofing test thanks to an inner waterproof liner, a bit like a sock that keeps your feet dry. It may prove a little stuffy in hot weather, but at this price you can't expect a top-of-the-range laminated membrane such as Gore-Tex. 
It's a good-looking boot in all black which features a double zip opening. Despite this, I did find the Warrior needed a bit of effort to get on and off, probably due to that inner liner, though I would expect it to get easier over time as the materials soften. 
The sole is grippy enough on the road and the boot is comfortable on a bike and on foot. I'm not sure I'd want to walk for miles in them, but the same can be said for most motorcycle touring boots. 
In all, the Warrior is a simple but solid boot that would be perfect for a new rider, or a commuter who may tour once in a while.
IN A LINE: Simple boot that performs well for less than £100.
RST PARAGON 2 6/10
£119.99 | www.rst-moto.com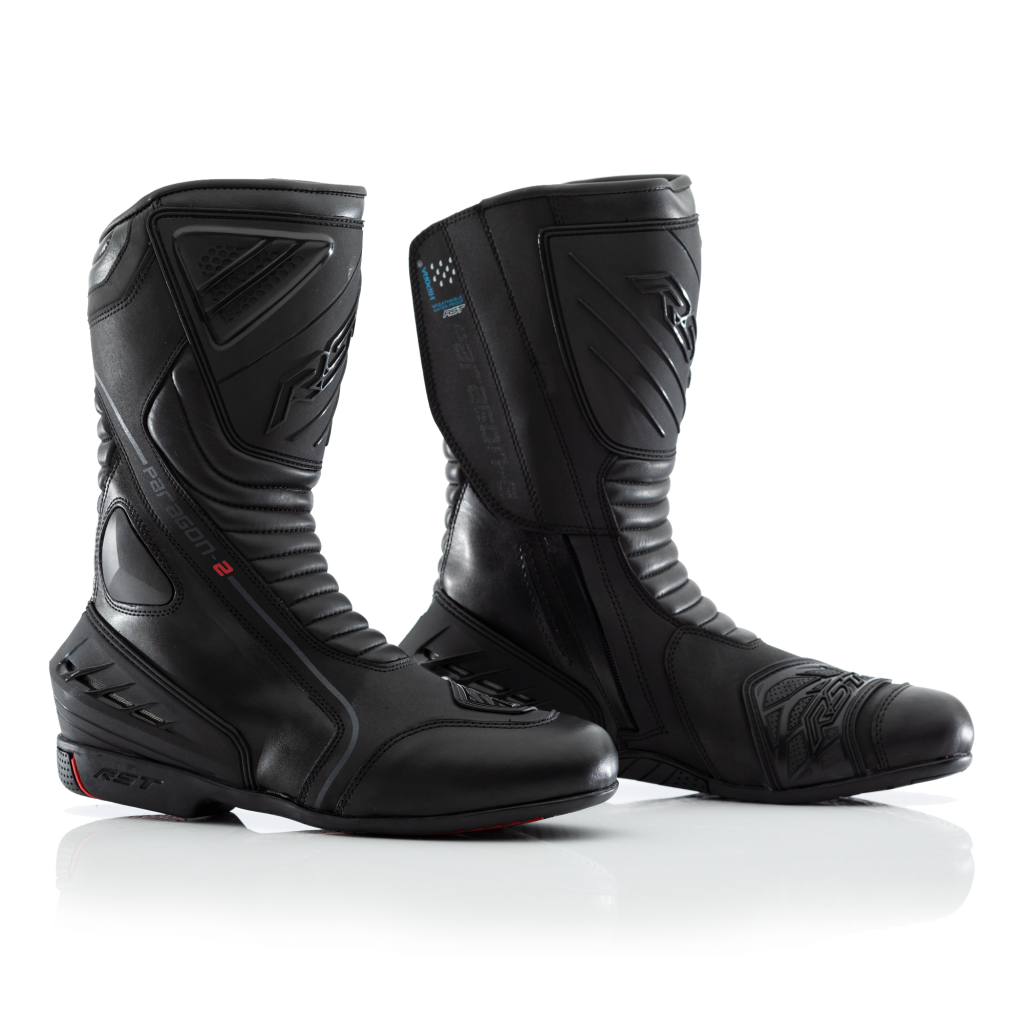 RST's roots may be in motorcycle racing, but the British brand is gaining a reputation for producing feature-packed adventure touring clothing at very reasonable prices. 
On looks alone, you wouldn't know the Paragon 2 is one of the least expensive boots in this test. It's a stylish looking piece of footwear that makes a point of showing off its protective features. 
This includes a chunky-looking plastic shin guard, heel cup and gear shift pad. The ankle guard isn't as beefy as those found on some of its rivals, like the Oxford Warrior, but it will provide some abrasion resistance. The moulded anti-twist sole feels sturdy enough. 
On closer inspection, the Paragon 2 looks to be constructed well, with tidy doublestitched seams and no messy joins where the polyurethane-coated leather meets plastic protective features. It may not have the same quality feel as the likes of the Daytona Road Star GTX, but then it is around a quarter of the price. 
It's a comfortable boot to wear on and off the bike, although it is quite narrow so it's well worth trying on a pair before you buy them to ensure the best fit. The anti-slip rubber sole has a relatively smooth tread and performs well on tarmac. 
Unfortunately, the Paragon 2 falls down in one key area that rules it out as an all-season touring boot. Despite the presence of a SinAqua waterproof membrane, our pair of Paragon boots leaked during our tests. The source of these leaks appeared to be a series of vents on the heel, a feature that seems a little unnecessary, while they also let water in through the toes. 
This is so frustrating because, apart from the leaks, the RST Paragon 2 is a good boot at a superb price.
IN A LINE: Nice boot, great price, wet feet.
ARMR MATSU 6/10
£129.99 | www.tri-motive.com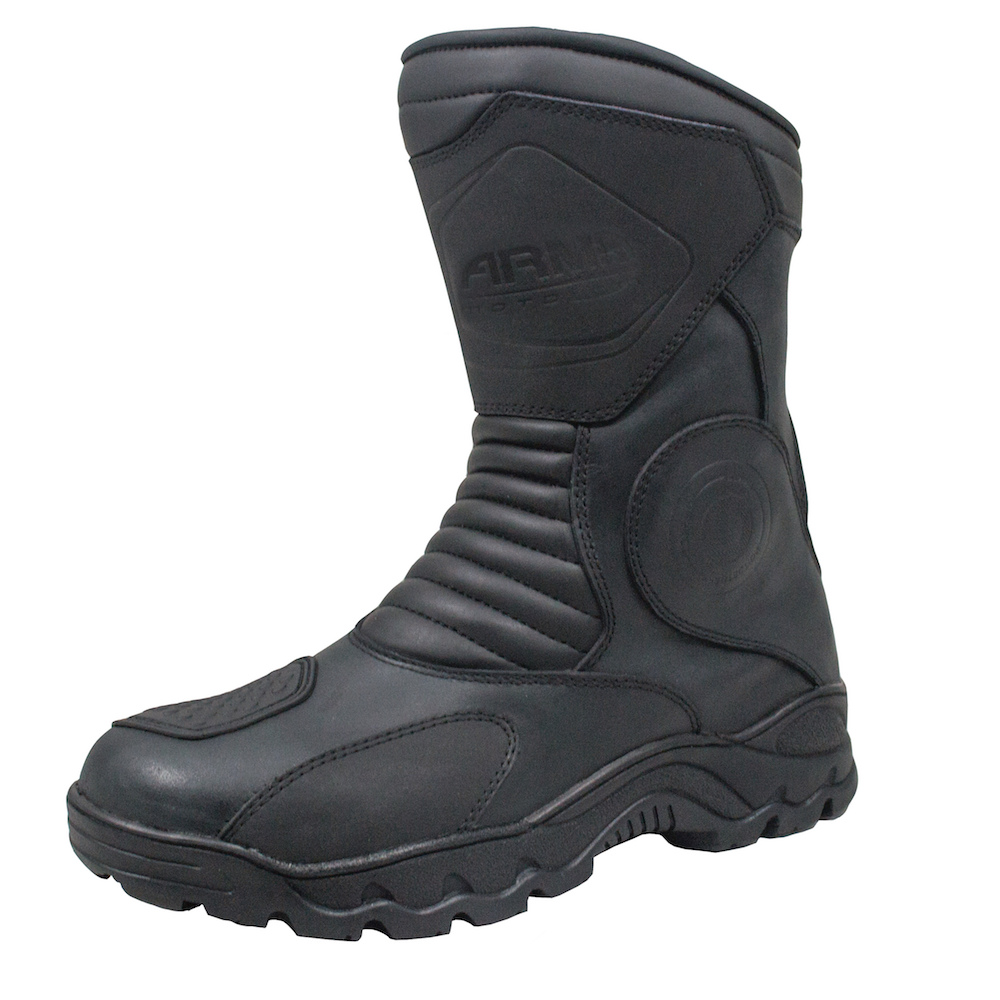 I suspect many of us are a bit suspicious of the high prices motorcycle gear manufacturers charge for their products. Granted, it has to perform in tough conditions and potentially save our lives, but that doesn't stop my eyes watering at the money some of the more well-known brands charge. 
With this mind, I was looking forward to wearing the Armr Matsu simply because it is one of the least expensive boots in our test. Could the plucky underdog mix it with the high-end boots from the likes of Daytona and SIDI? 
The answer is no, for one main reason. These boots are not waterproof, despite claims to the contrary. After testing the Matsu's waterproof properties, I turned the boot upside down and water poured from it like a jug. I won't dwell on this other than to say, if you need a waterproof boot (which most of us do while touring), look elsewhere. 
When it comes to comfort, the Matsu feels good in the dry. Despite being tricky to put on thanks to the boot sporting a narrow ankle (though this will loosen up with a few weeks of use), it was comfy to wear and walk around in. This was aided by plentiful grip on the sole. 
There are ankle, toe, heel and shin protectors, although the boot does feel very flexible, bordering on flimsy when bent along its length and breadth.
IN A LINE: Good price, wet feet.
SPADA STELVIO 6/10
£149.99 | www.spadaclothing.co.uk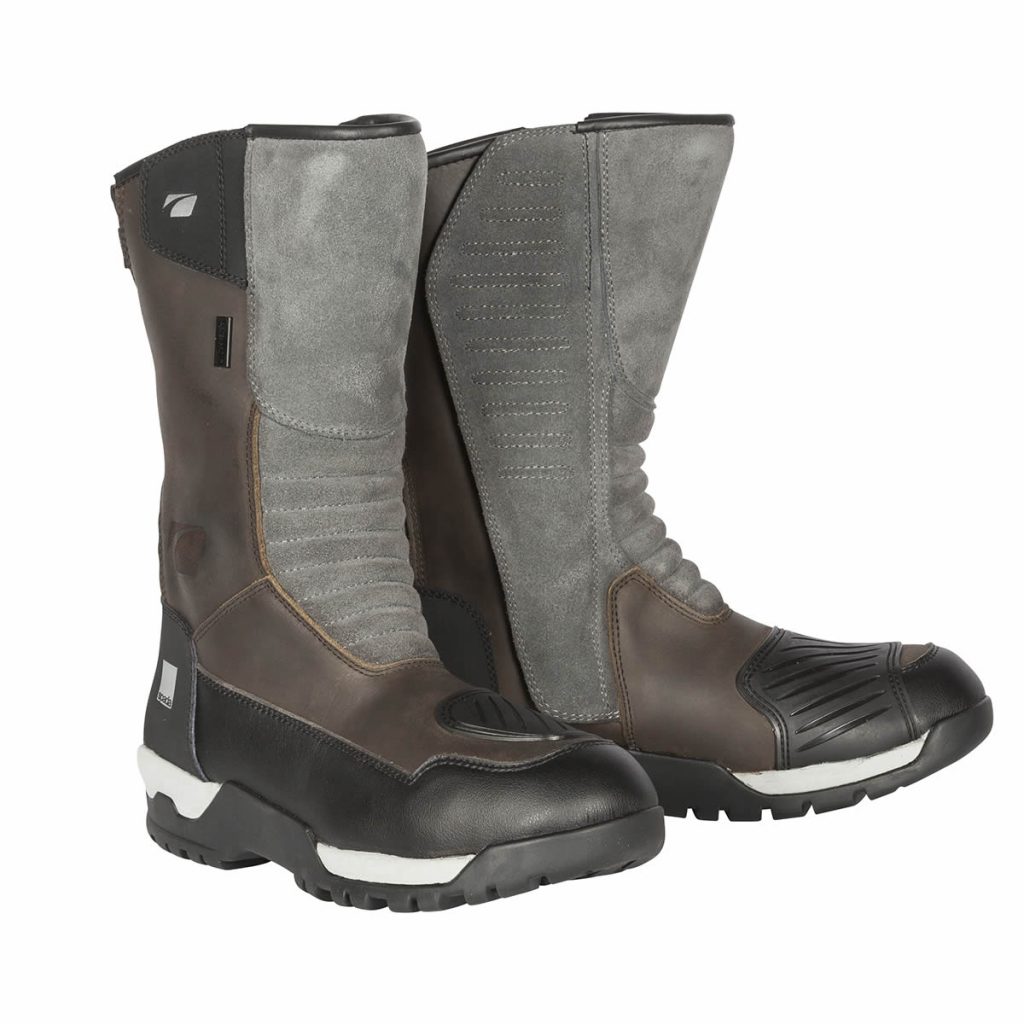 Named after the iconic mountain pass in the Italian Alps, the Spada Stelvio doesn't exhibit quite the same beauty of its glorious namesake. There's no getting away from the fact this is an odd-looking boot, although it is more pleasing to the eye in black, as opposed to our brownish, greyish, greenish test boot. 
However, looks are subjective, and the Stelvio offers a number of features found on more expensive footwear, including shin, ankle, heel and toe protection. It also passed our waterproof test without a hitch thanks in part to the Hipora breathable membrane. The boot's oil-distressed leather and Nubuck (a bit like suede) did seem saturated with water but none leaked through to the inside. 
The finish of the Stelvio is a little untidy but I can live with this at such a good price, my main concern is with the boot's toughness. The heel cup and toe box are soft and can be manipulated by hands. Good for comfort, not so good for protection. The sole unit also offers little torsional stability, which means the Stelvio boots will offer little protection from twisting.
Walking in the Stelvios is an unusual experience. They have a welly-like quality about them that sees you plodding on foot rather than striding. I wouldn't want to wander around in them for any length of time. 
It can be easy to knock lower priced boots when comparing them to footwear up to three times more expensive. But for a little more cash, a boot like the SIDI Aria Gore feels like a top-quality product straight out the box, whereas the Spada Stelvio has a budget feel to it.
IN A LINE: Budget boot at a reasonable price.
TCX AIR TECH GORE-TEX
£209.99 | www.nevis.uk.com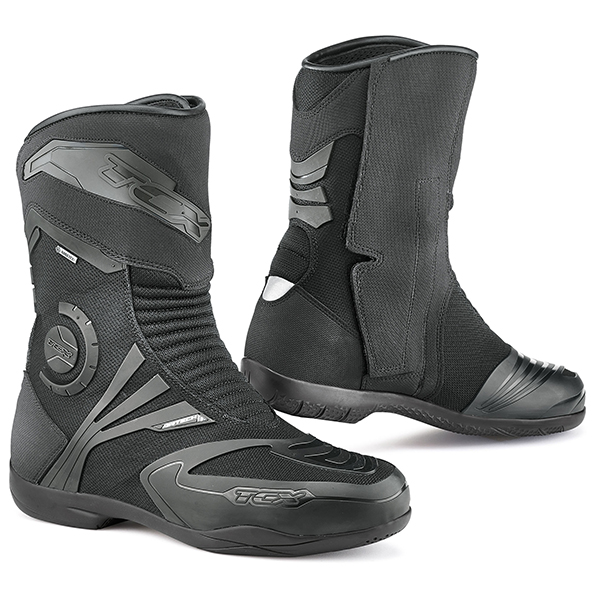 If you're lucky enough to spend much of your time riding in hot weather, then the TCX Air Tech GTX could be for you. Similar to the SIDI Aria Gore, it doesn't use leather as its main construction material, instead it relies on an abrasion resistant Cordura which provides better breathability than a full leather boot. 
This will help the boot remain cooler when the temperature rises, but it won't keep you as comfortable in colder weather. However, as a three-season (spring, summer, and autumn) boot, I've no doubt it will perform well. It also easily passed our waterproofness test. 
The Air Tech Gore-Tex is relatively stiff in its construction but flexible enough to be comfortable walking around off the bike. It actually felt like one of the lightest boots to wear on test. However, it is rather narrow across the bridge of the foot so you may want to try a size up. 
There is protection at the ankle, heel, toe and shin, with the boot feeling solid enough to give you confidence it would protect you in the event of an off.
Like the REV'IT! boot in this test, there is a lot of Velcro running the length of the Air Tech Gore-Tex, which over time may get clogged with road crud, but it is a solid enough fastening, accompanied by a zip with storm flap. 
The outer sole is probably the smoothest on test, which may prove slippery on mud, but it should prove grippy enough on the black top.
IN A LINE: Designed to keep your feet cool when the temperature rises.
ICON PATROL 2 8/10
£168 | www.partseurope.eu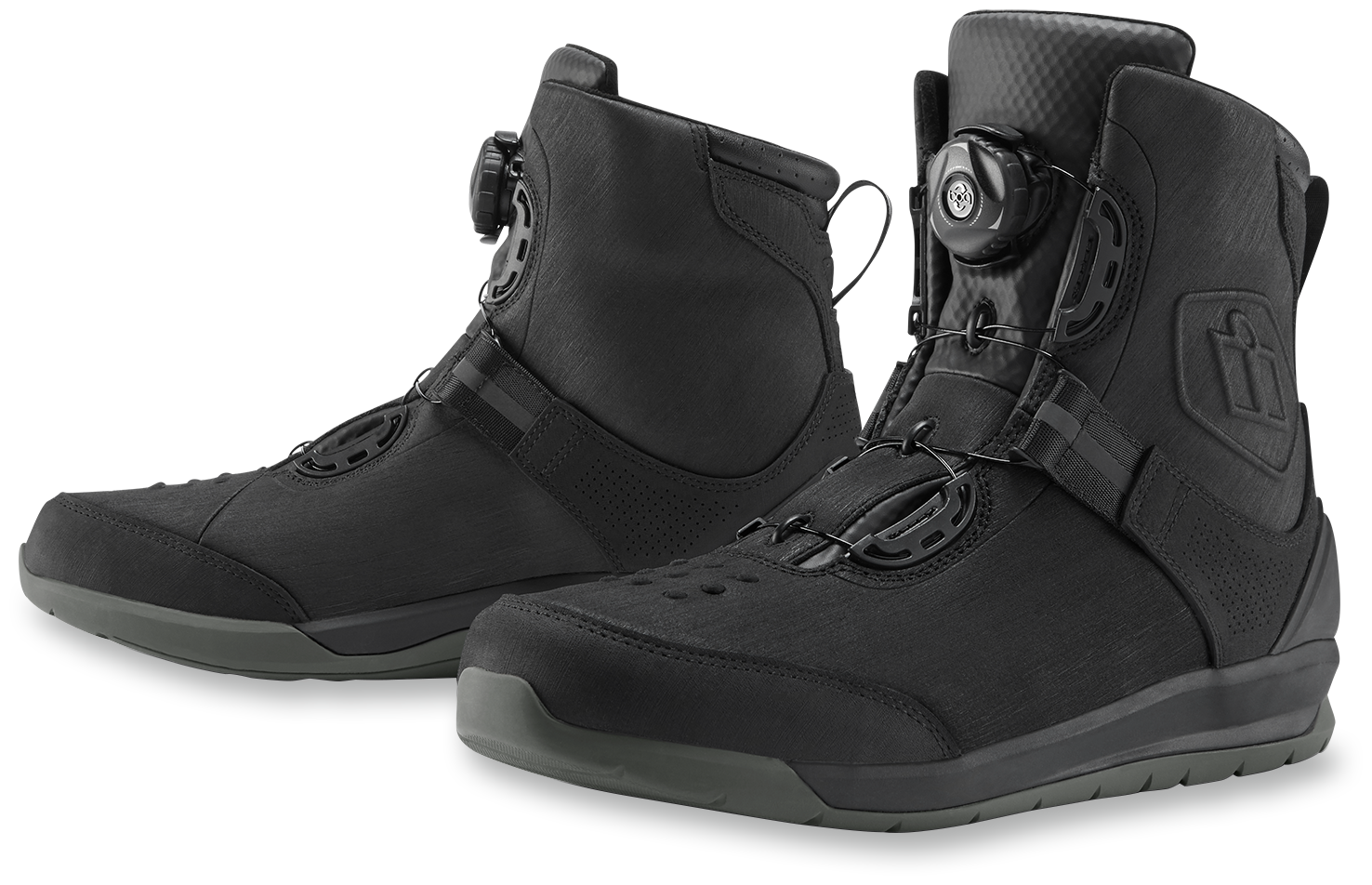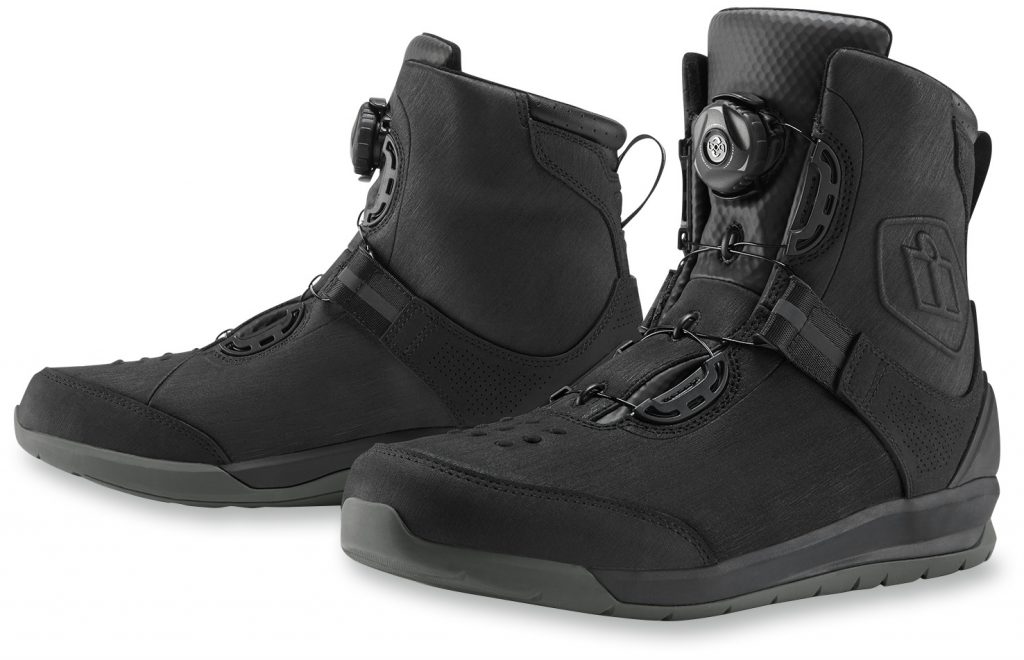 At first glance, your eye can't help but be drawn to the Boa closure system on the Icon Patrol 2. Instead of traditional laces, zips, or Velcro, under the Boa system you turn a dial to tighten the laces. 
If you haven't used a Boa closure before, it may seem an over-engineered solution to a problem that didn't need solving. I mean, what's wrong with a good old-fashioned shoelace? However, once you start using a Boa, you quickly get used to its ease and simplicity of use. Tying a shoelace soon becomes a bothersome chore, sort of. 
The Icon Patrol 2 is one of two ankle boots in this test. This means it inevitably compromises on safety because it covers less of your leg and doesn't have any shin protection. But don't let this put you off. The Icon Patrol 2 is a cracking little boot. It looks stylish and could easily be mistaken for everyday footwear. This is thanks to its simplicity of design, a coated leather outer, and the use of slimline D30 armour ankle inserts which blend in with the boot. 
It's comfortable to wear on and off the bike, thanks to a padded inner liner which wicks moisture away to help you stay cool and comfortable and it passed the ABR waterproof test with ease. 
Instead of a gear shift pad, Icon has used a nine-dot system. I like to see manufacturers trying different things, but this didn't quite work for me. I felt the gear shifter digging into my foot and I imagine it would only be a matter of time before it damages the boot. 
The Icon Patrol 2 is an innovative and good quality product utilising technology to do something a little different. It will no doubt appeal to the urban rider and commuter, but it could also be a solution for the motorcycle tourer riding in hotter climates who doesn't want a fulllength boot. 
IN A LINE: Tech-stuffed ankle boot, shame about the lack of shift pad.
FORMA JASPER OUTDRY 8/10
£179.99 | www.factoryagencies.co.uk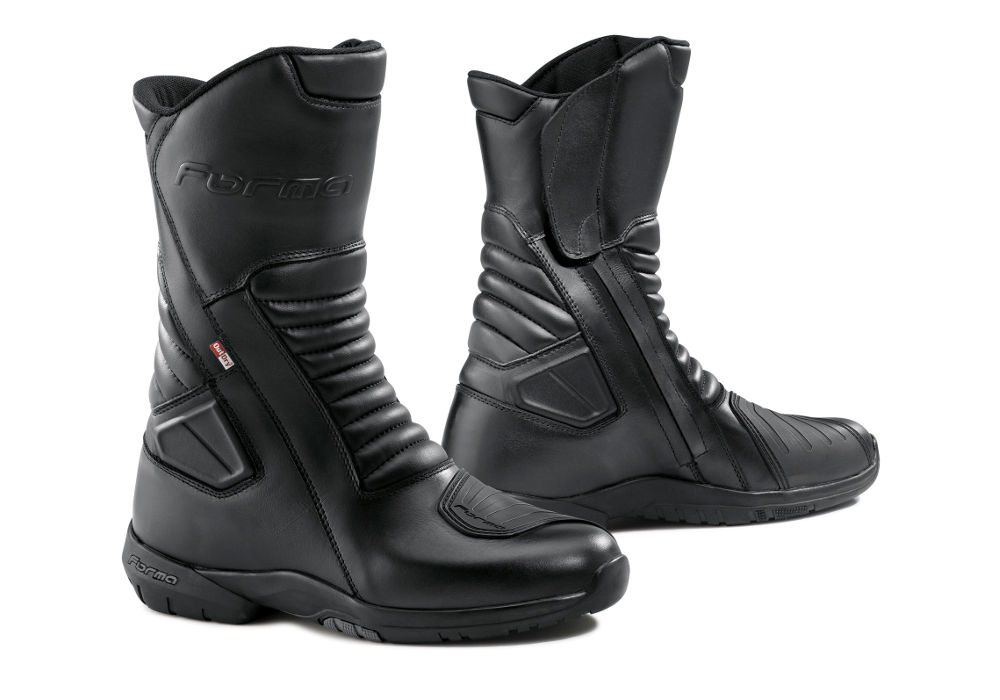 Forma has been building a reputation for producing quality motorcycle footwear at a reasonable price since it was formed in 1999. Perhaps its most notable success has been the excellent Forma Adventure, which continues to see riders raving about its good looks and performance. 
The Jasper isn't quite as striking in the looks department, but it's a nicely styled boot that doesn't look out of place next to more expensive rivals. It feels like a quality piece of footwear with neat double-stitched seams and a tidy seal between sole and full-grain leather outer. 
The Jasper features shin, heel, toe and ankle protection and the boot feels reassuringly stiff enough to provide good protection if the worst happens. The boots are easy to slip on and off, featuring a simple but effective zip and Velcro opening. A padded inner liner makes your feet feel nice and cosy, although the stiffness of the leather means these aren't the most comfortable of boots to walk around in. I imagine this would improve once they have been fully broken in.
Apart from this, it's difficult to find fault with the Forma Jasper and I have no doubts about its all-day comfort on the bike. 
It also features an OutDry breathable waterproof membrane which helped the boot sail through our waterproofness test. 
The fact you can buy such a stylish and competent waterproof touring boot at a penny under £180 is testament to the Forma brand which continues to go from strength to strength.
IN A LINE: Good value all-round touring boot.
REV'IT! GRAVEL OUTDRY 8/10
£189.99 | www.revitsport.com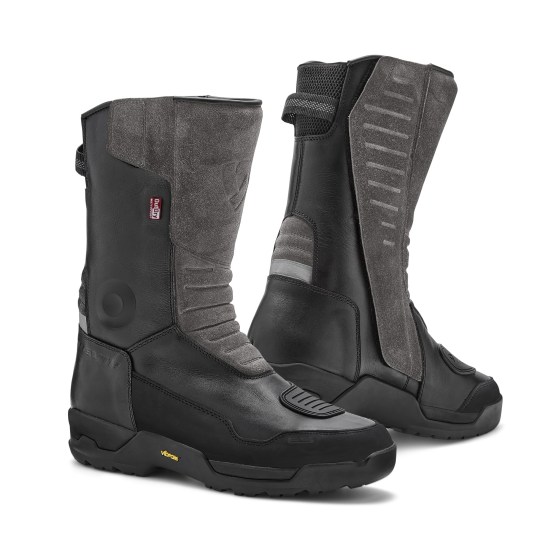 REV'IT! has a knack of making stylishly desirable motorcycle gear that performs to a high standard. With the Gravel OutDry, the Dutch manufacturer continues this trend with a boot that feels good, although its looks are an acquired taste. It's not quite my style but I'm sure there are others out there who will like it. 
Slipping it on for the first time, it's immediately obvious that this boot means business. It's one of the most rigid pieces of footwear in this test, offering good levels of protection. 
The Gravel OutDry features a shin guard, ankle guard, heel cup and toe box – areas that are reinforced for added protection. The boot is made from full-grain cowhide leather and suede, with a laminated OutDry waterproof layer bonded to the outer fabric. This stops water getting in and in fact, the Gravel OutDry passed our waterproofing test without a hitch. 
I like the rubber outer sole with its chunky grip that looks similar to a walking boot. However, the rigidity of the Gravel OutDry means it isn't the most comfortable of boots to walk any distance in. If you spend a lot of time on foot during your motorcycle adventures, this may not be the boot for you. 
Inside, the lining isn't the thickest on test but feels comfortable and REV'IT! has also added a mesh liner around the top of the boot to wick away sweat for added comfort. 
Perhaps due to the stiffness of the boot, it isn't the easiest to slip on or off. It was good to see a big, chunky zip at the side opening, but alongside this is a huge amount of Velcro running the length of the boot. It feels secure when closed, but it is noisy to rip open and I fear in time it could get clogged up with mud and crud. 
Despite this, there's no doubting the Gravel OutDry is a well-made piece of quality footwear at a competitive price, that is styled differently to much of the competition.
IN A LINE: Protective multi-season boot at a good price.
SIDI ARIA GORE 8/10
£219.99 | www.sidiselect.co.uk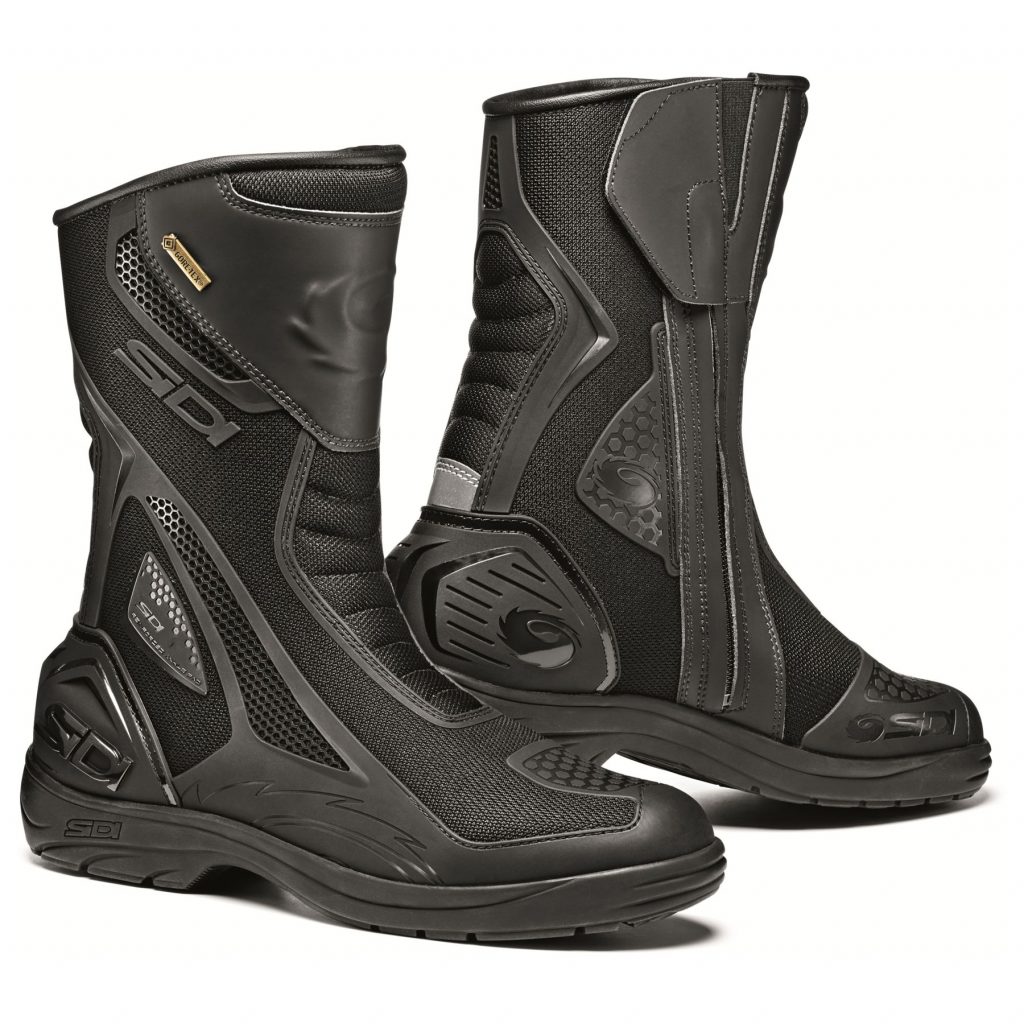 Not all of us ride throughout the winter in the UK, which means we don't all necessarily need a touring boot that will keep our feet warm during ice, snow and plummeting temperatures. 
The SIDI Aria Gore, much like the TCX boot in this test, is a three-season boot aimed at bikers who ride in spring, summer and autumn. It will particularly appeal to those who need a cooler boot for riding in hotter temperatures, but who still need the versatility waterproof footwear brings. 
It may come as no surprise then that Italian designed SIDI and TCX boots are very similar in design and features. I find the SIDI more comfortable to wear because it is wider at the bridge of my foot, but apart from that it's hard to differentiate the two. 
With an eye on warmer weather, SIDI has foregone the usual full leather construction, which is the norm for touring boots. Instead it has opted for an abrasion resistant Cordura. 
The Cordura shell is accompanied by TPU plastic and Technomicro (a kind of synthetic leather) which provides protection at the heel, toe, ankles and shin. However, the shin and ankle protection do not feel quite as solid as some of the other boots on this test. The Aria Gore uses a simple zip and Velcro combination which makes it easy to slip on and off. 
SIDI has built a strong reputation for producing top quality motorcycle footwear and the Aria Gore continues that tradition. It is quite a stiff boot which I personally like, but it will take a bit of time breaking in off the bike. That stiffness does bring a reassuring tough feel to the boot though. 
With the SIDI being so similar to the TCX in both performance and design, your choice between the two, if you're looking for a lighter weight touring boot, will inevitably come down to which one fits your foot shape better.
IN A LINE: High quality three-season boot, ideal for warmer weather.
ALPINESTARS CARACAL GORE-TEX BOOT 8/10
£269.99 | www.alpinestars.com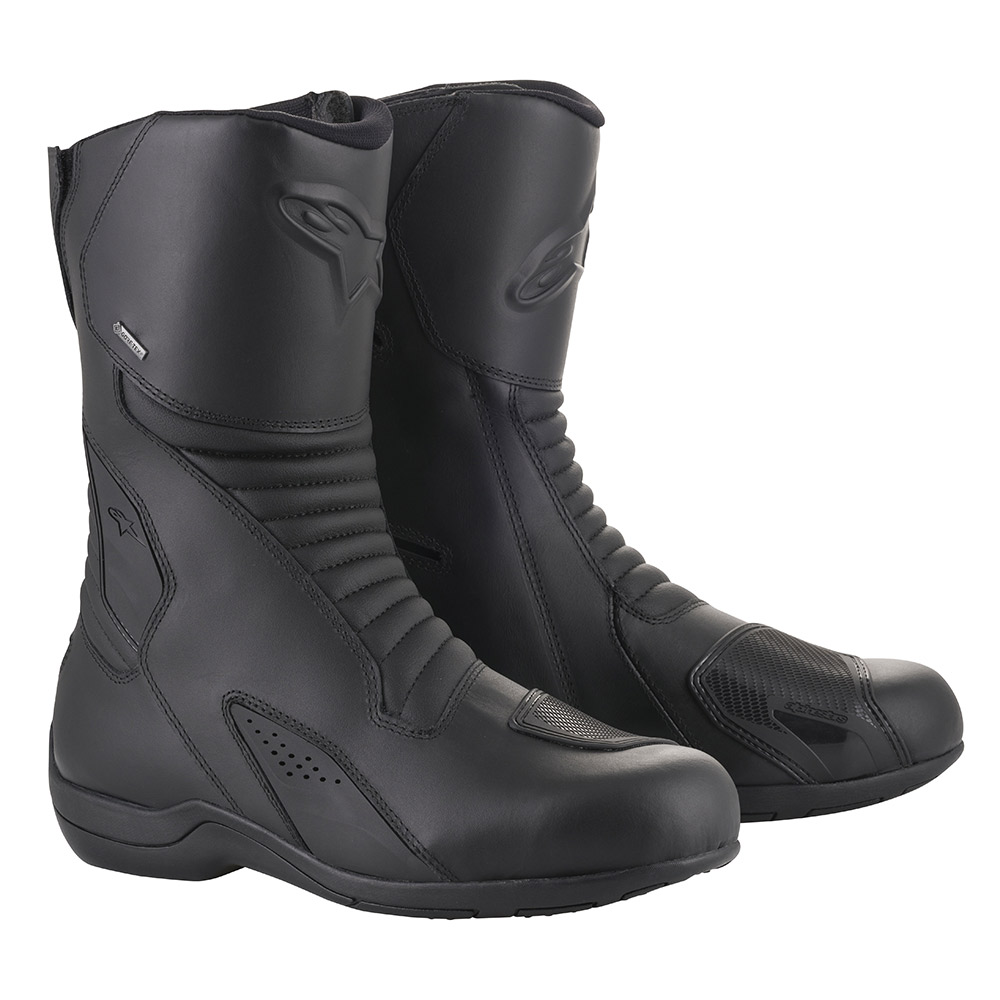 The Caracal is a sleek and stylish full leather boot in all black. Personally, I'm not a fan of shouty logos emblazoned across my bike gear, so I was pleased to see Alpinestars opt for a subtle approach on the Caracal. 
This is a quality piece of footwear, from its double-stitched seams to its Gore-Tex waterproof liner. They're flexible enough to make walking around in them an enjoyable experience while feeling rigid enough to reassure that they would offer my feet suitable protection in an accident. 
When I slipped the boot on, it immediately felt narrower across the bridge of the foot than some of its rivals. This is something I've come to expect from Italian designed footwear and I'd recommend trying on a size larger than usual to see if this fits better. Once on, the Caracal feels snug and comfy, aided by a soft inner lining. It's a close fit, but not an uncomfortable one. There is some adjustability in the rear calf flap. 
Waterproofing comes in the form of a Gore-Tex membrane which proved watertight when we plunged the boot into water. Protection is provided by a shin guard, heel cup, toe box and double density ankle protectors, along with the abrasion resistant leather used to construct the boot. All feel robust and up to job of protecting your feet from crushing and abrasion if you find yourself sliding down the road. 
I've worn Alpinestars touring boots in all weathers over the past few years and they have never let me down. They also kept my feet in one piece when I recently had a nasty motorbike accident. I've no reason to think the Caracal GoreTex boot will be any different.
IN A LINE: Classy-looking touring boot – try a size up.
BMW PRO-TOURING 2 8/10
£265 | www.bmw-motorrad.co.uk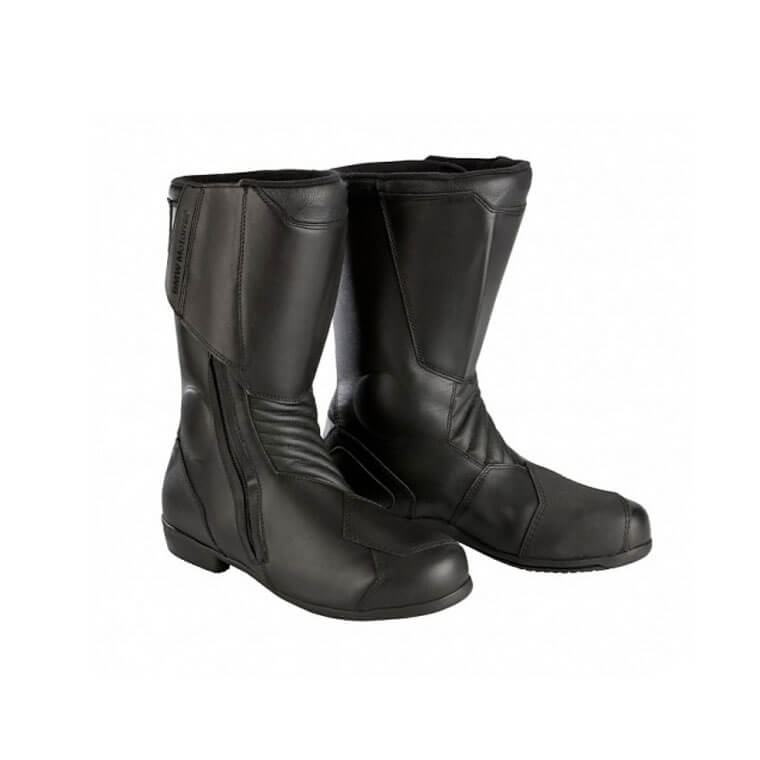 My daily ride isn't a BMW motorcycle, which is probably why I've never considered buying the German manufacturer's clothing. There is no logical reason for this other than I would personally feel a bit odd sporting a big BMW logo while riding my Triumph. 
The Pro-Touring 2 may well have just changed my mind. For a start, the logo is so subtly placed on a Velcro flap that you could easily miss it. In fact, this is an incredibly classy looking piece of footwear all-round, more akin to a horse riding boot in style. 
It also feels well made, without a single untidy seam or join in sight. The protective heel cup, toe box, ankle and shin guards feel substantial but are subtly integrated into the design so as not to ruin the stylish simplicity of the boot. 
It is constructed from hydrophobic, fullgrain, soft cowhide leather, with a bonded Gore-Tex membrane. The result is a smooth, quality finish, that is fully waterproof – it passed the ABR test with ease. 
The Pro-Touring 2 slips onto your foot with ease and immediately feels comfortable, thanks in part to the soft velour lining. Unusually, the single zip and Velcro opening is on the outside of the boot rather than the inside. 
The boot has quite a pronounced heel on the rubber-treaded sole which felt fine on the foot pegs and didn't hinder movement when changing gear. BMW says the sole is oil and fuel resistant. While we didn't create an oil spill for this test, it felt grippy on the road and on the pegs. 
The boot's soft-leather construction makes it a pleasure to wear and I would quite happily ride for days on end, or spend an afternoon sightseeing on foot, while wearing the BMW Pro-Touring 2 boot. Now I just need to save up for that 1250 GS to go with it.
IN A LINE: Quality BMW branded boot that oozes style.
DAYTONA ROAD STAR GTX 9/10
£419.99 | www.tranam.co.uk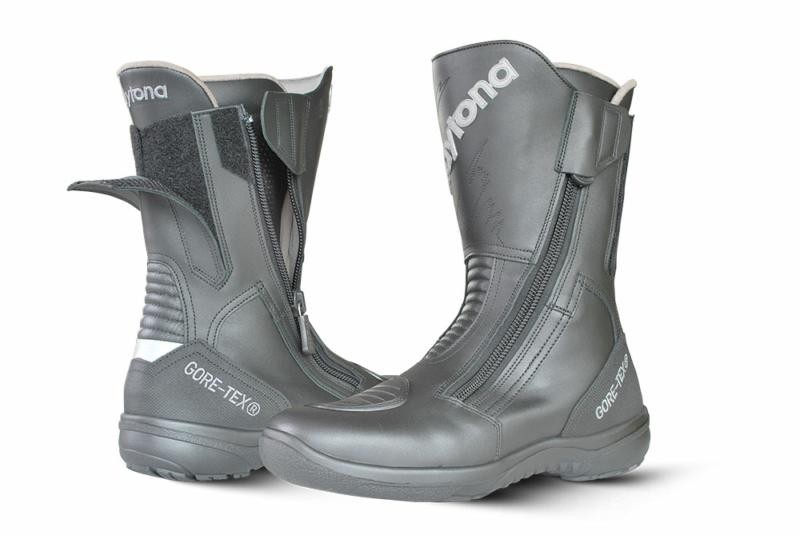 The Road Star GTX sits close to top of the food chain in the touring boot world. Handmade in Germany, it oozes quality straight out of the box. This should come as no surprise from a manufacturer that takes six to eight weeks to make a pair of boots. 
At £419.99, it's the most expensive boot in our test, but there's a reason it has proved so popular with riders over the years. If you're willing to splash the cash, you'll be buying into thousands of miles of comfort and protection on the road, backed-up by a two-year Gore-Tex waterproofing warranty and a one-year manufacturer warranty. 
Talking of waterproofing, the Road Star GTX passed our test with flying colours, with the inside of the boot remaining completely dry. This is thanks to the hydrophobic cowhide and Gore-Tex membrane used to make the boot, as well as the high-quality finish that left no room for water to seep through seams or zips.
Safety comes in the form of plastic ankle and shin protectors along with a solid heel cup and toe box. There is a steel rod running the length off the boot, as well as a plastic reinforced inner sole. This allows enough flexibility to feel comfortable walking around off the bike, while providing enough rigidity to reassure me the boot would perform in the event of an accident. 
The two-zip fastening system ensures the boot is easy to slip on and off and features a nice chunky zip which can be gripped with even the thickest of winter gloves. 
This is an extremely comfortable boot with a plush inner liner that helps keep your feet warm on cold days. It also features a suede cuff at the top for added comfort. It's a nice touch and reflects the high-end nature of the boot. Adjustability at the calf means you can tailor the fit around your leg. 
A non-slip rubber sole felt solid on the foot pegs and offered enough grip to feel confident walking around in the rain. 
Much like many of the boots in this test, there is nothing flashy about the Road Star GTX. It simply looks like a high-quality item, from the neat stitching around the subtle gear shifter pad, to the textile reinforcement around the heel for added abrasion resistance.
IN A LINE: Long distance comfort and protection – top quality at a price to match.