Get the most out of your adventure bike at home
To celebrate the UK's wettest summer months on record, we're making a splash this issue with a UK Green Laning special. Mike Beddows takes us through some of his favourite fords
Who's riding?
Mike Beddows, 35, is from Runcorn, but he's a Yorkshireman at heart. He likes trail riding and wild camping and dislikes tarmac. This year, Mike's planning to trail ride across England from coast to coast. He dreams of circumnavigating Australia with his wife, once the kids have all grown up
Fords, water-crossings, puddles…  You either relish the thrill of getting your bike through water obstacles or absolutely hate the idea. Personally, I love it, and will ride miles out of my way to go through a new ford or deep puddle. In this big-splash special, we'll cover Mid Wales' fantastic Strata Florida, 8.8 miles of knee-and waist-deep puddles and 15 ford crossings – definitely a trail for the water-lover! We'll also look at trails in North Wales and Cumbria, which are shorter in length but none the less wet or challenging. The fords outlined here are suitable for experienced riders only. For details of fords in your local area, check out www.wetroads.co.uk.
Green lane 7: Mid Wales
Strata Florida, Mid Wales 8.8 miles
The Strata Florida is a fantastic trail if you love water crossings, but it's not one to attempt solo. Fall off mid-crossing on your own and you'll be in trouble. In the dry, the puddles are deep; in the wet they can be downright dangerous. The river is extremely powerful, too. To get an idea of what conditions are like after heavy rainfall, check out this YouTube video, The Nutters Strata Florida Green Laning (www.youtube.com/watch?v=kWgvFAq0OpE).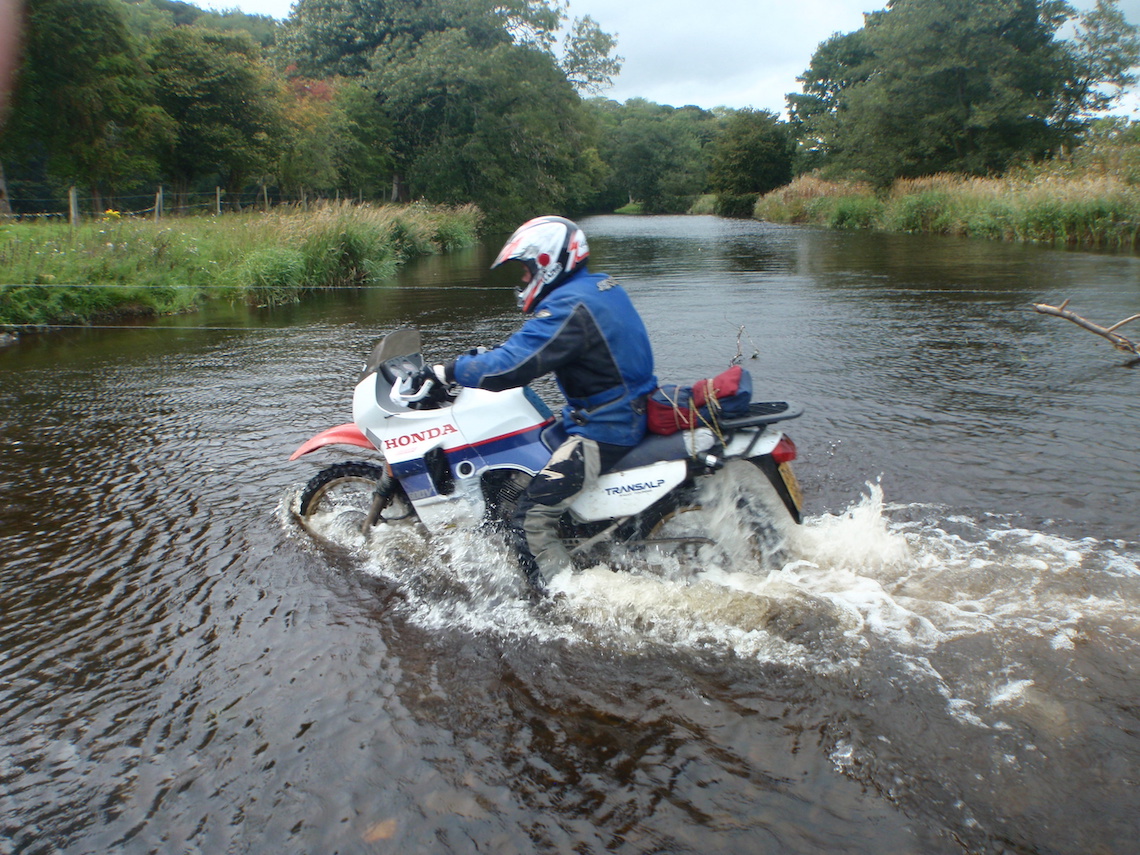 The route I've mapped starts at Strata Florida Abbey, so it's easy to find the start location, but if you're unsure whether you'll make it across all the fords, do this route in reverse as the most difficult crossings are those at the end. If the river's running really high, the 12th ford may be totally impassable.
Various factors, such as changes in current and shifting rocks, can alter the best path across a ford on a daily basis. For this reason, I can't give detailed specifics on how to tackle each crossing, but I've included the ford number and distance from the start, to help identify each water obstacle.
Route planning points
1 Start at Strata Florida Abbey. 2 Ride for 1 mile along a single-track tarmac road. The trail now starts on the left. 3 Proceed uphill along the rocky hard-based trail for 0.9 miles. (1.9 miles). At the intersection with the gravel road, continue straight on. 4 Continue for 0.4 miles and go through the gate. (2.3 miles). 5 The trail proceeds uphill along a rocky track. As the track levels out there are several large water splashes; the water here can be deep. (3 miles). 6 Continue down the trail for 0.3 miles, again more rocks but not technically difficult. (3.3 miles). At the intersection, turn right then immediately left. You are presented with a large, deep puddle. From here on there are many large puddles and water splashes. 7 First ford at 3.7 miles. This is an easy, small ford.
8 Second ford at 3.9 miles. This is slightly bigger than the first. 9 Third ford at 4.3 miles. Take care, there are large rocks in the middle of this ford. Keep right if possible; stay clear of the middle. 10 Forth ford straight after the above. The trail now forms the base of the flowing water. It isn't deep, but as water flows across the trail, I've classed this as a ford. There are lots of rocks. In wet weather, this section is tricky. 11 Fifth ford at 5 miles. At the intersection, continue straight on. (5.1 miles). 12 Sixth ford at 5.3 miles. This is the deepest ford so far. 13 Seventh ford at 5.7 miles. This is the longest ford on the Strata Florida. Keep left for the shallow route. 14 Eighth ford at 5.8 miles. When water levels are low, this ford can be dry. 15 Ninth ford at 5.9 miles. 16 10th ford at 6 miles. 17 11th ford at 6.4 miles. This one is a tiny stream. 18 12th ford at 6.5 miles. This has a tricky exit. If the water level is low, it won't prove a problem; if it's high, the rock step at the far end will be hidden. Be aware of it. Stay left if possible as the right-hand side of the exit is steep and can be slippery. 19 13th ford at 6.5 miles. It's worth walking to this one and making a mental note of the way across. It's not difficult, but the pool on the left can be deep if you enter incorrectly. 20 14th ford at 7.4 miles. Small ford. 21 15th ford at 7.7 miles. Small ford. 22 The trail ends when meeting the tarmac road at 8.8 miles.
Route facts
Distance: 8.8 miles Nearest village: Pontrhydfendigaid Maps: OS Landranger map 147, Cwm Elan a Llanfair-ym-Muallt 1:50,000 Start/end grid reference: SN746657 / SN805569 Difficulty rating (out of 5): 3 Wow factor (out of 5): 5
Other trails: There's a great selection of fantastic trails in the local Mid Wales area of varying difficulty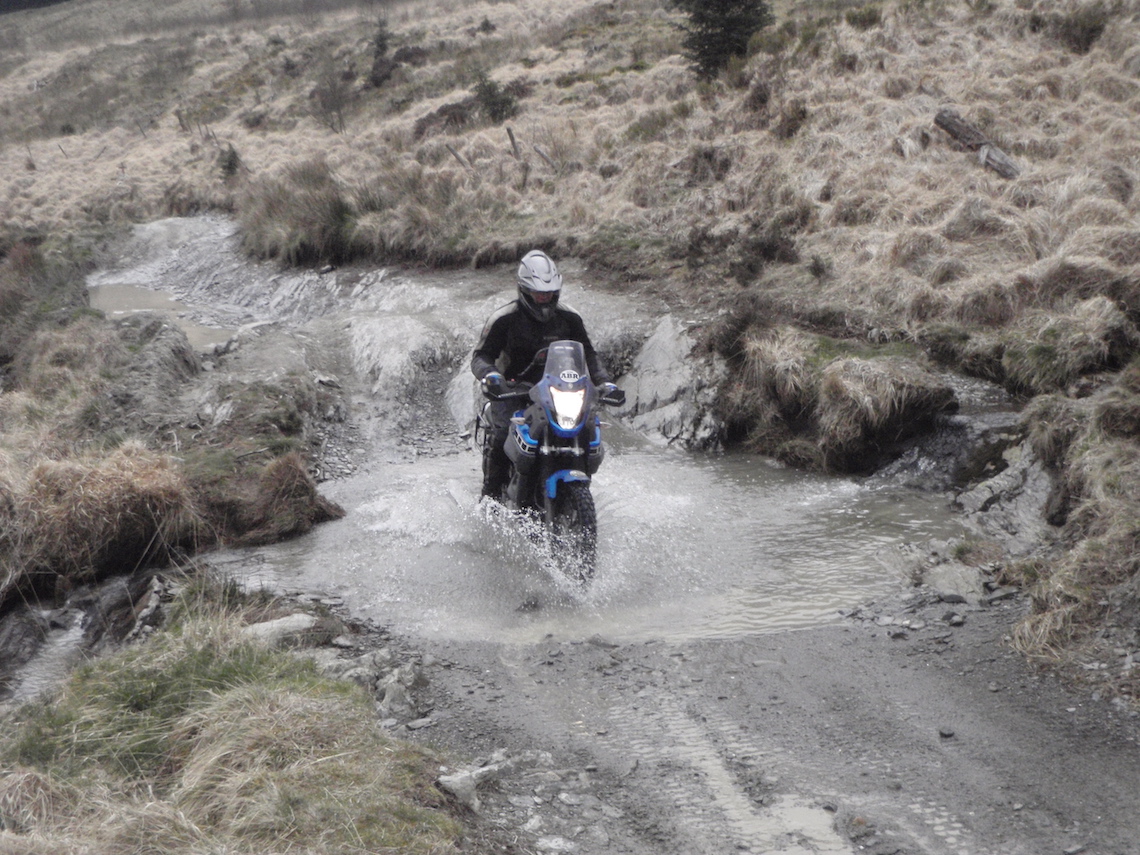 Green lane 8: North Wales
Corwen Car Wash, North Wales 0.4 miles
This is a fantastic ford approximately 60m wide near the small village of Corwen in North Wales. The water is knee-to waist-deep on average. This is definitely not a ford for beginners, but it's a lot of fun once you've built up your water-crossing experience.
The Corwen Car Wash is well used by 4x4s, so the soft, rocky bottom may have unseen ruts. Don't attempt this ford unless you can see the barbed wire on either side of the ford route. This wire is there to stop cows straying when they cross the ford. If you can't see these wires then the ford's far too deep to cross.
This ford can be done in both directions. The entry and exit points are easy to negotiate, but bear in mind that the water is deepest towards the far side (see map on p.56 for approach routes). It's not easy to ride across without putting your feet down, so expect to get wet on this ford. The ground under the water ranges from pebbles to rocks bigger than your fist. These are difficult to ride over, but if you can, try to keep your momentum up as once you've stopped it's hard to get going again. The flow is modest but as long as there hasn't been excessive rain, it shouldn't prove a problem.
Route planning points
1 Access to the ford is down an easy 4×4 farm trail. 2 The water is deepest at the far side of the ford.
Route facts
Distance: 0.4 miles Nearest village: Corwen (Llangollen approximately 10 miles east) Maps: OS Explorer map 255, Llangollen and Berwyn, 1:25,000 Start/ end grid reference: SJ054426/ SJ058429 Difficulty rating (out of 5): 3
Wow factor (out of 5): 4 Other trails: There are some fantastic, long trails in the North Wales area ranging in difficulty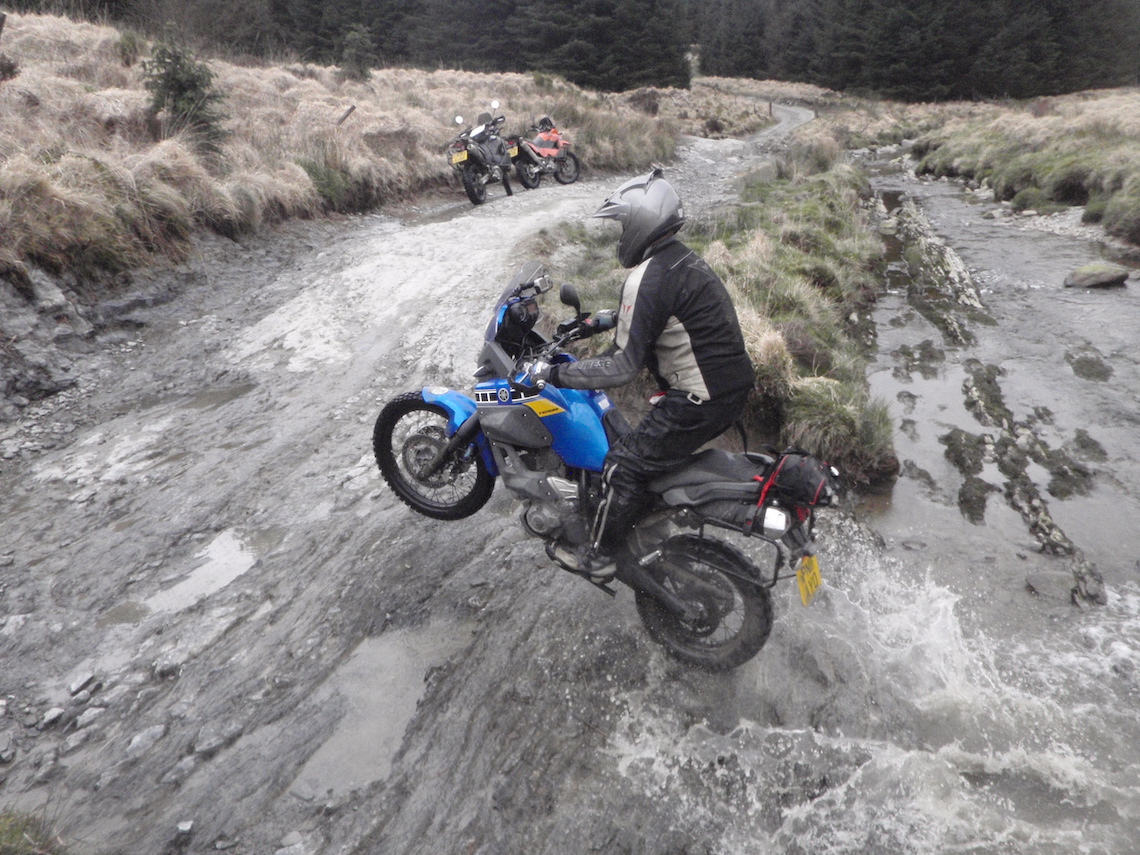 Green lane 9: Cumbria
Winton, Cumbria 1.09 miles
The green lane containing this ford crossing is located close to the village of Winton, a few miles North of Kirkby Stephen in Cumbria, the location of ABR's now-infamous Boil rallies. This is a fantastic ford with difficult entry and exit points.
Before attempting this ford, it's a good idea to use the foot bridge to walk to the far side and make sure you can achieve the exit, which is a steep soil/gravel bank. The entrance to the Winton ford is down a steep bank. The ford is split into two parts when water levels are low, though I assume these two sections will merge if water levels are high enough. My advice would be that if you can't see an island between the two sections, don't attempt the crossing as it's likely too deep.
The first part of the ford is the easiest to cross where the ground consists of small, loose stones. Take care you're not carrying too much speed after dropping down the entrance bank. Once you reach the 'island', park the bike and take a look at the exit on the far bank.
The second part of the ford is knee-deep and fast flowing. The bottom ranges from loose stones to slab rock that's very slippery, but it's possible to avoid some of the larger, loose rocks by taking a route over these slabs. As always, conditions under water will change, so make sure you check it out first and pick your own line. The exit is difficult to get up; take care not to flip the bike as you near the top. This ford can be attempted in both directions.
Route planning points
1 Entrance to the green lane. Continue to the ford at point 2 down an easy farm track. 2 Stop the bike and survey the ford, walk over the footbridge and take note of the exit. 3 Continuing along the lane there's a bonus ford heading back across the river. I expect this is just access to a farmer's field, so attempt at your own risk. There are no vehicular rights here. 4 Trail ends 5 Bonus ford, this is on a legal track and is a straightforward crossing.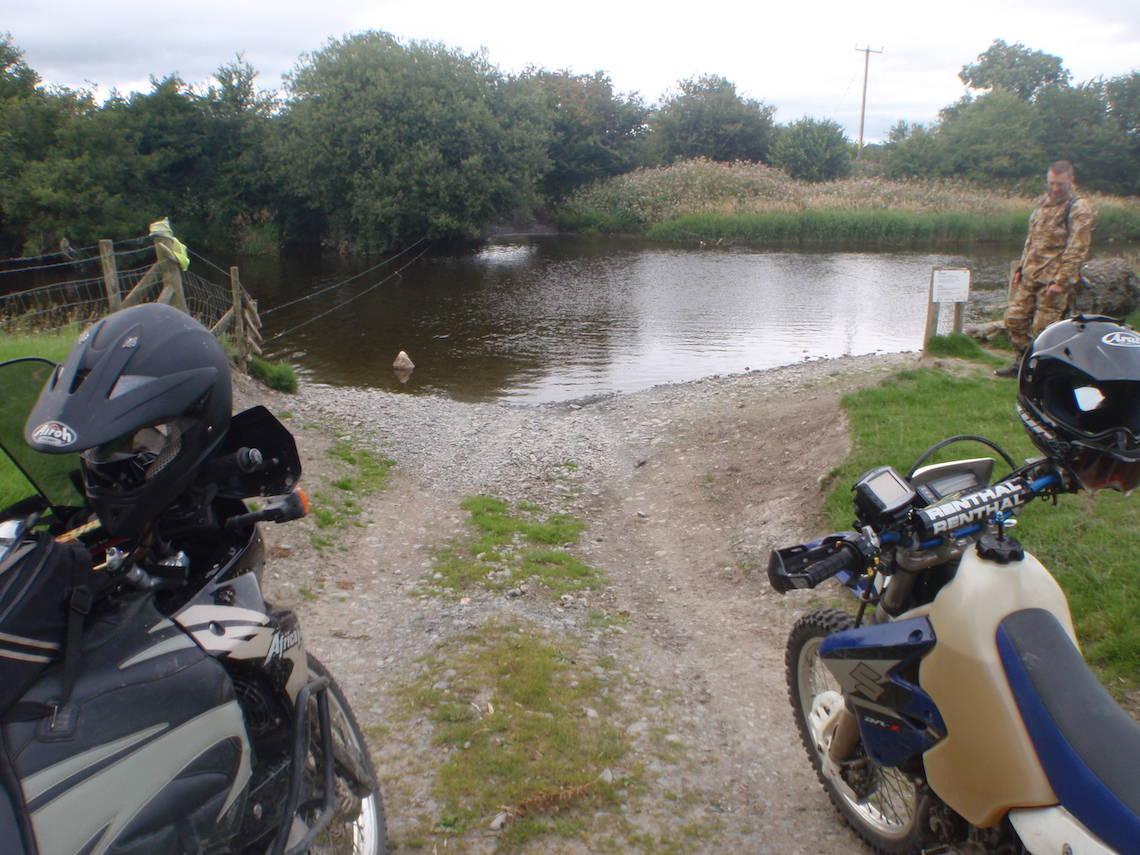 Route facts
Distance: 1.09 miles Nearest village: Winton (Kirkby Stephen to the south) Maps: OS Landranger map 91, Appleby-in-Westmorland, 1:50,000 Start/end grid reference: NY771114/ NY755112 Difficulty rating (out of 5): 4 Wow factor (out of 5): 3 Other trails: Lots of long trails in the south local area. Keep an eye on the ABR forum at www.adventurebikerider.com for news of ABR rallies and ride-outs in Cumbria
Water crossings: good practice
Official advice from ABR's green lane guru, Mike, is that any water crossing should be approached with extreme care; if possible, never attempt one unaided. Stop the bike and proceed on foot first, to check out the submerged terrain. If you can see the bottom of the crossing, it's easy to spot any potential obstacles, but if the water is muddy, walking the route first will help you judge the best path to take through the water. Never attempt any crossing that's too deep and/or involves fast-flowing water. It's just not worth it.
When negotiating a water crossing, be aware that you can seriously damage your bike if you drop it. Ride slowly and keep the revs on, to prevent you getting stuck and water being sucked into the engine. If you feel like you're going to drop the bike in water, hit the kill switch as soon as possible, even if it means you lose your balance and end up going for a swim.
Results from an unofficial office survey, however, suggest that the popular alternative approach is to engage a big grin and go for it!