This Issue: Charity Lane and Macclesfield Old Road, The Peak District, and Thurrish Lane, West Yorkshire
Charity Lane and Macclesfield Old Road, The Peak District

These three lanes form my normal route into (and out of) the Peak District. The first is a very straightforward lane (grade one-two) and I only do it as it's on my way (I wouldn't go out of the way to do it in all honesty) and it's good to use as a warm-up run before the second trail.
Charity Lane (grade three) is next, and it is a bit more technical in the middle section (I would go out of my way for this lane as it is really good fun), the third lane is Macclesfield Old Road, which again is great fun, especially the descent towards Buxton. Both Charity Lane and Macclesfield Old Road are fantastic when done in reverse as well. 
Whilst you are in the area, if you have the time it's worth riding the A537 (more commonly known as the Cat and Fiddle) in its entirety from Macclesfi eld to Buxton. It has some great scenery and is a really twisty motorbiking road.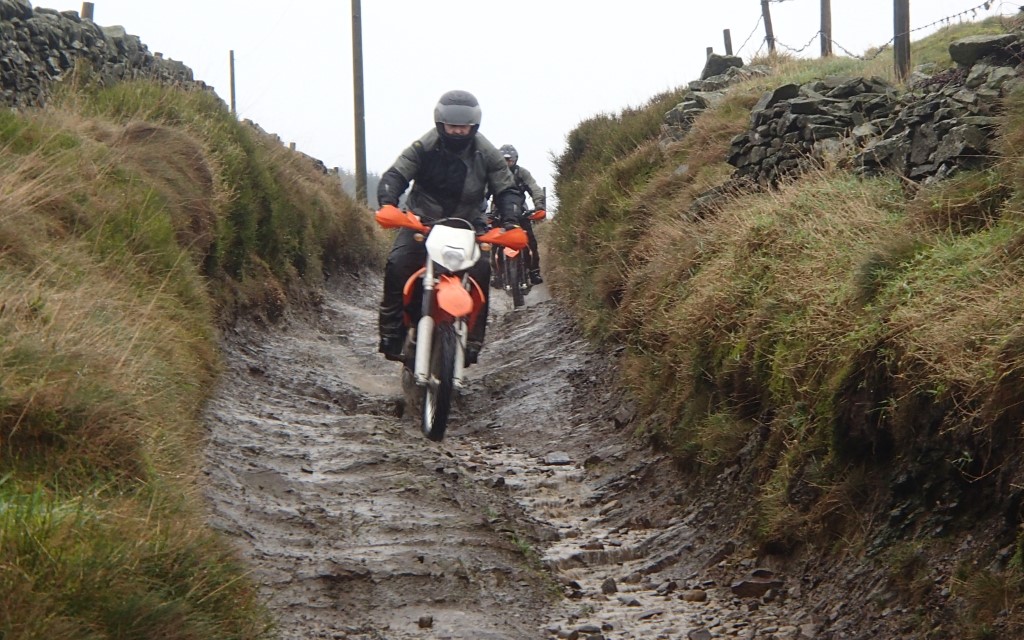 Take care though, as there have been numerous accidents over the years, so much so that a 50mph speed limit has been imposed. Although, as it's an average speed check over the entire section, it doesn't stop bikers riding fast to the top where there is the Cat and Fiddle pub, having a drink and then completing the next section, thus avoiding a high average speed check, rightly or wrongly. 
Take care in the winter on Charity Lane. The downhill eroded section can become very icy. Something I found out whilst riding to a winter meet several years ago. Although the temp when I left mine was -5C it didn't stop me trail riding the lanes en route. It was dark, very cold and I was solo.
A recipe for disaster, which came when I hit the sheet ice and fell off halfway through Charity Lane. Long story short, after a two-mile walk out to a local pub I called my wife who came to collect me in the car. I had to abandon the bike and go collect it the following day
1-2 
This is a very easy introduction lane and suitable for beginners. It's basically a farm access track. Take it steady when entering the lane, the access is also used by the house just to the left. The lane has a hard compact base and shouldn't trouble anyone. There are no gates which is always a bonus.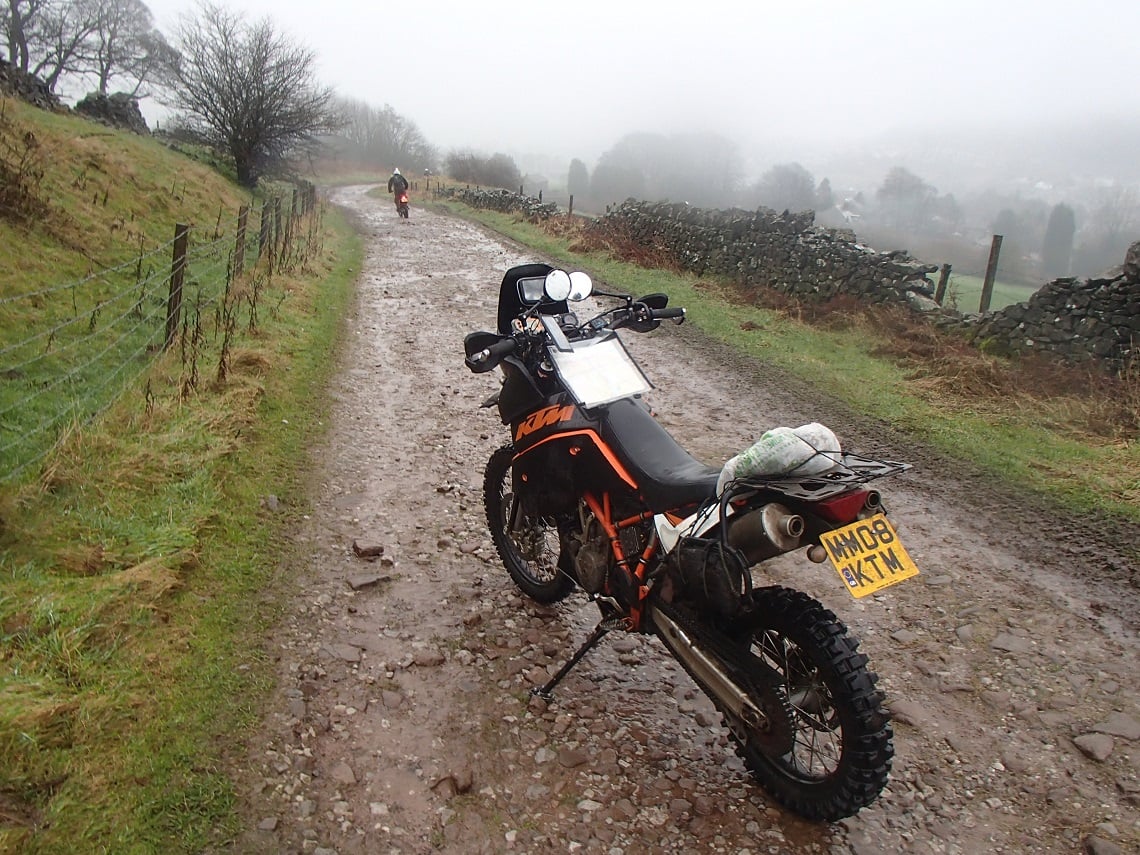 2-3 
Tarmac section. 
3-4 
On an OS map Charity Lane appears as a white standard road. Do not believe this, this lane is far from a 'normal' road, and for some of its length not suitable for cars, even 4x4s. It starts as a well-graded track about a car-width wide. There are plenty of golf-ball-sized stones which take some riding over. Once you reach an electricity substation the terrain changes. 
4-5 
The trail starts heading downhill following the wood line to the right. The going is still fairly easy, with a mix of shallow ruts over a solid base. You may encounter a few puddles and the occasional muddy bit.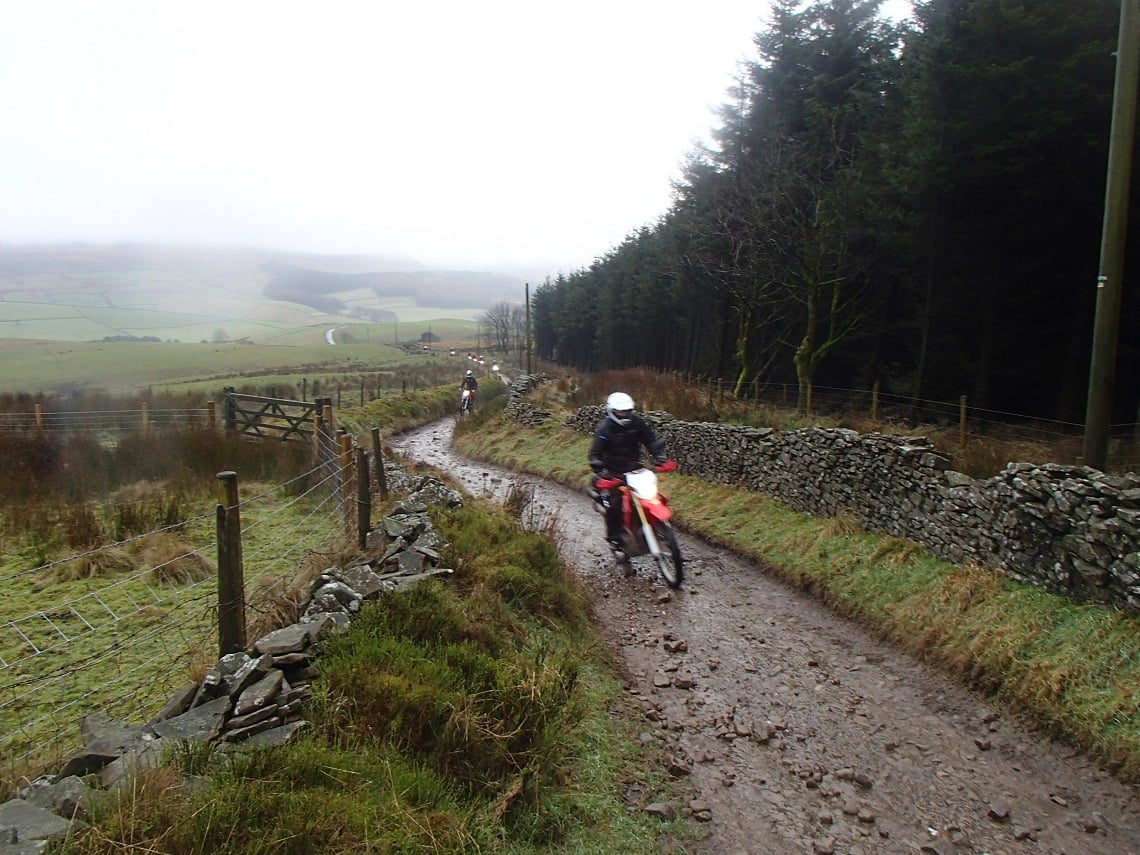 5-6 
This is the trickiest section of Charity Lane. As it heads down, you have no option but to ride in the stony rut, the steep banks on either side being impossible to navigate. It's just wide enough to ride down stood up on the pegs.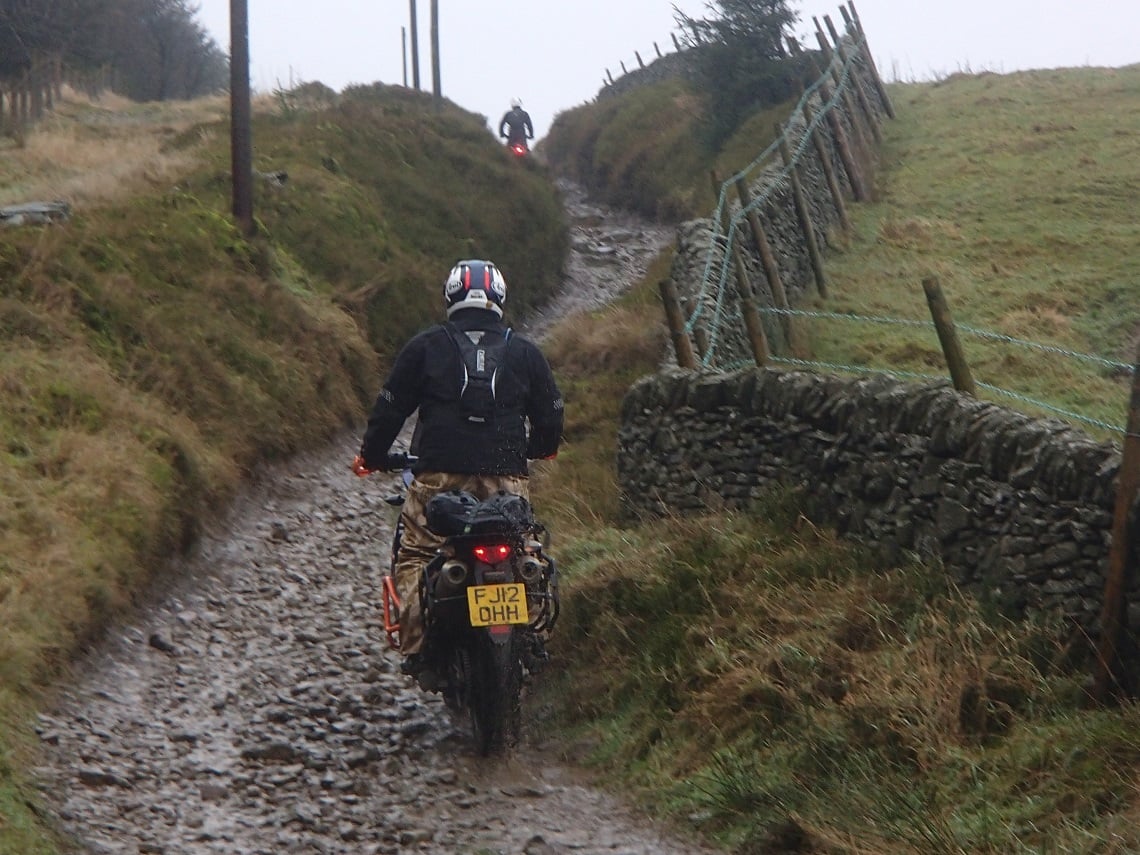 As all water has no option but to head down this way it is slowly getting eroded deeper. It's fairly steep and there are a couple of steps to drop off. It looks a lot worse than it is, and it's far easier to stand up and ride down than it is to sit and waddle down slowly. 
6-7 
After the steep bit it starts to level out, there's access to fields here so the farmers have to get their tractors up the following section, and it now becomes a bit easier. The final part of the lane is good fun, a few rock steps to ride down but if you've got this far the hardest bit is behind you. Continue to the tarmac. 
7-8 
Ride the tarmac to the next lane. 
8-9 
Start Macclesfield Old Road. This can be split into two sections, up and down. The up is fairly easy and once past the first 50 metres, that consists of some rock slabs to bounce up, and you ride a wide stony track over a moor. As you near the top there's evidence of lots of off-piste from 4x4s. Stick to the track. 
9-10 
Time to start the descent towards Buxton. This bit is probably the most difficult of all the trails marked in this issue. There are lots of large rocks strewn all over. I always make a point of riding down without dabbing.
It's not as easy as it sounds. If I dab, I have to turn around, ride back up (without dabbing) and try again. I have been known to spend quite some time doing this! 
Bonus lane, Dane Valley Way: just because it's there. I wouldn't suggest looping back to do it if you are heading further into the Peaks from Buxton, but it's good to know where it is in case you are passing. 
10-11 
Tarmac section. 
11-12 
This is a short byway passing through farmers' fields. It can get fairly muddy and there are a few gates which is why I normally don't bother, but it's good to know it's here.
---
Did you know?
The Cat and Fiddle is a twisty road (A537) between Buxton and Macclesfield, named after the Cat and Fiddle Inn which is a pub at the summit. It has fantastic scenic views across the Greater Manchester area, the Peak District National Park and the Cheshire Plain.
It is extremely popular with motorcyclists and is often classed as the most dangerous road in the UK. The Cat and Fiddle Inn, at 515m above sea level, is the second-highest pub in England (the Tan Hill Inn in the Yorkshire Dales being the highest).
---
Thurrish Lane, West Yorkshire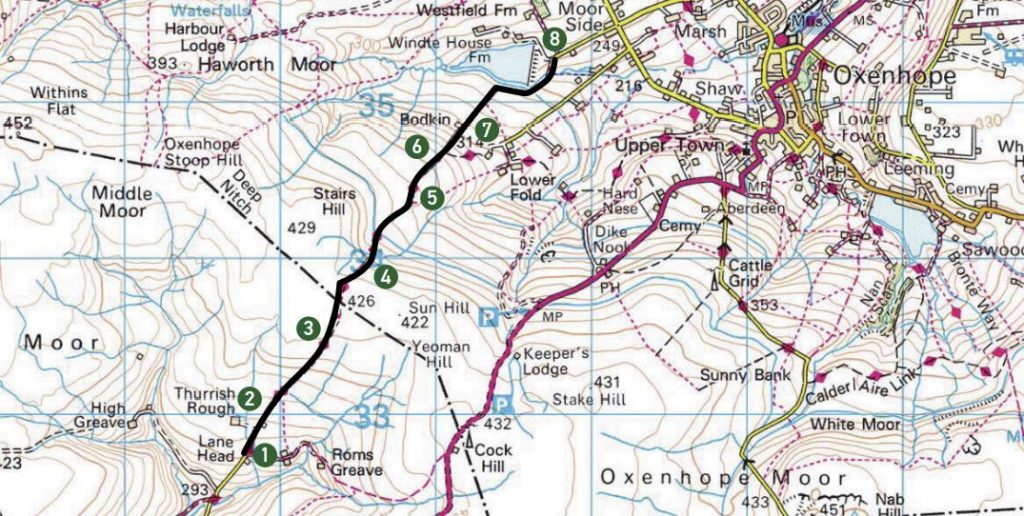 This is a really enjoyable moorland track that's fairly straightforward for most of its length but does have a very steep rocky descent towards the end. This will count it out for beginners, unfortunately (unless you turn around before the end!).
When I say steep, I really do mean steep. You will want to be hanging back as far as you can to the rear of your bike. The ground is fairly good and there was a lot of grip when I did it in the dry, but I'd expect the cobbled bit on the steep section to be pretty slippery in the wet, so take care.
It is fantastic going back up for the more adventurous out there. If you think it's too steep to ride down (I've done it comfortably on a KTM 950 SE loaded with luggage) the best approach is to wheel it down, engine off and use the clutch as a brake (make sure the ignition key is off otherwise the bike may actually bump start).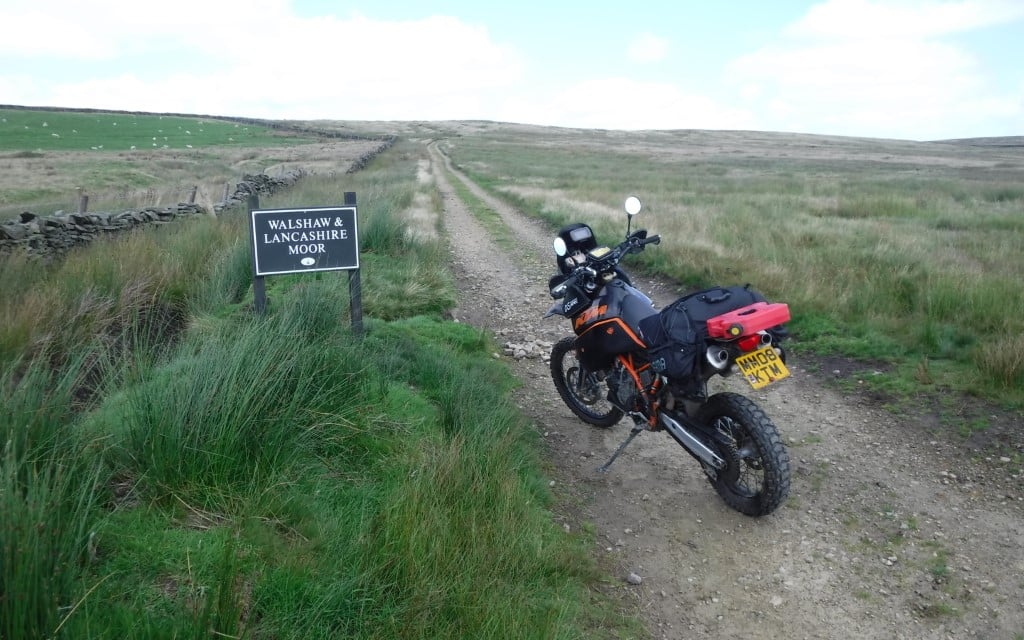 Unfortunately, there are not many more legal lanes in the surrounding area and I've only used this one whilst travelling to (and from) other places (Yorkshire Dales to the northwest and North York Moors to the northeast). At its highest point, it is 426 metres up, so this area will be very bleak in bad weather and expect snow and ice in the winter months which will add to the technicality of the descent at the end. 
1-2 
The lane starts at the end of a long, single-track tarmac road that winds its way along the hillside of a valley. It begins as a 4×4-wide graded track. Grass is growing in the middle, and it's hard-packed at either side. As you proceed it's fairly flat with a few shallow puddles. The grass in the middle soon dissipates. After about 100 metres you reach a gate. 
2-3 
Proceed through the gate, you are now on the moors. There's a stone wall on the left and open moors to the right. Pass a track to the left, keep going straight. The trail soon turns to a typical high moorland track as you head uphill. There are now bigger loose stones to contend with, nothing too difficult to worry about though. 
3-4 
It's worth stopping and taking a look at the views behind you. You are still following the stone wall to your left and the going is still fairly easy. A few shallow ruts appear as you continue. There's more standing water but nothing too deep or troublesome.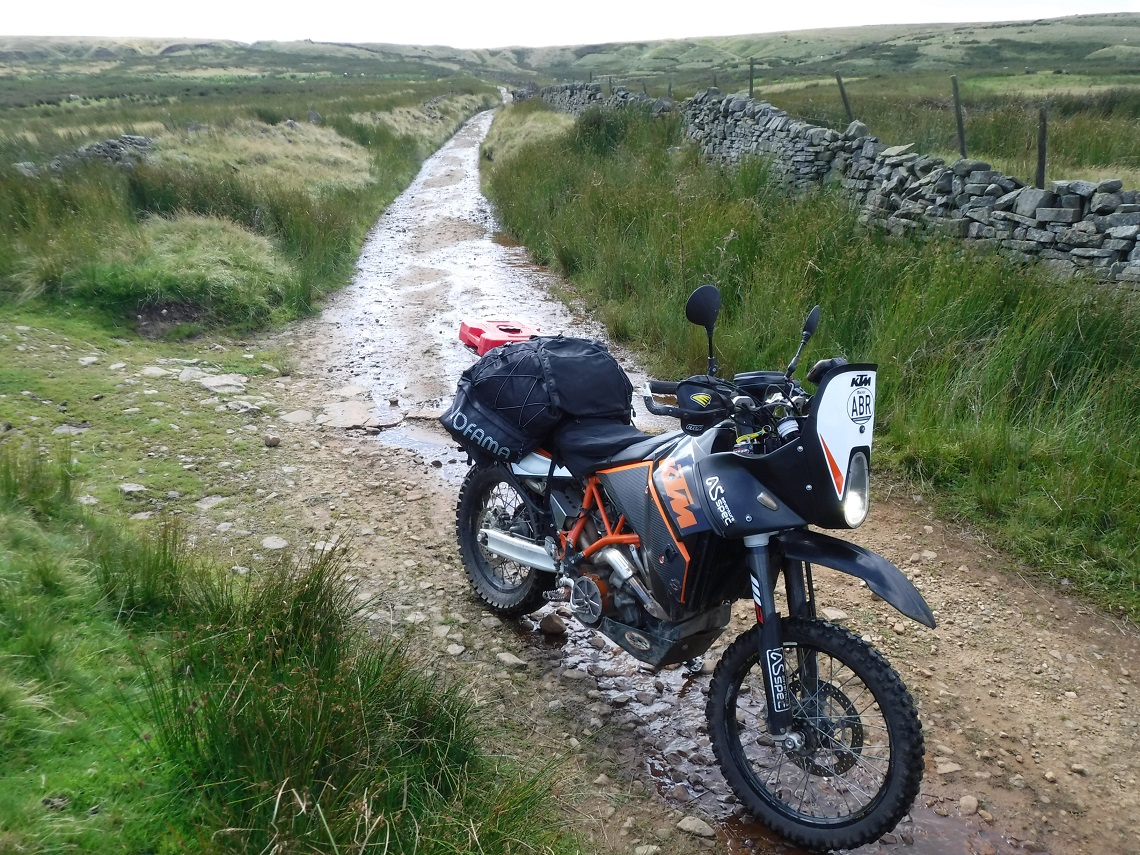 You have now reached the highest point at 426 metres so it will be pretty bleak here in bad weather. It's all downhill from here. The views ahead are fantastic. 
4-5 
It's more technical now as you head down the trail (grade three). Lots of bigger, loose rocks litter the track. Proceed down between steep-sided banks. The trail is approximately a car-width wide so there's no chance to turn around, so only proceed if you are comfortable with the steepness of the trail. A large gully appears to the right. Continue to the gate.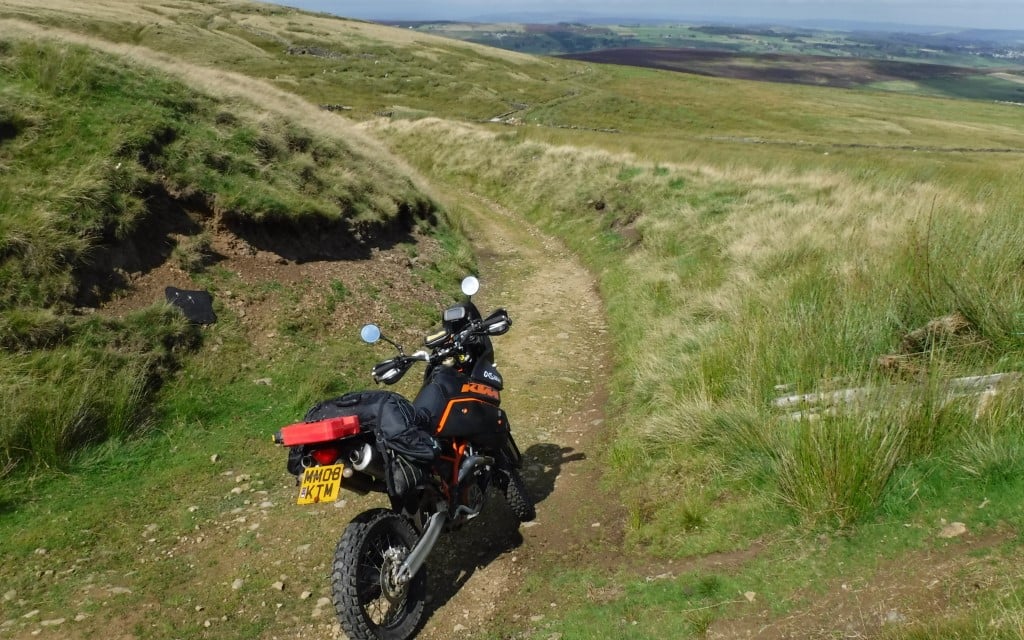 5-6 
Keep heading down. It's slightly easier now. You are still riding on a hard based track, another trail heads off to the right, keep going straight. Proceed to another gate. As you go through, a large puddle is in front. It's about knee-deep with a solid base and can easily be rode through. Continue on slightly uphill. 
6-7 
There's off-piste evidence to the left. Stay on track. You are now off the moor, heading downhill between walls. The reservoir at the bottom will come into sight. There's more off-piste to left. You are now about to go down the best bit of the trail.
It's a steep rocky descent (grade three to four) with lots of loose rocks. After a while, you hit the cobbled base in sections. There's still good grip, but I'd expect this to change in the wet so take care.
It does get pretty steep in places. This section is fantastic in reverse. Just don't stop otherwise it will be difficult to get going again. 
7-8 
Pass a house on the left. It's easy-going again now as you head along a graded track to the reservoir. Continue to the end of the trail just after the reservoir where you meet tarmac again.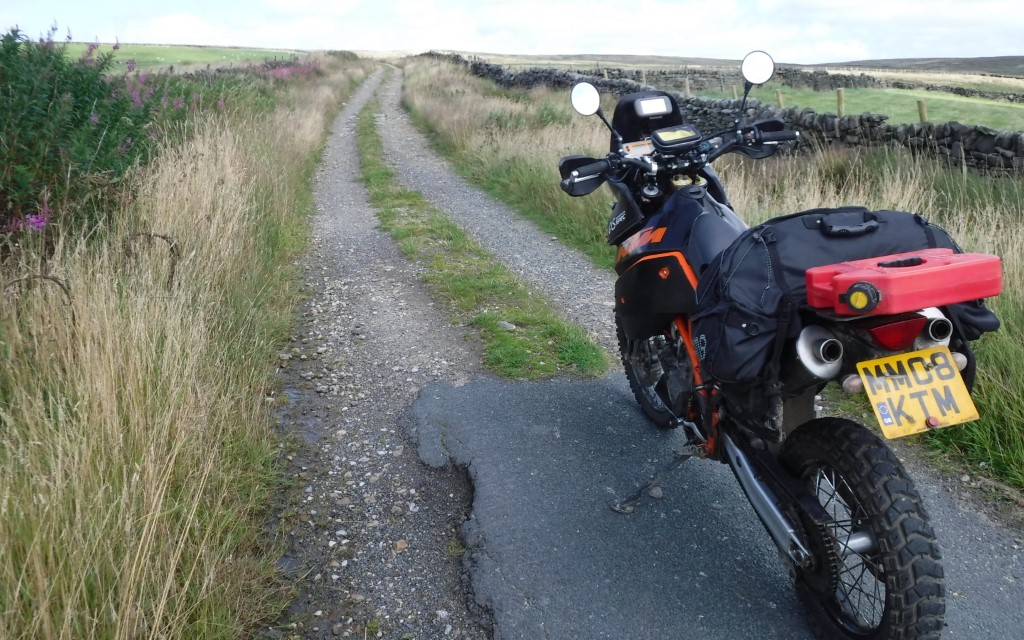 ---
Did you know?
Hebden Bridge is the hometown of Ian Coates where he worked as a mechanic at his garage near Whitelea Arches. For those that don't know Ian's story, he left Hebden Bridge in 1999 to act as driver and mechanic bringing an ex-army land rover from South Africa to the UK.
He was unable to obtain visas for Ethiopia, so had to turn around. He called his wife and she shipped his Africa Twin out to him so he could ride home. A year later he arrived back in Hebden Bridge.
The bug for travelling had hit, and he soon shipped his bike to Australia. The travelling didn't stop there, after hitching a ride on a sailing ship, acting as a free mechanic (for transporting him and his bike) he went round South America, and since then was pretty much on the road for the next 13 years. A true adventure rider on a classic Honda Africa Twin who covered 260,000 miles and passed through more than 70 countries.