This Issue: Back Lane and High Lane, Yorkshire Dales and Lambourn Downs, Oxfordshire
Black Lane/High Lane, Yorkshire Dales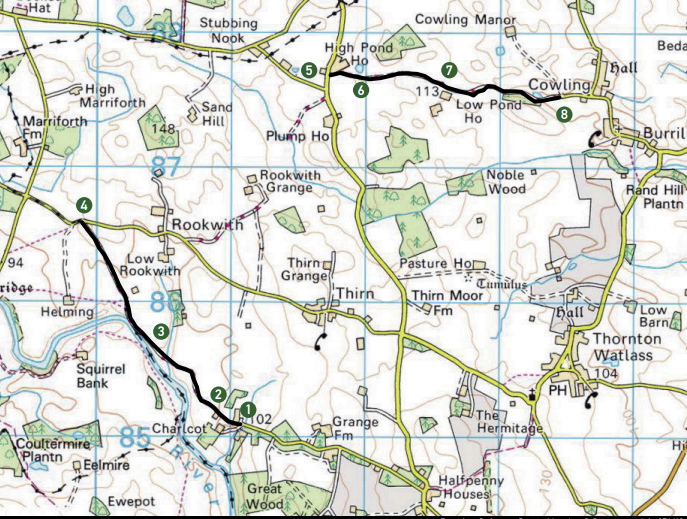 These two lanes are close to Masham Moor, which is slap in the middle of the Yorkshire Dales and North York Moors, both of which are fantastic areas for trail riding. Masham Moor was detailed in issue 34 of ABR and is a fantastic, fast trail stretching for miles.
The trails detailed here can be tagged onto the start or end of Masham and form excellent bridging trails from the Dales into the North York Moors.
In fact, tag these trails onto Inmoor Lane (issue 37, and then Dead Man's Hill, which is now legally open again), Masham Moor and Foxton Lane (issue 46) and you have a fantastic few trails that can easily be linked together. 
Back Lane and High Lane detailed here are both fairly easy lanes and offer a few miles of good riding on well-used farm track lanes. 
1-2 
The first trail is called Back Lane. Proceed down a tarmac road until you get to a couple of houses. Continue past these. The track is obvious and straight ahead. You start riding under trees. When I passed, there was a sign saying 'road ahead closed'. I proceeded slowly and the road was indeed open, so I'm not sure why the sign was there.
It's a well-graded track as you go along the edge of someone's garden (maybe the sign is there to deter people!). Eventually, you pass the driveway to the house on the left, and the grassy track can be seen heading straight ahead.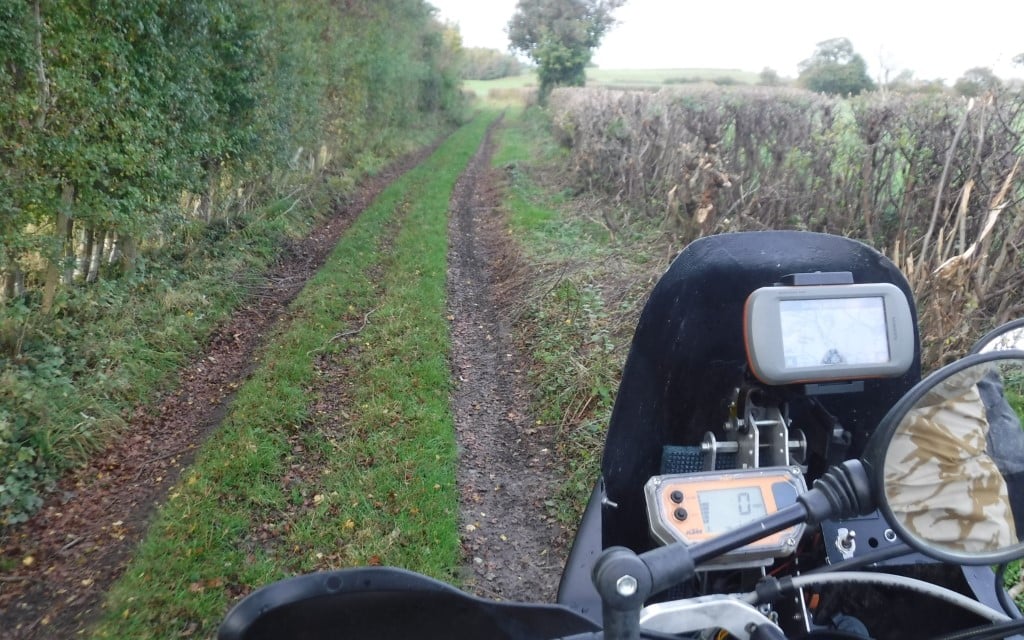 2-3 
It's a well-used farm track, two ruts on either side with grass in the middle running between hedgerows. As you proceed under overhanging trees, the grass in the middle disappears, but soon comes back once out of the trees.
Some of the ruts are deeper and muddier, but it's still not difficult. There are occasional puddles in the ruts, but nothing deep or troublesome. As you approach a corner the ruts disappear and grass takes over.
This is where there are gates into the fields, so the farm traffic must stop here. Now you are riding on just a grass track with shallow ruts, but they don't appear to be well used. You now have the river to your left. 
3-4 
Ride alongside the river. Soon, the track veers away from it and you encounter much more of the same riding all the way to the end. It becomes quicker and easier as you approach the tarmac finish. 
4-5
Short road section.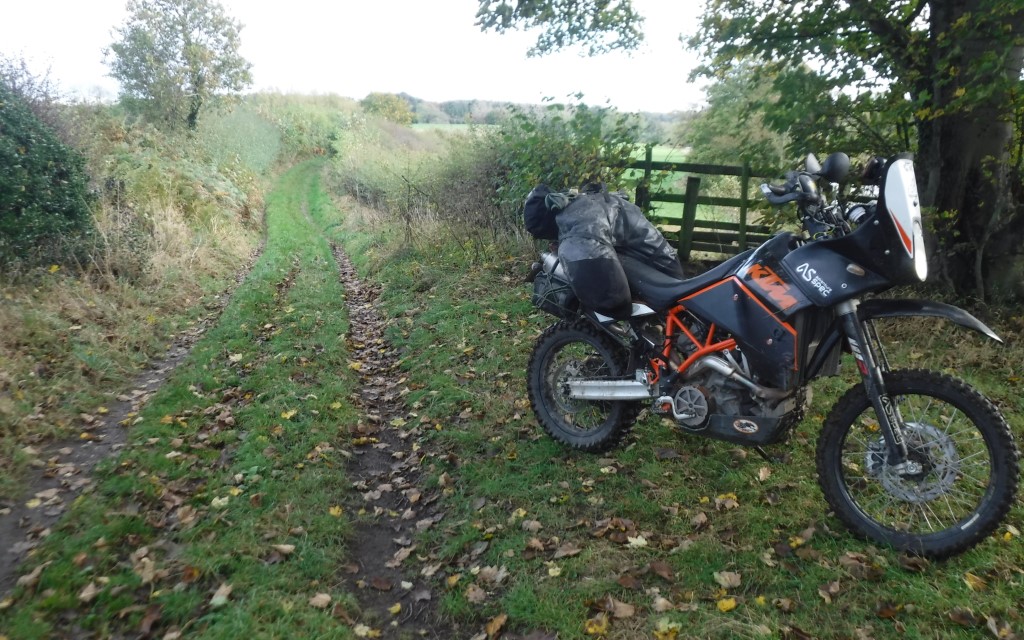 5-6 
Turn right just before the farm buildings and you head onto High Lane. Make sure you don't head left and into the farm. You will see two large gas tanks; the trail goes to the right of these. There're a few big puddles to start with. Go through these, along a short section with grass growing in middle. Proceed to the gate. 
6-7 
After the gate you are in a farmer's field and the track skirts the edge. It's pretty easy going along a hard compacted track with grass in the middle. It's obviously well used by farm vehicles. Th ere's a few puddles.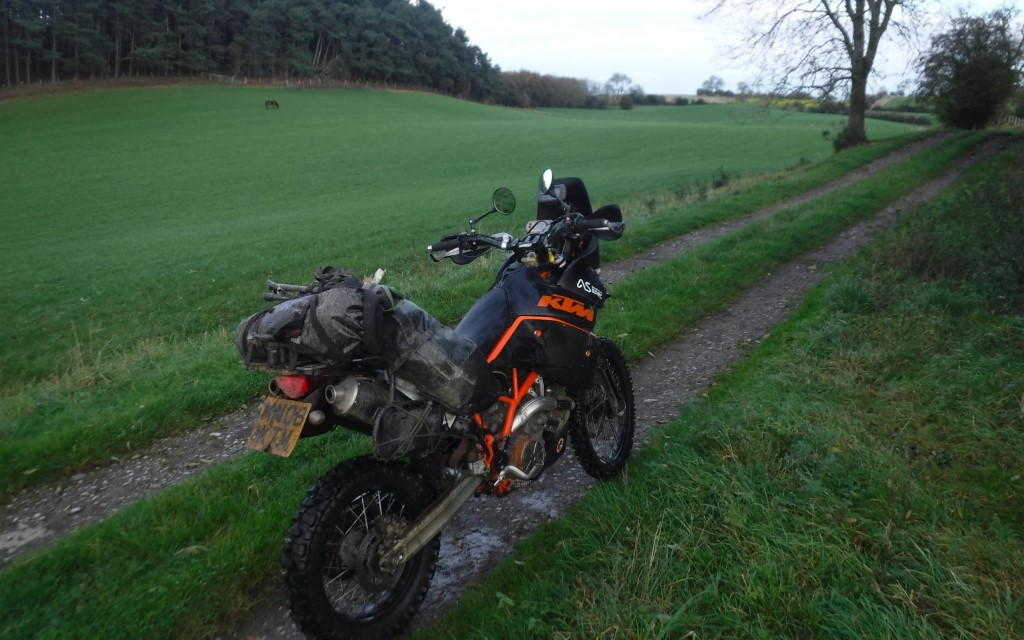 The track is not difficult but is pleasant to ride. Head to the next gate. You are now out of the fields and following a farm track between hedgerows. It's still easy going all the way to the end. The ground is still hard and compact with a few puddles.
There's still grass in the middle so pick a shallow rut and keep moving. Eventually, the ruts level out. Pass a track to the right, keep going straight. Right leads to another farm. 
7-8 
Much of the same all the way to the end. Eventually, it becomes a single tarmac road that leads to the hamlet of Cowling. 
Lambourn Downs, Oxfordshire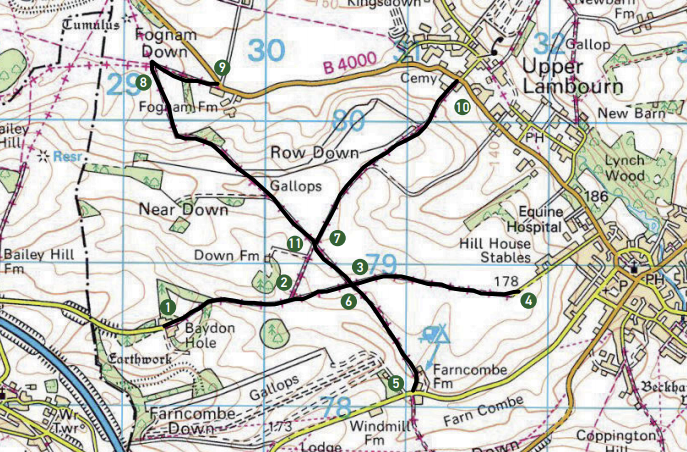 The area around Lambourn is littered with byways. Also, its proximity to the M4 corridor makes the area easily accessible, so simply grab an OS map and go take a look. The route here takes in some fantastic trails and includes approximately five miles of trails zig zagging over the Lambourn Downs.
There's nothing too difficult and most can be attempted on a bigger adventure bike. It does get a bit rutty between points seven and eight on the map, and be warned that if you venture onto any trails other than those marked they may be a bit trickier, especially if you go left at point eight.
I didn't attempt those trails as the ruts and mud looked awful. One important thing to watch for is horses. Lambourn is a horse training area. There are gallops, stables and race fences all over the area, so just take care. I passed a few horses whilst riding. It's always better if you see them in plenty of time and kill the engines if possible. Everyone has a right to enjoy these byways. 
1-2 
Pass through a farm and follow a stone based track before heading into some trees, where it changes to a muddier base. There are a few puddles, but nothing difficult or deep. Head straight and proceed slightly uphill. The track has grass in the middle now but either side is wide and solid. There are great views off to the right. 
2-3 
Short sections uphill on a solid base. Some grass in the middle of the track.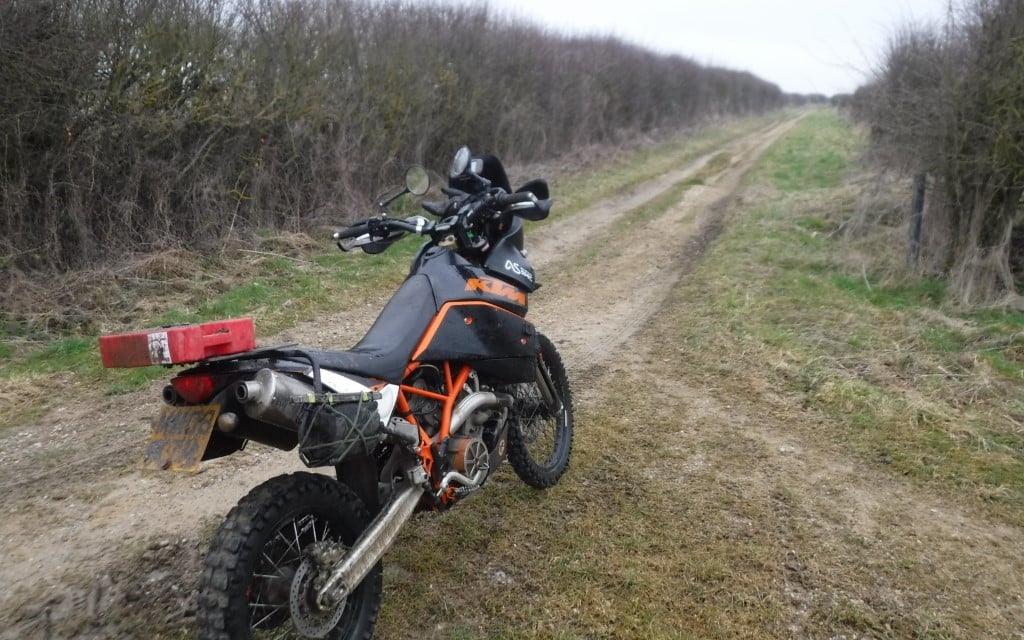 3-4 
There's no grass now, and you'll need to proceed along a wide track. There are some puddles but the base is still solid and the going is fast and easy. You can get some speed up, but take care, as you've no idea whether a horse may be around the next bend. The track soon opens up.
Straight on to the left is all sand, and this is where horses gallop. The legal trail goes straight right. The track is dead straight now, with a similar base to before. It's a mix of mud and stone, but is very easygoing. There are a few puddles to splash through and it soon opens up, so the views to either side are good across the plain. I encountered horses on this stretch. Continue to the tarmac where this section ends. 
4-5
Road section. 
5-6
Leave the tarmac and head up a wide mud-covered track next to a building. Although it may look slippery, it's not too bad considering the chalk underneath. There's grass in the middle and two shallow ruts either side.
It's easy going as you proceed onto the down. Pass a track off to the right. Keep going straight. There are three ruts now, all easy and shallow, and great views to the left across the fields. Proceed to a crossroads. 
6-7 
Short easy section.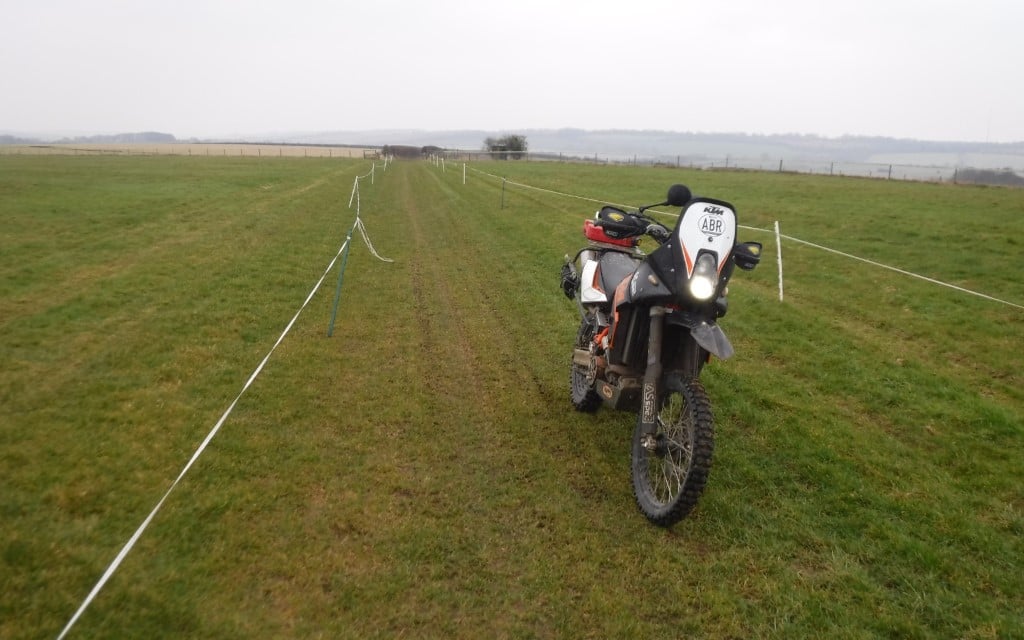 7-8 
The track is wide and easy-going, and its possible to build up a bit of speed. There are hedgerows on either side. Soon, the track turns into grass. There are a few ruts as it starts but these soon give way to grass as you cross a horse track with white tape to guide you and keep you on the right path.
When you exit the race track you are back to rutty trail between wire fences. Pick a rut and keep going as it's not easy to switch ruts. This is the trickiest section and is slow going. The ruts vary and get deeper and more awkward as you proceed downhill. They soon shallow out though, and you can get some speed up again. 
8-9 
At the T junction, turn right and proceed to the tarmac. You could go left but this soon turns into a really rutty, muddy looking track, and straight on isn't much better. 
9-10 
Road section.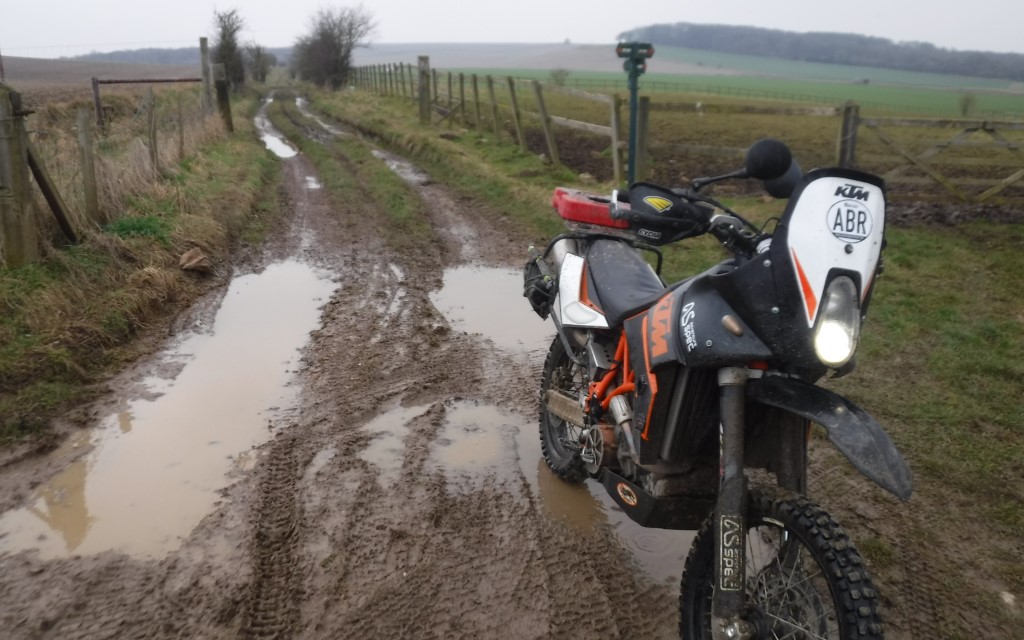 10-11 
Head slightly uphill on a well-graded track. When it levels out there are a few puddles, but none are deep or troublesome. It's dead straight now, and you are able to pick up some speed on the wide and compacted track. You end this route in the middle of the trails. Feel free to exit whichever way you want. 
Did you know
After Newmarket, Lambourn is the largest centre of racehorse training in England. It is home to a rehab centre for injured jockeys, an equine hospital and a few leading jockeys and trainers. This explains the large presence of horse riders and gallops in the area. The Lambourn Downs are part of the North Wessex Downs Area of Outstanding Natural Beauty and cover an area of 231 square miles.